Elevate tonight's dinner with some keto side dishes. Not only will these low-carb sides help to fill you up, but they are packed with flavor. From salads and stuffing to cornbread and casseroles, we've got 20 Keto Side Dishes to satisfy your suppertime needs.
Most people know to cut the carbs on the keto diet, but they sometimes forget to add fat to their meals. If you get hungry in between meals or have low energy throughout the day, your diet might be lacking in fat. This is where keto side dishes come in handy.
Base your keto meals around a protein source like chicken, beef, or fish then supplement with some fatty side dishes.
Three Reasons to Love Keto Side Dishes
1. Easily Add Fat to Meals
Keto Macros require a high fat content, moderate protein, and low-carb ratio. (Learn your exact keto macros with our Free Calculator.) Many of us were raised to eat a low-fat diet, so suddenly increasing the fat content of your meals can be difficult. Add any of these keto side dishes to your meal to easily increase your fat macros.
2. Keep You Fuller for Longer
Most keto side dishes are full of fat and contain some fiber, which are both extremely satiating. Many of these recipes call for fiber-rich vegetables like cauliflower, broccoli, and brussels sprouts which move through the digestion tract slowly and add volume to meals without adding a ton of calories.
3. Help to Curb Carb Cravings
Most of the foods we miss most from our pre-keto lives are actually side dishes. Rather than fight our cravings or give-in to cheat meals, we've come up with keto side dishes that completely satisfy. Using low-carb ingredients, we've concocted keto copycats of all your favorite dishes.
Top 20 Keto Side Dishes
Pair these keto sides with entrees like Drumsticks, Meatballs, and Crispy Pork Chops.
Cauliflower comes in handy on the keto diet and when it's served with a rich, cheese sauce, who can complain? We have more than one Keto Mac and Cheese recipe on the site, so you'll have to choose between Velveeta style and Classic. (Or try both!)
There are a few ways you can order Keto Chinese Takeout, but low-carb fried rice is pretty much non-existent out in the real world. Since we refuse to part ways with one of our favorite Asian side dishes, we decided to make Keto Fried Rice at home using low-carb ingredients like cauliflower rice, garlic, eggs, and sesame oil.
If Green Bean Casserole is a family tradition at your house, especially during the holidays, then you need to try this low-carb variation. We use a special keto ingredient to get that golden, crispy topping…
There are people who like potatoes and then there are people who would die for potatoes. If you live, eat, and breath hash browns, french fries, and all things-tot… then you're in luck. Our Mashed Cauliflower recipe is the perfect low-carb potato replacement.
Onion rings or fries? It's one of life's most important questions. There's nothing quite like a crispy, golden, onion ring. That sweet onion coated in salty breading is what dreams are made of and we've made it KETO friendly.
Brunch is a go-to keto meal. You've got bacon, sausage, eggs and low-carb berries. But what about hash browns? These Low-Carb Cauliflower Hash Brown patties only require three ingredients plus seasoning.
You can't have our Keto Butter Chicken without some Low-Carb Naan. It's the only way to soak up all that butter chicken sauce. This naan also works great as a wrap or pita in our Keto Gyros.
Nothing screams summer like potato salad and the smell of meat on the grill. Some people have told us they prefer this cauliflower salad to the high carb original potato version! Enjoy a cold and creamy salad this summer that's totally low-carb.
We really outdid ourselves with this Healthy Sweet Potato Casserole and pecan Cinnamon Syrup recipe. You won't have to make any diet sacrifices this Christmas with a recipe like this in your back pocket.
There's a special (sneaky) ingredient we use in this corn bread recipe that gives it that signature corn flavor without all the carbs. Hint: It comes in a can… If you miss cornbread on your keto diet, then you NEED to give this recipe a go.
Stuffing may seem impossible to make keto-friendly, but we like to do the impossible. The addition of pork sausage and poultry seasoning to this cauliflower mixture gives it that signature stuffing flavor you don't want to miss out on.
Any recipe that calls for cream and mushrooms is a winner in our household. This low-carb take on a classic Italian dish is flavored perfectly with garlic, parmesan, thyme, and pepper.
You'll never guess what the secret ingredient is in these Keto Cheesy Grits. Loaded with fiber and healthy fats, these grits are going to fill you up for hours. Try them alongside blackened chicken or shrimp.
Nothing beats a fresh dinner roll covered in butter. This recipe is high in fiber, easy to make, and goes great alongside any meal. Try is as sandwich bread or dunk into Keto Chili.
This cold broccoli salad is the perfect dish to bring to parties and potlucks. Everyone loves a salad with bacon in it, right? Topped with crunchy sunflower seeds and drizzled with a creamy dressing, this Broccoli Salad is the bomb.
It might be up for debate which of our biscuit recipes is the best. Could it be our 3-Minute Biscuits, Jalapeno Biscuits, or Sour Cream Biscuits from our Keto Made Easy Cookbook? Try these Easy Air Fryer Biscuits and give us your vote!
You may not have liked Brussels Sprouts as a kid, but that's about to change. Crisp them up in the oven and dip them in Curry or Whipped Ricotta sauce. This side dish doubles as a delicious low-carb appetizer.
Having zucchini noodles or spaghetti squash tonight? We recommend a fresh loaf of Keto Garlic Bread to go along with it. Spread with butter and enjoy!
Bacon, green onion, and cheese are truly a miraculous trio. You can't go wrong with this Loaded Cauliflower Casserole, especially if you're a fan of loaded baked potatoes. Nothing says comfort food like casserole.
Store-bought Caesar salad dressings might be keto-friendly, but they're not always healthy. Make a salad dressing using healthy fats like avocado oil or extra virgin olive oil and avoid refined vegetable oils.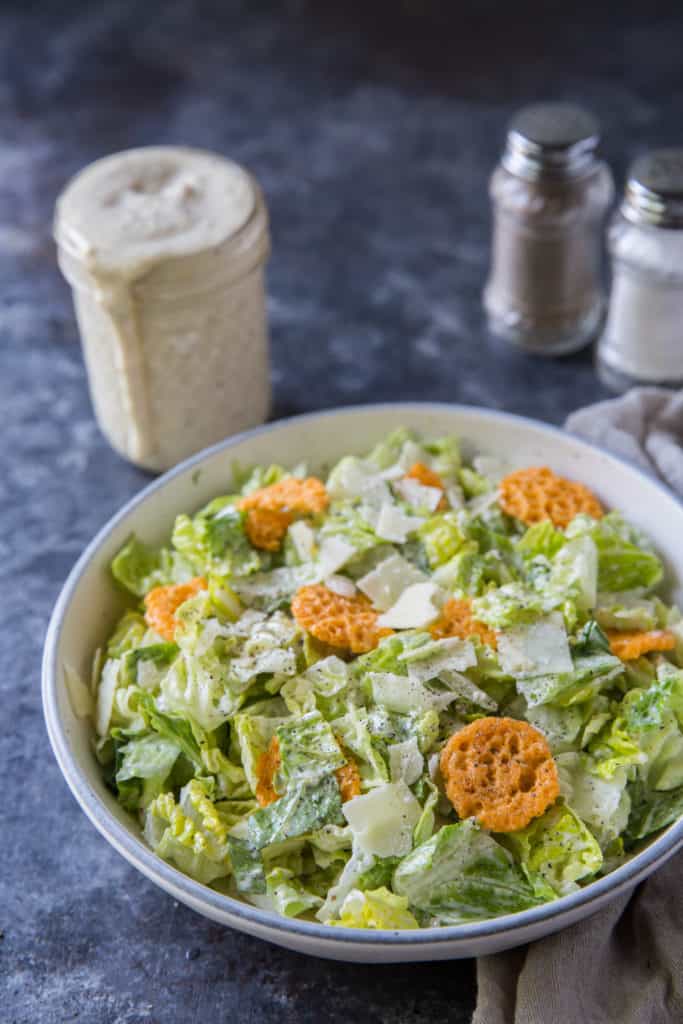 If you're looking for more keto side dishes, browse an entire section of free recipes on our website. You're guaranteed to find a few new favorites.