Can the perfect snack get any better?
Oh, yes it can, and all you have to do is add mayo, bacon, and chives! If you haven't guessed already from seeing our youtube videos, hard boiled eggs are a staple in our house. We eat them everyday, multiple times a day, but I'm the only one who alters their original state. I often use the hard boiled eggs to make curried egg salad, but my favorite alteration is these Simple Deviled Eggs. Not only are they quick and easy to make, but they have a high fat content – something we all look for in our meals. You can make as little as 6 for great, single serve lunch or as many as 24 for a holiday party appetizer.
Flavor Profiles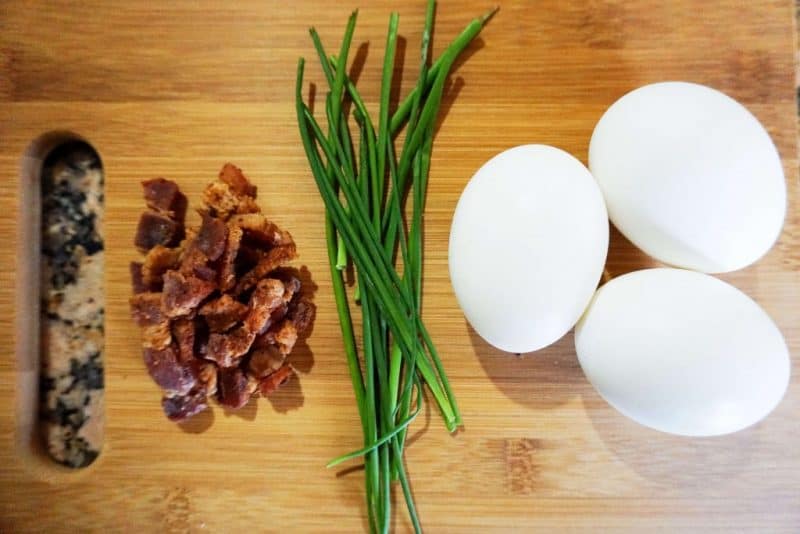 For these deviled eggs I chose bacon and chives for the simple facts that I had them in the fridge and I knew the flavor profiles would work magically together. The best part about this is you can use any 2, 3, or 4 ingredients of your choosing or just whatever you have leftover in the fridge. The yolk and mayo flavors are so subtle that anything you add will be the star of this dish.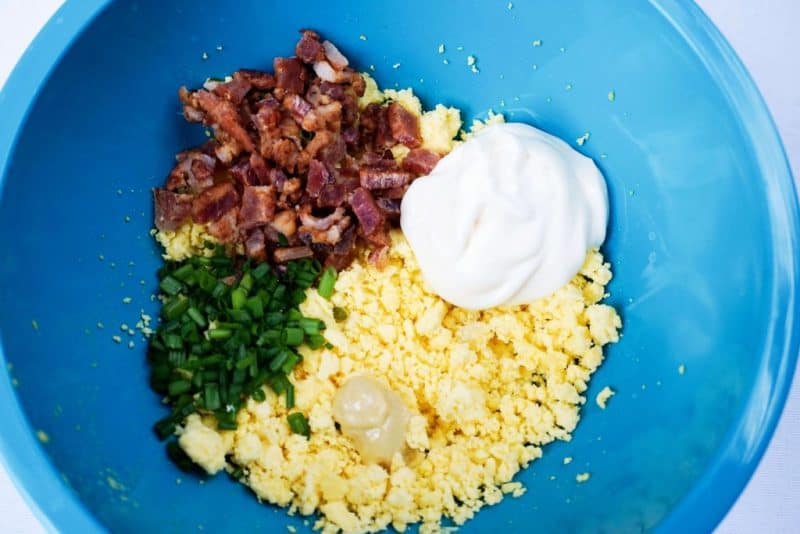 Maybe you don't like deviled eggs, but trust me, once you amp up the flavors you won't be able to resist. Some of you may also know, from watching our videos, that Matt is not a fan of mayo. In fact, he refused to try my deviled eggs at first, and he never turns down a taste test. After some bargaining, he gave in and we were both surprised to find he really loved them!
You Will Try A Deviled Egg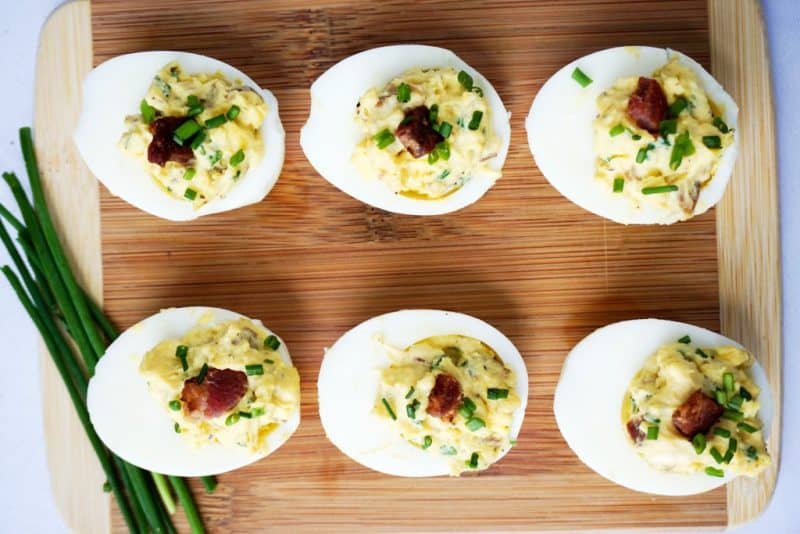 Can I share a quick story? Matt and I first started dating in mid-January so the Superbowl was right around the corner. His best friend was having a Superbowl party so of course I had to bring something. I made my roommate help me make 2 dozen deviled eggs and they turned out great! I was ready to wow the entire party, including Matt. Well, turns out he didn't even try one before they were all gone, but I forced down a couple of his sub-par appetizers that I would normally never go for. Needless to say, I was bummed.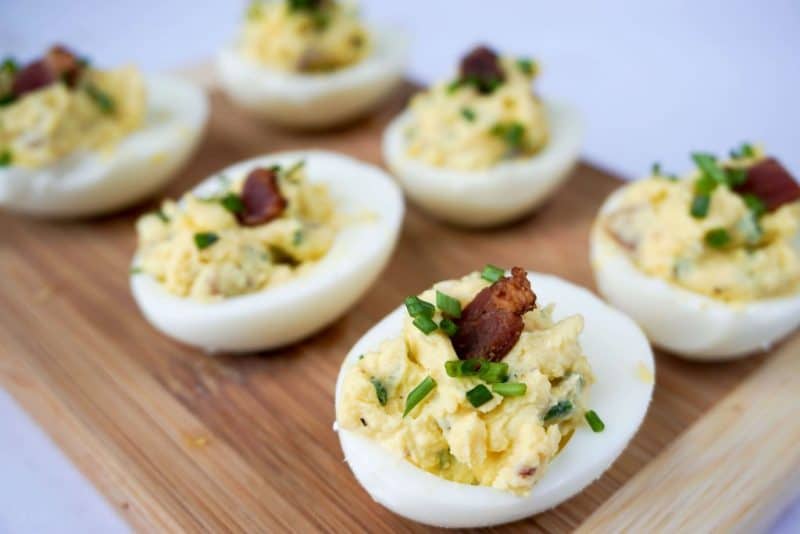 Almost two years later and he still hasn't budged, but it is no longer a month into dating and I no longer let him slide on trying foods I make. Overall, the eggs are a hit and Matt is a new and improved version of himself hehe.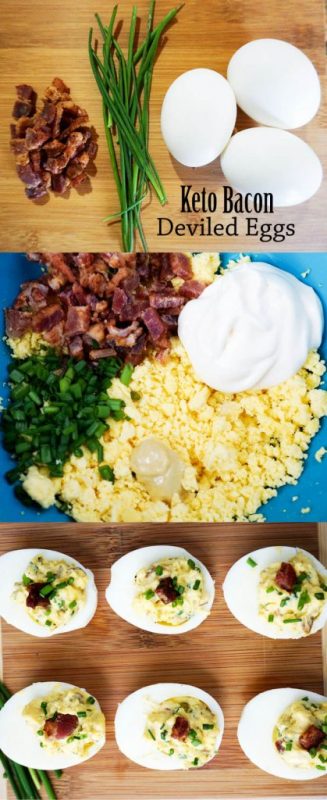 FREE PRINTABLE: Keto Food List
Join 150,000 others to get a FREE keto food list and new recipes every week!
Search "Ketoconnect – Simple Deviled Eggs" On MyFitnessPal.com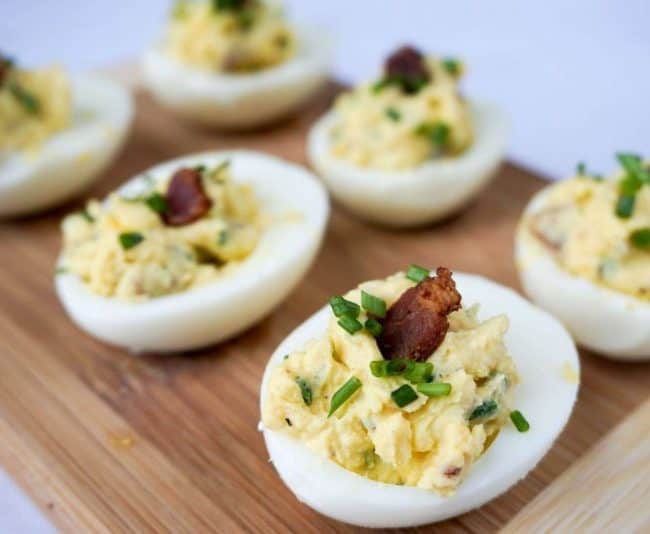 Simple Deviled Eggs
Total Time 40 minutes
Servings 6 servings
Calories per serving 131.6kcal
Prep Time: 30 minutes
Cook Time: 10 minutes
Instructions:
Peel 6 hard boiled eggs and cut in half.

Pop out yolk form all halves into a separate bowl and mash.

Add mayo, mustard salt and pepper and combine well.

Fold in bacon and chives.

Scope some of yolk mixture into each hole of the egg white.

Garnish with piece of bacon and chives.

Eat immediately or store in fridge. Enjoy!
Nutrition Facts
Simple Deviled Eggs
Amount Per Serving
Calories 131.6 Calories from Fat 97
% Daily Value*
Fat 10.75g17%
Carbohydrates 0.4g0%
Protein 6.25g13%
* Percent Daily Values are based on a 2000 calorie diet.