Keto deviled eggs are about as easy and basic of an appetizer as it gets however, that doesn't mean that they will go unnoticed. These simple deviled eggs make an amazing side dish during the holidays and better yet, they are low carb!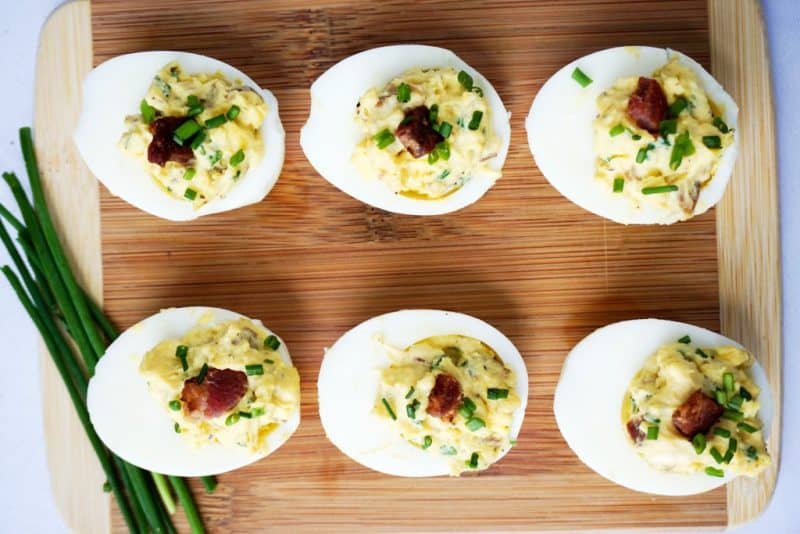 We think everyone should have a low carb deviled eggs recipe at their disposal but we are going to do even better, we are going to give you our top four favorite keto deviled eggs recipes.
The Perfect Keto Snack
Oh, yes it can, and all you have to do is check out one of the variations below! If you haven't guessed already from seeing our YouTube videos, hard boiled eggs are a staple in our house. We eat them most days, sometimes multiple times a day, but we do not always alter their original state.
I often use the hard boiled eggs to make curried egg salad, but my favorite variations is one of these Keto Deviled Eggs recipes.
Not only are they quick and easy to make, but they have a high fat content – something we all look for in our food. You can make as little as 6 large eggs for a great, single serve lunch or as many as 24 for a holiday party appetizer.
Why Are They Called Deviled Eggs?
Believe it or not but the deviled egg can be tracked back as far as the ancient Rome. They were often served as hard boiled eggs with a spicy sauce as a first course. The more traditional deviled eggs didn't come about until the 15th century when they began to mash yolks to create a stuffing for the egg.
The name didn't really become popular until the 18th and 19th century when foods that were spicy were referred to as "deviled". And since it was common to use spicy mustard, they quickly became a deviled food.
Classic Deviled Eggs Recipe
There are a couple slight variations of classic deviled eggs but for the most part it is pretty clear cut. To make deviled eggs, you take a hard boiled egg, peel it, cut it in half lengthwise, and fill it with a mayonnaise mustard yolk mixture.
Some other ingredients that are commonly found in classic deviled eggs are pickle relish, dijon mustard, vinegar, and of course, sprinkle of paprika. Some have said smoked paprika is a must try.
Here are our favorite takes on a classic deviled egg recipe…
Deviled Eggs with Bacon and Chive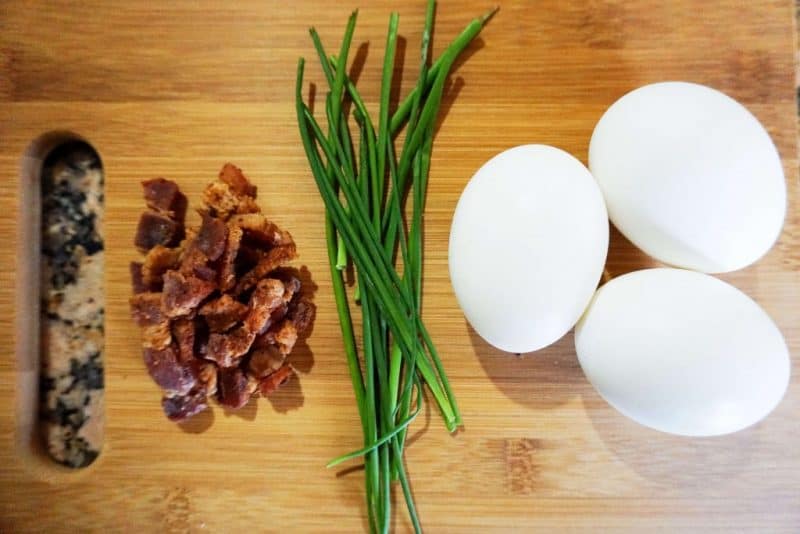 For these keto deviled eggs I chose bacon and chives for the simple facts that I had them in the fridge and I knew the flavor profiles would work magically together. I mean really, who wouldn't like deviled eggs with bacon? The best part about this is you can use any 2, 3, or 4 ingredients of your choosing or just whatever you have leftover in the fridge. The yolk and mayo flavors are so subtle that anything you add will be the star of this dish.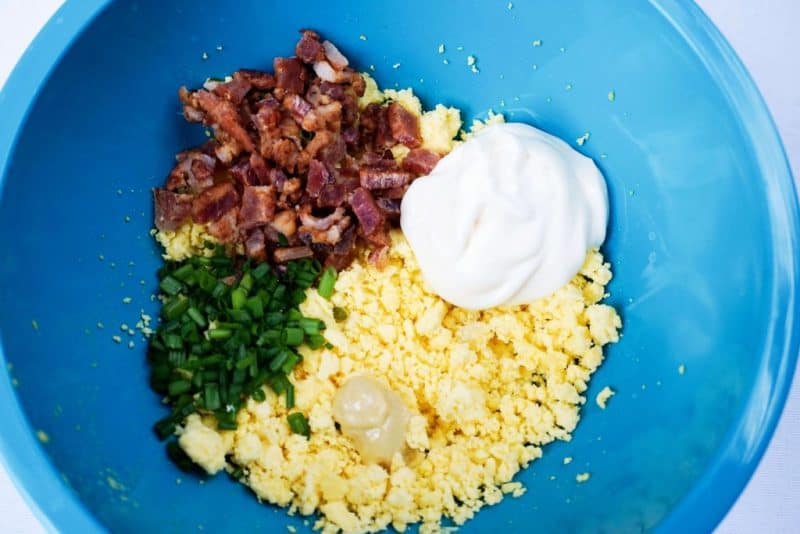 Maybe you don't like deviled eggs, but trust me, once you amp up the flavors you won't be able to resist. Some of you may also know, from watching our videos, that Matt is not a fan of mayo.
In fact, he refused to try my keto deviled eggs at first, and he never turns down a taste test. After some bargaining, he gave in and we were both surprised to find he really loved them!
Sriracha Deviled Eggs Recipe
This is the second deviled egg recipe in this series. Why? Because I'm obsessed with them, and you should be too! Hard boiled eggs and mayo, what's not to love? You can add any extra ingredient to kick them up a notch.
Remember how deviled eggs were named, well this is the recipe that make deviled eggs, devilish.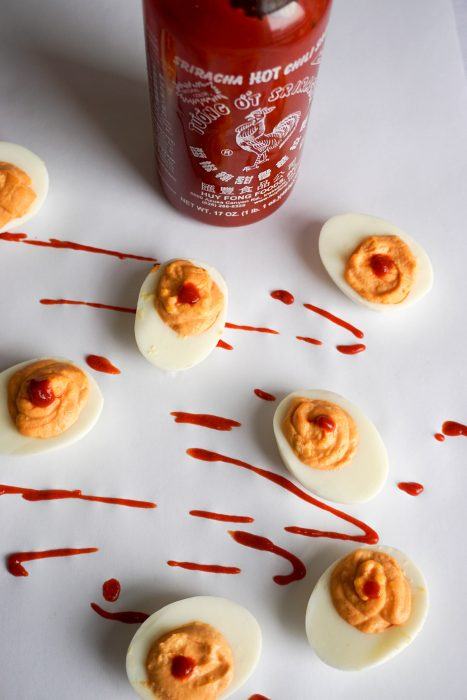 The best part about this recipe is that they are extremely quick and easy to make. All you need is hard boiled eggs, mayo, Sriracha and some salt and pepper.
The hardest part is resisting eating them as you make them. I always sneak a couple in before they make their way to the gathering I'm bringing them to. People are also generally impressed and excited about these keto deviled eggs, especially when you add a twist like Sriracha.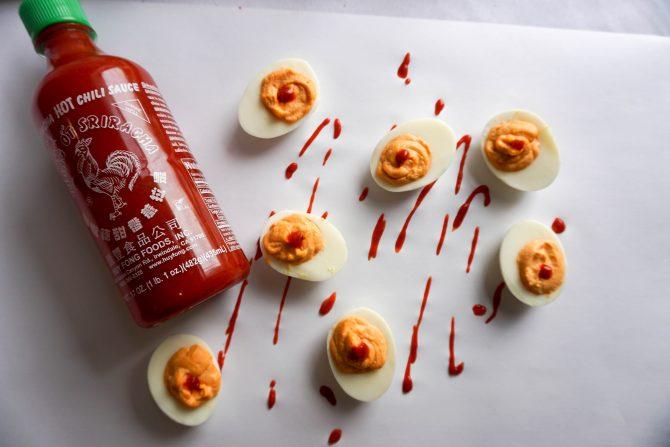 Sriracha Sauce is a vital ingredient to have in any household. If you don't have any, shame on you, if you do have some, we'd be great friends. I am always mixing it with mayo to top any breakfast meal, burger or even for dipping my pork rinds in.
It really adds so much flavor and spice to this recipe that I recommend using more than is called for as long as you aren't scared of a little spice!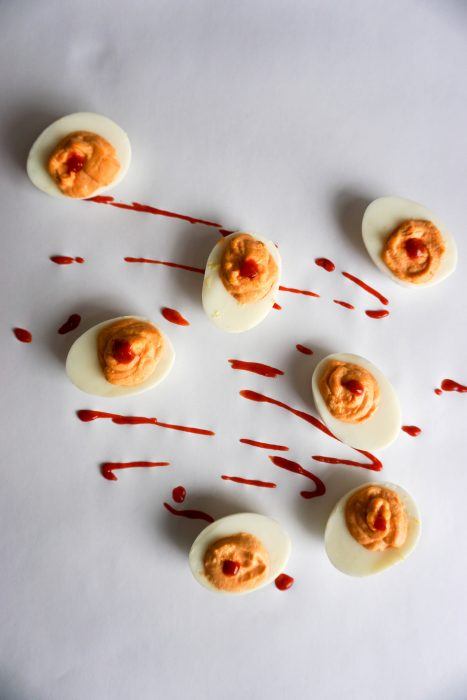 Curry Deviled Eggs
We're hitting you with our third recipe, and this is my personal favorite. You might have been able to guess this, but we've got the easiest, tastiest Curry Deviled Eggs recipe just for you!
Curry powder is something we always have in our house. We even buy a new container of it before the other one runs out. We love adding it to burgers, chicken, cauliflower and more. It kicks the flavor up several notches on any meal!
If curry is your go to spice like it is ours, check out our Beef Curry or Shrimp Curry for a delicious curry dinner.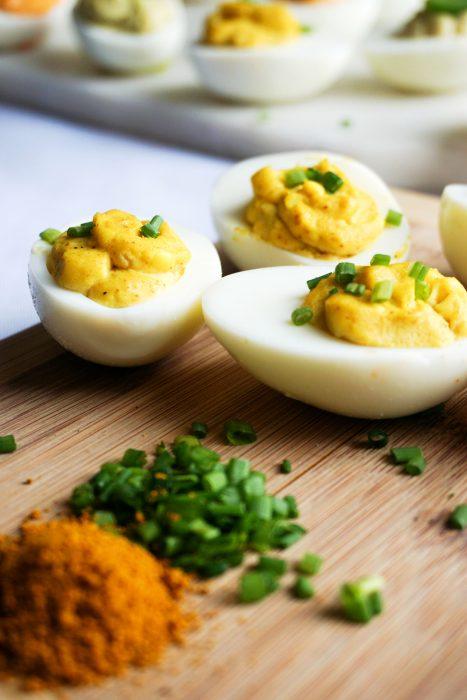 Avocado Deviled Eggs
The final recipe in the keto deviled egg series is our Avocado Deviled Eggs! This recipe is almost stand alone because of it unique difference which I will go into below. A keto friendly home generally has the following three ingredients: eggs, avocado and sour cream. And, if your home is one of those homes, you can head over to the kitchen and start prepping for this perfect deviled eggs recipe right now!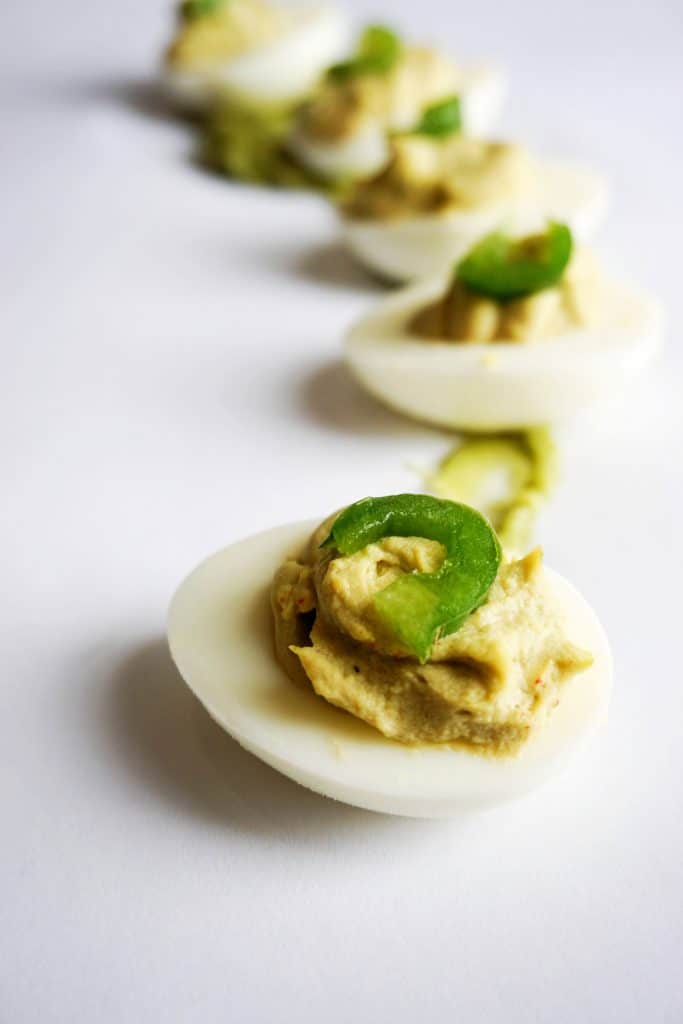 Deviled Eggs Without Mayo
This recipe is very unique from the other two keto deviled eggs recipes because it doesn't use the traditional deviled eggs yolk mixture of mayonnaise mustard. Instead, it utilizes sour cream to create the creamy, fatty texture of the typical deviled egg filling. Omitting the mayo isn't a big issue with this recipe because it is still high in fat and extremely keto friendly! We always have sour cream and avocados in the house for good reason.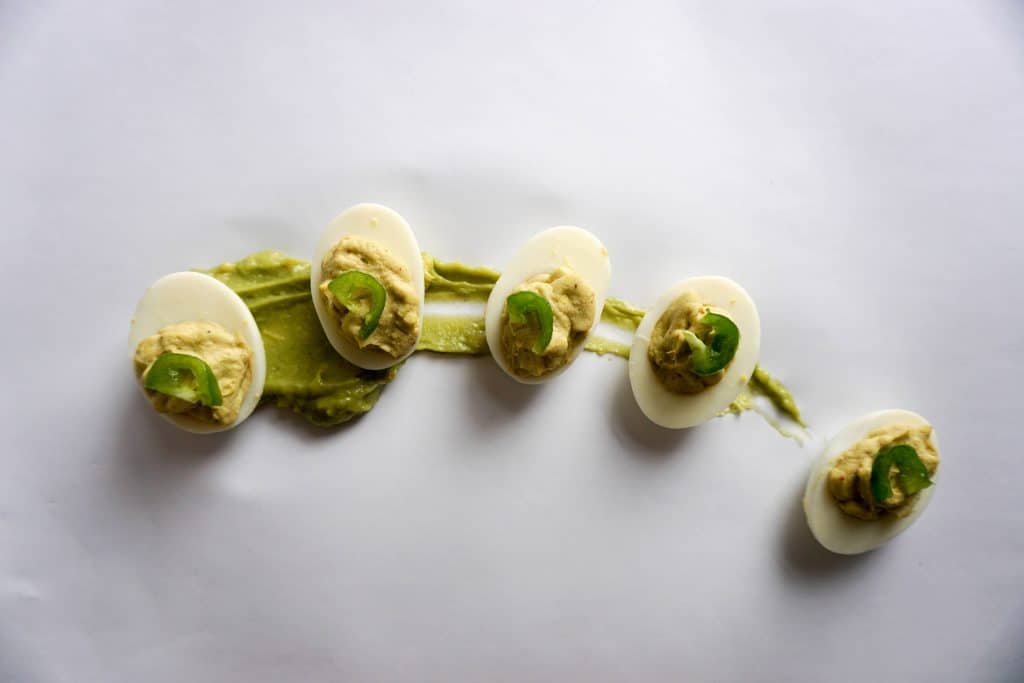 What we love so much about keto deviled eggs in general is how great of a low carb appetizer they are. They are perfect for any event, formal or casual, are really quick to put together, and lets face it, they are delicious.
You can even change them up drastically by adding a spice or sauce such as seen in our Curry Deviled Eggs and Sriracha Deviled Eggs! This biggest tip to making these is to have fun with them. You honestly can't go wrong by adding extra ingredients!
Recipe For Keto Deviled Eggs
Making keto deviled eggs was always a daunting task for me, until recently. The part I was most nervous about was the yolk mixture that makes this recipe deviled. How did you know how much of each ingredient? Why did all sites have different ratios? So many instructions but the method wasn't clear.
I could never find instructions that was easy to understand so I never made them out of fear that they would turn out bad. But, the honest truth about deviled eggs recipe is that the ratios are all up to you!
How To Fill The Egg Whites
Use this easy hack for filling keto deviled eggs. But, basically, all you really do is scoop the egg yolk filling into a ziplock bag (piping bag), push it down to one of the corners, cut the tip of the piping bag and pipe the mixture into egg whites.
Now, we have never tried any other way but we would recommend cutting your eggs in half lengthwise.
This give it a more clean look if you don't have the actual piping bag and tips! You get a lot of fat and flavor in each bite with these avocado deviled eggs, so make sure you give them a try!
How to Make Hard Boiled Eggs Easy to Peel
So, making keto deviled eggs wouldn't be simple if the eggs don't peel easily. It is actually the single most difficult thing to do when making keto deviled eggs. However, if you follow these instructions, your hard boiled eggs should peel easier.
I feel like it is save to say that we have all struggled to peel a hard boiled egg at some point in our lives. This doesn't necessarily have to be the case though. There is a method to the madness to help with this task.
First off, there is some debate on whether the age of the egg makes a difference. We think that fresher eggs typically peal worse than older eggs but that isn't always the case. It seems as though the cooking technique has a bigger role to play.
The best instructions is to start with hot water, do not boil too aggressively, put them in cold water or an ice bath immediately, and try to peel them under running water.
Why do deviled eggs get watery?
There is a couple easy explanations for why your keto deviled eggs might be sitting in some water when you take them out to serve them. The most likely reason is that the eggs still had water on them from the peeling process.
Another likely reason is that they were put into a storage container when they were still hot which caused weepy from condensation. Make sure that your eggs are at room temperature before storing them in the fridge.
How to Store Deviled Eggs?
It should go without saying that food safety is important so it is recommend to store deviled eggs in the refrigerator in a airtight container. They typically stay fresh for 2 to 3 days, after that they begin to degrade pretty quickly.
We make keto deviled eggs a few times a year and haven't had a problem with them lasting long enough to go bad but with the perishable food ingredients that are mixed in with the yolks, it is best to not leave them out at room temperature for longer than 2 to 3 hours.
Let us know below which of these simple deviled egg recipes you enjoyed the most!
Try These Keto Recipes Next
Keto Coleslaw – If it's BBQ season then you're going to want to make this refreshing side dish.
Keto No Bake Cheesecake – The creamiest and most refreshing dessert you'll ever make.
Keto Chia Pudding – Our favorite recipe to meal prep for the week.
Keto Shakes 5 Ways – Try keto meal replacement shakes in a variety of delicious flavors!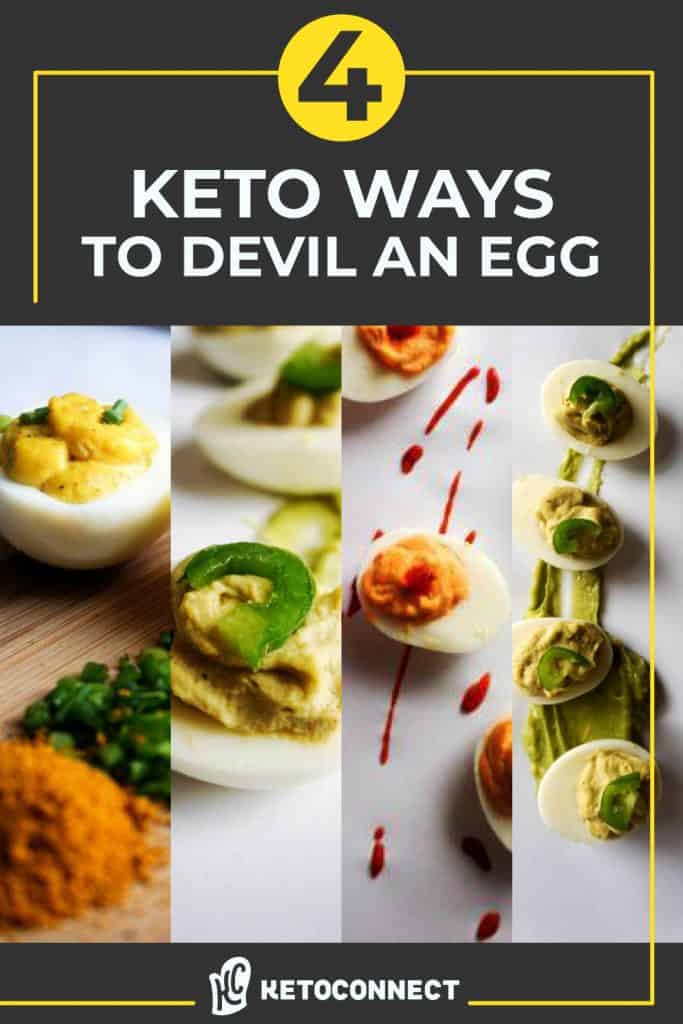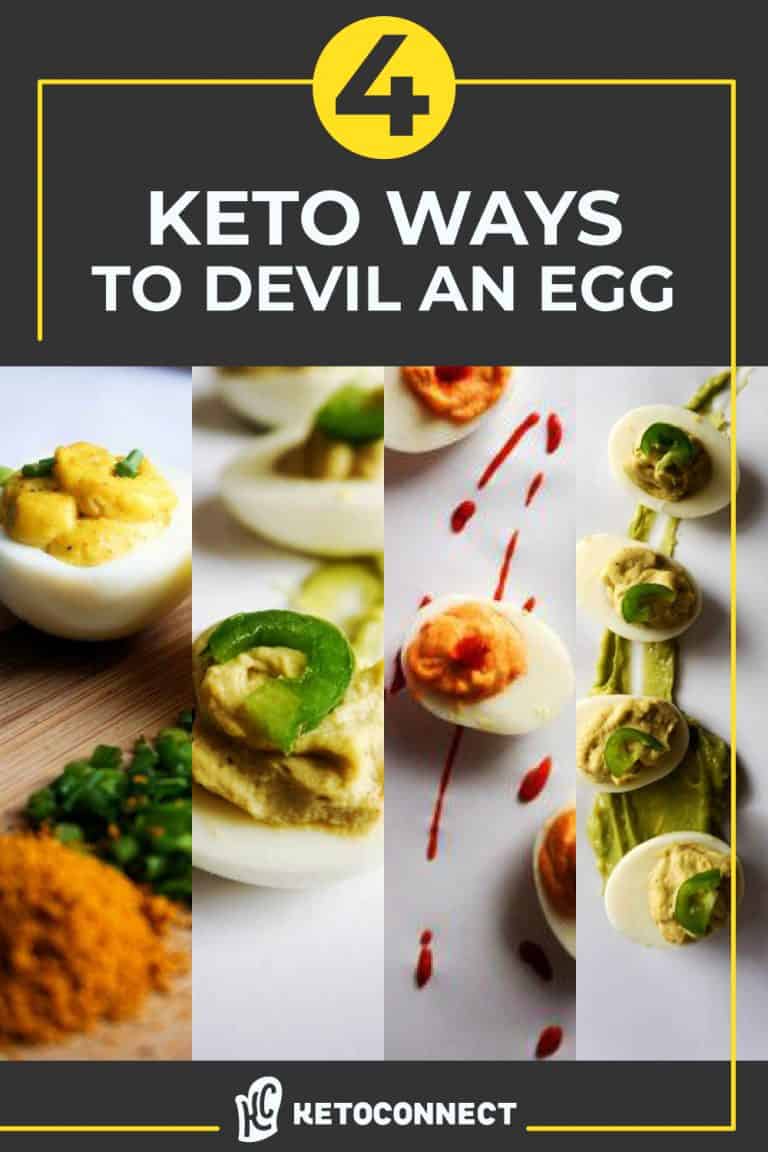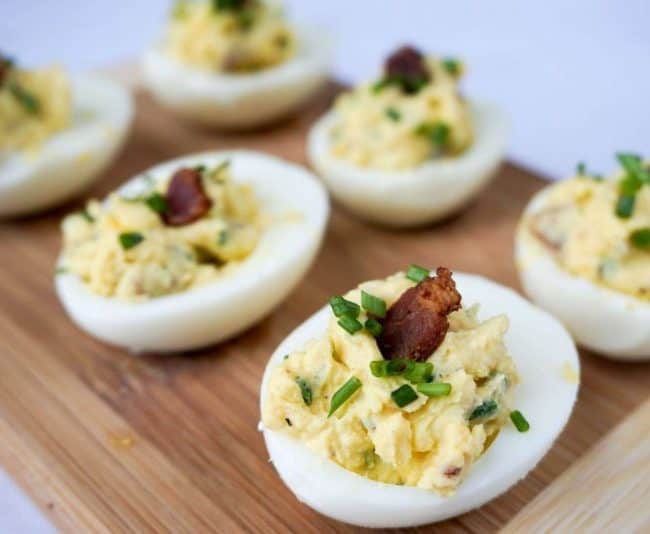 Keto Deviled Eggs
Four variations of the best low carb deviled eggs.
Total Time 40 minutes
Servings 4 servings
Calories per serving 131.6kcal
Prep Time: 30 minutes
Cook Time: 10 minutes
Ingredients:
Instructions:
ALL DEVILED EGGS
Peel 6 hard boiled eggs and cut in half.

Pop out yolk from all halves into a separate bowl and mash.

Select filling from below.

Scope some of yolk mixture into each hole of the egg white.

Eat immediately or store in fridge. Enjoy!
Bacon and Chive Deviled Eggs
For Filling – Add mayo, mustard salt and pepper and combine well. Fold in bacon and chives.

Garnish with piece of bacon and chives.
Sriracha Deviled Eggs
For Filling – Add mayo, sriracha and garlic powder with egg yolks and combine.
Curry Deviled Eggs
For Filling – Add mayo, curry powder and salt to egg yolks and combine.
Avocado Deviled Eggs
For Filling – Mash up the avocado and add it to the yolks along with the sour cream, lime juice, cayenne, pepper and salt. Combine.

Garnish with jalapeno slice.
Nutrition Facts
Keto Deviled Eggs
Amount Per Serving
Calories 131.6 Calories from Fat 97
% Daily Value*
Fat 10.75g17%
Carbohydrates 0.4g0%
Protein 6.25g13%
* Percent Daily Values are based on a 2000 calorie diet.
Written By