Keto Shopping List: The Essentials
There are tons of keto diet shopping lists circulating the internet, so what makes this one different? This list is the absolute bare bones to get you started. I've broken it down into macro nutrient categories with 3-4 items in each section. These 3-4 items have been selected because they fulfill three specific criterion that makes them particularly great choices for a Keto Diet.
The first, and most important criteria is the macro nutrient profile or the Protein/Fat/Carb ratio of the food. As you probably already know, we're looking for high fat and low carb.
Any eating style that is expensive is going to be hard to stick to for extended periods of time. "Eating healthy is too expensive" is a myth I would like to dispel with our Keto Shopping List. I've listed the calories per dollar amounts in the included infographic to show how cheap Keto can be!
Not everyone is Gordon Ramsey, so I wanted to find foods that are easy to cook for the inexperienced. Of course we encourage anyone getting started on Keto to give cooking a try since it is surprisingly fun and relaxing. We've got you covered with a bunch of great recipes too. Check them out here KetoConnet.net – Recipes
Keto Shopping List – KetoConnect Staples
Here's the keto diet shopping list infographic. Pull it up while you're browsing the grocery store to guide you and give you some ideas on what to buy. Continue reading for a few sample days of eating using this shopping list at the end of this post.
Keto Meal Ideas 
So you went to the store and gathered up all the ingredients to start your new Keto lifestyle, now what? Let's put them together and make some amazing meals. Check out these example days of Keto meals I've put together to offer some guidance. These examples are for someone consuming 1700 calories per day. To figure out how much you should be eating use our keto macro calculator and adjust accordingly.
Full Day of Eating Keto: Day One 
This is what I'm eating most days. If I don't feel like getting creative and trying new recipes, I usually fall back on simple meals like this. You can't go wrong with eating like this on a daily basis and I would recommend that you start out simple for the first few weeks of keto and branch out after that.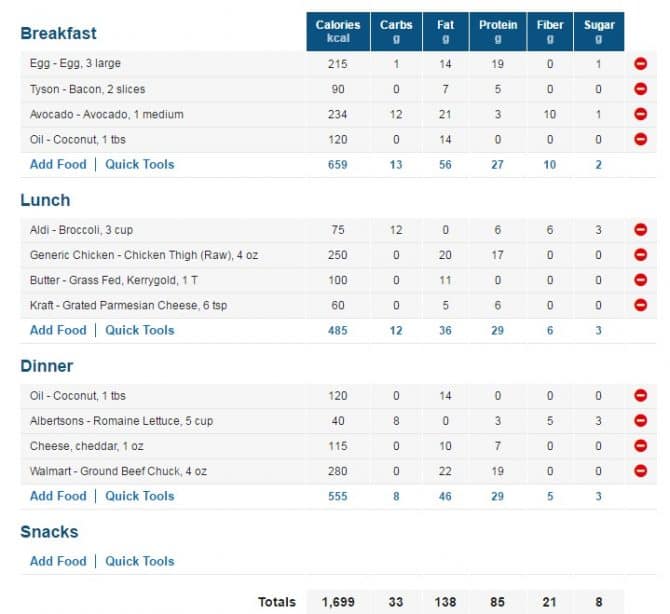 Full Day of Eating Keto: Day Two 
Here is another example keto day of eating. In this one, we stick with a lot of the basics, but add in some new items. Once you get the basic concept of counting your macro nutrients down, you can fill in your meals however you like. You'll notice the ratio we are going for with these day of meal examples. We're staying at no more than 25g of carbs with 65%+ calories coming from fat. Remember: We're tracking Net Carbs, which are total carbs minus fiber.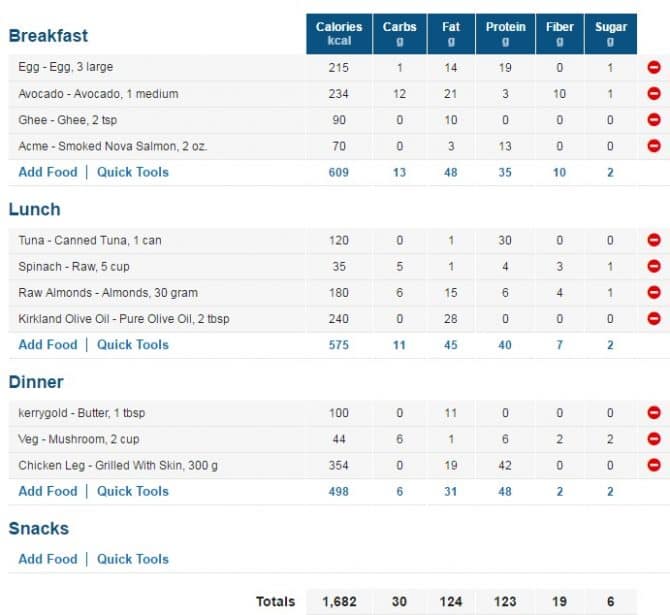 Full Day of Eating Keto: Day Three 
Here's one more example to help you visualize the possibilities. After a couple weeks or months, you will perfect the art of reading nutrition labels and tailoring your meals to the specific macro nutrient goals to achieve ketosis. It takes some practice, but it will become second nature in no time. Just stick with it!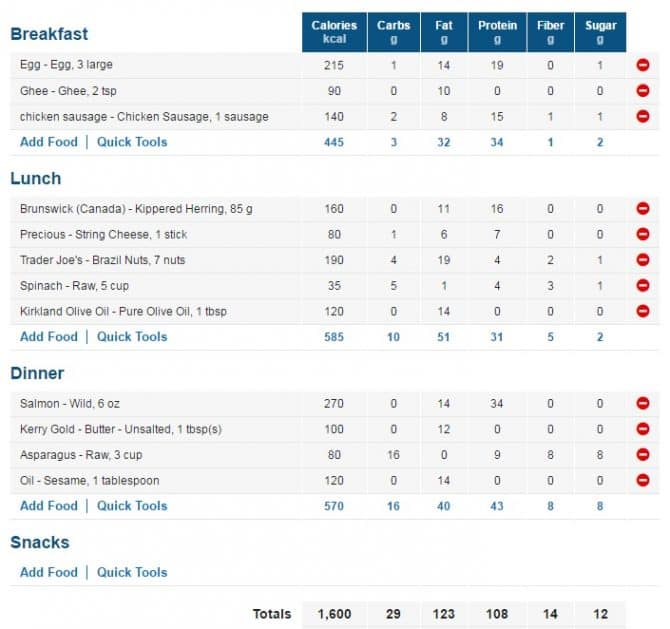 Make Your First Keto Shopping Trip A Success
I hope this helps you get started on Keto as soon as possible and allows you to start working towards your goals. The first shopping trip is really the foundation that everything else is built on. Use this list to get the right keto foods to propel you into a more healthy lifestyle! Feel free to comment on this post with any questions you may have and I'll answer them to the best of my ability. We love success stories at KetoConnect, so be sure to share those with us as well!
Here is our most recent day of eating video to give you a reference point: