Wingstop is a great keto option, but there are a couple things you need to look out for when ordering…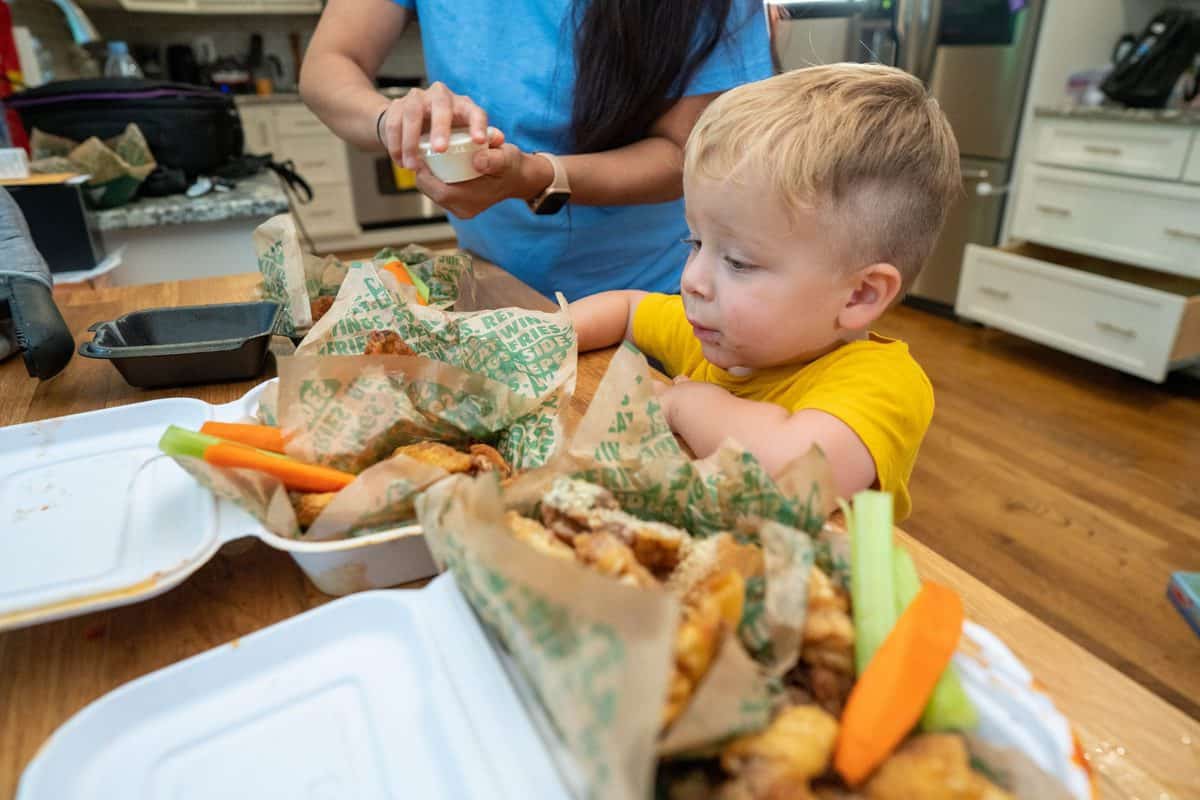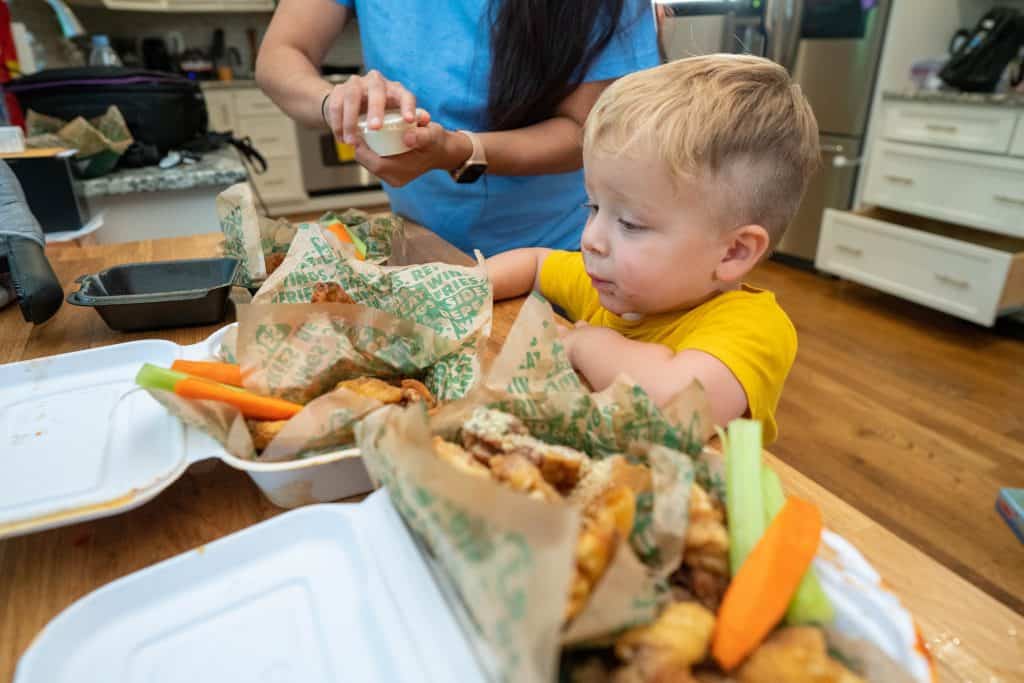 With almost 1,000 locations nationwide, Wingstop is one of the tastiest and most popular chain restaurants in America. We hadn't even tried it until a few years ago when we moved to the Southern United States, but it has quickly become one of our favorite takeout options for a keto diet.
Can you eat Wingstop on keto?
Yes, the Jumbo Wings at Wingstop are basically 0 grams of carbs without the addition of sauces. Many of the sauce choices at Wingstop are also great for keto, but there are certain ones that you want to avoid.
Wingstop Jumbo Wings are Best For Keto
Wingstop provides detailed nutrition information for everything on their menu. You have two options as far as wings go – Jumbo Wings and Boneless Wings.
The Boneless Wings are breaded and fried. Each plain boneless wing has about 7 grams of carbs, which means it's best to avoid them for a keto diet.
The Jumbo Wings are what we are after. They are traditional bone in chicken wings that are fried and tossed in the sauce of your choosing. We will discuss the best keto sauces at Wingstop further down in this post. Each plain Jumbo Wing has less than 1 gram of carbs.
What Are Wingstop Wings Fried In?
Wingstop fries everything in soybean oil. This is definitely not the healthiest option, which is probably the reason we don't eat Wingstop every single night 🙂
Soybean oil is an industrial oil that is heavily processed and refined. While we do consume it in small amounts, we try our best to avoid it.
You can reference the Wingstop allergen declaration for a full list of common food allergens.
Are Wingstop Wings Breaded?
The classic Wingstop wings (they call them Jumbo Wings) are not breaded. The boneless wings at Wingstop are breaded, which makes them a bad option for a keto diet.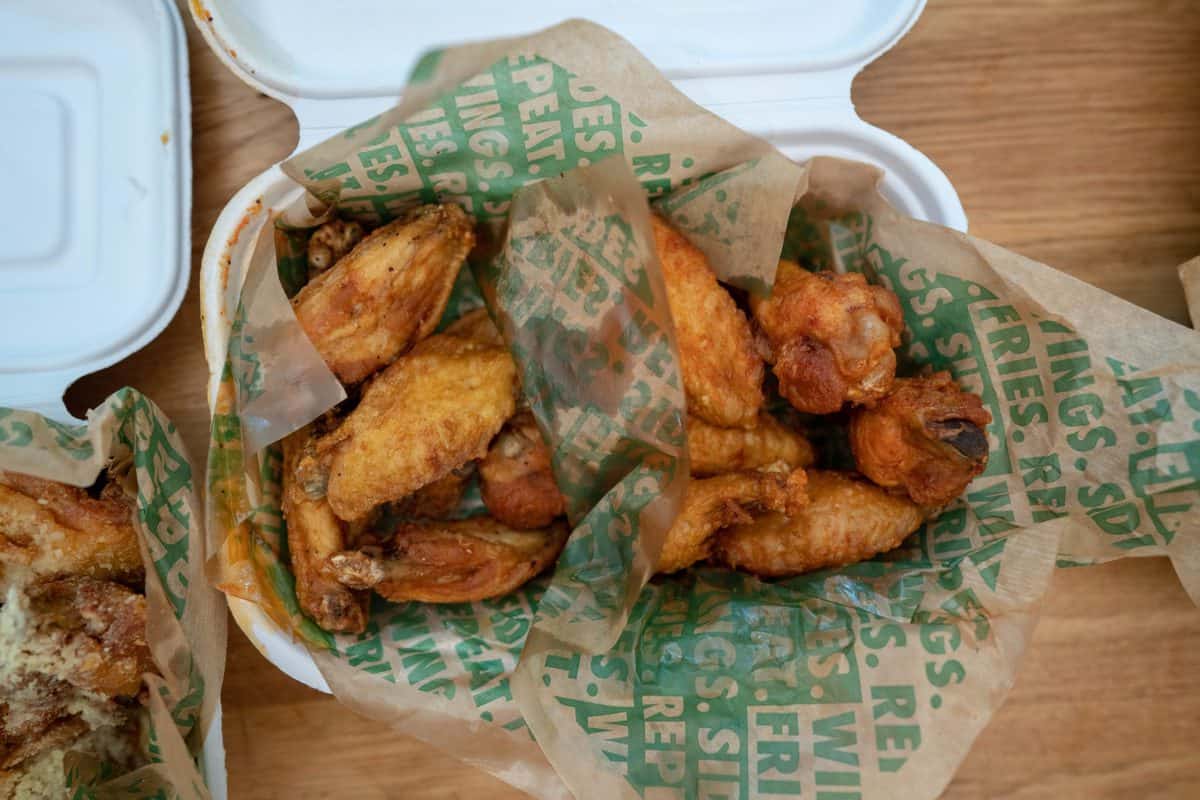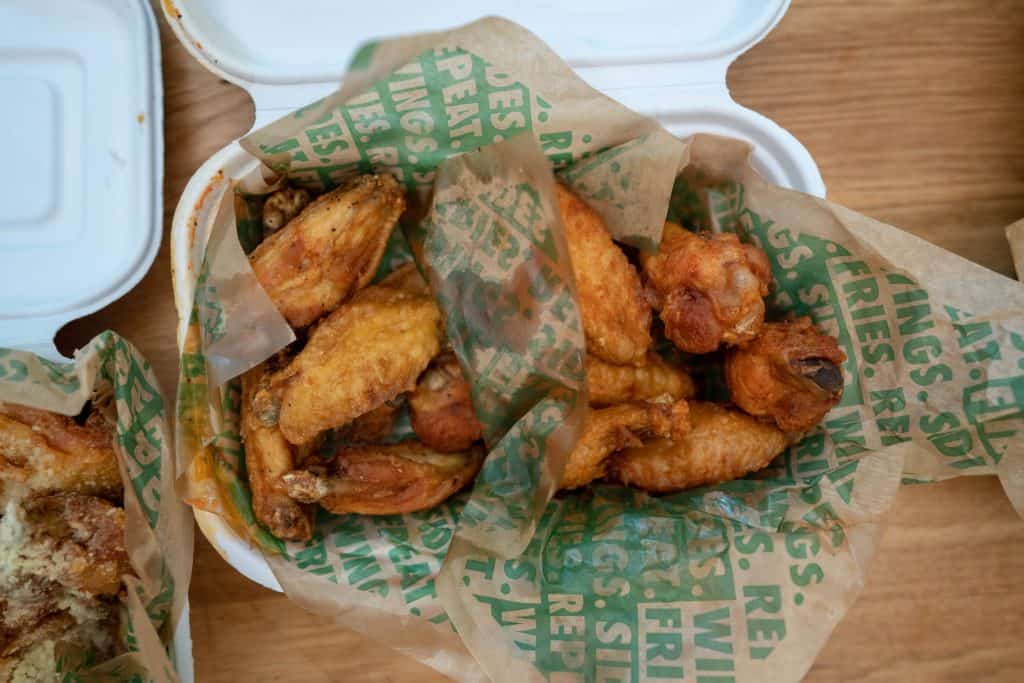 Which Sauces are Keto Friendly?
Now on to the fun part. Sauces are really what elevates and average wing to greatness. You'll want to be selective with your sauces if you plan on having a Wingstop keto meal. Here's a list of all the keto friendly sauces at Wingstop with carb counts.
All nutrition information is for 2 wings.
Plain
A plain wing without any sauce is keto, but it isn't any fun.
8g Fat – 15g Protein – 1g Carbs
Atomic
This is the spiciest sauce Wingstop has to offer. If you're crazy enough to try it, just know that it fits into a keto diet.
9g Fat – 15g Protein – 2g Carbs
Cajun
This is actually a rub and not a sauce. The spice rubs at Wingstop are very flavorful and happen to be my favorite option. If you've gotten dry rubs at Buffalo Wild Wings before and were disappointed, give these rubs a try. They are much more flavorful.
8g Fat – 15g Protein – 1g Carbs
Original Hot
Your classic buffalo sauce. Original hot is exactly what you're expecting when you think of buffalo wings. It's one of the better options for Wingstop low carb wings. If you like a good bit of spice on your wings then original hot might be for you.
9g Fat – 15g Protein – 1g Carbs
Mild
Options at Wingstop are not limited for low carb dieters. This mild sauce is another good choice if you like the flavor of buffalo sauce but don't like the spice. When I get Jumbo Wings I usually end up getting an order with wild sauce.
13g Fat – 15g Protein – 1g Carbs
Garlic Parmesan
Now we're getting to the good stuff. Garlic parmesan is definitely one of the top sauce options. It is probably the 2nd most popular wing sauce offered. I rarely place an order without at least a few garlic parmesan wings. Garlic parmesan also happens to be the highest fat sauce they offer, which fits in perfectly for eating keto.
15g Fat – 15g Protein – 1g Carbs
Lemon Pepper
Lemon pepper is by far the most popular wing flavoring whether you are doing a low carb diet or not. You can't say you've tried Wingstop until you've had their lemon pepper wings. Do not pass on these!
13g Fat – 15g Protein – 1g Carbs
Louisiana Rub
Louisiana rub is a unique and flavorful spice blend. It is comparable to the cajun wings in a lot of ways, but offers something unique as well. I would say Louisiana Rub is worth a try and it is slightly better than Cajun.
12g Fat – 15g Protein – 1g Carbs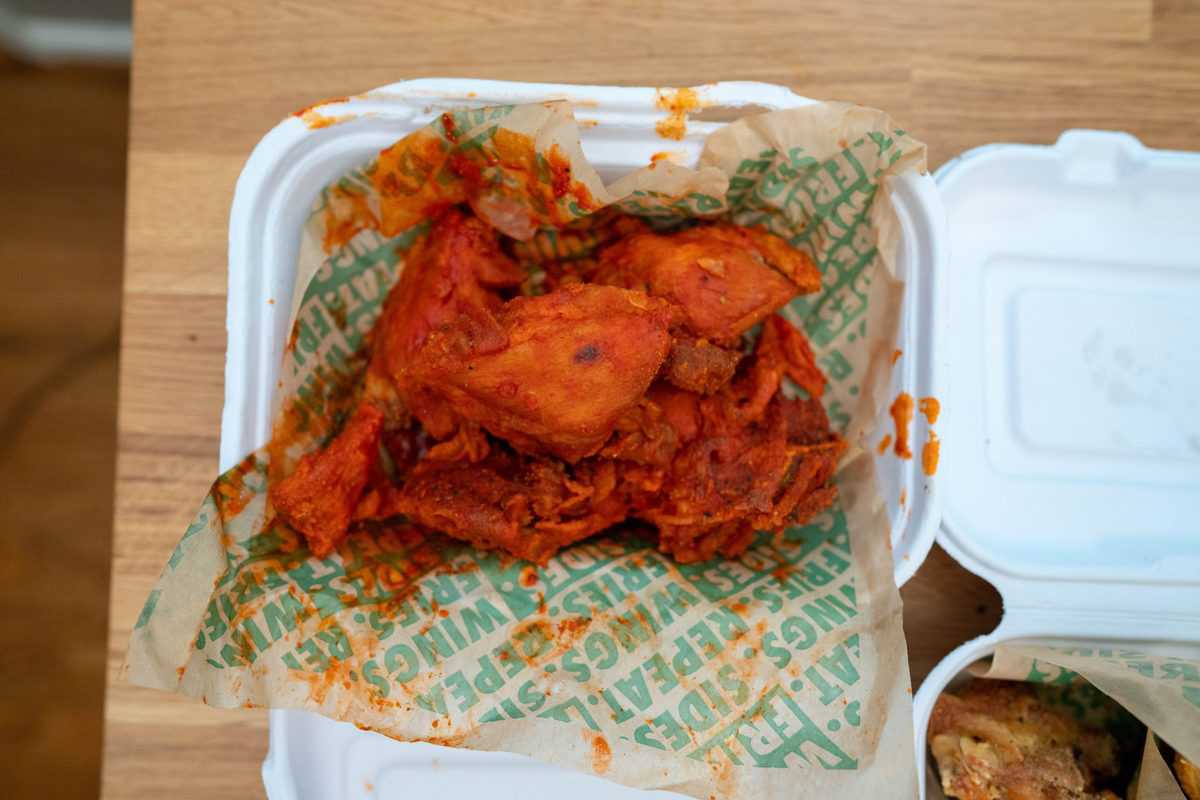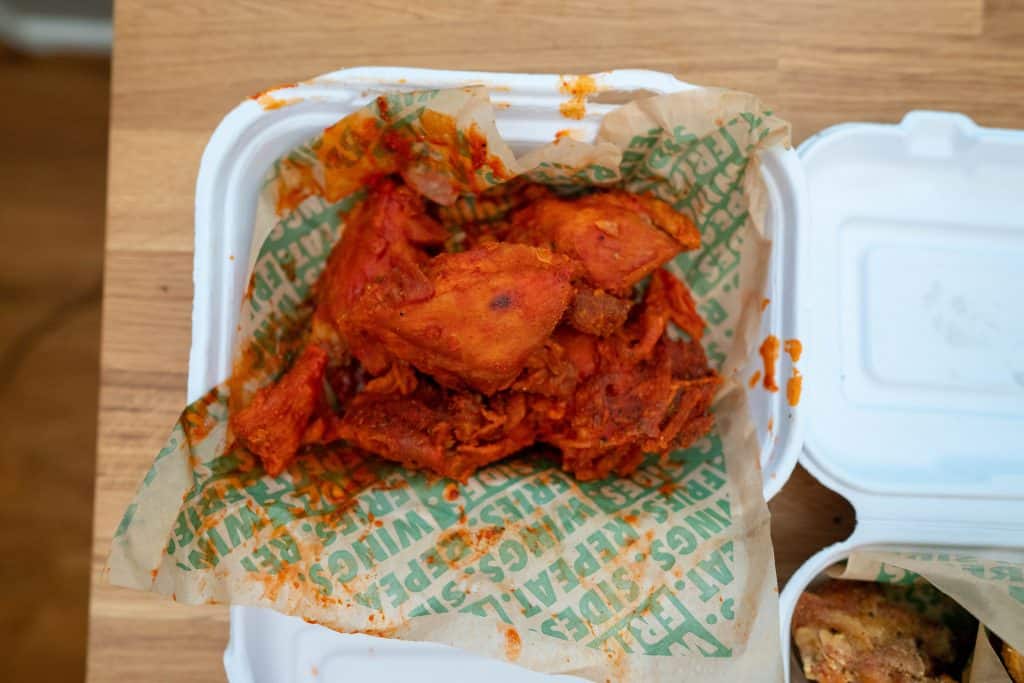 Sauces to Avoid for Keto
Of the 10+ sauces and seasonings available, only a small group of them are high in carbs. Even some of the sauces on this list are not too high in carbs, and you could probably squeeze them in if you really wanted to.
Mango Habanero
Mango Habanero is a sweet and spicy sauce that clocks in at 6g of carbs for 2 wings. It's definitely not one of the better Wingstop low carb options, and I don't think you're missing much by skipping this sauce.
8g Fat – 15g Protein – 6g Carbs
Hickory Smoked BBQ
Hickory Smoked BBQ is the highest carb sauce you can get. I'm of the opinion that BBQ sauce should never be on wings anyway, so I have no trouble staying away from this Hickory Smoked BBQ sauce.
8g Fat – 15g Protein – 8g Carbs
Hawaiian
Whenever you hear Hawaiian in relation to food you should immediately think "pineapple", which generally means lots of carbs.
8g Fat – 15g Protein – 5g Carbs
Spicy Korean Q
If you're a fan of Korean BBQ then you will probably love this sauce. If you're trying to make a Wingstop keto meal however, you may have to look elsewhere.
8g Fat – 16g Protein – 7g Carbs
Sides and Dipping Sauces
Sadly, just about every side is going to be loaded with carbs. You could probably tell that by the item names – Louisiana Voodoo Fries, Cajun Fried Corn, and Cheese Fries – that there isn't doing to be much suited to a low carb diet.
Veggie Sticks (Celery Sticks and Carrot Sticks)
Of course the veggie sticks that come with the wings are a good side item for your meal, but you can hardly count those as a side… right? Celery sticks and carrot sticks, along with a dipping sauce come with your order of wings.
Dipping Sauces
The options for dipping sauces are ranch, blue cheese and honey mustard. The ranch and blue cheese dipping sauces are relatively low carb, while honey mustard should be avoided with its 17 grams of sugar. Ranch and blue cheese are decent options, however they use a bunch of vegetable oils which you may want to avoid.
Ranch
33g Fat – 1g Protein – 2g Carbs
Blue Cheese
32g Fat – 3g Protein – 3g Carbs
Honey Mustard
33g Fat – 1g Protein – 18g Carbs
Unsweetened Tea
The cleanest drink option is Gold Peak Unsweetened Tea. It is made with natural ingredients and contains just 1 gram of carbs.
What Should You Order
If you're going to Wingstop for the first time the only essential item that you have to try is the lemon pepper wings. It is what Wingstop is known for and in my opinion is the best item on the menu. Aside from that, just pick rubs and sauces that sound good to you. You can try a variety of different rubs and sauces and decide which ones are your favorite for next time.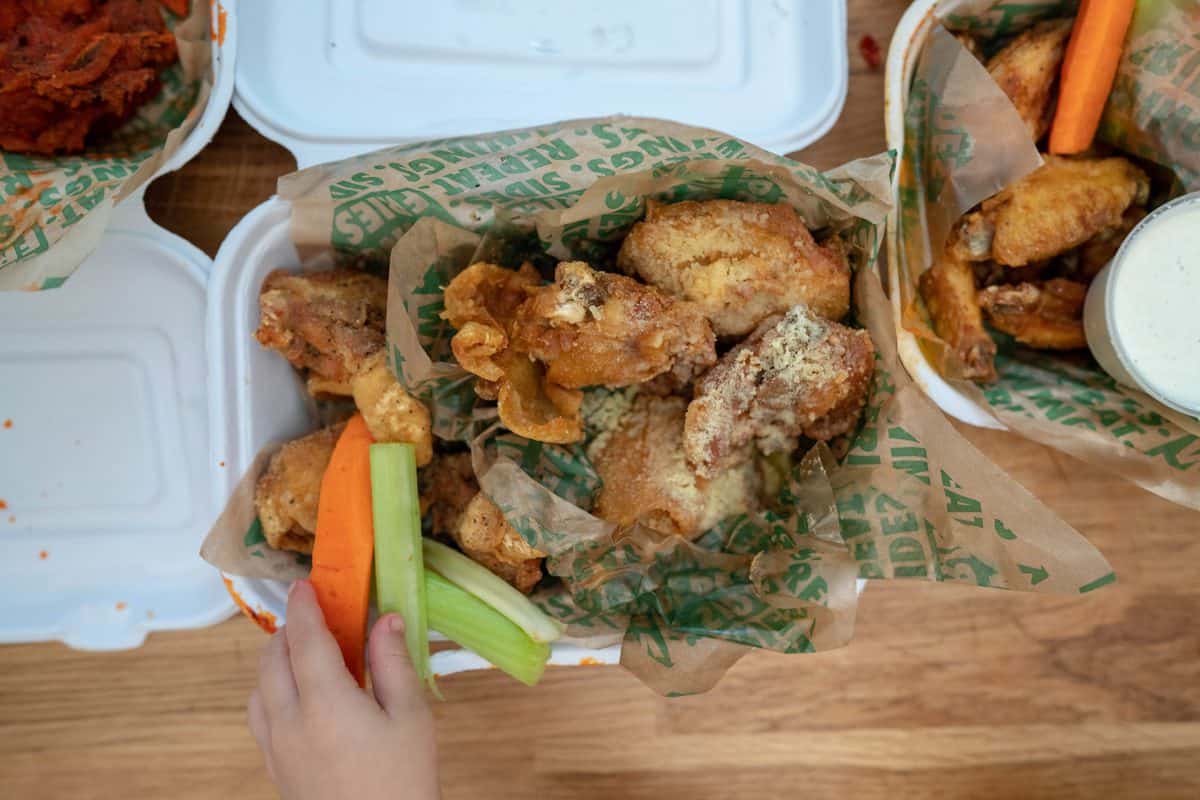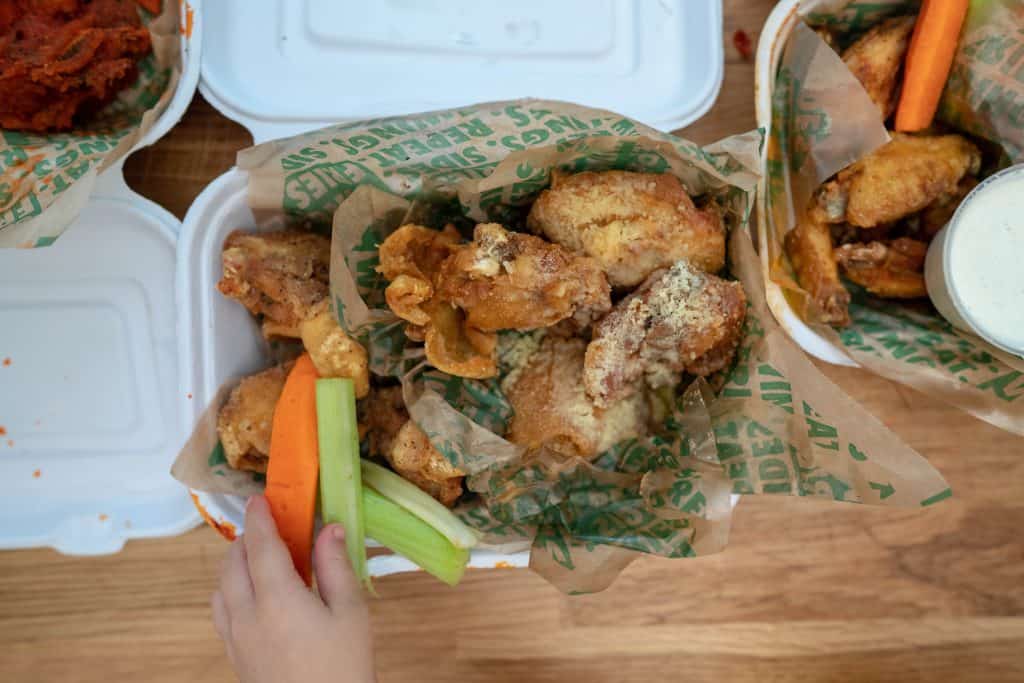 Are Wings keto approved?
Chicken wings are a great keto friendly food. Many people get confused because they think all fried foods are off limits on keto. Actually, chicken wings that are either baked, or fried in good quality oils (tallow, lard, coconut oil) are a perfectly acceptable keto food.
Is Wingstop Gluten Free?
Wingstop is not gluten free. Even if you get the Jumbo Wings, which are not breaded at all, they are fried in the same oil as other gluten containing foods. If you have a serious gluten allergy you will want to avoid Wingstop. If you are ok with trace amounts of gluten in your food then it may be acceptable for you.
How many carbs are in Wingstop lemon pepper wings?
Lemon pepper wings contain 1 gram of carbs per 2 wings.
Is Thighstop Low Carb?
Yes, Thighstop bone-in thigh's are prepared in the same way as the Jumbo Wings. This makes the nutrition nearly the same as the Jumbo Wings based on what sauce you choose.
Wingstop Keto – A Good Option?
Overall, Wingstop is a great option for eating on a keto diet with one major drawback – they use soybean oil for frying their wings. While it's easy to get a keto friendly meal at Wingstop, it is not something we do as often as we would like just because of the unhealthy oils used. We have Wingstop Jumbo Wings as an occasional treat because the flavor is top notch!
More Keto Fast Food & Restaurant Guides
We pride ourselves on having the most up to date and comprehensive guides for eating out on a keto diet. Check out our full listing of ordering guides for all of your favorite restaurants.