Everyone knows Walmart is the land of cheap and convenient and there are more Walmart stores in the U.S. than any other grocery store chain. It is no wonder everyone wanted to know what the best keto Walmart options are. There are so many great keto buys at Walmart, so this is going to be a big one.
We like Walmart because it is very budget friendly and there are a lot of great keto friendly staples you can buy. There are a lot of essentials, but there are also some products you should avoid. Check out the list below and watch the video for more in depth (and fun) descriptions of our favorite keto finds. Lets get into the keto Walmart shopping list!
What to Buy for Keto at Walmart
1. Keto Frozen Meals at Walmart
Real Good Foods pizza, enchiladas and chicken nuggets.
Atkins frozen meals
Large selection of keto ice cream
Real Good Foods makes low carb and keto friendly pizzas, enchiladas, and chicken poppers. Their products are made with great ingredients, and Megha loves the snack bites while Matt loves their cauliflower pizzas. The great thing about getting them at Walmart is you don't have to buy them in bulk!You can use our code: KETOCONNECT for 10% off.
Another frozen option are Atkins frozen meals. The ingredients aren't great, but it's a convenient option!
Ice Cream
There is a large selection of keto ice cream at Walmart. We did find some no sugar added So Delicious flavors , which are great tasting and pretty low in net carbs. Megha's favorite is the butter pecan..
Walmart had a lot of Halo Top ice cream, but make sure to read the labels because the newer flavors are higher in carbs!
So Delicious – Make sure it is the "No Sugar Added" variety.
Continue reading for more keto desserts to buy at Walmart, there is quite a large selection!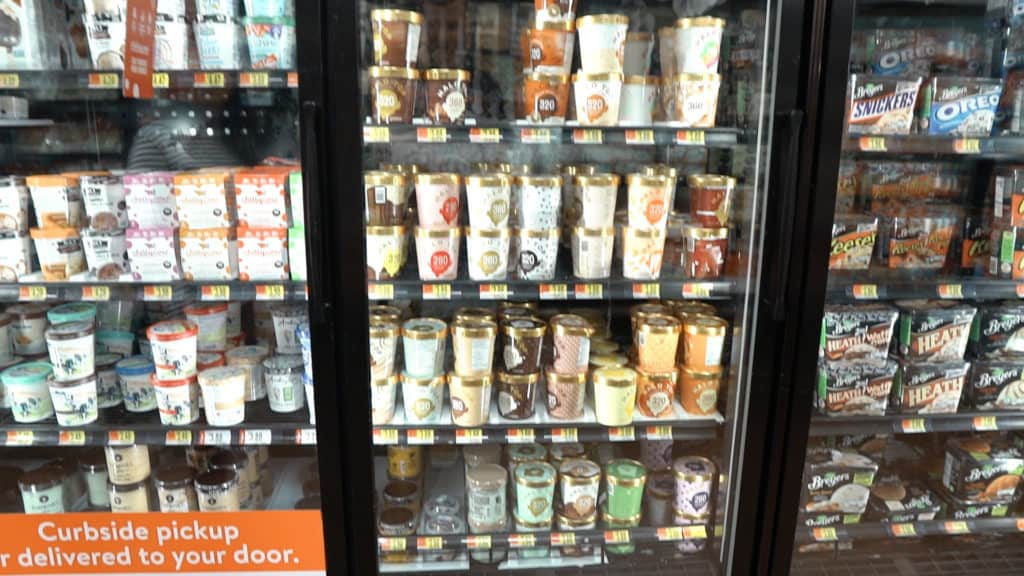 2. Keto Snack at Walmart
It seems like every time we go shopping we find more keto products at Walmart. It's great to see so many options.
Slim Fast Keto Fat Bombs – ONLY the fat bombs. The other keto products from Slim Fast are not suitable for a keto diet.
Quest Bars and Cookies
Atkins Bars (Some) – Look for maltitol in Atkins products. If you see maltitol on the ingredients it will have a significant impact on blood sugar levels.
Portable Protein Packs
Sardines
Mixed Nuts
Beef Jerky and Sausage – Check for added sugar. It can be hard to find beef jerky without any sugar added, but you can usually find some sausage links.
Panino Fingers – Cheese sticks wrapped in meat.
Sugar Free Jello Cups
We have a lot of great fat bomb recipes on our site and also in our Fat Bomb Bible ebook, but if you don't want to make your own, these new SlimFast fat bombs are convenient and tasty. They are also a lot cheaper at Walmart than other places we have found them. Don't be fooled though, see below for a product to avoid from this company!
We love making movie snack bags with these fat bombs or reaching for them when we need a small treat.
3. Keto Chips at Walmart
People are always looking for replacements for chips on a keto diet. It's understandable since sitting on the couch with a big bag of chips and watching TV is one of the most relaxing and enjoyable things to do. Luckily, as keto has become more popular there are more alternatives to potato chips. Give some of these keto chips at Walmart a try and see what you think.
Quest Protein Chips – The "Tortilla Style" chips are much tastier than the original ones (in our opinion)
Pork Rinds
Protein chips are typically a highly processed food made with less than desirable ingredients. That being said, they are a great movie snack and they do a good job of replacing potato chips. Cheese crisps and pork rinds are going to be better alternatives to protein chips, but they may not be what you're looking for if you truly want chips.
3. Meats on a Budget
Ground Beef
If you are on a budget, Walmart has all the deals. We found 10 pounds of ground beef for only $20! You could easily get enough protein and calories every day at a very discounted price. This would be perfect for meal prep.
Lamb & Bison
While Walmart meats aren't usually the highest of quality, we were surprised that they offer some higher quality options. We found meats like lamb and bison which are great for those of you searching for cheap, yet higher quality meats.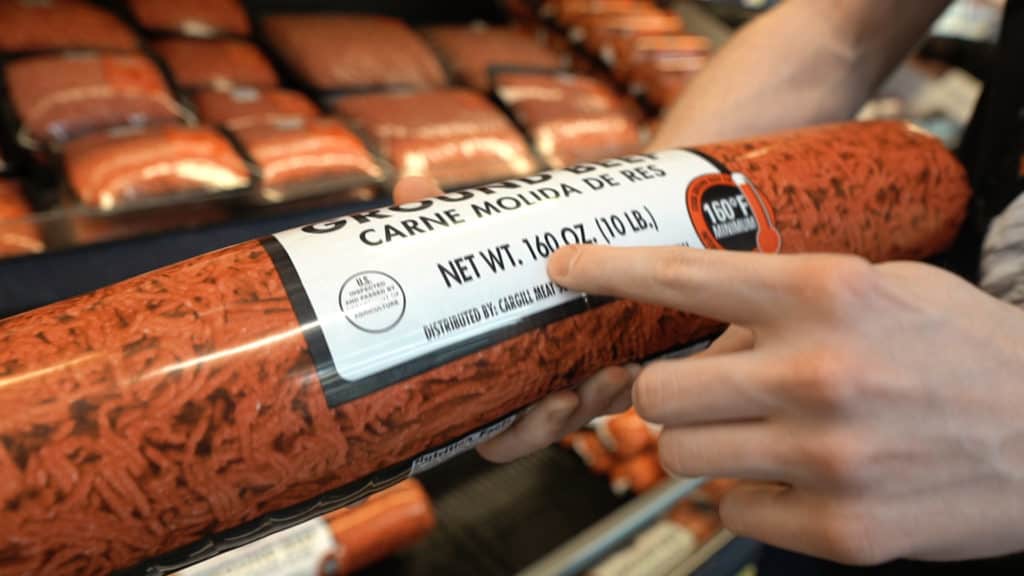 Bacon
We get asked a lot of questions about sugar in bacon. Cured bacon will contain sugar because it is required for the curing process, but there is such a small amount that it isn't something we worry about!
If you don't want to purchase bacon that is cured with sugar, a great option is to look for the bacon that is uncured. This bacon usually is less processed and has less preservatives too. Our advice is just to look at the labels, and then if you want to consume it, make sure to count the carbs.
4. Fats & Oils
We were really surprised by the higher quality options available in this section at Walmart. We use lots of oils and fats on the keto diet, so this is something that is essential.
4th & Heart Ghee
Fatworks Duck Fat and Beef Tallow
Extra Virgin Olive Oil
Avocado Oil
High Quality Coconut Oil
We definitely did not expect to find Fatworks duck fat and beef tallow in the oil section. We love to use animal fats to cook our food in, as well as coconut oil. For coconut oil, virgin coconut oil packaged in a glass jar is best. We also recommend picking up a quality olive oil or avocado oil. You want these to be packaged in a dark glass bottle for the highest quality. We like to use nut oils to flavor meals rather than cook meals in. We were very impressed with the options we found here.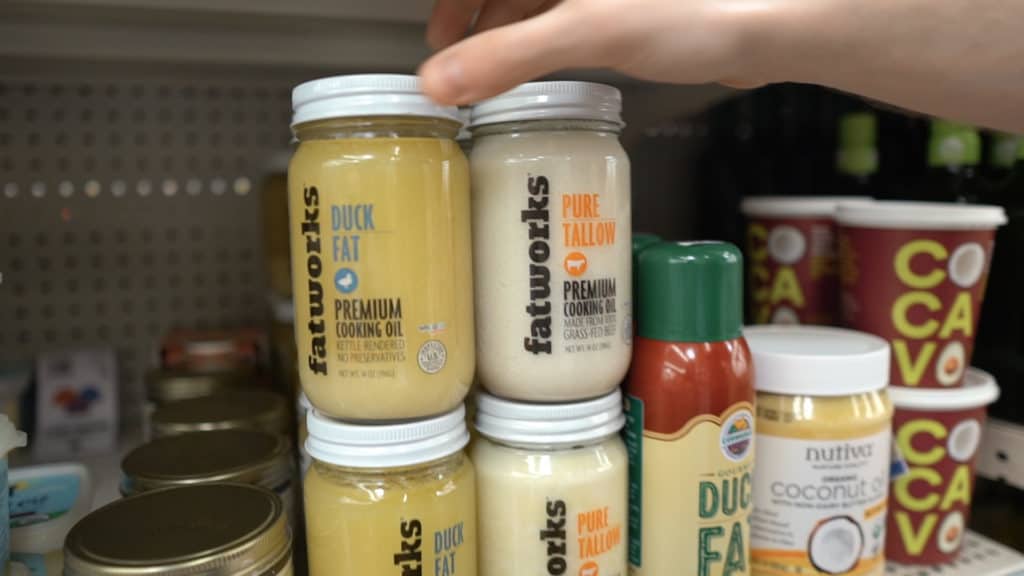 5. Sugar Free Sauces & Syrups
Rao's Homemade Marinara
A really great option for a keto pizza sauce at Walmart is Rao's Homemade marinara and sauces. It's one of the best options for tomato sauce with only 4 grams of total carbs per 1/2 cup. They were the cheapest we'd ever found at Walmart!
G. Hughes BBQ
Another sauce we love to pick up at Walmart is G. Hughes BBQ sauces which are sugar-free and keto friendly. This is Megha's favorite condiment and she pairs it with ever meal!
Torani Sugar Free Syrups
One thing we get asked about are these Torani sugar free syrups. They are sweetened with acesulphame potassium and sucralose, so they aren't the best, but they can be used on a keto diet to help you stay on track and won't likely mess with your ketone levels.
We like to use the Better Stevia flavored drops to flavor and sweeten our foods or drinks. Unfortunately you can't find these at Walmart.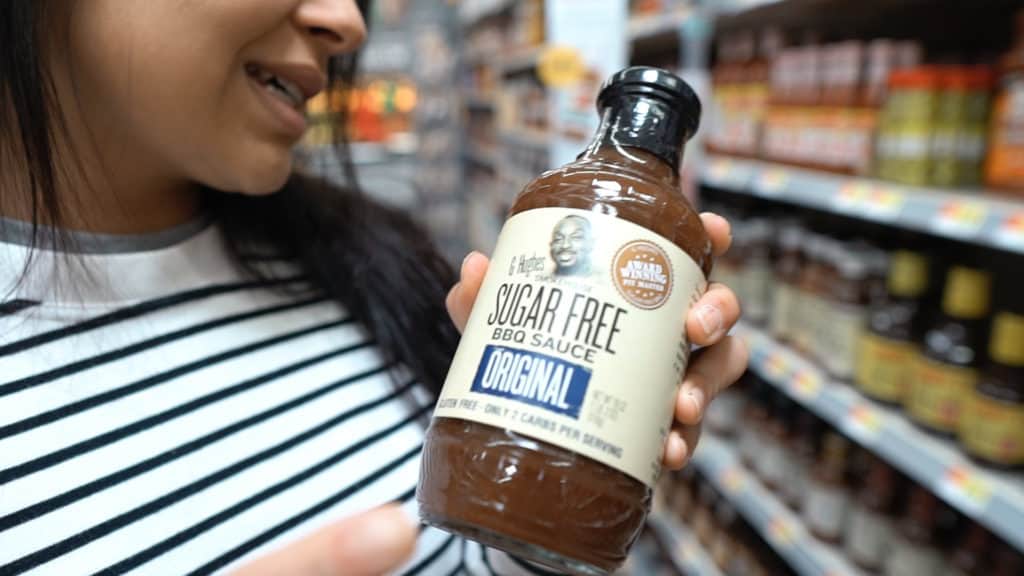 6. Keto Bread at Walmart
That's right, there is keto bread at Walmart now (at least at certain locations). They also have a small selection of low carb tortillas which are great for making keto friendly tacos and burritos. One thing to keep in mind with most store bought keto bread alternatives is that they are not gluten free, for the most part.
ThinSlim Foods Low Carb Bread
Mama Lupe's Low Carb Tortillas
Joseph's Lavash Bread
Mission Carb Balance Tortillas
It's incredible that there are so many keto breads at Walmart now! We usually opt for the low carb tortillas or the Lavash bread because you can really load them up with high fat ingredients and make a filling meal.
7. Keto Sweeteners at Walmart
The sweetener section at Walmart had a ton of different products. We found multiple sweeteners that are great options for keto like Pyure, which is powdered stevia. The liquid Splenda bottles are also a good option.
We also found a generic product that contained only stevia and erythritol, so that could be a great option as well. No need to buy only brand names, you can find generic versions that are cheaper and contain the same ingredients.
We like to stick to three sweeteners: stevia, erythritol, and monk fruit.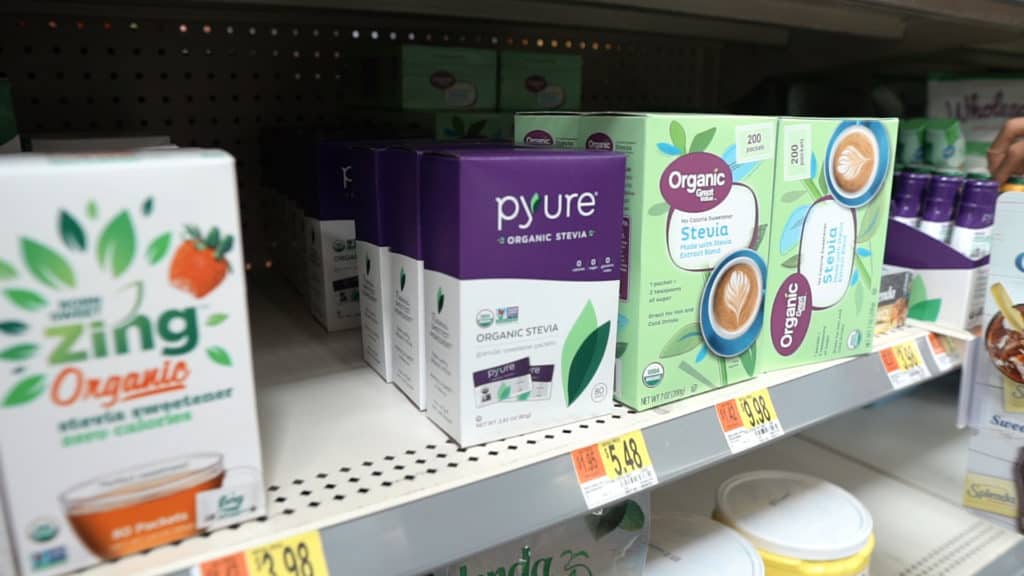 8. Dark Chocolate Bars
Dark chocolate is the best chocolate option for the keto diet, and Walmart has some pretty budget friendly options. We usually buy unsweetened dark chocolate. If we buy sweetened chocolate, we buy the brands that are sweetened with stevia, monk fruit, or erythritol.
When these brands aren't available at your grocery store, you can still have chocolate. Dark chocolate is generally not sweetened and contains fewer carbs per serving.
If you can't stand the 100% dark chocolate, this 92% dark chocolate would be a nice low carb sweet treat after your meal. This is a great options for those chocolate lovers out there!
9. Keto Protein Powder at Walmart
There are a wide variety of keto protein powder options at Walmart. We typically look for whey isolate when shopping for protein powder. Whey isolate is lower in carbs than whey concentrate proteins.
To find a suitable protein powder there are two things you want to check.
How many carbs per scoop?
What type of sweetener is used?
Look for protein powders that have less than 3-4 carbs per scoop, and try and find one that is naturally sweetened (although this can be tough). We prefer protein powders that use stevia, but will often have to settle for those that are sweetened with sucralose.
10. Other Keto Products at Walmart
There is even more keto products available at Walmart. We'll get to the keto products that you should avoid after this, but there are some other useful products worth mentioning here.
That rounds out the list of everything you can get for your keto diet at Walmart. There are definitely some downsides to Walmart, but the large selection more than makes up for it. You're not likely to find the best quality products, but you will find a bunch of good keto products in addition to meats and veggies to set you up for success on a ketogenic diet.
Now lets talk about some things to avoid!
Keto Pills at Walmart (Avoid)
Keto pills are made for the express purpose of taking advantage of the uninformed consumer. They do contain ketones, but they are in such a low dosage that they will have no effect. Additionally, they are sold at very high prices when compared to ketone powders.
You do not need supplemental ketones, focus on eating a keto diet instead. If you do want to give ketones a try you are better off buying a powdered supplement so that you get the recommended dosage, as opposed to the keto pills at walmart.
Keto Strips at Walmart (Mostly Avoid)
Walmart sells urine strips that you can use to test your ketones. The problem is, urine strips only tell you the amount of ketones that you are excreting and not the amount that is in your blood. This can be fun as a test when starting keto to make sure you're producing ketones, but these strips should not be used to accurately measure your ketone levels.
Sugar Free Candy (Avoid)
You might have seen sugar free candies (like Russel Stovers) before and thought they were perfect for keto. Think again. These candies usually contain maltitol, which is a sugar alcohol that spikes your blood glucose similar to white sugar. That means that you can't subtract those carbs from maltitol when counting net carbs because they impact your body.
We do not recommend these candies for anyone on the keto diet. The sugar alcohol we like to stick to is erythritol which has no blood sugar effect.
To see which sweeteners have an effect on your blood sugar, check out our Ultimate guide to low carb sweeteners.
Keto Shakes at Walmart (Avoid)
All of the keto shake options at Walmart are pretty bad. There are some that use really bad ingredients, and some that use decent ingredients but don't taste very good. You're much better off buying a keto friendly protein powder and mixing it with a milk replacement and using that as a keto shake. We would personally avoid all keto shakes at Walmart.
Keto Burn Xtreme at Walmart (Avoid)
The truth is, if you're still in the "fat burner mindset" then you are not likely to have success with whatever diet you are trying. Whether it be ketogenic, vegan, or a standard american diet. Pills don't burn fat, sustainable diet and lifestlye changes do. Nothing about this supplement is keto. The word keto is on the label to confuse consumers.
SlimFast Keto Meal Bars (Avoid)
The SlimFast Keto fat bombs were one of our top 10 finds at Walmart, but you should avoid the SlimFast meal bars. They contain unwanted ingredients that could potentially affect your ketosis. They contain IMO fiber which can't be subtracted in order to get net carbs because this fiber actually does impact your blood sugar levels. If it can affect your blood sugar levels, it can impact your ketosis level, so these bars should be avoided.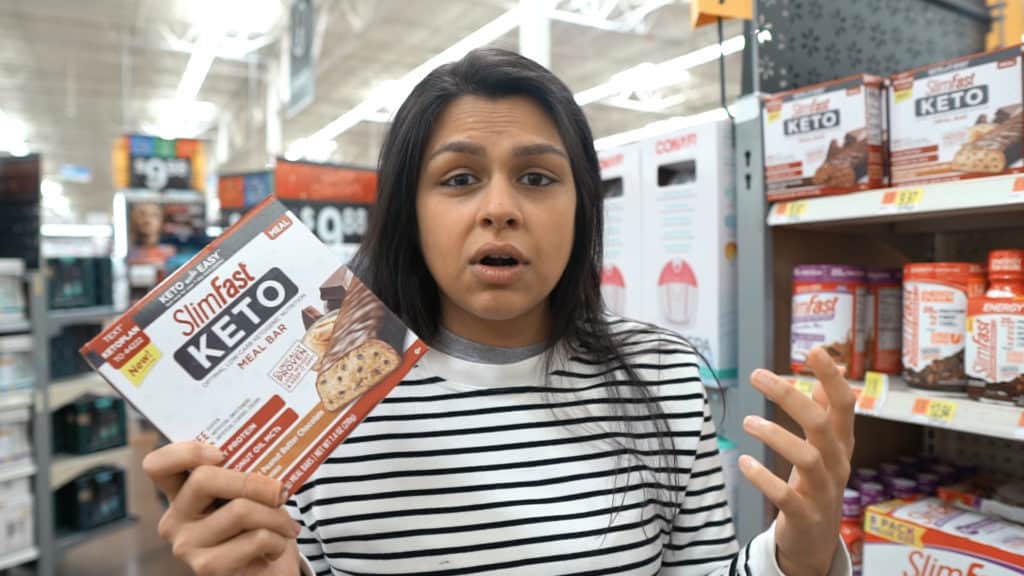 Is Stevia In The Raw Keto? (Avoid)
You would think that Stevia In the Raw is just what is sounds like, raw stevia. Well, it is not only stevia, in fact the first ingredient is dextrose. Dextrose can spike blood sugar. You should avoid this product, because there are definitely better options that don't include dextrose.
We like to stick to products that are mainly erythritol, stevia, or monk fruit (with no other ingredients), so just make sure you check the ingredients label when buying sweeteners.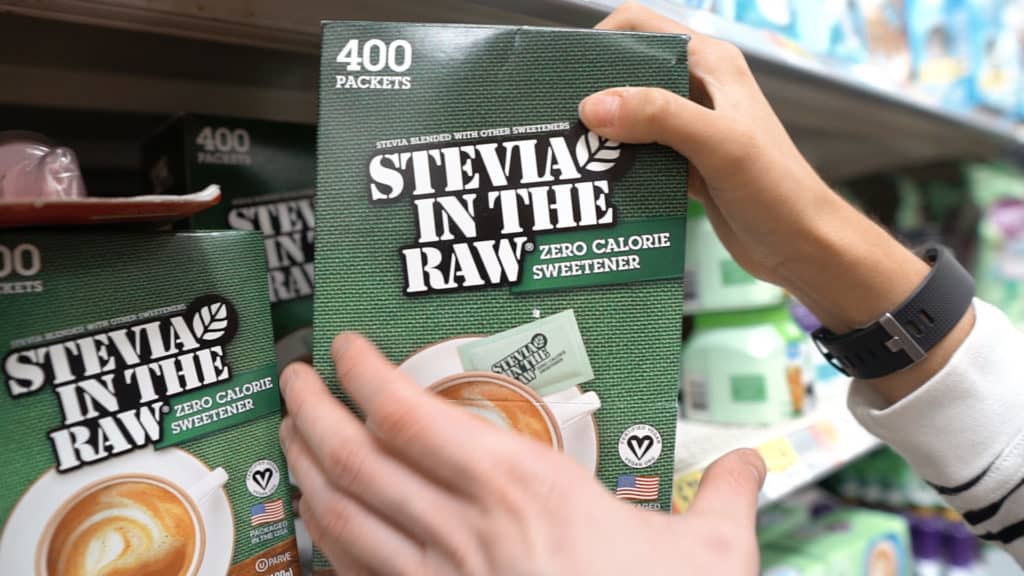 Keto Coffee at Walmart (Avoid)
Coffee is already keto.
Everyone is trying to capitalize and make money off of the keto diet by making products that say "keto" and "mct oil". We found this keto coffee product by Mighty Coffee. Usually these are the products that have a ton of unnecessary ingredients and some of those ingredients actually might not be good for the keto diet.
Instead of buying these products, it might be better to just buy some MCT oil or heavy cream for your coffee. We like to use butter too! Be wary of these products and check the labels on everything you buy. Just because it says it is keto, does not mean that it is the best for keto.
Salad Dressings "Made of " Olive Oil
Ever since everyone found out olive oil and avocado oils were actually healthy for you, they started adding them to a lot of dressings and different products. Don't be fooled when you see an olive oil salad dressing.
They are usually sneaky and include other oils (canola or soybean) which are high in omega 6 fatty acids and can increase inflammation. Just be aware that the oil in these dressings is not only olive oil. We try to avoid these products and check the labels of all of our dressings.
We like using Primal Kitchen's avocado oil salad dressings which does not contain any other oils.
In Summary
There are many keto options available at Walmart that we recommend! We couldn't hold the list to only 10, so we added in a lot of extra options! Always be sure to read the ingredients that an item contains, even if it says keto or looks keto friendly. A lot of the items contain unwanted ingredients!
1. Keto friendly frozen foods and ice cream
2. Keto chips
3. Keto snacks
4. Animal fats and quality oils
5. Sugar free sauces and syrups
6. Keto bread and tortillas
7. Keto sweeteners
8. Dark chocolate
9. Keto protein powders
10. Even more keto products
That wraps up our top 10 keto buys at Walmart.
Comment below and let us know what keto friendly foods and products you love to buy from Walmart! We love giving you guys some ideas about what to buy at different grocery stores, so if you have any more store suggestions, let us know!