Any keto dieter knows that maintaining a healthy low carb diet can get rather expensive. If you're like us, your health is the most important thing, but your wallet is a close second! That's why we're constantly on the hunt for keto options at budget stores like Walmart.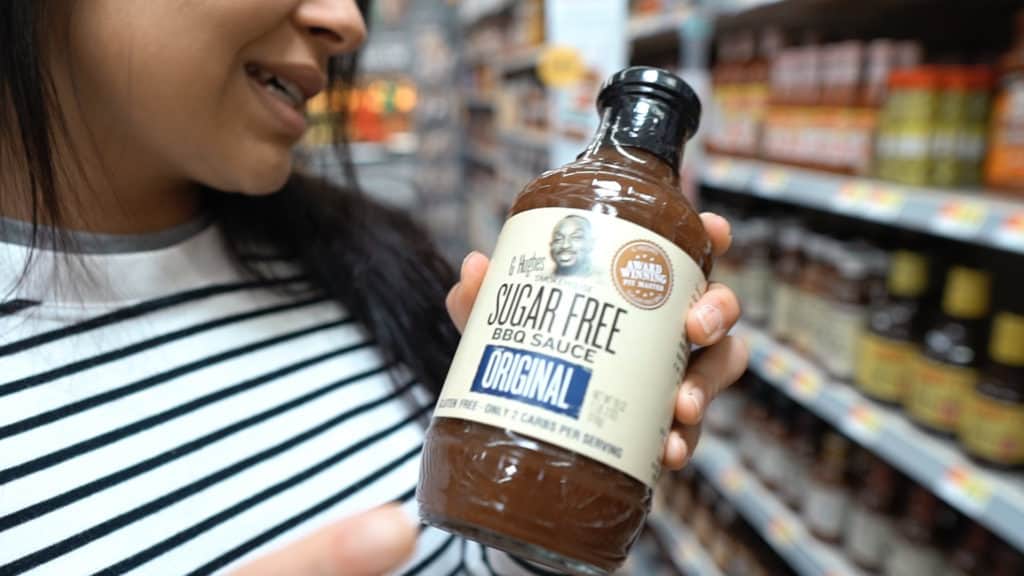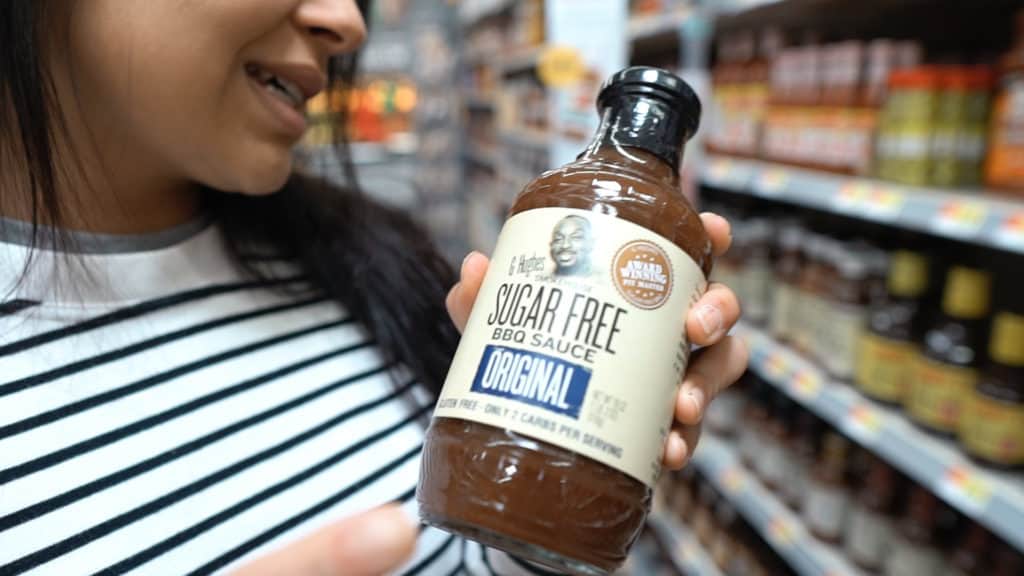 Join us for our keto Walmart shopping trip, and we'll take you through the store aisle by aisle to reveal the best keto finds. We've done lots of research and product testing over many trips to Walmart, so buckle up and get ready to fill your cart with our Walmart shopping list.
Our Favorite Keto Friendly Options at Walmart
To help you make one quick trip through the store and focus your time more on food prep than on shopping, we'll break down all of our favorite keto Walmart options by category or location.
Keto Specialty Products at Walmart
Walmart has an ever increasing amount of keto products available. They used to lag behind all of the other grocery stores, but these days Walmart is sometimes the first to carry a new keto product! Here's what to look for.
SlimFast Keto Products
SlimFast has been offering keto products for a few years now. Most of them are not very good, and some of them use questionable ingredients. The best products they offer are the Keto Fat Bombs in a variety of different flavors.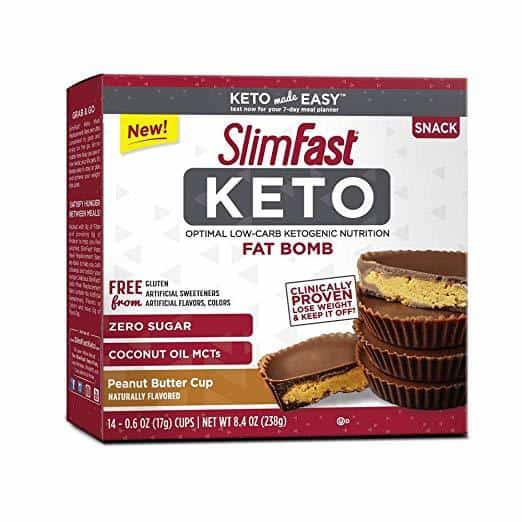 Quest Keto Products
Quest has a whole line of delicious low carb, high protein options. I would be on the lookout for their tortilla chips, which are a personal favorite of ours. Walmart with also typically carry Quest Cookies and Quest Bars.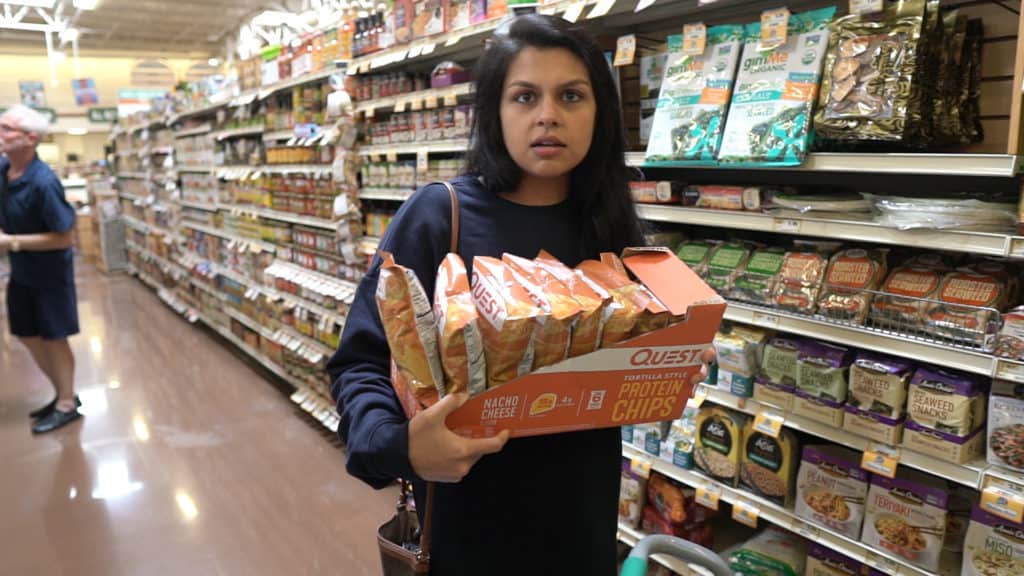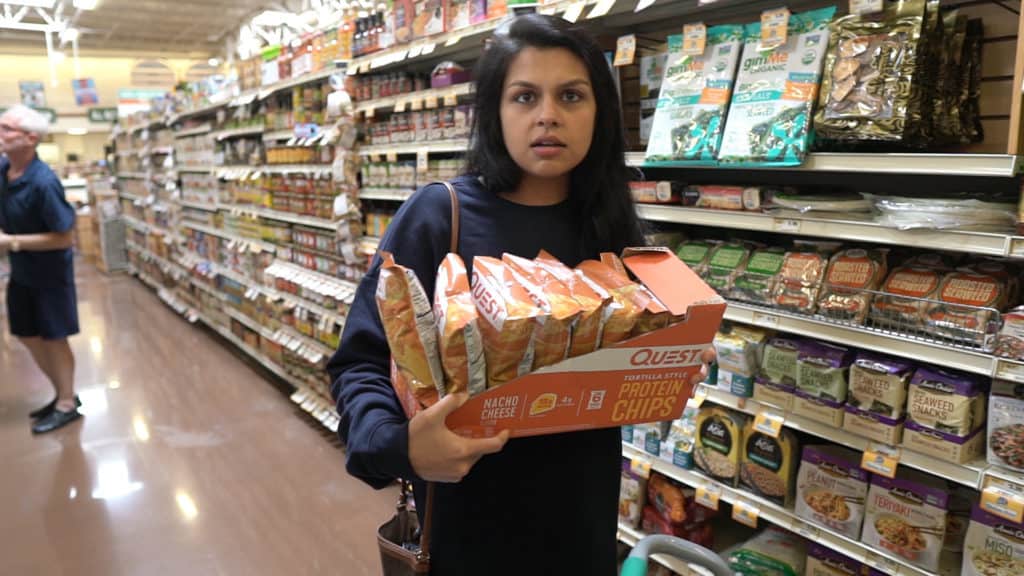 Dang Bars
Looking for a vegan keto snack option? Dang bars are what you're after. You can find these in 4-5 different flavors, but our personal favorite is the Almond Vanilla bar.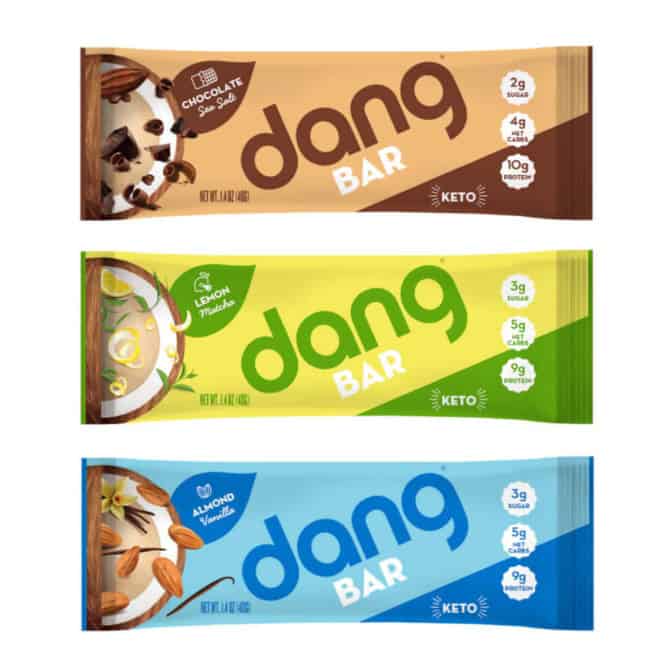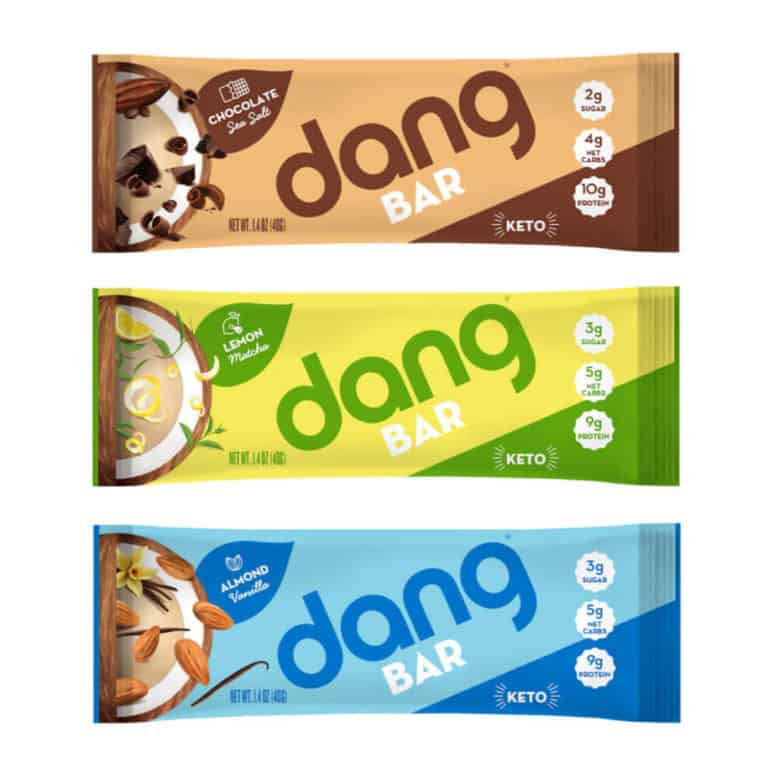 Super Fat Nut Butters
These delicious nut butters have different things added to them to appeal to keto dieters. Some have probiotics, MCT's, and protein powders. Super Fat nut butters are definitely worth a try if you can find them.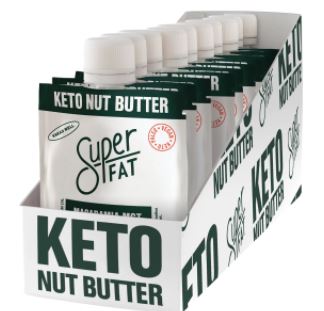 Lenny and Larry's Keto Cookies
These cookies have been out for a few years. They are not my favorite in terms of flavor or ingredient quality. You're better off going for a Quest Cookie or an Atkins Cookie over these.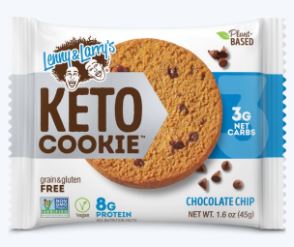 Kiss My Keto Products
You'll mostly find Kiss My Keto supplements at Walmart, but they sometimes carry their protein bars and other items.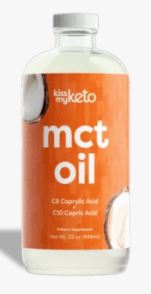 Make sure to read our comprehensive Kiss My Keto Review!
Atkins Keto Products
You have to be careful when you're choosing Atkins products because they often contain maltitol, which is not keto friendly. Just do a quick scan of the ingredients section and if you don't see "maltitol" it should be good to go.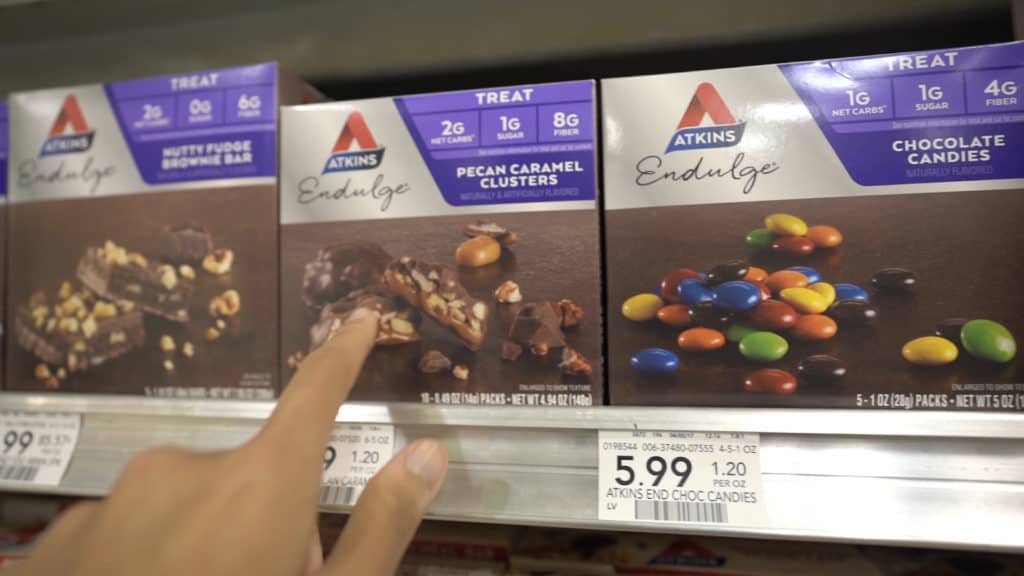 WonderWorks Keto Cereal
This keto cereal is made by General Mills and surprisingly tastes pretty good. You can find it in 3 different flavors – Chocolate, Peanut Butter and Cinnamon. My personal favorite is peanut butter.
For more cereal options read our guide to keto cereal.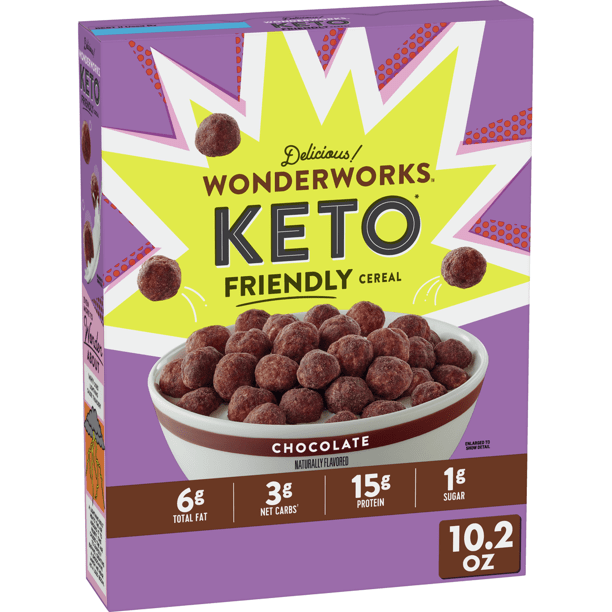 Affordable Meat at Walmart
Meat is a staple of any low carb diet. There are plenty of budget options on delicious cuts of meat at Walmart to help you hit your protein and fat goals.
Sam's Choice All Natural Smoked Sausage
With just 3g of net carbs per serving, 3g of fat, and 15g of protein, this delicious smoked sausage is a must-have for any person on a keto diet.
Hormel Original Uncured Bacon
Keto must roughly translate to "bacon on everything" because we've never met a keto dieter who doesn't love the stuff. This uncured bacon is a great healthy option, and it's rich in fat to help you reach your daily fat goals. We recommend indulging in some bacon egg cups for breakfast!
Walmart Deli Ham
One of our favorite places to go for a quick snack at Walmart is the deli counter. Walmart carries name-brand ham options for cheaper than you'll find anywhere else.
Walmart Deli Pepperoni
While we're at the deli counter, we always grab a pound or two of Walmart's brand of pepperoni. It's one of the most affordable keto-friendly options, as it's packed with healthy fat and plenty of protein.
Marketside Butcher Organic Grass-Fed Beef
No Walmart shopping list is complete without organic grass-fed beef! The Marketside Butcher beef from Walmart tastes super fresh, and it's one of the most affordable places we've found to buy it at just under $5 per pound.
Boneless, Skinless Chicken Thighs
Chicken thighs are one of the tastiest — and fattiest! — cut of the chicken, and Walmart offers them for an incredible $2 per pound. That's not a typo: you can get around 5.5 pounds for $11. Make sure to buy the Walmart brand for the best savings. Need a fast, easy meal? Try making our one-pan chicken thighs.
Boneless, Skinless Chicken Breasts
Looking for a leaner cut of chicken to pack some extra protein into your keto diet? Walmart's store-brand chicken breasts are a steal at just $8 for 3 pounds. You can't get much better than that for thin-sliced chicken breasts.
Great Value Mild Italian Sausage
Another Walmart exclusive, this Italian sausage is super delicious, perfectly seasoned for use in most recipes, and delivers just 2g of net carbs per link. At under $4 for five links, you can stock up on these and freeze whatever you won't use before your next Walmart trip.
Marketside Butcher Fresh Split Lamb Breast
Walmart doesn't exactly scream "exotic meats" to us, but they actually have an impressive selection of lamb. This lamb breast is an excellent buy at around $6 per pound.
Marketside Butcher Ground Bison
That's right! Walmart also carries bison meat, which is one of our favorite low-carb meats. This bison from Marketside Butcher is just under $9 per pound, which is more affordable than most other grocery stores.
Sam's Choice All Natural Wild Caught Haddock
We're big fish eaters, and this frozen haddock is perfect for a quick and easy dinner. The skinless fillets are individually packaged for minimal waste and optimal convenience.
Best Dairy Options for Keto at Walmart
After our trip to the meat section, we hit up the dairy aisle, where we stock up on cheese, butter, oil, and, of course, eggs; all a part of the keto Walmart experience!
Great Value Heavy Whipping Cream
Heavy whipping cream is a wonderful option for keto dieters — it delivers tons of flavor and creaminess to dishes and provides healthy fats galore. Unsurprisingly, Walmart's brand is the cheapest option $4 per carton.
Philadelphia Cream Cheese
This cream cheese comes in a two-pack at Walmart, so you get a whole pound for under $4! With just 1g of net carbs per serving, you can use this in keto desserts or creamy keto recipes without any guilt. Speaking of which, we highly recommend trying our creamy keto cheesecake fat bombs!
Kerrygold Pure Irish Butter
We've yet to meet a keto dieter who didn't have a stock of Kerrygold butter in their home. Walmart sells this butter for around $2.88 for a half-pound. The best part? ZERO net carbs per serving! Eat up!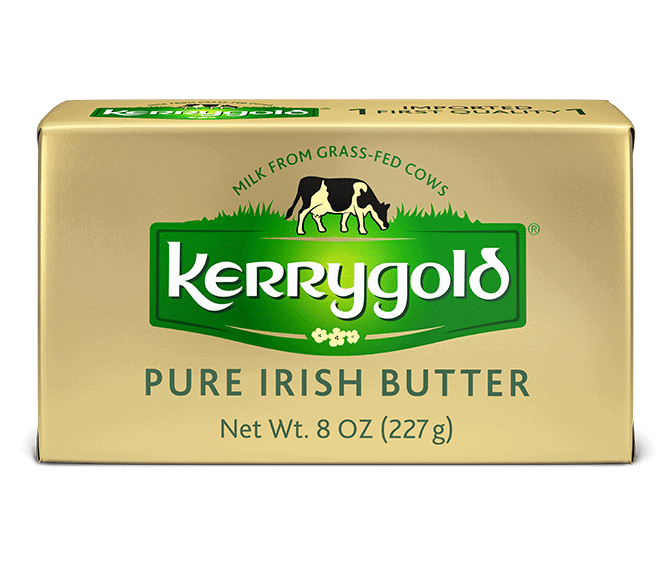 Great Value Organic Coconut Oil
We cook with coconut oil pretty frequently, so we always stock up at Walmart. Their store brand costs around $10 for a giant, 29-ounce jar. Each one lasts us several weeks, so it's a great deal.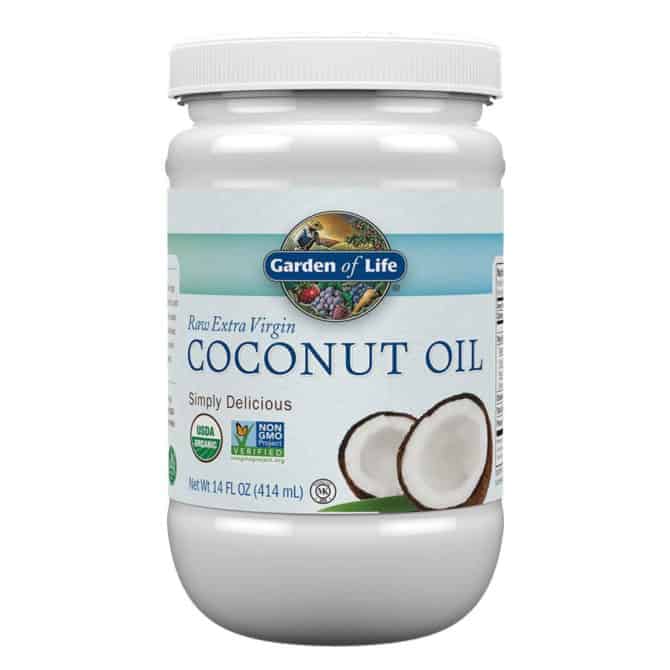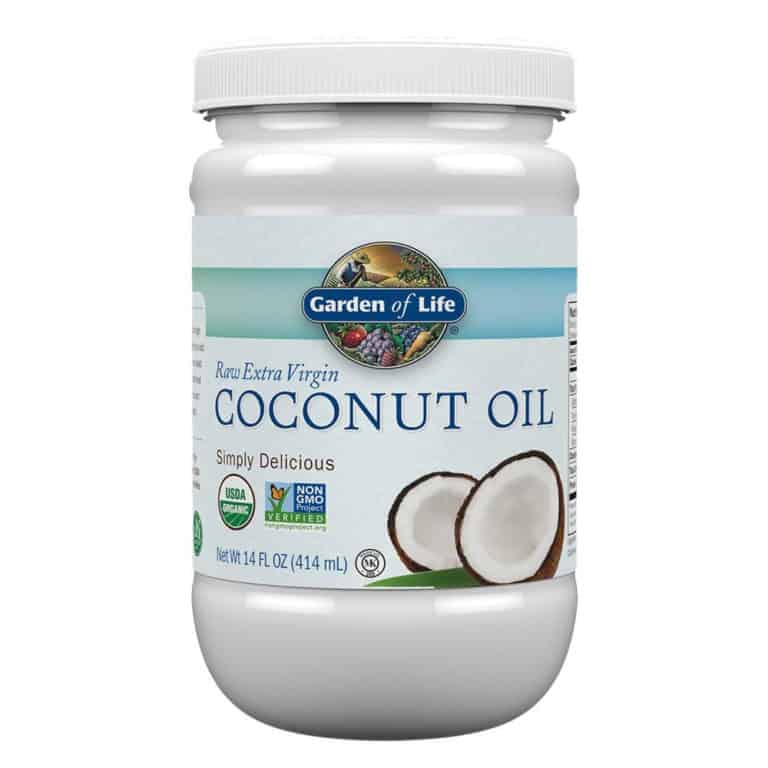 Cracker Barrel Cracker Cuts
We've never seen this large cheese platter anywhere else other than Walmart. It has four different types of low-carb cheeses, conveniently cut into cracker-sized squares. It's perfect for entertaining guests who are also keto!
Chosen Foods Avocado Oil Spray
One of our favorite cooking sprays, this avocado oil spray has little flavor and is perfect for cooking everything from eggs to ground beef. Walmart sells it for $5 per bottle, and you can opt for liquid avocado oil instead if you prefer.
Carrington Farms Organic Ghee
Ghee is something we never used before going keto, and now not a day goes by without it! Walmart carries this premium brand for a fantastic price, so we stock up each trip, especially because we use it every morning in our keto bulletproof coffee.
Fatworks Duck Fat and Beef Tallow
We had to do a double-take when we found this duck fat and beef tallow in Walmart of all places! We love cooking with animal fat, and this option makes that possible, even on a budget. This is always on our Walmart shopping list.
Great Value Extra Virgin Olive Oil
We sometimes use extra virgin olive oil instead of avocado and coconut oil or animal fat. Walmart's brand has a massive, 101-ounce jug for only $17! This should last you quite a while, so this is really a steal.
Rapid Fire Ketogenic Creamer
If you're not keen on using heavy whipping cream in your coffee, this creamer is for you! It has 3g of carbohydrates per serving, so you should use it sparingly. Still, it's delicious, and it contains healthy MCT oil and no added sugar.
Great Value Eggs
If ever you're looking for an excellent value on eggs, look no further than Walmart's own Great Value brand. You can get a dozen eggs for just $1!! We always get 2-3 dozen when we're in the dairy aisle, as we use them on a daily basis.
Keto Fruits and Veggies at Walmart
Sure, we focused first on the meat and cheese, but that doesn't mean we neglect fruits and vegetables! Below are our go-to keto Walmart options for produce.
Green Giant Frozen Riced Cauliflower
Riced cauliflower is a staple of most keto diets, and these frozen bags at Walmart are affordable and convenient. You can stock up and throw as many as you need in the freezer for later use. Need some inspiration to make this cauliflower delectable? Check out our keto cauliflower fried rice recipe!
Green Giant Veggie Spirals
Spaghetti is a big no-no for keto dieters, but these veggie spirals are an excellent alternative! With just 1g of net carbs per serving, you can indulge guilt-free.
Great Value Organic Coconut Flakes
We use coconut flakes to add a delicious taste and enticing texture to keto desserts and even some savory Indian dishes. Walmart's brand offers unsweetened flakes for less than most other stores.
Manitoba Harvest Hemp Hearts
Another food we never ate before going keto but use regularly now: hemp hearts. Walmart carries a massive bag of these for around $10, cheaper than anywhere else we've seen. You can really pack in the plant protein with these, especially with our keto oatmeal recipe.
Marketside Tri-Color Coleslaw
We love a good keto coleslaw as a side for just about any meal. These bags of coleslaw make it super easy and quick to make, perfect for busy keto dieters with minimal time for meal prep.
Chayote
Chayote is a little-known fruit that is naturally low in carbohydrates. The taste somewhat resembles an apple, but it delivers just 3g of net carbs per 100g. Great for fruit-loving keto dieters!
Keto Sauces and Condiments at Walmart
If you love sauces and condiments as much as we do but struggle to find keto-friendly options, you'll be in condiment heaven in Walmart!
Rao's Homemade Marinara Sauce
Rao's marinara sauce was our favorite option for pasta even before turning to a low-carb lifestyle. Luckily, it's just 4g of carbs per serving, so in moderation, it's great for keto dieters looking for an Italian feast!
Great Value Sugar-Free Syrup
Walmart came through for keto breakfast lovers everywhere with this sugar free syrup! It uses sucralose for a deliciously sweet taste, which most people on a keto diet won't mind consuming.
Primal Kitchen Ketchup
If there's one thing we'd go off our keto diet for, it's ketchup. Luckily, Primal Kitchen makes this unsweetened and organic option, and Walmart sells it for just a few dollars a bottle.
G Hughes Smokehouse Sugar Free BBQ Sauce
Finally…a sugar free BBQ sauce! This sauce is one of our favorite condiments for keto, and we buy a sickening amount of it each time we head to Walmart. With just 2g of carbohydrates per serving, you can enjoy this guilt-free.
Best Keto Bread at Walmart
Keto bread? At Walmart?! Yep. Walmart is catering to us keto dieters more and more every day, so enjoy these keto Walmart bread options even if you're on a budget.
ThinSlim Foods Low Carb Bread
ThinSlim is our go-to brand for keto bread. It has 7g of dietary fiber and ZERO GRAMS of net carbs per serving. Couple this bread with the ham from Walmart's deli aisle, and you've got yourself a delicious and quick keto lunch.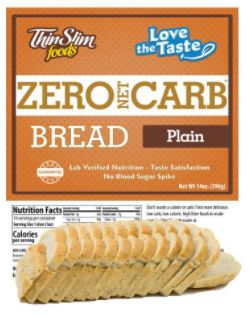 Mama Lupe's Low Carb Tortillas
Looking for a wrap option for a keto burrito? These low-carb tortillas we found at Walmart have just 3g of net carbs per serving, so they're great for keto dieters in moderation.
Joseph's Lavash Bread
If you're looking for a thick, tasty bread that's still low in carbs, look no further. This Lavash bread has 6g of net carbs per serving, so while it's not super low carb, you can still enjoy it without worrying too much about falling out of ketosis.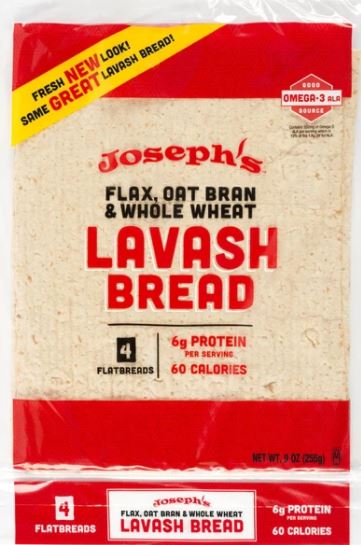 Check out our detailed guide on Hero Bread!
Keto Snacks, Nuts, and Sweets at Walmart
There is no keto Walmart trip without ravaging the snack aisles! Thankfully, Walmart has numerous snack options for those who follow a low carb lifestyle.
Great Value Pecans
Walmart's store brand offers giant bags of pecans for cheaper than most other grocery store chains. You can get over a pound for around $12, which is truly a steal. One of our favorite recipes for these pecans is our buttery keto shortbread cookies. They're a real crowd-pleaser!
Great Value Walnuts
While you're in the nut aisle, you might as well add a bag of walnuts. These make a great keto friendly snack, and Walmart offers them at a great price.
Ghirardelli 100% Cacao Unsweetened Chocolate
Chocolate on keto? Of course! This 100% cacao chocolate might not be as sweet as most chocolate bars, but it can satisfy the urge for a chocolatey treat, even if you're on a keto diet.
Smucker's Natural Peanut Butter
We love peanut butter more than we probably should, and this Smucker's option is the healthiest and lowest-carb option we've found. It's just over $3 at Walmart, so we grab a few jars every time we shop!
Whisps Cheddar Cheese Crisps
This is one of our all-time favorite keto snacks. Made with just 100% cheese, they're perfect for guilt-free snacking while remaining carb-conscious. And did we mention that they're super tasty?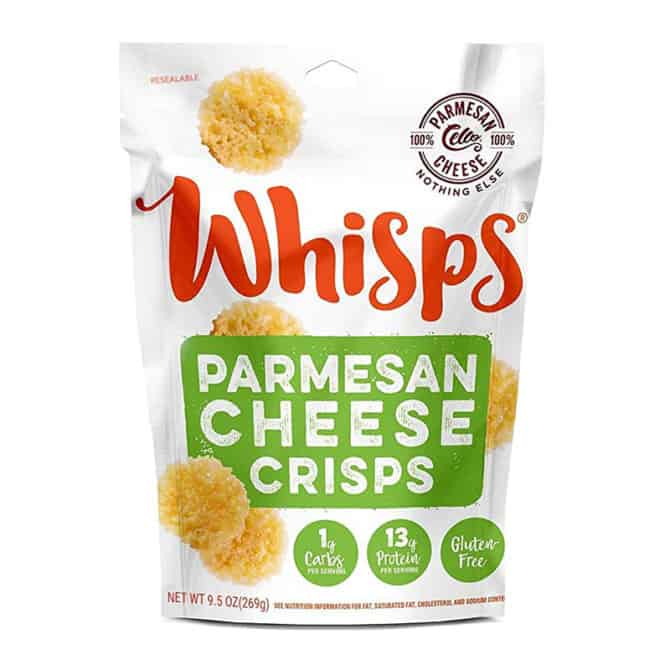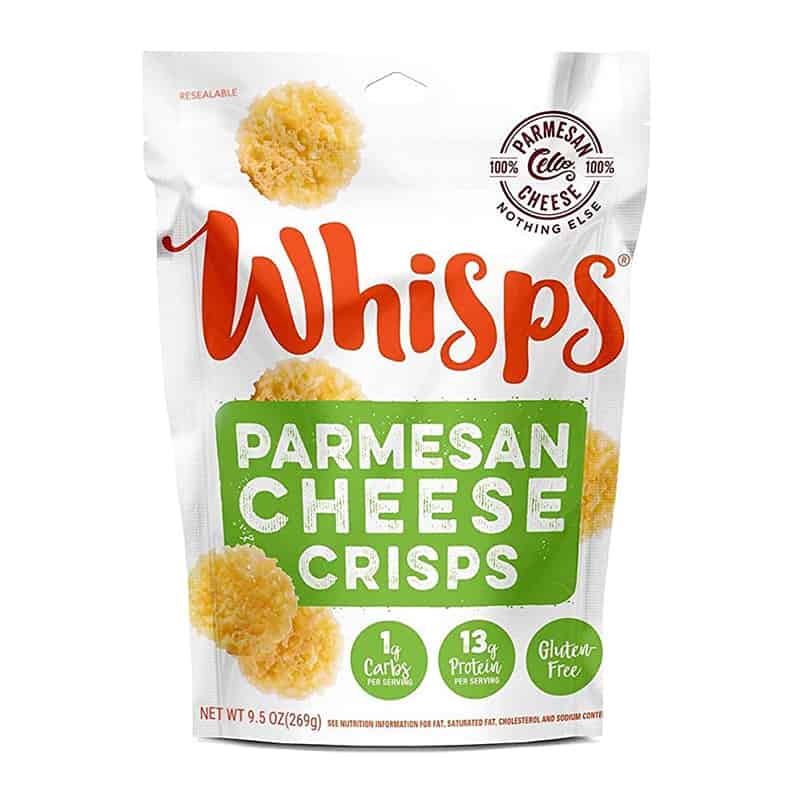 Sargento Pepper Jack Cheese Strips
Speaking of cheese snacks, these pepper jack strips from Sargento are a great price at Walmart, and they're ideal for a quick grab-and-go snack any time of day.
Keto Halo Top Ice Cream
Halo Top started making a keto series, and Walmart carries a bunch of delicious flavors! Take your pick and indulge (mostly) guilt-free. Make sure to check the net carbs, as there are some in each pint.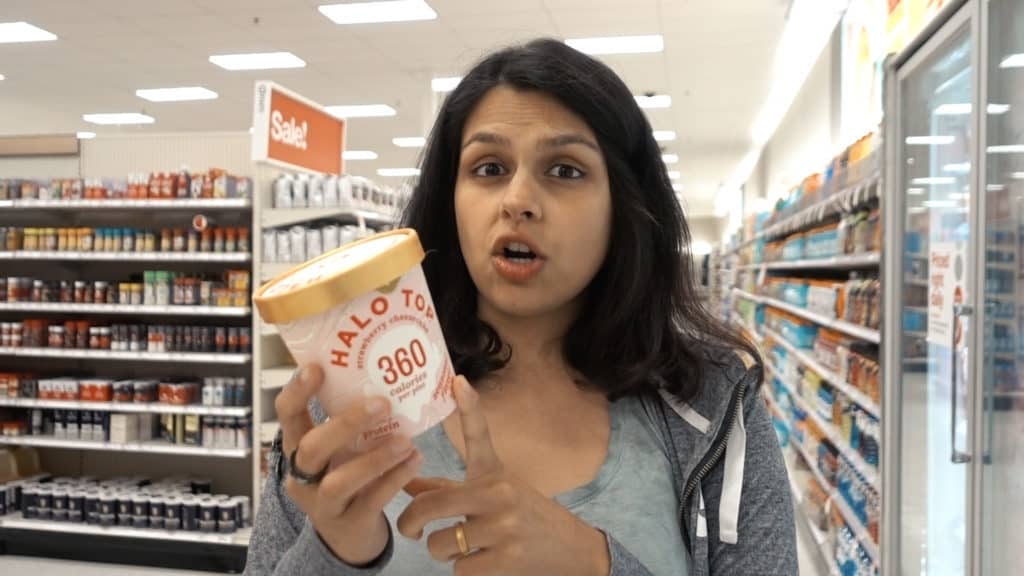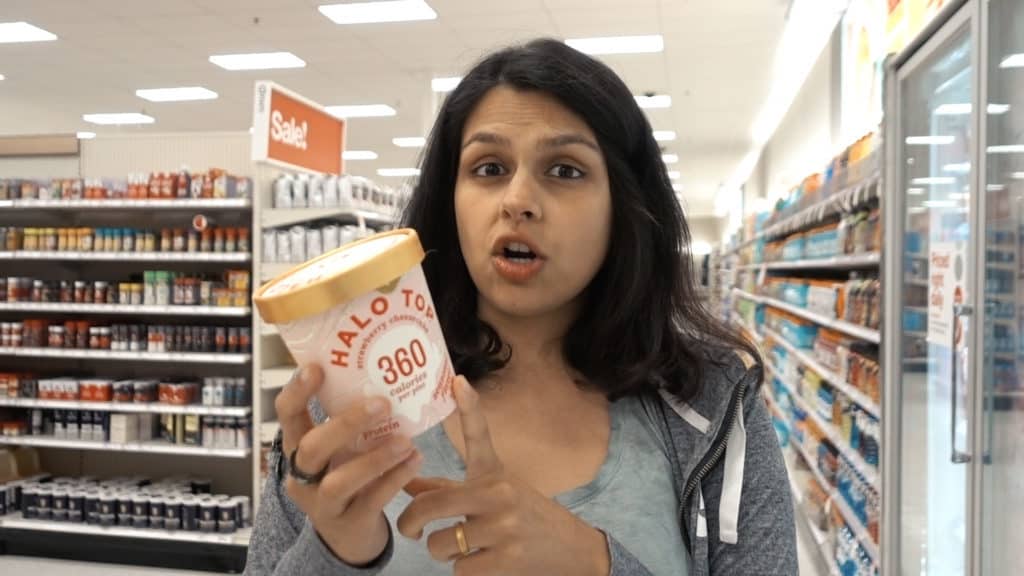 SoDelicious No Sugar Ice Cream
Speaking of ice cream, Walmart also carries a few SoDelicious flavors, some of which have no sugar added and are low-carb. Make sure to check for the "no sugar added" mark on the front before buying.
Slim Fast Keto Fat Bombs
Slim Fast has a few options marked "keto," but only the fat bombs are really keto-friendly. That's okay though, because they're delicious and full of healthy fats! Looking to make your own fat bombs? Just check out our shelf-stable fat bomb recipe!
Quest Bars
Quest makes what we believe are the best protein bars for keto dieters. They're low in sugar, don't contain any sweeteners that will raise your blood sugar levels, and come in a bunch of delicious flavors offered at Walmart.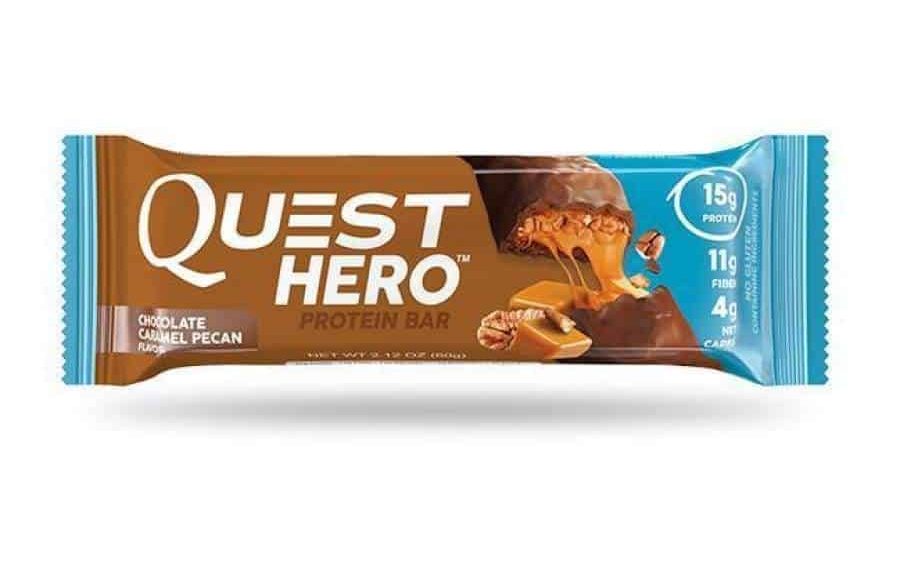 Fiorucci Panino Fingers
Cheese sticks wrapped in hard salami. Need we say more? Didn't think so.
Quest Chili Lime Protein Chips
Quest is quickly becoming one of our favorite brands for keto snacks. These tortilla-style protein chips have just 4g of net carbs per serving, so they're good for a quick keto snack. They are highly processed, but they can satisfy the urge for a crunchy snack.
Great Value Fried Pork Skins
Pork rinds are a go-to snack for many keto dieters. These pork skins from Walmart's brand have 0g of carbs per serving and are genuinely one of our favorite options for pork rinds.
Keto Sweeteners and Baking Ingredients at Walmart
Finally, we make a quick trip to the baking section. If you're on keto Walmart has plenty of low carb sweeteners, flours, and more.
Nature's Eats Blanched Almond Flour
This almond flour is the first one we used to make our very first keto bread recipe, so it holds a special place in our hearts. Thankfully, you can pick it up at Walmart for a bargain.
Arrowhead Mills Organic Coconut Flour
Coconut flour is an excellent substitute for keto baking. Get your keto breakfast on with some coconut flour pancakes. Don't forget the no-sugar syrup earlier in the list!
Splenda Naturals Artificial Sweetener
Walmart carries these giant tubs of Splenda Naturals sweetener, which is perfect for keeping a stock of sugar substitute handy. This one tastes the most like real sugar to us, only it won't spike your blood sugar levels!
Bob's Red Mill Xanthan Gum
We were delighted to see Bob's Red Mill xanthan gum at Walmart. You can get a big bag for around $10, which should serve you well in all your keto baking adventures. One of our favorite uses is in our keto pie crust recipe.
LivFit Organic Cacao Powder
No Walmart keto baking haul would be complete without some 100% cacao powder. Use this affordable powder to get a delicious chocolatey taste in any keto dessert, like our fudgy keto brownies.
More Keto Shopping Lists
If you found this helpful, then you'll want to check out all of our shopping guides for the most popular grocery stores across the country.
In Summary
There you have it! A complete keto Walmart trip to stock your pantry and fill your fridge with low carb foods. Walmart is a great place to shop for keto friendly ingredients and foods because they have tons of options at amazingly low prices. Just be sure to read the ingredients of anything you're buying, as some items contain unwanted ingredients.
Drop a comment down below if you have favorite keto Walmart buys that we missed! We always love hearing from you, and we might go ahead and add your suggestion to our list for everyone else to enjoy as well!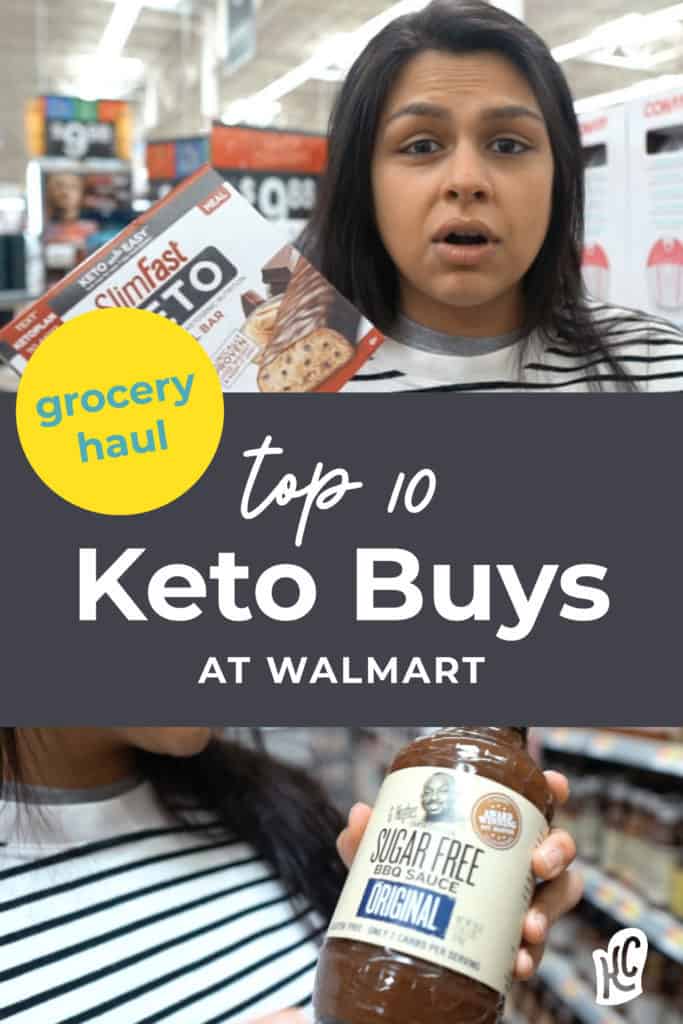 Written By