My first memory of enjoying onion rings is at Red Robin. They give it to you on a fancy pole thing so the rings are stacked super high, it comes with two delicious, yet mysterious sauces, and the crunchy coating is on point! It was because of those onion rings that Red Robins slogan has become a part of my vocabulary. And, now that you know it, you won't forget it either. Needless to say, Red Robin is the inspiration for these bad ass Low Carb Onion Rings!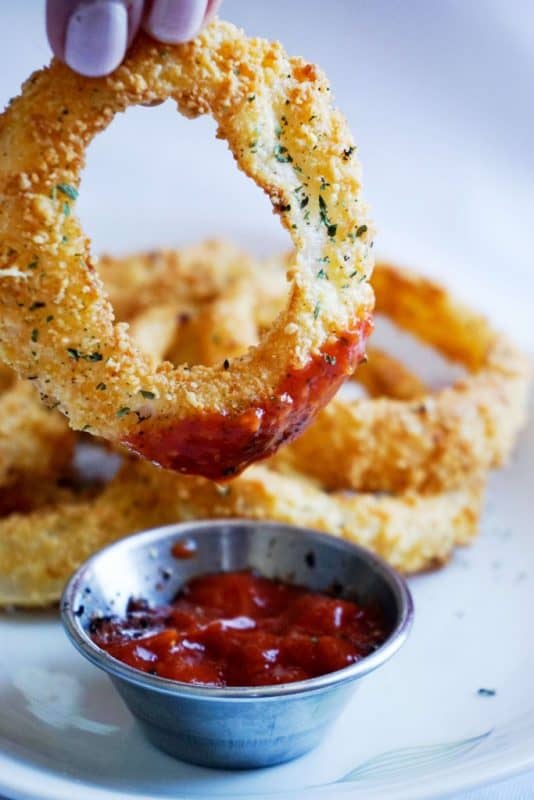 The Key To Perfectly Coated Low Carb Onion Rings
I knew before I even started breading the onion that if I wanted to get them as perfectly coated as the ones I grew up eating, I needed to change up the technique. At the same time, I didn't want to do too much work. So, I decided that a double coat would be my secret key.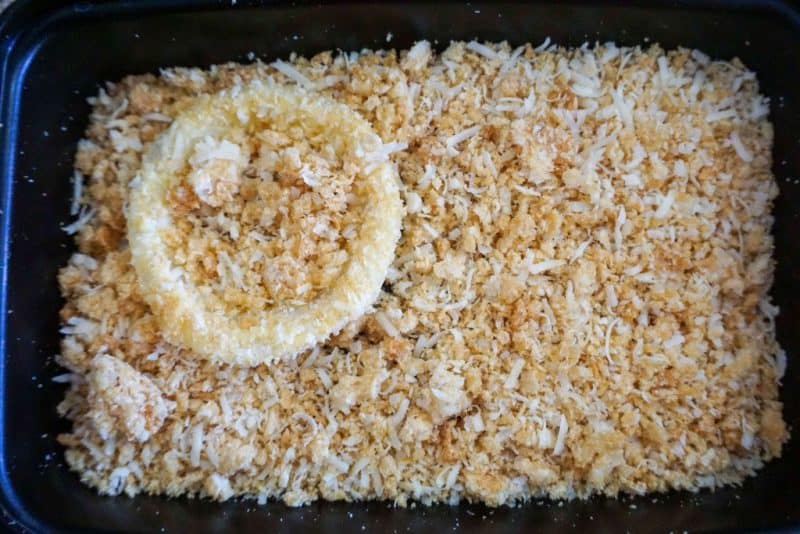 After you get all the rings cut out from the onion you'll drench them in coconut flour to ensure they are as dry as possible. Next, you will drench them in egg wash, and then in the coating. Now, the coating is one we've used often, but the first time in one of our KetoConnect recipes. All you need is pork rinds and parmesan cheese, which is something all of you should already have in your household. Once you coat them all, you swing back around and drop them in the egg wash and pork rind, parmesan coating for a second time. Hence, the double coat.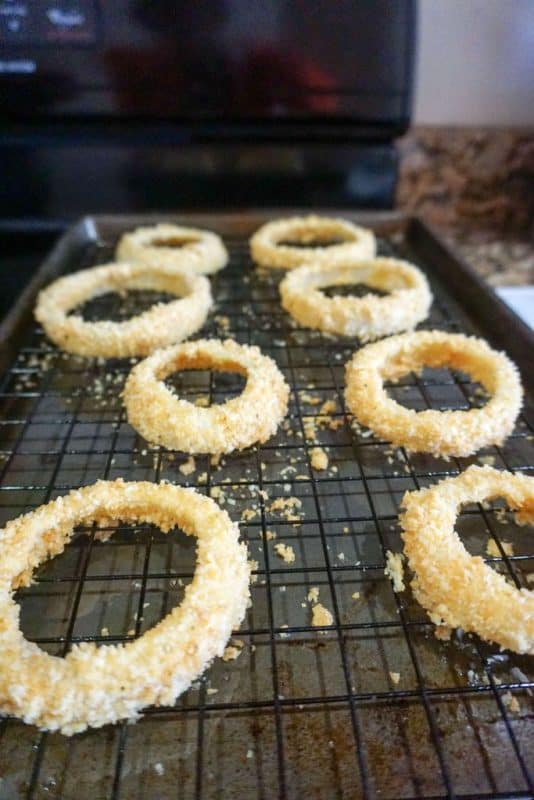 You may come across an issue with the pork rind, parmesan coating that I found to be the case when I was doing the double coating. Aa you drop the onion from the egg wash to the coating it may make the pork rinds soggy. If this happens you'll want to either reprocess them or make a new batch. If the pork rinds are soggy they won't stick to the onion!
Are onions keto? We answer that question in depth in our post on the topic. The short answer is, yes, in moderation. The carbs can add up quickly so you may want to measure how much you are using.
Perfect Topper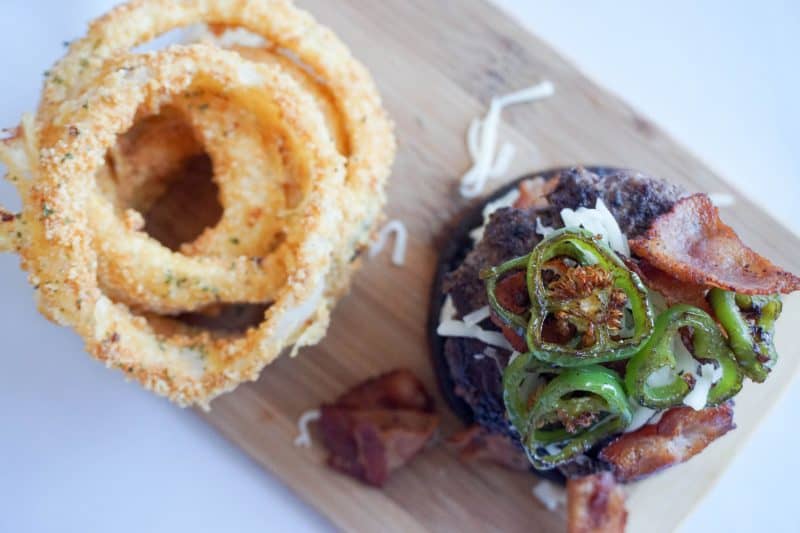 Although I could eat onion rings all day, everyday as a meal of their own I think they are the perfect pairing to any burger. Heck, they would probably be an even more perfect topper for the burger. If you missed these as much as I did, or if you love finger foods, you need to try these! Make them for a party, football game, or for family dinner. They won't disappoint!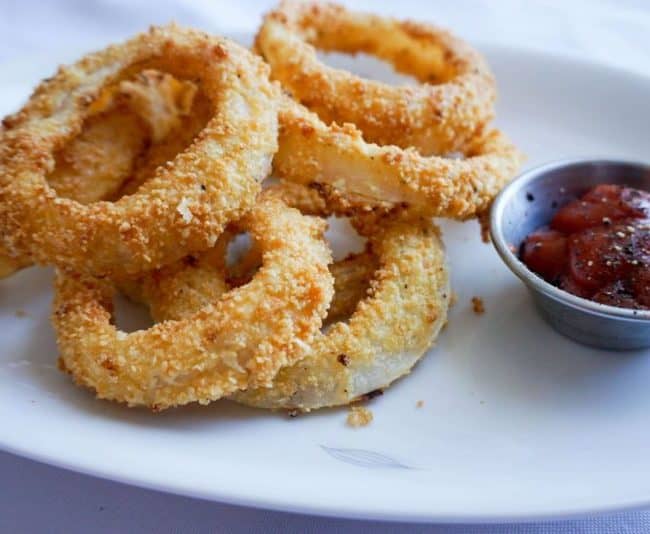 Low Carb Onion Rings
These low carb onion rings have a great crunch and texture and are perfect for gatherings!
Total Time 30 minutes
Servings 2 servings
Calories per serving 211kcal
Prep Time: 15 minutes
Cook Time: 15 minutes
Instructions:
Slice onion width wise in half inch thick rings.

Break apart rings and set aside all the inside pieces you won't be using.

Use three different bowls to make a coconut flour, egg wash and heavy whipping cream, and pork rind parmesan coating stations.

Starting with coconut flour go through all the steps of coating and place on baking rack as pictured above.

Once all onions are coated, double back and recoat them starting with the egg wash.

TIP: reprocess or remake the pork rind parmesan coating if it begins soggy/clumpy.

Places double coated rings back on greased baking rack and place in 425 degree oven for 15 minutes.

Serve warm and enjoy!
Nutrition Facts
Low Carb Onion Rings
Amount Per Serving
Calories 211 Calories from Fat 113
% Daily Value*
Fat 12.5g19%
Carbohydrates 7.5g3%
Fiber 3g12%
Protein 16g32%
* Percent Daily Values are based on a 2000 calorie diet.