Low carb onion rings are one of the best snacks and appetizers out there. They are salty, crispy, and perfect for dipping in your favorite homemade sauces.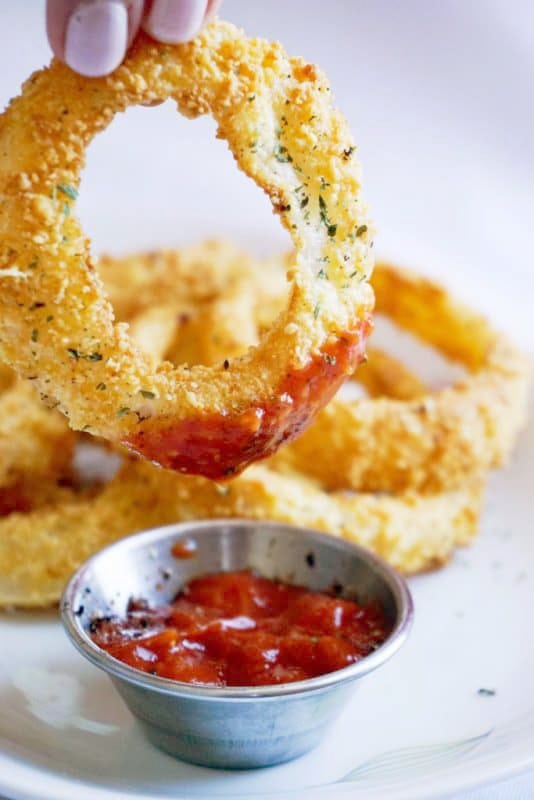 Tips for Making the Best Keto Onion Rings
Are you trying to make the best keto onion rings out there? We've got you covered with all the best tips and tricks for this onion ring recipe. It's so good, you won't even believe this recipe is legal for a low carb diet after trying it!
The Key To Perfectly Coated Low Carb Onion Rings
I knew before I even started breading the onion that if I wanted to get them as perfectly coated as the ones I grew up eating, I needed to change up the technique. That is why for this recipe we always recommend double coating.
Start by dredging the sliced onion rings in coconut flour to dry them out, and then drop them into the eggs. Once coated in eggs you can cover them in the pork rind coating.
Now it's time for the infamous double coat. Dip the rings back into the egg mixture and bread them one more time.
Make sure you don't leave out the parmesan in the pork rind mixture either because that is going to melt a bit in the oven to help the mixture stick.
Getting the Crispiest Onion Rings
Keto onion rings are a little different from regular onion ring varieties because most times they will use a almond flour mixture or crushed pork rinds. This type of coating will get soggier easy so it's important you cook them correctly.
To get the crispiest onion rings we recommend deep-frying. It crisps the parmesan cheese that's in the pork rinds mixture and really helps everything stick together. The next question most people have because of that, is whether or not they can use the air fryer.
The air fryer is an option, but can cook things a bit inconsistently. If you are going to use the air fryer we recommend setting the air fryer temperature to 380 and checking on them every 5 minutes until they are cooked. It usually takes 8-14 minutes. They won't get super brown in the air fryer so we recommend giving them a light spray of avocado oil or olive oil to help them darken.
The Finer the Better
When it comes to your dry mixture, the finer the better. Really crush or blend up the pork rinds in a food processer. It will make for better keto onion rings because it will stick all around for an even coating.
Avoiding Soggy Onion Rings
Sometimes the pork rind parmesan coating will get soggy being dipped into the eggs a second time. If this happens you'll want to either reprocess them or make a new batch. If the pork rinds are soggy they won't stick to the onion!
You can also try dropping them back into the pork rind mixture and packing the dry mixture into the rings and if it sticks and drys back out you're good to go!
Are Onions Keto?
We answer that question in depth in our newest post all about onions on keto, but the short answer is yes, in moderation. The carbs can add up quickly so you may want to measure how much you are using.
However, 3 or 4 onion rings definitely won't break your keto diet, onions themselves are super healthy! Onions are known for their phytochemicals like disulfides and trisulfides which are beneficial thanks to their antimicrobial properties.
Can I use Almond Flour
We specifically like pork rinds because they are fattier and crisp well in the oven and deep fryer. They even do a little better in the air fryer than with almond flour.
That isn't to say you couldn't use almond flour, it's just to say we don't recommend it because it won't crisp the same. Our pork rind keto onion rings recipe has been perfected so why mess with the recipe that will make for the crispiest keto onion rings possible!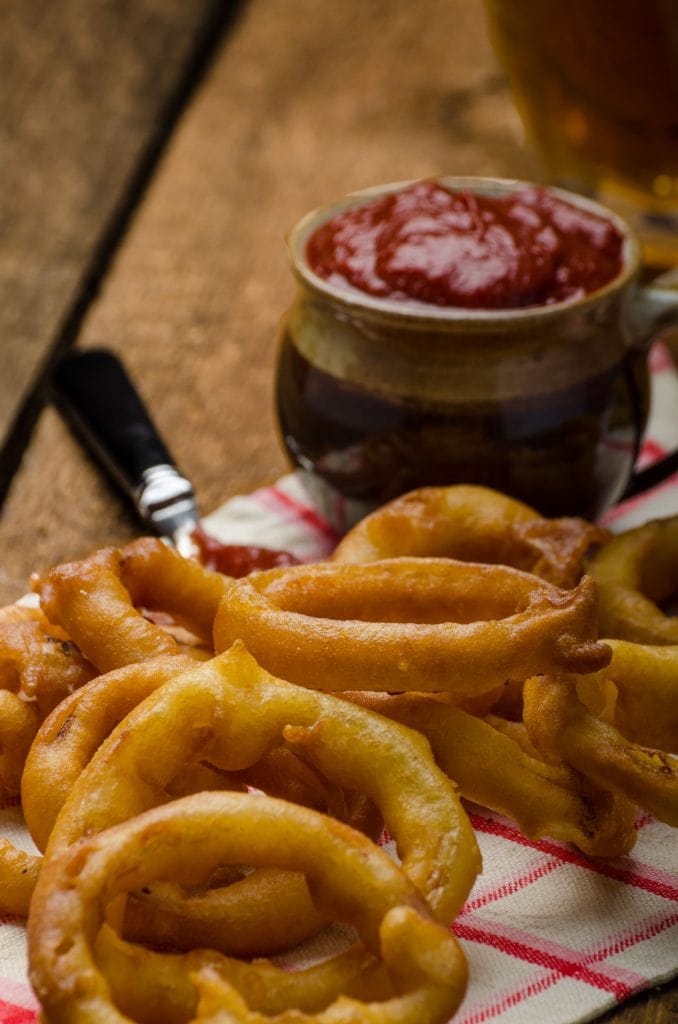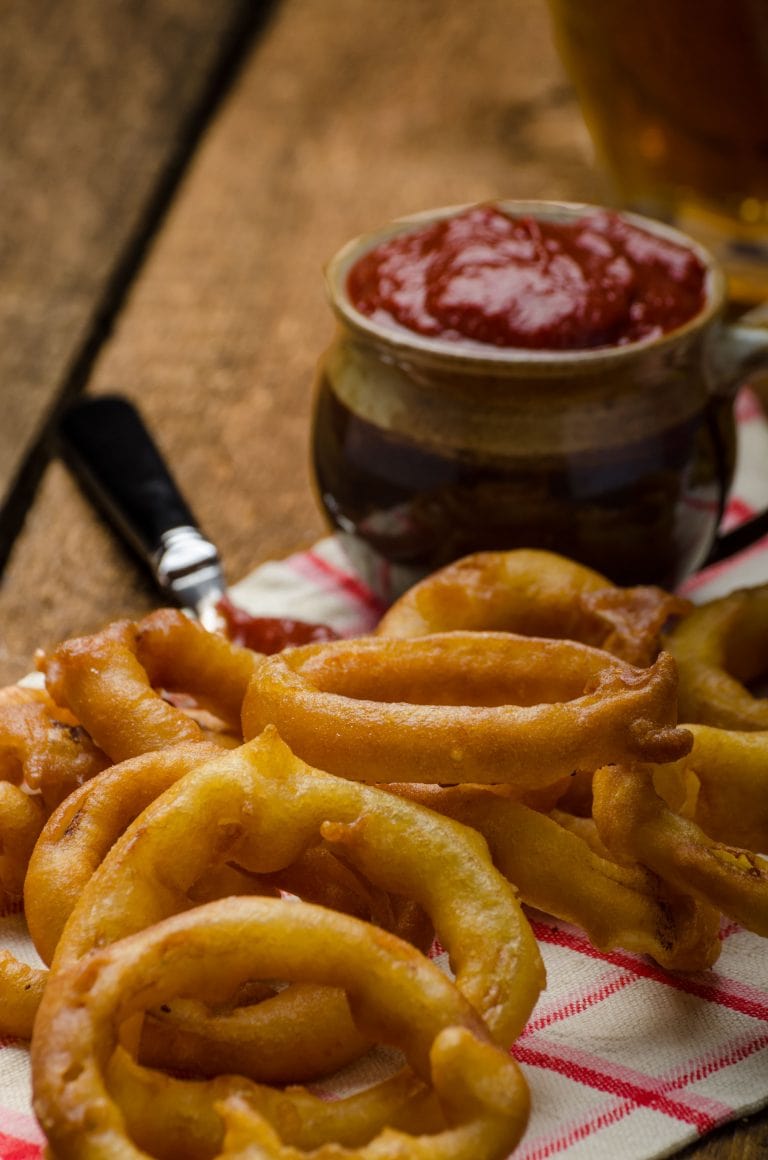 How to Make This Keto Onion Ring Recipe
This keto onion rings recipe is one you'll be making time and time again. Who can say no to crunchy onion rings that are golden brown and packed with flavor?
Ingredients to Make Perfectly Crispy Onion Rings
There's no denying fried foods make the perfect low carb appetizer. They cook evenly, they're perfectly greasy, and even manage to make us love something as simple as onions.
If you've thought about making onion rings, now's the time. They are easy to whip up, and taste just like regular onion rings thanks to our gluten free keto breading mix.
To make these onion rings you will need thick slices of white onion (you can use vidalia onions too), coconut flour, beaten egg, heavy cream, pork rinds, and grated parmesan cheese.
Trust us when you make keto onion rings you are going to learn why we love onion rings so much!
Making Keto Onion Rings
These onion rings are perfect for a low carb diet because they are packed with fat which will keep you full for hours.
Begin by slicing the onions width wise into half inch thick rings.
Then separate the rings and remove any inside rings that you won't be using, what parts to use is up to you!
Prepare three bowls. The first shallow bowl should have the coconut flour, the second should have your egg wash, and the final bowl should have the pork rind mixture.
Start by dipping the onion rings into the coconut flour, then the egg, next the pork rinds, and then go back to the eggs to dip one last time before giving it the final breading in the pork rind mixture. This process is known as a double breading for ultimate crispiness.
Now it's time to bake. Place the onion rings onto a greased baking rack and place into a 425 degree oven for 15 minutes.
If you are going to be putting onion rings in the air fryer, bake your onion rings at 380 for 8-14 minutes. The onion rings should be crispy on the outside and tender on the inside. They might not brown much, but they will still be crispy. You can spray them with a little cooking spray before air frying if you want the onion slices to look a little browner.
We also love these deep fried because they get crispy just like breadcrumbs or wheat flour. It takes a little more work, but the hot oil really crisps all the onion rings perfectly.
Storing Keto Onion Rings
Similar to most other keto recipes this onion rings recipe stores well in a tupperware container. If you store leftover onion rings in an airtight container they won't stay crispy, but that's when you can use your air fryer to reheat.
Reheating Keto Onion Rings
To reheat your onion rings preheat the oven to 350 and bake until re crisped and warm 8-12 minutes.
For the air fryer spray the basket with some light olive oil spray and place your onion rings inside, make sure they aren't stacked in the air fryer basket. Air fry for 4-6 minutes at 350, or until they have re crisped.
What to Dip Onion Rings in
We don't normally just eat onions, so it's understandable if you're not sure what to eat with these tasty bites. Some of our favorite dipping sauces are:
Ranch Dressing – While not super common, ranch is actually a great pairing to onion rings because the fresh herbs complement fried foods.
Sour Cream and Onion Dip – Looking for a little extra onion flavor? This creamy and refreshing French onion dip is a great option.
Ketchup – Known for being the best bud to chicken tenders, low carb ketchup is also fantastic with these keto onion rings.
These are just a few easy keto recipes for dipping sauces. If you aren't a big sauce person you can also just pair the onion rings with a burger or some chicken fingers.
Keto Onion Rings are the Perfect Snack
Although I could eat onion rings all day everyday as a meal of their own, I think they are the perfect pairing to any burger.
French fries, even when cooked in the air fryer lack a lot of nutrition. That's why you have to make these yummy onion rings that are actually healthy and keto friendly.
If you missed onion rings as much as I did, or if you just love finger foods, you need to try these! Make them for a party, football game, or for family dinner. We promise they won't disappoint!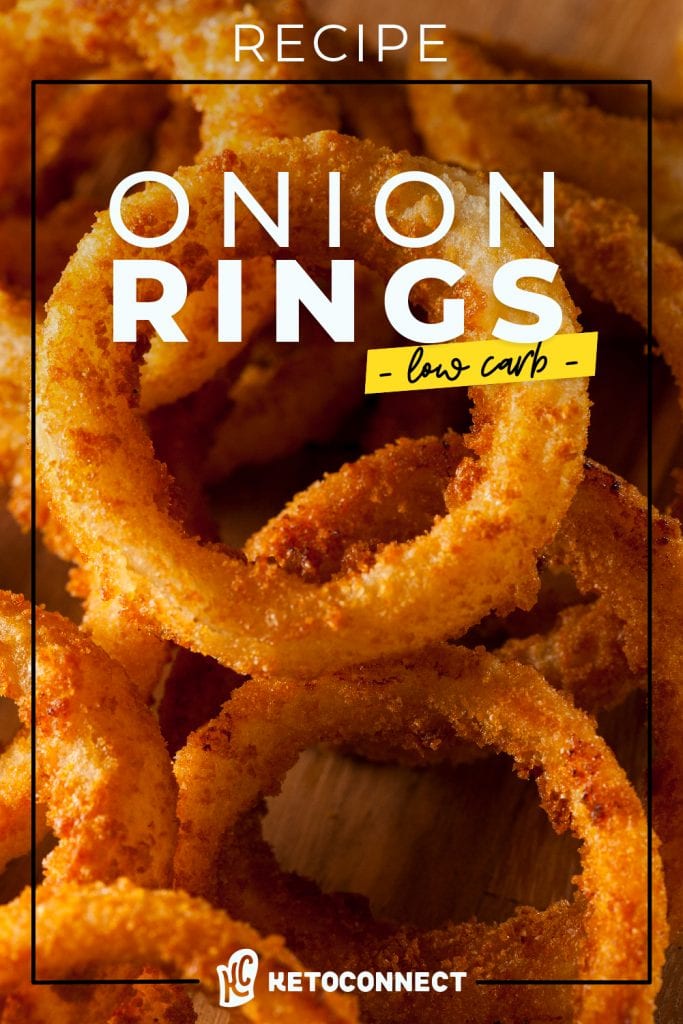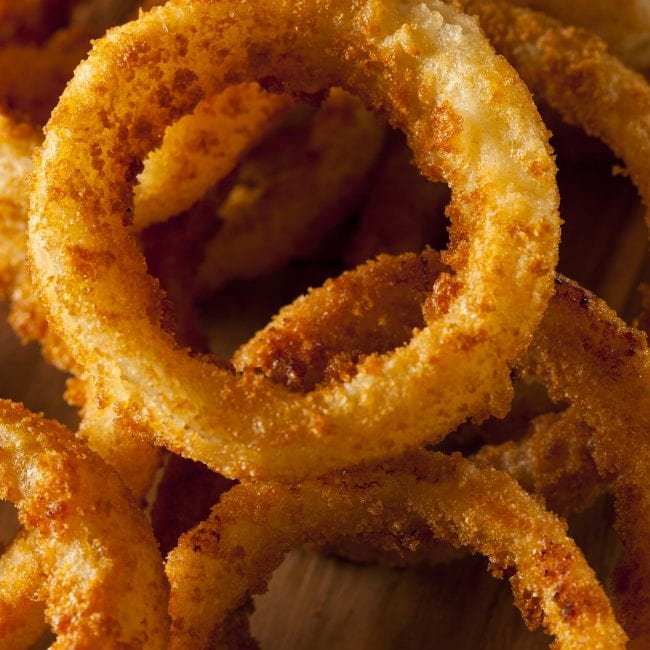 Low Carb Onion Rings
These low carb onion rings have a great crunch and texture and are perfect for gatherings!
Total Time 30 minutes
Servings 2 servings
Calories per serving 211kcal
Prep Time: 15 minutes
Cook Time: 15 minutes
Instructions:
Slice onion width wise in half inch thick rings.

Break apart rings and set aside all the inside pieces you won't be using.

Use three different bowls to make a coconut flour, egg wash and heavy whipping cream, and pork rind parmesan coating stations.

Starting with coconut flour go through all the steps of coating and place on baking rack as pictured above.

Once all onions are coated, double back and recoat them starting with the egg wash.

TIP: reprocess or remake the pork rind parmesan coating if it begins soggy/clumpy.

Places double coated rings back on greased baking rack and place in 425 degree oven for 15 minutes.

Serve warm and enjoy!
Nutrition Facts
Low Carb Onion Rings
Amount Per Serving
Calories 211 Calories from Fat 113
% Daily Value*
Fat 12.5g19%
Carbohydrates 7.5g3%
Fiber 3g12%
Protein 16g32%
* Percent Daily Values are based on a 2000 calorie diet.