Many people think the keto diet is all bacon and butter, but that's far from the truth. You can enjoy fresh keto salad, roasted veggies, and all kinds of summer berries on the keto diet. You would be surprised how many meals are already keto-friendly without even realizing it, like Megha's favorite –the Cobb Salad! (Find her recipe at the end of this post!)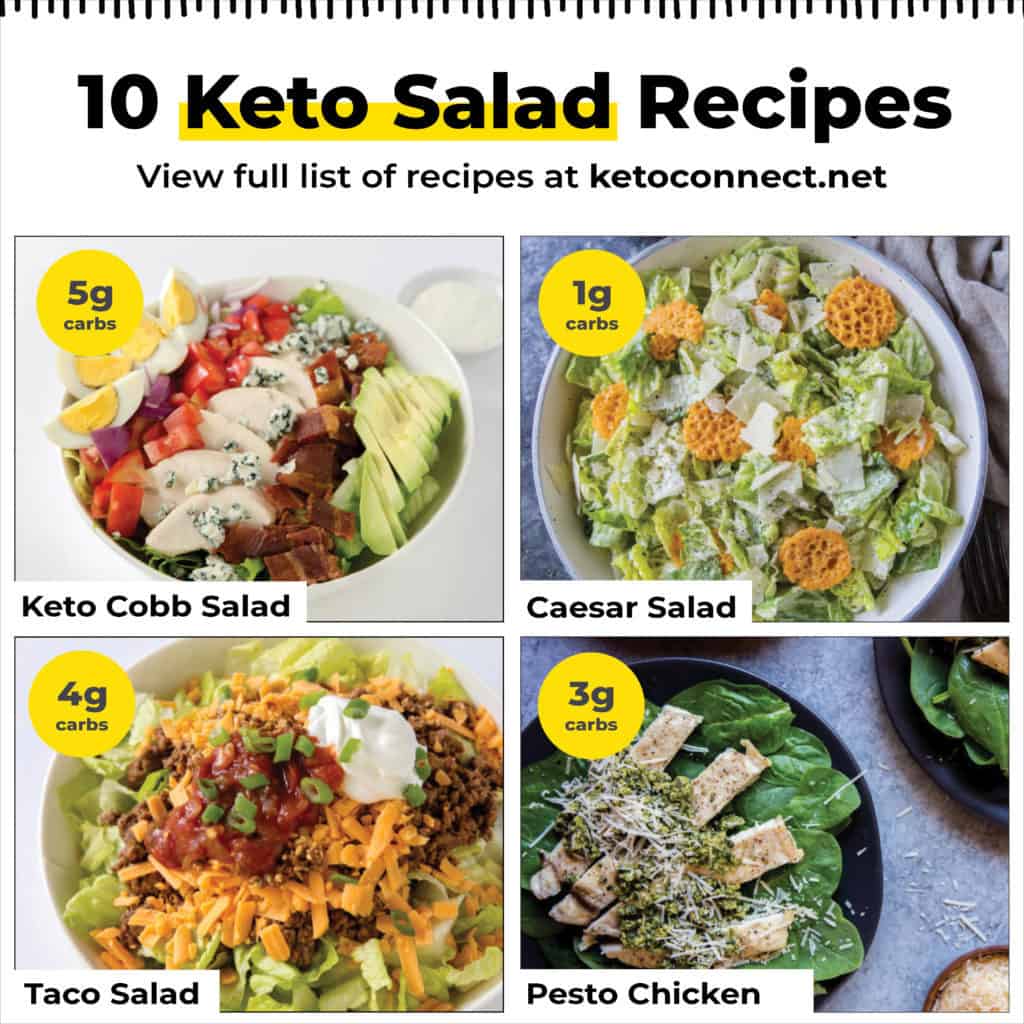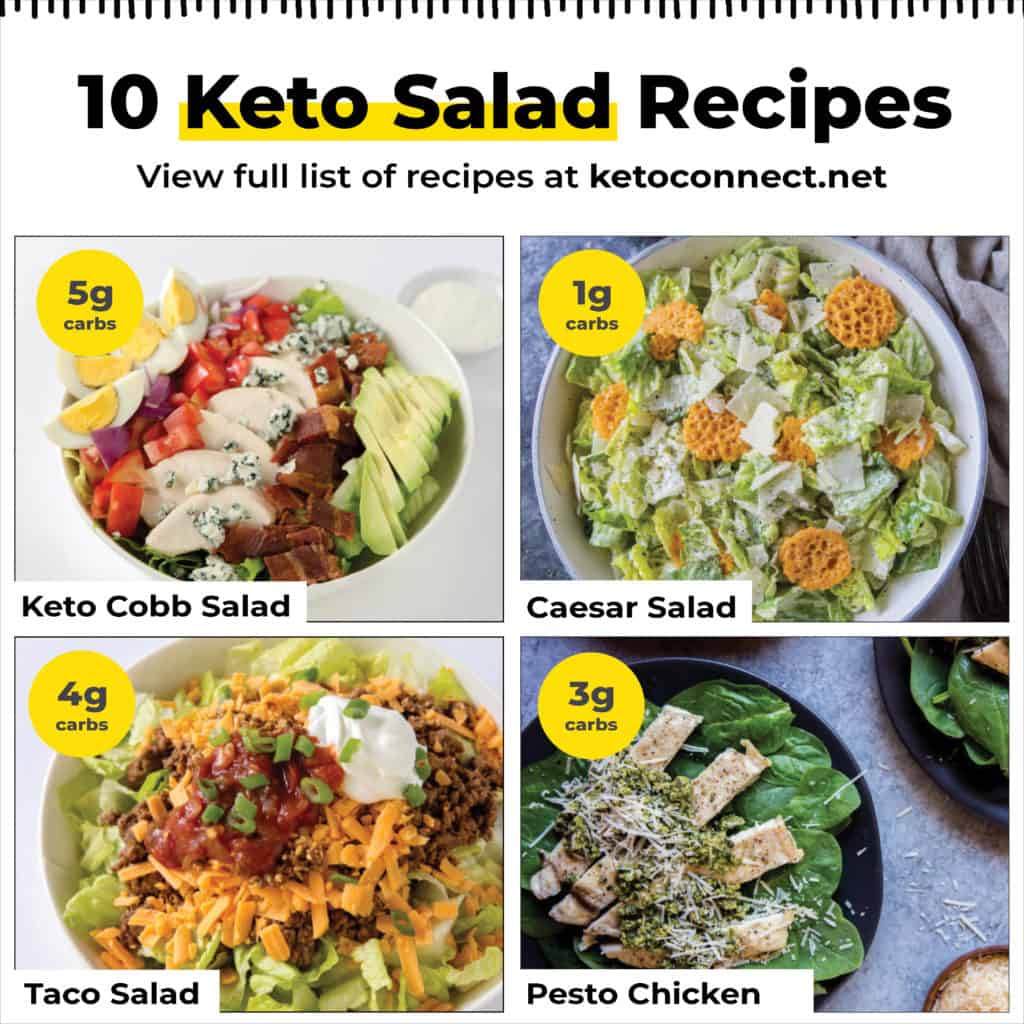 If you enjoy a big salad for lunch or a side salad with dinner, then don't let the keto diet stand in your way. We've got EIGHT Keto Salad Recipes you and your family are going to love.
How to Make a Keto Salad
Before we get into the recipes, let's talk about crafting your own salad from scratch. Here are a few ways you can ensure your salad is going to fill you up and taste delicious.
1. Pick Your Protein
If you're having salad as a meal, it's important the salad contains some protein. Not only will this help to keep you fuller for longer, but protein is also essential for so many bodily functions and repairs. Here are a few great options!
Chicken
Pan-Fried or Grilled shrimp
Canned tuna or sardines
Salmon
Ground beef
Hardboiled eggs
Steak or lamb
Bacon or ham
2. What Salad Vegetables are Keto Friendly?
You might only have lettuce on-hand and that's fine, but don't be afraid to get adventurous with your veggies. Roasted brussels sprouts or chopped up chives can take your keto salad from average to stellar.
Lettuce
Avocado
Spinach
Tomato
Onion
Peppers
Cauliflower
Broccoli
Brussels Sprouts
Kale
Carrot
3. Add Fat to Your Salad
Fattening up your keto salad can be as easy as drizzling it with high fat salad dressing, but why not spice things up? There are countless salad toppers that help increase the fat content of your salad while also adding all kinds of flavor.
Salad Dressing
Extra Virgin Olive Oil – How to Buy GOOD Olive Oil
Bacon bits
Olives
Shredded Cheese
Goat Cheese & Feta Cheese
Pumpkin Seeds & Sunflower Seeds
Almonds
Pecans
Cello Whisps or Moon Cheese
4. Dressing Your Keto Salad
While most salad dressings are "keto-friendly", they're not all necessarily healthy. Most brands make their dressings with refined vegetable oils like canola and soybean oil, which increase inflammation in the body.
Look for brands that list only olive oil, avocado oil, or coconut oil in the ingredients, such as Primal Kitchen or Chosen Foods.
Your next best option is to just make your own keto salad dressing at home using olive oil and vinegar or our Ceasar salad dressing, blue cheese dressing, thousand island dressing or ranch dressing recipe.
Top 10 Keto Salad Recipes
Enjoy these keto salads at your next family dinner or take them to work for lunch. Add whatever mix-ins you like and get creative with what's in season.
This Broccoli salad is perfect for potlucks and parties. Topped with bacon, sunflower seeds, and a creamy mayo dressing, it pairs perfectly with any keto meal. Add some grilled chicken or ham to make it a meal.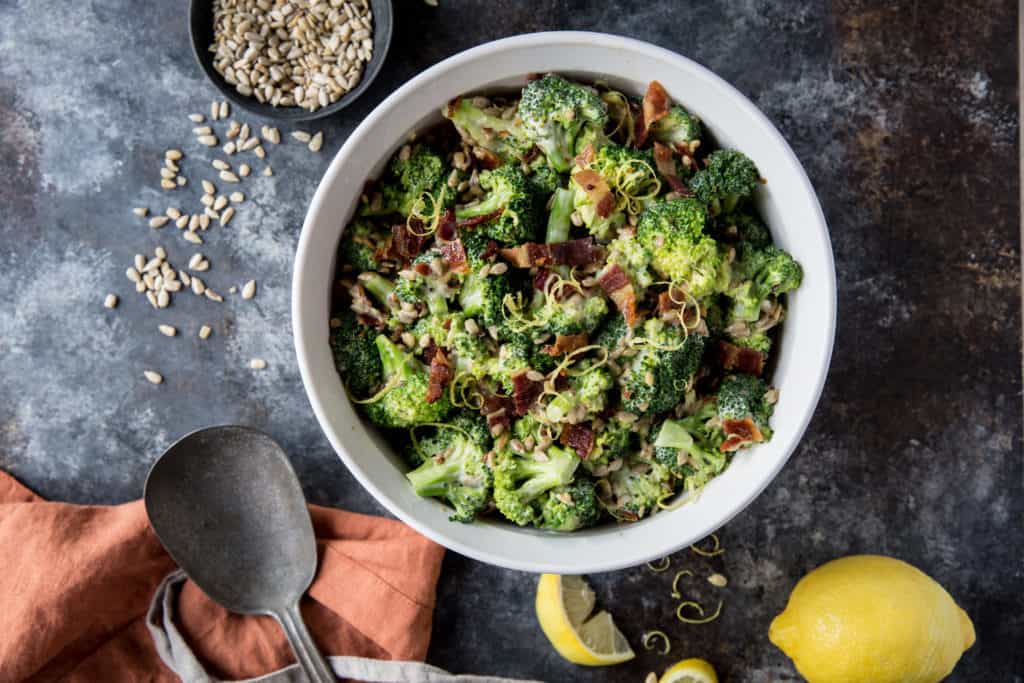 Chicken Salad is one of the perfect keto lunch ideas to keep you going all day long. It's packed with protein, high in fat, and is irresistible when you make it right. We like to add chives, pecans, and celery to our mixture for different levels of texture and flavor.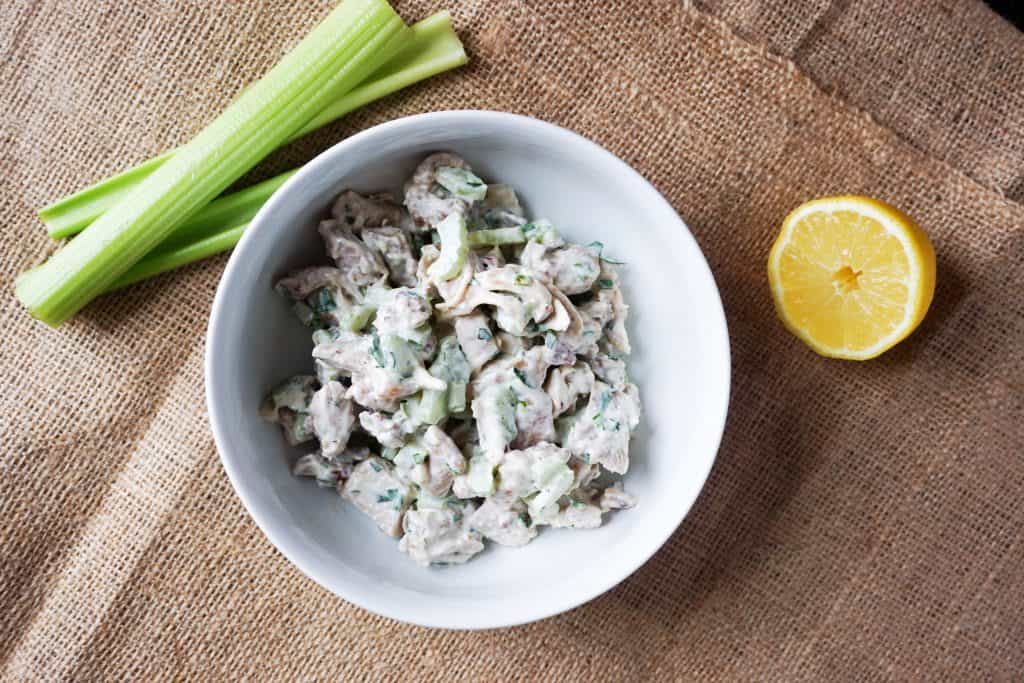 If you love potato salad, then you need to try this Cauliflower salad. It's our keto take on a classic potato side dish complete with red onion, chives, and bacon. Add some protein like ham or chicken to complete the meal.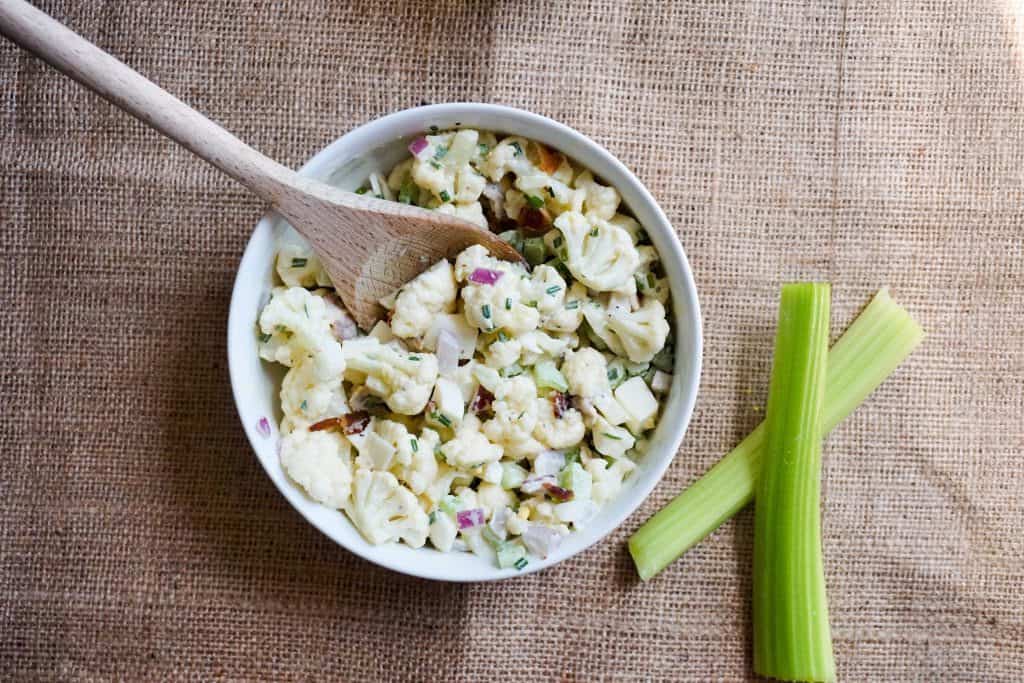 We love to include eggs in our diet every day. They're budget-friendly and packed with essential nutrients, making them a go-to option for breakfast or lunch. We have two tasty ways to make Keto Egg Salad that will be sure to please everyone in the family.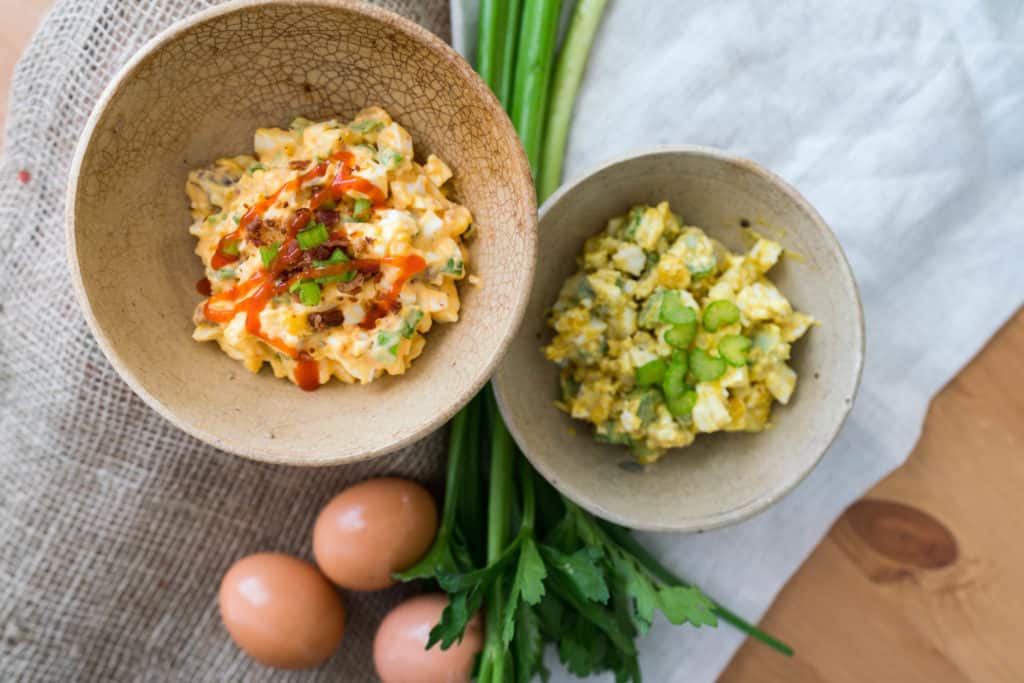 Chicken salad is great, but when you toss in some Mexican flavors, there's no going back. Try this Chicken Fajita Salad for tomorrow's lunch at work or make it for the kids' lunchboxes this week.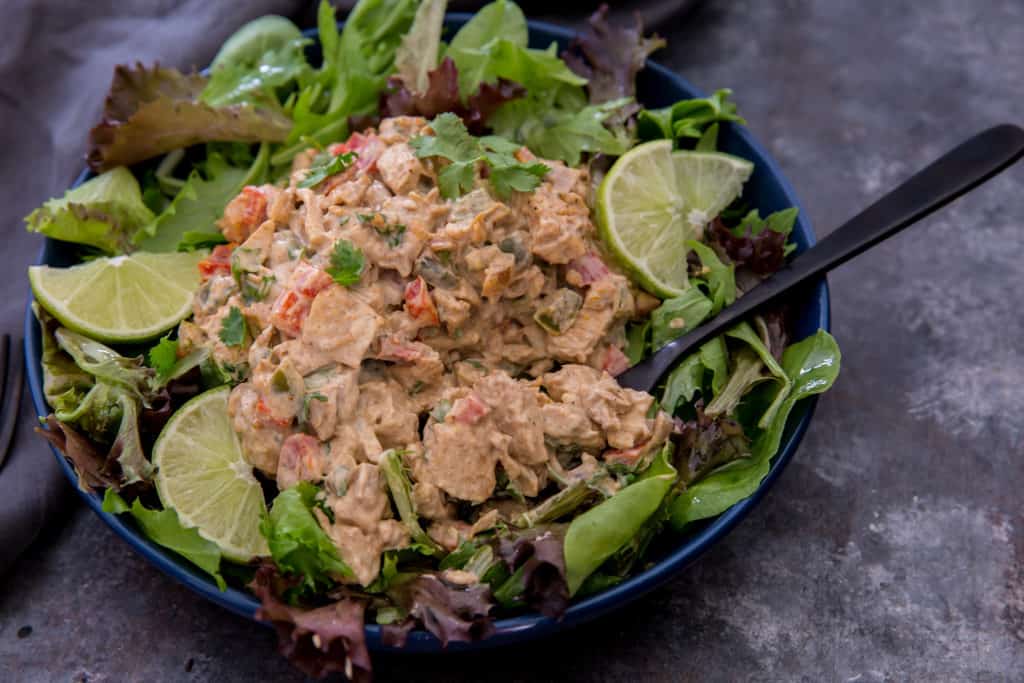 Thanks to our healthy homemade keto dressing and handy dandy Parmesan crisps, you can enjoy a Caesar Salad without any of the carbs.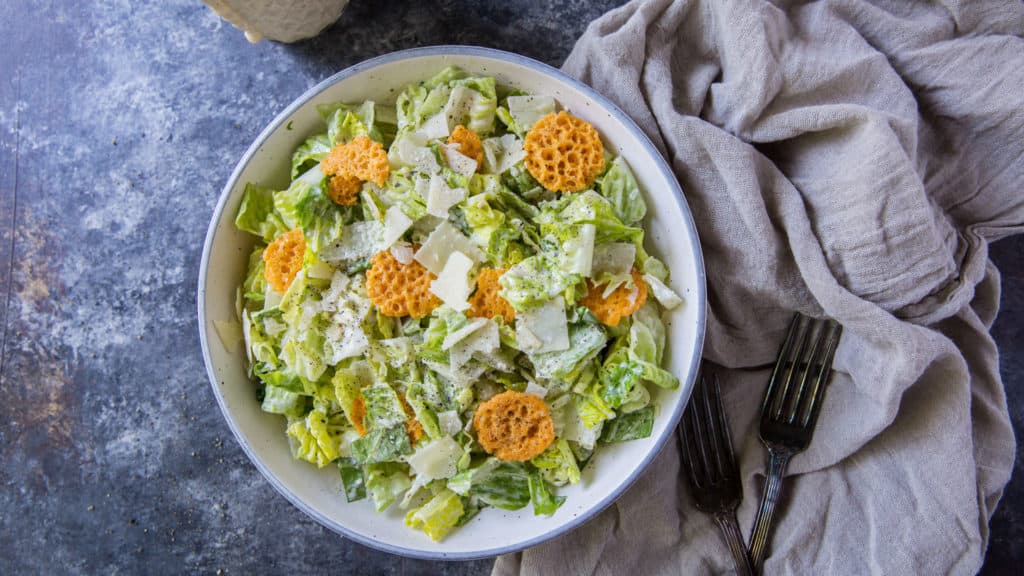 If you're making an effort to choose healthier food options, making the jump from fast food to salads can be difficult. After all, Big Macs and salads are pretty much on opposite sides of the health spectrum – and how could a salad possibly satisfy a craving for a juicy, cheesy Big Mac? That's where our keto big mac salad comes in!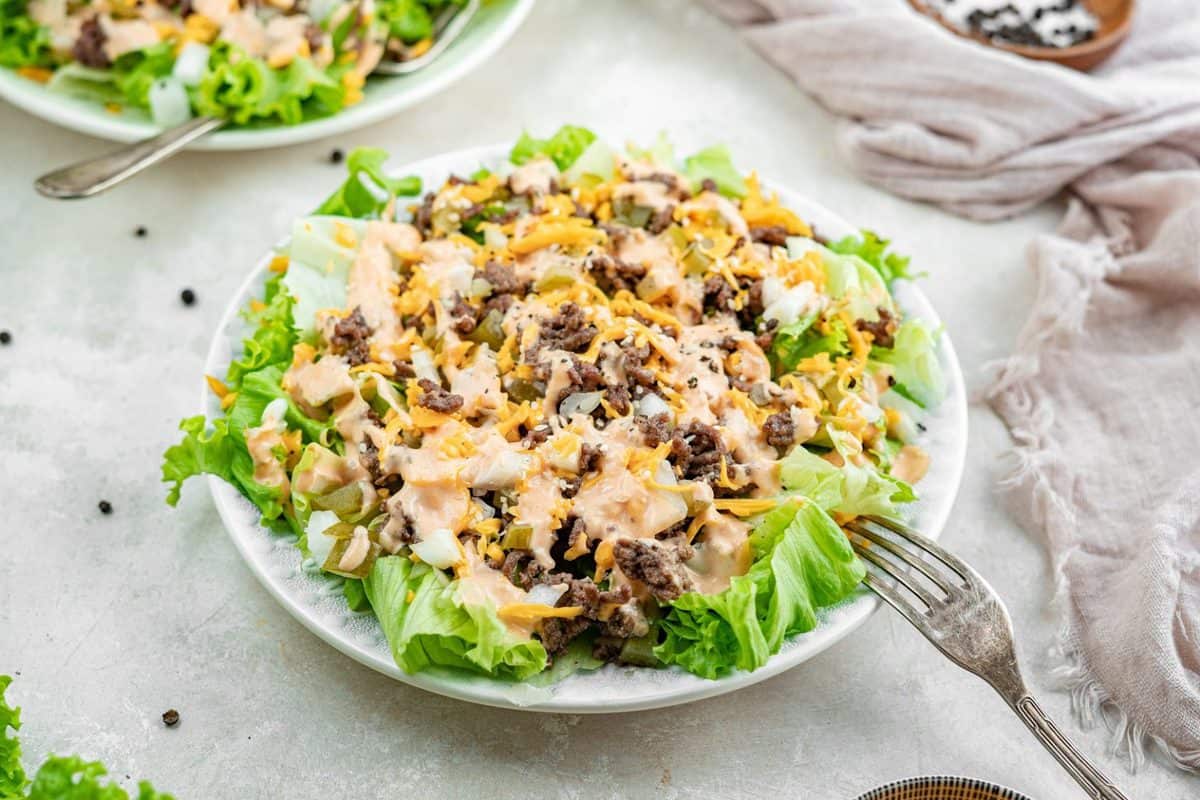 8. Poke Salad
After traveling to Hawaii, we have become obsessed with poke salad bowls. They are the perfect way to get your sushi fix, but in a salad with a bunch of other delicious ingredients! Try our Spicy Ahi Poke!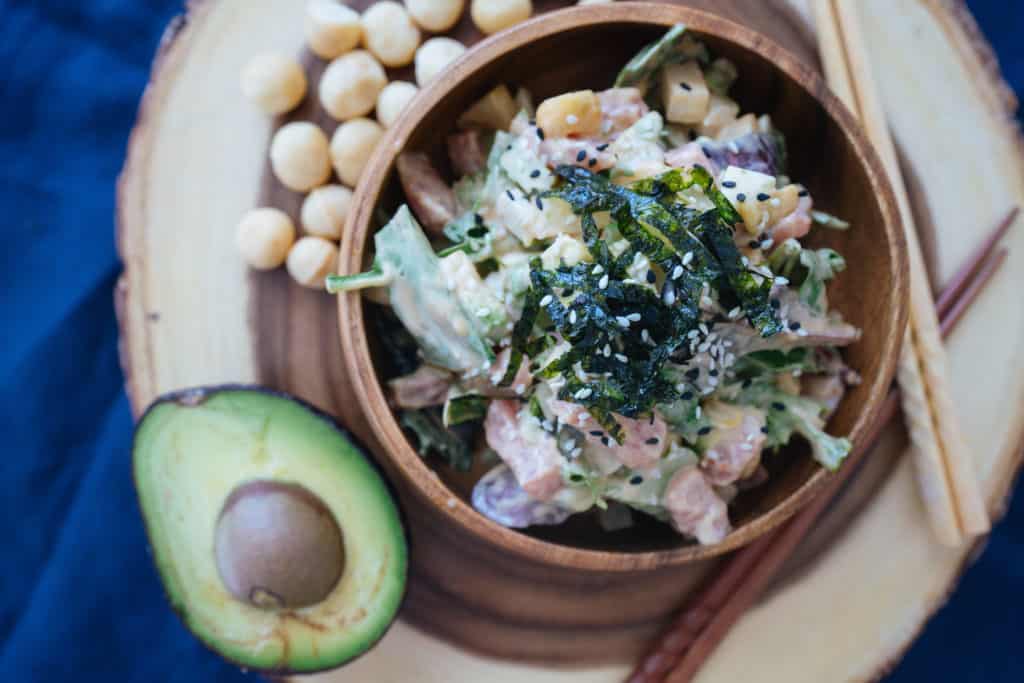 Pesto is one of our favorite sauces, whether we use it on pizza or with chicken. It's high fat, easy to make, and packed with flavor. Try this Pesto Chicken recipe and throw it onto a bed of greens for an easy keto lunch.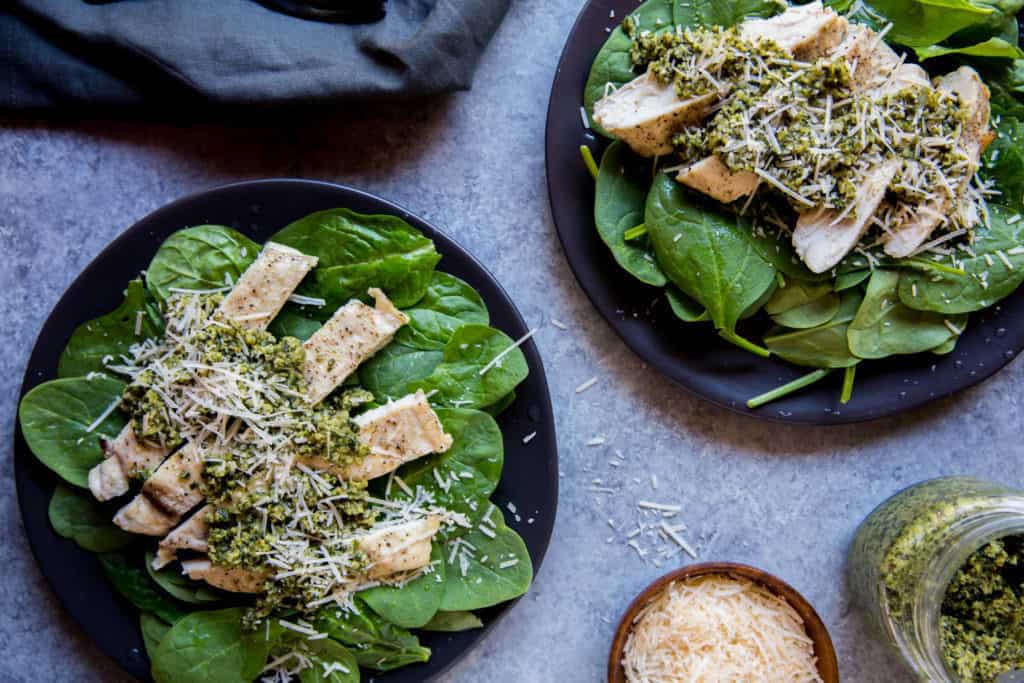 10. Keto Cobb Salad Recipe – 5g net carbs
As if crafted by the Greek goddess of fat herself, the Cobb salad is the perfect keto salad. It's got it all. High-fat, relatively low-carb, tons of vitamins and nutrients, and a moderate amount of protein. When you get invited by your coworkers on a lunch date, opt for the Cobb Salad.
Find the ultimate Keto Cobb Salad recipe below and watch Megha make it in this video.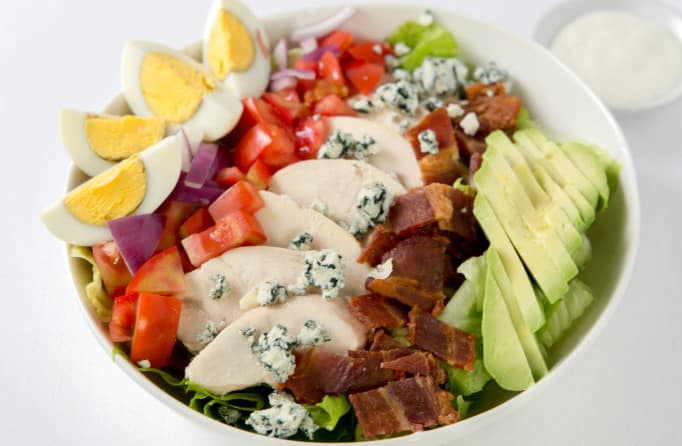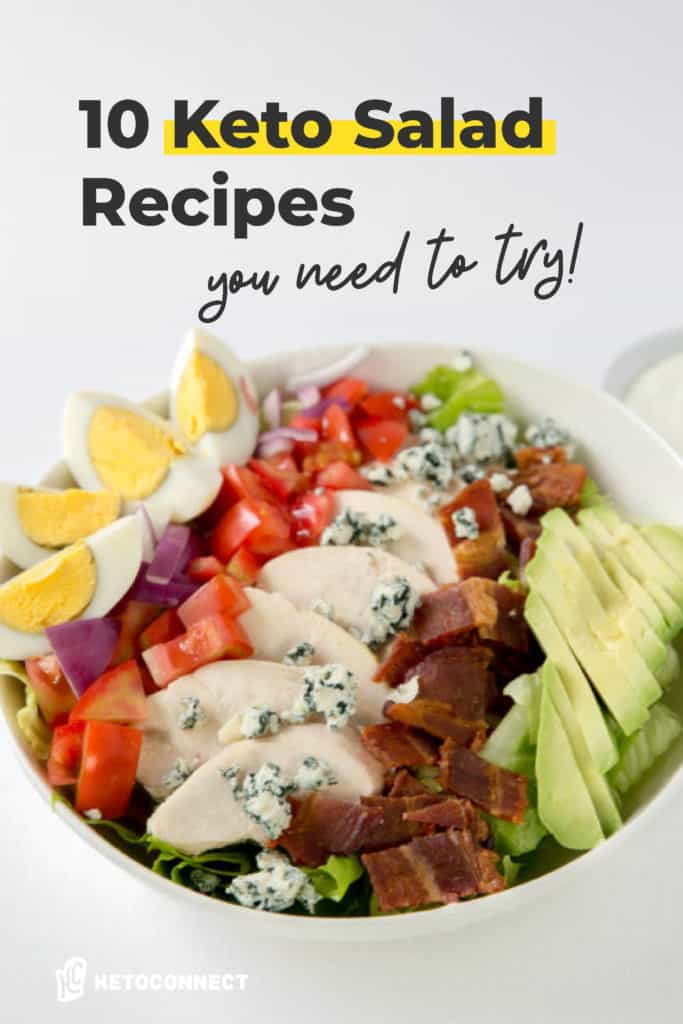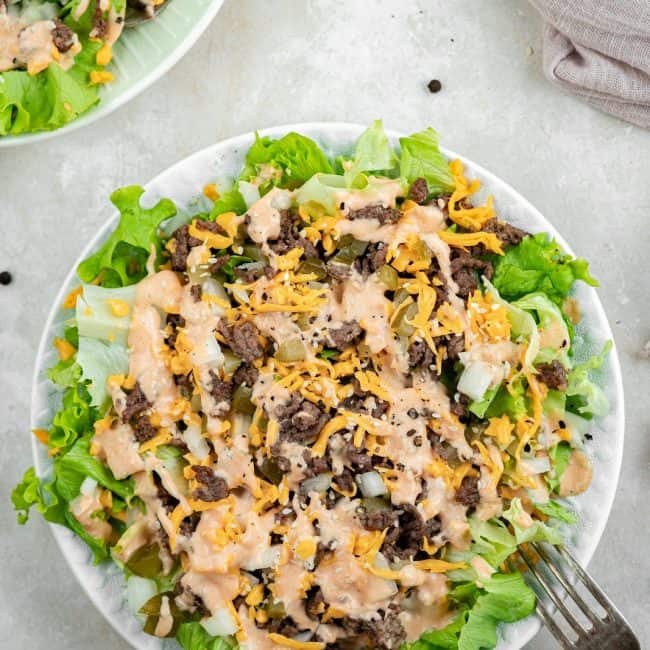 Keto Salad
A keto cobb salad made out of hard boiled eggs, cheese, chicken, and bacon.
Total Time 5 minutes
Servings 1 Large Salad
Calories per serving 670kcal
Instructions:
Start by chopping the lettuce and placing into a salad bowl.

Chop all remaining ingredients and place them into individual piles atop the lettuce.

Salt and pepper to taste. Add oil and vinegar or your dressing of choice. Enjoy!
Nutrition Facts
Keto Salad
Amount Per Serving
Calories 670 Calories from Fat 432
% Daily Value*
Fat 48g74%
Carbohydrates 12g4%
Fiber 7g28%
Protein 50g100%
* Percent Daily Values are based on a 2000 calorie diet.
Written By