Since moving to the South we are constantly tempted by fresh baked biscuits. We needed to come up with a low carb biscuits recipe that would free us from the temptations of flaky southern biscuits. This is that recipe! Even better, it can be made with a handful of ingredients and in three minutes or less.
How To Make Low Carb Biscuits
First you have to decide what kind of biscuits you want to make. We have a more traditional, baked almond flour biscuit recipe you can try if you have more time. This is a super quick microwave biscuit recipe that you can make when you're in a rush!
Essential Keto Biscuit Ingredients:
The ingredient list for this recipe is on the long side, but most of them are just for flavor. You can make a delicious mug biscuit with just a handful of ingredients. The essential ingredients are:
Butter
Baking Powder
An Egg
Heavy Cream
Coconut Flour vs Almond Flour
One of the benefits of making biscuits with coconut flour is that you don't need to use a whole lot of flour. This recipe makes one large biscuit and only used two tablespoons of coconut flour. This is because coconut flour is highly absorbent so you won't need as much as you would almond flour.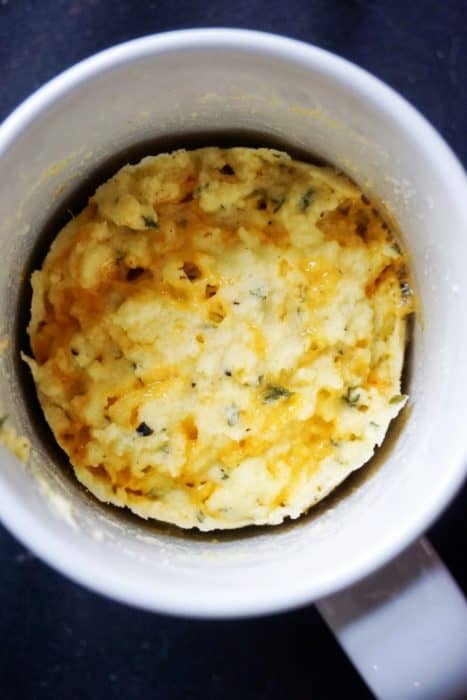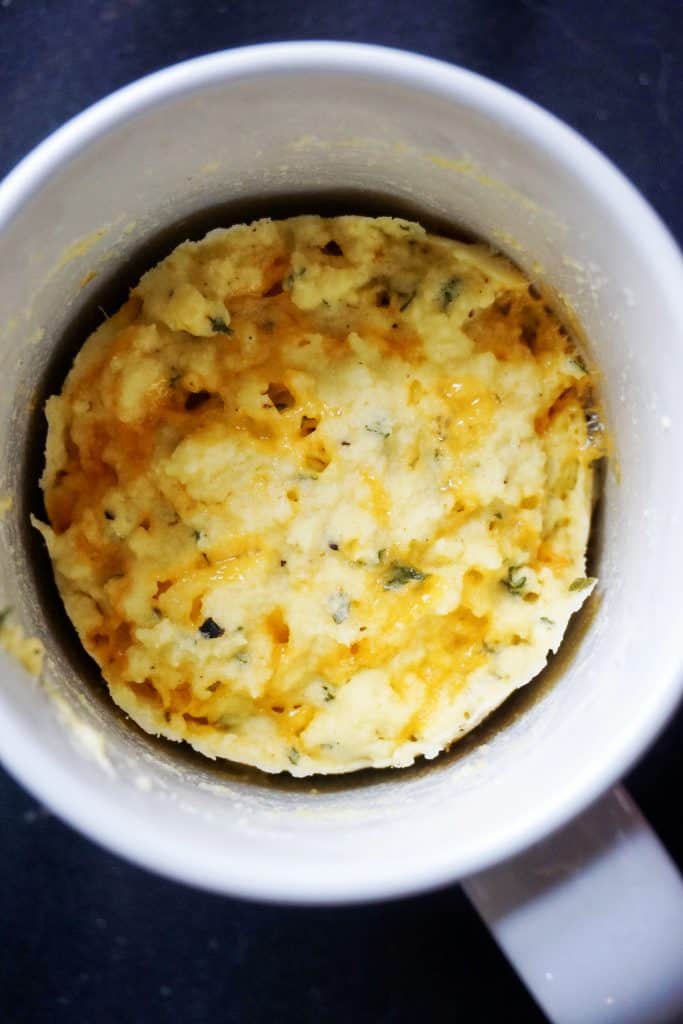 Add Cheese for a Moist Biscuit
Coming away with a moist and memorable biscuit using low carb ingredients is a tough task. Using low carb flours alone won't quite do the job. Adding in a bit of cheese will make the biscuit more flavorful, as well as softer and more enjoyable.
Clumpy is Ok!
This biscuit dough isn't going to look like your grandma's traditional recipe. The dough is much thicker and you might be skeptical when you pop this in the microwave. "There is no way this is going to turn into a biscuit in three minutes". Have faith! This clumpy dough is going to come out perfectly soft and flavorful, ready to be topped with butter or filled with your favorite sandwich ingredients.
Microwave Mug Breads
If you haven't made a microwave mug bread before then you're in for a treat! These are breads that you mix and microwave in a coffee mug and can enjoy less than 5 minutes later. Many keto mug breads can be made in under 60 seconds but this one will take close to three minutes. The increased time is because this recipe is nut free and uses only coconut flour.
Keto Red Lobster Biscuits
I'm a big fan of the world famous red lobster biscuits, so whenever I get the chance I try to replicate that flavor. That's what we did for this recipe, but feel free to change up the flavors to your liking. You can even go for a sweet biscuit using ricotta cheese and cinnamon! There's no rules in the kitchen. Have fun and create something awesome.
How to Store Keto Biscuits
As with all keto baked goods, it is best to store these biscuits in the fridge. They will last 7-10 days in the fridge and can also be frozen to extend the shelf life up to 1 month. Since this recipe is made in single serving batches there is really no reason to store it though. You can make it anytime you are in the mood in a few minutes time.
Make a Keto Sandwich!
This is our favorite keto biscuit recipe to use for sandwiches! The biscuit is sturdy and will hold up to whatever you want to add to your sandwich. Most breads get soggy and fall apart…
I will usually make 1 biscuit and get 2 sandwiches out of it. I like to slice each one into four slices so I can double up on sandwich fillings!
While you can make just about any sandwich you would like with these low carb biscuits, our personal favorite is a loaded breakfast sandwich! Eggs, cheese, bacon and avocado. Perfect for a weekend brunch with coffee.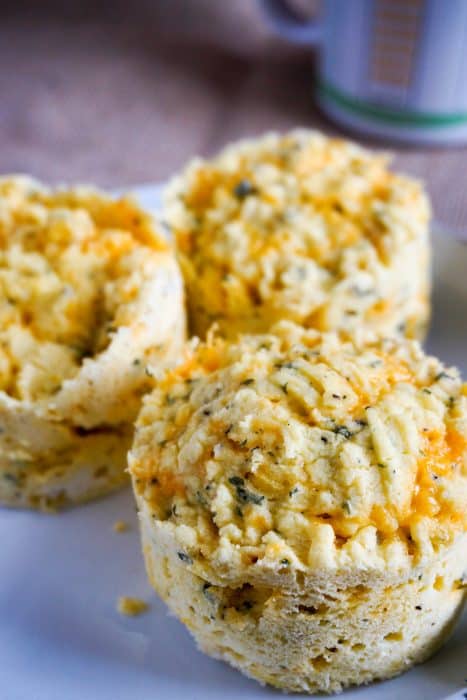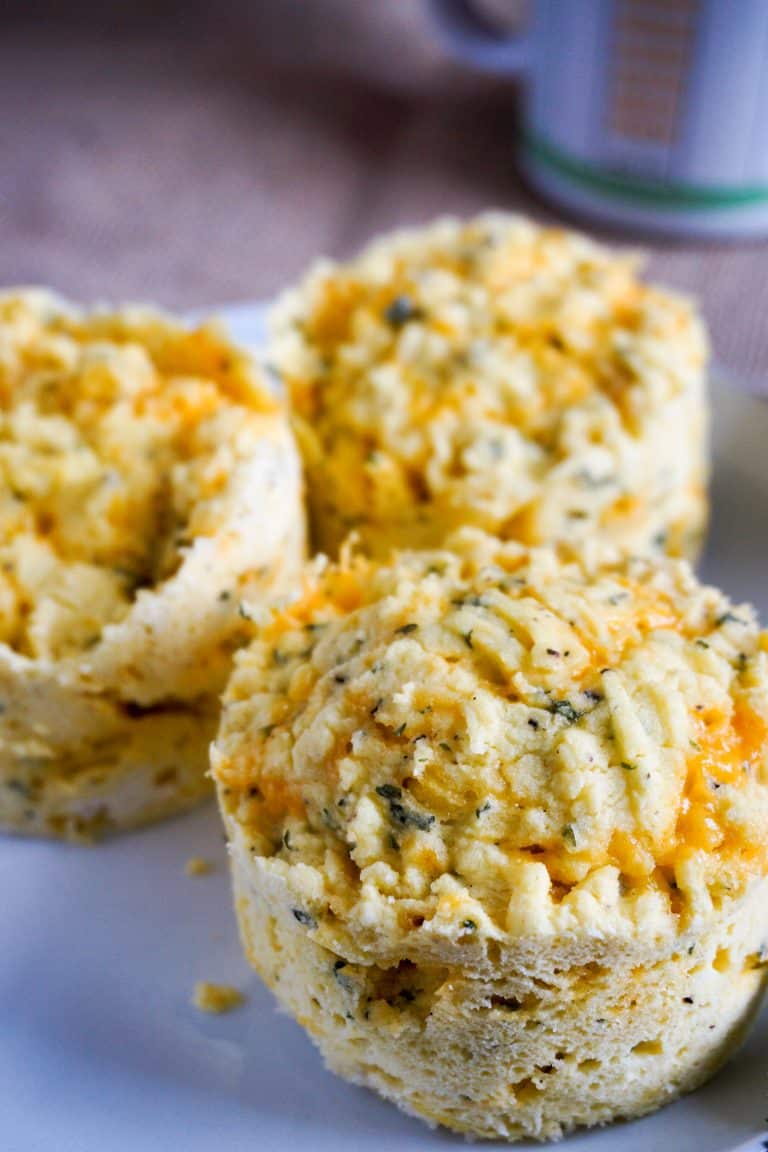 Nut Free Keto Mug Biscuit
Many people look for nut free recipes because of allergies, or simply because they find themselves eating too many nuts when starting a ketogenic diet. The downside to nuts is that they are very calorie dense and can inhibit weight loss if you're not careful. They are easy to consume in excess and mindlessly eat. We are always developing new nut free recipes, so check out a few of our favorites:
Keto Biscuits in the Microwave?
Our favorite part about this recipe is how quick it is. And, when we say quick we mean a total of 5 minutes to make, maybe even less. If you are opposed to microwave use though, this recipe may not be for you. What makes it so quick is the use of a mug, combining all the ingredients into that mug (in no particular order) and microwaving it for 3 minutes. It even pops right out onto a plate for easy slicing and eating!
If you don't have a microwave this recipe can also be made in the oven. Set the oven to 350 and bake for 15-20 minutes.
The Easiest Low Carb Biscuits
Whether or not you have have a nut allergy, you will enjoy all our bread recipes. But, if you're in the market for a quick and delicious (but, not too eggy) biscuit to add to tonight's dinner, you should make our low carb biscuits!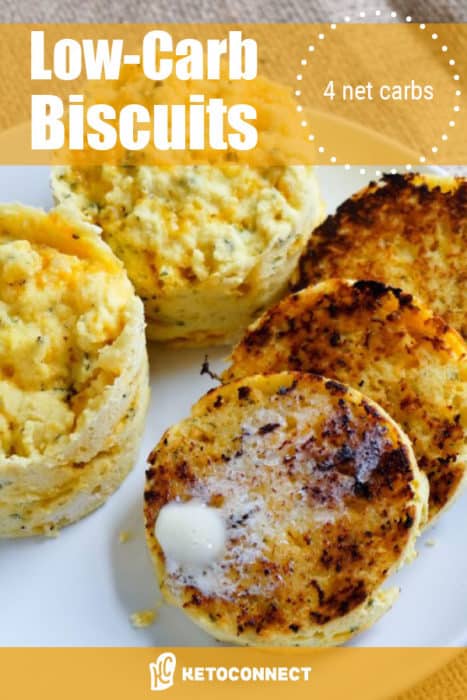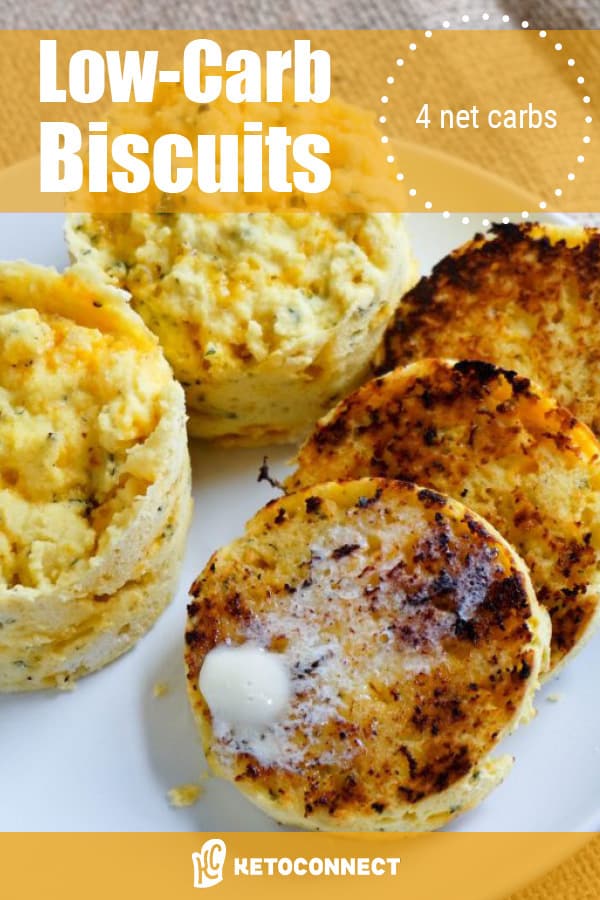 Recipe can be quickly added to MyFitnessPal – Search "KetoConnect – Easy Biscuit Recipe"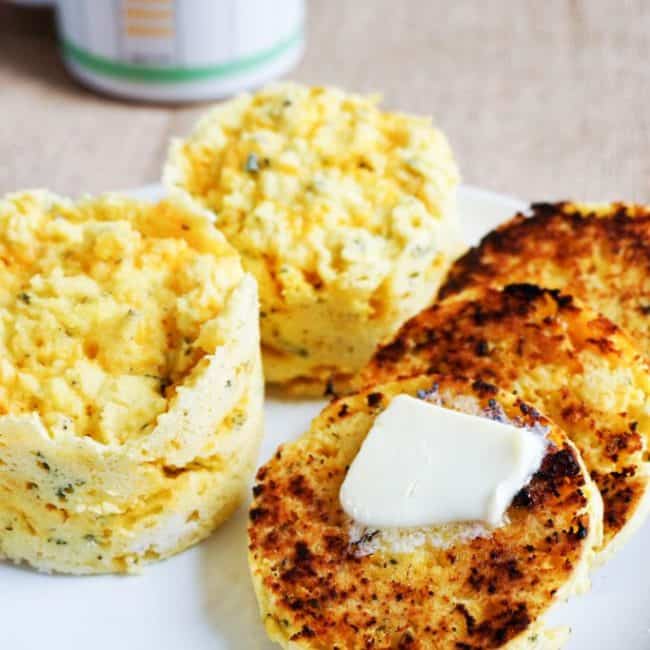 3 Minute Low Carb Biscuits
Flavorful keto biscuits made in less than 3 minutes using a coffee mug and the microwave. This keto recipe is the perfect way to quickly add a side dish to your next meal.
Total Time 5 minutes
Servings 1 Servings
Calories per serving 392kcal
Prep Time: 2 minutes
Cook Time: 3 minutes
Instructions:
Melt butter in a coffee mug by microwaving for 20 seconds.

Add coconut flour, baking powder, and seasonings. Mix to incorporate with a fork.

Add egg, water, cheese and heavy whipping cream. Mix until combined.

Microwave for 3 minutes. Immediately remove from mug and allow to cool for 2 minutes.

Slice and enjoy.
Nutrition Facts
3 Minute Low Carb Biscuits
Amount Per Serving
Calories 392 Calories from Fat 288
% Daily Value*
Fat 32g49%
Carbohydrates 9g3%
Fiber 5g20%
Protein 15g30%
* Percent Daily Values are based on a 2000 calorie diet.
Written By