Our Low Carb Biscuits are by far our favorite bread recipe. I'll admit I've never had red lobster biscuits, but Matt swears this bread resembles the red lobster biscuits to a tee. If he's right in any sense then the red lobster biscuits must be deliciously cheesy and flavorful, just like these Low Carb Biscuits.
Coconut Flour Bread
I'm allergic to almond flour so this gave Matt the perfect opportunity to try his hand at a coconut flour microwave bread. One thing you should know is that Matt never goes simple with anything. One his first attempt he added some cheddar cheese, and he hit the nail on the head. The coconut flour is subtle and flavor, but the butter and cheese comes through strong! The best part about work with coconut flour is it will generally be lower is calories and carbs compared to almond flour. It's also cheaper!
Low Carb Microwave Bread
Our favorite part about this recipe is how quick it is. And, when we say quick we mean a total of 5 minutes to make, maybe even less. If you are opposed to microwave use though, this recipe may not be for you. What makes it so quick is the use of a mug, combining all the ingredients into that mug (in no particular order) and microwaving it for 3 minutes. It even pops right out onto a plate for easy slicing and eating!
The Easiest Low Carb Biscuits
Fortunately, for me and my allergy to almonds, this isn't our only almond free bread! We also have Low Carb Rolls and Low Carb Naan for bread replacements, and they don't require a microwave. Whether or not you have have a nut allergy, you will enjoy all our bread recipes. But, if you're in the market for a quick and delicious (but, not too eggy) biscuit to add to tonights dinner, you should make our low carb biscuits!
Recipe can be quickly added to MyFitnessPal - Search "KetoConnect - Easy Biscuit Recipe"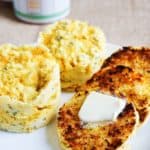 3 Minute Low Carb Biscuits
Print Recipe
Instructions
Melt butter in a coffee mug by microwaving for 20 seconds.

Add coconut flour, baking powder, and seasonings. Mix to incorporate with a fork.

Add egg, water, cheese and heavy whipping cream. Mix until combined.

Microwave for 3 minutes. Immediately remove from mug and allow to cool for 2 minutes.

Slice and enjoy.
Nutrition
Calories:
392
kcal
|
Carbohydrates:
9
g
|
Protein:
15
g
|
Fat:
32
g
|
Fiber:
5
g