We use cauliflower ALL THE TIME. Of all our low-carb cauliflower recipes, these Cauliflower Hash Browns might just be our favorite!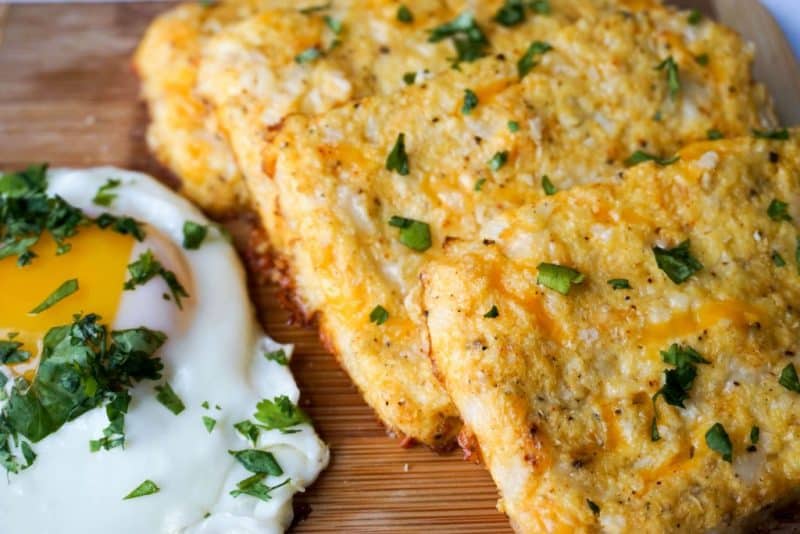 They're the perfect combination of simplicity and deliciousness. So if you've been looking for an easy low-carb hash brown recipe, look no further.
Due to the popularity of this recipe, we decided to record a recipe video! Check it out, and be sure to subscribe to our YouTube channel for more videos from us:
What Makes These Hash Browns Low Carb?
Before I moved to San Francisco I had no idea how huge the brunching trend was. All the new friends I made always suggested brunch, and who was I to say no to one of the best meals ever created? You could have pancakes and a burger in the same meal for gosh sake!
And so, after moving back to Philadelphia I wasn't going to let the Sunday brunch tradition die just because I now lead a keto lifestyle. I had to reinvent brunch because it's just that worth it!
So I present to you my Cauliflower Hash Browns, which are not only super easy to make, but are a great bed for eggs, bacon and avocado.
On the other hand, they could also just as easily be topped with ground beef, sour cream, guacamole and cheese!
Our Cauliflower Hash Brown Recipe
What I love most about these healthy Cauliflower Hash Browns, besides the low net carb count, is how easy they are to make. With only three ingredients you've got yourself a stand-alone meal or a delicious side that unites several different foods!
You can have them for breakfast, lunch or dinner. Another awesome feature of these is that they are cauliflower hash brown patties. So you can toss them in the fridge and reheat them at your leisure!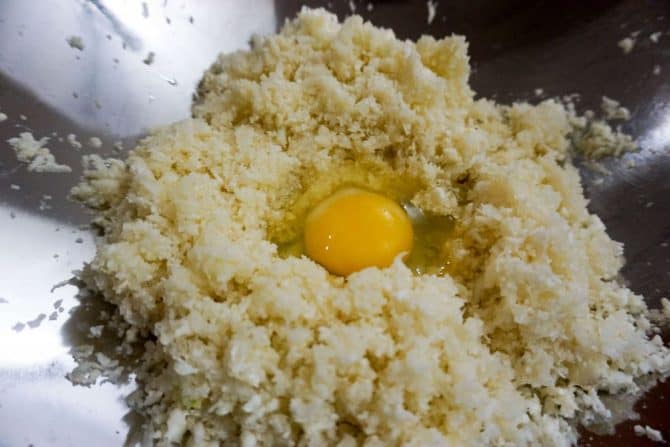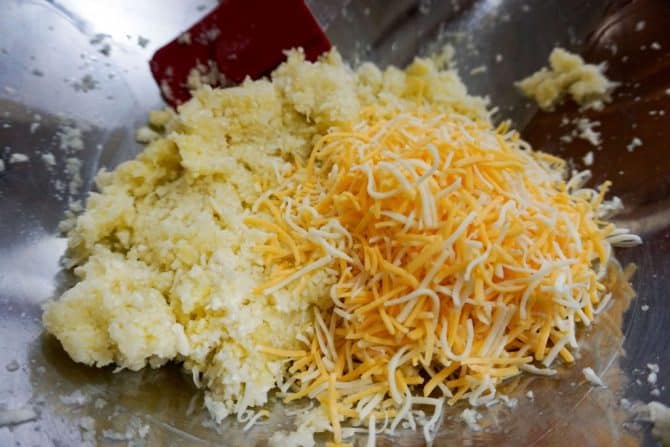 When I first made these Matt was overwhelmed with many different emotions. He had an excited look in his eye as he went to grab one and when it didn't fall apart in his hand he giddily laughed and bit into it. "It's like a real hash brown!" he exclaimed. At the time I was just experimenting, but I could tell from his reaction – as I usually can – that this was a low-carb recipe I needed to share.
How to Make Keto Hash Browns
Your regular potato-filled hash brown is essentially a delicious rectangle of carbs – not exactly keto-friendly!
Luckily, we've made some crucial swaps that keep the carbs low without compromising on the true hash browns experience. You'll never be tempted by an early morning drive-thru again thanks to this Cauliflower Hash Browns recipe.
Egg
Eggs aren't just a staple of any great savory breakfast, but are one of the main ingredients in any traditional hash browns recipe. So of course, I had to keep them in!
I love using eggs in cooking. Along with being a great, keto-friendly combo of fat and protein, they're essential for binding all the ingredients together so you end up with nice deck-of-card-shaped hash brown instead of, well, a mess. Never underestimate the humble egg.
Cheese
They say the best part about the keto diet is the cheese, and this recipe has plenty. Like egg, the cheese helps to hold everything together. This is definitely useful without the glue-like starch that can be found in potato.
The cheese also adds extra fat, which can help to bump up your fat macros for the day and keep you full all the way to lunch. Not to mention it's super delicious!
Cauliflower
While there are lower-carb vegetables that can be used as potato substitutes – such as rutabaga – these can often still be a little too high in carbs to be "worth it". Even rutabaga has around 8 grams of net carbs per 100 grams.
Enter our unlikely hero: cauliflower! I love using cauliflower to make keto and gluten-free versions of my favorite recipes, from mac and cheese to a loaded cauliflower casserole.
Can I Use Pre-Riced Cauliflower?
Yes! Feel free to save yourself some time by using pre-riced cauliflower, or even frozen cauliflower rice from the store. Make sure it only contains cauliflower rice and nothing else added, like sneaky carbs.
Keep in mind that you still need to remove the water first – see the instructions in the recipe. Otherwise, your mixture may not stick together like true hash browns.
If you use frozen riced cauliflower, there will be quite a lot of water, so make sure to really wring it out.
I personally like to rice cauliflower myself, as I find it's much cheaper than buying pre-made cauliflower rice. But you do you.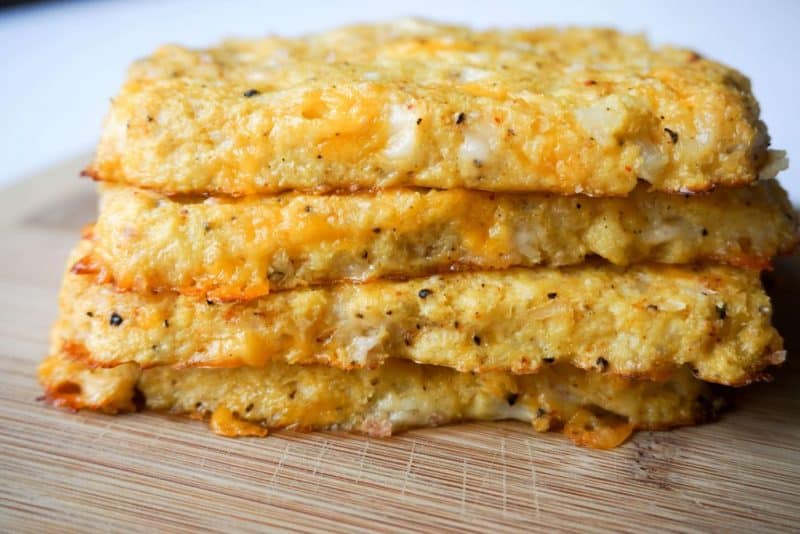 Nutritional Breakdown
Let's be real: you're probably seeking out this Cauliflower Hash Browns recipe because you wanted a low-carb alternative version that fulfills a high-carb craving – not because you want a nutritious breakfast option. The good news? You're about to get both!
These Cauliflower Hash Browns have:
164 calories per servings
3.2 grams net carbs
2 grams fiber
11.25 grams fat
7 grams protein
Not only are these hash browns free from high-carb potato, but they're also not deep-fried in potentially inflammatory vegetable oils such as canola and soybean.
Feel free to drizzle your baking tray with a little olive oil for a healthier option. You could also use a baking sheet.
And yes, these Cauliflower Hash Browns are gluten-free!
How to Make This Recipe Even Better
I love this recipe as is, but you can totally feel free to experiment and make it perfect for your personal cooking style.
That doesn't just mean changing up the end result, but making this recipe even easier to make!
Use a Food Processor
I know, grating cauliflower can be tiresome, time-consuming and downright messy. You just know you're going to end up with flecks of cauliflower absolutely everywhere. But if you ask me, this great recipe makes it so worth it.
If you have a food processor, feel free to pulverize the cauliflower in there and save yourself some time (and potential wrist pain!).
Use an Air Fryer
These Cauliflower Hash Browns turn out super crispy and golden brown in the oven, so I can only imagine how amazing they'd be in the air fryer!
Air fryer drawers tend to be small, so you may not be able to make all six servings at once. You do have the option of portioning and freezing single servings of the mixture, then defrosting and cooking one to two hash browns as needed in the air fryer.
What are keto hash browns made of?
There are different recipes for keto hash browns but the most popular version is made using cauliflower in place of potatoes. Cauliflower has a similar texture and flavor to potatoes with a fraction of the carbs.
Are Cauliflower Hash Browns good for you?
Yes! Cauliflower hash browns are a great way to add some veggies to your diet. Cauliflower is high in fiber, which has been shown to have many health benefits.
Serving Suggestions
Anyone who's ever had a McDonald's breakfast knows the best way to serve a hash brown – right out of a little paper sleeve!
Jokes aside, these Cauliflower Hash Browns are more versatile than you might think. Try adding fried or scrambled eggs on top for a delicious, crunchy pillow. Who needs bread?
Of course you could pair these hash browns with a big pile of keto ketchup. That's always a safe bet.
Don't be afraid to go all out and create a multiple-course breakfast, with Cauliflower Hash Browns as a side dish. Think sausage, avocado, mushrooms, eggs, wilted spinach and bacon. Now that's a fry-up.
You could also try adding different seasonings and flavors into your cauliflower mixture, such as dried or fresh chopped herbs, garlic powder and maybe even a little parmesan.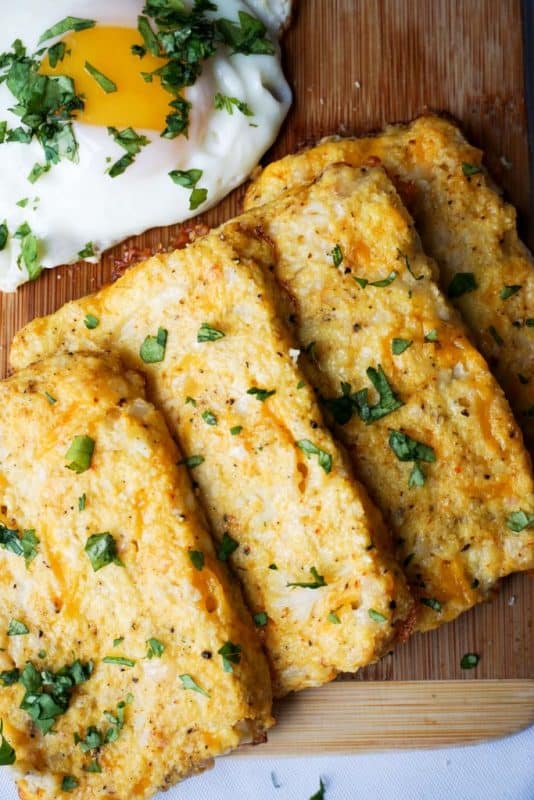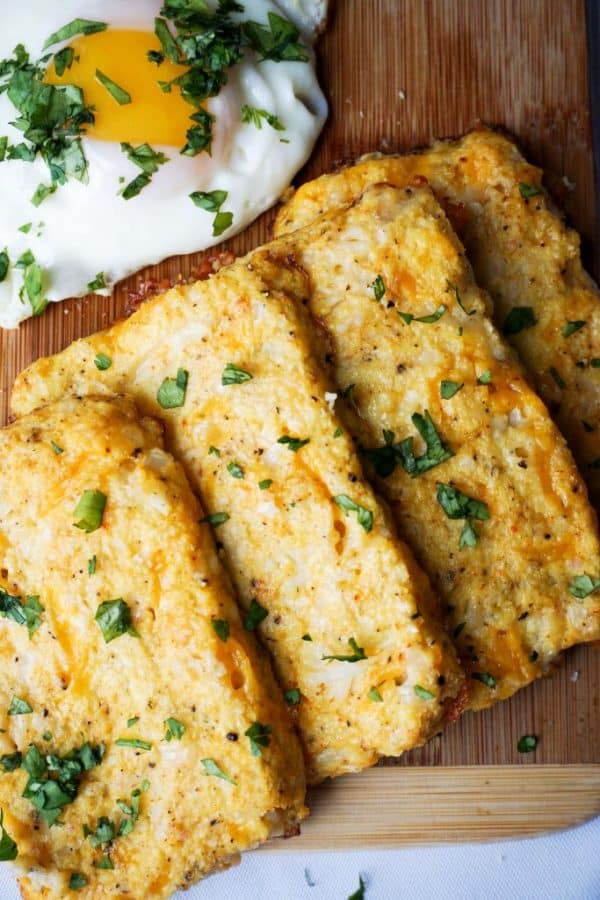 Cauliflower Hash Browns Recipe – 3 Ingredients
Make this incredible breakfast side dish with just 3 simple ingredients. Be sure to make extra!
Total Time 45 minutes
Servings 6 hashbrowns
Calories per serving 164kcal
Prep Time: 20 minutes
Cook Time: 15 minutes
Instructions:
Grate entire head of cauliflower into a bowl using a cheese grater or food processor.

Microwave for 3 minutes and let cool. Place in paper towels or cheese cloth and ring out all the excess water.

Place rung out cauliflower in a bowl, add rest of ingredients and combine well.

Form into six square shaped hash browns on a greased baking tray.

Place in a 400 degree oven for 15-20 minutes.

Let cool for 10 minutes and hash browns will firm up. Serve warm Enjoy!
Nutrition Facts
Cauliflower Hash Browns Recipe – 3 Ingredients
Amount Per Serving
Calories 164 Calories from Fat 101
% Daily Value*
Fat 11.25g17%
Carbohydrates 5.2g2%
Fiber 2g8%
Protein 7g14%
* Percent Daily Values are based on a 2000 calorie diet.
Written By