The super bowl is just around the corner, but don't worry we've got you covered! Any of these 21 incredible keto appetizers are sure to impress your friends and family! Be sure to comment below with your favorite keto appetizers so we can grow this list to include all of the best keto appetizers!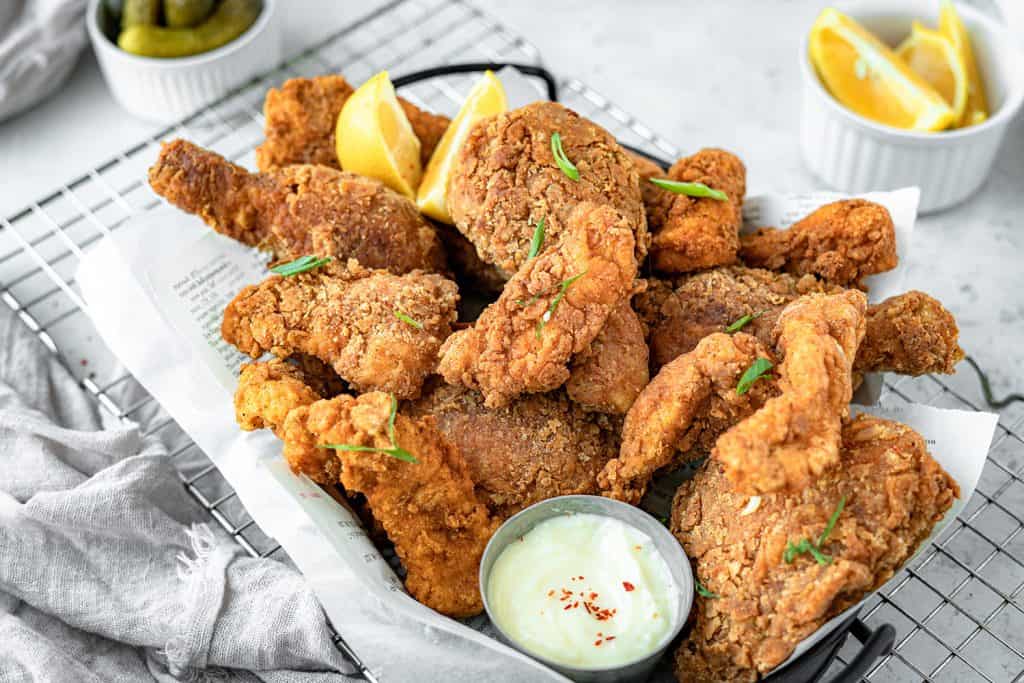 What Makes Great Keto Appetizers?
The best low carb recipes have a blend of delicious flavors, appealing textures, and of course, fantastic keto friendly macros! All of our keto appetizers are easy to make, gluten free, and can even be used as snacks or a quick side dish when you're in a rush. Gluten free keto appetizer recipes are not only healthy, but also super versatile!
Which Keto Appetizer to Bring?
Ultimately the appetizer you love most is what will be brought, but that doesn't mean I can't give you some ideas, and explain why you should pick an easy to make keto recipe. Whether or not your friends are on a gluten free or keto diet, everyone is sure to love these low carb appetizers!
A Party
The best keto friendly party appetizers are finger foods. They make easy grab and go snacks that can be eaten while walking, without any mess. Think light, not too greasy or saucy, and simple single bites. Our party favorites:
Keto Pigs in a Blanket (#3 on the list)- This easy low carb recipe is keto friendly and still filling so you aren't tempted to snack all evening. Pigs in a blanket made keto are also gluten free so anyone with a wheat allergy can enjoy them
Low Carb Crackers (#11 on the list)- Now I know what you're thinking, "Just crackers?" Definitely not! Pre make these crackers and top them with fancy keto cheese and meats for classic low carb keto bites.
Keto Deviled Eggs (#12 on the list)- Bites of low carb appetizers allow guests to try tons of new flavors, so try making a dozen or so of these egg bites for your next party.
The Super Bowl
There's just no time quite like football season. We're suckers for some wings, but there are so many low carb recipes perfect for a keto diet. So break out that old jersey, toss on an apron, and hop into the kitchen.
Low Carb Keto Wings (#8 on the list)- I had to list the classic game day snacks so you'd know where to look! Our easy to make oven wings are perfect crispy chicken snacks that are healthy and low in carbs. Taking just minutes to prep, these crispy wings are sure to be a star next to your favorite dip.
Quick and Easy Keto Nachos (#1 on the list)- There is no food more perfect than the nacho. Maybe I'm bias as it is my favorite food of all time, but these keto nachos really take the cake. By making these nachos keto, we've lowered the carbs and made them healthy without losing any delicious flavor.
No Carb Pizza OR Keto Breadsticks (#7 on the list)- Pizza is a classic game day food all across America. Coming second to wings as a favorite, we knew we had to remake this classic. This "diet" food is cheesy, gooey, salty, and free from carbs so you can stay on track with your keto "diet".
A Potluck
Potlucks are notorious for crock pots and we definitely don't want to break tradition. However some keto appetizers are just too good to skip at a low carb keto potluck.
Low Carb Little Smokies (#9 on the list)- Little Smokies are classic easy low carb appetizers. They take the childhood favorite and turn it healthy without any of the sugar and carbs. To make good recipes keto you just need a little determination, and KetoConnect ? .
Keto Spinach Artichoke Dip (#16 on the list)- A super simple and easy to make food, yet this spinach dip really packs a punch. Pair it with keto chips or your favorite keto cracker that's free of carbs and you have yourself a treat.
Keto Buffalo Chicken Meatballs (#12 on the list)- These are great out of the crock pot, and even better fresh from the oven! Buffalo chicken meatballs make the perfect bites that take just minutes to make, for a delicious snack on your keto diet.
Crunchy and Crispy Keto Appetizers
For those that love low carb appetizers with a crunch, we have you covered. This list contains crunchy keto recipes like:
Cheesy Keto Jalapeño Parm Crisps
Pepperoni Pizza Chips
Herb and Butter Gluten Free Keto Crackers
Crispy Low Carb Onion Rings
These are just a few of the many appetizer recipes below that range from crispy and light, to crunchy and ultra flavorful. Keep reading to check out all the low carb appetizers we have to offer.
Low Carb Dips
There is nothing better than a delicious dip to snack on at your next Super Bowl party. Get your chips, veggies, and bacon dippers because boy do we have some tasty food for you
Keto Queso- Who doesn't love chips and queso? Use your favorite low carb chips or pork rinds and dip away!
Low Carb Spinach and Artichoke Dip- An ultra creamy snack that's delicious with pretty much anything, heck your could probably even dip bacon in it and it would be delicious!
Keto Cauliflower Hummus- Who knew cauliflower could be so creamy! Cauliflower made the perfect low carb base for this keto appetizer and pairs even better with keto pita and veggies.
Every good dip needs a supporting food, so don't forget your delivery vessel and check out our keto crackers. Or again, just use bacon…
Hot Or Cold?
Whether you like a cool cauliflower hummus, or a hot and delicious bacon stuffed mushroom; we have the perfect keto appetizers for you. To make appetizer recipes keto we picked the classics and built from there. Wanting all our recipes keto we took these traditional food delicacies and transformed them into something new. Matt and I choose both hot AND cold recipes so everyone could have a great keto snack.
Whether you like hot or cold bites you're sure to find a few keto appetizers here for your next party. Take our delicious recipes and get creative. Add some bacon, serve it with keto chips, serve it cold, however you need to in order to make your perfect low carb appetizer.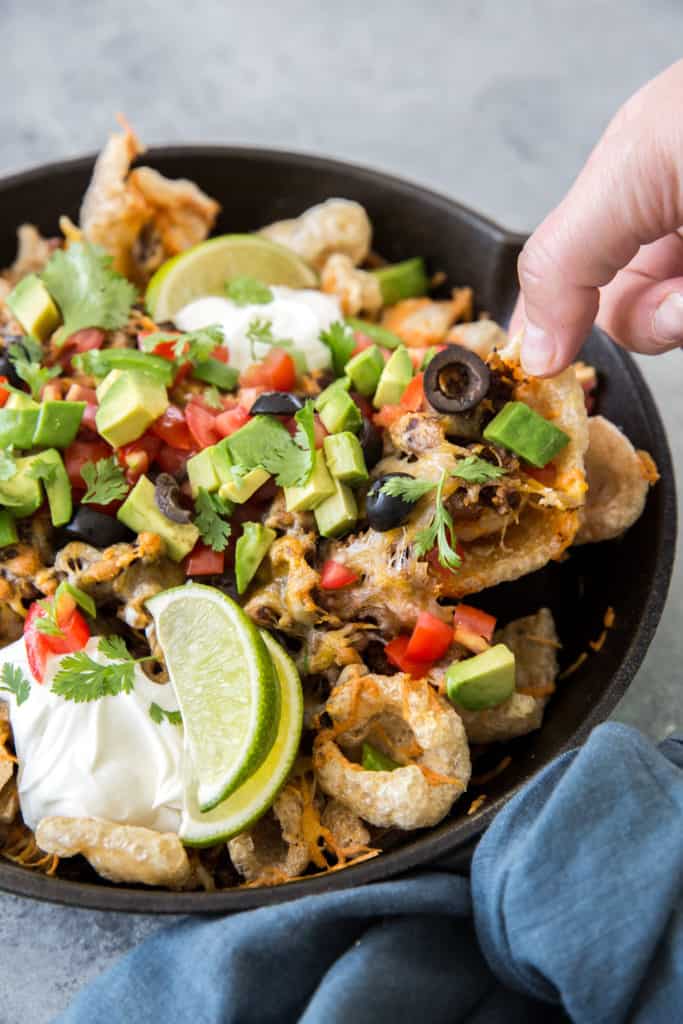 These are the best keto nachos out there. They are covered in layers of meat and cheese, plus come with two different chip options! You can use these low carb recipes to make your own tortilla chips, or stick to a 100% gluten free variation with pork rinds. This low carb keto appetizer has options for everyone. (5 net carbs per BIG serving)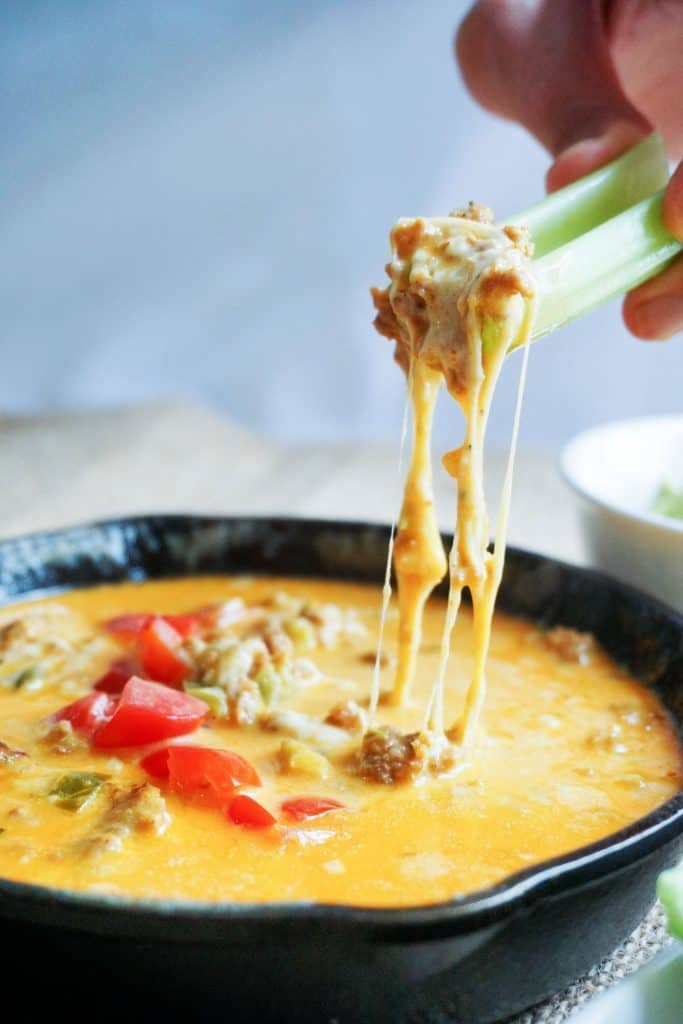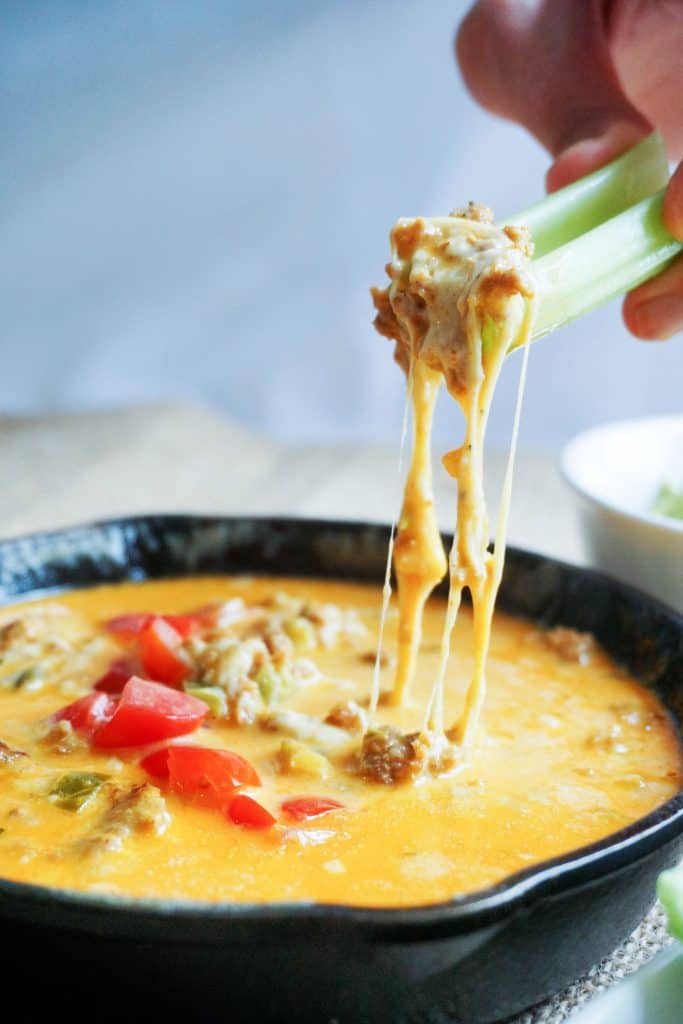 Just incase those nachos weren't cheesy enough, get extra delicious with our gooey keto queso. It's an easy low carb appetizer made with two cheeses perfect for dipping with low carb chips, pork rinds, or vegetables. (1.5 grams of net carbs per serving)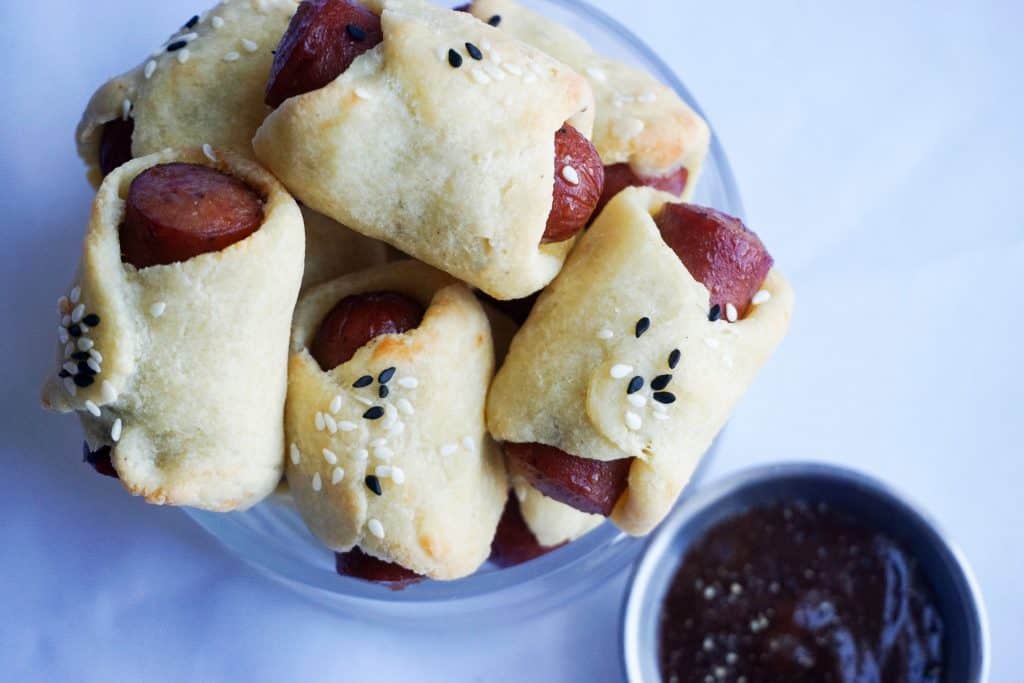 You don't have to be a kid to love this childhood classic. Mix up your favorite high fat dipping sauce to go with these and you'll be all set for game day. Having a keto friendly option that the kids will love is super important in getting the family healthy without feeling forced. (3 pigs in a blanket is 5 net carbs)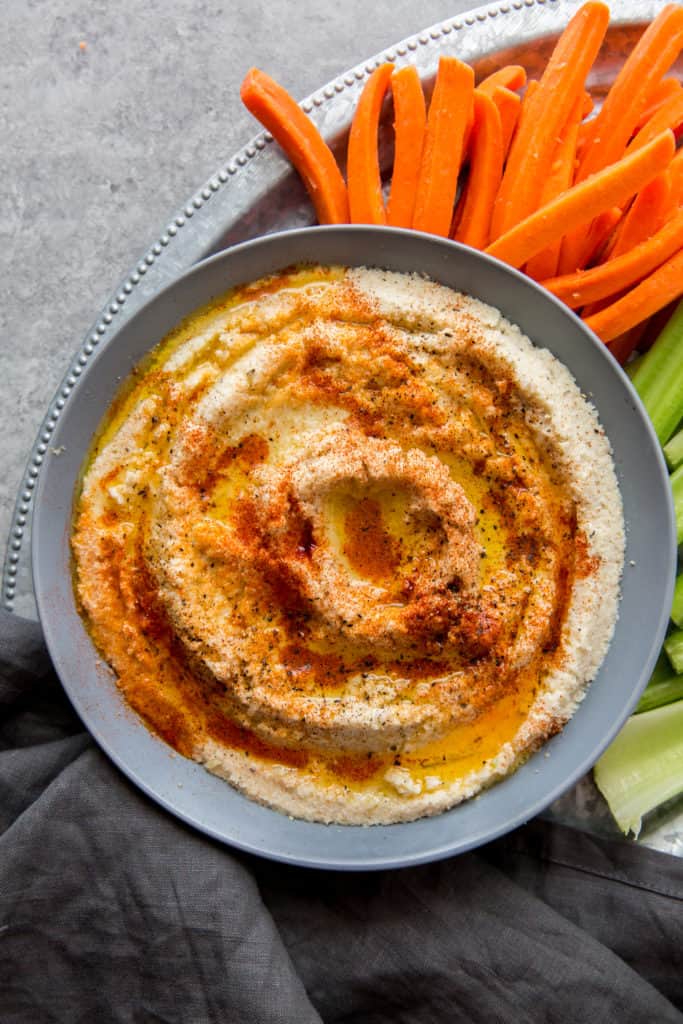 Thought you had to say goodbye to hummus on a keto diet? Think again! We've used cauliflower in tons of easy low carb recipes, but this one really takes the cake. Cauliflower makes for an ultra creamy hummus that is a great blank canvas for whatever your favorite flavors are. Try roasted red pepper, olive tapenade, or even pumpkin spice dessert hummus.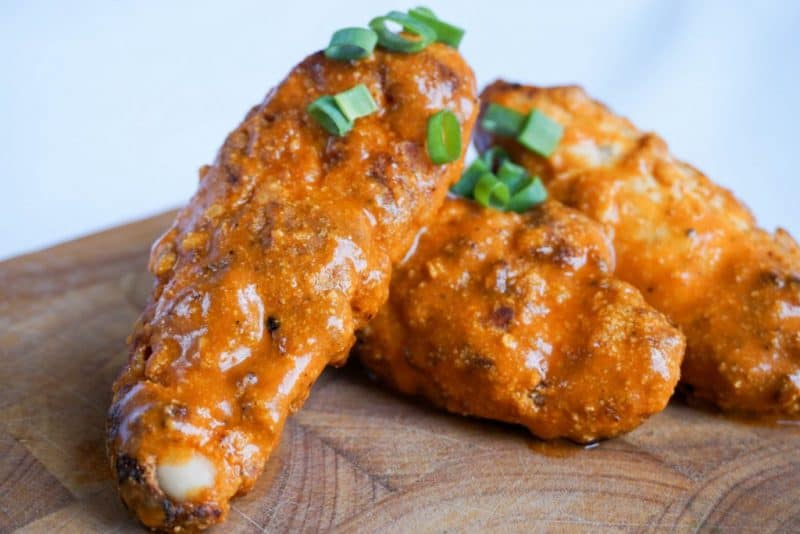 Football and buffalo sauce have been buddies since the dawn of time. Reunite them with this quick and easy to make keto appetizer! It's gluten free, super crispy, and full of flavor. Try dipping them in some low carb ranch or keto blue cheese for an extra tasty boneless "wing" option.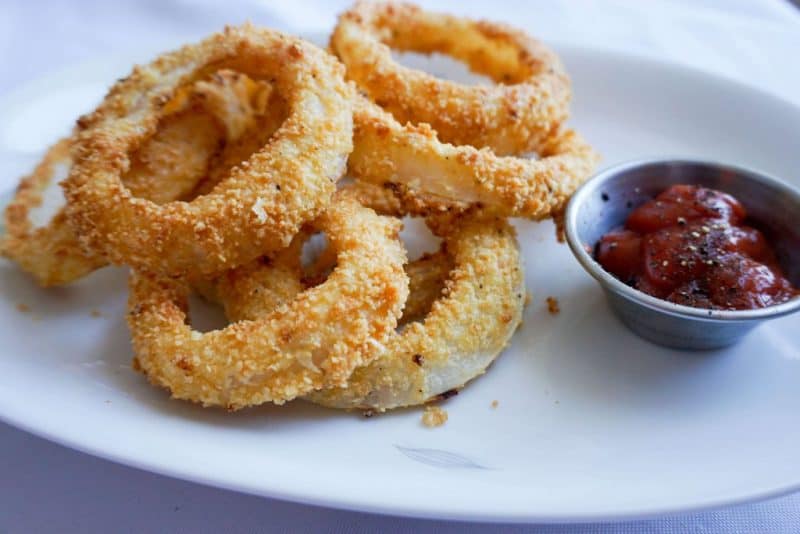 This recipe is great for a couple of reasons. First, no one seems to ever bring homemade onion rings to parties. Second, most people don't think it is possible to make onion rings low carb, so this is the perfect recipe to prove your friends wrong ? . Low carb appetizers never tasted this good.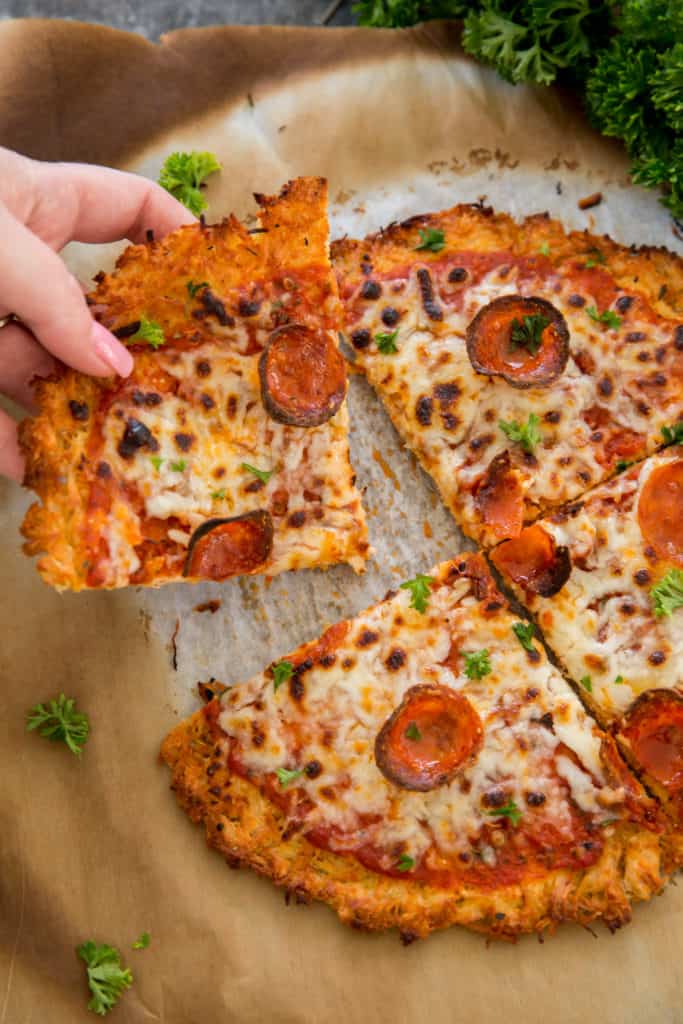 Use our super popular zero carb pizza crust recipe to make a pizza for everyone to enjoy. Even better, make some low carb cheesy breadsticks to share with the crew. Pair it with your favorite keto marinara sauce and you have a full blow cheesy bread appetizer. Feeling extra fancy? Try making mini pizza bites. The best part about pizza bites is that you have a ton of blank canvases to decorate. Baked "potato" pizza with sour cream and bacon? For sure! Easy keto cheese pizza bites? Obviously! Bacon wrapped pizza? Well I guess…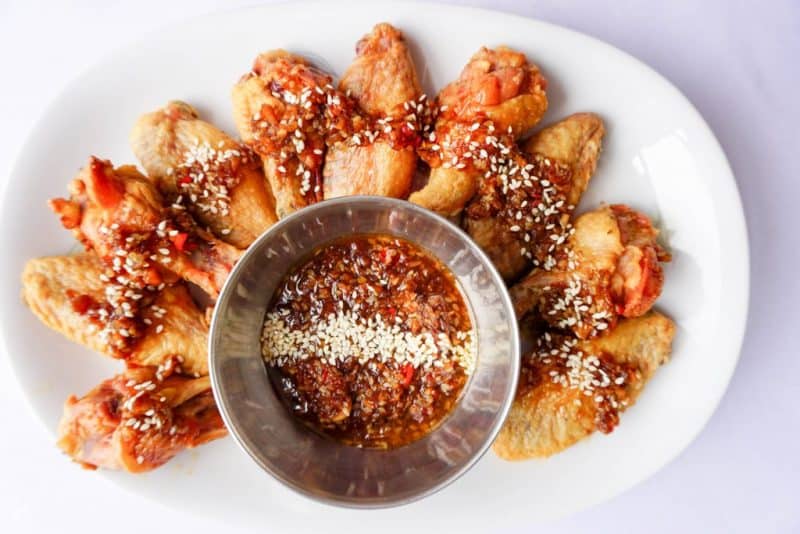 Wings make the perfect keto appetizers. They are ultra customizable with sauces and spices. We made an Asian wing sauce, but feel free to keep it simple with buffalo sauce and ranch dip. They are crispy, easy, delicious keto delicacies every keto dieter should know how to make.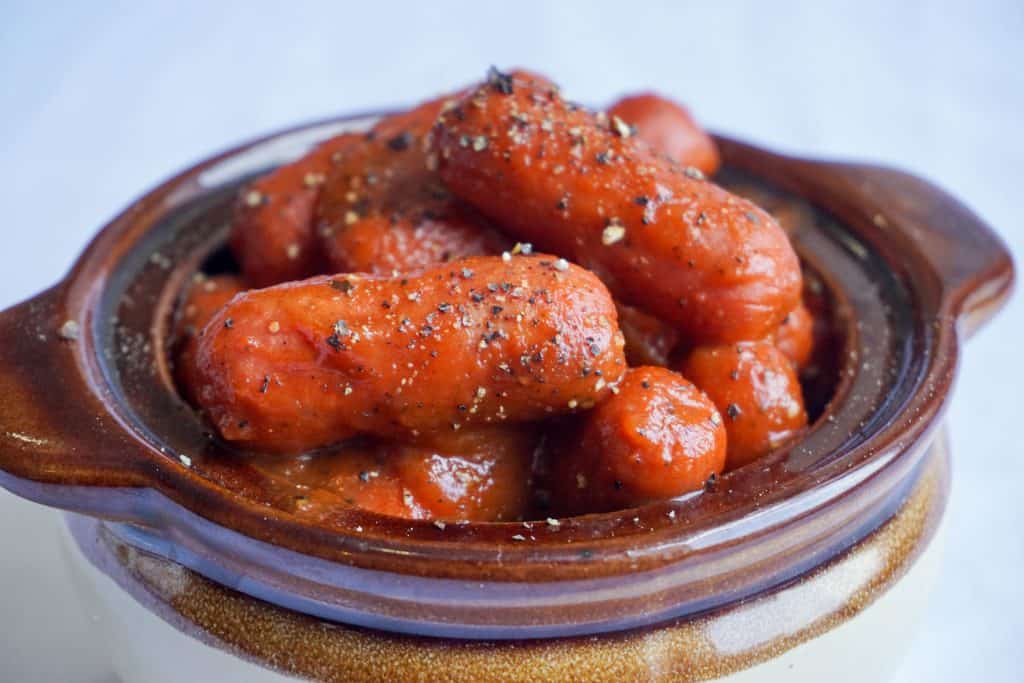 Tired of the sugary sweet crock pot smokies you've had in the past? These little smokies are easy, sugar free, and only take 5 minutes prep time. Plus they are gluten free and perfect for guests with allergies and sensitivities trying to be sugar free. Who said you need tortilla chips and salsa to have a party!?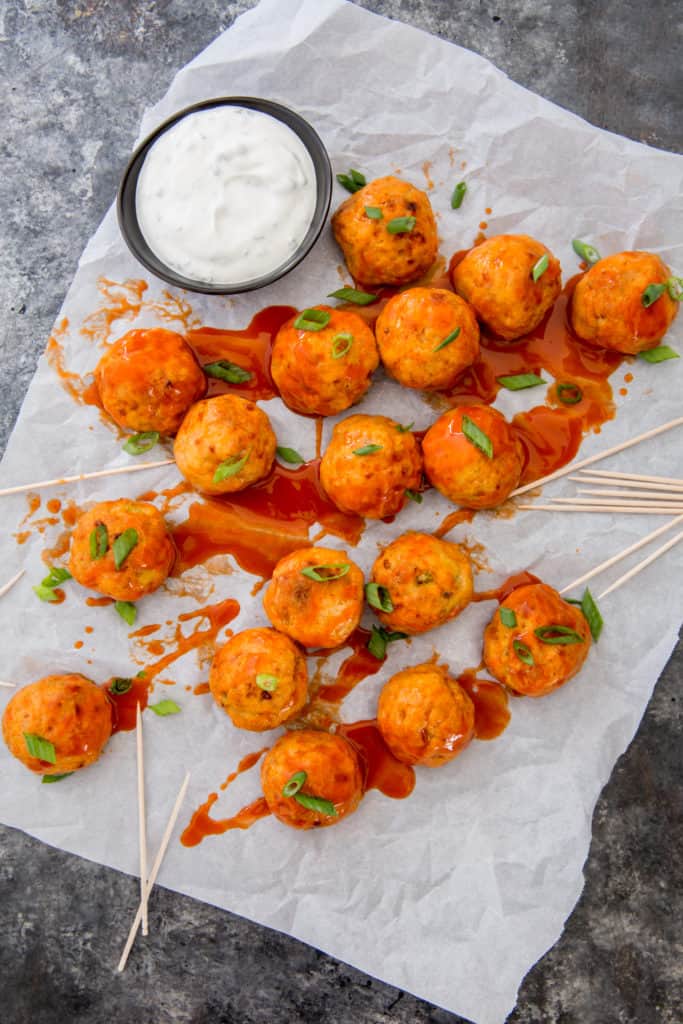 Everyone knows chicken and buffalo sauce are classic party foods. Pull out the ranch dip and you've got a meal! These fancy bites only take 30 minutes total to make. Prepare these delicious bites because they are perfect for dipping in blue cheese sauce at your next party.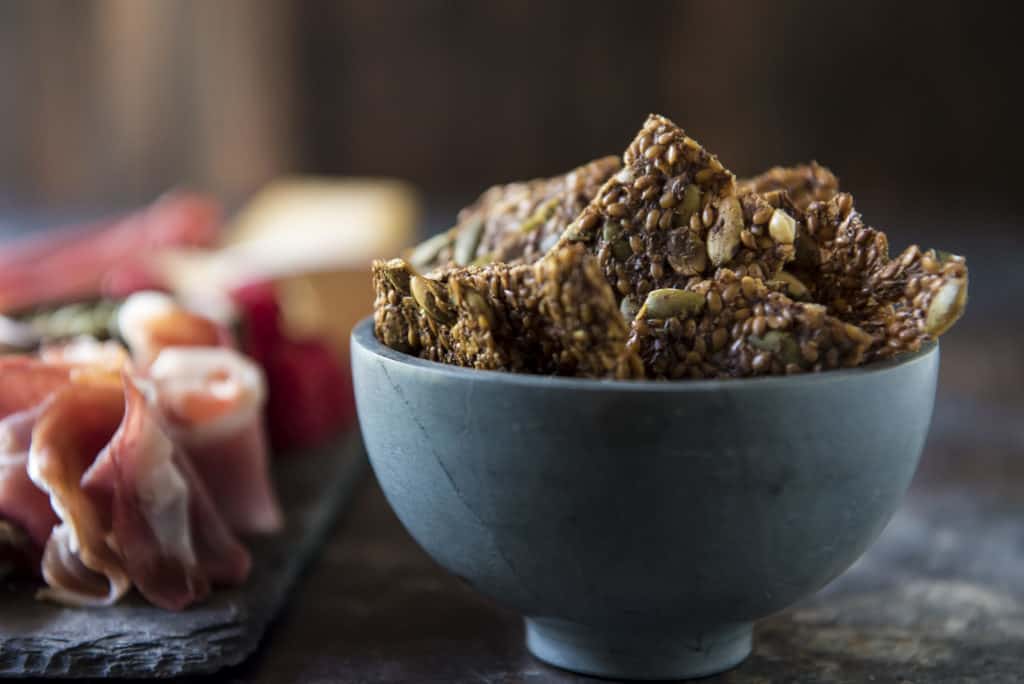 These crackers are delicious, crunchy, and perfect for a keto diet. Pair your favorite meats and keto cheese with a few of these crackers for satisfying party snacks. And well, chances are there is going to be dips. You're going to need something to dip into them… and you can only eat so much celery.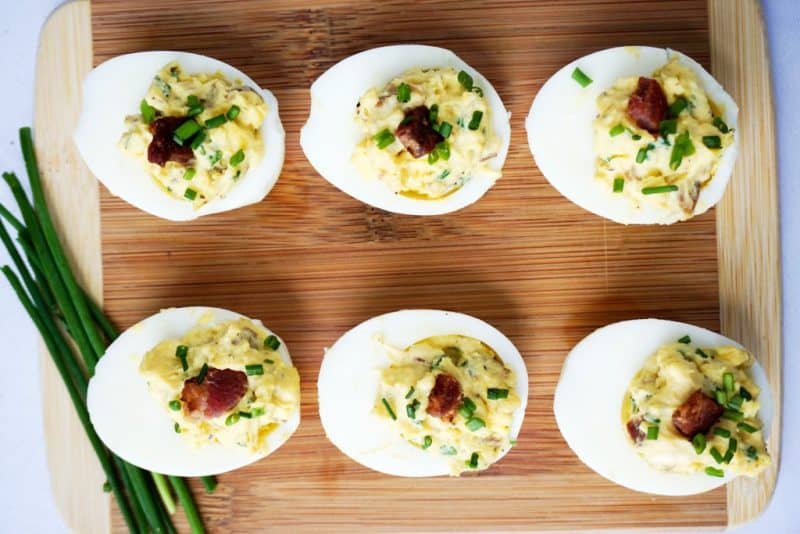 We've never brought deviled eggs to a football party and came home with leftovers. These are always a fan favorite and can be made in no time! You just need a few minutes of time, and the holy grail keto foods (aka bacon, mayo, eggs, more bacon, ect.) Well and I guess you can sprinkle on some cheese too if you're feeling bold.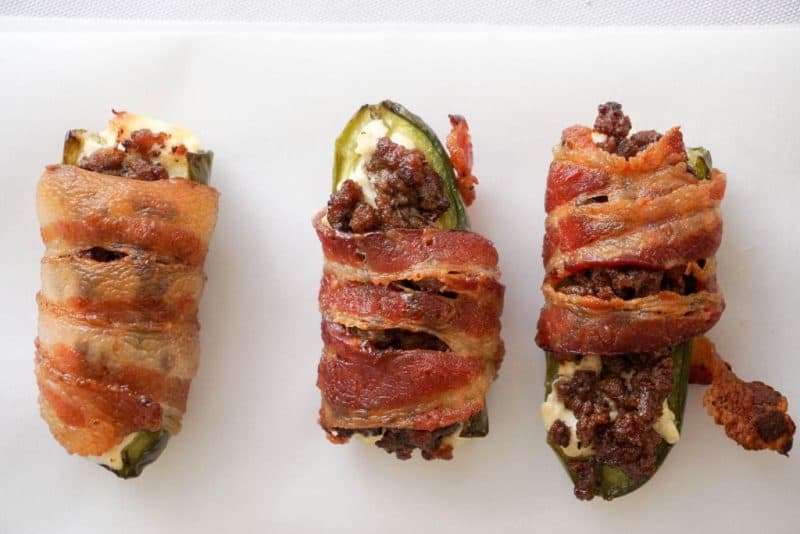 Bacon wrapped dishes need no introduction, but fine i'll give one… These bacon wrapped keto cheese poppers are the perfect size for two bites! They are packed with meat and cheese making them a carnivores dream. Who knows they may even be better than pizza… no pizza still wins, but these are on a whole other level. The perfect party bits that need to dip!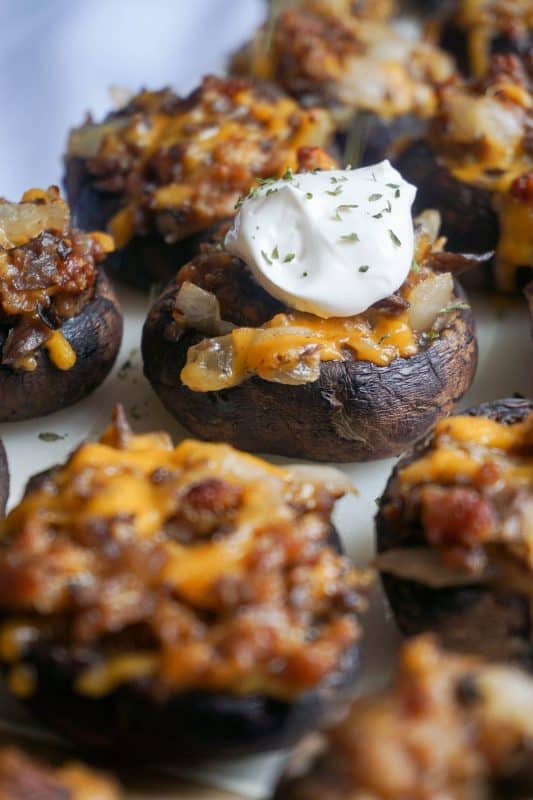 Our stuffed mushrooms recipe is one of the best appetizer recipes on our site and perfect to customize any way you'd like. Sometimes we will use bacon instead of sausage in our stuffed mushrooms, and we often add a bunch of different kinds of cheeses. Stuffed mushrooms are certainly a hidden gem that everyone will love as soon as they try a bite.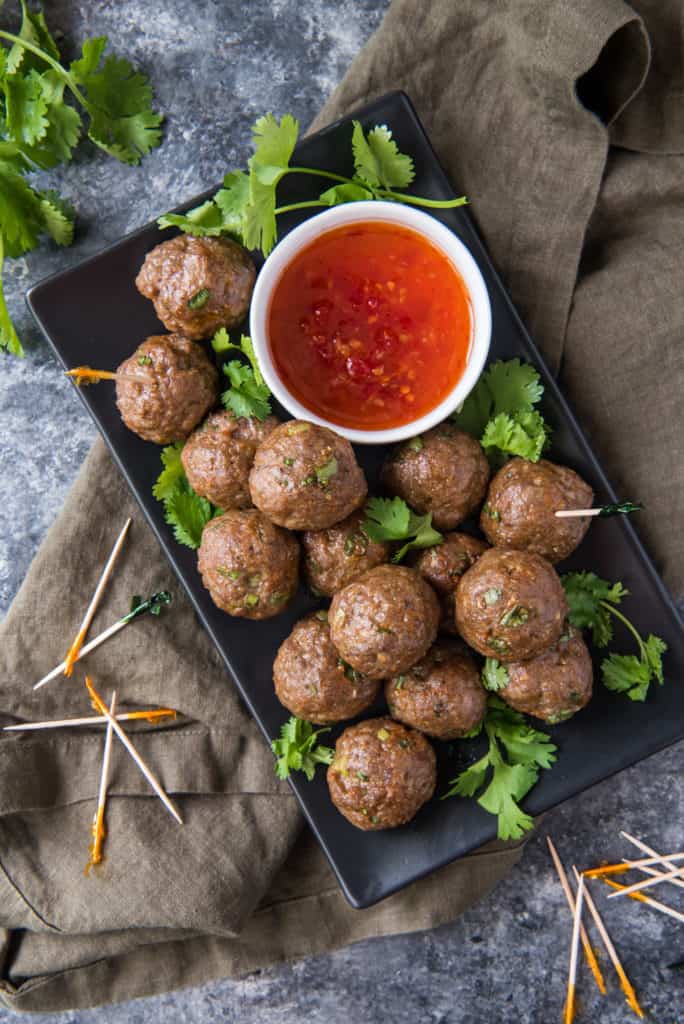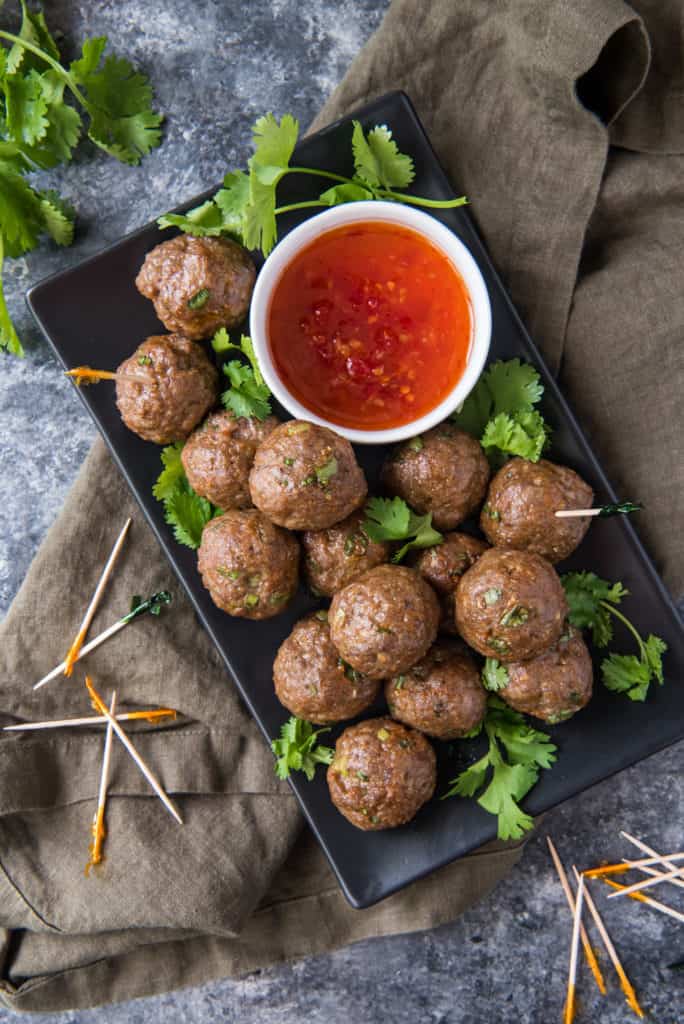 These are some of the speediest meatballs you'll ever make! They are low carb and high fat, perfect for a ketogenic diet. They take 20 minutes total to make so you can be eating in no time. Plus they are super versatile bite sized snacks that work in tons of different sauces and dips.
One of the best keto recipes is also one of the easiest. It takes 5 minutes to prep and then you just have to put this creamy dip into the oven to bake. Everyone will love the bold and delicious flavors, and you'll love the simplicity. Pop your dip into the oven and feel free to get more done for the next 30 minutes!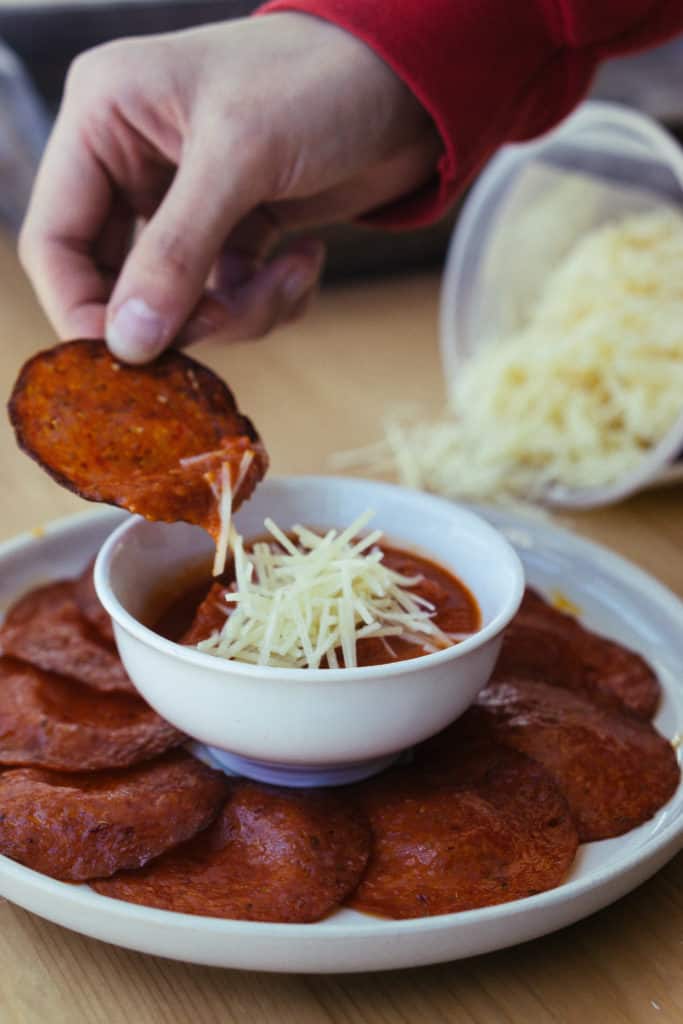 Who doesn't love pizza bites that are done in 5 minutes? These pepperoni crisps pair perfectly with cheese crisps to make a pizza style chex mix, the perfect keto appetizer for those on a ketogenic diet. Easy gluten free keto recipes make the best snacks for a get together or party.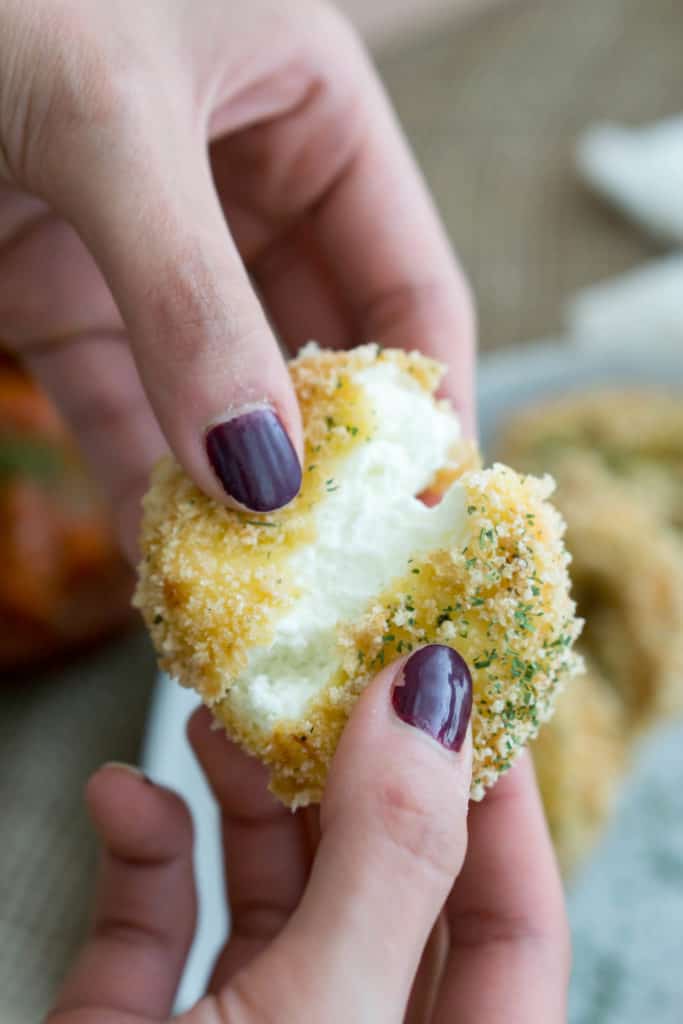 This is without a doubt the recipe that we get the most compliments on. This low carb appetizer has a lovely contrast between the tangy goat cheese and the crispy breading. This fried goat cheese low carb appetizer is also completely fool-proof, so no worry about messing up this super easy to make recipe.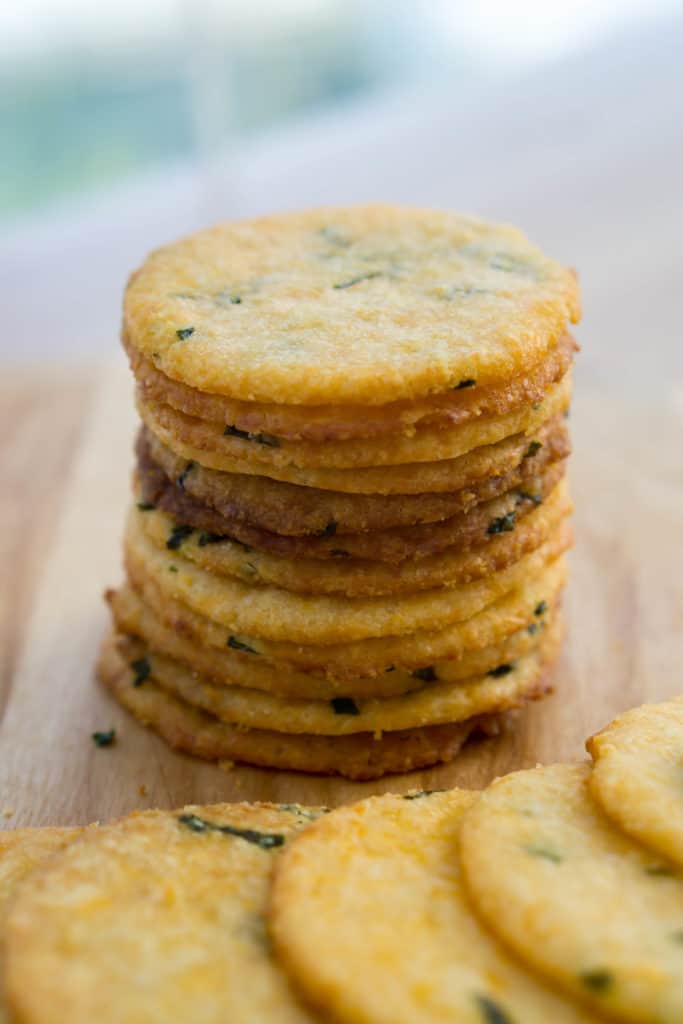 One of the best party snacks ever is crackers. Why? Because they make the tastiest easy keto appetizer recipe that you can dip into anything. Sour cream? Yup. Spinach artichoke dip? Heck yeah! Plus this recipe is 100% nut free and made with coconut flour instead of almond flour. This also means per serving there are only 0.5 net carbs, so go ahead and have two servings ? .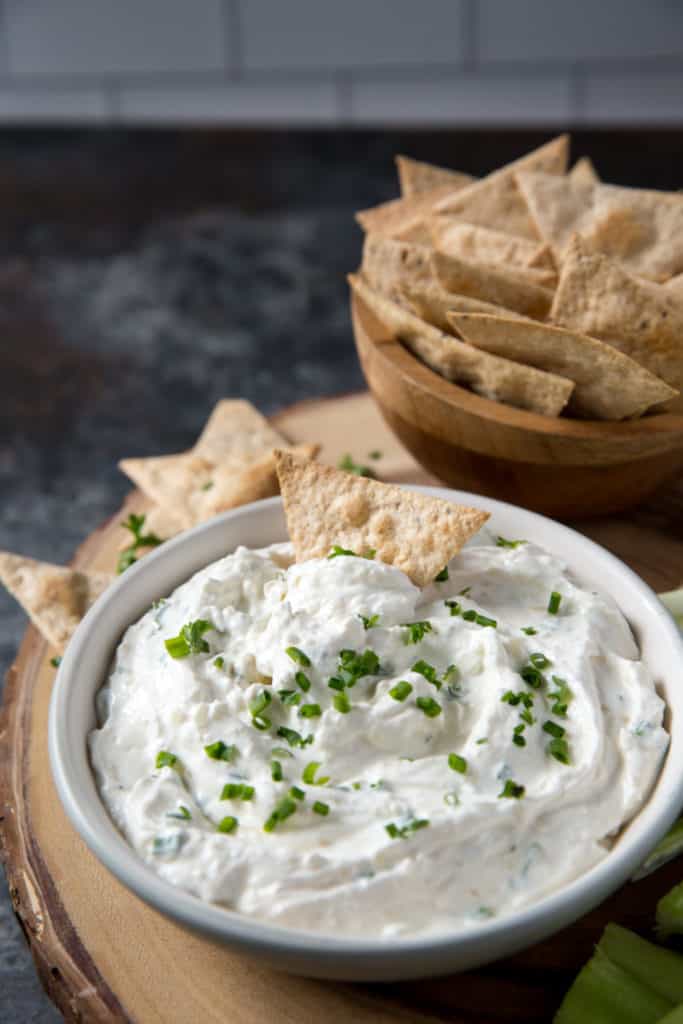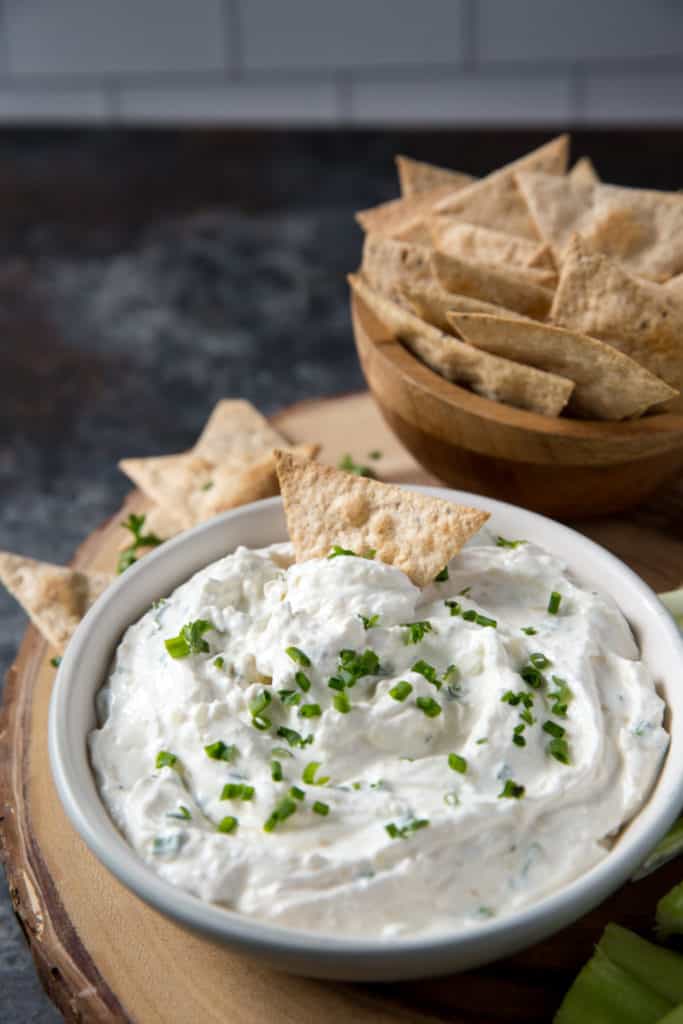 Easy keto appetizer recipes are king. This whole low carb appetizer only takes 20 minutes to make, and per serving it's just 2.5 net carbs. A blend of sour cream, butter, fresh onion, and cream cheese to make the perfect low carb and keto app. The best low carb recipes work together so try this easy keto recipe along with the keto friendly crackers above!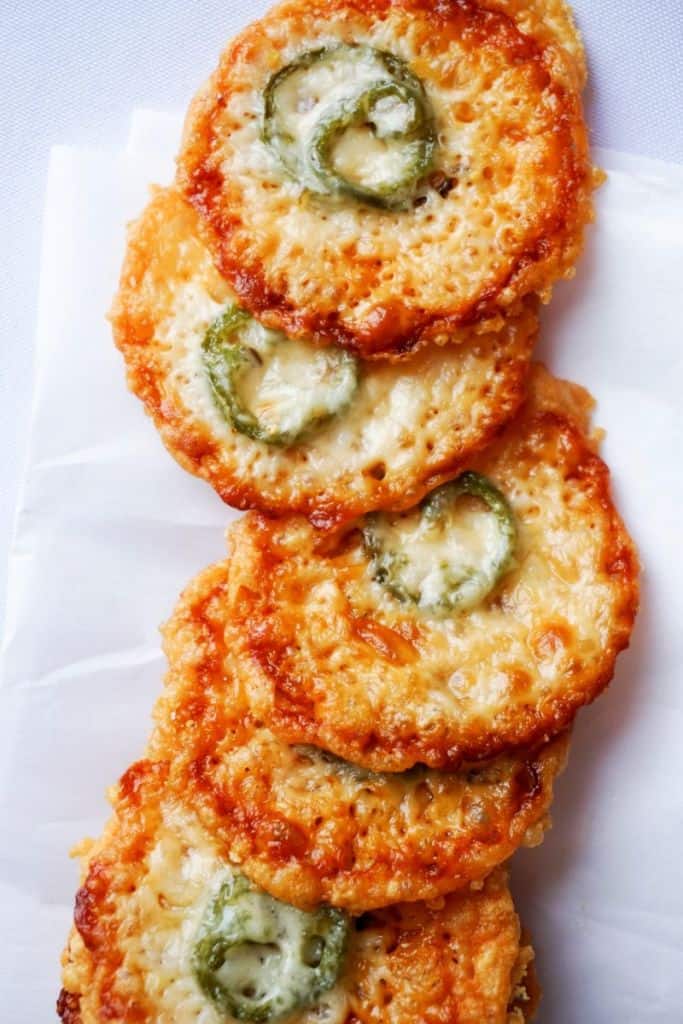 If you're short on time and have tons of cheese, then these crisps are exactly what you're looking for. Simply sprinkle cheese on a parchment paper lined baking sheet and bake! The jalapeno adds some nice spice, but they are optional. Prepare this recipe for your next get together and surprise everyone with your delicious keto flavors.
Make sure to check out these 21+ Lazy Keto Meals!
Our Favorite Easy Keto Appetizer Recipes
These are some of our all time favorite keto appetizers. They are easy to make, while still delivering the wow factor and taste you're looking for. I mean really, we all know the whole point of bringing an appetizer to a party is to be praised for how delicious it is, right? Walk into a gathering with any of these low carb recipes and you'll be the life of the party!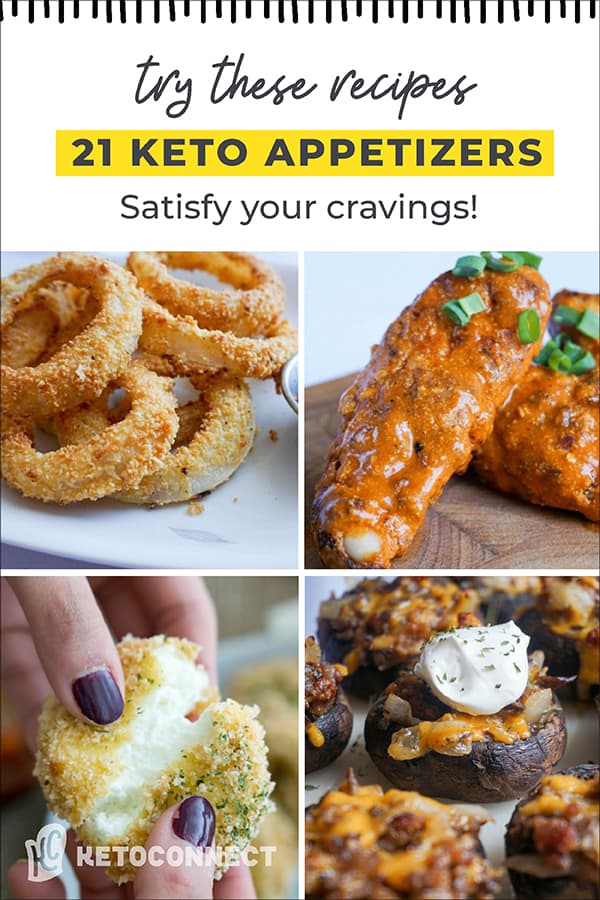 Written By