Chick-fil-A is widely regarded as one of the best fast-food chains around, from customer service to their addictive chicken and sauces. Thankfully, you can still enjoy many of your favorite menu items with the variety of Chick-Fil-A keto options.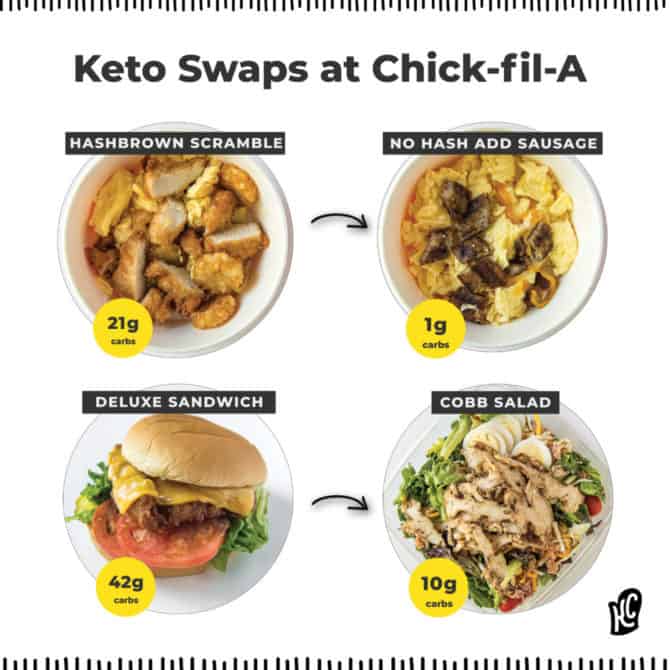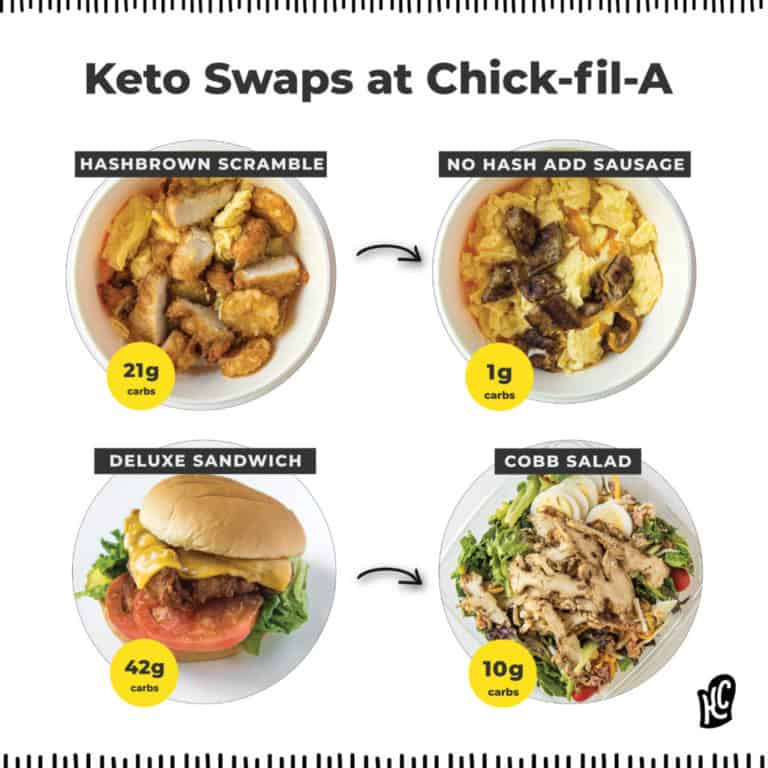 (We're glad, because the smell of just driving up to the restaurant was mouthwatering…)
Here's how to enjoy your chicken nuggets, breakfast sandwiches, and dipping sauces on keto. For more keto fast food guides read our comprehensive blog post on dining out on keto.
Always reference the chick fil a nutrition guide if you have questions about a specific item.
*Fair warning: we bring this up in the video, but we typically avoid soybean oil when we can. Most of Chick-fil-a's menu does include soybean in one way or another — but if you're on the go (or just really don't care about soybean oil so much) and want to get a delicious fast food meal, Chick-fil-a is probably our favorite option.
Keto Breakfast
What better way to kick your day into get than a keto-conscious breakfast?
There are many menu options to kick off your morning, and you can pair them with black coffee for no additional carbs. Don't forget, this menu is only available until 10:30 AM.
Here's what to order that stays under 10g net carbs while being packed with protein power:
Egg White Grill (no English muffin): 0g net grams of carbohydrates, 6g of fat, and 21g of protein.
*Sausage, Egg & Cheese Biscuit (no biscuit): 1g net carbs, 28g of fat, and 19g of protein.
Bacon, Egg & Cheese Biscuit (no biscuit): 1g net carbs, 16g of fat, and 11g of protein.
Hash Brown Scramble Bowl (no hash browns, with chicken): 1g net carbs, 16g of fat, and 28g of protein.
*Hash Brown Scramble Bowl (no hash browns, with sausage): 1g net carbs, 26g of fat, and 21g of protein.
It's important to remind you that the keto diet isn't just about avoiding carbs, but running on fat instead, so it's crucial to meal plan and be conscientious about your choices. Since some of these options are low-carb but heavy on the protein, you'll want to balance your macros throughout the rest of the day to be sure you're eating high-fat.
The items with a star (*) above have the most fat-friendly macros.
Lunch and Dinner Keto Menu
You'll be thrilled to hear that your favorite chicken fast food restaurant is offering keto lunch options and dinner choices, including some of your favorite entrees.
Here's how to order your meal:
Grilled Chicken Sandwich (no bun, pickles are fine): 2g net carbs, 1.5g of fat, and 24g of protein
Grilled Nuggets (eight count, no sauces): 0g net carbs, 2.5g of fat, and 21g protein
Grilled Chicken Club Sandwich (no bun): 2g net carbs, 12.5g of fat, and 31g of protein.
Cobb Salad with Grilled Chicken (no corn): 10g net carbs, 19g of fat, and 36g of protein.
Side Salad with Avocado Lime Ranch Dressing: 13g net carbs, 42g of fat, 7g of protein.
When choosing your Chick-fil-A keto option, you can also add some extra fat into your dish by using one of their keto-conscious sauces, listed below. You can also ask for spicy grilled chicken if you're looking for a bit more flavor!
Keto Sauces and Dressings
So, how do we add some extra fat and flavor to our Chick-fil-A keto treat? Our favorite option is to grab a delicious sauce for our nuggets, bunless sandwich, or salad. Here are the best choices for dipping sauce:
Zesty Buffalo Sauce: 0g net carbs, and 2.5g of fat
Garden Herb Ranch Sauce: 1g net carbs, and 14g of fat
If you're craving low-carb veggies on your Chick-fil-A trip, the side salad only has 9g net carbs. Pack on one of these dressings to up the fat content:
Garden Herb Ranch Dressing: 2g net carbs, and 29g of fat
Creamy Salsa Dressing: 2g net carbs, and 31g of fat
Avocado Lime Ranch Dressing: 3g net carbs, and 32g of fat
Light Italian Dressing: 3g net carbs, and 1g of fat
Diet Lemonade & Other Drinks
Chick-fil-A has several refreshing drink options for keto dieters:
Diet Lemonade: 8g of net carbs in a small size.
Unsweetened Iced Tea: 0g net carbs.
Coke Zero: has 0g net carbs.
Coffee: 0g net carbs in any size if ordered black.
Many of the other drinks are also loaded with carbs and sugar, like the frosted lemonades (yes, even the "diet" one) and coffees, milkshakes, and other seasonal offerings. Stick to this list to avoid derailing your diet.
What To Avoid
While there are tons of ways to eat Chick-fil-A keto, there are a few items you will absolutely want to avoid in order to keep yourself in ketosis. Here are our top 5 items to steer clear of:
Side to avoid: Superfood side or salad. While this sounds like a really healthy option, the (very tiny) smallest "superfood side" has 16g of carbs and includes maple syrup, brown sugar, dried cherries, sugar, and glazed nuts.
Sauce to avoid: Polynesian sauce.
Dessert to avoid: Every. Single. One. They range from 38g net carbs for a frosted coffee to 84g net carbs for a chocolate milkshake.
Lunch/dinner entree to avoid: Fried Chick-n-Strips. 20g net carbs.
Beverage to avoid: Orange juice. 38g net carbs.
As with all keto meals, avoid any breaded items from bagels to biscuits or buns. These items will knock you out of ketosis and crash your system with carbohydrates and sugars.
More Keto Fast Food
Fast food can be included on a keto diet, and many people like to have it frequently due to the convenience and affordability. We have covered a wide range of fast food restaurants and have written guides for all of them that show you what to order, and what to look out for. Some of our favorites are Shake Shack, Starbucks, McDonald's, Taco Bell, KFC, Buffalo Wild Wings, Subway and Chipotle.
In Summary
Chick-fil-A is keeping up with keto, one of the hottest diet trends around, with a keto friendly menu that's easily modified for low-carb, high-fat eaters.
For breakfast, many of the items can be made keto-conscious, especially the Sausage Egg & Cheese Biscuit, Bacon Egg & Cheese Biscuit, Hash Brown Scramble, and Egg White Grill.
Lunch and dinner options include a variety of salads, grilled sandwiches, and grilled nuggets. Add on a keto friendly sauce or dressing for extra fat!
On our "skip it list" you can find: the superfood side or superfood salad, Polynesian sauce, all desserts (make your own with our recipes instead), Chick-n-Strips, and orange juice.
With proper planning and research, you can make your Chick-fil-A an amazingly delicious experience full of keto friendly options.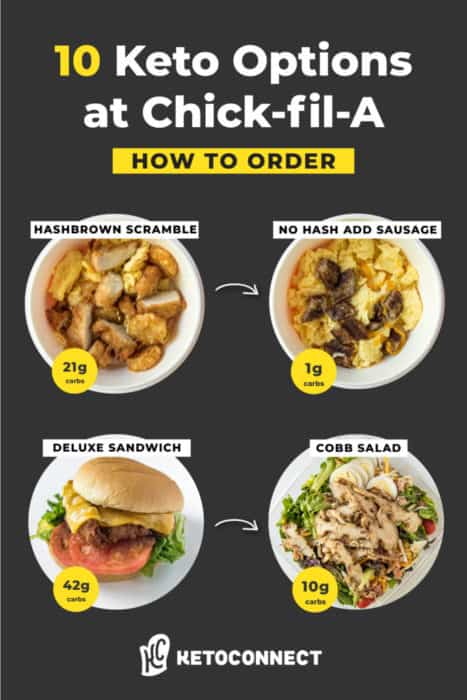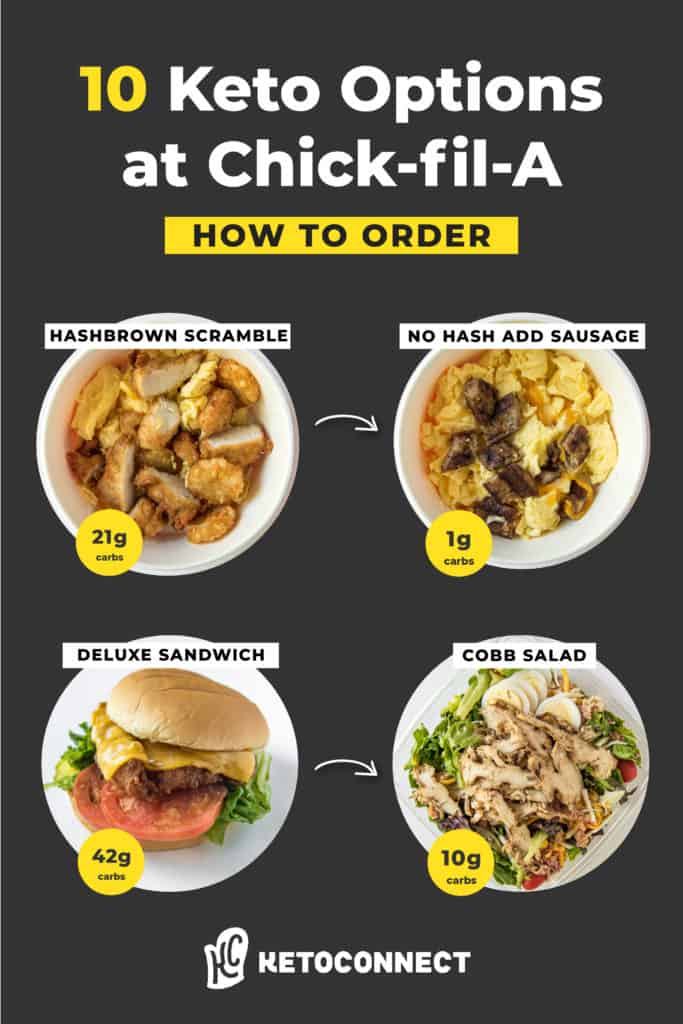 Sources
Delimaris, I. (2013). Adverse effects associated with protein intake above the recommended dietary allowance for adults. ISRN nutrition, 2013. Full text: https://www.ncbi.nlm.nih.gov/pmc/articles/PMC4045293/
Paoli, A., Canato, M., Toniolo, L., Bargossi, A. M., Neri, M., Mediati, M., … & Bianco, A. (2011). The ketogenic diet: an underappreciated therapeutic option?. La Clinica Terapeutica, 162(5), e145-53. Abstract: https://www.ncbi.nlm.nih.gov/pubmed/22041813
Written By