Butternut squash is a delicious warming winter squash perfect to pair with any of your favorite grilled meats. This version is gluten and sugar free but certainly not flavor free! A warming fall dish is sweet, salty, and cinnamon-y, a combination so good you could eat it anytime of the year.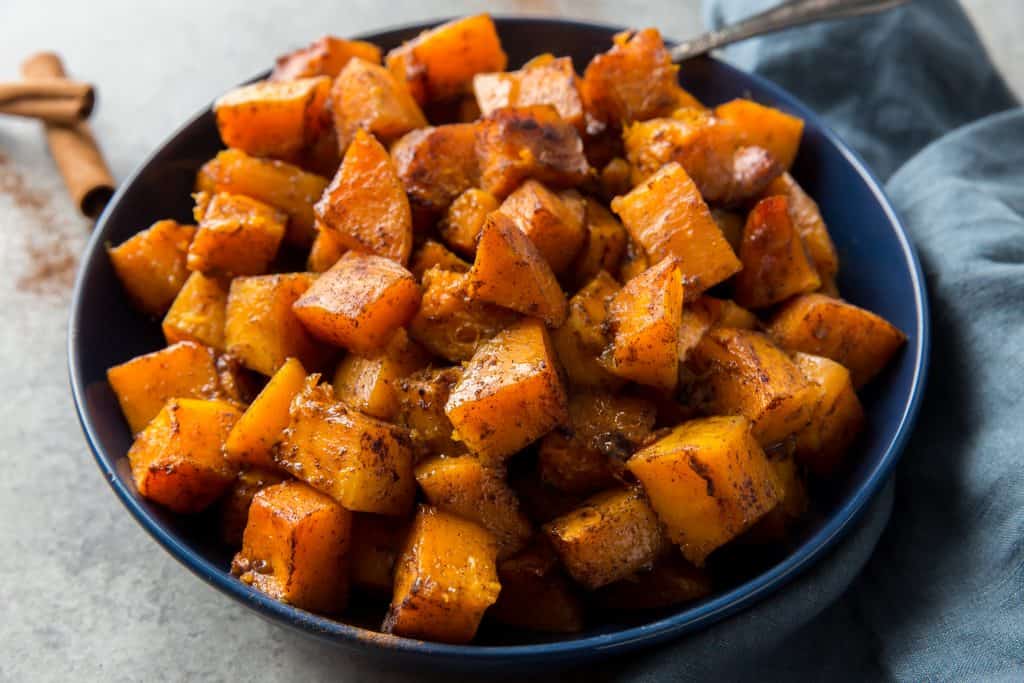 Is Butternut Squash Keto?
We're sure this is a burning question in many people's minds so we wanted to address it first. Yes, butternut squash can be keto! While butternut squash recipes like butternut squash soup or pasta aren't always keto, plain butternut squash certainly can be.
Butternut squash is rich in Vitamin A with one serving having 100% of your daily vitamin A intake. Vitamin A is good for protecting the skin, eyes, and immune system(1). Plus butternut squash is full of beta carotene another essential nutrient important for the immune system. It is known for converting into even more vitamin A in the body(2).
Is Butternut Squash Low in Carbs?
Butternut squash when compared to something like sweet potato is very low in carbs. The net carbs per 100 grams of butternut squash is only 10 grams!
Nutrition information for winter squash recipes vary based on the specific squash used. Per serving of this recipe there are only 15 grams of carbs, or 12 grams of net carbs total. That makes this squash recipe 100% okay on a low carb diet. Make sure to check out our unbeatable, low carb Butternut Squash Soup Recipe and save it for the colder months!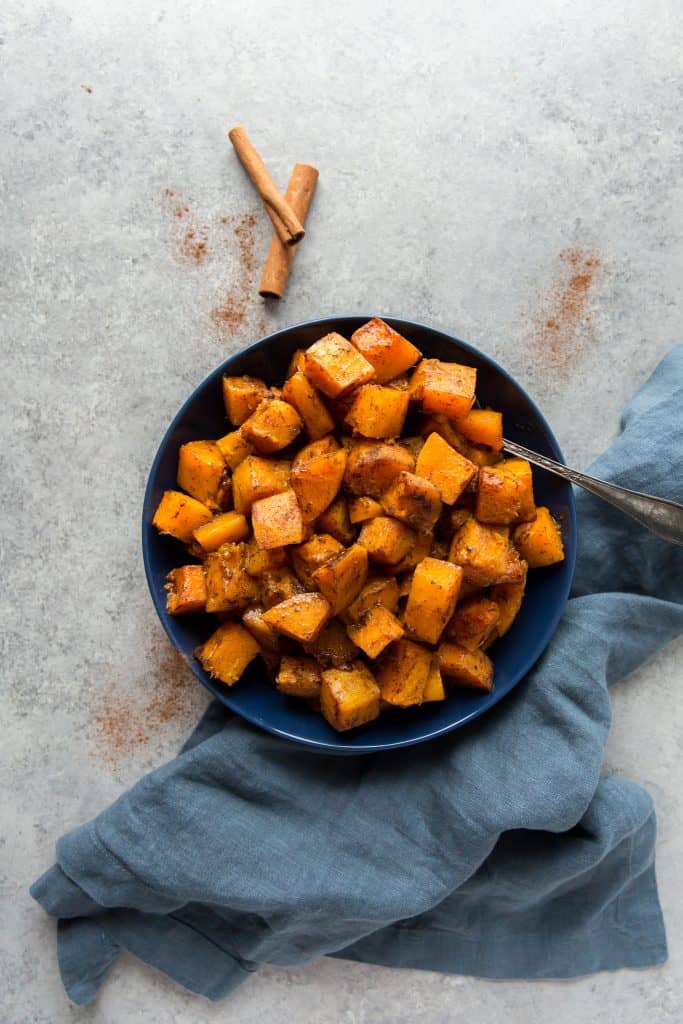 Keto Squashes
Winter squash recipes make the perfect side dish, but which squash is low carb? If you're trying to figure out which low carb side will be perfect for your keto diet, check out our breakdown of all the squashes below.
Pumpkin
For all the pumpkin pie lovers out there you'll be happy to know pumpkin is 100% keto friendly. The net carbs per 1/2 cup is only 7 grams. Plus this means pumpkin is a great high fiber addition to your gluten free keto diet. Interested in what we use pumpkin for? Check out our keto pumpkin pie recipe to impress your relatives this holiday season.
Spaghetti Squash
Spaghetti Squash is known in the low carb/ keto world for being a gluten free pasta alternative. The net carbs per 100 grams of this versatile veggie are 5.5 grams. This is one of the lowest carb squashes based on its carb count. Once baked spaghetti squash becomes just that, spaghetti! You can pull out the squash strands with a fork and have an easy to make keto pasta dinner.
Acorn Squash
There are 8.5 grams of net carbs in 100 grams of acorn squash. This vibrant vegetable makes a great side dish when roasted just like this butternut squash recipe. Acorn squash usually substitutes pretty well for butternut squash, but it's unique outside really sets it apart from other squashes.
"Squashing" the Competition
No matter which squash you prefer it's safe to say all squashes can be included in a low carb diet. Just make sure you eat winter squashes in moderation, and create delicious side dishes with them!
What to Serve Roasted Butternut Squash With?
Roasted butternut squash makes a great keto friendly side dish that pairs with tons of other keto foods. Some of our favorite low carb squash pairings are:
Oven Baked Chicken Drumsticks– These drumsticks come with a fresh homemade butter and herb sauce perfect to drizzle on top of your tender chicken pieces.
Grilled Steak– We prepared a steak and bearnaise sauce for you to try along side our delicious roasted butternut squash.
Airfryer Pork Chops– Breaded pork chops cooked in an airfryer so they're done in minutes. All that's left is plating up the best side dish to go along with it. A simple spinach salad topped with our roasted butternut squash, walnuts, avocado, and olive oil is unbeatable!
No matter what you decide to pair your keto butternut squash with, we're sure you'll be happy. Test out our different keto recipes to find which protein is your favorite main along with roasted butternut squash.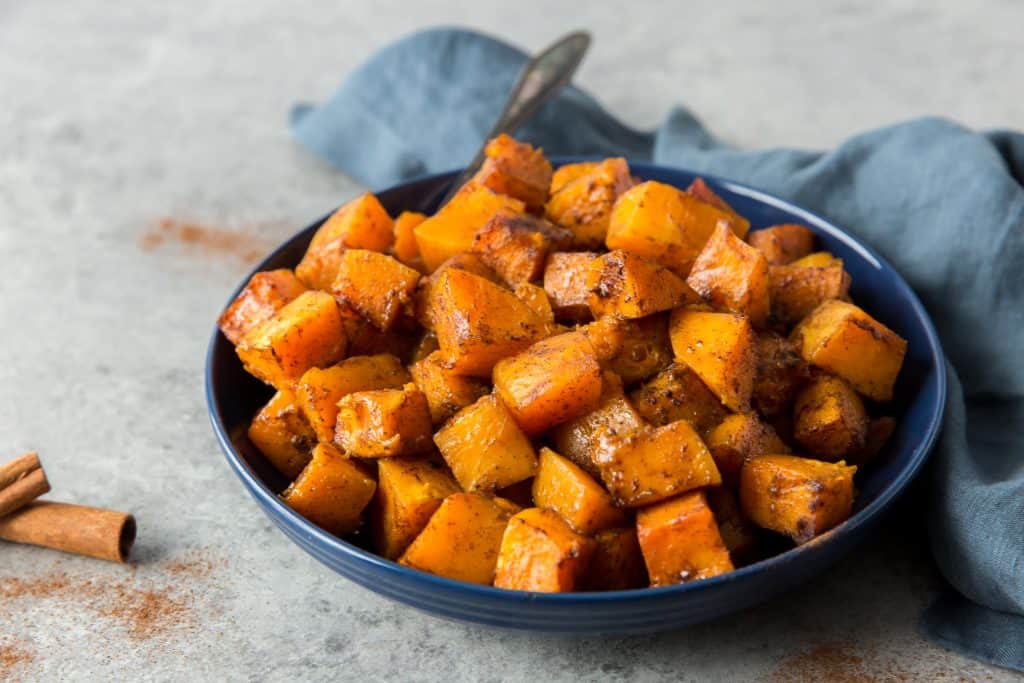 Making Keto Butternut Squash a Meal
Maybe your goal is to eat healthy food that's super simple. If you can't find the time for cooking up a main that's okay too! We have a couple of quick and easy ingredients that you can add to the squash to turn a food into a meal.
Bacon- A super easy option to bump up the fat and satiety of your food. Chop up one or two raw strips of bacon and toss them in while the squash is roasting. The other option is to chop up pan cooked fresh bacon and serve that on top after the squash has baked.
Eggs- Believe it or not, eggs actually pair really well with a cinnamon and brown sugar squash. Sometimes we'll prepare the ingredients for this recipe the night before and then cook all the food off in the morning. Throw a few strips of bacon along with it and you have a fresh and healthy breakfast idea.
Cheese and Walnuts- Similar to a charcuterie board we're getting fancy with this one (well kinda). Once the butter nut squash is roasted, simply crumble some goat cheese and walnuts on top. The goat cheese will provide a nice creamy element while the walnuts have some crunch. You can even use a berry goat cheese to give it that creamy texture with another layer of fresh flavor.
Each food you use adds a different flavor profile and a nice fresh home-y element. Who knows you may even find a tasty new healthy combination that keeps you sticking to the keto diet.
Carb Cycling on Keto
If you follow a low carb or keto diet you have probably heard of carb cycling. The low carb diet has a few names such as cyclical keto, targeted keto, and carb up keto. Targeted keto is eating a few extra grams of carbs before a strenuous workout or activity. Targeted keto allows you to use carbs for fast burning glucose, but still carefully measures the amount of total carbs you're adding to the body. This precise measurement allows you to prevent interferences with your keto diet after the SMALL carb up.
Whenever we have a carb up we prefer whole and unprocessed foods, which is why we love foods like squash. Butternut squash for example has a sweet flavor and soft texture when cooked that soaks up butter. This way we are just adding a bit of extra carbs paired with fiber that is a gluten free source. You should be able to see a benefit by consuming about 1 cup of cooked butternut squash keto- efied before a workout. You can also make a simple roasted butternut squash soup to have an extra concentrated amount of carbs before your workout.
Whether you make butternut squash keto, or you make it plain for a carb up we're sure you'll love this recipe. Simply manage your portion size to decide how many carbs you want to consume depending on your activities ahead.
How to Cut Butternut Squash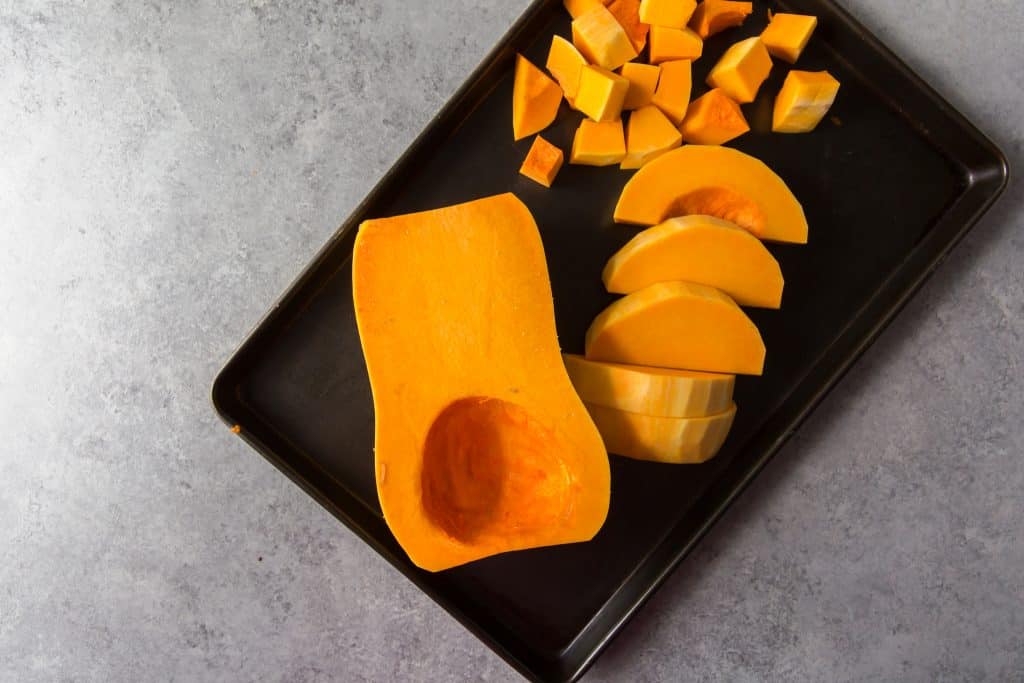 Cutting butternut squash to roast can be a pain. All butternut squash recipes whether they be roasted squash or butternut squash soup will require you to remove the skin and seeds. We've broken down step by step how to cut butternut squash to make keto recipes that include squashes a bit easier to prepare.
Begin by washing and completely drying the butternut squash. Then cut off both ends of the butternut squash carefully with a SHARP chefs knife. (The most dangerous thing you can do is use a dull knife in the kitchen. It will slip around and lead to injuries)
Peel the squash. You can do this with a vegetable peeler, or try a thin knife designed for peeling fruits.
Cut the peeled squash into slices and then into 1 inch cubes.
Skip all this and just buy pre cut butternut squash.
I'm kidding! It is easy to cut butternut squash once you've done it a few times. However if you do have a Trader Joes nearby I recommend just buying the pre cut butternut squash which will save you a lot of time.
How to Make Roasted Butternut Squash
Thankfully this recipe is pretty easy and the hardest part is just waiting for it to cook. To make butternut squash keto while still being flavorful you'll need a few ingredients.
Keto Butternut Squash Ingredients
To start you will of course need butternut squash! Then you need some oil for roasting. We prefer avocado or coconut oil in this recipe because it has a neutral taste that pairs well with the brown sugar we'll use later. Avocado oil also has a high spoke point which is good for a keto diet where oils are commonly used to cook with. Unlike olive oil, avocado oil can be cooked at high temperatures without breaking down. You're welcome to use olive oil or coconut oil if you prefer, it's just not recommended to heat olive oil past 425 degrees F.
The next few ingredients are essential to pack in the flavor when making butternut squash keto. To start we used Brown Sugar Swerve in place of regular brown sugar. It is sugar free, low carb/ keto, and gluten free. All of which make it a great keto sweetener option to manage blood sugar levels. If you're paleo try a paleo friendly sweetener like coconut sugar. Finally you'll need cinnamon and salt for a delicious and healthy combination.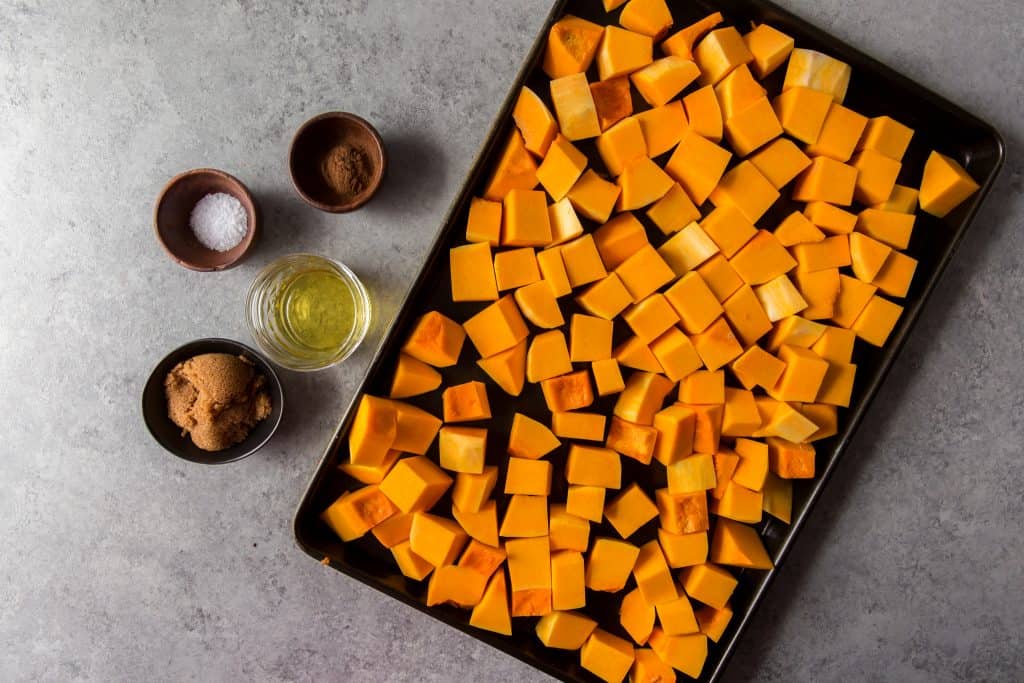 Making Butternut Squash Keto
Now it's time to put everything together and create a delicious side that's sure to become your new favorite keto meal.
Begin by cutting the butternut squash into 1 inch pieces (see notes above). Then using the remaining ingredients, toss your squash with avocado or coconut oil, cinnamon, salt, and "brown sugar". If you are paleo you are welcome to sub the swerve sweetener for a paleo sweetener like coconut sugar. Once the ingredients have been mixed well and the squash is evenly coated get your baking pan.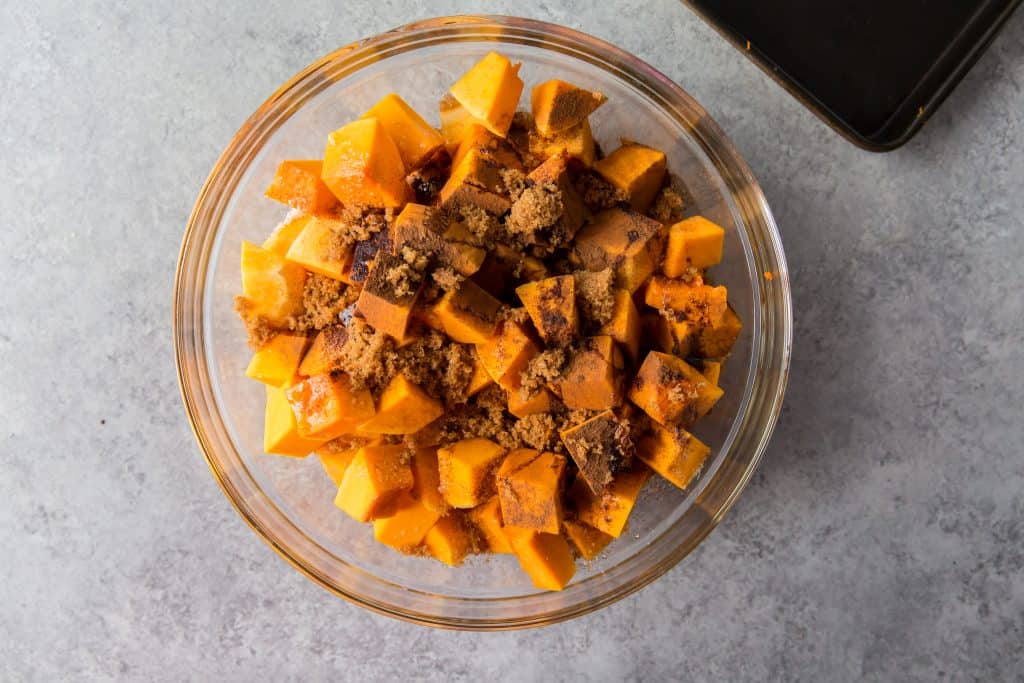 Spread all the butternut squash on your baking pan in one even layer. Now it's the easy part, place your prepared squash ingredients into the oven and cook for 20 minutes at 425F. Once 20 minutes are up flip the squash and let it cook for another 15 minutes. Feel free to add in a little black pepper or bacon on top after baking for a flavorful sweet and salty dish!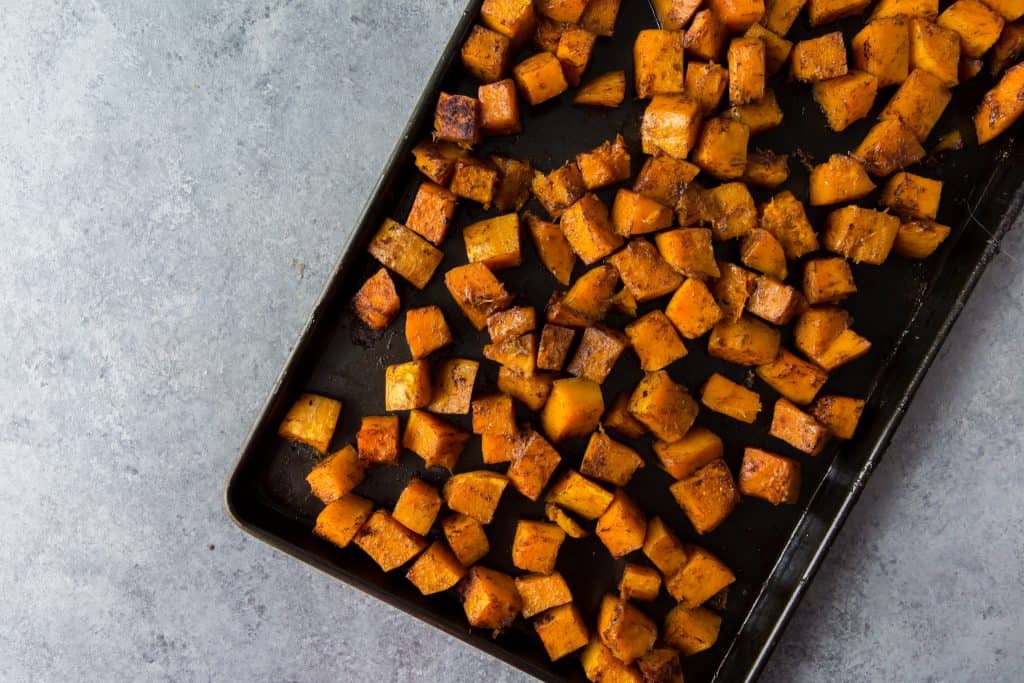 Storing Butternut Squash
This recipe is great to make ahead for meal plans and prep. The total time is minimal and the carbs are super low. To store this recipe just place all leftover squash in an airtight container in the fridge for up to 7 days.
More Fall Inspired Keto Recipes
If you want even more low carb/keto recipes you've come to the right place. Our blog is full of high fat recipes with super low carb counts! Check out some of our favorite low net carb recipes:
These are just a few of the many keto friendly recipes we have on our blog. Try all our low carb recipes to find your favorites. Unless they all become your favorites (something entirely possible when keto recipes are this good)… Then you'll have a tough decision to make…
The Best Keto Roasted Butternut Squash
Now that you've seen how easy it is to make recipes keto you have no excuse not to make this recipe! Pair this roasted butternut squash with any of your favorite proteins because it has a net carb count of 12g per cup. For specific carb counts to fit your meal plan check out the whole macro profile broken down below! This super simple butternut squash recipe is one you'll want to make again and again.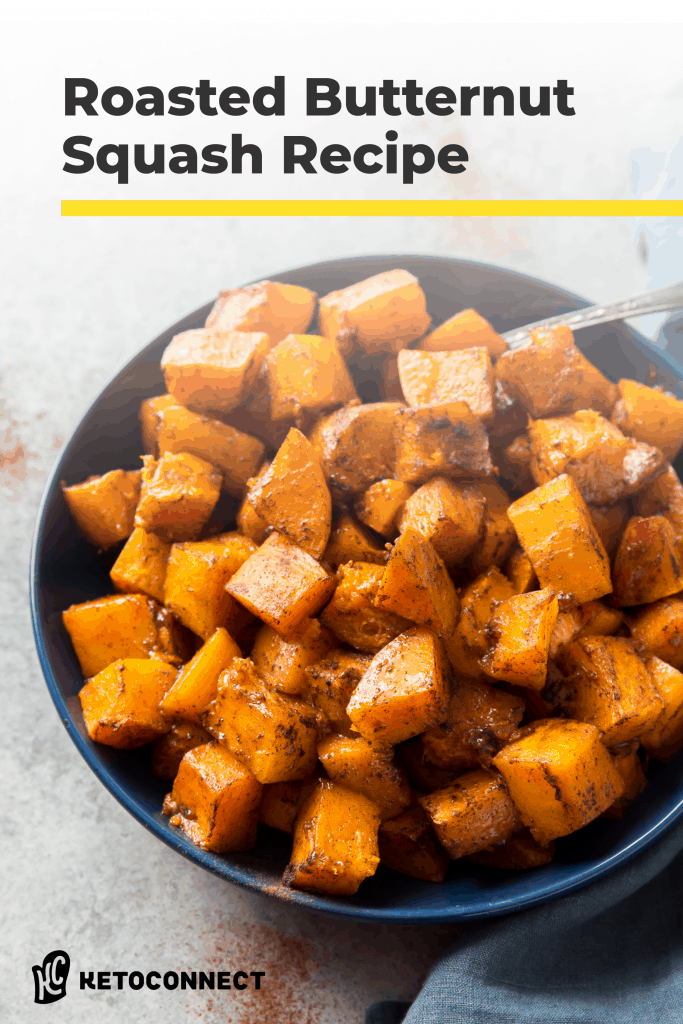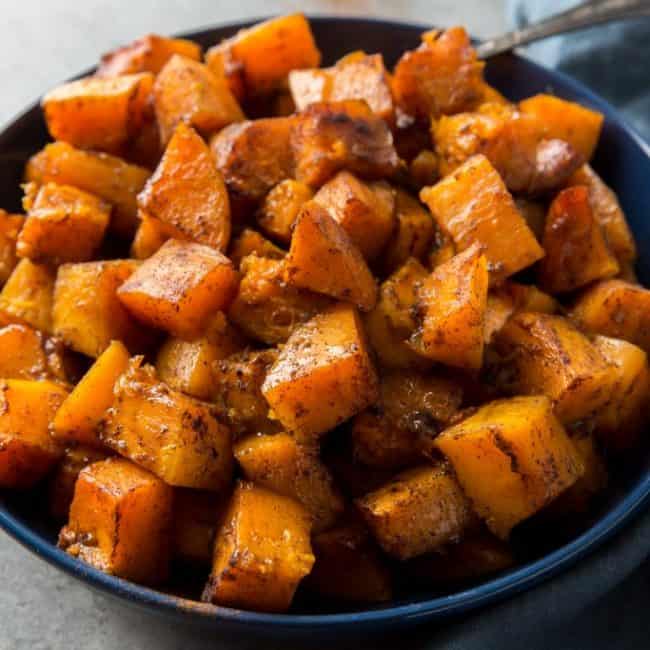 Keto Roasted Butternut Squash
This butternut squash is the perfect warming fall side. It's a little sweet, a little salty, and a whole lot of delicious!
Servings 6 Servings
Calories per serving 99kcal
Prep Time: 20 minutes
Cook Time: 20 minutes
Instructions:
Preheat oven to 425F.

Clean the outside of the squash. Cut in half, remove seeds, remove skin and cube flesh of squash (about 1 inch pieces). 

Coat cubed squash with the avocado oil and toss the squash with salt, swerve and cinnamon in a bowl. Coating evenly.

Spread on baking sheet ( in a single layer). Cook for 20min then flip squash and cook for another 15min. 

Let cool for a couple of minutes before removing (or tasting) and then enjoy!
Nutrition Facts
Keto Roasted Butternut Squash
Amount Per Serving
Calories 99 Calories from Fat 45
% Daily Value*
Fat 5g8%
Saturated Fat 1g5%
Sodium 393mg16%
Potassium 440mg13%
Carbohydrates 15g5%
Fiber 3g12%
Sugar 3g3%
Protein 1g2%
Vitamin A 13288IU266%
Vitamin C 26mg32%
Calcium 64mg6%
Iron 1mg6%
* Percent Daily Values are based on a 2000 calorie diet.
Written By