One of the most underrated foods is oven baked drumsticks! They always turn out juicy and tender and the best part is you can eat them with your hands. We take simple chicken drumsticks to another level with our fresh herbs and butter sauce. This recipe is guaranteed to be a show stopper at your next friends gathering!
Why Do We Prefer Bone In Chicken?
There are so many reasons we prefer to eat bone in chicken and once you read why, we promise you'll become a convert! We love bone in for the following reasons:
The chicken always come our juicier and never dry
Slow roasting anything on the bone is way more nutritious for you then off the bone (i.e. glycine)
If it's bone in, it's always skin on, which means more fat and flavor
Removing the bone from meat is a hassel
It's guaranteed to always be more delicious!
You can't fight nutrition or flavor in the case of bone in vs bone out. Next time you are thinking of buying boneless chicken thighs, reconsider, get the bone in skin on and live a happier, more delicious life!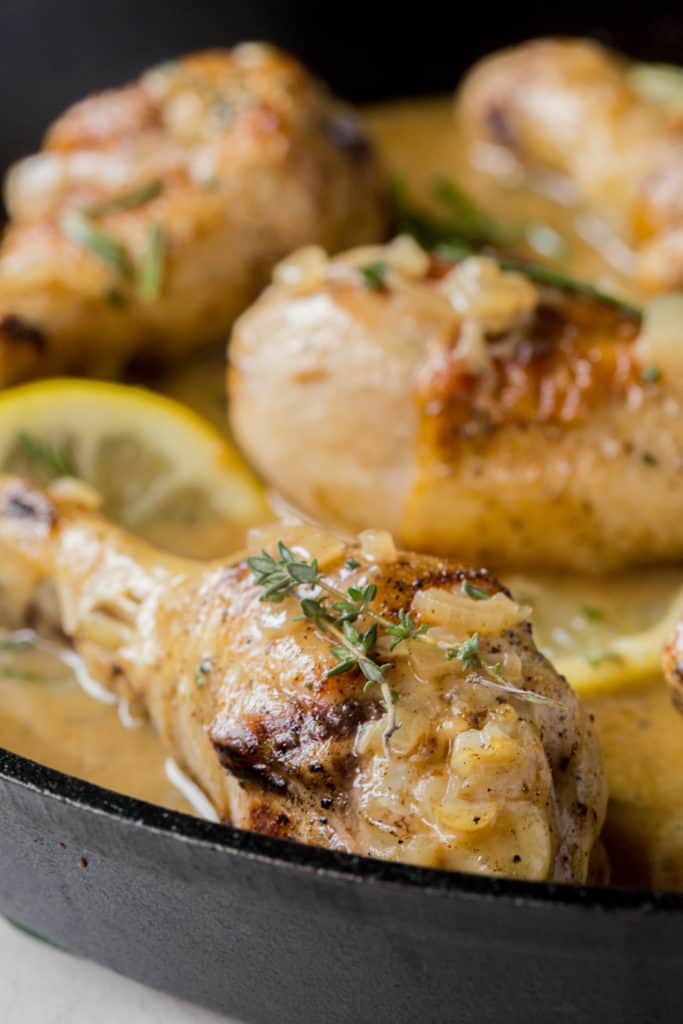 Why We Love Easy Baked Chicken Recipes!
Our favorite go to oven baked chicken recipe is always going to chicken wings!! You can't go wrong on any given day baking up a batch of chicken wings for dinner. We use baking powder to make them extra crispy. We also love the simplicity of oven roasted chicken thighs and they pair extremely well with a side of cauliflower mash!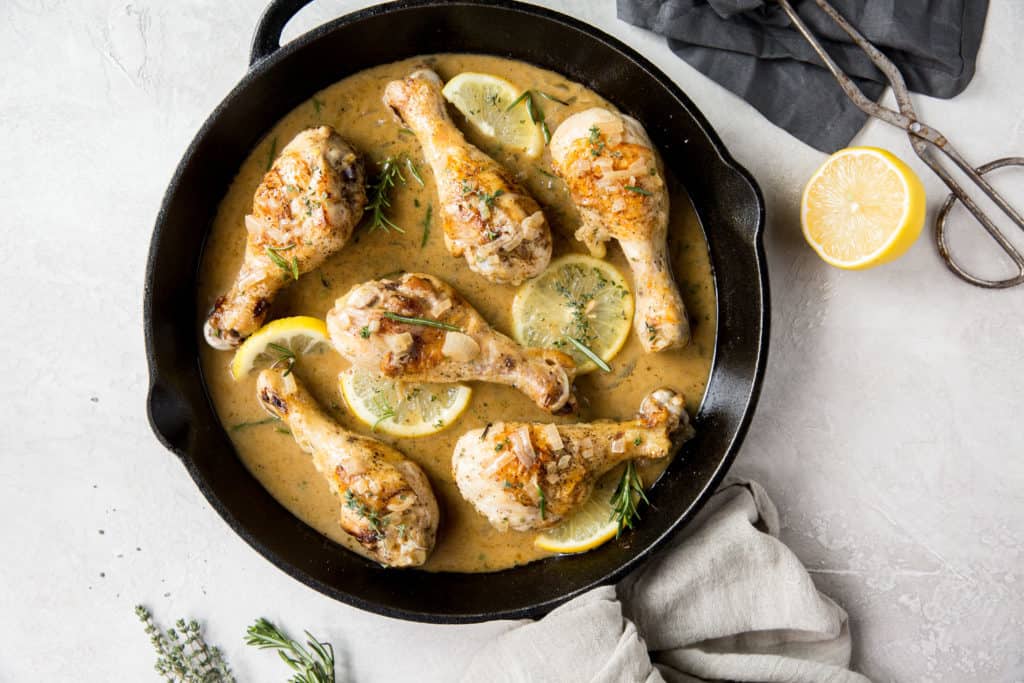 Lemony Oven Baked Drumsticks
Is there anything butter than juicy chicken served with a buttery herb sauce? I don't think so. This recipe may seem simple, but the flavor profiles are all there! You have the citrus from the lemon juice, the creaminess from the butter, the freshness from the herbs and the tangy sweet from the white wine. It's easy to make on your busiest night of the week and is even easier clean up! Give these oven baked drumsticks a try tonight.

Recipe can be quickly added to MyFitnessPal – Search "KetoConnect – Oven Baked Drumsticks"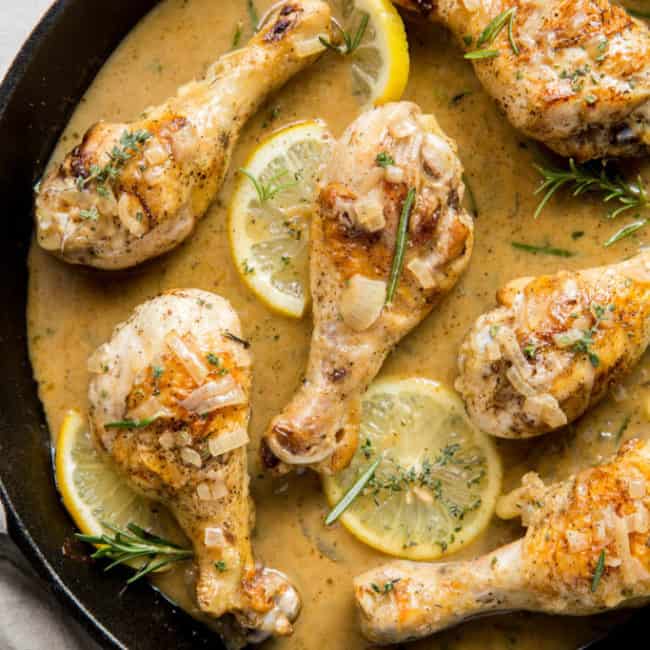 Oven Baked Drumsticks
Simple oven-baked drumsticks seasoned with lemon, butter, and white wine.
Total Time 40 minutes
Servings 3 People
Calories per serving 487kcal
Prep Time: 5 minutes
Cook Time: 35 minutes
Instructions:
Preheat the oven to 375ºF.

Pat chicken drumsticks very dry and then season with salt and pepper.

Heat 2 tbsp butter in a large cast-iron or oven-proof skillet set over medium-high heat. Place chicken legs in skillet, making sure not to crowd them, and sear for 3-4 minutes, then flip and sear on the other side, until skin is golden brown.

Transfer skillet to oven and roast 18-20 minutes or until internal thermometer registers a temperature of about 162º. Carefully remove skillet from oven.

Transfer chicken to a plate and return the skillet to stove over medium-low heat.

Add onion and saute until softened, about 2-3 minutes, stirring occasionally. Add wine (or 1 cup broth) and deglaze the pan, scraping with a wooden spoon to loosen the browned bits. Bring to a boil.

Add the chicken broth in with the wine and allow to reduce mixture by half until thickened. Stir in lemon juice and fresh herbs, then remove from heat and stir in 3 tbsp cold butter, whisking constantly until melted. Season with salt and pepper as needed.

Serve chicken with pan sauce.
Notes
Net Carbs: 4g
Serving Size: 2 drumsticks plus lemon butter sauce
Nutrition Facts
Oven Baked Drumsticks
Amount Per Serving
Calories 487 Calories from Fat 297
% Daily Value*
Fat 33g51%
Carbohydrates 4g1%
Protein 27g54%
* Percent Daily Values are based on a 2000 calorie diet.
Written By