Surprisingly, Chipotle was the first Keto Fast Food spot we ate at after starting our keto journey. And, it couldn't have been a better choice. The keto Chipotle options are varied and perfect for our low carb lifestyle. And as you'll see in the video, we do not skimp on our guac!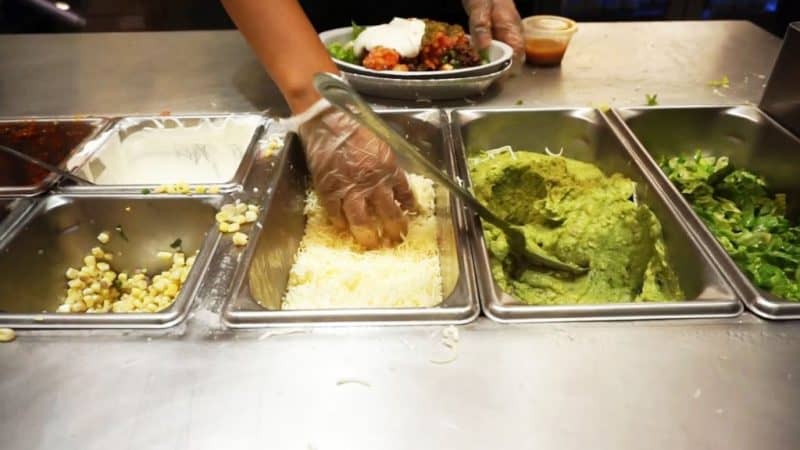 Yes! You can eat Chipotle on a keto diet, but you'll want to be mindful of the carbs in the ingredients. Just follow the below guidelines when you order.
Before making the decision to head to Chipotle, be sure to read our other fast food guides to see if anything else catches your eye. We have guides for Taco Bell, Chick-Fil-A, Panda Express, Smoothie King, Chili's and Buffalo Wild Wings.`
What We Order at Chipotle
Now, don't be deceived by the word salad. By no means is it just a salad. They give a nice sized portion of everything, and with all the options it's more like a meat, cheese and guacamole bowl. Heck! You could even ditch the romaine lettuce altogether and construct a bowl based off grilled meats, veggies, and cheese. No salad necessary.
Each of us like to make our own Chipotle keto meal to stay low carb. Depending what flavors you like you can customize your bowl to match. We'll share our favorites, but then break down all the options you have to choose from.
Megha's Keto Chipotle Meal
Megha likes the high fat content of the barbacoa in comparison to the grilled chicken options. The higher fat meat makes the meal more filling so she doesn't have to think about eating for a few hours.
Barbacoa: 165 calories, 7g fat, 2g carbs, 1g fiber, 1g net carbs, 24g protein
Romaine Lettuce: 10 calories, 0g fat, 2g carbs, 1g fiber, 1g net carbs, 1g protein
Fresh Tomato Salsa: 25 calories, 0g fat, 1g carb, 1g fiber, 0g net carbs, 0g protein
Tomatillo Green Chili Salsa: 15 calories, 0g fat, 4g carb, 0g fiber, 4g net carbs, 0g protein
Sour Cream: 115 calories, 9g fat, 5g carbs, 0g fiber, 5g net carbs, 2g protein
Cheese: 100 calories, 7.5g fat, 1g carb, 0g fiber, 1g net carbs, 6g protein
Guacamole (nutrition is per serving): 230 calories, 22g fat, 8g carb, 6g fiber, 2g net carbs, 2g protein
The only real high carb item chosen was the sour cream. Chipotle has a much higher carb sour cream than most store bought versions. It is about 5 net carbs per scoop they give you. This will be what really sets Megha's macros higher in net carbs than Matt's.
Megha's Keto at Chipotle Macros (Nutrition Facts):
660 calories
45.5g fat
23g carbs
9g fiber
35g protein
14g Net Carbs
While her meal was 14g net carbs this salad bowl could easily be lower if she had subbed the sour cream for more of the fresh tomato salsa.
Matt's Keto Chipotle Meal:
Matt keeps his bowl a little simpler than Megha's. He sticks to minimal carbs and an extra high fat keto lifestyle approach. He enjoys the flavor of the tomatillo red chili salsa, but could easily sub it for tomato salsa instead to have a lower carb count.
Chicken: 180 calories, 7g fat, 0g carbs, .5g fiber, 32g protein
Romaine Lettuce: 10 calories, 0g fat, 2g carbs, 1g fiber, 1g protein
Tomatillo Red Salsa: 30 calories, 0g fat, 4g carbs, 1.5g fiber, 0g protein
Cheese: 100 calories, 7.5g fat, 1g carb, 0g fiber, 6g protein
Guacamole: 230 calories, 22g fat, 8g carb, 6g fiber, 2g protein
As you can see, the nutrition facts are great. A little meat, salsa, cheese, and guac make the perfect keto salad bowl. It packs in fiber, fat, and protein for a satiating keto friendly meal. Keto at Chipotle definitely doesn't have to be difficult if you browse the nutrition facts ahead of time and come in with a plan.
Matt's Keto Chipotle Macros (Nutrition Facts):
550 calories
36.5g fat
15g carbs
9g fiber
41g protein
6g Net Carbs
Sour cream isn't always Matt's go to topping, but it is packed with fat and would only bring his net carbs to 11 grams. New keto dieters may also enjoy sour cream while eating keto because it will provide a creamy base that gives them an easy fat source. Just keep in mind the total net carbs and you'll be fine!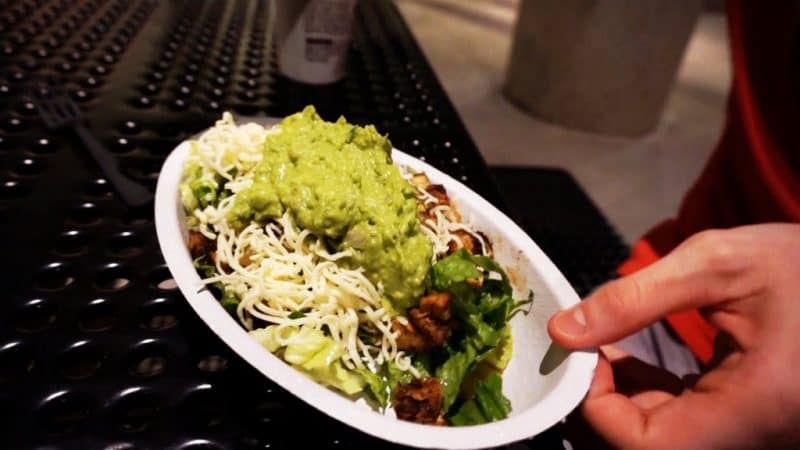 Keto Ingredients at Chipotle
The first decision you have to make is the type of meal to get, and there is really only 1 keto option. The Keto Salad Bowl! Everything else is your typical rice, bean, and burrito fiesta, so stay away from those and opt for a romaine lettuce base instead. Here's what you can fill your salad bowl with and their corresponding net carb content:
Romaine Lettuce: 1g
Chicken: 0g
Steak: 0g
Carnitas: 0g
Barbacoa: 1g
Chorizo: 1g
Sofritas: 6g
Fajita Veggies: 5g (4 net carbs)
Cilantro Lime Cauliflower Rice: 7g carbs (4g Net carbs)
Fresh Tomato Salsa: 0g
Tomatillo Green-Chili Salsa: 4g
Tomatillo Red-Chili Salsa: 2.5g
Cheese: 1g
Guacamole: 2g
High Fat Chipotle Toppings
The best toppings to include on your keto Chipotle bowl to up the fat content are:
Guacamole (nutrition per serving)- The infamous guacamole. You will probably be charged extra, but it is well worth it. Chipotle takes pride in their freshly made guacamole. You'll get a hefty serving of guacamole with 22g of fat per order.
Sour cream (nutrition per serving)- It may not be super high in protein, but it is high in fat! There are 9g of fat in every serving of the Chipotle sour cream.
Cheese (nutrition per serving)- Cheese is definitely a staple on the keto diet. It makes for the best keto bowl with tons of protein and fat. Per order of cheese there are 7.5g of fat and 6 whole grams of protein!
Not to mention, these are also the tastiest toppings! Don't be afraid to ask for double meat or double guacamole if you need the extra fat macros. *Nutrition per serving means it is at the liberty of the staff. They determine the scoop size they give and ultimately vary the calories/ nutrition slightly.
Secret tip: Order two types of meat- ex. 1/2 chicken 1/2 barbacoa. Often times the staff won't perfectly level it and will usually give you more meat than normal for regular price!
Ranking the Best Keto Proteins
If you are trying to have a higher protein diet or just want to balance the fat in your ketogenic diet, try some of these high protein toppings on your next keto salad bowl. Nutrition facts are per regular serving:
Chicken-180 calories, 7g of fat, 0g of carbs, 32g protein
Barbacoa- 170 calories, 7g of fat, 2g of carbs, 1g fiber, 24g of protein
Carnitas- 210 calories, 12g of fat, 0g of carbs, 23g of protein: While lower in protein than chicken, carnitas are probably the best keto protein on the menu because it's high in fat and protein.
Steak-150 calories, 6g of fat, 1g of carbs, 6g of protein
Cheese- 110 calories, 8g of fat, 1g of carbs, 1g fiber, 21g protein
The worst would be sofritas which we really don't even consider as options on the keto diet. It has 165 calories, 10g of fat, 9g of carbs, 3g of fiber, and only 8 grams of protein. If you're vegetarian we recommend just ordering extra cheese (6g of protein a serving).
Carnitas are a go to keto meat along with barbacoa to keep a high fat to protein ratio. Carnitas and barbacoa are both pulled meats the only difference is that carnitas are pork and barbacoa is beef. Next time you're eating keto at Chipotle, make your order a keto salad bowl with one of these two.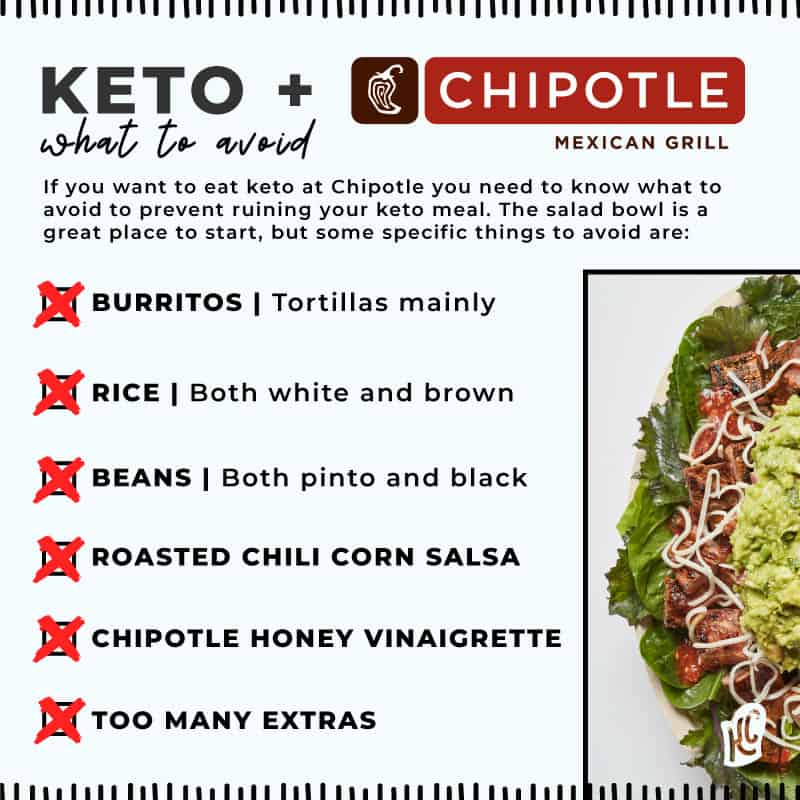 What to Avoid at Chipotle on Keto
If you want to eat keto at Chipotle you need to know what to avoid to prevent ruining your keto meal. The salad bowl is a great place to start, but some specific things to avoid are:
Burritos- or more accurately tortillas. This goes for chips as well which will not fit into a keto diet with their high carb count. Burritos are also normally PACKED with calories and carbs. If you start with a burrito they'll also ask if you want rice and beans. Avoid that burrito at all costs.
Rice- Both white rice and brown rice are low quality carbs that should be avoided on a keto diet. If you order a salad bowl or a burrito bowl make sure to say no white rice and order romaine lettuce instead.
Beans– This goes for both pinto beans and black beans. Pinto beans (the brown ones) are 21g of carbs per serving, and the black beans have 22g of carbs per serving. Whether you get a burrito bowl or a normal burrito these extra carbs are definitely something to skip.
Roasted Chili Corn Salsa- Corn is definitely not keto. The nutrition per serving is 16g of carbs (13 net). it is definitely a sneaky carb ridden menu item you'll want to skip.
The Chipotle Honey Vinaigrette- This sneaky dressing at Chipotle has a whopping 17g of net carbs. If you're at Chipotle skip their salad dressing and just go straight for the creamy guac.
Too many extras- This can be too much salsa or too many extra fajita veggies. The fajita veggies have 4 net carbs per serving, but getting extra veggies can easily add another 8-12 grams of carbs to your "keto" salad bowl.
Calculating Macros at Chipotle:
You can find meal options like Chipotles NEW keto lifestyle bowls and their precise nutrition calculator here. It breaks down the nutrition facts on every possible ingredient you could eat from rice, romaine lettuce, and carnitas, to salsa, cheese, and guacamole. Check it out to create your perfect keto bowl.
Is Chipotle Queso Keto-friendly?
The queso at Chipotle can definitely fit into your keto macros. Though it may contain some undesirable ingredients like tapioca starch for rice bran oil, it is only 4g of net carbs per serving. The queso also brings 8g of fat to your bowl, so add it in if you'd like.
More Low Carb Fast Food
If you love fast food, look no further. We have guides for all the popular fast food joints you eat at. In each guide we break down what options you should eat, what you shouldn't be eating, and all the other low carb menu options. Click the links below to check out more fast food keto menu items:
Keto at McDonalds– This guide will teach you everything you need to know when you want to eat at McDonalds
Keto Drinks at Starbucks- Do you need your own personal low carb drink guide for Starbucks? Look no further than our one stop shop for the best keto drinks at Starbucks.
Everything Keto at Carls Jr./Hardees– Another classic fast food joint to eat at with a ton of low carb items. This guide even explains how to order one or two menu items after keto-fying them when you get there
Chipotle keto options are endless and so are our other low carb menu guides. To view even more like this Chipotle keto guide, go to our restaurant guides page.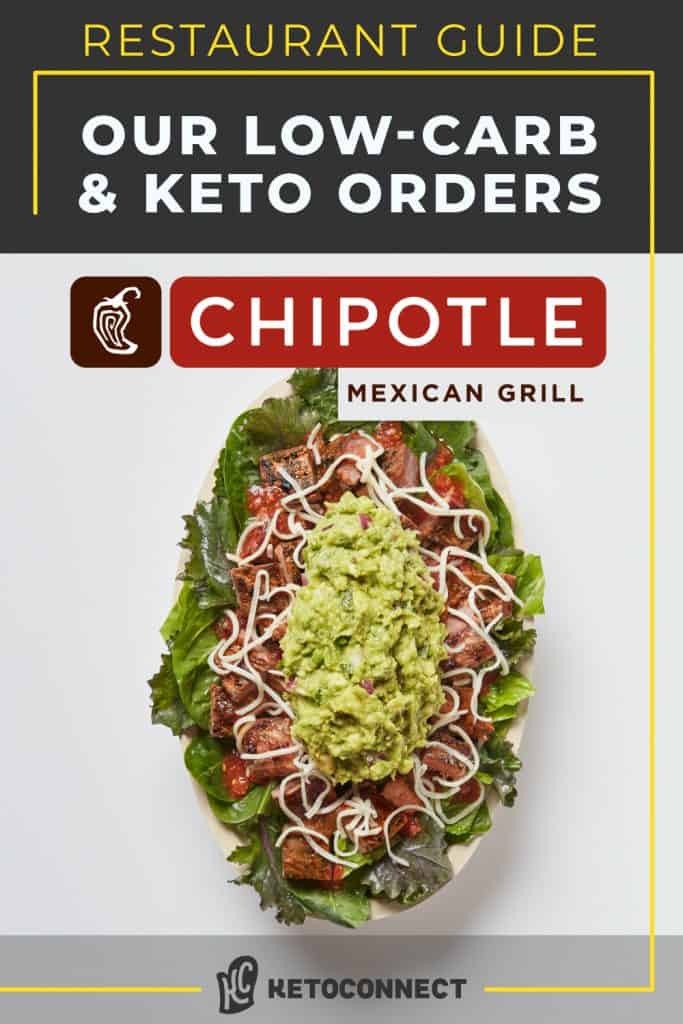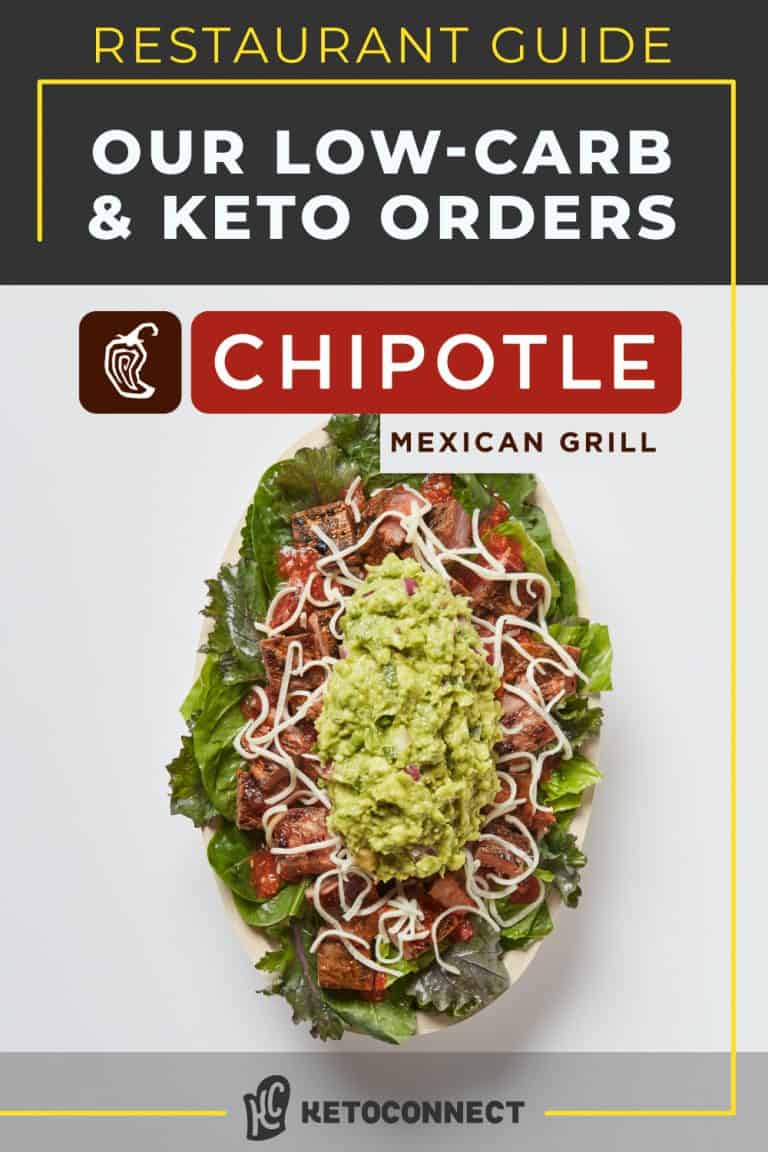 Written By