Caesar dressing is delicious, but anchovies are are not. So, how do we make a delicious keto Caesar dressing in a traditional way without anchovies and raw egg? You would think its impossible to get the exact flavor, but we did it with this recipe! And, we promise, you wont be able to tell the difference.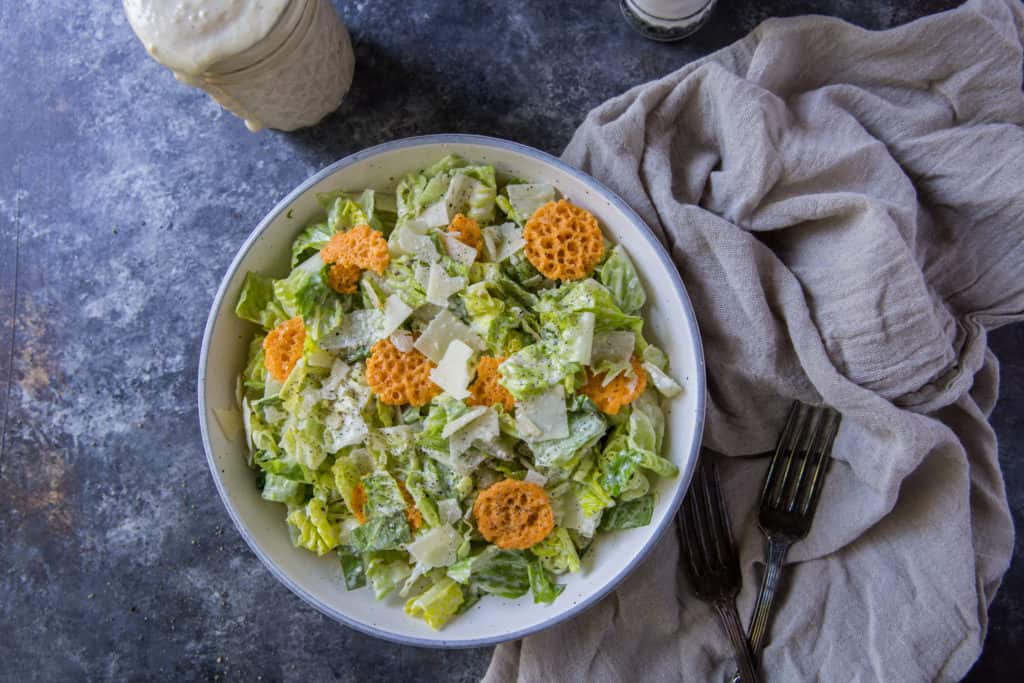 High Fat Side Dishes
Sometimes your dinner can turn into a protein feast leaving you low on your fats so tacking on a high fat side dish, like this Caesar salad, can help even you out. If you aren't a fan of salad some other great high fat keto side dishes are:
Those keto side dishes will up the fat and flavor on any high protein main dish!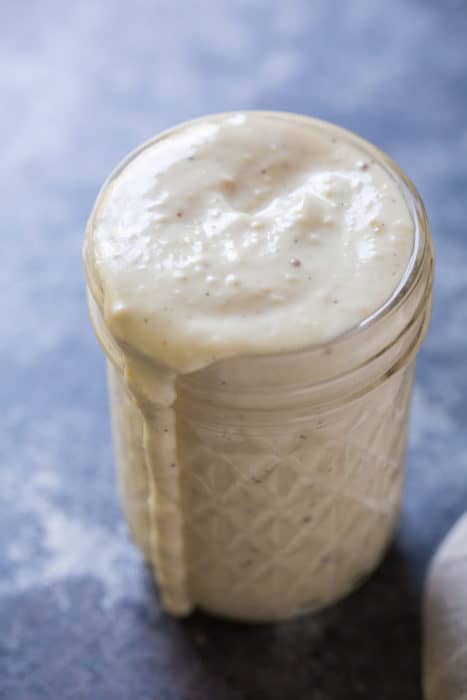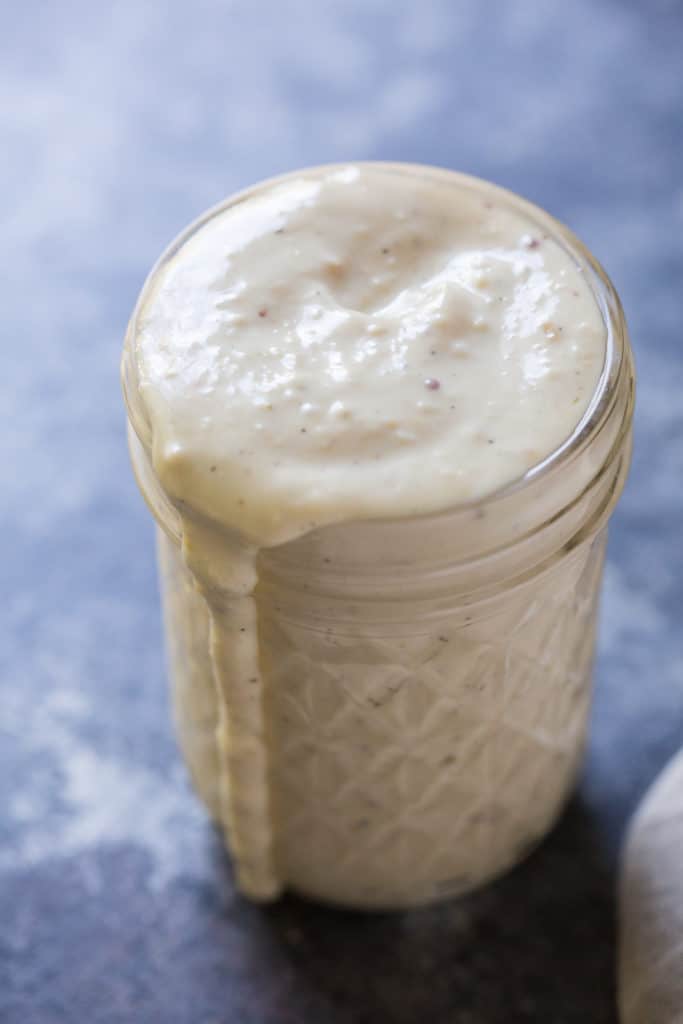 What Oils To Look For?
Salad dressing and condiments are a great way to add fat to your meals in a delicious way. However, most dressings you find in stores contain unhealthy vegetable oils that are high in Omega 6s. The problem with consuming dressings that use vegetable oils like soybean, canola or sunflower oil is that you are consuming a very high amount even in just 2 tablespoons of dressing.
For that reason alone, looking for dressings that use a base of avocado, olive or coconut oil, or better yet making your own at home is going to be the better route to go. For this recipe we used an avocado oil based mayonnaise which can be found online or in store. Although it is pricier than standard mayonnaise, you can't really put a price on your health!
We also have a number of homemade dressing recipes you can try like our thousand island dressing and ranch dressing.
Bulk Prep Your Fats
When starting out on the keto diet getting your fats in or as high as they should be can often be a difficult task. The two things that are going to help you are planning ahead and meal prepping. Bulk prepping your fats, such as through this homemade keto caesar dressing or with fat bombs (Matt's favorite way) you'll always have a side of delicious fats to top off your meals!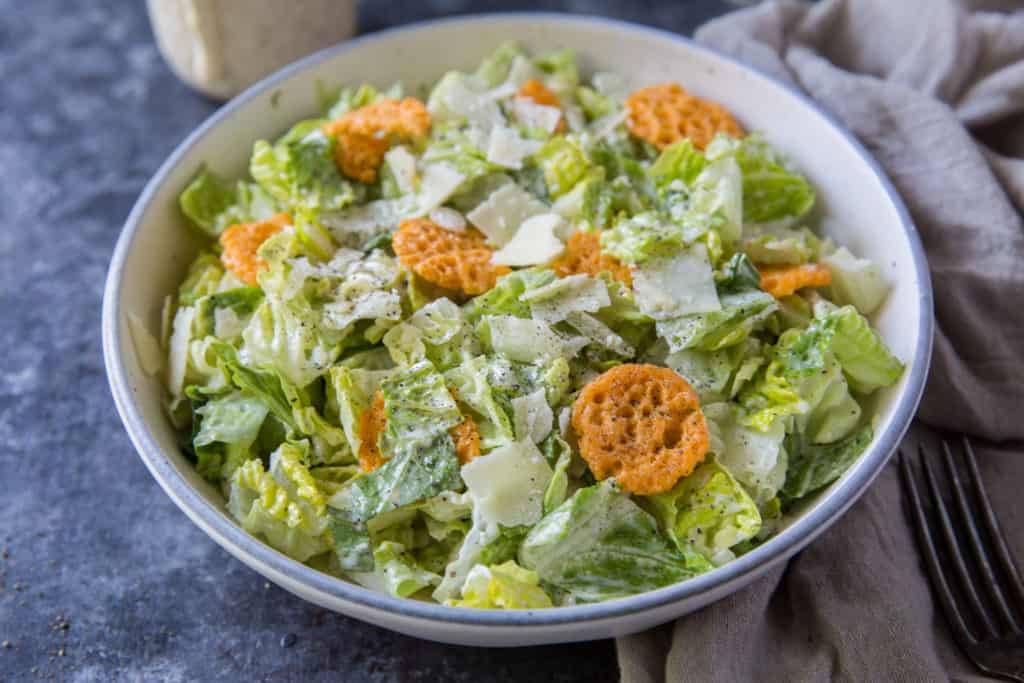 Make Keto Caesar Dressing At Home
With the recipe we've given you making a keto Caesar dressing using a healthy oil base is easier than ever. It will take you five minutes to whip up and last you for weeks in the fridge. Make a double batch and store some in the fridge at work!
Tip: a great way to complete your keto Caesar salad is to grill up some steak or shrimp and tack on an extra couple tablespoons of dressing!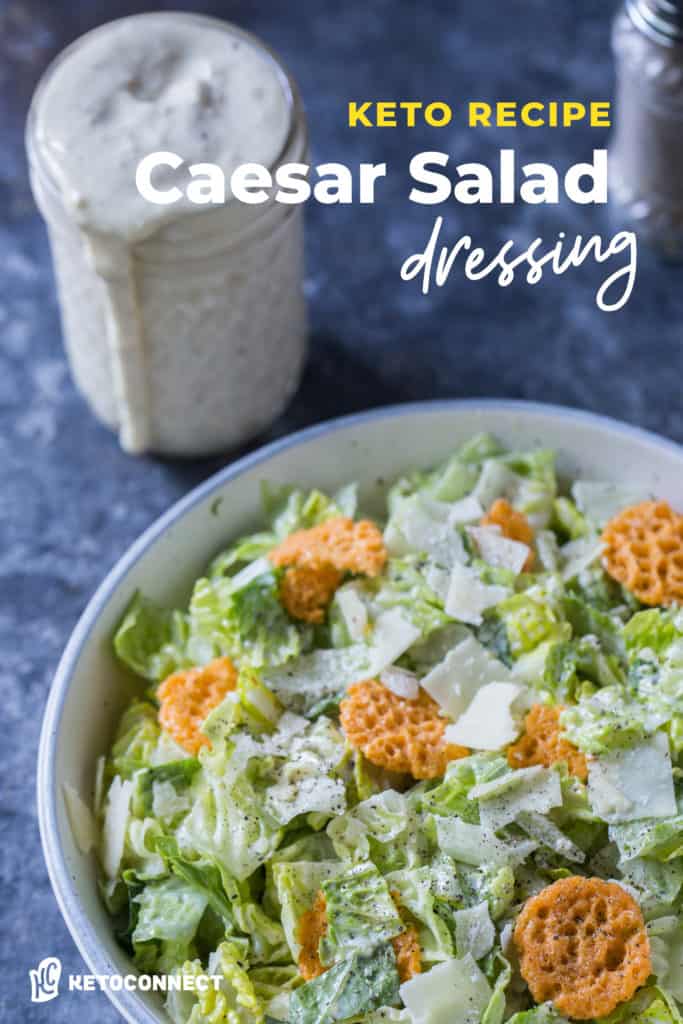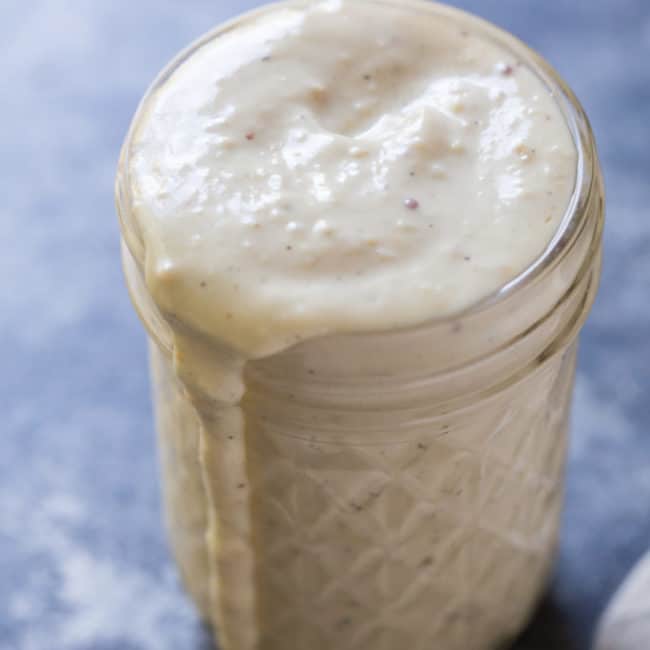 Homemade Keto Caesar Dressing
A healthy homemade keto Caesar dressing recipe without all of the harmful oils! Perfect to keep in the fridge and use on your salads for the week.
Total Time 5 minutes
Servings 12 servings
Calories per serving 170kcal
Prep Time: 5 minutes
Cook Time: 0 minutes
Ingredients:
Caesar Salad
1 large head romaine lettuce
1/3 cup shaved Parmesan
cheese crisps optional
Instructions:
In a small bowl, whisk together dressing ingredients. Season to taste with salt and black pepper. Refrigerate until ready to use.
Salad
Rinse, dry and chop romaine into bite-sized pieces. Place in a large serving bowl and sprinkle generously with shaved Parmesan cheese and cheese crisps.

Drizzle with 2 tbsp Caesar dressing and toss gently until lettuce is evenly coated.

Note: **Nutrition is for entire salad! Feel free to add some grilled chicken or shrimp to complete the meal.
Notes
Net Carbs: 0g Serving size: salad with 2 tbsp dressing Dressing Yields: 12 servings  
Nutrition Facts
Homemade Keto Caesar Dressing
Amount Per Serving
Calories 170 Calories from Fat 162
% Daily Value*
Fat 18g28%
Carbohydrates 1g0%
Fiber 1g4%
Sugar 1g1%
Protein 2g4%
* Percent Daily Values are based on a 2000 calorie diet.
Written By