Who doesn't love dense, nutty, and flavorful banana bread? This recipe is low carb, sugar free, and gluten free. It makes the perfect meal prep breakfast, or grab and go snack. Make a loaf and get back to snacking on your childhood favorite treat!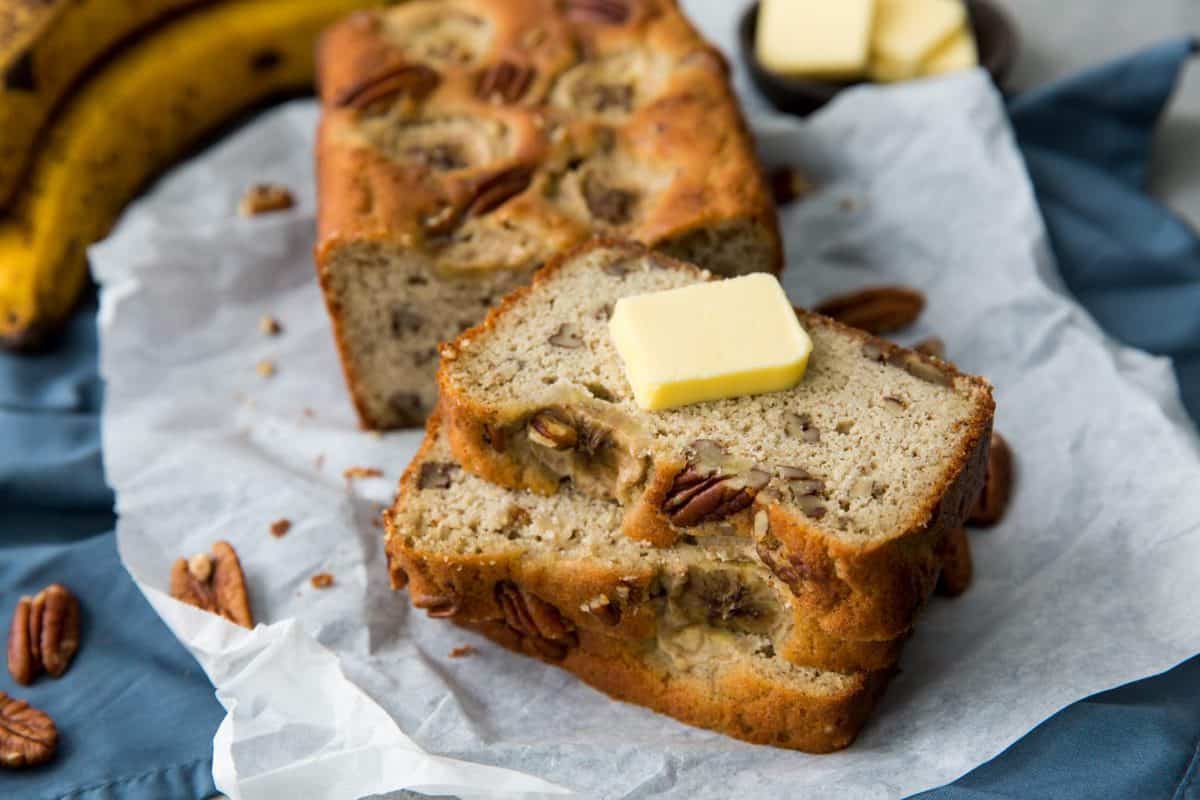 Are Bananas Keto?
Sadly, bananas are NOT keto. A medium sized banana has 27 grams of carbs, three of which are fiber, and 14 of which are sugar (1). While they do have some vitamins and minerals, the carb count alone is too high to be enjoyed on a keto diet. Occasionally small amounts can be incorporated in a low carb diet, but a whole banana bread made of them definitely doesn't hit the keto mark.
Banana Extract
Instead of using bananas in this recipe we decided to use banana extract. Banana extract is a calorie free banana flavored product designed to mimic a bananas flavor without any sugar. While it isn't any mashed banana, it is a great option to replace the high carb fruit you know and love in keto recipes. Make sure whichever banana extract you choose is calorie and carb free. Even the high quality flavorings are still fairly cheap so we recommend an organic banana extract.
Does Banana Extract Taste Artificial?
We totally understand this concern when it comes to flavorings. No one wants their childhood banana laffy taffy to taste the same as their banana bread. However, the amount we use in this recipe is just enough to give that banana flavor without being too overpowering and coating your palate. If you are concerned about adding too much, start small and taste as you go!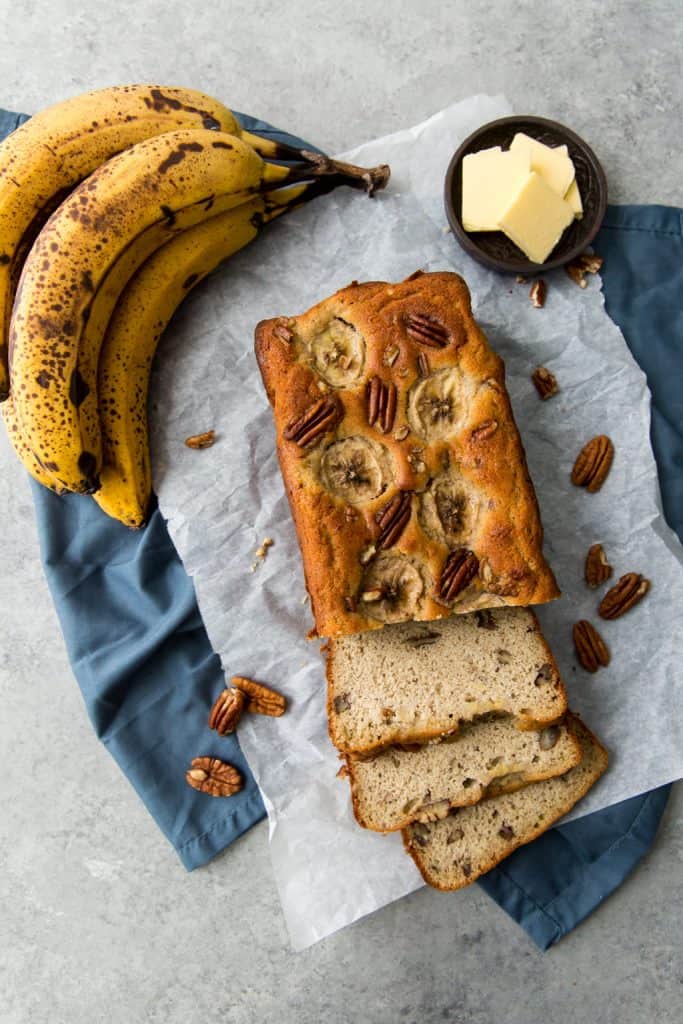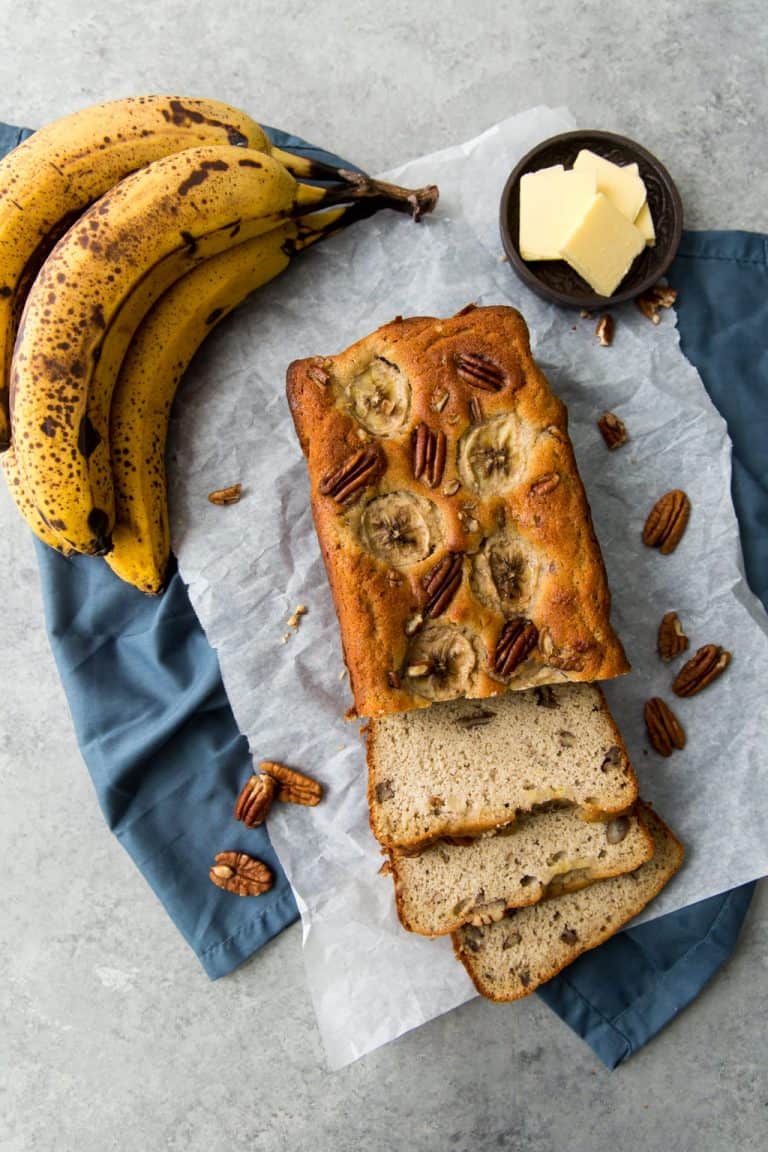 Is Banana Bread Healthy?
This banana bread recipe has all the banana flavor you desire without the carbs. A traditional banana bread recipe has mashed banana and added sugar meaning there can be 50 grams of net carbs and over 400 calories in a single slice (2)! Our banana bread recipe on the other hand is only 4 net carbs and 332 calories to help you stay healthy and on track with your low carb diet.
Sugar Free Banana Bread
We think sticking to sugar free foods is super important. That's why our banana bread uses banana extract free from sugar instead of the traditional high sugar fruit. We also subbed regular sugar for a low carb keto friendly sweetener known as erythritol. It won't spike your insulin like regular sugar meaning it will prevent the well known sugar crash. Making low sugar recipes is also important for keto dieters because it keeps the carbs low so you can stay on track. Creating banana bread that's free from bananas and instead uses banana extract is a big step towards reducing excess un-needed carbs.
Gluten Free Banana Bread
Our banana bread keto recipe is also gluten free. This is because we chose to use almond flour and coconut flour over traditional all-purpose flour. Standard white flour has 95 grams of carbs per cup, and 92 grams of net carbs. This would definitely not be keto, because you would need 3-4 cups just to fill the loaf pan. By using coconut and almond flour we add fiber which aids in satiety, as well as lowering blood sugar. These flours will help to keep you full and happy without a dip in energy after consuming.
Dairy Free Keto Banana Bread
This recipe can in fact be made dairy free. There is only one ingredient in this recipe that has dairy and that's the butter. If you are dairy free simply sub the butter for coconut oil. It may alter the flavor slightly, but not enough to really change the overall recipe. Try making a tropical banana bread with coconut oil, dark chocolate, and shredded coconut for a fancy treat!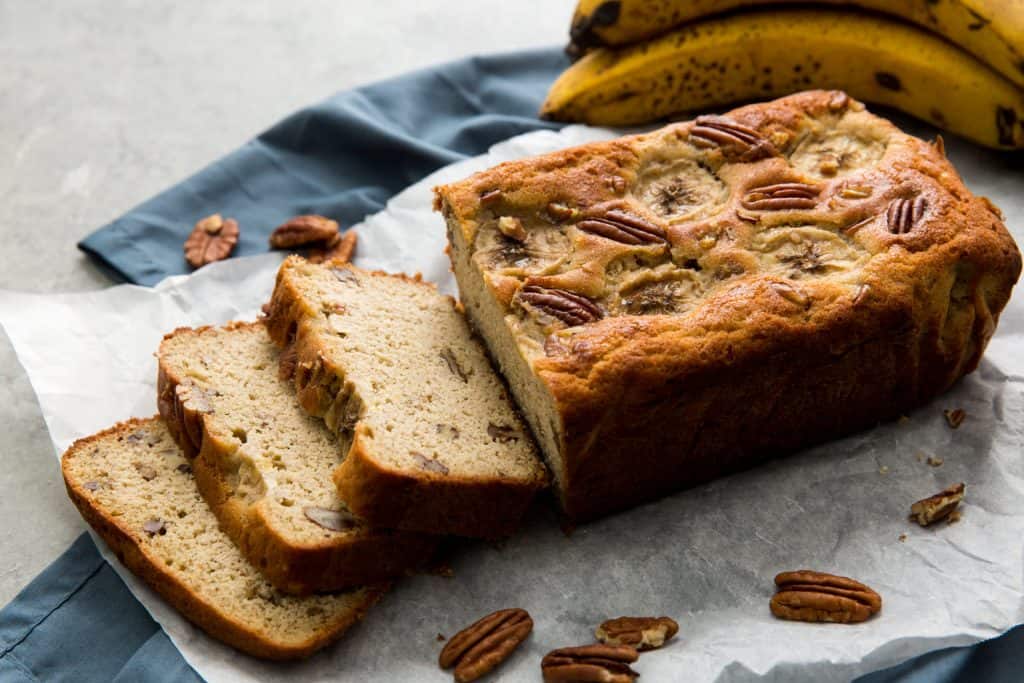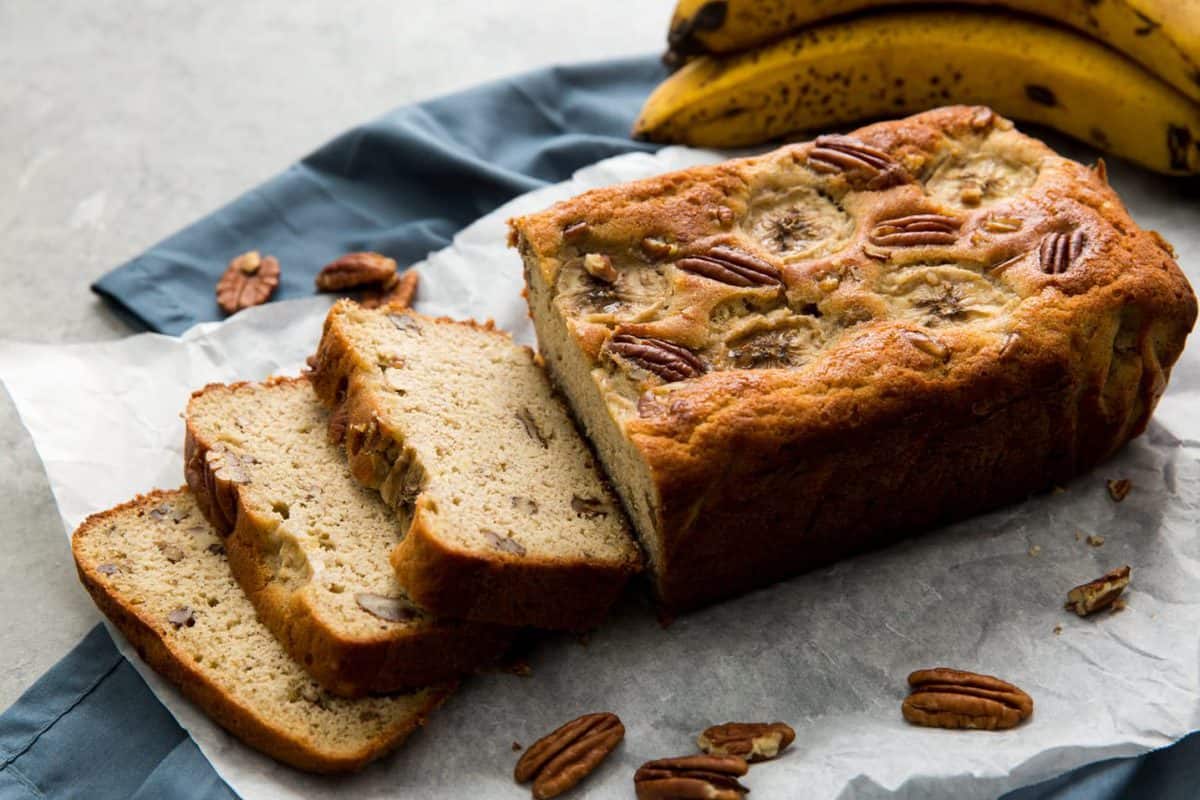 How to Make Keto Banana Bread
Just like our popular low carb bread, this keto banana bread tastes just like the original. It's nutty, dense, and packed with banana flavor so you can enjoy the breakfast bread you know and love.
Ingredients
To make this keto banana bread we will first need the dry ingredients. We used a blend of both almond flour and coconut flour to achieve the ideal quick bread recipe texture. Then we added baking powder for rise and cinnamon for a warming spiced flavor. Lastly you will need some salt to bring out the sweetness of this banana bread recipe.
Wet Ingredients
The wet ingredients consist of softened unsalted butter and cream cheese. We used softened butter over melted butter to allow for more structure in the batter. Unsalted butter is usually the way to go when baking, because salt is added to the dry ingredients. However, if you only have salted butter just scale back on the added salt above. Next you will need granular erythritol (or any other keto sweetener such as monk fruit or monk fruit and erythritol blends). Normally we will also use a combination of liquid stevia to balance out the sugar alcohols, so make sure to have some stevia on hand too. The last ingredients are eggs, almond milk, chopped nuts, and the secret ingredient: banana extract.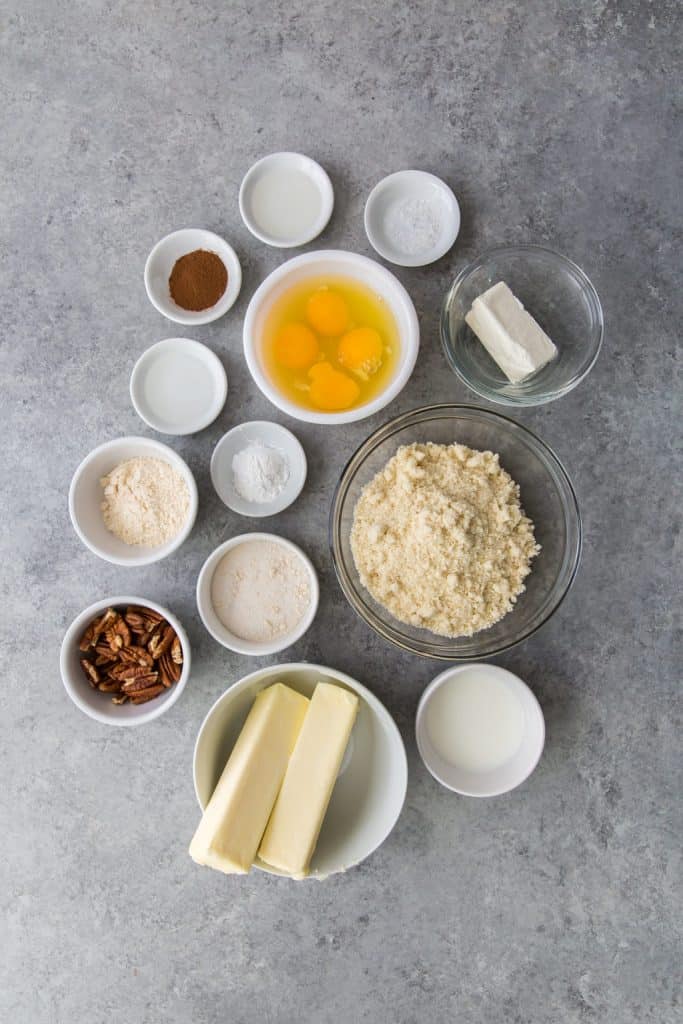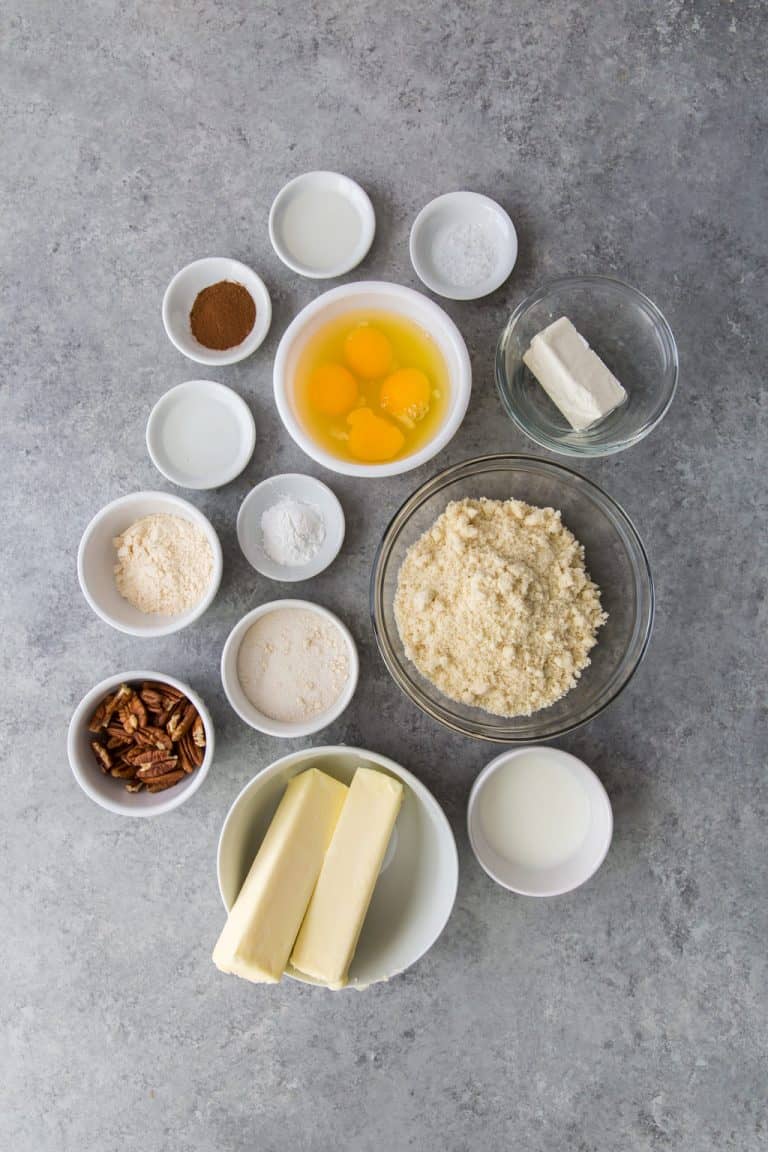 Making Low Carb Banana Bread
If you are ready to get started and make keto banana bread you've come to the right place. Get out your loaf pan and let's get started with this easy keto banana bread!
Begin by preheating your oven to 350F. Line a 9-inch loaf pan with parchment paper and set aside. Then in a small bowl, combine the flours, baking powder, cinnamon, and salt. Mix all the ingredients together well to prevent clumps. In a different bowl that's larger, combine the softened butter (not melted butter), cream cheese, erythritol, and stevia.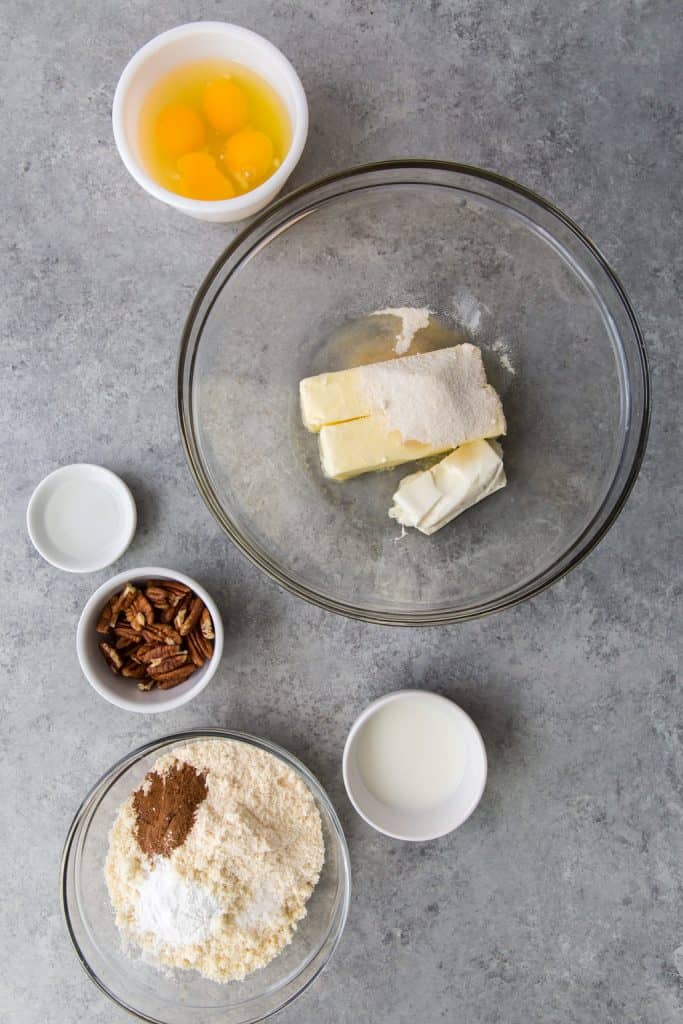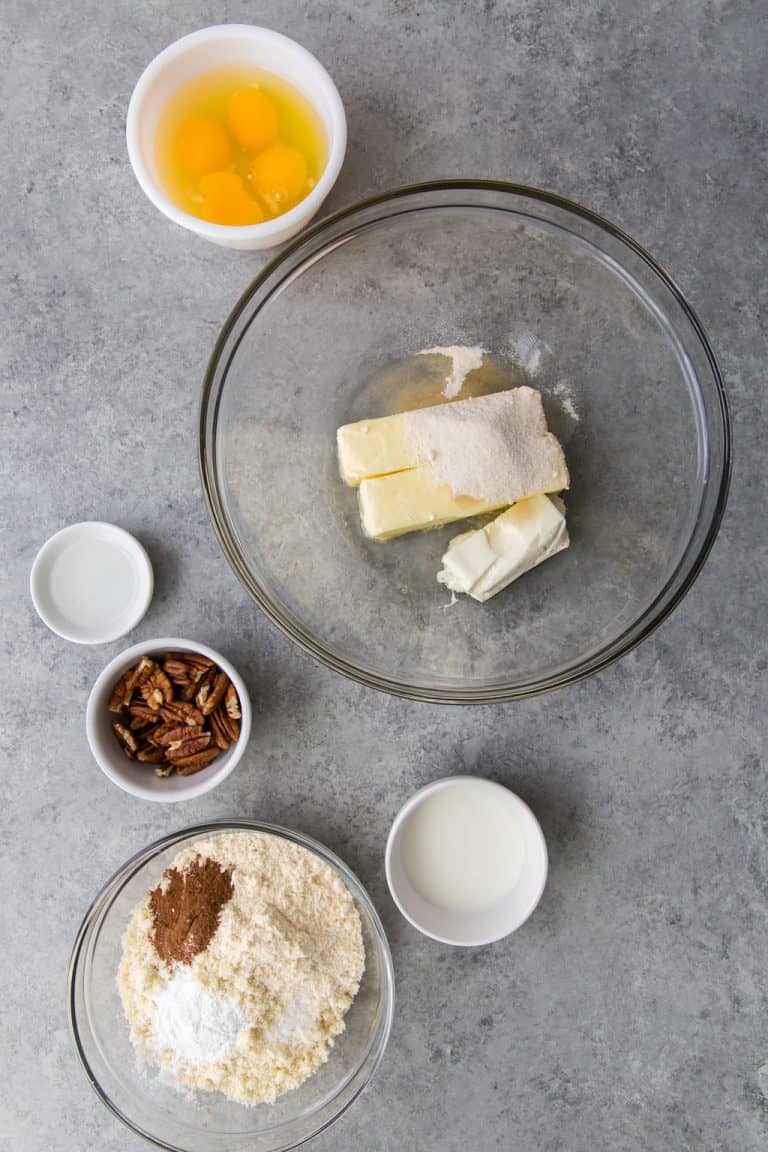 Once the butter, cream cheese, and sweeteners are creamed together add the eggs in one at a time. When all the eggs have been added you can put the almond milk and banana flavor in with it. Mix well again (we used a hand mixer).
The egg mixture may look a bit curdled, but that's okay. The batter will come together when everything is added.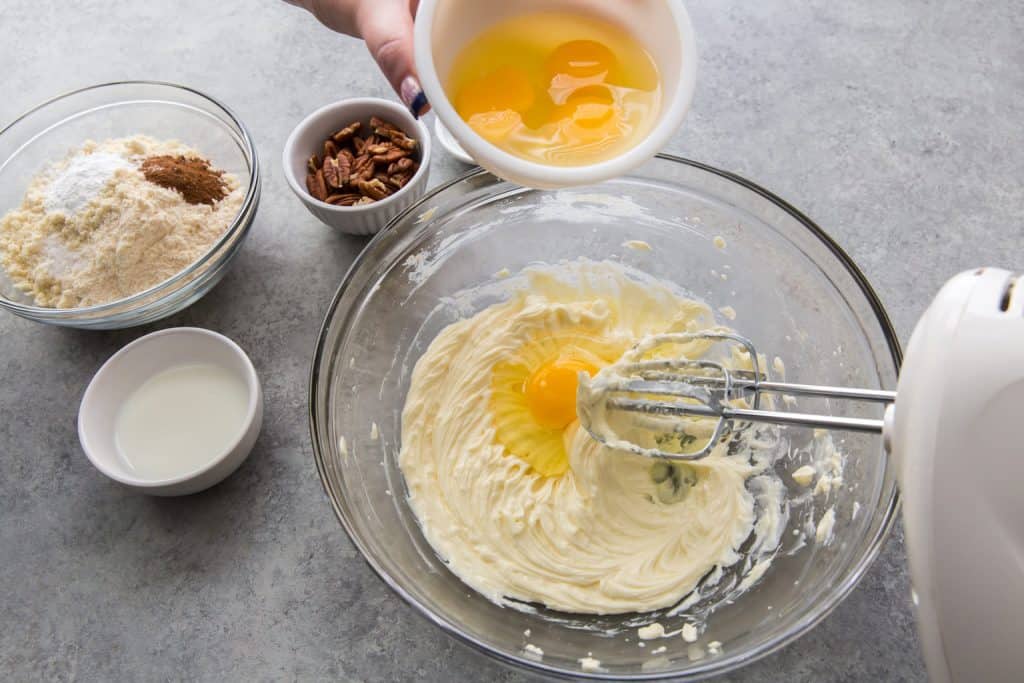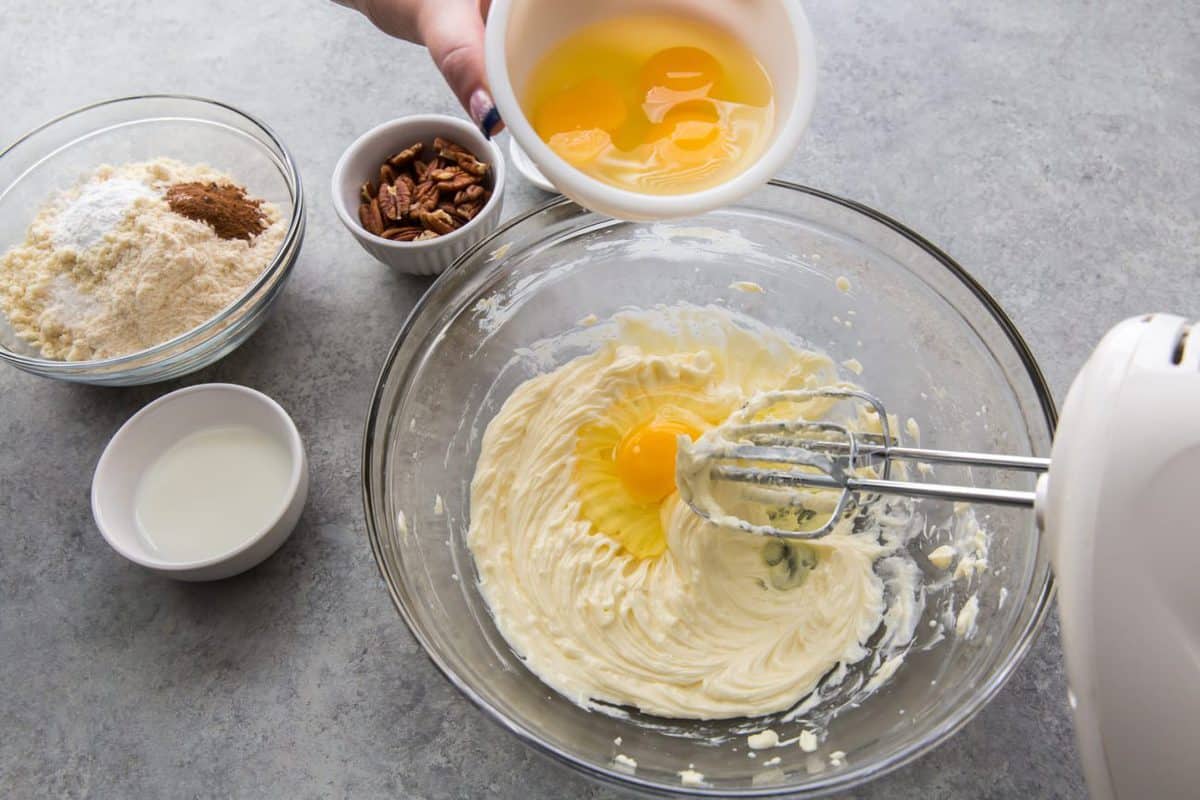 Sprinkle the dry mixture into the wet and stir everything throughly to prevent clumps of flour.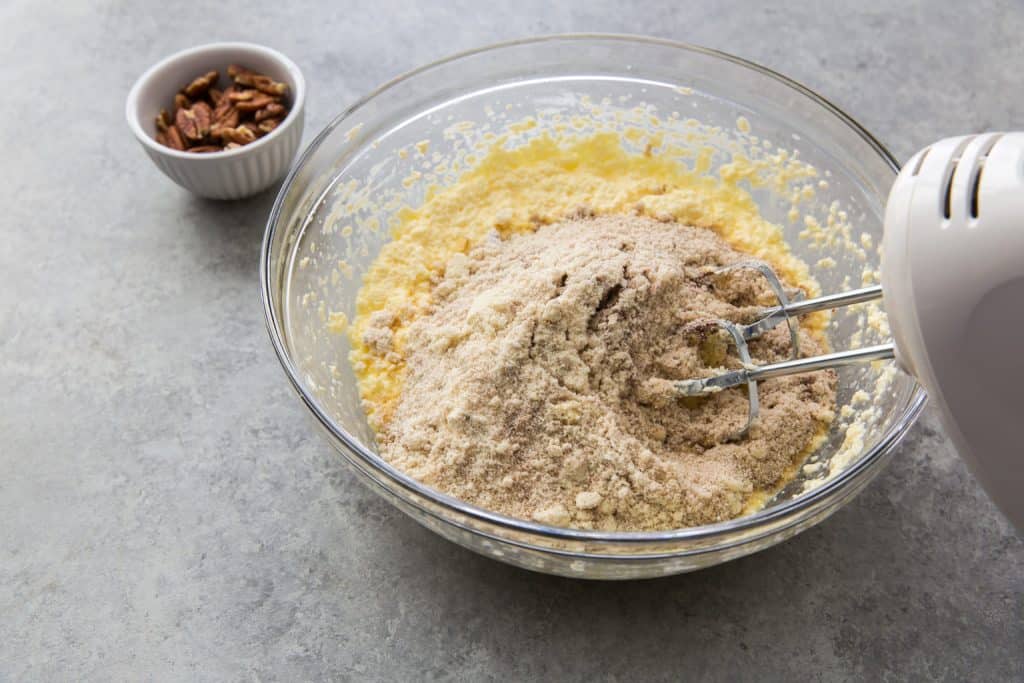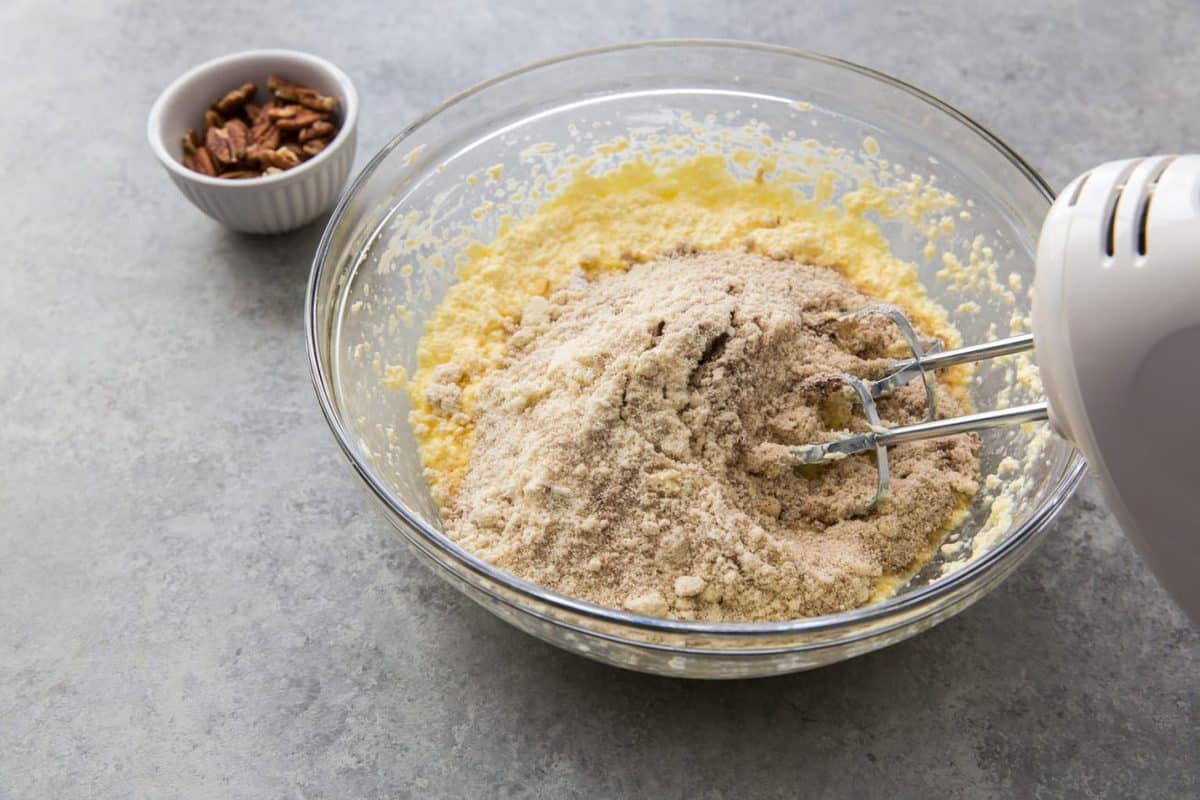 Now it's time to fold in the nuts of choice. You can also add chocolate if desired.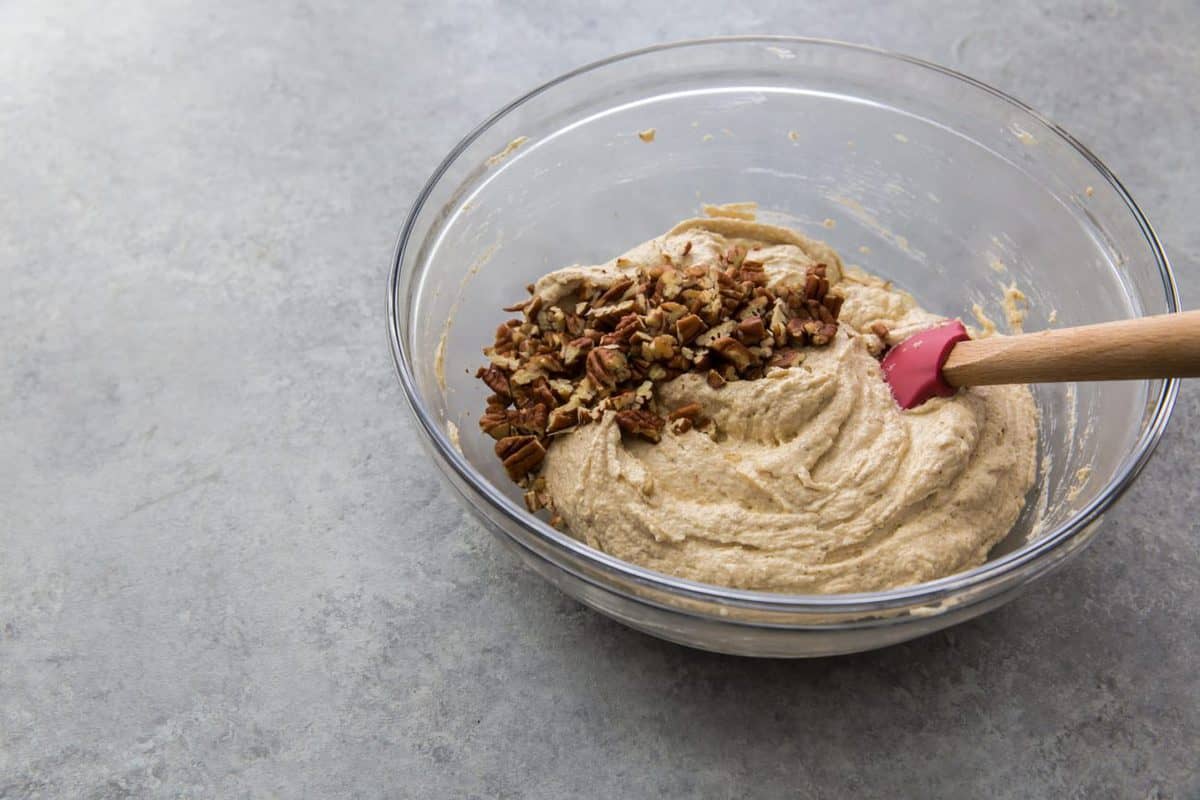 Transfer the batter into your parchment paper lined loaf pan and then add any desired toppings. Cover the recipe with aluminum foil and bake the banana bread for 45-50 minutes. Remove the foil from the top of the recipe around the 40 minute mark. This will allow the top to brown. Remove from the oven once the center is mostly set, and a toothpick comes out almost fully clean.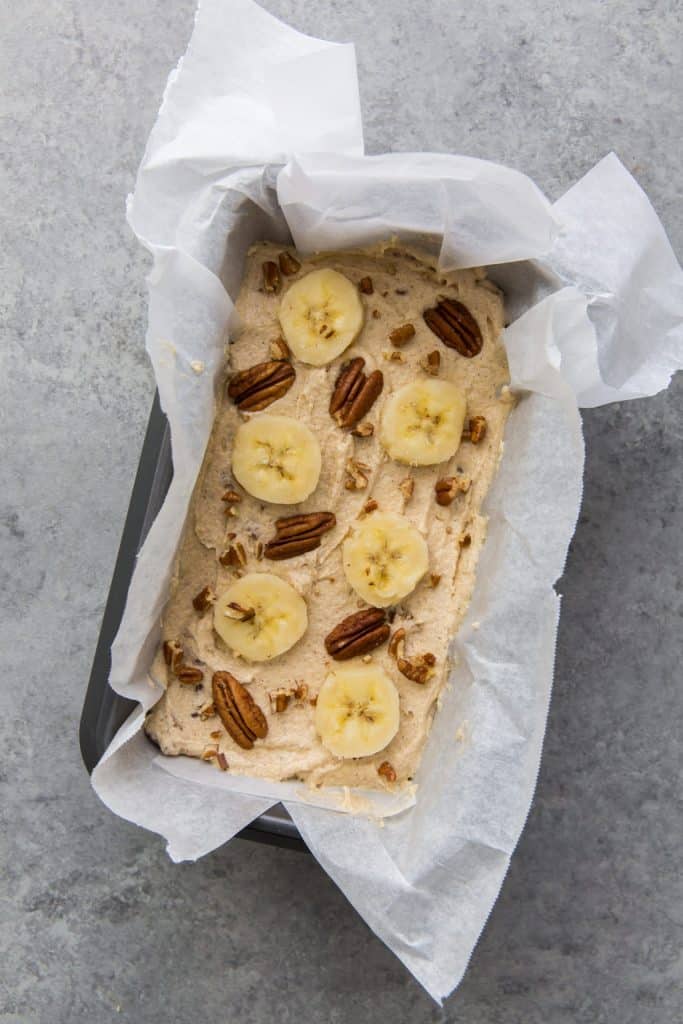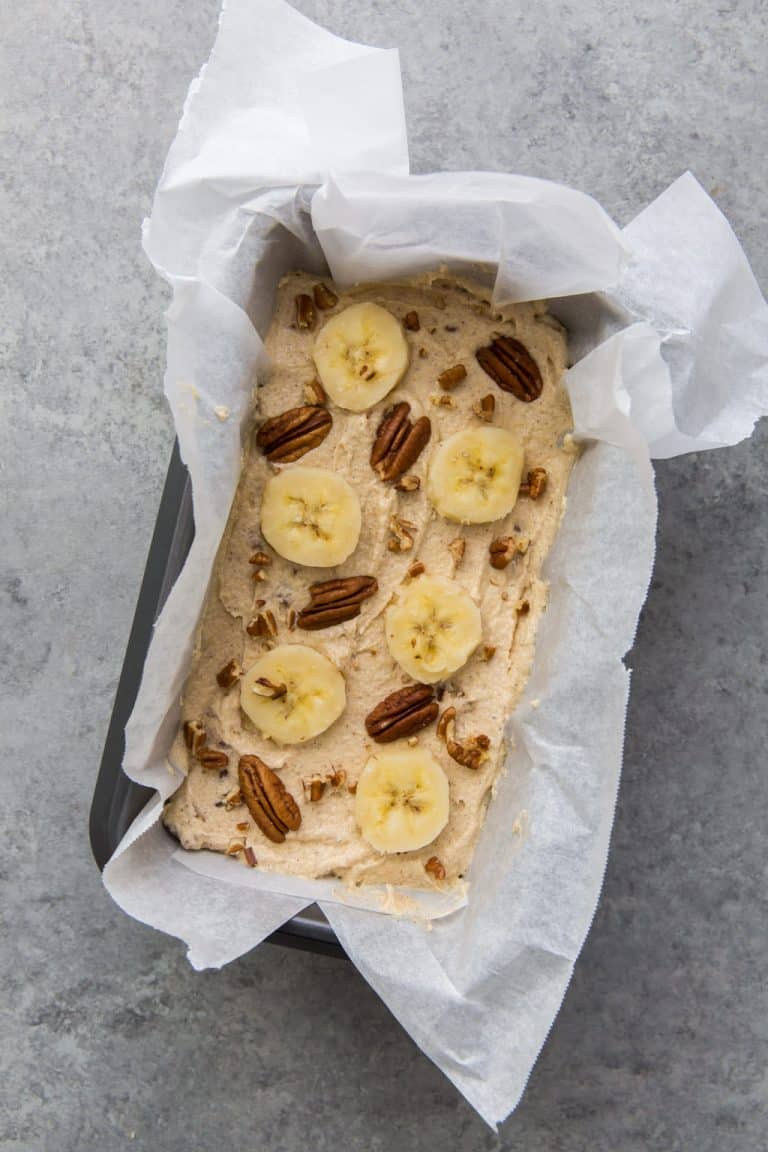 Allow the keto banana bread to cool in the pan completely before slicing.
Storing Almond Flour Banana Bread
Storing– This keto banana bread recipe should not be stored at room temperature. Instead, store it in the fridge.
Freezing– We recommend slicing the banana bread before freezing. Keto flours create a different type of crumb than regular flour, so it will freeze as one unslice-able brick if it isn't cut. Place the sliced banana bread into ziplock bags and freeze to prevent sticking.
Can I Make Banana Bread Keto Muffins?
If you would prefer to make banana bread muffins that is 100% okay and easy to do! Our sugar free banana bread recipe works great for meal prep which is why we actually recommend making pre portioned cups. The best keto banana bread recipe is super versatile and tastes delicious in every form!
To make keto banana bread muffins divide your batter into a muffin lined tin, or a silicone muffin pan on top of a baking sheet. Top with your desired nuts and bake 20-25 minutes, or until a toothpick comes out clean.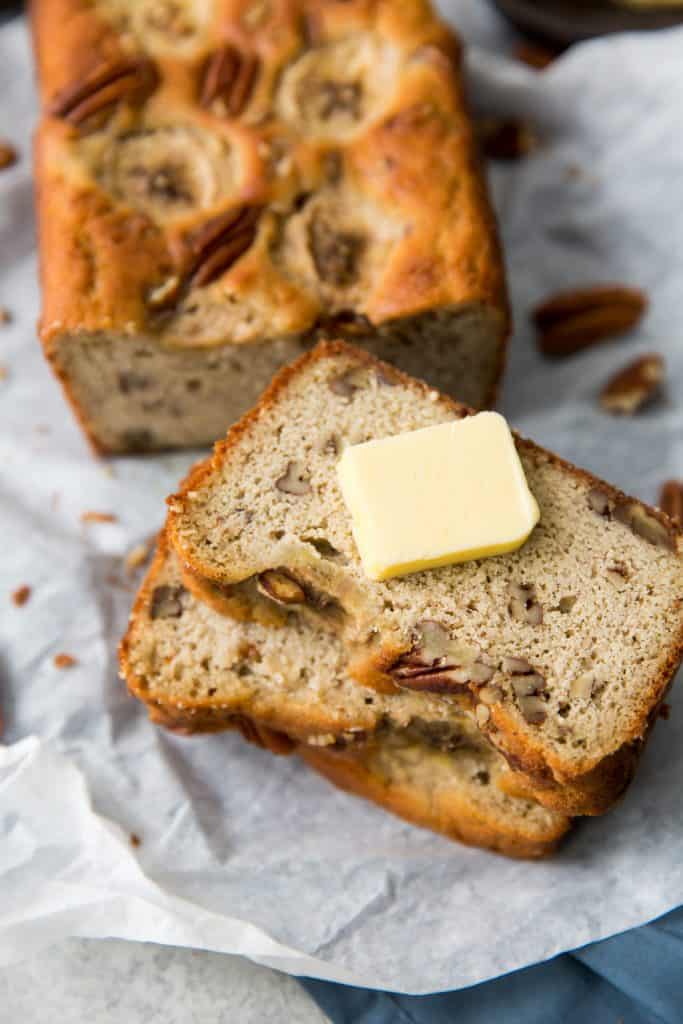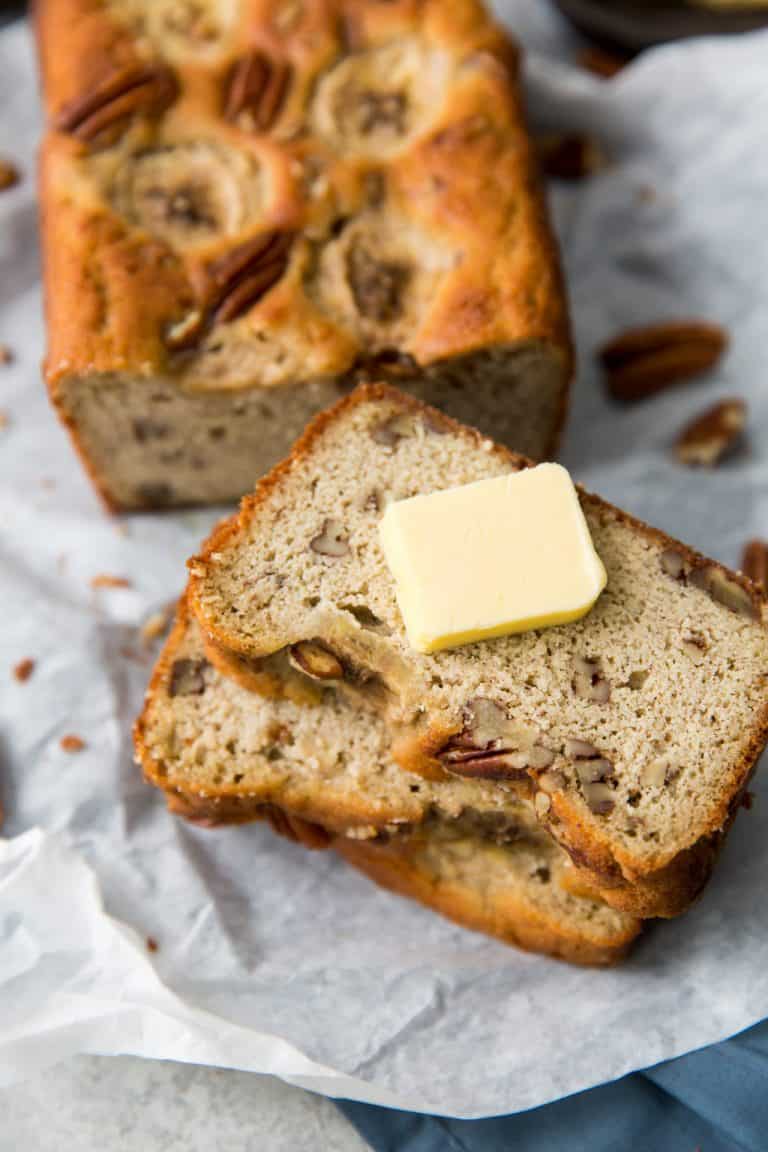 Optional Mix -Ins
This low carb banana bread recipe is the best because it has a nutty flavor from the coconut flour and almond flour. However, everyone knows little bits of nuts and chocolate are what make a banana bread extra delicious. Below we have compiled our favorite gluten free and sugar free mix -ins for your next keto banana bread baking day.
Nuts
Pretty much any nut will taste delicious in banana bread, but our favorites have to be walnuts and pecans. They are softer nuts that have a buttery taste and texture that bake well without being too dangerously crunchy. A complete list of nut options are:
Walnuts- A super low carb and high fat nut that is traditional in most banana breads
Pecans- Another high fat nut that's rich in fiber, perfect for stabilizing blood sugar.(3)
Chopped Almonds- These are going to be a bit crunchier than a traditional keto banana bread nut, but taste just as delicious.
A handful of roughly chopped cashews- Cashews are the highest carb nut, but in small amounts chopped they shouldn't add more than a carb per serving.
The nut you choose is up to you, just know that the carb counts will change based on your choice. Walnuts are the most traditional in a banana bread recipe, but that doesn't mean you shouldn't get creative and try new combos.
Chocolate
For those wondering you CAN have your chocolate chip banana bread on keto. The only difference is that now we use coconut flour in the base, and sugar free chocolate chips on top! Some things to look for when picking a sugar free chocolate is:
Is it Really Sugar Free?– Check for sugars with fancy names like fructose, cane sugar, coconut sugar, ect. They may not say refined sugar, but that doesn't make them keto.
Are They Free From Bad Sugar Alcohols?– You'd be surprised just how many sugar free chocolates are filled with sweeteners like sucralose and Maltitol. Not only are they hard on the gut, but in the case of Maltitol it reacts in your body just like sugar! For more info on the best keto sweeteners check out our in depth keto sweeteners blogpost.
Is it Dark Chocolate– Sometimes when we are checking all the little things we forget the big ones! Double check that the chocolate you buy is dark chocolate, unless it is certified keto/ sugar free milk chocolate like one from Lily's.
Best Keto Chocolates
To make it even easier for you we already listed a few of the best keto approved chocolates and chocolate chips below. Now you can have your keto banana bread without the standard 30 net carbs per slice!
100% Bakers Chocolate– Bakers chocolate is just that, chocolate for baking. It is a bitter dark chocolate in its natural state, aka no added cream or sugar. It is high in fiber and low in net carbs making it the perfect chocolate touch to your low carb banana bread loaf.
Lily's Bars– Lily's Chocolate bars are sweetened with stevia and erythritol creating the best sugar tasting sugar free chocolate bar. Sweet chocolate in combination with the banana extract and walnuts makes for an authentic banana bread taste.
Lily's Chocolate Chips– Not only are their bars sweetened with high quality ingredients, but so are their chocolate chips. We love the semi sweet chips in this keto banana bread and know you will too!
Depending on if you choose chips or bars you may need to chop the chocolate. For bars we love a nice rough chop so you can have chunks of chocolate in every bite. If you choose chips feel free to be heavy handed and enjoy your culinary masterpiece with a little extra chocolate.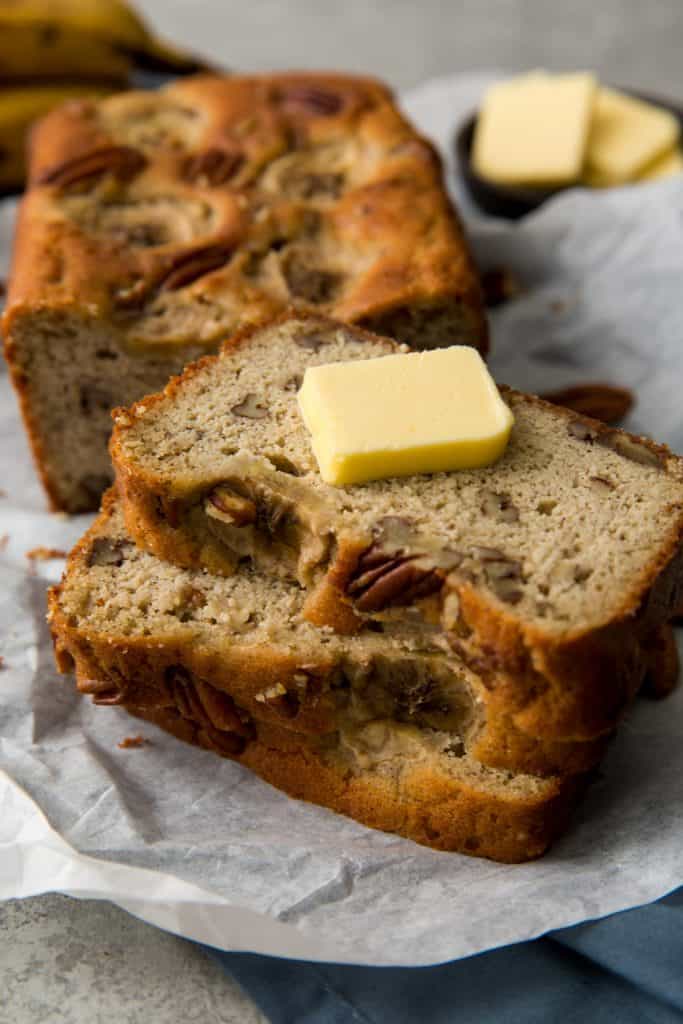 Tips to Make the Best Keto Banana Bread Recipe
Cover with Foil– This banana bread is pretty easy to make and requires just a bit of prepping before baking. While a quick bread to make outside of the oven; it will be in the oven for a while, so we want to make sure the top of our keto bread doesn't brown too much. Make sure to cover it with foil while it bakes.
Don't Over Bake– Make sure your keto bread doesn't stay in the oven for too long. If you bake it past just being cooked it may brown too much or become dry. A good test is putting a toothpick in and seeing if it comes out almost all the way clean. Such a dense loaf will cook a bit more while it rests.
Try it Dairy Free– You heard right, this recipe can be made dairy free! There is only one ingredient in here with dairy and that's the butter. Try subbing the butter for softened/ melted coconut oil. Coconut oil will preserve the banana flavor, but also give you a tropical banana bread style recipe.
Measure Your Ingredients– This seems like a no brainer when baking, but measuring your ingredients ensures all ratios are as accurate as possible, thus avoiding dry bread. If you can even weigh the dry ingredients, that will add another layer of security that your low carb keto banana bread is as perfect as can be!
Low Carb Toppings
There are plenty of ways to top your low carb keto banana bread depending on if you want an aesthetically beautiful banana bread, or a toppings loaded banana bread. Our favorite ways to top keto banana bread are:
Using Real Banana!– Bananas are not low carb, however if you did want to slice a real banana to add on top you would only add about 2-3 grams of carbs per slice. Real banana bread usually has banana topping, but if you want to make banana bread low carb completely it's best to omit it.
Nuts– If you tried this recipe and didn't add nuts what were you thinking!? If you love banana bread, this keto banana bread with nuts is sure to knock your socks off. Make this recipe with an extra 1/4 cup of walnuts pressed on top for added crunch and beauty to the low carb bread loaf.
Chocolate– Yes we did add chocolate inside, and yes we will add even more delicious low carb chocolate on top. Normally we will take full pieces of the Lily's bars (which are smaller squares) and place them on top of the bread before baking. They become warm gooey pockets of chocolate on top. If you like keto friendly banana bread without any chocolate I don't know if we can be friends…
Make sure that whatever ingredients you add on top of the bread you slightly press in. Things like real bananas and chunks of chocolate will rise a bit and we want to make sure they stick. Like always remember the carb count will change depending on the toppings used (especially if it's real bananas!).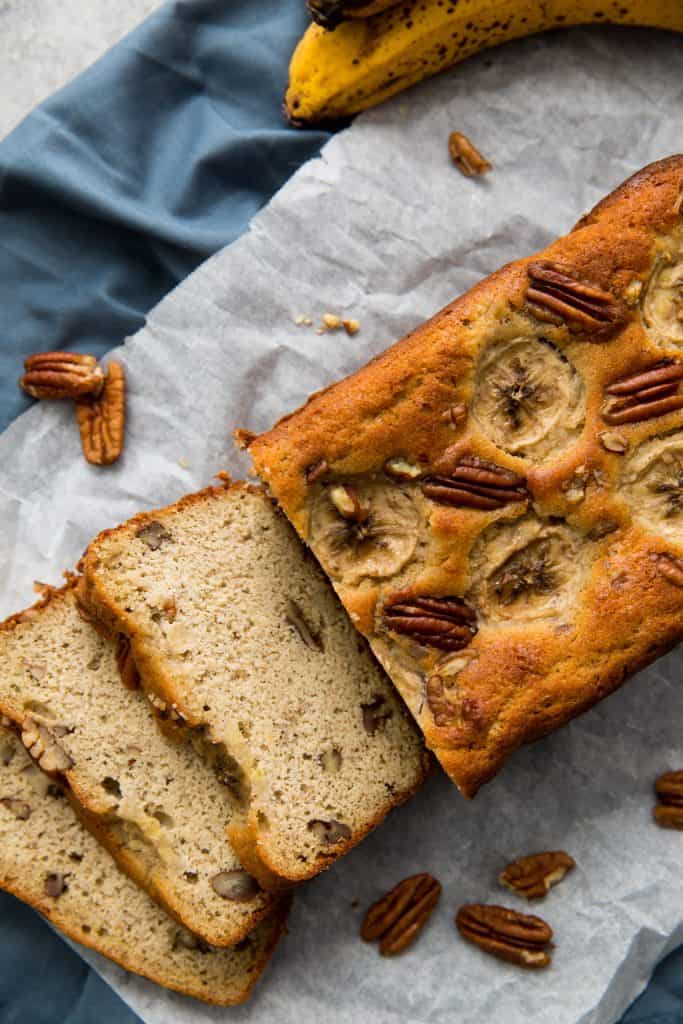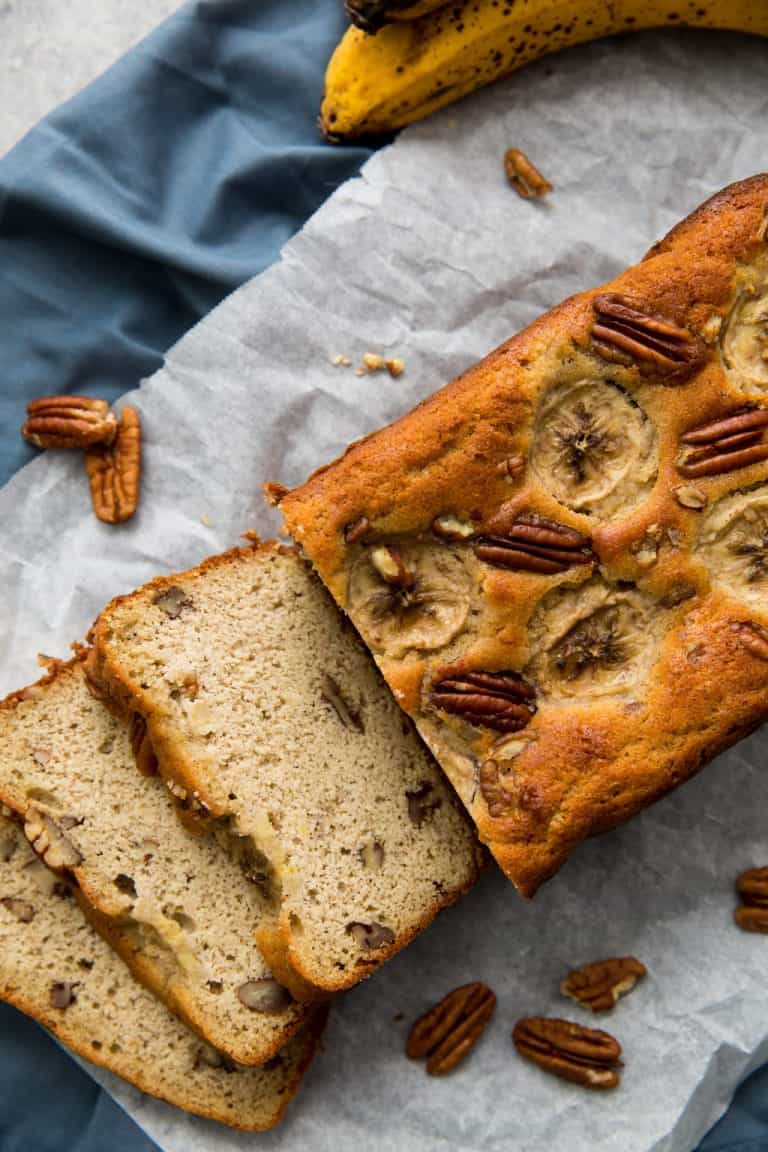 More Gluten Free Keto Desserts
If this banana bread recipe has you excited, wait until you see our other keto recipes! We have a range of everything from fudgy brownies and cakes, to lemon drizzle cookies and strawberry cheesecakes. Some of our favorites are:
Deep Fried Keto Donuts– A delicious deep fried donut that's soft on the inside and crispy on the outside. They have a base of almond flour and psyllium husk to give them a traditional donut hole's texture. With a pinch of baking powder to give them a delicate crisp and fluff. They make the perfect keto dessert when you're craving a donut.
Chewy Chocolate Chip Cookies– Just like grandma used to make, but on a low carb diet! These keto cookies have wet and dry ingredients to make the best chewy keto chocolate chip cookies.
Keto Lemon Bars– Our keto lemon bars recipe makes a light and refreshing treat to end your busy summer nights. They have fresh lemon and are topped with keto powdered sweetener for an authentic lemon bar feel. Another good refreshing dessert is our sugar free jello!
These are just a few of our favorite keto recipes, but if you are looking for even more easy keto friendly recipes check out the desserts section on our blog.
This low carb banana bread recipe is perfect for those with kids or picky eaters. It tastes just like the nutty loaf you remember, without a sugar crash after. With only 4 net carbs per slice this low carb banana bread recipe is sure to become a family favorite!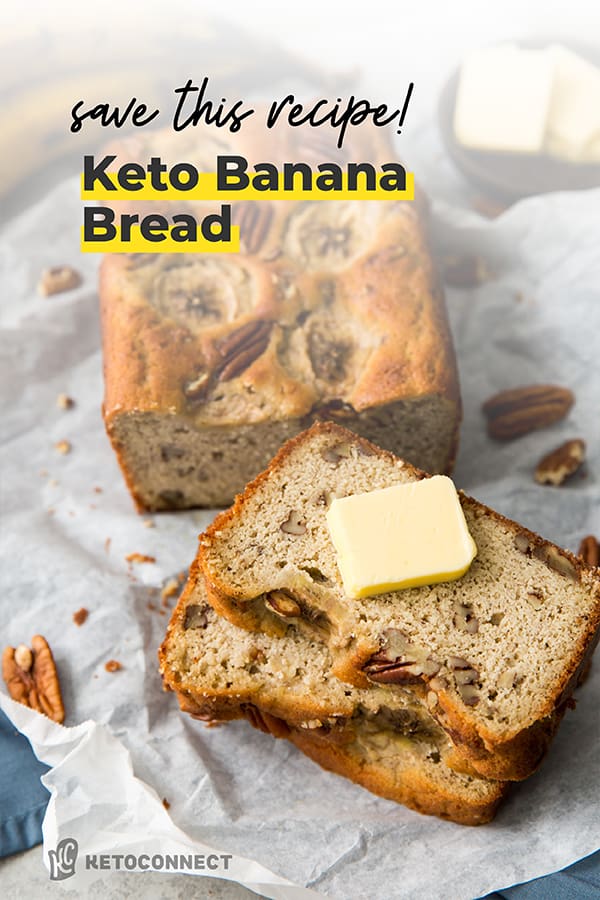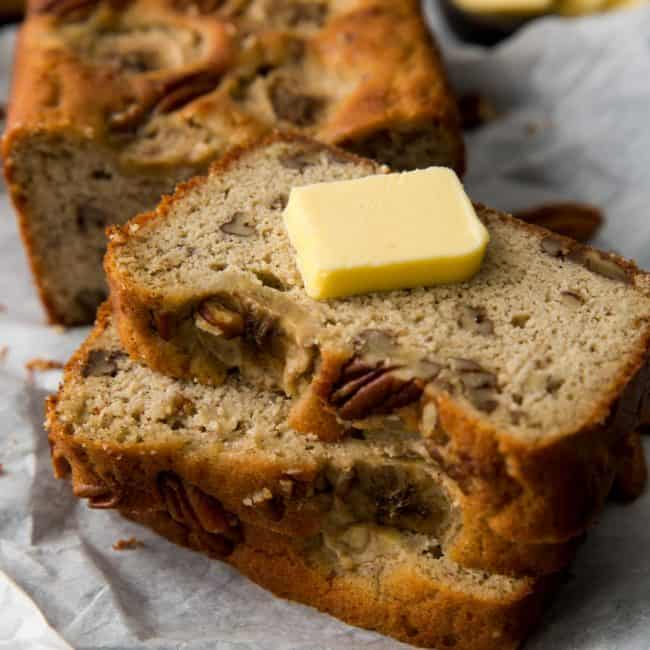 Keto Banana Bread
Dense and nutty keto banana bread perfect to pair with a pat of butter!
Servings 12
Calories per serving 332kcal
Prep Time: 20 minutes
Cook Time: 45 minutes
Instructions:
Preheat the oven to 350F. Line a 9-inch loaf pan with parchment paper and set aside.

In a small mixing bowl, combine almond flour, coconut flour, baking powder, cinnamon, and salt; mix well.

In a separate larger bowl, combine butter, cream cheese, erythritol, and stevia, mixing until smooth. Add in the eggs, one at a time, then milk and banana extract, mixing until well combined. The mixture will look curdled, but that's alright.

Add dry mixture to wet and mix well, until combined. Fold in nuts (if using), then transfer to the lined pan. Cover the pan completely in aluminum foil.

Bake the banana bread for 45-50 minutes, removing the tin foil around the 40 minute mark, to allow top to brown. Remove from the oven once the center is mostly set.

Let the bread cool in the pan completely, before slicing.
Nutrition Facts
Keto Banana Bread
Amount Per Serving
Calories 332 Calories from Fat 288
% Daily Value*
Fat 32g49%
Saturated Fat 13g65%
Trans Fat 1g
Cholesterol 108mg36%
Sodium 284mg12%
Potassium 146mg4%
Carbohydrates 7g2%
Fiber 3g12%
Sugar 1g1%
Protein 7g14%
Vitamin A 629IU13%
Vitamin C 1mg1%
Calcium 94mg9%
Iron 1mg6%
* Percent Daily Values are based on a 2000 calorie diet.
Written By