There are keto nachos and keto dips, but are there keto chips? If you love salty snacks that crunch in your mouth and leave crumbs on your couch, you need to check out our 10 Best Keto Chip options.
These chip alternatives can help satisfy your cravings on a keto diet and hopefully fill that crack in your heart where Lays and Ruffles used to live. This long list of options will help you stay on track with your diet and weight loss journey to health.
Best Homemade: Keto Tortilla Chips (Scroll for Recipe)
Low-carb diets don't have to be about deprivation, which is why we continue to create keto copycats of your favorite snacks. If chips aren't your snack of choice, perhaps you might like some of these keto recipes.
What Chips are Keto-Friendly?
Since most chips on the market today are made with potatoes or corn flour, it's safe to say most chip brands are not keto-friendly. Fifteen potato chips is about 15 grams of carbs. That's one carb per chip.
Lay's makes its chips with potatoes, vegetable oil and salt, so not only are they high in carbs, but they are also are cooked in unhealthy oil. Corn, Canola, and soybean oil are highly processed and contain extremely high levels of omega-6 fatty acids which lead to inflammation.
Are Tortilla Chips Keto-Friendly?
Tortilla chips are typically made with corn, vegetable oil and salt. One serving of Tostitos Nacho chips comes in at 32 grams of carbs per serving (40 chips). Having a few chips isn't necessarily going to ruin your keto macros, but who can stop at just one handful?
The chip aisle at your Aldi or Publix is going to be Carbohydrate Junk Food City. Stick to the keto chips in our list and you will be just fine.
The 10 Best Keto Chips
Chomp down on the best keto chips from store-bought to homemade and everything in between.
1. Pork Rinds – 0g Net Carbs
Pork rinds (also known as chicharrones or pork cracklins) are made out of fried pork skin, making them the quintessential keto carnivore snack. Sprinkle with taco seasoning and some shredded cheese and you've got keto nachos in a matter of minutes.
Look for brands that fry the rinds in pork fat like EPIC Provisions and 4505 Meats.
Avoid any pork rinds that list vegetable oil in the ingredients.
Pair pork rinds with any keto-friendly dip or try delicious flavors like Chili & Salt or Jalapeno Cheddar.
2. Quest Keto Tortilla Chips – 4g Net Carbs
Quest Protein is most famous for its low-carb bars and protein powders, but the company has officially changed the game with keto tortilla chips and protein chips. Each small bag is 18g of protein and only 4g of net carbs, so order a box on Amazon and try some of the flavors below.
Nacho Cheese (Matt & Megha's Favorite!)
Loaded Taco
Chili Lime
Spicy Sweet Chili
Barbecue
Sour Cream & Onion
Cheddar & Sour Cream
Quest makes their keto chips with a long list of processed ingredients, starting out with protein powder, sunflower oil, and corn starch. These aren't your healthiest keto chip option, but they are convenient and low-carb.
3. Pepperoni Chips – 1g Net Carbs
Swap potatoes for pepperoni and make your own keto chips at home. Pepperoni Chips are one of the easiest keto recipes on the planet and they pair perfectly with a Low-Carb Pizza Dip. If you've got a Friday night hankering for pizza AND chips, you're going to want to give this recipe a try.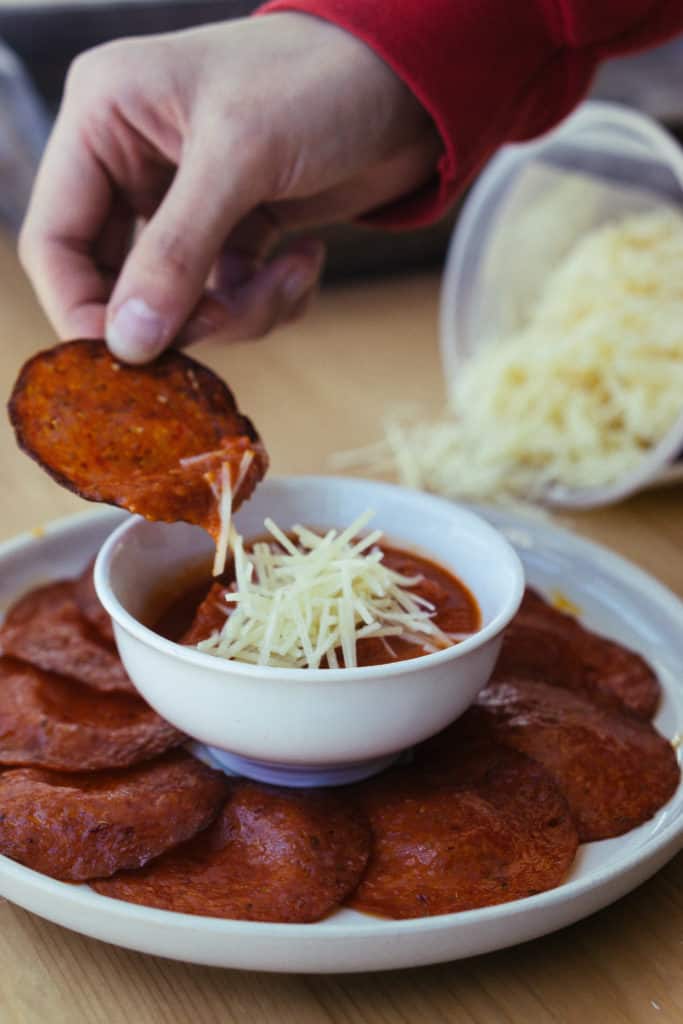 4. Mushroom Chips
You read that correctly, mushroom chips are actually an awesome alternative to potato chips. Not only are they easy to make, mushroom chips are also crispy and full of flavor.
You will need just two simple ingredients to execute this recipe and we guarantee you will be making it over and over. The key is to get the mushrooms completely dried out so they are crispy. Seasonings can add to the flavor but these are great with just a light pinch of salt.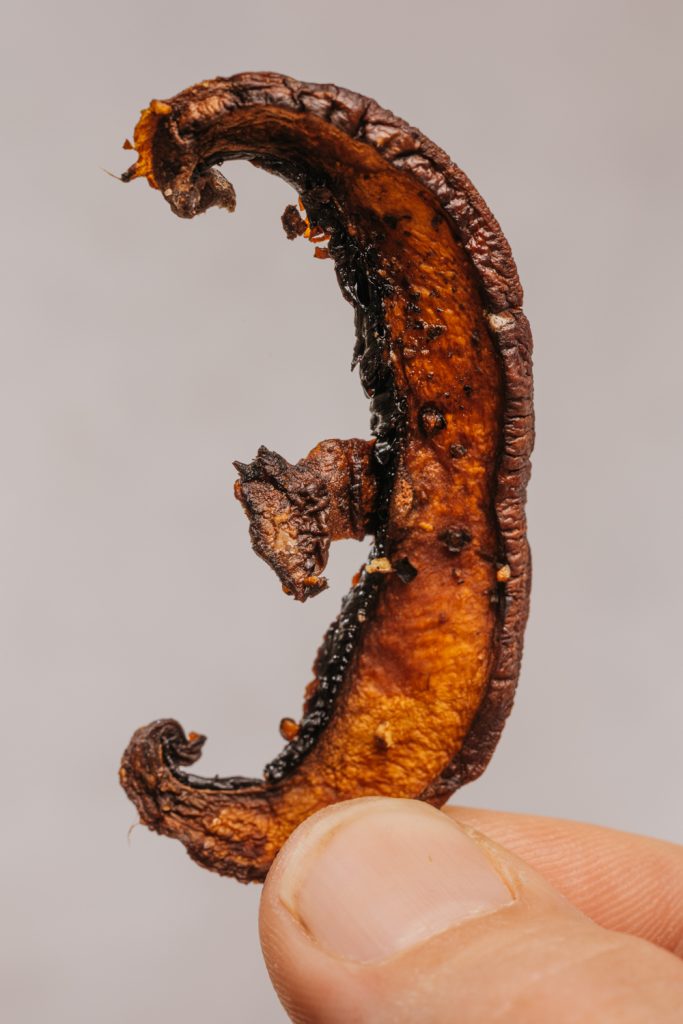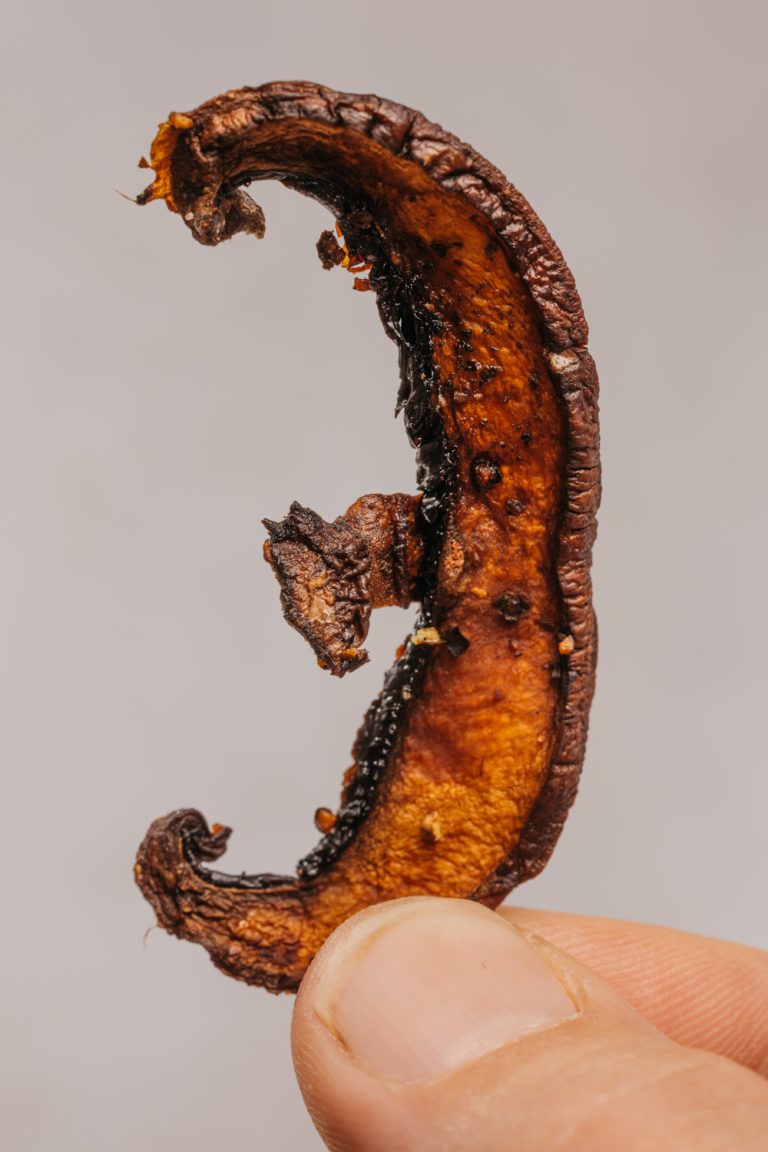 5. Cheese Crisps – 0g Net Carbs
What's better than cheese? Crispy cheese. Brands have jumped on the low-carb band wagon with all kinds of cheese crisps, which are exactly what they say they are… crispy cheese! Here are a few of our favorites.
Cheese crisps are great on their own and come in a variety of flavors. Enjoy them dipped in salsa or even as a Keto Caesar salad Topper.
6. Specialty Keto Chips
Keto people are getting creative with their low-carb chip replacements, swapping Pringles for everything from chicken skin to seaweed. Have you tried any of these keto chips?
7. Hilo Life Almond Flour Tortilla Chips – 3g Net Carbs
Hilo life chips are one of the newest keto products on the scene. These chips are unlike anything else currently available. Made with almond flour they truly resemble a flavored tortilla chip and are a great chip replacement for a keto diet. Give Hilo life a try if you're looking for a keto chip that is actually crunchy!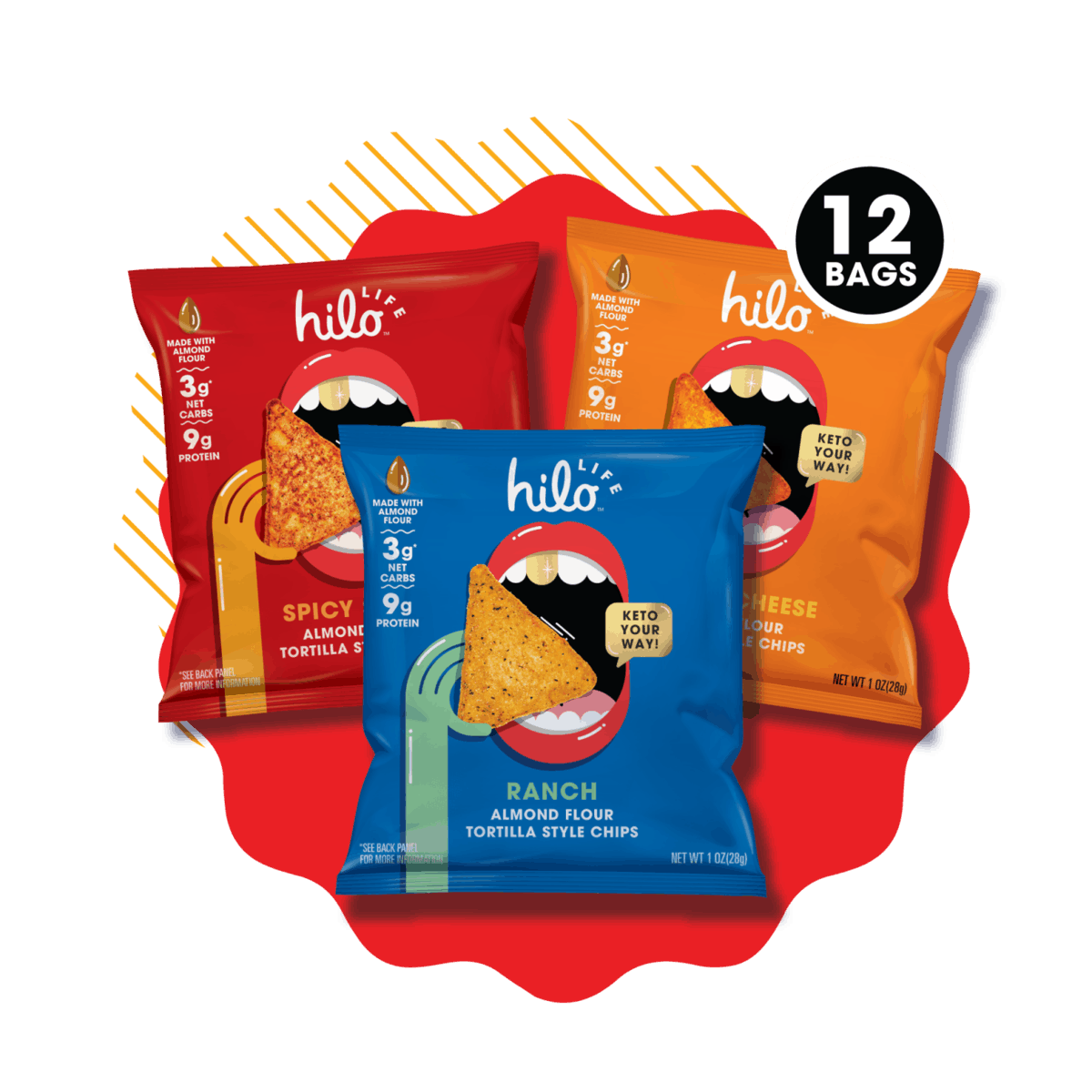 8. Radish Chips – 1g Net Carbs
We love roasting radishes as an alternative to starchy potatoes, but it turns out they make a great keto chip replacement. There are a few recipes you can try online and whether or not you want to deep fry or oven roast, you're guaranteed a low-carb crunch.
9. Flaxseed Chips – 3g Net Carbs
If you're in the market for a healthy, homemade, EASY recipe for keto chips, then Flaxseed chips are just the thing. Simply season flaxseeds, soak overnight, then bake. These chips are great with any keto dip and are perfect for wine and cheese parties.
10. Keto Tortilla Chips
Tortilla chips are perfect for dipping into pretty much anything. We love making this super simple two ingredient recipe for a quick snack or party bite.
They are cheesy with a little bit of a bite that keeps them strong and sturdy for more toppings. If you've been looking for something to use as nachos this is going to be your recipe.
How to Make 2 Ingredient Keto Tortilla Chips
Time to make the tastiest keto chips ever! Get your guacamole ready and let's start baking.
Ingredients
To make these chips you will need equal parts almond flour and shredded mozzarella cheese, make sure it is not reduced fat.
Then you will need all your favorite spices. We used chili powder, paprika, garlic powder, salt, and pepper.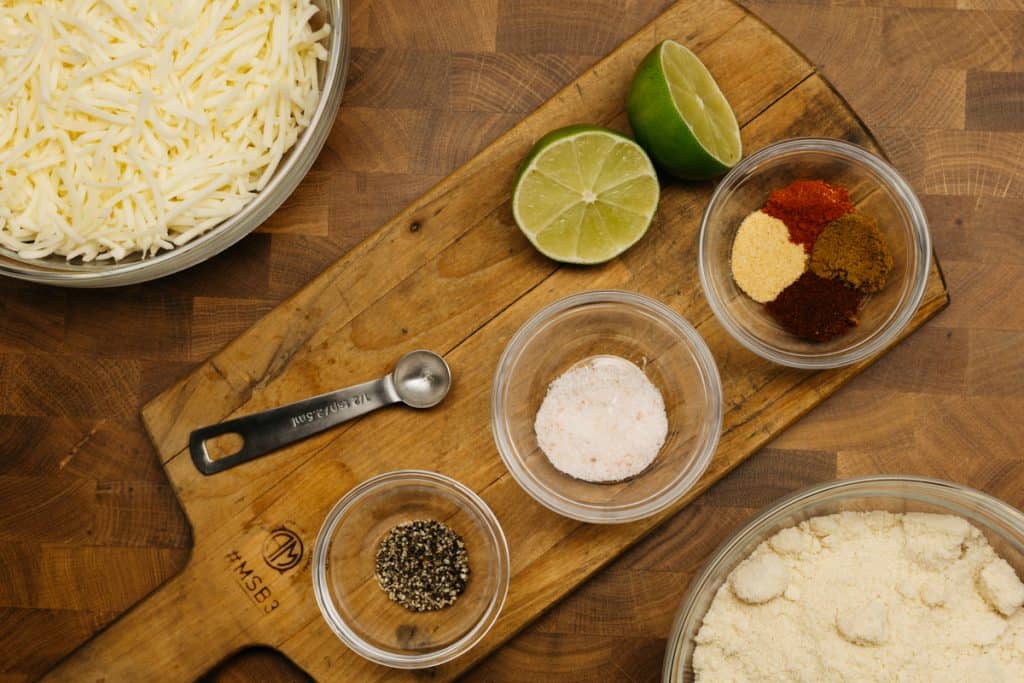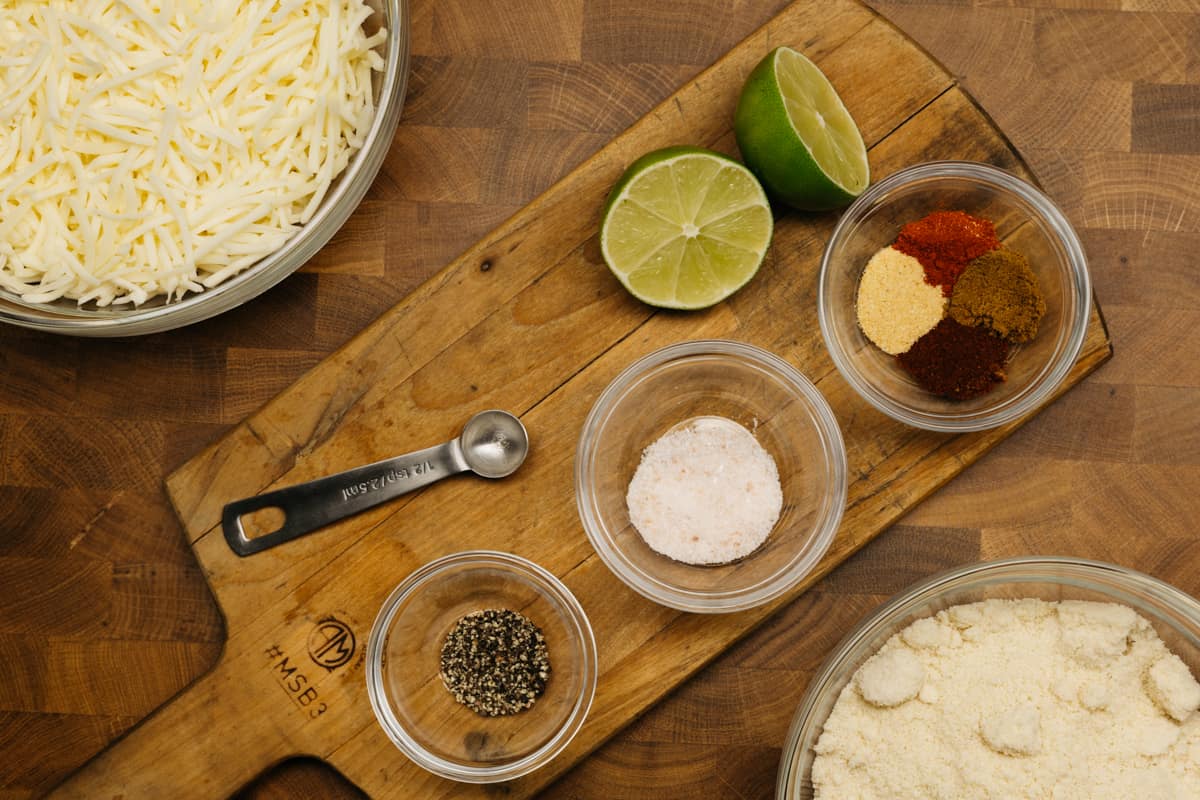 Making Keto Tortilla Chips
To make these chips begin by mixing the flours and spices together in a large bowl.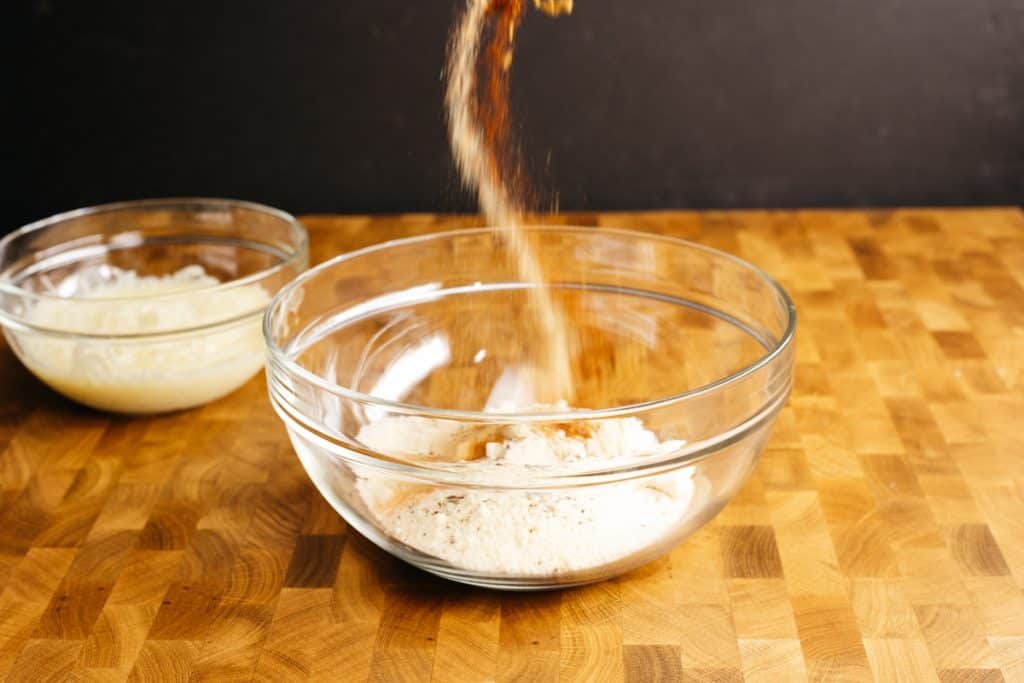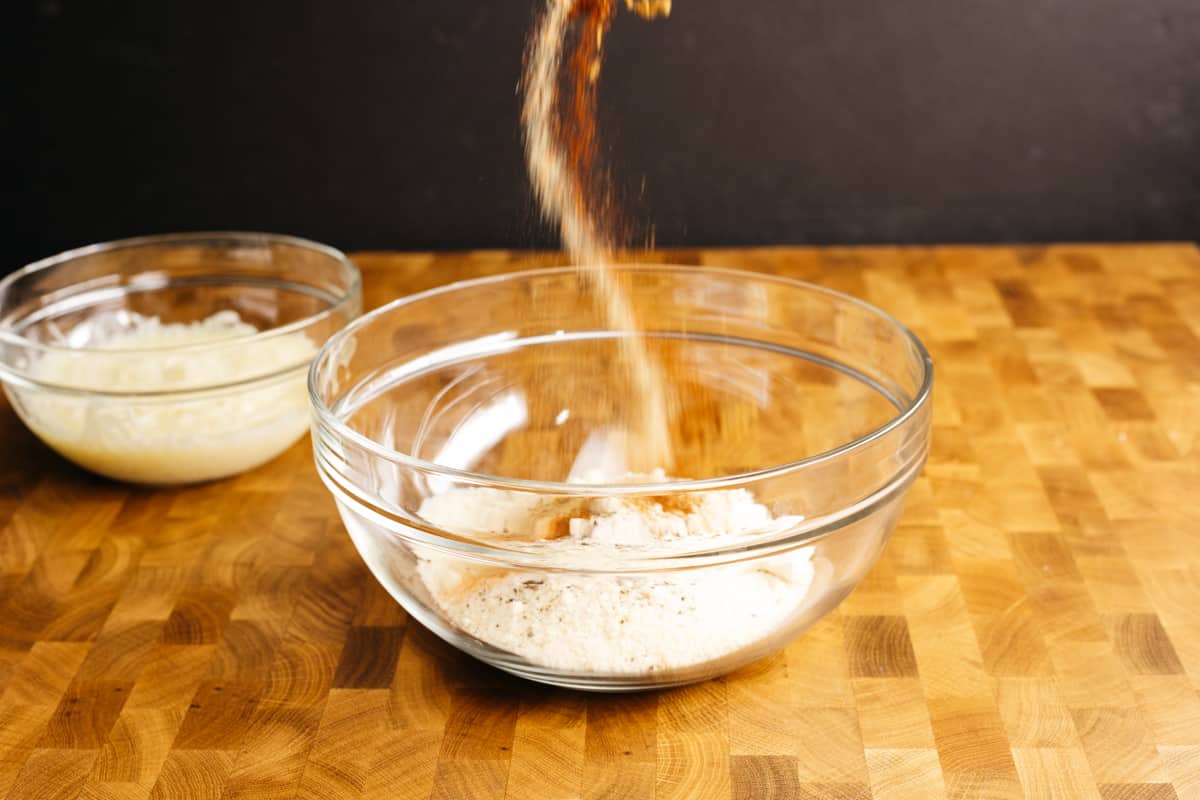 Now melt the shredded mozzarella in a microwave safe bowl. The cheese should be melted but not burnt or browned. Add it to the dry ingredients and mix well.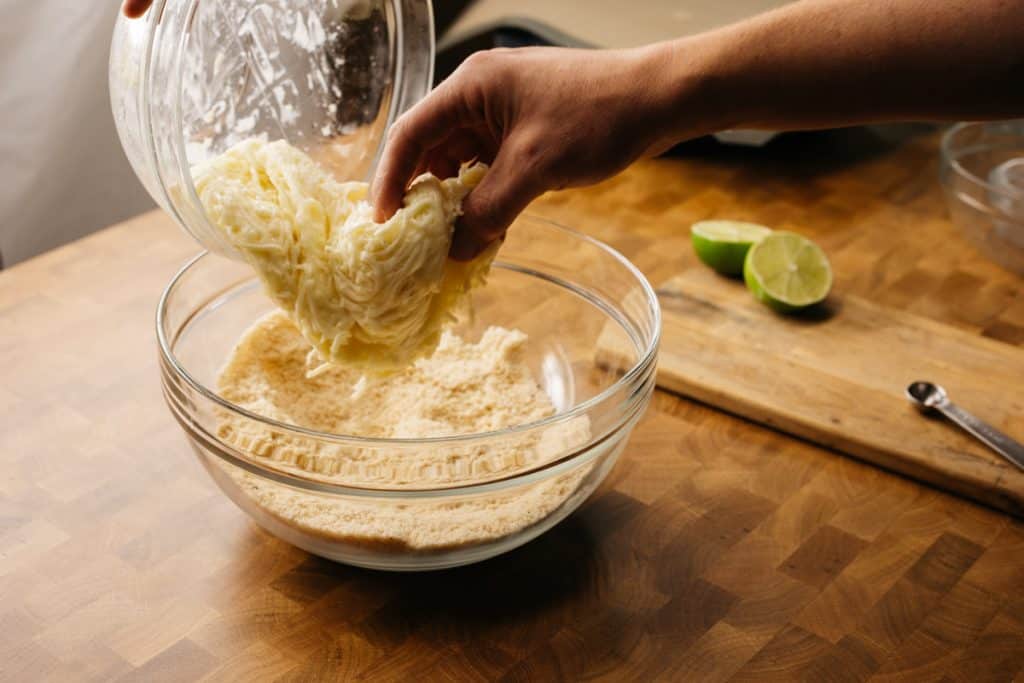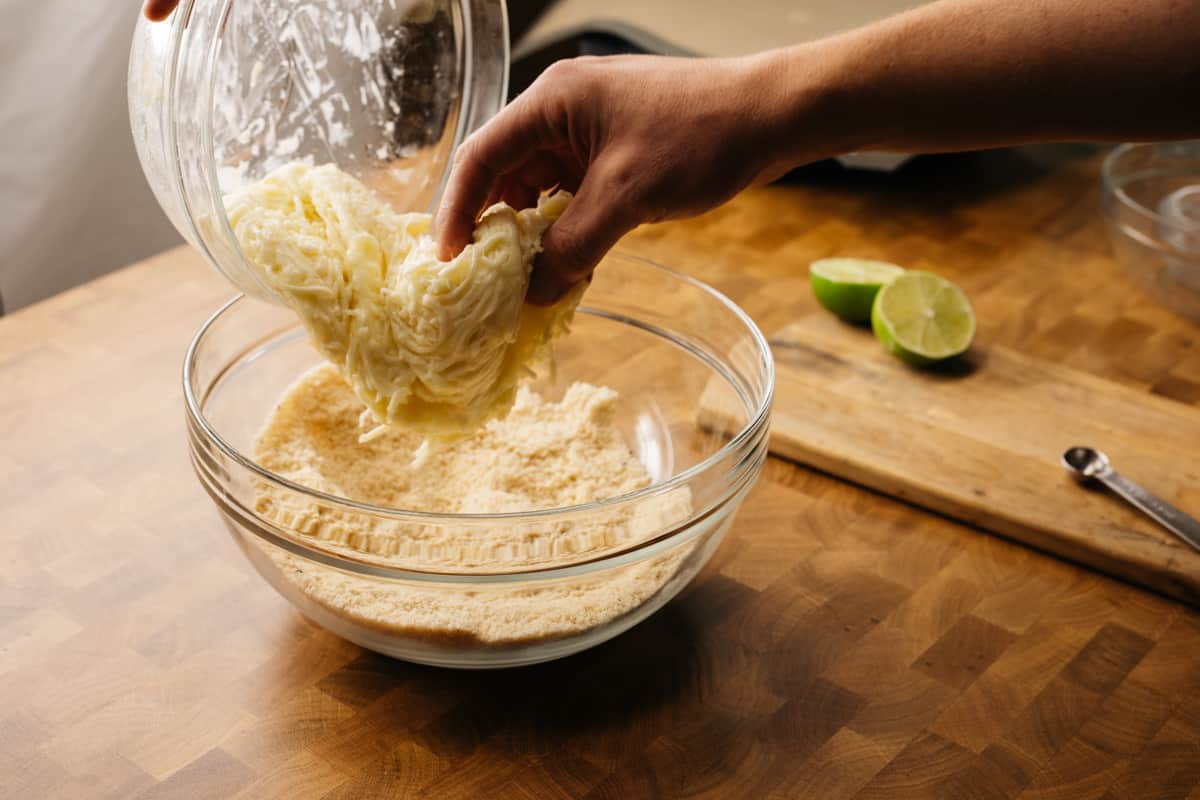 Next knead the dough until it is uniform in consistency. You can heat the dough for 10-15 seconds if the cheese gets too stiff.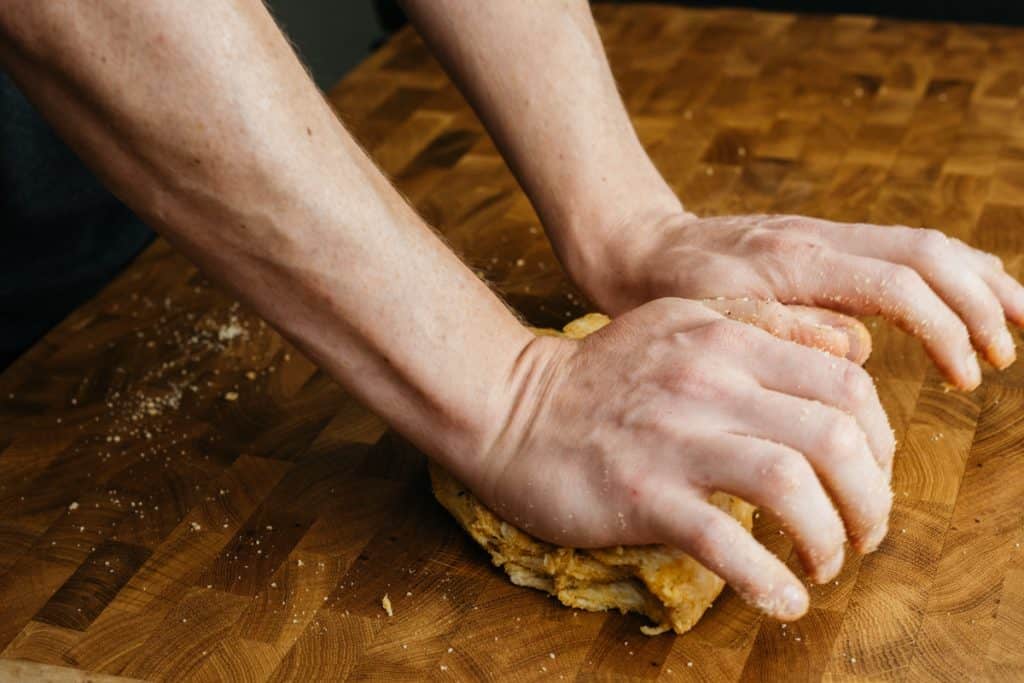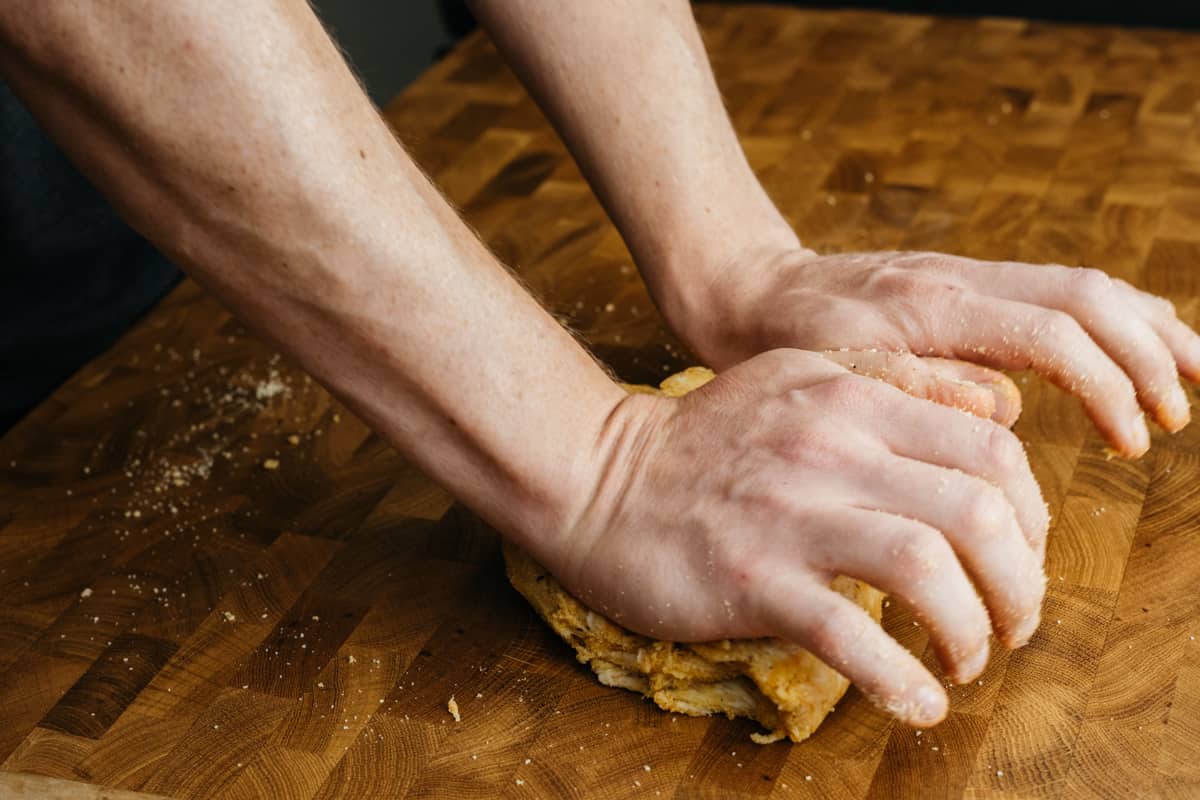 Once the dough is kneaded, roll out the dough thinly on a clean surface. It should be just a little thicker than normal chips.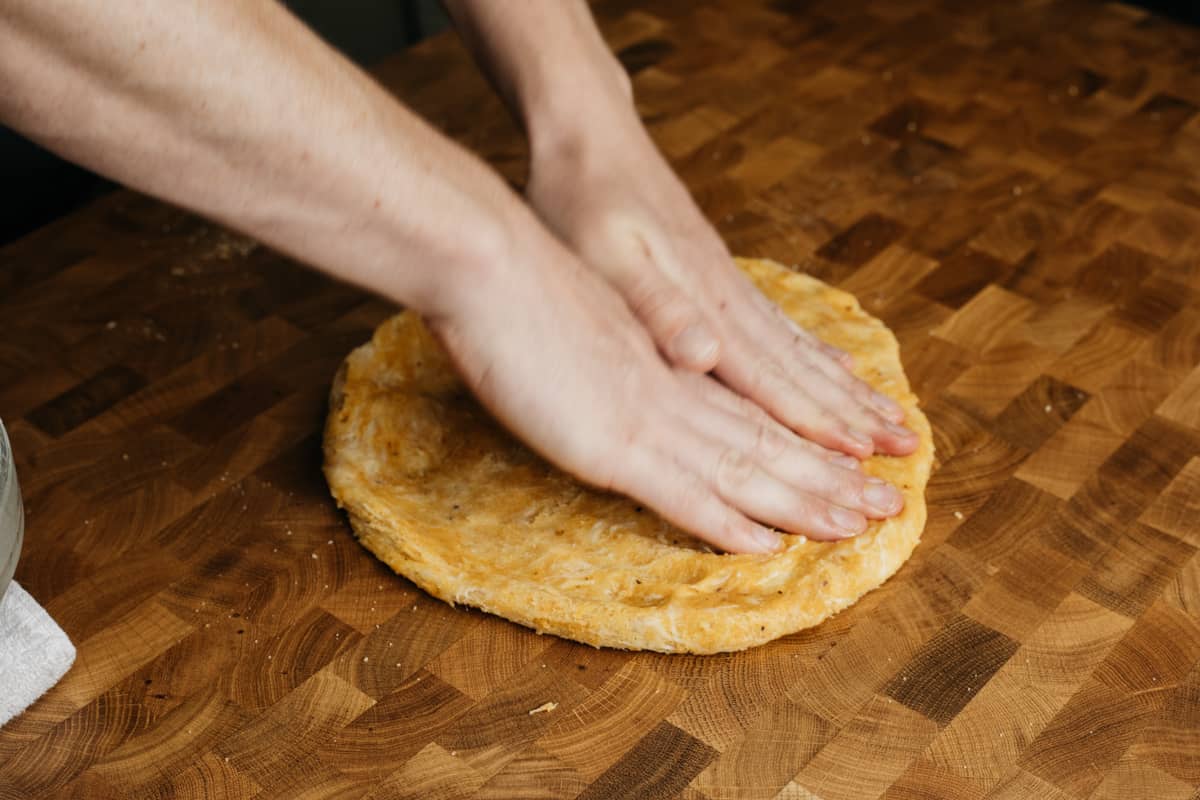 Cut the dough into chips and bake in the oven for 12-15 minutes at 350. Flip the chips halfway to allow them to become golden all over.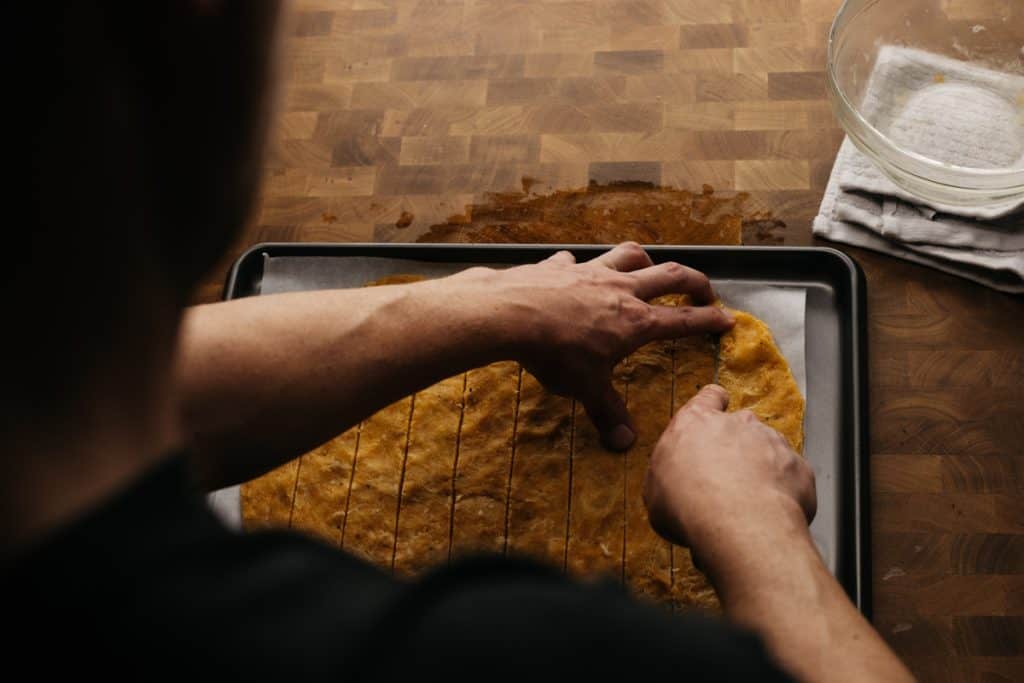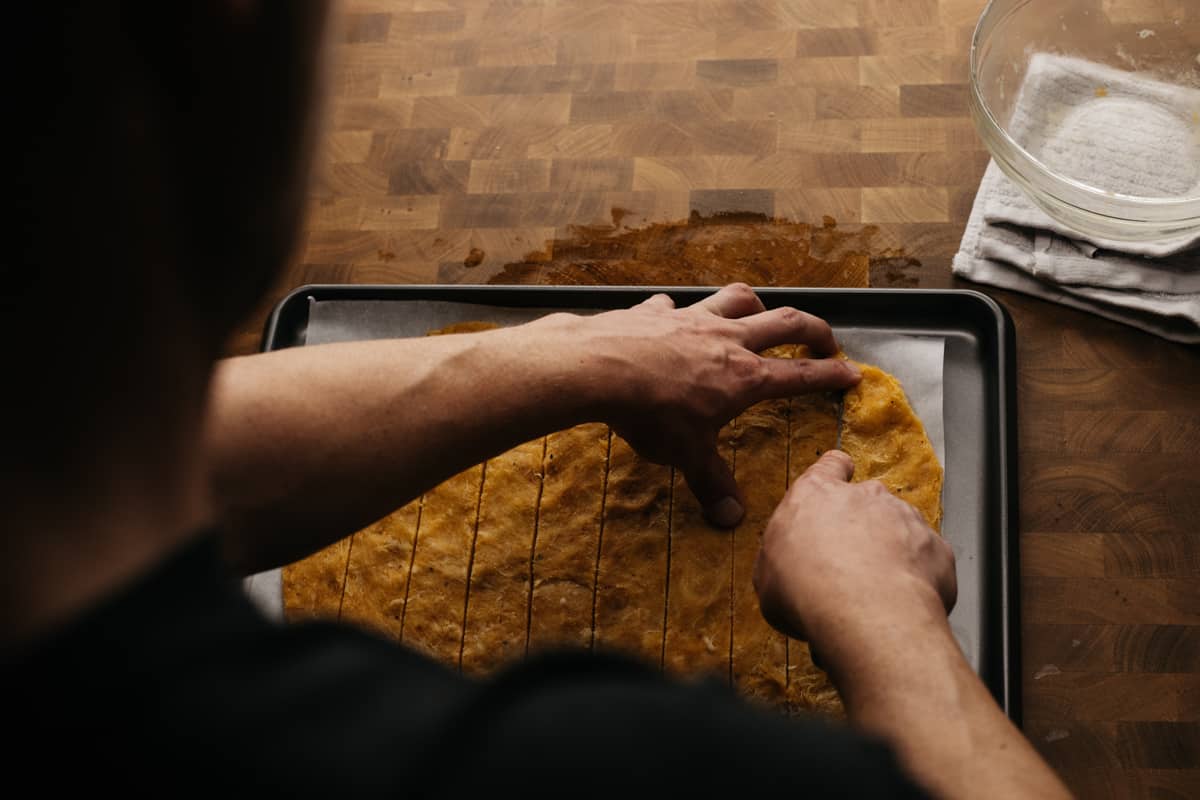 Let the chips cool a bit so they can crisp before eating.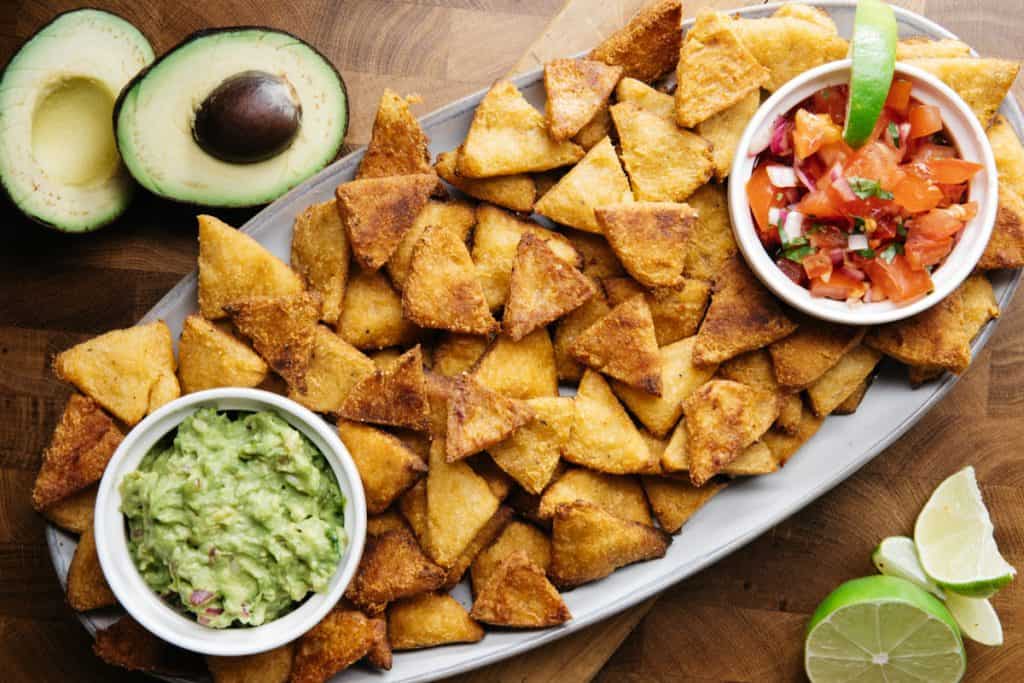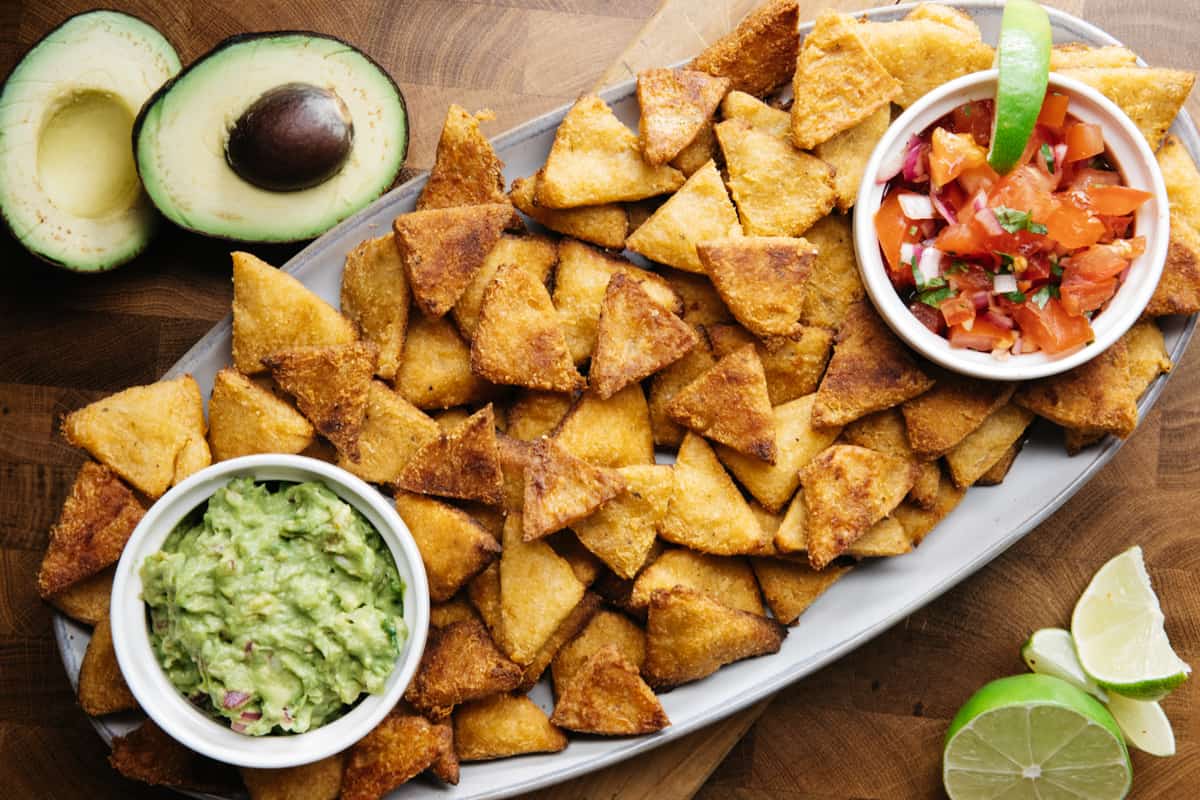 Summary of Keto Chip Options
We like to keep things simple here at KetoConnect, and believe you can't go wrong with a bag of pork rinds. We also are big fans of the Nacho flavor Quest Chips which are perfect for late-night Netflix sessions.
What is your favorite keto chip? What did we miss?
In summary
Most traditional chip brands like Lay's and Ruffles are high carb and made with refined vegetable oils.
Pork Rinds are zero-carb keto chips made with simple ingredients.
Quest Chips are high protein and taste like real nacho chips without all the carbs.
Pepperoni Chips are an easy at-home chip recipe everyone in the family will love.
Vegetables are a classic, crunchy heathier alternative to potato chips. Celery, cucumber, and zucchini are some great options for dipping.
Cheese Crisps are becoming widely available in-stores and are only 1g of carb per serving.
Chicken Chips might sound peculiar, but they're worth the shot.
Homemade Cheese Crisps are ready in minutes and use simple ingredients you already have in the fridge.
Radishes are a great alternative to potatoes, making them perfect for frying and roasting into chips.
Make Low-Carb Tortilla chips at home or get creative with low-carb wraps and seasonings. Cut up a wrap and roast your own keto chips.
Flaxseed Chips require just one ingredient and are full of fiber.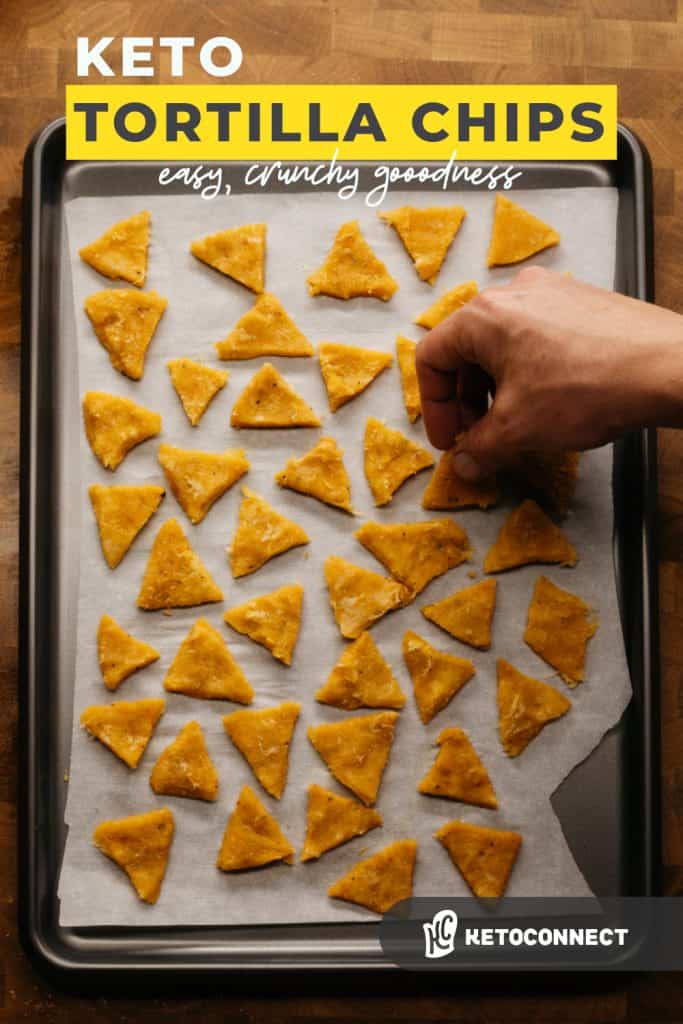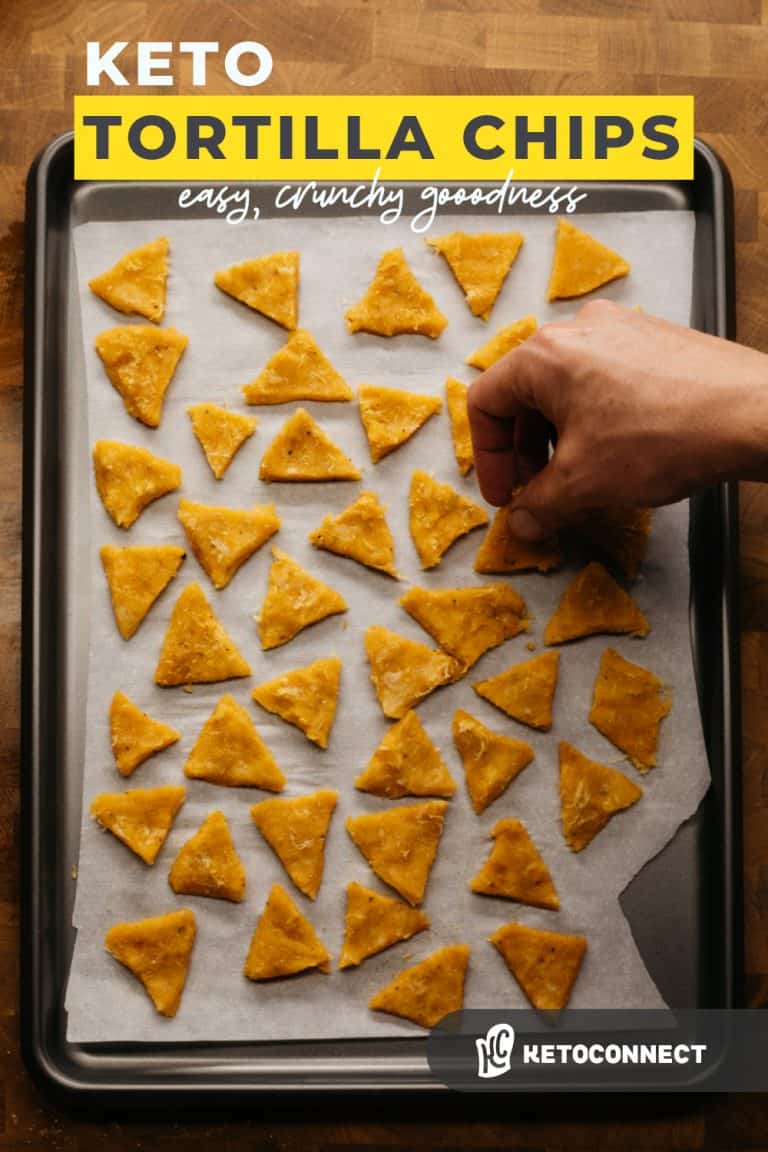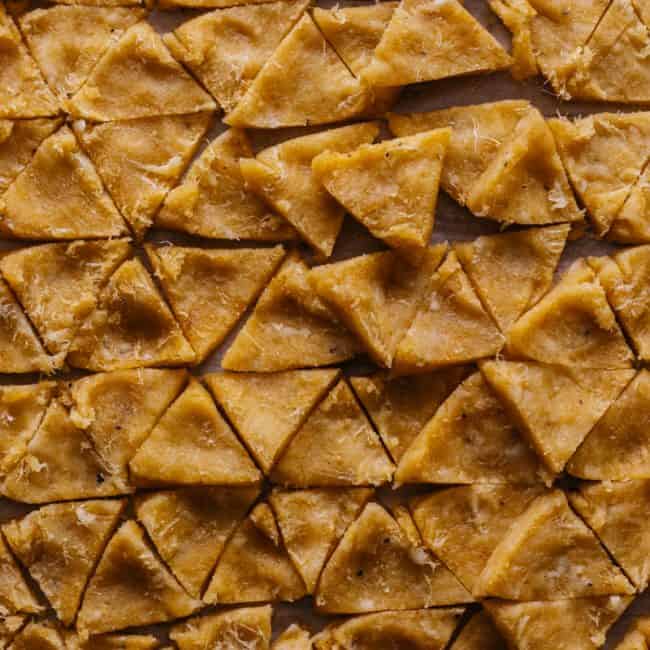 Keto Chips Recipe – Tortilla Style, 2 Ingredients
Cheesy and salty tortilla chips perfect for dipping into guac.
Total Time 22 minutes
Servings 6
Calories per serving 212kcal
Prep Time: 10 minutes
Cook Time: 12 minutes
Ingredients:
2 cups Almond Flour
2 cups Shredded mozzarella cheese Avoid reduced fat
Instructions:
Preheat the oven to 350F.

Mix together the almond flour and spices in a large bowl.

In another bowl melt the cheese until it is soft, but not bubbling and burnt. Add it to the flour and mix/ knead the dough well.

Now thinly roll out the kneaded dough on a clean surface. Cut into the shape of tortilla chips and set aside on another baking sheet lined with parchment paper.

Bake for 12-15 minutes flipping halfway through. The chips should be crispy and golden.

Allow to cool a few minutes for the full crisp to form. Enjoy with your favorite dips.
Nutrition Facts
Keto Chips Recipe – Tortilla Style, 2 Ingredients
Amount Per Serving
Calories 212 Calories from Fat 171
% Daily Value*
Fat 19g29%
Saturated Fat 1g5%
Polyunsaturated Fat 1g
Monounsaturated Fat 1g
Sodium 2mg0%
Potassium 7mg0%
Carbohydrates 8g3%
Fiber 4g16%
Sugar 1g1%
Protein 8g16%
Vitamin A 67IU1%
Vitamin C 1mg1%
Calcium 80mg8%
Iron 2mg11%
* Percent Daily Values are based on a 2000 calorie diet.
Written By