There are keto nachos and keto dips, but are there keto chips? If you love salty snacks that crunch in your mouth and leave crumbs on your couch, you need to check out our 10 Best Keto Chip options.
These chip alternatives can help satisfy your cravings on a keto diet and hopefully fill that crack in your heart where Lays and Ruffles used to live. This long list of options will help you stay on track with your diet and weight loss journey to health.
Low-carb diets don't have to be about deprivation, which is why we continue to create keto copycats of your favorite snacks. If chips aren't your snack of choice, perhaps you might like some of these keto recipes.
FREE PRINTABLE: Keto Food List
Join 150,000 others to get a FREE keto food list and new recipes every week!
What Chips are Keto-Friendly?
Since most chips on the market today are made with potatoes or corn flour, it's safe to say most chip brands are not keto-friendly. Fifteen potato chips is about 15 grams of carbs. That's one carb per chip.
Lay's makes its chips with potatoes, vegetable oil and salt, so not only are they high in carbs, but they are also are cooked in unhealthy oil. Corn, Canola, and soybean oil are highly processed and contain extremely high levels of omega-6 fatty acids which lead to inflammation.
Are Tortilla Chips Keto-Friendly?
Tortilla chips are typically made with corn, vegetable oil and salt. One serving of Tostitos Nacho chips comes in at 32 grams of carbs per serving (40 chips). Having a few chips isn't necessarily going to ruin your keto macros, but who can stop at just one handful?
The chip aisle at your Aldi or Publix is going to be Carbohydrate Junk Food City. Stick to the keto chips in our list and you will be just fine.
The 10 Best Keto Chips
Chomp down on the best keto chips from store-bought to homemade and everything in between.
1. Pork Rinds – 0g Net Carbs
Pork rinds (also known as chicharrones or pork cracklins) are made out of fried pork skin, making them the quintessential keto carnivore snack. Sprinkle with taco seasoning and some shredded cheese and you've got keto nachos in a matter of minutes.
Pork rinds are essential to our keto kitchen and come in handy for crunchy toppings and crispy coatings. Try pork rinds in these low-carb recipes.
2. Quest Keto Tortilla Chips – 4g Net Carbs
Quest Protein is most famous for its low-carb bars and protein powders, but the company has officially changed the game with keto tortilla chips and protein chips. Each small bag is 18g of protein and only 4g of net carbs, so order a box on Amazon and try some of the flavors below.
Quest makes their keto chips with a long list of processed ingredients, starting out with protein powder, sunflower oil, and corn starch. These aren't your healthiest keto chip option, but they are convenient and low-carb.
3. Pepperoni Chips – 1g Net Carbs
Swap potatoes for pepperoni and make your own keto chips at home. Pepperoni Chips are one of the easiest keto recipes on the planet and they pair perfectly with a Low-Carb Pizza Dip. If you've got a Friday night hankering for pizza AND chips, you're going to want to give this recipe a try.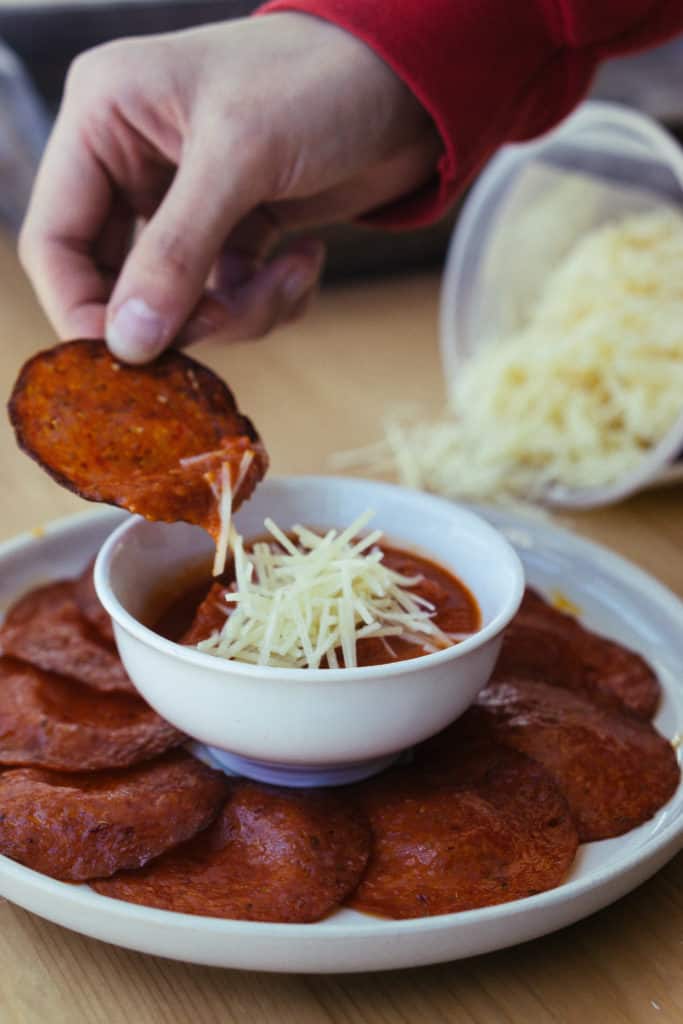 Check out more low-carb pizza recipes like our Zero Carb Pizza Crust, Keto Deep Dish, and Keto Pizza Casserole.
4. Sliced Veggies
Crunchy, low-calorie and low-carb. Raw vegetables may not be salty, but they go perfectly with a cheesy, creamy dip. A few of our favorite veggies for dipping include zucchini, cucumber, celery, and bell peppers. Their subtle sweetness and cool crunch pair well these delicious keto dips.
Not only are veggies one of the healthiest keto chips, but you can find them at every grocery store and they aren't expensive.
5. Cheese Crisps – 0g Net Carbs
What's better than cheese? Crispy cheese. Brands have jumped on the low-carb band wagon with all kinds of cheese crisps, which are exactly what they say they are… crispy cheese! Here are a few of our favorites.
Cheese crisps are great on their own and come in a variety of flavors. Enjoy them dipped in salsa or even as a Keto Caesar salad Topper.
6. Specialty Keto Chips
Keto people are getting creative with their low-carb chip replacements, swapping Pringles for everything from chicken skin to seaweed. Have you tried any of these keto chips?
If you're interested in trying chicken chips, make our Crispy Baked Chicken skin, perfect for dipping in guacamole.
7. Homemade Cheese Crisps – 1.5g Net Carbs
Chances are, you already have cheese in your fridge and spices in the pantry. Whip up a batch of cheese crisps right in your own kitchen and flavor them however you please. These Jalapeno Parmesan Crisps are the perfect appetizer or addition to a charcuterie board.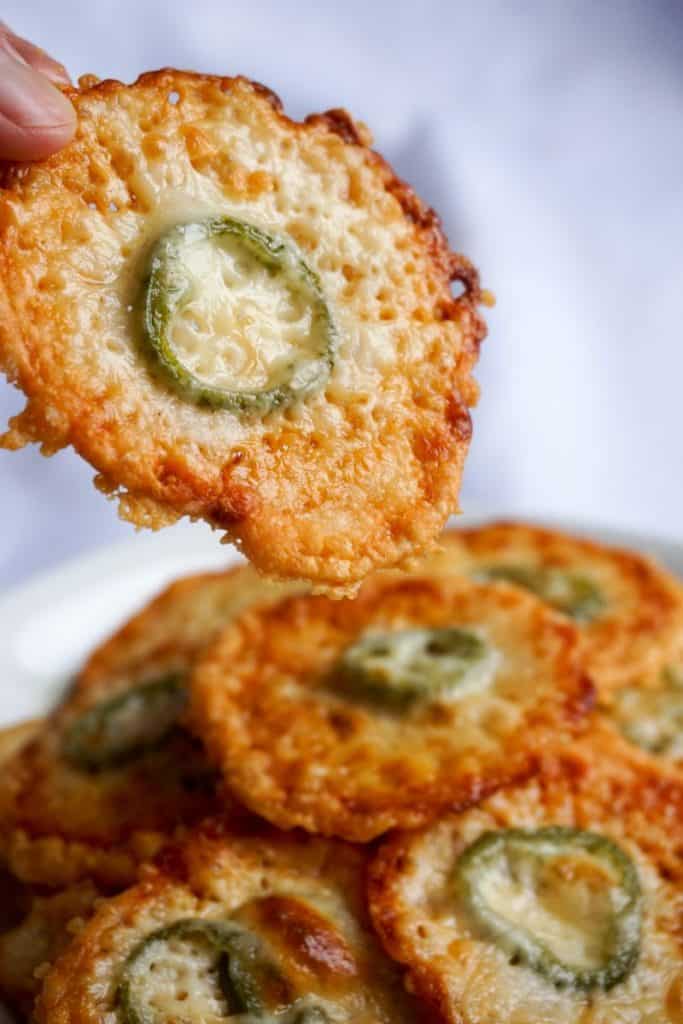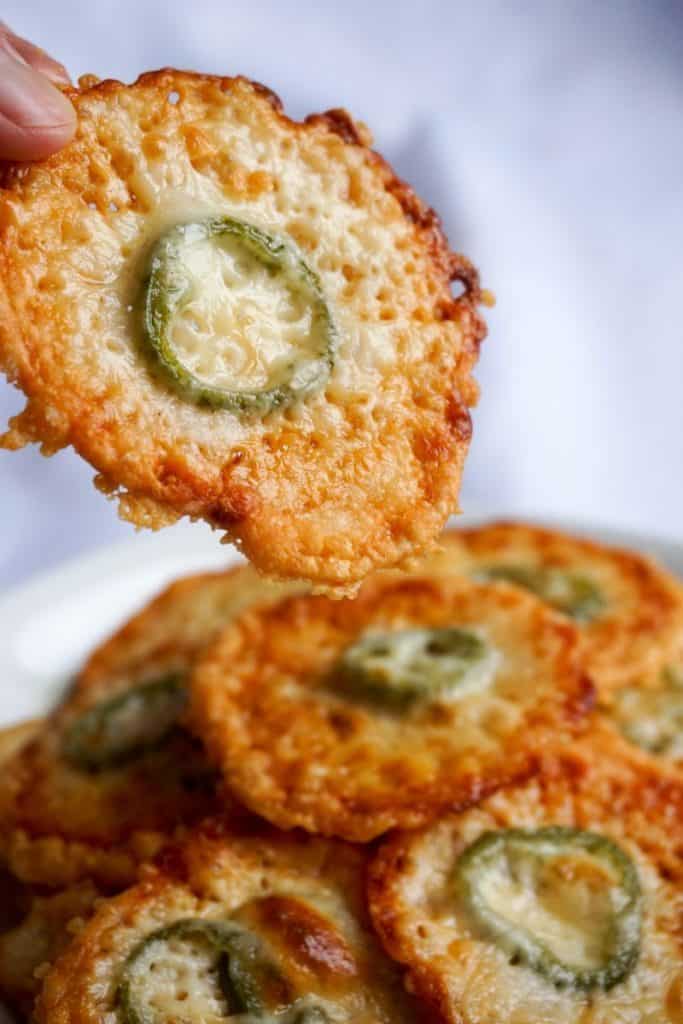 If you're more of a cracker person, try our Basil Bites made with cheese, coconut flour, and fresh herbs.
8. Radish Chips – 1g Net Carbs
We love roasting radishes as an alternative to starchy potatoes, but it turns out they make a great keto chip replacement. There are a few recipes you can try online and whether or not you want to deep fry or oven roast, you're guaranteed a low-carb crunch.
9. Keto Tortilla Chips
You can find plenty of keto tortilla chips recipes online made with almond flour, egg, and cheese, but they can be time consuming. To save time, cut up Joseph's Wraps and roast it in the oven until crispy. Joseph's products do contain wheat and gluten, but the wraps are only 8g net carbs each.
Siete Foods offers grain-free tortilla chips which are about 17g of carbs per serving (around 1g of carbs per chip). If you can portion out the chips and stay within your daily keto macros, these are a healthier option than traditional Tostitos.
10. Flaxseed Chips – 3g Net Carbs
If you're in the market for a healthy, homemade, EASY recipe for keto chips, then Flaxseed chips are just the thing. Simply season flaxseeds, soak overnight, then bake. These chips are great with any keto dip and are perfect for wine and cheese parties.
If you'd rather save yourself the mess, you can buy flaxseed crackers from Flackers or Eve's Black Sesame Crackers.
The Best Keto Chips
We like to keep things simple here at KetoConnect, and believe you can't go wrong with a bag of pork rinds. We also are big fans of the Nacho flavor Quest Chips which are perfect for late-night Netflix sessions.
What is your favorite keto chip? What did we miss?
In summary
Most traditional chip brands like Lay's and Ruffles are high carb and made with refined vegetable oils.
Pork Rinds are zero-carb keto chips made with simple ingredients.
Quest Chips are high protein and taste like real nacho chips without all the carbs.
Pepperoni Chips are an easy at-home chip recipe everyone in the family will love.
Vegetables are a classic, crunchy heathier alternative to potato chips. Celery, cucumber, and zucchini are some great options for dipping.
Cheese Crisps are becoming widely available in-stores and are only 1g of carb per serving.
Chicken Chips might sound peculiar, but they're worth the shot.
Homemade Cheese Crisps are ready in minutes and use simple ingredients you already have in the fridge.
Radishes are a great alternative to potatoes, making them perfect for frying and roasting into chips.
Make Low-Carb Tortilla chips at home or get creative with low-carb wraps and seasonings. Cut up a wrap and roast your own keto chips.
Flaxseed Chips require just one ingredient and are full of fiber.