Sometimes all you're looking for is to complete your meal with a quick and delicious side dish like these Air Fryer Biscuits. Easy to make, easy to clean and perfect every time. We guarantee you'll be making these on a nightly basis!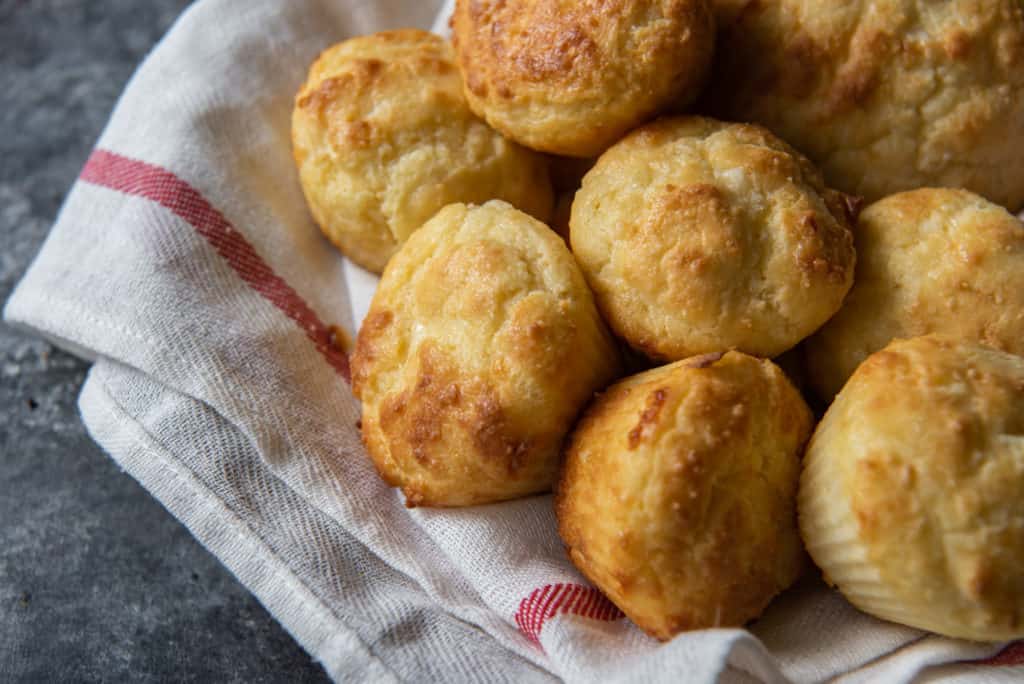 Delicious Keto Side Dishes
When it comes to changing your diet the hardest part can often be what foods to eat. We all know you can't go wrong with a steak or some chicken thighs, but what to pair with that healthy protein with can often be a challenge. If these air fryer biscuits aren't cutting it or you're looking for a change up we've got you covered! Some of our favorites are:
You can check out our food blog for more side dishes and dessert recipes to truly complete your meal!
Using An Air Fryer
I'll admit we jumped on the air fryer train a bit late, but now we can't recommend it enough! We use it several times a week and have experimented with different meats and side dishes. There a couple tips you want to be sure to follow when cooking in an air fryer.
Don't overfill or overlap your meats. This will ensure even cooking and a crispier outcome. No one likes a steamed steak!
Flip or toss meat and veggies. This will help the air circulation reach every part of the food.
Spray with coconut oil to prevent sticking, especially for breaded food. We like to use coconut oil spray, but vegetable oil spray will work well also.
Use parchment paper or foil to line the bottom for easier clean up.
You can check out this article for some other great tips to help you use your air fryer to its maximum potential!
Oh, and don't forget to check out the list of the best keto air fryer recipes!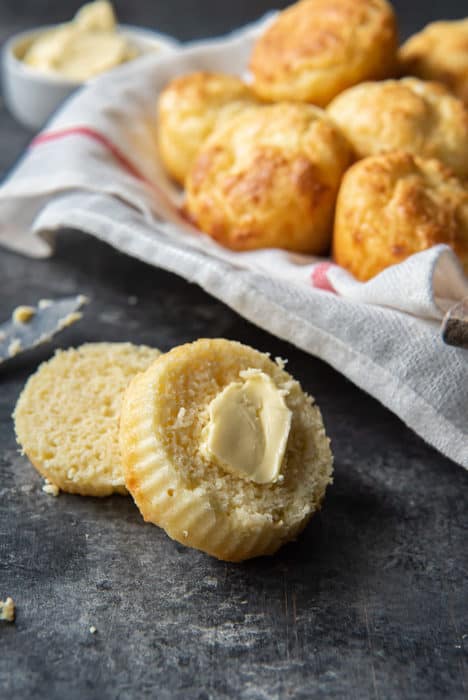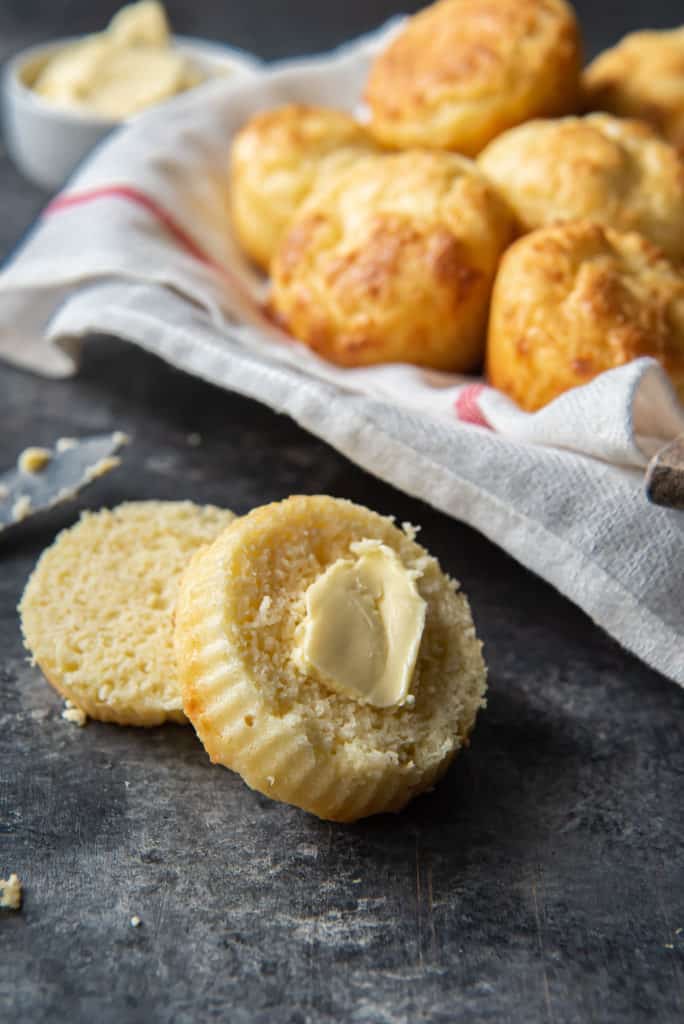 Make The Biscuits
Using an air fryer could not be easier. All you do is add the foods, start and voila, food cooked perfect every time. Clean up is even easier! My favorite part about these air fryer biscuits, taste aside is that you can make them into any shape you want.
The dough can be a bit sticky, but it's easy to work with and the shape of your biscuits is up to you. In the video we show you two methods you can give a try:
Line the bottom with parchment paper and place the dough in blobs. Your result will be round, slightly misshapen biscuits!
Place the dough in cupcake liners (don't forget to grease them!) or silicone molds. Your result will be taller, muffin like biscuits. If you're serving these at a dinner party or holiday dinner I would personally go the cupcake liner route for better presentation!
Either way you make them, you can't make them wrong.
Dinner Is Served!
Serve these low carb air fryer biscuits up with warm with butter as the perfect side dish to tonights family dinner. They'll also make for a great roll replacement at holiday dinners this year. You can change up the add-ins to amp up the flavor and meal prep them for the week.
If I was going to meal prep these for a week of dinners I would fill them with pepper jack cheese, bacon and scallions. What would you do?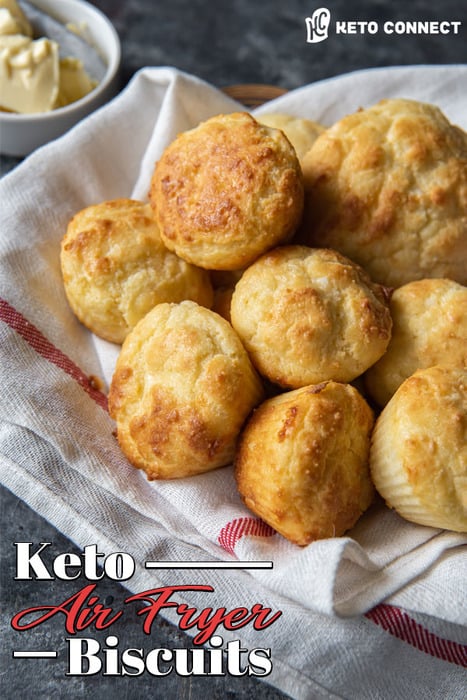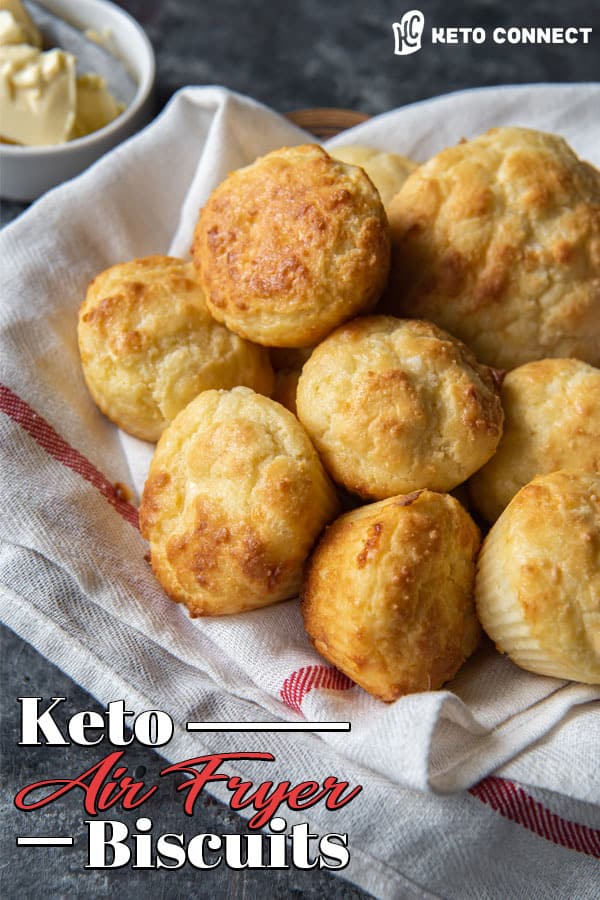 Recipe can be quickly added to MyFitnessPal – Search "KetoConnect – Air Fryer Biscuits"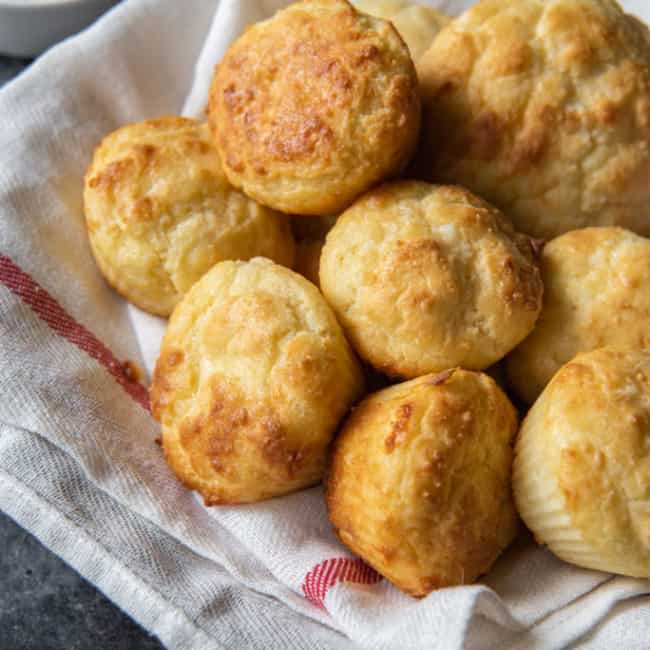 Air Fryer Biscuits
Low-Carb Biscuits made with simple ingredients like almond flour, sour cream, and cheddar cheese.
Servings 9 Biscuits
Calories per serving 167kcal
Prep Time: 5 minutes
Cook Time: 10 minutes
Instructions:
Combine the almond flour, baking powder, and salt in a large bowl. Mix in the cheddar cheese by hand until well combined.

Add eggs, butter, and sour cream to the center and blend with a large fork, spoon, or your hands, until a sticky batter forms.

Fit a piece of parchment paper into your air fryer basket. Drop ¼ cup-sized (for large) or 2 tablespoon-sized (for small) portions of batter onto the parchment.

Air Fry/"Bake" at 400 degrees F for 6 minutes (for small) to 10 minutes (for large), until golden brown and cooked through. Repeat with remaining batter as needed. Serve immediately!

Note: recipe can yield 9 small biscuits or 5 large biscuits. Nutrition is for 9 small biscuits.

Alternatively, you could place the batter in silicone muffin liners and air fry them for taller biscuits (yields 7-9, bakes 10-12 minutes depending on how much you fill them).
Notes
Net Carbs: 2g (per small biscuit) Yields: 9 small biscuits (or 5 large) **Feel free to add other fillers, such as bacon, jalapenos, scallions, etc. Nutrition will vary with additional ingredients.
Nutrition Facts
Air Fryer Biscuits
Amount Per Serving
Calories 167 Calories from Fat 135
% Daily Value*
Fat 15g23%
Carbohydrates 3g1%
Fiber 1g4%
Protein 7g14%
* Percent Daily Values are based on a 2000 calorie diet.
Written By