Chicken marsala doesn't really need to be ketofied, so we know it's already pretty easy to make. However, it can get easier! We've pulled out our instant pot to create a creamy style instant pot chicken marsala that requires minimal effort on your end and maximum flavor in the final product.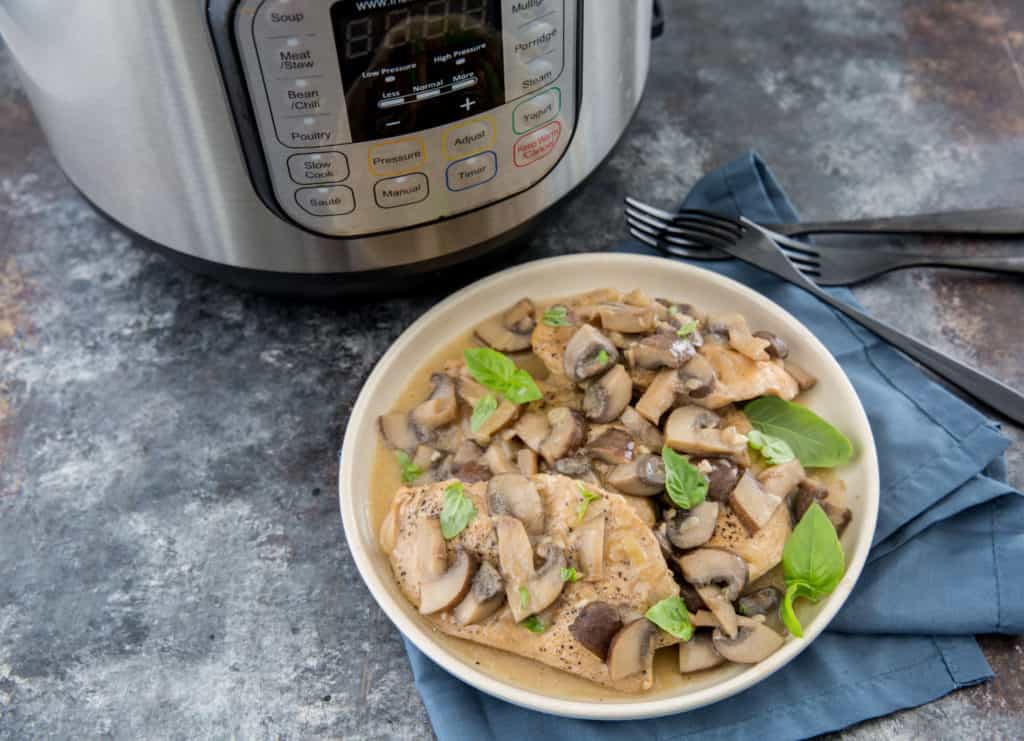 Our Favorite Instant Pot Recipes
I have been loving the instant pot lately, especially for quick dinners! As a mom of an 8 month old, there's always things to clean and do, so by the time dinner comes around I'm pressed for time. The instant pot has been a life saver. Honestly, i've just been throwing meats, veggies and broths in and hoping for the best. It always turns out great.
If you're looking for some instant pot inspiration check out our food blog and some of our favorites:
Instant Pot Bone Broth (we make this quickly to add to soups and drink bulletproof style!)
Cheddar Bacon Soup (this can easily be made in the Instant Pot!)
What Can I Use Instead Of Marsala Wine?
This is a great question because I was wondering the same exact thing! We didn't have any marsala wine on hand, and I planned to feed some to our 8 month old son, Theo, so I wanted it to be alcohol free (of course haha).
If you watched the video above then you know we made this without the wine, and while the wine would add an element of flavor that can't be replicated otherwise it's still just as delicious! We opted to sub in some chicken broth for the wine, which is already an ingredient in the dish so you'll definitely have it on hand!
Leave us a comment if you've ever used another type of wine and found that it works out great!
Make It Dairy Free!
We wanted to kick this simple instant pot chicken marsala recipe up a notch in flavor and fat content by making it creamy! You can really add heavy cream to any dish you're preparing and transform it in a delicious, high fat way.
Right now, Matt and I are doing a dairy free challenge so I've really been in the head space of swapping out dairy ingredients. I've been using a lot of canned coconut milk to make my morning bulletproof coffee and curries and it's been a huge hit. I can't believe I'm saying this, but I think canned coconut milk might be better than heavy cream!
Note: you can find canned coconut milk in the "Asian/Ethnic" food isle of your local grocery store.
What Does An Instant Pot Do?
Well, it has many functions, but our favorites are the one we use here in this recipe. The saute function heats quickly and allows you to brown meats, saute veggies and reduce sauces without whipping out extra pans.
You can then quickly switch from saute to manual (low or high pressure) to pressure cook literally anything you want ensuring it not only cooks though in a short period of time, but comes out tender and just right every time!
If you're still on the fence we highly recommend you pull the trigger on this one! We've also used it as a slow cooker, to make homemade yogurt and to hard boil eggs. What can't it do?!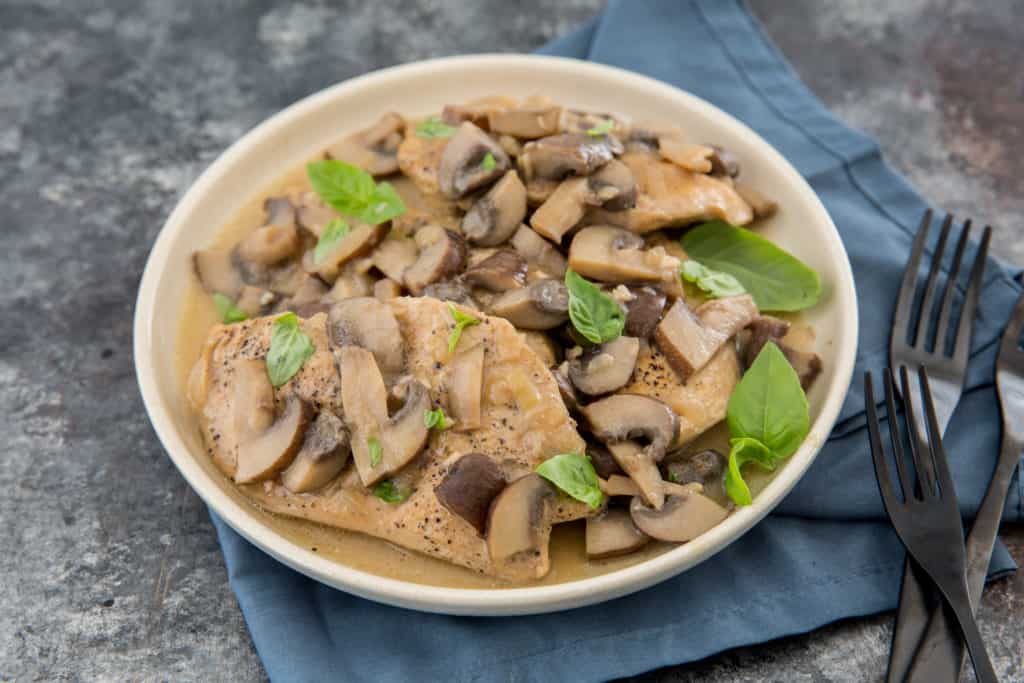 Easy Instant Pot Chicken Marsala
The use of easy in the title is an understatement here. Minimal effort, minimal clean up and a guaranteed home run of a dinner. This is the type of recipe I like to meal prep in bulk because it's that good. It's also filling, reheats great and you can add veggies or palmini pasta (my favorite pasta substitute) to it to up the volume!
If you miss Italian dishes, but still want to stay away from the carbs, make this instant pot chicken Marsala for a tip down memory lane.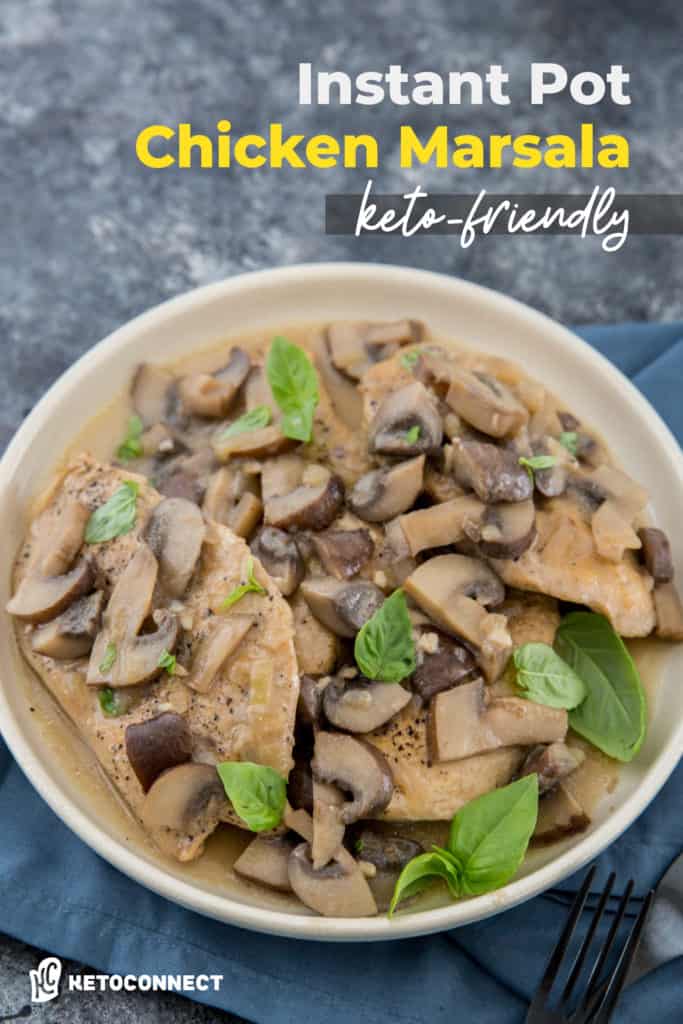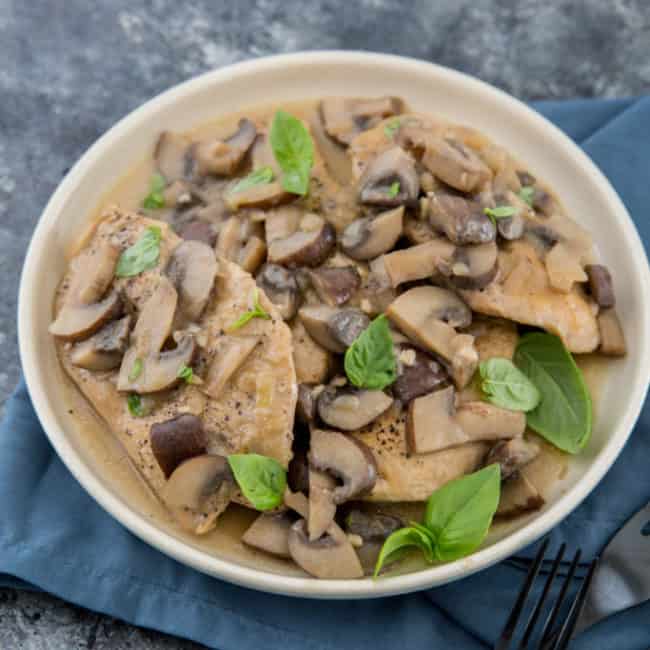 Instant Pot Chicken Marsala
A creamy, low carb twist on an Italian classic, chicken marsala, using the instant pot!
Total Time 20 minutes
Servings 4 servings
Calories per serving 367kcal
Prep Time: 5 minutes
Cook Time: 15 minutes
Instructions:
Press Saute function on Instant Pot and add 1 tbsp oil. Allow to heat (1-2 minutes).

Season chicken breast cutlets generously with salt and pepper while the instant pot is heating and add the chicken, searing them on each side, about 2-3 minutes.

Remove browned chicken breasts to plate.

Add in a remaining oil along with the chopped shallots and saute for 2-3 minutes, or until translucent. Add the garlic and cook 30 seconds until fragrant.

Add in the Marsala wine (if using) and deglaze the pan, by scraping up any browned bits of shallot or chicken off bottom of the pan. If you are not using wine, replace with chicken broth.

Stir in broth, heavy cream, butter, and mushrooms.

Return browned chicken back to Instant Pot and toss in the sauce.

Place lid on the pressure cooker, turn valve to sealed and set Manual High Pressure for 5 minutes.

Once cook time has elapsed, let pressure release naturally for 5 minutes (this helps to keep the chicken from getting tough). Then release any remaining pressure manually by turning the valve.

Remove chicken breasts to serving platter. Turn off Instant Pot and then turn back to Saute.

Whisk the xanthan gum into the sauce and stir constantly as it cooks for about 2-3 minutes, until thickened and bubbly.

Pour the sauce over the chicken and serve immediately.

Best stored in an air tight container in the fridge up to 5 days.
Notes
Net Carbs: 6g
Yields: 4 servings
Nutrition Facts
Instant Pot Chicken Marsala
Amount Per Serving
Calories 367 Calories from Fat 225
% Daily Value*
Fat 25g38%
Carbohydrates 7g2%
Fiber 1g4%
Protein 24g48%
* Percent Daily Values are based on a 2000 calorie diet.