This traditional waffles recipe is nothing like the eggy "keto waffles" you've had in the past. These are thick, fluffy, and perfect with a sugar free maple drizzle!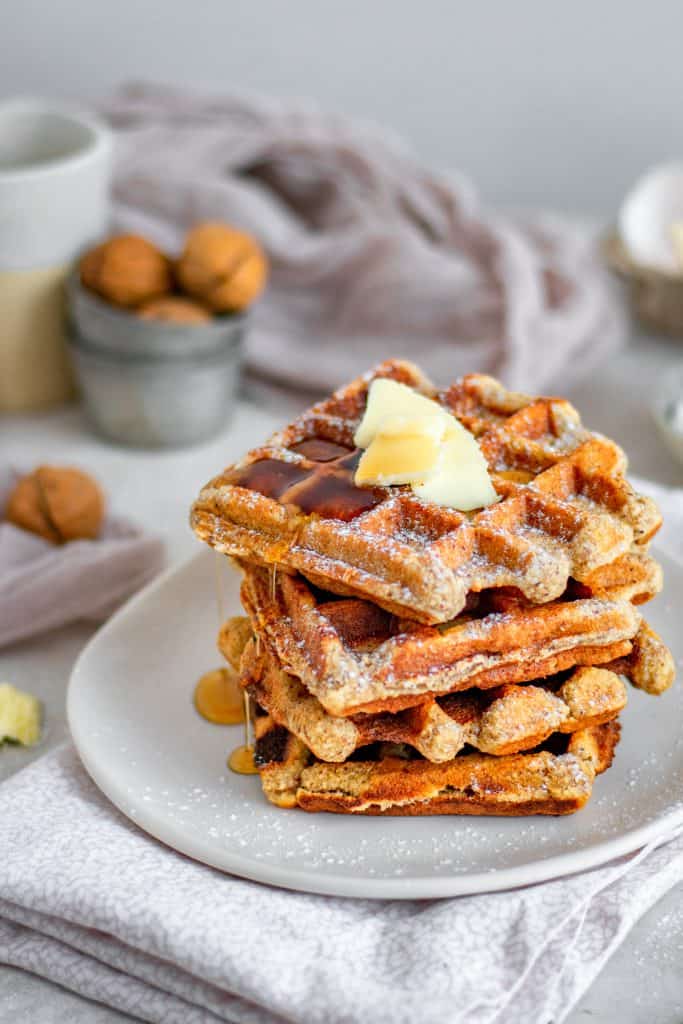 Are Waffles Keto?
Typical waffles are NOT keto! A normal Belgian style waffle has 360 calories, 15 grams of fat, 47 grams of carbs, 45 grams of net carbs, and 8 grams of protein. This is including 11 grams of pure cane sugar. The typical ingredients for this style of waffle is white flour, sugar, vegetable oil, and milk. These are high inflammation ingredients that are not okay on a keto diet.
Our Keto Waffles
While normal waffles may not be keto, these low carb waffles really satisfy that breakfast craving. Instead of sugar we use a little bit of erythritol, a sugar alcohol that's low in net carbs. Then we've replaced the flour with xanthan gum, almond flour, and coconut flour to make a fluffy gluten free flour blend. Our low carb waffles clock in at only 4.7 net carbs, 10.7 total carbs, 36.7 grams of fat, and a whopping 14.8 grams of protein!
Almond Flour Waffles
Like we said above, normal waffles need white all-purpose flour. This is definitely not keto so we needed to find a tasty sub that would still make light and fluffy waffles. The best keto waffles use a blend of a few flours with a base of almond flour. It ensures the gluten free keto waffles are not dense and bready. For this waffle recipe we used a blend of almond flour, coconut flour, and xanthan gum.
Almond flour is the main bulking agent of our blend. Almonds are high in fat and magnesium an electrolyte that's super important on a keto diet. Deficiencies in magnesium have also been linked to insulin resistance. It's possible that consuming this blood sugar blunting food can be helpful on a low carb diet(1). Coconut flour also works well with almond flour to thicken the batter so you don't need as much. Finally coconut flour is nut free so you don't have to worry about eating a cup of almond flour in one waffle.
If you're completely nut free and want more coconut flour waffle options try our keto protein waffles. They are flourless and use protein powder to make a high fat and high protein treat. Or check out our coconut flour chocolate keto waffles for a decadent dessert waffle recipe.
What's Xanthan Gum?
Xanthan gum is a low carb thickener that is commonly used in keto sauces and milks. Similar to cornstarch this ingredient works with heat to thicken and emulsify liquids. In the case of this recipe it keeps the ingredients in the waffle together so you don't have a crumbly keto waffle. Xanthan gum also helps to create a light and fluffy texture similar to gluten. While it is technically optional, if you want a delicious light waffle recipe you'll need to use a little xanthan gum.
Are These Waffles Paleo?
These waffles are paleo depending on how you look at it. All the dairy based ingredients like butter and cream cheese can be subbed for low carb dairy free alternatives. The erythritol can also be subbed for stevia or coconut sugar. The original recipe technically isn't paleo, but can be easily adapted to create delicious paleo waffles.
Making Dairy Free Keto Waffles
As mentioned above these waffles can be made paleo with a few subs, some of those being dairy. There are two dairy based ingredients in this recipe, butter and cream cheese. Simply swap the butter for coconut oil and the cream cheese for coconut cream (the thick part of a can) or dairy free cream cheese. Dairy free cream cheese will work best, but if you can't find any paleo approved versions you can used coconut cream.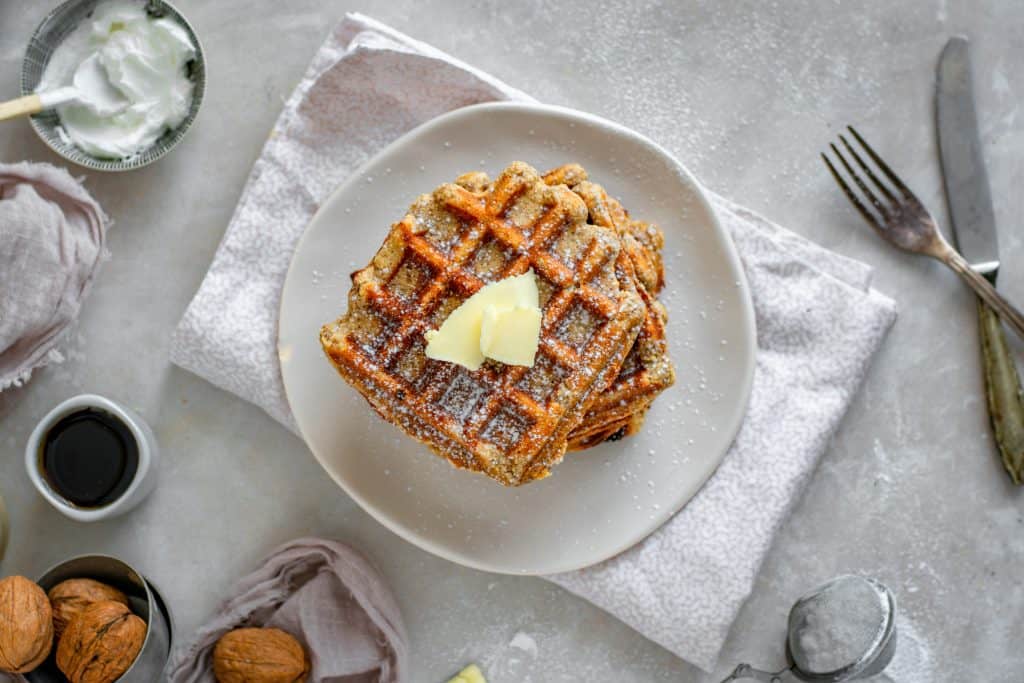 How to Make Crispy Waffles
There are a few tips to make these waffles extra crispy but overall they are pretty crispy on the outside already. Some of the best tips:
Add a Little Peanut Butter or Almond Butter to the batter (about a tablespoon)
Beat the Egg Whites- This is a little more involved than the other steps, but it really helps to make a light, fluffy, and crispy waffle. Simply mix together the wet ingredients as the recipe says, but only the egg yolks. Set the whites aside in another bowl. Whip the whites to stiff peaks, checking by lifting the hand mixer and seeing if the whites stay up. Once they are stiff peaks add the wet ingredients into the dry and mix well. Finally fold in the egg whites 1/2 at a time until the batter is smooth and combined.
Leave the Keto Waffles in the Waffle Iron- By cooking the low carb waffles and then turning off the heat you allow the finished waffles to dry out and crisp a bit more.
Keto Waffle Toppings & Mix-ins
The great thing about waffles is all their pockets. The pockets make a great vessel to shove in as much butter and syrup as your heart desires. Want even deeper pockets? Buy a waffle maker that's for a Belgian waffle. It's deeper than a normal waffle iron so you have more room to fill it with toppings. There is a variety of options for waffle toppings and fillings, but here are some of our favorites:
Can I Have Maple Syrup on Keto?
You can not have traditional maple syrup on keto. Per 1/4 c there are 200 calories, 53 grams of carbs and 53 grams of sugar! There are tons of other sugar free maple syrup options out there though that make eating keto a breeze. While you can use sugar free syrup that's 0 calories from Walmart, there are better options out there. Most cheap store brand 0 calorie syrups use maltitol, aspartame, and sucralose. Try a healthier sugar free low carb syrup made with monk fruit like the one from Birch Benders. Or use one made of erythritol and stevia like this one from Lakanto. Both of these options are sugar free and keto friendly.
What to Make With Keto Waffles
Have extra waffles and don't know what to do with them? We've got you covered! If you want a low carb waffle meal idea check out how you can upgrade breakfast below:
Waffle Sandwiches- This low carb waffle sandwich idea makes for a great recipe because it's super customizable. You can use eggs, cheese, and bacon, or be extra bold and try ham, raspberry jam, and brie cheese. The best keto waffle sandwich is whatever your favorite flavor combinations are.
Waffle French Toast- I know this sounds a little strange, but to start; cook up some of our fluffy waffles. Then in a bowl mix some egg whites, cinnamon, and stevia. Dip the waffles into the egg white mixture and then place onto a hot skillet with coconut oil or butter. Cook both sides for 2-3 minutes and serve with whipped cream and berries.
Birch Benders Breakfast Sandwiches– Decided to take the pre-made route? That's okay too! Follow along with our Birch Benders waffle sandwich recipe to make a tasty breakfast bite that's packed with flavor.
How to Make Keto Waffles
If you have a hankering for low carb waffles these almond flour waffles are sure to do the trick. Get together your ingredients and let's get started!
Equipment
To make waffles you pretty much only need one piece of equipment and that's a waffle maker. There are tons of options on the market from a traditional waffle iron to a Belgian style, and even a mini waffle maker. The waffle iron you use is up to you, but it is the only piece of equipment you actually need to make this recipe.
Ingredients
This keto waffles recipe uses a dry mixture and a wet mixture to create the perfect batter. We started with a dry mixture first to make sure the baking powder wouldn't activate early from moisture. For this dry mixture you will need finely milled almond flour and coconut flour. These will be the base flours to help with the ideal light and fluffy texture. We find a combination of two flour types make the best low carb waffles, so don't skip on the tablespoon of coconut flour! Next you'll need granular erythritol for a little sweetness, and xanthan gum to get that stretchy gluten like texture that's in a traditional waffles recipe. Finally for the dry ingredients you'll need a pinch of pink salt to bring out the sweetness and baking powder for rise.
The wet ingredients for this waffles recipe is much simpler requiring just 4 ingredients. You'll need melted butter; we love grass fed butter for its rich flavor, room temperature cream cheese, eggs, and vanilla extract.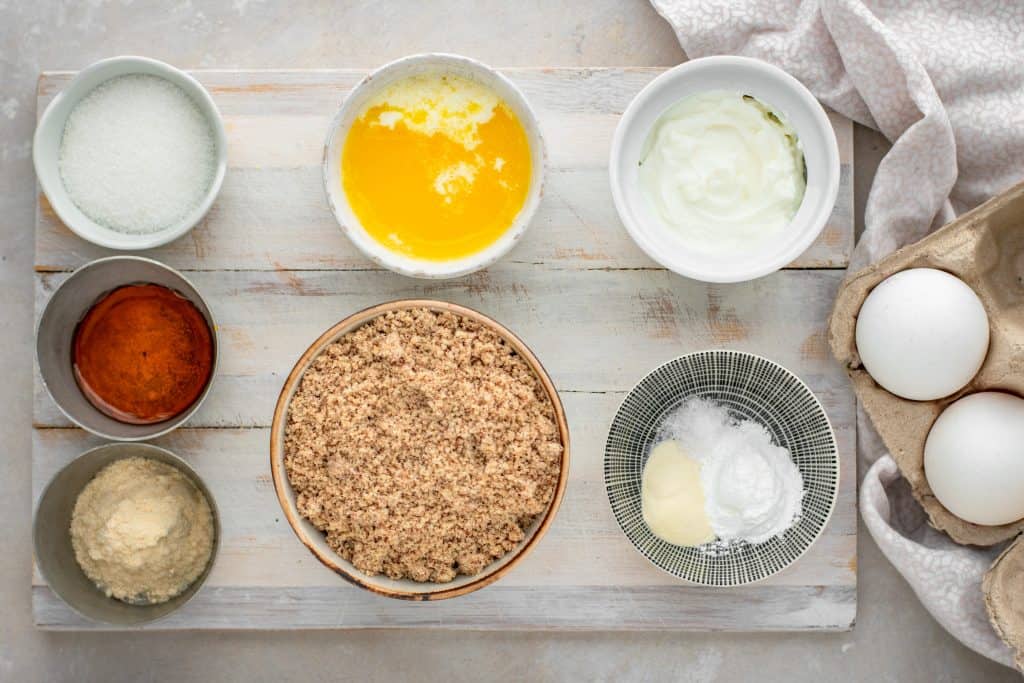 Making Keto Waffles
Preheat your waffle iron to around 350 degrees Fahrenheit. To make your keto waffles recipe start by mixing together the dry ingredients. You can sift the almond flour, but simply mixing it well to ensure that there are no clumps works just as well. Make sure the baking powder is evenly distributed so there is no chance of an uneven rise.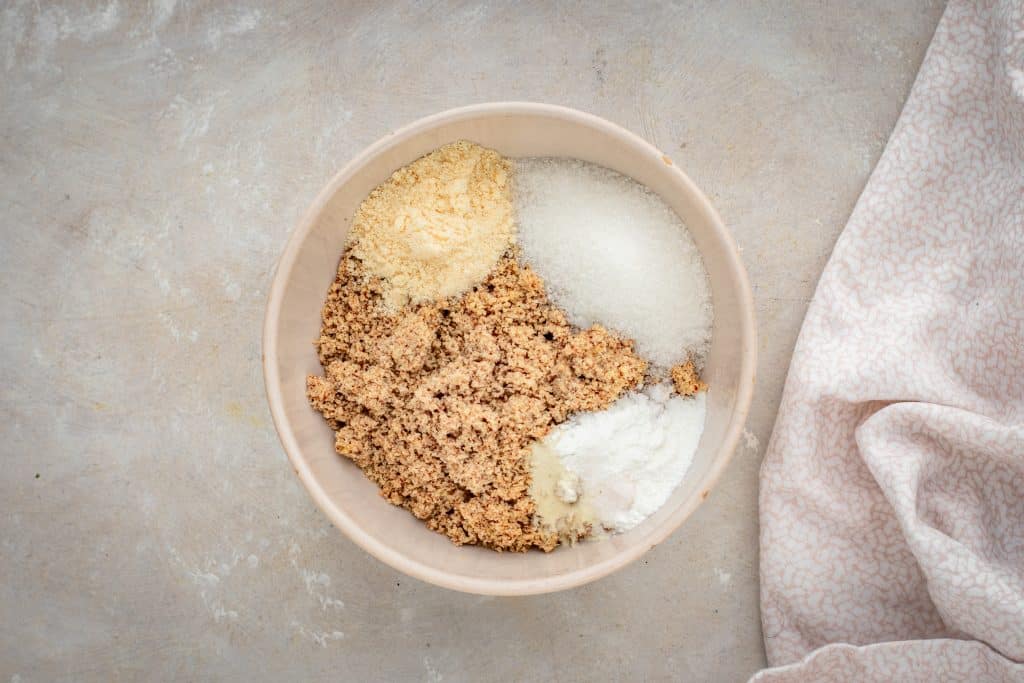 Now in a separate bowl combine all of the wet ingredients. This is your eggs, butter, cream cheese, and vanilla. If your butter and cream cheese are coming from the fridge, microwave them for 15-20 seconds to soften. The batter should be uniform and fairly easy to mix if everything is softened.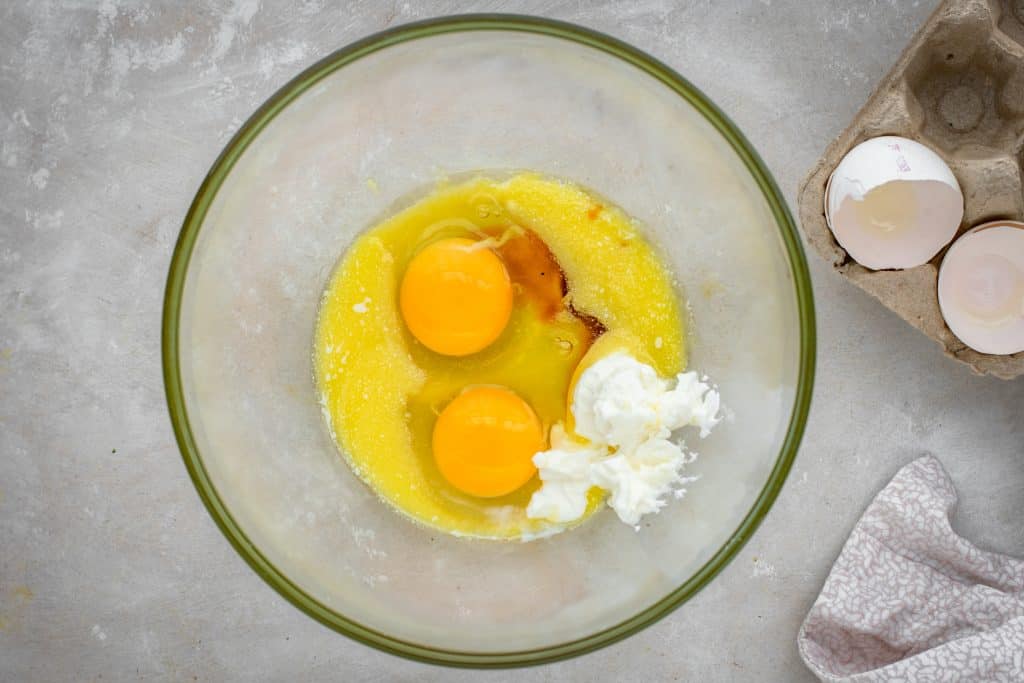 Now add the dry ingredients into the wet ingredients. You can do this half at a time, but we just added it all in at once.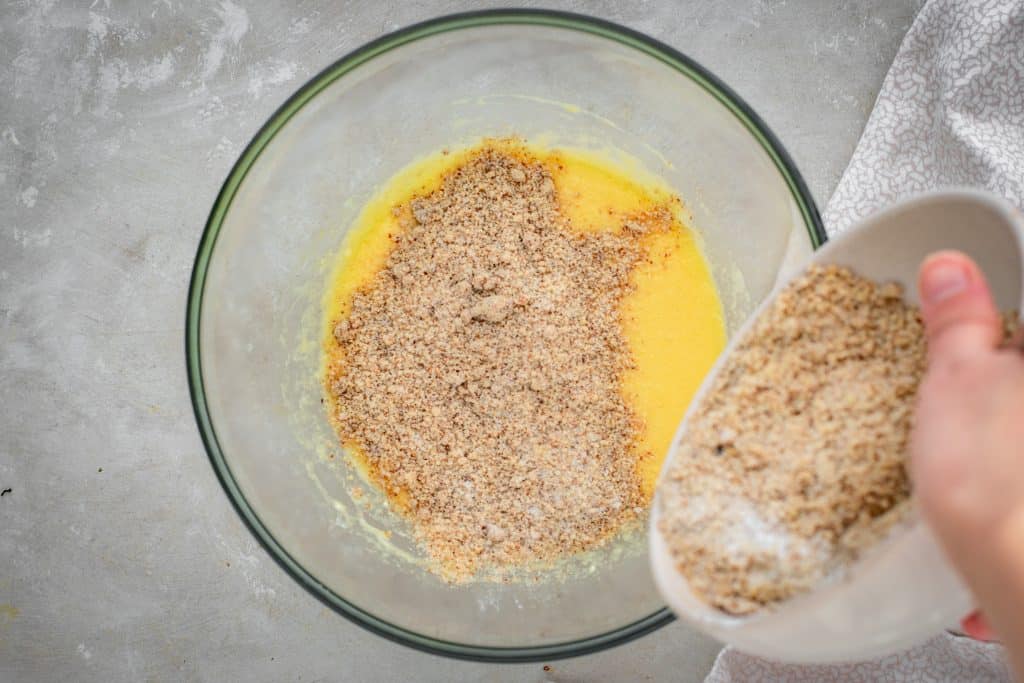 Whisk everything together until it is well combined and mostly clump free. A few clumps here and there is fine, but too many and you may have pockets of baking powder that won't rise properly.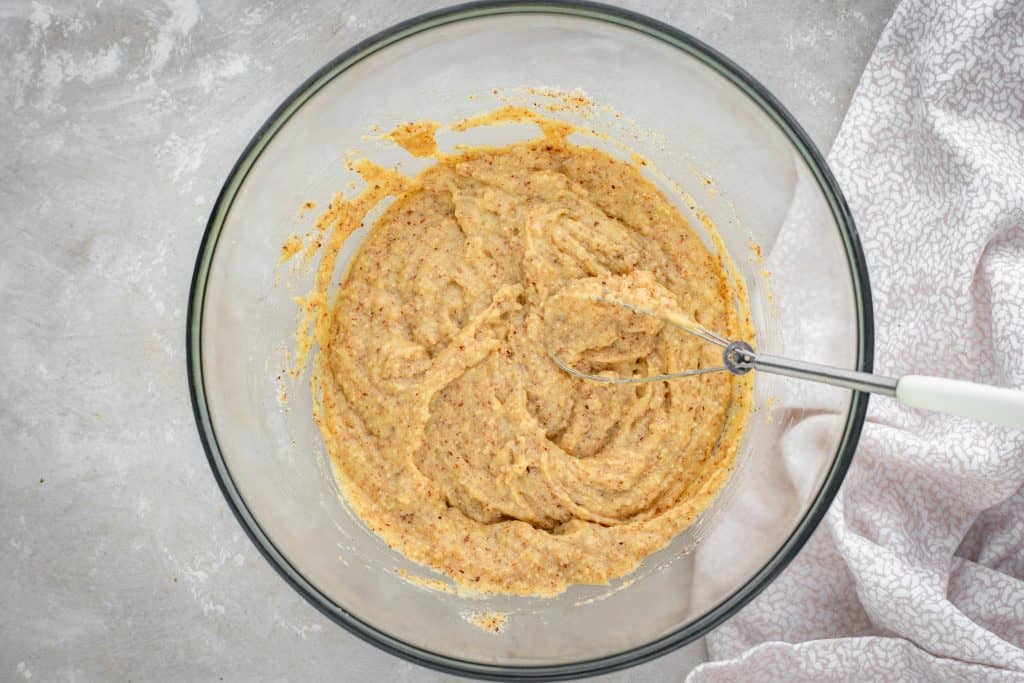 Measure 1/2 a cup of batter and evenly distribute it into your waffle maker. Feel free to spread it out a bit if you want perfectly shaped waffles. Now's the time to add in a few berries or chocolate chips if you'd like.
Cook them for 3-4 minutes or until golden. Give them a moment to cool before pulling them out. Serve and enjoy with your favorite toppings.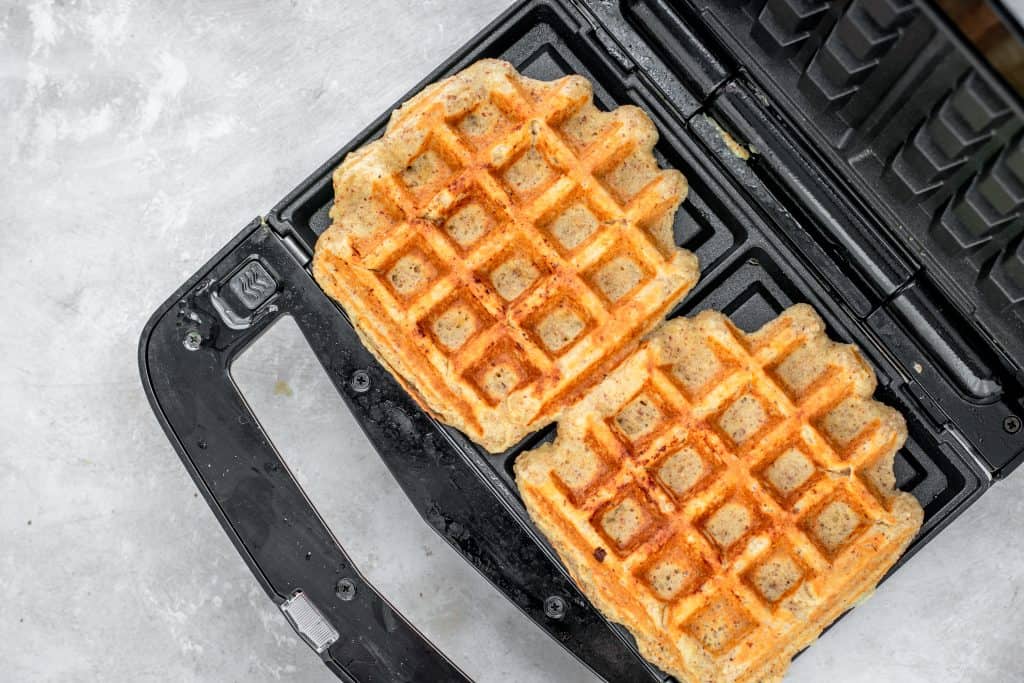 Freezing & Storing Keto Waffles
The great part about this waffles recipe is that you can freeze any extras! We often use this recipe as meal prep and freeze a ton as grab and go toaster waffles during the week. To store this waffles recipe, simply place any leftover cooled waffles on top of parchment or wax paper in an even layer on a baking sheet. For extra layers add another topping of wax paper and repeat. Freeze the waffles until hard (3-6 hours), then place the frozen waffle recipe into a gallon zip top bag for future use.
Reheating Leftover Waffles From Frozen
To reheat this waffles recipe just pop a waffle into the microwave, or even better the toaster! You may have to toast it for two rounds, but it should give you the warm crispy waffle you desire. For the microwave heat each waffle for 30 seconds to a minute until hot all the way through.
More Ways to Waffle
If you love waffles as much as we do, i'm sure your interested to know how else you can make some! We have a variety of waffle recipes and meal ideas for you to make with them. All you need is a waffle maker and a few low carb ingredients.
Waffle Recipes
There are no shortages of waffle recipes here. After we got our first waffle iron we were off to making tons of new recipes. Some of our favorites are:
Keto Protein Waffles– This flourless protein waffle recipe uses your favorite protein powder and a little fat to make the perfect low carb breakfast. They have just 2 grams of carbs and 31 grams of protein!
Low Carb Chocolate Waffles– These waffles are probably my favorite being a chocolate connoisseur. They use coconut flour and cocoa powder as the base to make an almond flour free waffle. Plus this dessert waffle is 100% sugar free and tastes even better with a drizzle of almond butter.
5 Minute Keto Chaffles– A super easy keto recipe that has a total cook time of only 3 minutes. Use these chaffles to make sandwiches, eggs Benedict, and whatever else your heart desires!
Bacon and Cheddar Cauliflower Waffles– Our bacon cheddar waffles are flourless and low carb, perfect to make a keto waffle sandwich. Feel free to put extra bacon in that breakfast sandwich too, we won't tell!
Keto Wonder Bread Chaffle – Our chaffles are low in net carbs and high in healthy fats. You only need a few simple ingredients to make this keto bread recipe.
Now that you have a few ideas grab your own dash waffle maker and get to cooking! If you need a new waffle maker check out the amazon mini waffle maker and Belgium waffle iron.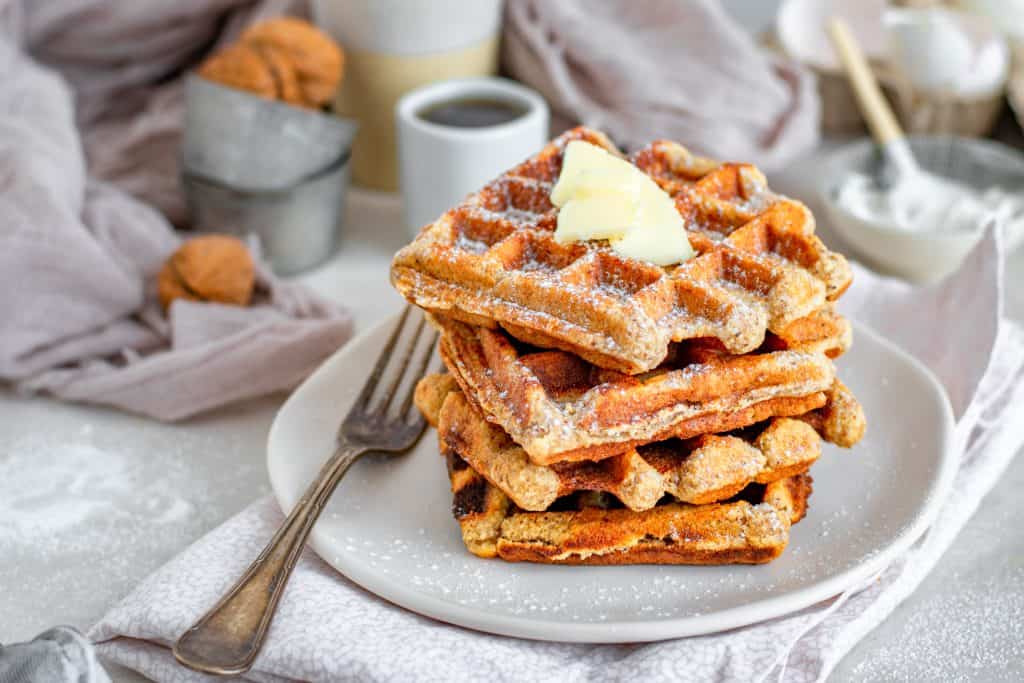 Store Bought Keto Waffles
Don't have a waffle iron, but still want waffles? Thanks to brands like Birch Benders you can now buy pre-made keto frozen waffles! Go to your local health food store, Target, or Walmart and one of them should have the Birch Benders waffles. They make a keto buttermilk and a keto chocolate chip toaster waffle. Both are grain free and only have 6 grams of net carbs per TWO waffles!
Keto Breakfast Ideas
Need some more breakfast variety? Check out some of our sweet and savory keto breakfast ideas to create your perfect Sunday brunch:
Keto Crepes – Crepes are a classic breakfast recipe and this one can be filled with either sweet or savory ingredients.
Low Carb Blueberry Muffins – Low carb recipes that use berries are my favorite. When baking, the berries become jammy and sweet. The first time you make this recipe you'll be hooked and start meal prepping them every week. Better yet, try our free 7 day meal plan that uses these low carb blueberry muffins for Saturday brunch!
Sheet Pan Pancakes – These are some of the easiest keto pancakes out there. They use vanilla extract, chocolate chips, and almond flour to make a fluffy meal prep pancake. The nutrition facts speak for themselves because there are only 5 net carbs and 28 grams of fat per massive piece!
Grocery Store Breakfasts
If you're always on the go and want some quick and easy grocery store breakfast ideas try some of our favorites:
Real Good Foods Breakfast Sandwiches (4-3g net carbs)- These low carb sandwiches are filling and easy to pop in the microwave before a busy day of work. They have bacon, sausage, and turkey sausage so you can start the day right.
Birch Benders Pancake Mix– If you have a little extra time in the morning definitely try these keto pancakes from Birch Benders. They are 5 net carbs per serving and only require water to make. Pro tip- Make them with half water half egg whites for an extra light and fluffy keto pancake. Top with some almond butter and you have a high fat and high protein meal. Make sure to check out our list of the best keto pancake mix you'll definitely love!
Jimmy Dean Egg- Which– It may not be the highest quality food, but it is a lazy keto option for those wanting a keto breakfast sandwich. These can be found pretty much anywhere from Costco to Walmart. They clock in at 7 net carbs per sandwich and around 250 calories.
Obviously the Birch Benders frozen waffles are a great idea for a grab and go breakfast, but if you're looking to go down the savory route these are some great options. Easy keto meals are super important to stay on track. Know yourself, and if these products might benefit you they are well worth the cost!
Keto Waffles
This keto waffle recipe makes a thick, fluffy, low carb breakfast that's crispy on the outside and soft on the inside. Pair this keto waffle recipe with all your favorite toppings to make a delicious and healthy meal. Plus feel free to freeze the extras so your kids have a great grab and go breakfast that makes easy keto possible. If your kids love them (and we know they will), they'll already be taking care of their health! This upcoming weekend relax, wake up late, and make a waffle brunch!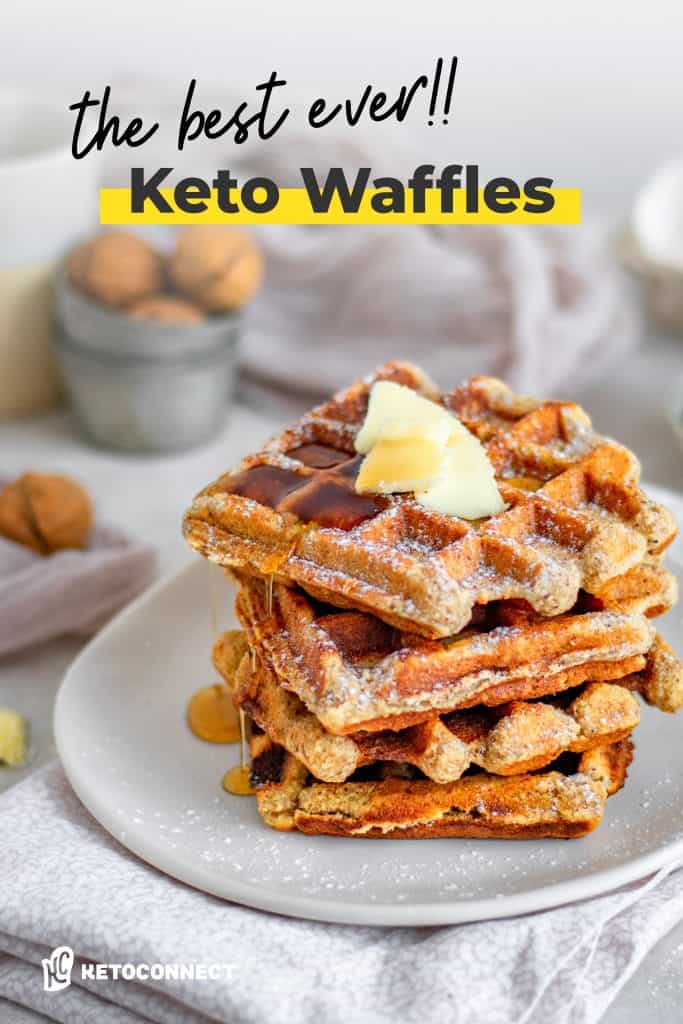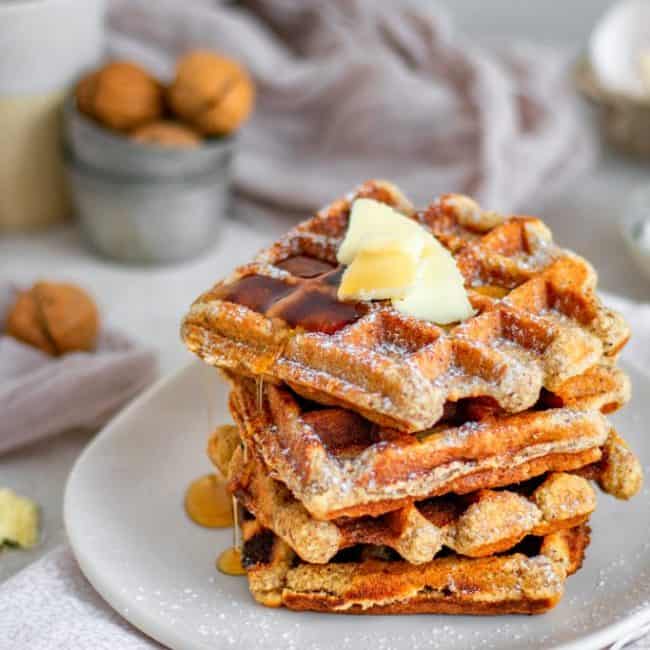 The BEST Keto Waffles Recipe
Thick and fluffy keto waffles that make the perfect delivery service for sugar free syrup.
Total Time 15 minutes
Servings 2
Calories per serving 425kcal
Prep Time: 10 minutes
Cook Time: 5 minutes
Ingredients:
Wet Ingredients
2 tbsp Melted Butter (28g)
2 tbsp Cream Cheese at room temperature (28g)
2 Large Eggs
1 tsp Vanilla Extract (5ml)
Instructions:
Turn on your waffle machine and set it to around 350 F.

In a bowl, whisk together the wet ingredients well.

Using a different bowl, mix together all the dry ingredients. Now add the dry ingredients to the wet ingredients. Whisk together until combined.

Scoop ½ cup of mixture into each waffle mold. Cook until golden, around 3-4 minutes.

Enjoy them with your choice of toppings such as butter, whipped cream, berries, or keto syrup.
Nutrition Facts
The BEST Keto Waffles Recipe
Amount Per Serving
Calories 425 Calories from Fat 330
% Daily Value*
Fat 36.7g56%
Saturated Fat 13.3g67%
Carbohydrates 10.7g4%
Fiber 6g24%
Protein 14.8g30%
* Percent Daily Values are based on a 2000 calorie diet.
Written By