Cauliflower rice is our top choice as an alternative to regular rice. You can find cauliflower rice in almost any store now, but do you know where to buy cauliflower rice that's actually tasty and has healthy ingredients inside?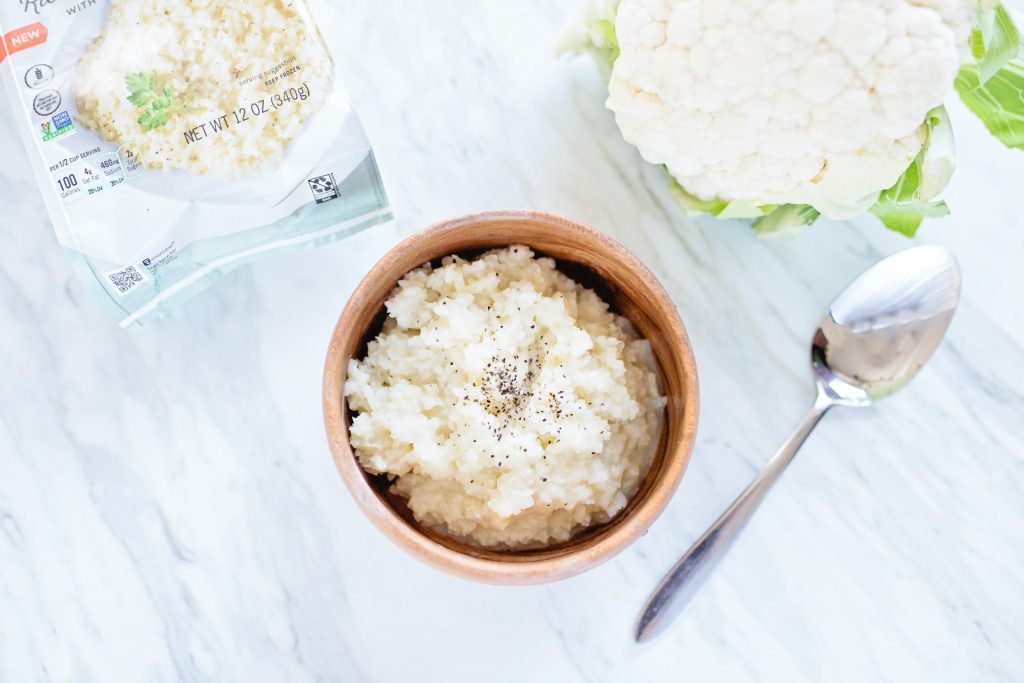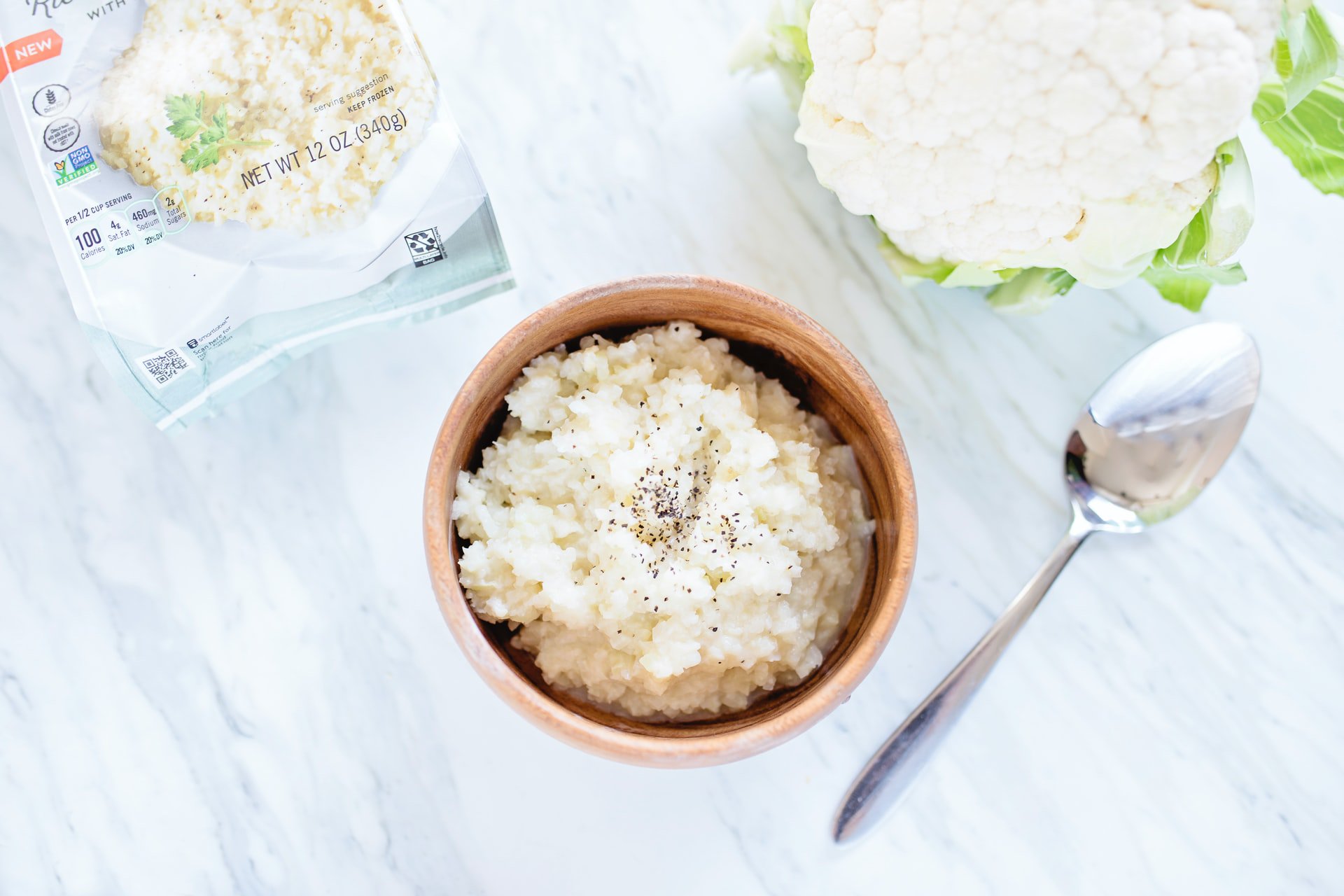 We were surprised to find out some cauliflower rice contains malic acid!
Read on to find out which brands are the best.
Is fresh cauliflower rice better than frozen riced cauliflower?
When it comes to quality? No.
Frozen food is just as nutritious as a fresh head of cauliflower. Plus it's a quick and easy alternative to the homemade version, where you either have to use a box grater or a food processor to make cauliflower rice.
Fresh Riced Cauliflower
If you want to get fresh, not frozen cauliflower rice I'm sure you'll find it at Stop & Shop, Costco, Whole Foods or Target. And yes, it can be eaten raw!
1. Green Giant Riced Veggies Frozen Cauliflower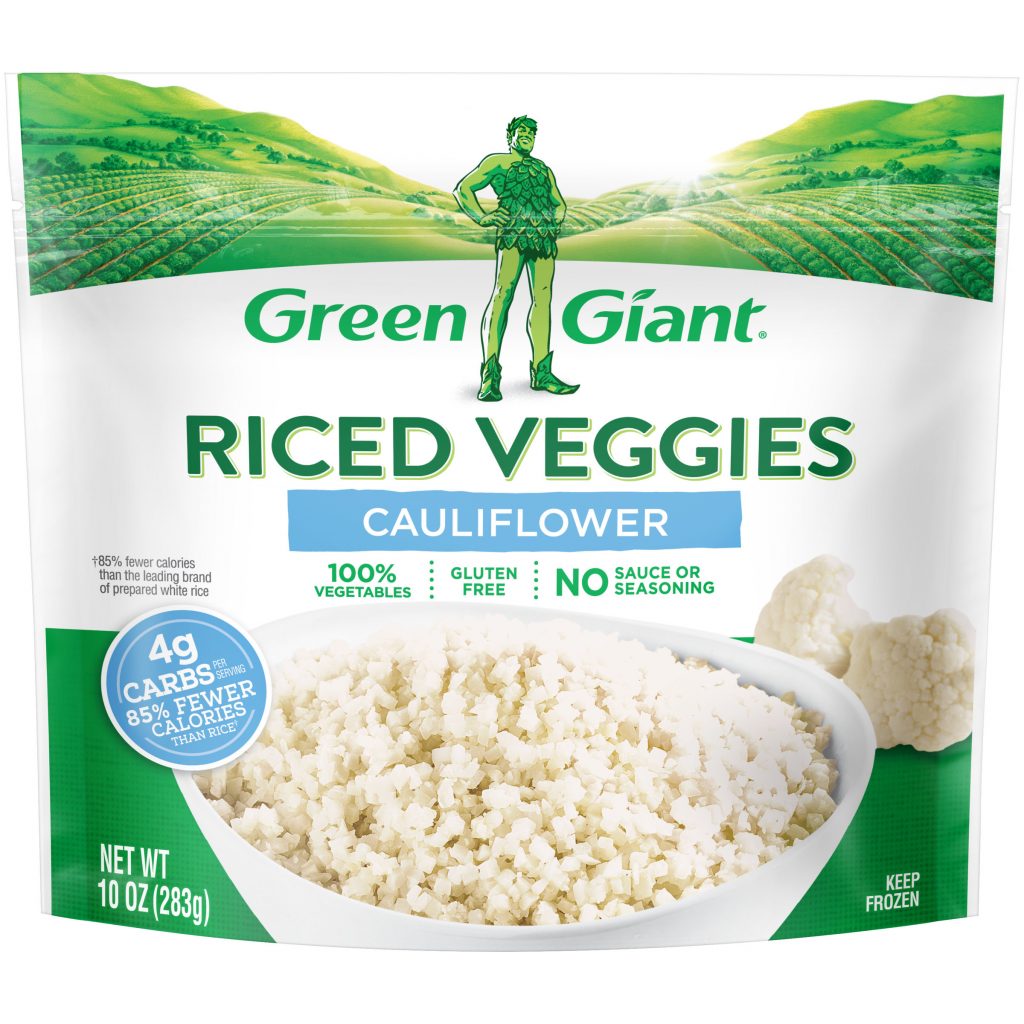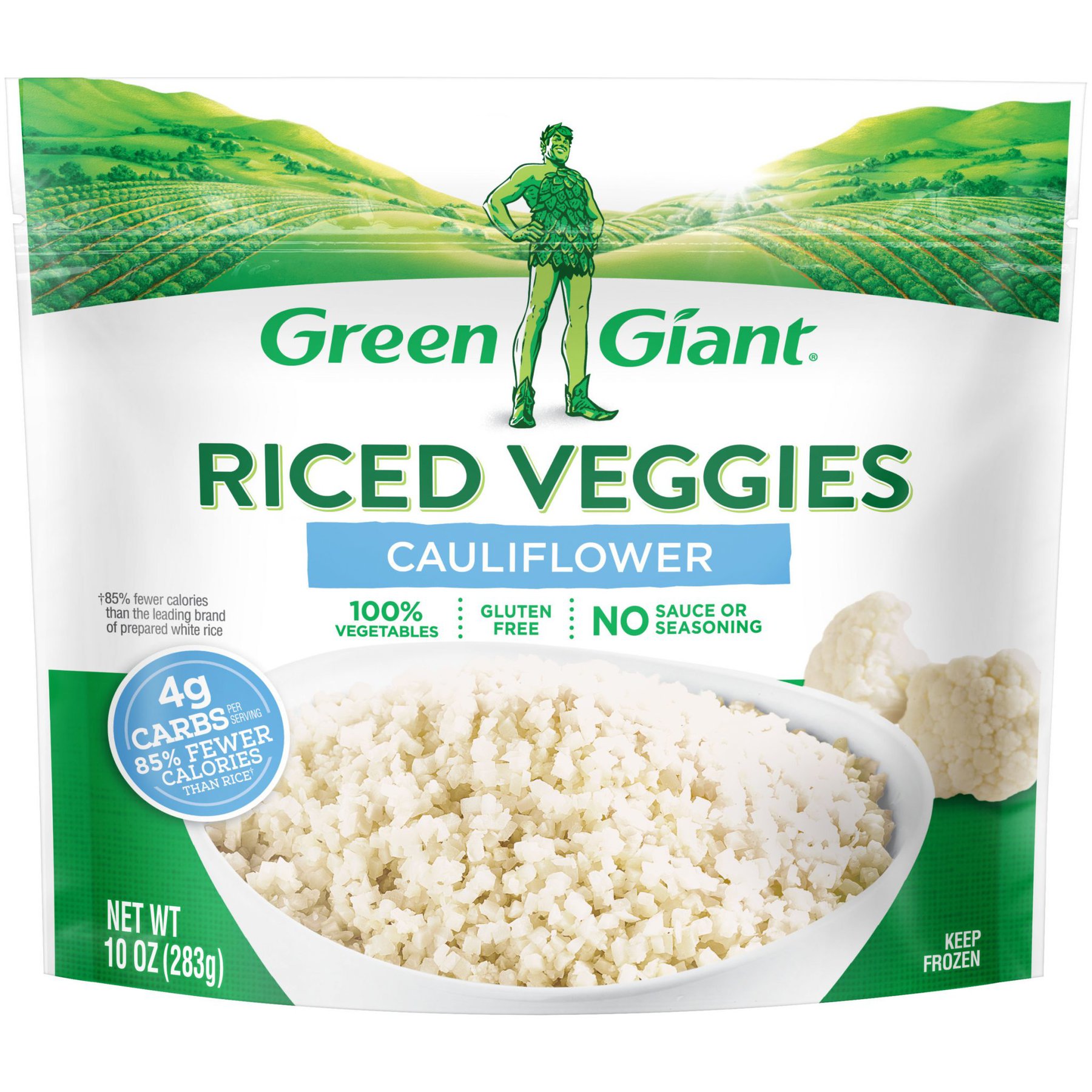 What I love about this brand is that you can this cauliflower rice in any way you want to or microwave it straight in the package for 5-7 minutes, depending on the settings. I always buy this cauliflower rice at Target, but we've also seen it at Stop & Shop and Walmart.
Price: $2.79 for a 10oz bag
2. Good & Gather Organic Riced Cauliflower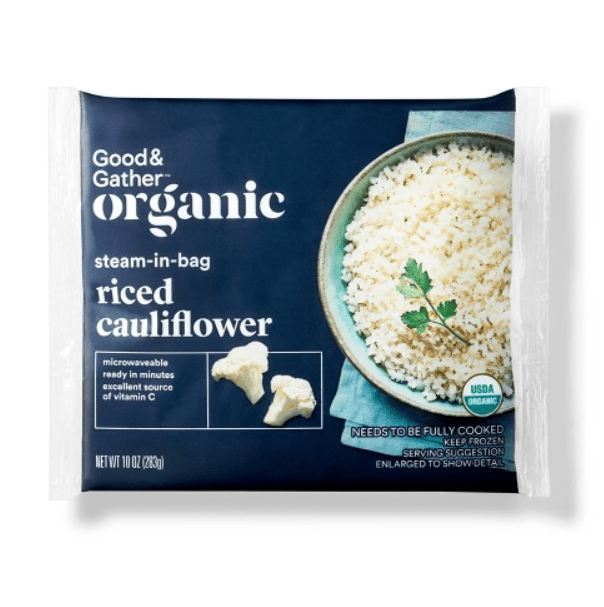 The steam in bag lets you cook it right in your microwave, and to be honest out of all microwavable cauliflower rice I like this one the most. If you ever needed one more reason to love Target, there you go.
Price: $2.29 for a 10oz bag ($0.22/oz)
3. 365 Everyday Value Organic Riced Cauliflower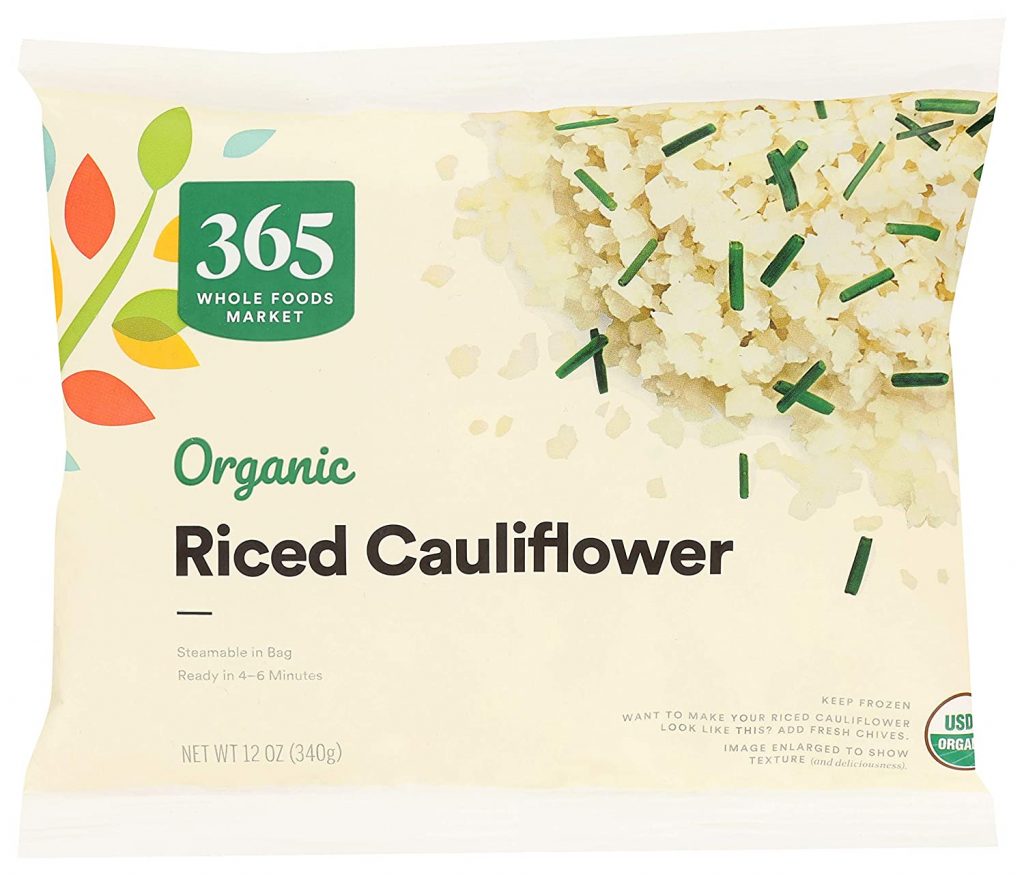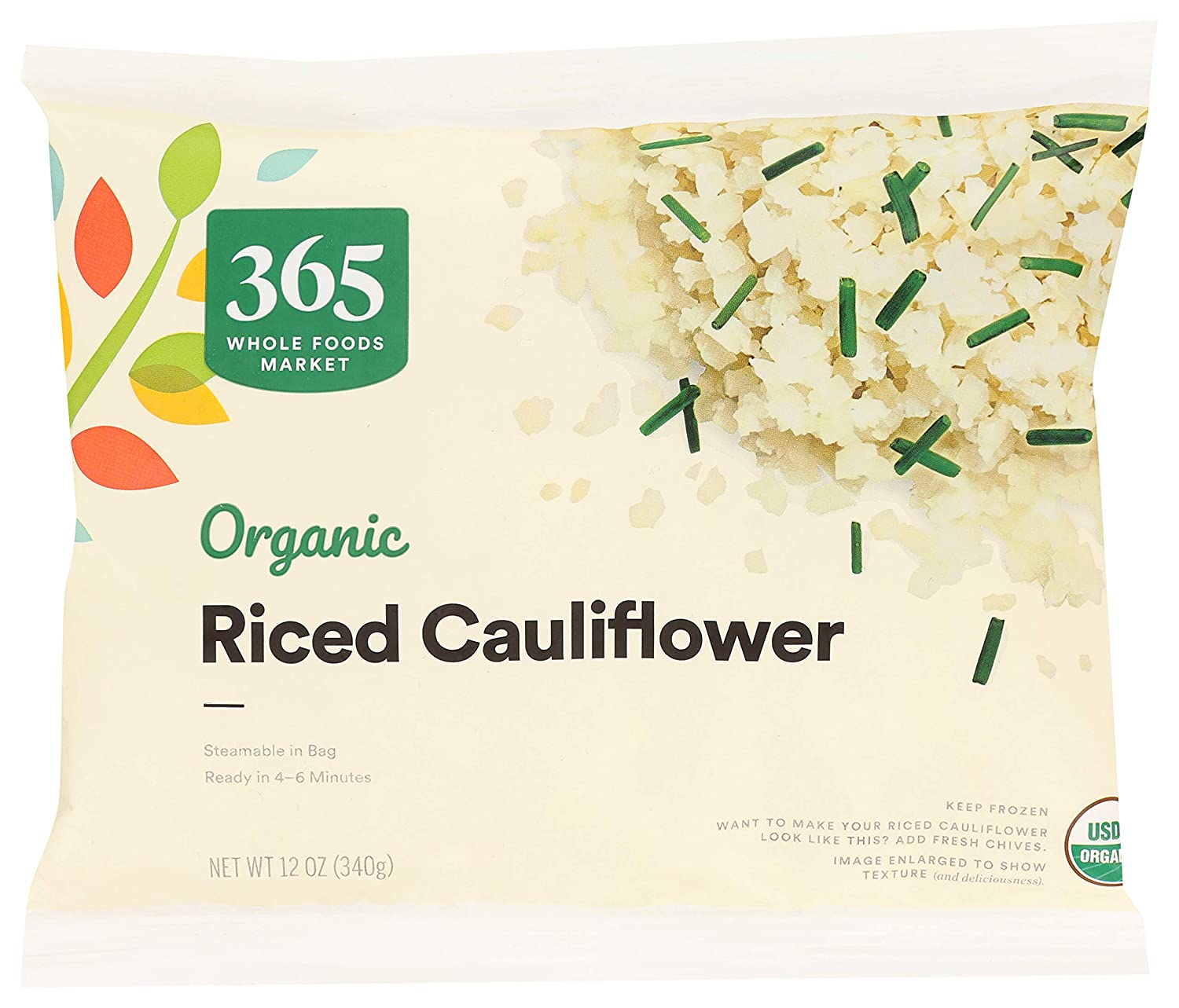 Although I find whole foods to be a little overpriced sometimes, this frozen riced cauliflower is organic and less expensive than other brands. It has organic blanched cauliflower inside and a bit of sea salt to taste.
This is Whole Foods' signature brand and you can only get it there or through FreshDirect on Amazon.
Price: $2.39 for a 12oz bag ($0.20/oz)
4. Cascadian Farm Organic Riced Cauliflower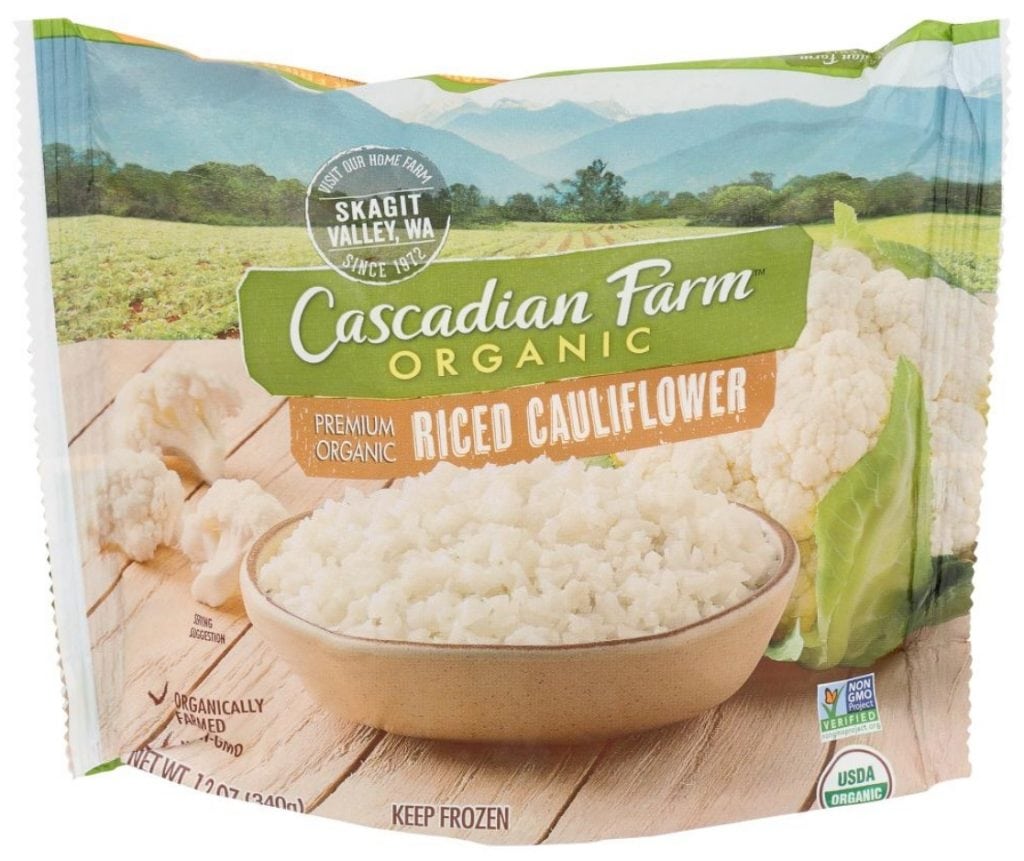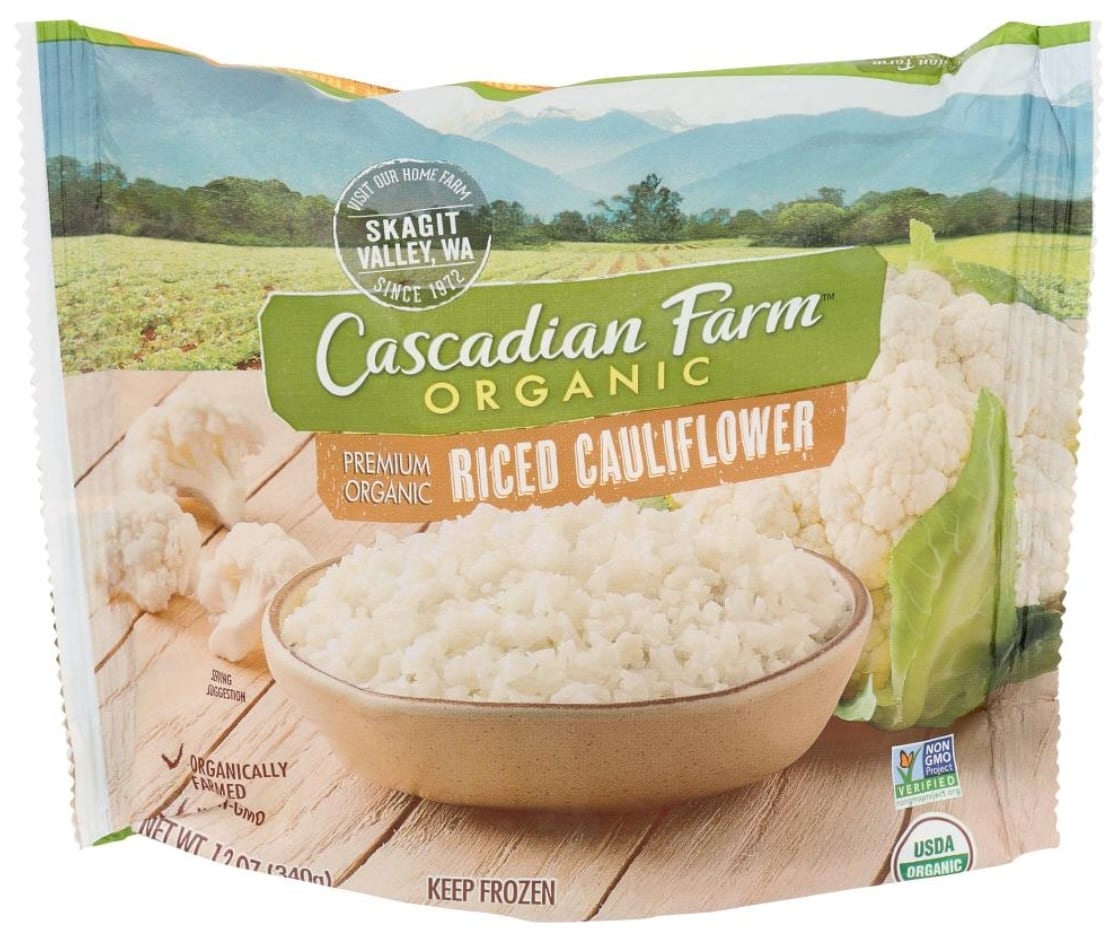 All you're going to find here is organic, frozen cauliflower. It's a bit more pricey than other frozen bags, but trust me it's worth it! I just love the way they cut it up. Get it at Stop & Shop or find it at The Fresh Market.
Price: $3.69 for a 12oz bag ($0.30/oz)
5. Birds Eye Steamfresh Riced Cauliflower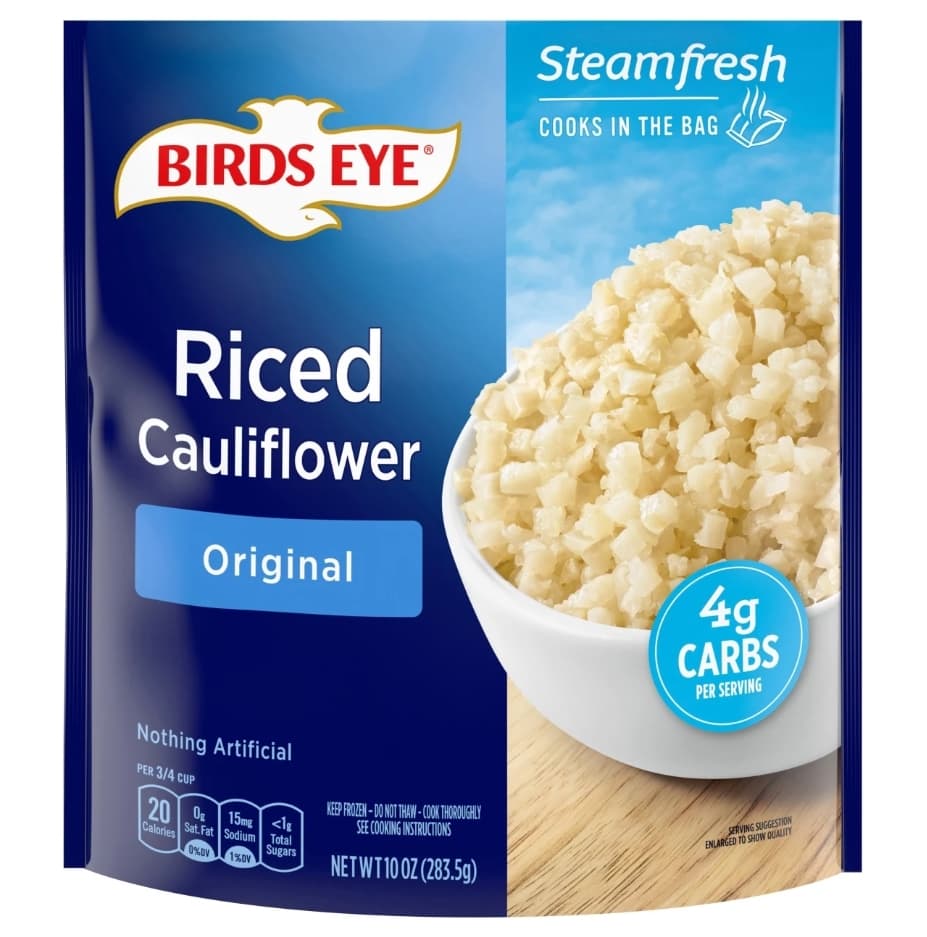 This cauliflower rice also cooks right in the bag and comes in 10oz or 20oz packages. The only thing you need to watch out for – make sure you pick plain riced cauliflower. Birds Eye has many different variations of riced cauliflower and some of them are not low carb!
You can find it at Walmart or Stop & Shop.
Price: $2.49 for a 10oz bag ($0.24/oz)
6. Kroger Riced Cauliflower
What I like about it is that it comes in larger packages, so if you have a big family or like to meal prep that's a pretty good option to get.
Plus, in comparison to other frozen riced cauliflower is rather on the cheap side. You can get it at Kroger.
Price: $3.49 for a 16oz bag ($0.21/oz)
7. Member's Mark Riced Cauliflower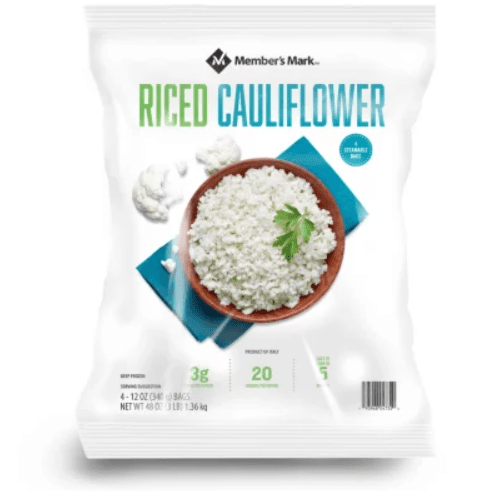 Another good choice, especially if you like to buy bulk organic steamable bags. As opposed to other choices we listed here, this one contains pure but precooked cauliflower rice, so it might not be the best option for certain recipes.
You can get it at Sam's Club. Plus, it's the cheapest option we've found so far!
Price: $6.39 for four 12oz bags (0.13/oz)
8. Trader Joe's Riced Cauliflower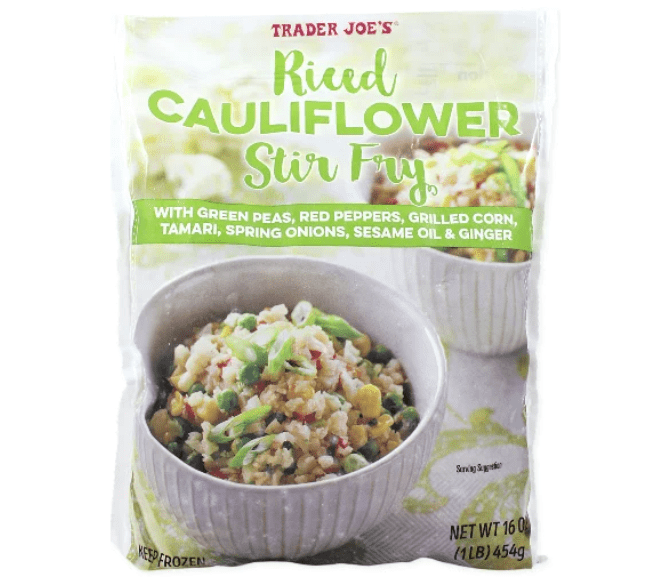 I absolutely love all things Trader Joe's, so it's no surprise their fresh cauliflower rice is bomb! While this article is from 2019, I feel like it's important (and kind of funny!) to mention that their riced cauliflower was so popular in NJ and CT customers were only able to buy two bags a day.
Price: $2.49 for a 16oz bag ($0.16/oz)
9. Season's Choice Riced Cauliflower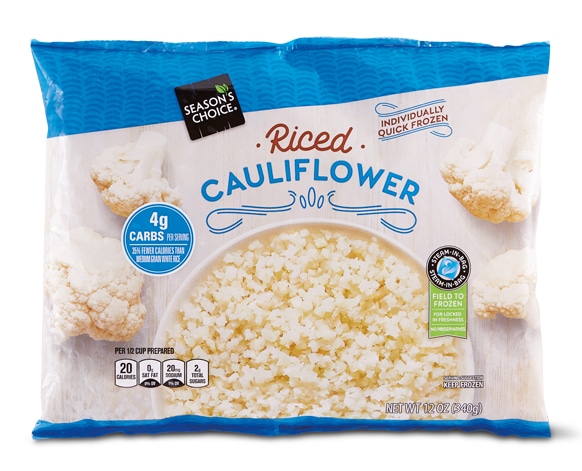 You can get this frozen riced cauliflower at Aldi. I like cooking this one a bit longer than the others brings out the perfect texture and doesn't come out mushy at all. You can find it at Aldi.
Price: $2.39 for a 12oz bag ($0.20/oz)
10. Fullgreen's Cauli Rice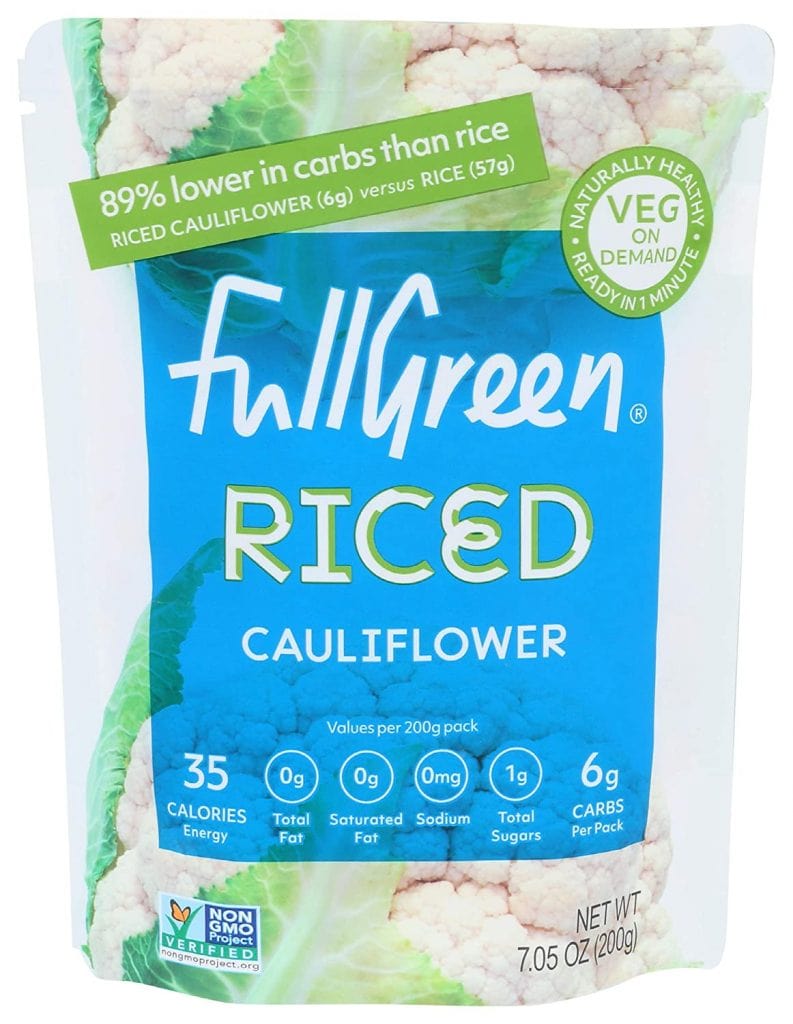 One of the few cauliflower rice options you won't find in the frozen vegetable section! This option is shelf-stable and I'm all for it since at this moment I honestly think we don't even have a squared inch of space in our freezer. You can get it at Walmart or Amazon.
Price: $4.19 for a 7oz pouch ($0.59/oz)
You may also like our Costco Cauliflower Rice review!
Worst Cauliflower Rice
While most grocery stores sell organic or simply healthy cauliflower rice, there are brands with unnecessary added ingredients.
Earthly Choice Cauliflower Rice
I don't understand why there are so many brands with pure cauliflower only, but this one has malic acid inside! With so much frozen variety around, stick to healthier store bought cauliflower rice.
We've seen it before at Costco and Walmart.
Thrive Market Organic Riced Cauliflower
Again, malic acid. I understand it's similar to citric acid and it probably won't kill you, but as I've mentioned before there are many grocery stores that carry pure cauli rice without any additional ingredients.
This one is exclusive to Thrive Market members only.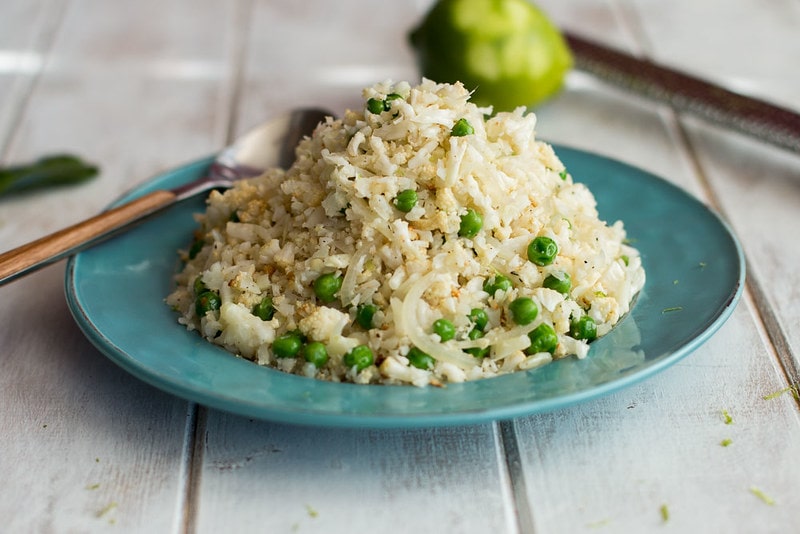 Our final opinion
There are plenty of healthy, high quality rice cauliflower options at stores. Whether you prefer frozen riced cauliflower over fresh one, it's a great alternative to brown rice or white rice.
If you want to save money, making cauliflower rice is easy too. All you need to do is grab a food processor or a box grater.
In case you're wondering what tasty recipes you can make your own cauliflower rice with, we've got an awesome Keto Cauliflower Fried Rice Recipe for you (make it in less than 30 mins)!
Also, don't forget to let us know in the comments which frozen cauliflower rice is your favorite!
Written By