Ordering keto fast food in a healthy manner can be tricky. We're going to share with you our top 5 best keto fast food options, a couple of honorable mentions, and what you need to watch out for when ordering. Remember, you can always look at the restaurants website for in depth nutrition on each and every item. On to our list!
Top 5 Keto Fast Food Restaurants
#5 Chick-fil-A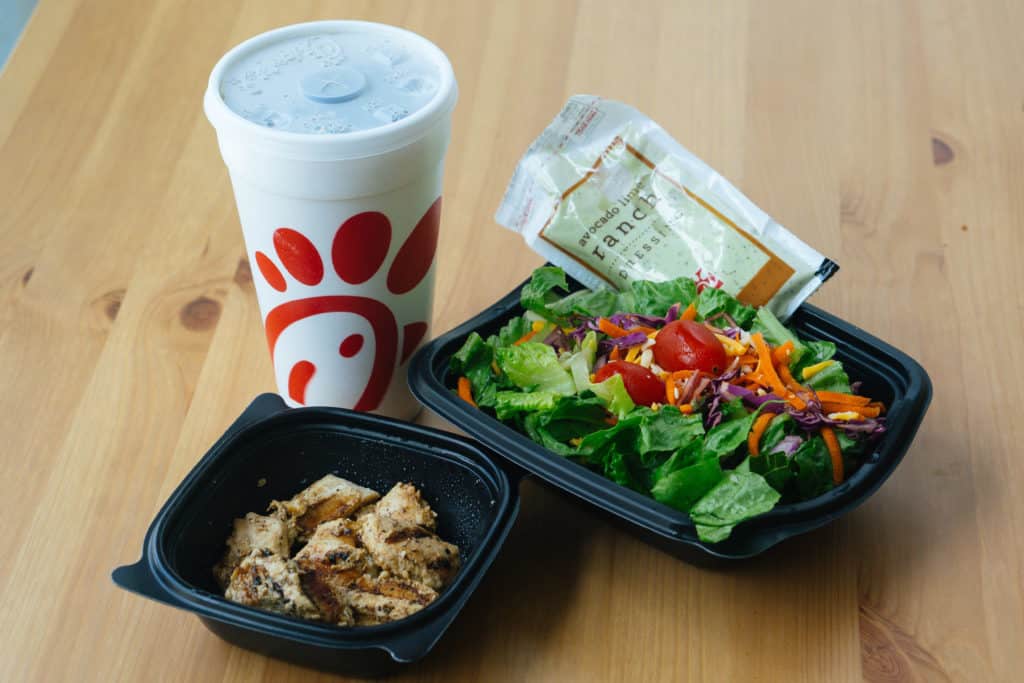 What's Keto at Chick-fil-A
Grilled Chicken Sandwich without the bun
Grilled Chicken Club Sandwich without the bun
Bacon, Egg and Cheese Biscuit without the biscuit
Sausage, Egg and Cheese without the biscuit
Bacon, Egg and Cheese Muffin without the muffin
Grilled Chicken Nuggets with Side Salad
What We Order
Eight-Count Grilled Nuggets
Side Salad with Avocado Ranch Dressing
Diet Coke
Price: $8.50
The HUGE list of keto friendly foods.
Chick-fil-A has quite a few low-carb options on their menu, especially their breakfast menu; Pair a keto breakfast sandwich with a coffee and you'll be satisfied and energized until the afternoon!
The Grilled Chicken Nuggets we tried have really good flavor and we could eat them all day, but they do contain fillers and have two net carbs per eight nuggets.
The Avocado Lime Ranch salad dressing came out to 3g of carbs and 32g of fat which came from soybean oil. We like to avoid vegetable oils since they've been proven to increase inflammation and are full of harmful trans fats.
Pro Tip: It's tough to find health fats when eating at fast food restaurants. Most places don't even have real butter. It would be best to bring some dressing from home if possible.
#4 Kentucky Fried Chicken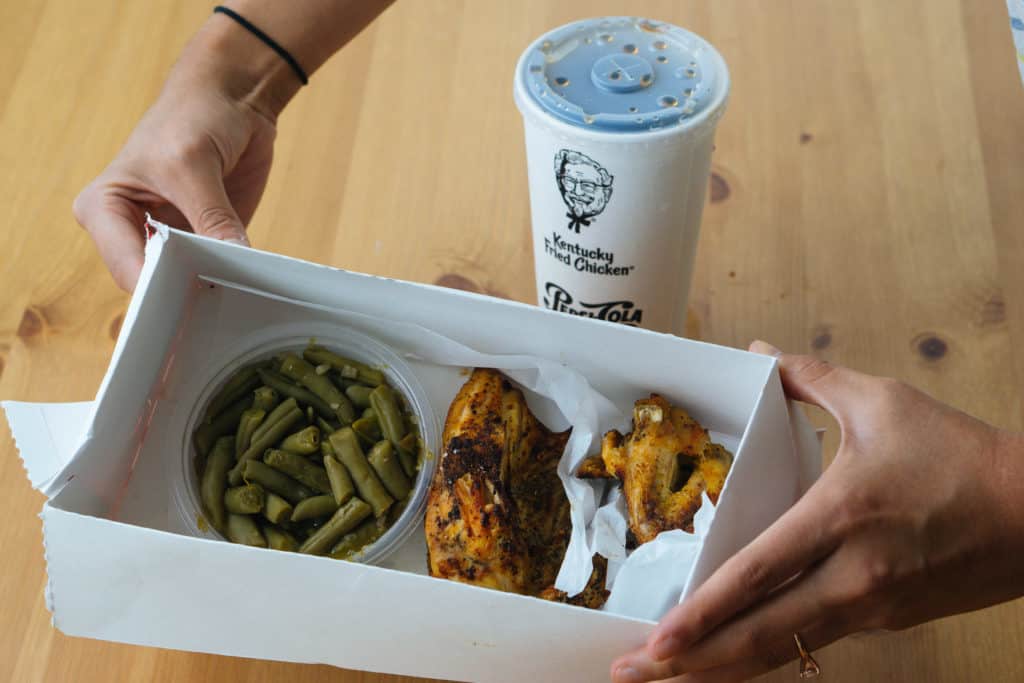 What's Keto at KFC
Kentucky Grilled Chicken
Green Beans
What We Order – $5 Fill Up
2-piece White Chicken Combo Grilled
Green Beans
Diet Pepsi
Price: $5.00
The grilled chicken at KFC is delicious. We were on a road trip once and ate an entire bucket of it. It's that good. You can watch that video and check out how to order keto at KFC.
You get to choose a side with this meal, but unfortunately, out of the ten sides to pick from, there's only one keto option and it's Green Beans which taste like baby food – in other words, not good.
Even though the Grilled Chicken from KFC is a good option, it's pretty low in fat, so we recommend adding in some fat like avocado, butter, or olive oil to make it more filling. Plus, the "buttery spread" at KFC is actually margarine, so don't be fooled by the label.
#3 Jimmy John's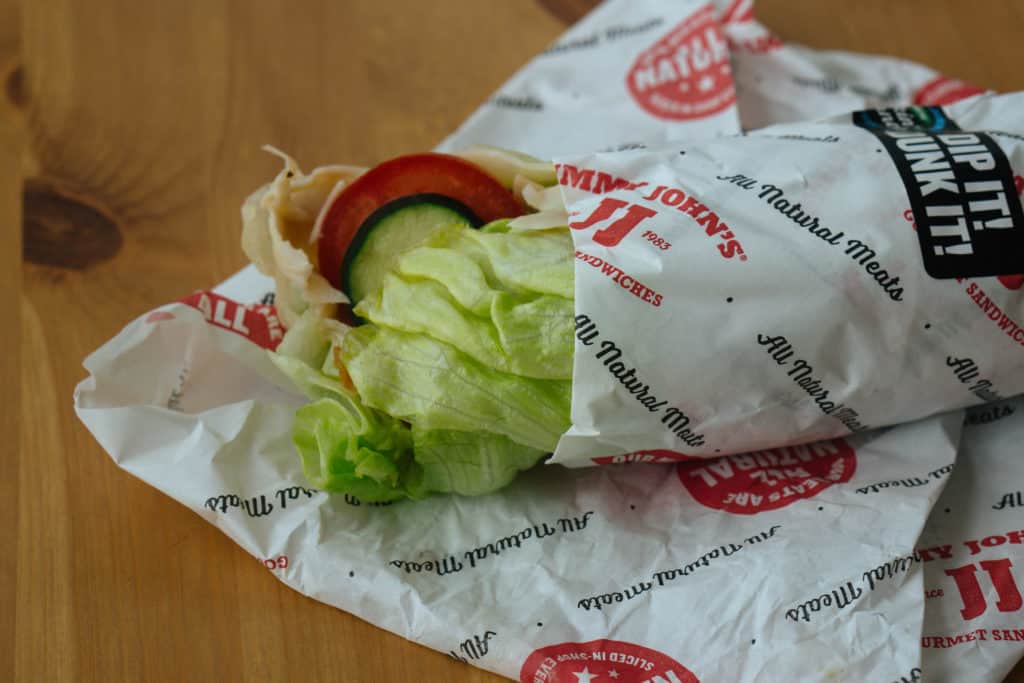 What's Keto at Jimmy John's
Jumbo Kosher Dill Pickle
Any sandwich made as an Unwich (no bun)

Billy Club Unwich
Italian Night Cub Unwich
Hunters Club Unwich
Bootlegger Club Unwich
Club Lulu Unwich
Ultimate Porker Unwich
Smoked Ham Unwich
Country Club Unwich
Beach Club Unwich
Club Tuna Unwich
What We Order
Beach Club with Bacon Unwich
Price: $8.76
Jimmy John's Gourmet Sandwiches is coming in at number three with a refreshing Unwich. In fact, just about an of their menu items can be turned into a keto friendly sandwich by omitting the bread.
If you're unfamiliar with the Jimmy John's Unwich, it's a lettuce wrap instead of bread and they do a really good job of it. It's not just a couple leaves of lettuce barely holding together the sandwich fillings like you might find at McDonalds when you ask for a lettuce wrapped sandwich.
We order the Beach Club Unwich with bacon, which has turkey breast, provolone cheese, avocado, cucumber, lettuce, tomato, and mayo, but we omitted the mayo to avoid vegetable oils. You can always take it home and lather it in a healthier mayo from your own fridge. This is what Megha would do.
Jimmy John's is a favorite among the keto community and we totally understand why. The ingredients are simple and fresh!
#2 Chipotle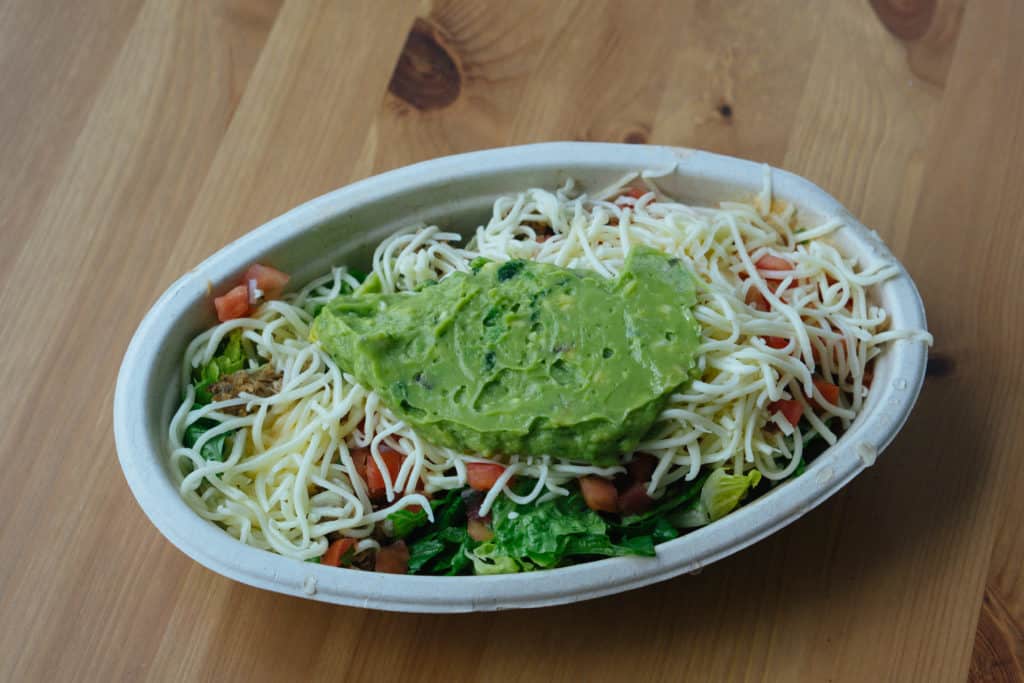 What's Keto at Chipotle
Romaine Lettuce
Chicken
Steak
Pork Carnitas
Barbacoa
Chorizo
Sofritas
Fajita Vegetables
Fresh Tomato Salsa
Tomatillo Green Chili Salsa
Tomatillo Red Chili Salsa
Cheese
Guacamole
What We Order
Salad Bowl with Pork Carnitas, Tomato Salsa, Cheese, and Guacamole.
Price: $7.30
Chipotle was actually the very first keto fast food we tried when starting on our low-carb journey! You can watch that video and get a better understanding of the Chipotle Keto menu.
The Salad Bowl from Chipotle comes with a bed of lettuce instead of rice and beans (like the burrito bowls), and we like to top ours with Pork Carnitas because it's the protein option with the highest fat content. Make sure to avoid the vinaigrette because it's loaded with sugar! For a creamy kick, add some Queso or sour cream.
If you're no where near a Chipotle and are craving Mexican, you could try the Mini Skillet Bowl at Taco Bell. It didn't make our Top Five Keto Fast Food Places list, but it's also an option! We gave it a full review back in 2017.
We have to be honest. Chipotle was originally our number one place to order keto fast food, but after testing all five restaurants, we decided it wasn't the true winner. The keto macros are great and the ingredients are fresh, but Wendy's took the number one spot on our list.
#1 Wendy's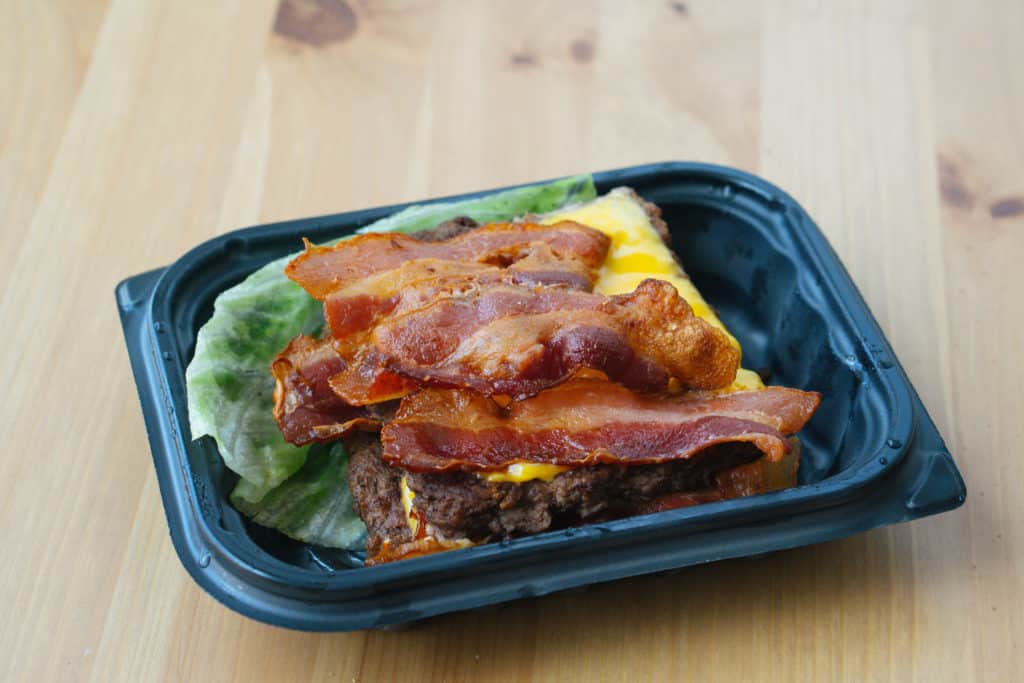 What's Keto at Wendy's
Dave's Single – no bun
Dave's Double – no bun
Dave's Triple – no bun
Baconator – no bun
Son of Baconator – no bun
Bacon Deluxe 1/4 lb single – no bun
Bacon Deluxe 1/2 lb double – no bun
Bacon Deluxe 3/4 lb triple – no bun
Cheeseburger Deluxe – no ketchup, no bun
Jr. Hamburger Deluxe – no ketchup
Jr. Bacon Cheeseburger – no bun
Cheesy Cheddar Burger – no bun
Grilled Chicken Sandwich – no Honey Mustard
Grilled Asiago Ranch Chicken Club Sandwich – no bun
Berry Burst Chicken Salad – substitute Raspberry Vinaigrette with Ranch or Caesar
Southwest Avocado Chicken Salad
Side Caesar Salad – no croutons
What We Order
Double Bacon Cheeseburger without the bun
Price: $6.09
Wendy's snuck in from second place right before the finish line and took first place. Sorry, Chipotle. Wendy's is killing the beef and bacon game.
I've never really been a fan of fast food burgers, but the Wendy's beef patties are 100 per cent quality beef, don't contain any fillers, and are a lot bigger than other fast food burger patties. The ingredients are not far off from a healthy burger we would make for ourselves at home.
Pro Tip: It would be cheaper to just order each patty and each slice of bacon on their own as opposed to ordering the Double Bacon Cheese Burger without the bun.
Wendy's bunless burgers is our number one fast food keto meal. It's appetizing, filling, and you can feel good about the ingredients.
Check out more of our fast food reviews and videos here.
Keto Fast Food Honorable Mentions
Subway
Make your favorite sub sandwich into a Chopped Salad at Subway, top it with shredded cheese and a low-carb dressing. Be careful with some meats like Sweet Onion Chicken being covered in sugar. Keep it simple and don't be afraid to look up the nutrition info online beforehand.
Burger King
Order the Grilled Chicken Sandwich without the bun. It comes with lettuce and tomato, plus you can always ask for some cheese and bacon for extra fat and flavor. All burgers and sandwiches can be ordered without the bun at Burger King.
Popeyes
Instead of Popeyes traditional fried chicken, you can order the Blackened Tenders with a side of Green Beans. These chicken tenders are fried with a blackened seasoning, but they don't have any batter or breading. This menu item is not available at every location.
Jack in the Box
Bacon, sausage, ham, scrambled eggs AND two kinds of cheese. Order the Meat Lovers Breakfast Burrito without the tortilla. This keto breakfast bowl is a filling fast food meal. As with all fast food restaurants, you can order all hamburgers and sandwiches without the bun at Jack in the Box.
In Summary
If you're unsure about a menu item, look up the nutrition on the companies website.
Every fast food restaurant will allow you to order hamburgers and sandwiches without the bun. Some will make it into a salad for you, others will make it a lettuce wrapped burger.
Be careful with dressings and "buttery spread". These are likely loaded full of vegetable oils and should be avoided if possible.
Find a few options you like that are local to your area and stick with them.