You're in luck! You've just found the ultimate guide to keto fast food, keto restaurants and keto takeout. Bookmark this page so you can easily satisfy your fast food keto cravings whenever they come up.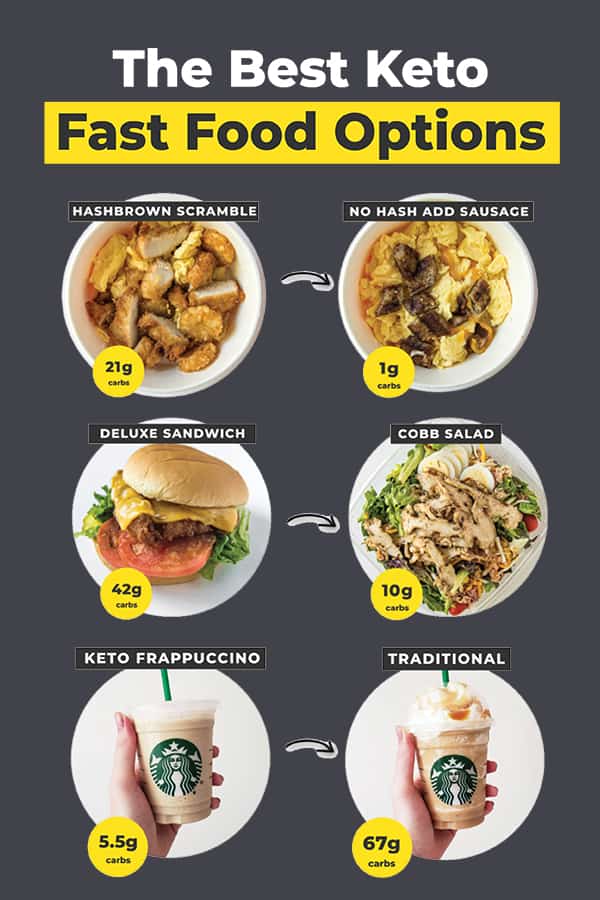 While learning to cook in a keto friendly way is key to success on the keto diet, sometimes you just want someone else to do the cooking!
Some of our best moments are shared over meals, and just because you're eating a ketogenic diet doesn't mean you can't share a meal or fast food snack with friends. Despite what you may have heard, keto and weight loss is sustainable when eating out!
We've made it easy for you with our list of the best keto friendly fast food joints and restaurants. Below there's a breakdown from standard fast food restaurants, all the way to sit down fast casual. If you're unsure of what's keto near you, read through this guide and begin ordering like a pro!
This guide contains a few of the top options from each restaurant. For a more detailed guide and every single order, read the full guides for each individual restaurant.
9 Tips for Eating Keto Fast Food
Here's how to make your favorite spots into keto friendly low carb restaurants:
Skip on the full sugar soft drinks – Personally we like to choose a low carb option like Diet Coke or Diet Pepsi.
Watch out for "butter" that's really margarine- Most of the time we think butter means keto options, however often times the little packets of butter you get are margarine, and the butter "flavor" in meals is actually vegetable oils.
With salads, when in doubt, use olive oil (or oil and vinegar) as dressing and add avocado for healthy fat. You will also want to skip any high carb toppings such as bread, croutons, or candied anything.
Sauces like BBQ, teriyaki, and honey mustard are loaded with sugar — if you're desperate for extra flavor, ranch dressing is typically the safer choice when ordering keto fast food.
If choosing a side, play it safe with low-carb veggies like cauliflower, asparagus, or mushrooms. You can also ask for something like a chicken salad or side salad.
Check salads for croutons.
Ask for any breaded items (from appetizer to filet) to be grilled instead.
Avoid all bread — yes, even the free stuff before the meal. Sandwiches should be without the bun or wrapped in lettuce to be keto friendly fast food. Remember that you can still enjoy low carb bread on the keto diet if you're prepared to put in a little effort 🙂
Be sure to clearly say "no sauce or ketchup!" Even keto fast food restaurants can slip up sometimes.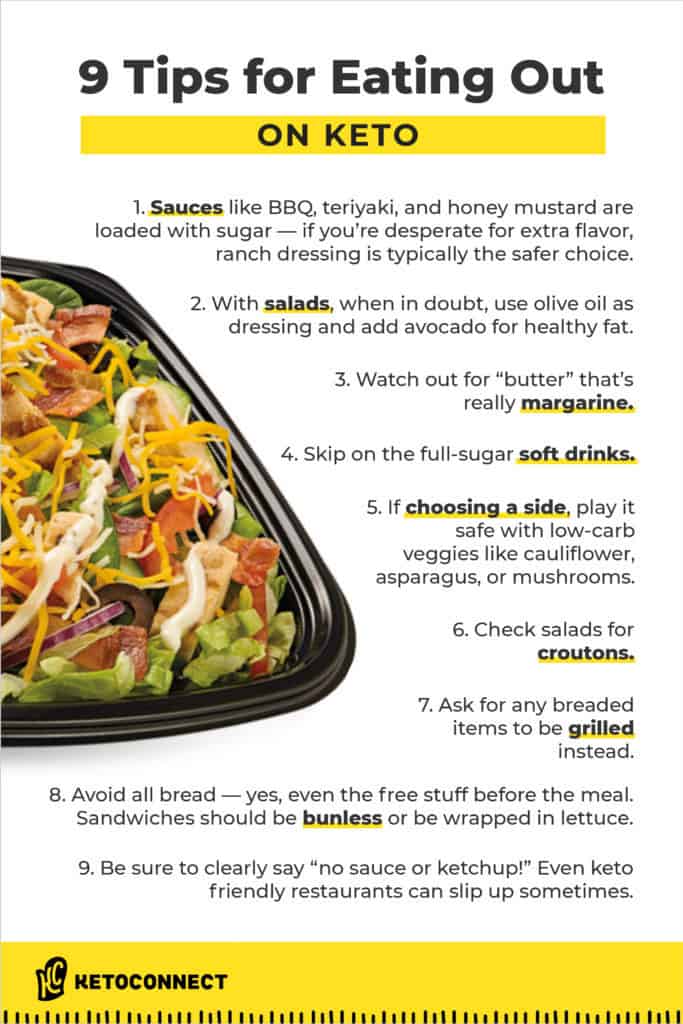 Keto Friendly Fast Food
One of the biggest lies about the keto diet is that it's time consuming and expensive. Life happens, though, and there's not always time for meal prep.
If you find yourself needing a cheap and quick option for eating out, we've got your keto friendly fast food options covered. Enjoy efficient weight loss and optimized health, even in a fast food keto drive-through. Here's what to order as low carb options in these fast casual and fast food restaurants.
McDonald's
The best place to start discussing fast food keto options is of course McDonald's. We know what you're thinking: a low carb option at McDonalds? Yes, it is possible! Typical McDonalds fast food is high in carbs, but there are ways to make a keto fast food meal here. Here's what to order at Mickey D's.
Sausage, Egg and Cheese McMuffin Breakfast Sandwiches (no English muffin): 4g net carbs, 26g of fat, and 15g of protein
Bacon, Egg and Cheese Biscuit (no biscuit): 4g net carbs, 13g of fat, and 14g of protein
Pico Guacamole with Artisan Grilled Chicken Sandwich (without the bun): 6g net carbs, 19g of fat, and 29g of protein
Big Mac (Without the bun, no ketchup or sauce): 5g net carbs, 25g of fat, and 18g of protein
Quarter Pounder with Cheese (no bun or ketchup): 4g net carbs, 24g of fat, and 24g of protein
Warning: you may want to remember how much you love the keto diet if you start to smell french fries. That delicious scent is the enemy of your low carb diet. Always go in mentally prepared to say, "NO"! And yes, that goes for an order of hash browns too…
Read our full post on keto at McDonald's.
Starbucks
Starbucks is well known for having terrible food, so you're best bet is going somewhere else if you want a meal. They do have a bunch of keto friendly drink options though. Here is just a fraction of what you can order at Starbucks:
Keto Frappucino – 5.5g of carbs
Keto Pink Drink – 4.5g of carbs
Keto Friendly Mocha – 5.3g of carbs
Keto Chai Tea Latte – 3.7g of carbs
For specifics on how to make these drinks low carb read our full post on keto at Starbucks.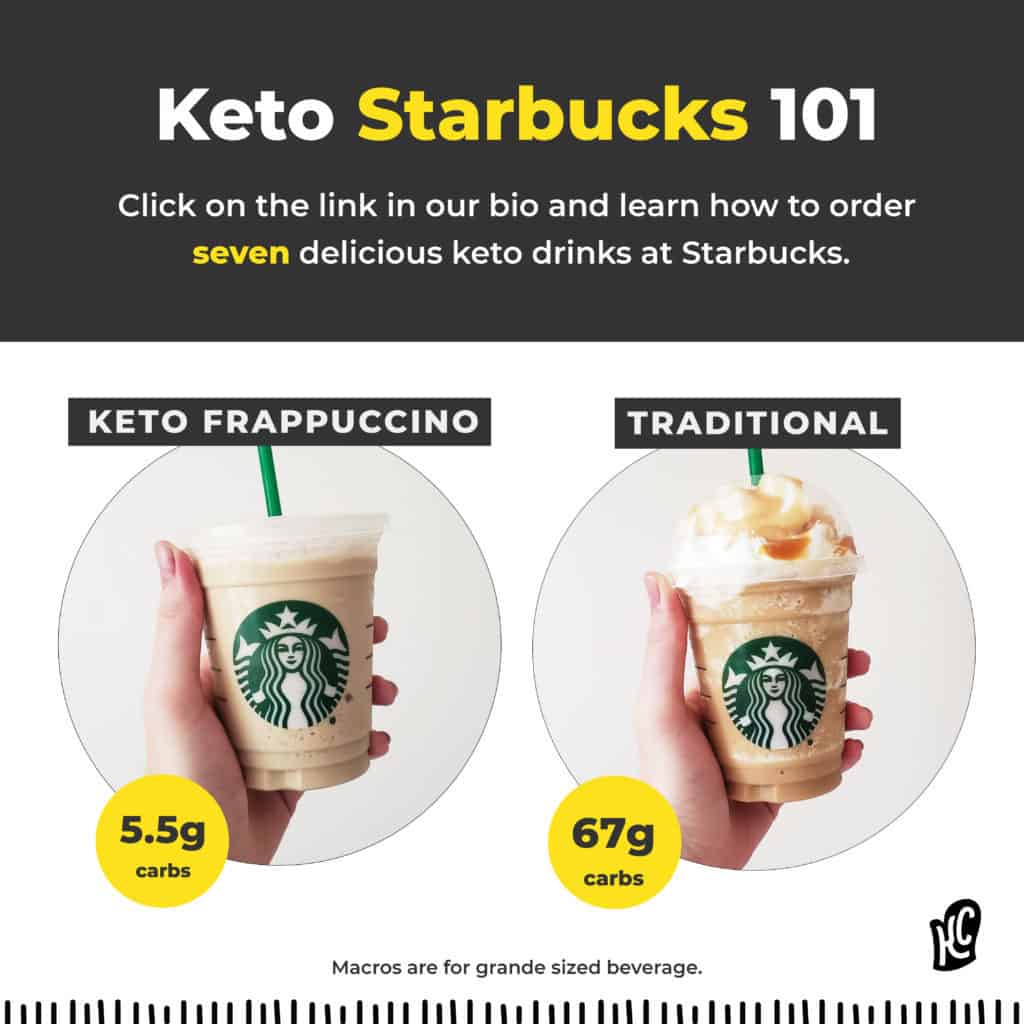 Taco Bell
Here are the best keto fast food options at Taco Bell. Our advice to keep things low carb is to steer clear of tortillas, don't be afraid to customize, and remember to add some healthy fats. Most fast food restaurants will allow you to get meals in a bowl or protein style for your low carb diet. When ordering keto food at Taco Bell, just ask for no shell and in a bowl instead. Our three favorite keto friendly options we like to customize at Taco Bell are:
Mini Skillet Bowl (no potatoes, add beef, guacamole, sour cream, and creamy chipotle sauce): 6g net carbs, 46g of fat, and 14g of protein
Fiesta Taco Salad with Chicken (no shell, no rice and beans, or tortilla strips, add guacamole for a high-fat boost): 10g net carbs, 9g of fat, 21g of protein
Power Menu Bowl (no rice or beans, add lettuce and bacon): 8g net carbs, 24g of fat, 21g of protein
Read our full post on keto at Taco Bell.
Chick-fil-A
Chick-fil-A has quite a few low carb options if you go bunless, get grilled chicken, and skip the sauces. We know this is many peoples favorite fast food place, and we love it there too! The ingredients taste fresh and Chick-fil-A has the nicest employees by far! And a heads up: their buffalo sauce has 0g net carbs if you're dying to dip! Here's what we like:
Grilled Chicken Sandwich (no bun, pickles are fine): 3g net carbs, 2g of fat, and 21g of protein
Grilled Nuggets (eight count, no sauces): 2g net carbs, 2g of fat, and 21g protein
Side Salad with Avocado Ranch Dressing: 11g net carbs
They have some of the freshest keto fast food and a great low carb option for salad and chicken sandwiches on the go. A chicken sandwich without the bun is perfect for a keto diet that wants to also watch overall calories.
Read our full post on keto at Chick-Fil-A.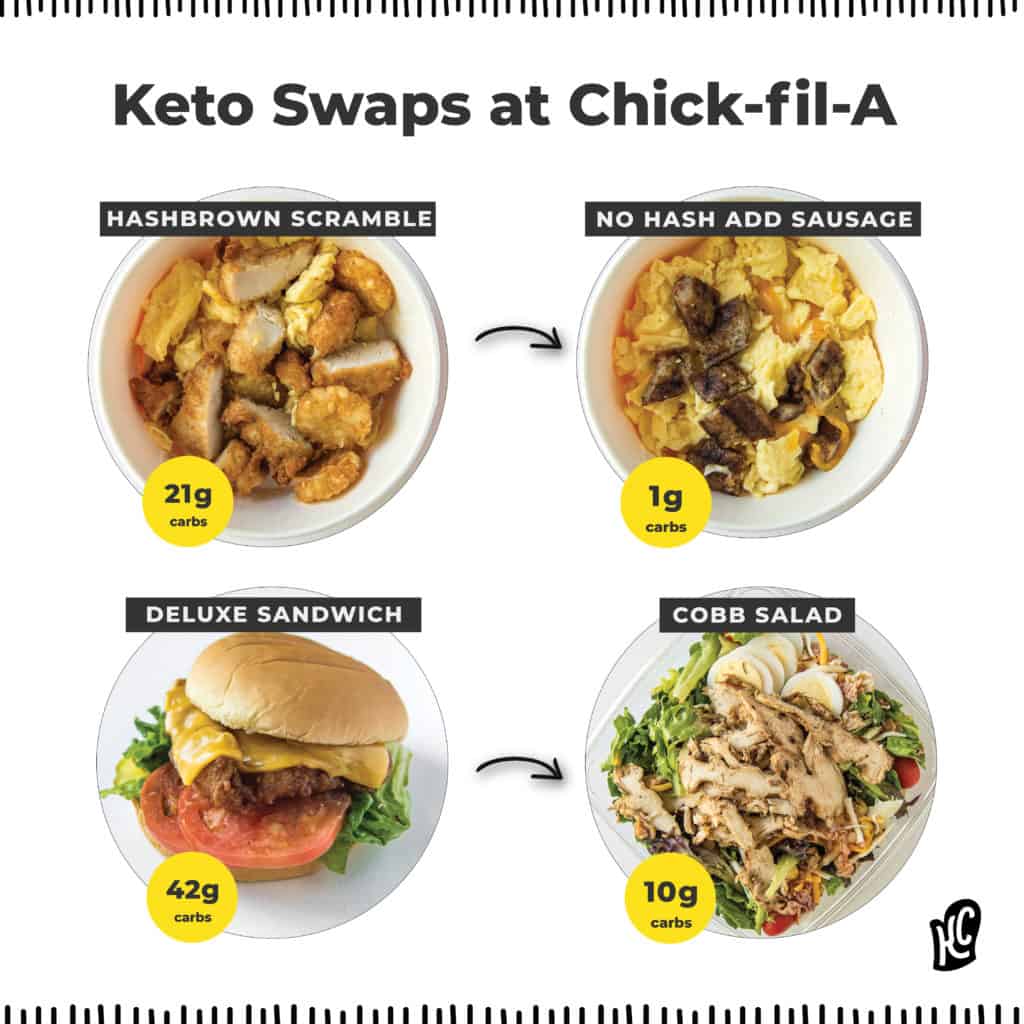 Wendy's
Wendy's affinity for bacon makes it an excellent choice for your keto fast food meal. Here's the rundown on how to get a low carb option for a cheeseburger:
Breakfast Baconator (no bun): 5g net carbs, 50g of fat, and 31g of protein
Dave's Single (no bun, no ketchup): 5g net carbs, 31g of fat, and 24g of protein
Peppercorn Mushroom Melt (no bun or onions): 5g net carbs, 33g of fat, and 25g of protein
Son of Baconator (no bun or ketchup): 4g net carbs; 37g of fat, and 29g of protein
Caesar Salad (no croutons): 5g net carbs, 14g of fat, and 9g of protein
Wendy's also offers a lettuce wrap so you can get the satisfaction of biting into your burger while still being on a keto diet. Try adding cheese and bacon to any plain burger order for a higher fat count.
Read our full post on keto at Wendy's.
Carl's Jr / Hardee's
Carl' s Jr or Hardees is a great keto fast food option that can easily be made low carb. Whether you want a burger, salad, or sandwich Carl' s Jr has you covered. Here's what to order:
The Monster Biscuit: 4g net carbs, 48g of fat, 29g of protein
The Guacamole Bacon Thickburger: 9g of net carbs, 44g of fat, 39g of protein
The Charbroiled Chicken Club: 13g of net carbs, 22g of fat, 24g protein.
Carl' s Jr also does all their food "low carb style", which is where they press a button notifying the kitchen of your keto request. If this isn't keto fast food at its finest I don't know what is!
Read our full post on Carl's Jr. and Hardee's.
Burger King
If charbroiled burgers from Burger King are your favorite, then it's time to make them keto friendly! The following menu items pair well with a side garden salad, making them the best fast food for keto at Burger King. 
Bacon King (no bun, no ketchup)
Sausage Egg and Cheese (No croissant)
Whopper (no bun, no ketchup)
Burger King similar to Wendy's has a lot of keto fast food burger options. Just remember to skip sauces, ketchup, and yes even that tasty order of fries. Once you've done that your keto fast food at Burger King is complete!
Dunkin Donuts
Dunkin Donuts is a little weak when it comes to coffee (kind of watery), but it comes through with their low carb menu options. Over the last few years they have expanded their food menu to appeal to the keto crowd. Here's what they have in the way of keto friendly options:
Sausage egg and cheese (hold the bread) – 310 calories, 3g carbs, 25g fat, 17g protein, 3g net carbs.
Turkey sausage, egg white & cheese (hold the bread) – 172 calories, 6g carbs, 6g fat, 19g protein, 6g net carbs.
Keto Almond Joy Latte – 4g of carbs
Cinnamon Low Carb Latte – 3g of carbs
Learn how to order keto at Dunkin Donuts.
Subway
Subway is always a solid option for keto takeout. You can keto-fy almost any sandwich at Subway by making it a chopped salad. Remember to avoid toppings covered in sweet sauces like teriyaki or meatball marinara. Up the fat on any of these keto options with a low carb dressing, more cheese, or guacamole. 
Chicken Bacon Ranch Chopped Salad: 9g net carbs, 17g fat, 22g of protein.
Steak and Cheese Chopped Salad: 11g net carbs, 9g fat, 19g of protein.
Oven Roasted Chicken Chopped Salad: 7g net carbs, 2.5 fat, 16g protein.
Low carb/ keto meals are super simple at sandwich shops as long as you sub bread for lettuce. Stick to this simple keto tip to customize the best low carb meal.
Note: Be careful with Subway's creamy soups and chili, they each pack about 15g carbs per bowl.
Learn how to order keto at Subway.
Smoothie King
A sneaky favorite keto takeout option of ours is ordering a keto smoothie from Smoothie King. Whenever we share this on social media people are surprised to learn that Smoothie King has something called the Keto Champ Smoothie. They have 3 flavors you can choose between and they use quality ingredients!
Keto Champ Berry: 430 calories, 31g fat, 23g protein, 9g net carbs
Keto Champ Coffee: 420 calories, 31g fat, 24g protein, 7g net carbs
Keto Champ Chocolate (not listed on the menu): 420 calories, 31g fat, 24g protein, 7g net carbs
Read more about ordering keto friendly drinks at Smoothie King.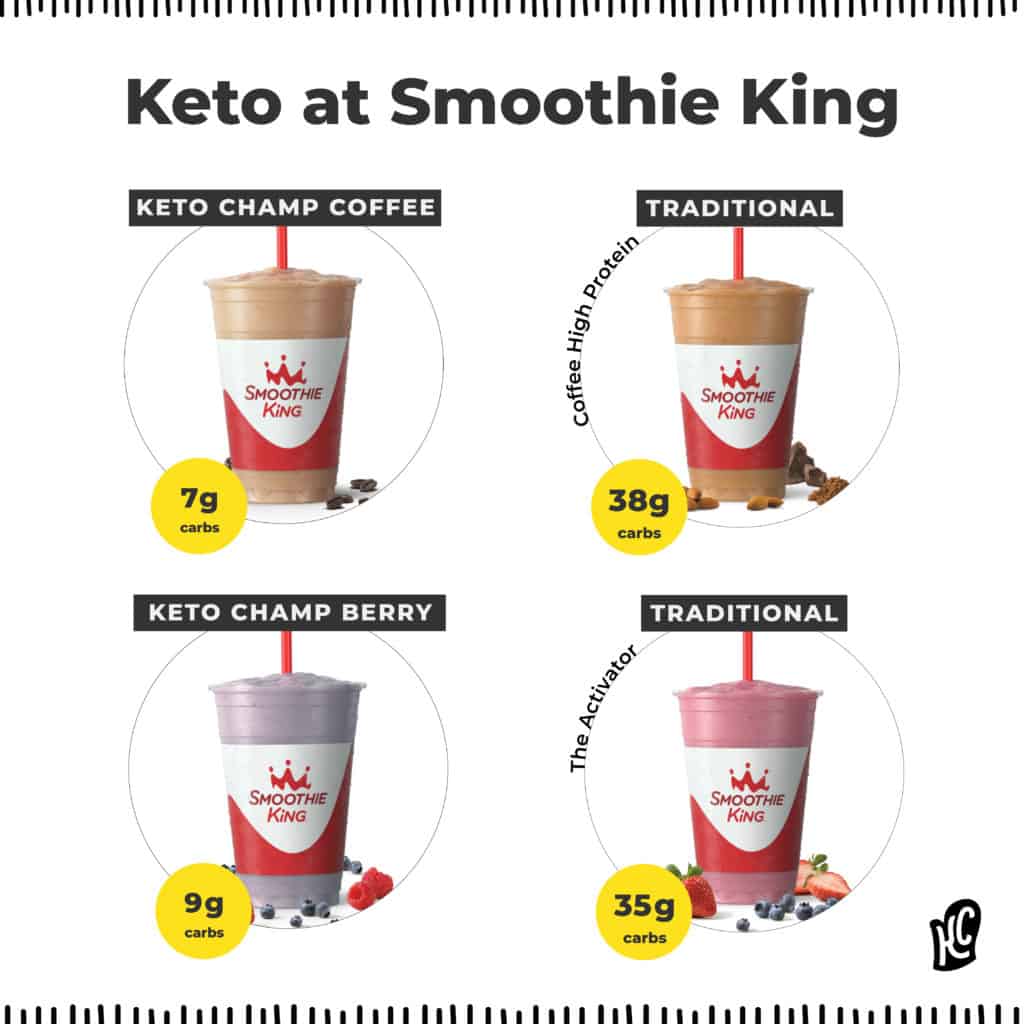 Blaze Pizza
Blaze Pizza made waves in 2019 when they began offering a keto friendly cauliflower crust pizza. If you've never been to Blaze Pizza before it's kind of like Subway, but for pizza. You choose your toppings and they bake it for you once you order.
Blaze Keto Pizza – Between 1g and 6g of net carbs per slice depending on your toppings and sauces.
Read our full guide for Blaze Pizza keto options.
Jersey Mikes Keto Takeout Options
Jersey Mikes has a cult following in the keto community for their "sub in a tub". It's all of the fillings you would typically get in a sub sandwich served in a bowl. They offer hot and cold subs and have a pretty diverse menu.
#2 Bacon, Egg, & Cheese: 299 calories, 24g fat, 19g protein, 3g net carbs
#3 Ham & Provolone: 260 calories, 14g fat, 26g protein, 4g net carbs
#17 Mike's Famous Philly: 400 calories, 27g fat, 34g protein, 5g net carbs
and more…nearly every sub can be made keto friendly.
Here's everything you can order at Jersey Mike's on Keto!
Popeyes
Popeyes Chicken is a bit of a one item wonder when it comes to ordering a low carb meal. They have blackened chicken tenders at most locations(but not all). It's pretty much the only option on the menu, and while it is pretty tasty we think the price does not justify the amount of food you get.
Learn more about eating keto at Popeyes.
Zaxby's
Navigating the menu at Zaxby's can be challenging. There are a lot of different items on the menu so it's important to have a plan going in. Here is some of the best Zaxby's keto options:
Traditional Wings, no sauce: 290 calories, 19g fat, 0g carbs, 30g protein
Grilled Chicken Caesar Zalad: 330 calories, 13g fat, 5g net carbs, 2g fiber, 46g protein
Cajun Club Sandwich, no bun: 410 calories, 24g fat, 5g net carbs, 42g protein
Read the full guide to ordering Keto at Zaxby's
Papa John's
As with most pizza places, the pickings for keto friendly meals at Papa John's are slim. Your only real option is the Unsauced Roasted Wings which clock in at 4g of carbs per 8 wings. Maybe someday soon they will offer a low carb pizza crust…
Dairy Queen
You're not going to want to hear this…but Dairy Queen has a breakfast menu where you'll find most of the lower carb offerings. The normal menu can be harder to navigate and of course you'll want to stay away from the dessert menu (although I was raised on DQ Blizzard's). Here are some of your best options for ordering keto at Dairy Queen:
Biscuit Sandwich with Bacon, no bun: 340 calories, 24g fat, 26g protein, 3g net carbs.
Biscuit Sandwich with Ham, no bun: 300 calories, 19g fat, 26g protein, 3g net carbs.
1/2 lb Cheese GrillBurger, no bun: 650 calories, 48g fat, 70g protein, 6g net carbs.
Jack In The Box
Surprisingly, Jack in the Box turns out to have a decent variety of keto friendly offerings. Known mostly for their hamburgers, they also have an extensive breakfast menu as well as some tasty chicken sandwiches.
Grilled Chicken Strips: 250 calories, 5g fat, 43g protein, 5g net carbs.
Chicken Club Salad with Grilled Chicken Strips: 380 calories, 20g fat, 37g protein, 8g net carbs.
Most of their sandwiches and burgers without a bun make for a good keto meal.
Read our full guide for Jack in the Box keto options.
Arby's
Arby's is know for it's roast beef sandwiches, but has expanded its menu in recent years to include a wide range of sandwiches and sides. Most of the stuff at Arby's isn't as tasty when you get it bunless so it isn't very high on our list of keto fast food options.
Double Roast Beef Sandwich, no bun: 310 calories, 20g fat, 2g carbs, 21g protein.
Double Beef 'N Cheddar, no red ranch sauce, no bun: 280 calories, 18g fat, 26g protein, 3g carbs.
Roast Turkey Farmhouse Salad, no dressing: 250 calories, 14g fat, 25g protein, 5g carbs.
Read our full guide to ordering keto at Arby's.
Sonic
Going to Sonic is a bit like going back in time to the era of drive in restaurants. They are known for having a huge and confusing menu, so you're going to need a plan before you pull up to Sonic.
Bacon Breakfast Burrito, no tortilla.
Sonic Bacon Double Cheeseburger, no bun.
Classic Grilled Chicken Sandwich, no bun.
Check out our full guide for order keto at Sonic.
Domino's
This is the least keto friendly place on the list. You either have to scrape the toppings off of a pizza (which isn't a great meal), or go with their baked plain chicken wings which are lightly breaded. If I had to make a choice I would go for the wings, they are 7g of carbs per 4 wings.
Here is the full guide for ordering keto at Domino's.
Pizza Hut
You're going to struggle finding a low carb meal at Pizza Hut, but there is one item on the menu that is actually pretty good. Bone-In wings at Pizza Hut are keto friendly at just 1g of carbs per two wings. Make sure you go for the traditional wings and not the boneless ones, which are breaded and loaded with carbs.
Make sure to check out our guide for ordering keto at Marco's Pizza as well.
Culver's
There is no point in visiting Culver's if you aren't going to order a Butterburger. There are a few other keto takeout options on the menu that can be modified to be low carb, but nothing compares to a Butterburger. Just make sure you order it without a bun and it will make for a nice and filling keto meal.
Read our full Culver's keto ordering guide.
El Pollo Loco
In recent years El Pollo Loco has dramatically increased the amount of keto options on their menu. They have keto tacos, keto burritos, and a cauliflower rice option for their pollo fit bowls.
While it may be hard to find an El Pollo Loco location in your area, if you ever happen to see one you'll definitely want to stop in and try some of their low carb meals.
Learn exactly what to order at El Pollo Loco on keto.
White Castle
There are certain restaurants that just aren't worth the effort to try and make keto friendly and White Castle is one of them. Unless you are forced to order something here, you are better off just going someplace else. The best option is to get the sliders without a bun, but you end up barely getting any food then… Just avoid if you can 🙁
Keto Friendly Fast Food Restaurants
So what if it's date night or dinner with friends? There's no need to eat before you go! We've rounded up your tastiest options for low carb fast food restaurants, from Italian to Tex-Mex.
Chipotle
This fast food chain tops this list of keto friendly restaurants for us: the ingredients are clean and the variety is incredible. It's practically perfect! The salad bowl is absolutely the way to go– the burrito bowl, burrito, and tacos are obviously not keto due to tortillas, rice, and beans. Here are our favorite Keto Chipotle meals:
Salad Bowl (with lettuce, barbacoa, tomato salsa, green chili salsa, sour cream, guac, and cheese): 14 grams of carbs, 45.5g of fat, and 35g of protein- A great high fat low carb option.
Salad Bowl (with lettuce, chicken, tomatillo red salsa, cheese, and guacamole): 15g net carb, 36.5g of fat, and 41g of protein
DIY: any combo of meat, cheese, salsas, guac, sautéed veggies, and lettuce.
Side note: carnitas is the most keto-friendly meat, with 12g of fat and 0 net carbs.
Normal Mexican fast food would be high in carbs, but Chipotle provides many low carb/ keto
Panera Bread
Yes, it's called Panera Bread, but no, you don't have to carb-load. Panera bread is a fast casual restaurant perfect for keto fast food. If you're craving that cafe vibe, grab a cup of coffee (black or with heavy cream) and one of these bites:
Sausage, Egg, & Cheese Sandwich (no bread): 2g net carbs, 28g of fat, and 21 grams of protein
Steak and Egg Sandwich (no bread): 1g net carb, 28g of fat, and 35g of protein
Greek Salad (whole salad, no modifications needed): 11g net carbs, 36g of fat, and 6g of protein
Best options for keto at Panera Bread.
Jimmy John's
Jimmy John's is a popular fast food sandwich restaurant, known for their incredibly fast delivery. Just about any of Jimmy John's sandwiches can be made keto, all you have to do is ask for a Jimmy John "unwich" instead. An unwich is a sandwich artfully wrapped in lettuce instead of using bread.
Beach Club Unwich: 5g net carbs, 38g fat, 32g of protein.
Big John Unwich: 3g net carbs, 20g fat, 17g of protein.
Totally Tuna Unwich: 5g net carbs, 21g fat, 12g of protein.
Add avocado, cheese, and bacon to any unwich to up the fat content. A Jimmy John unwich lettuce wrap is certainly the way to go when trying to find keto fast food options. If you just wanted a low carb fast food option, they do also offer bread hollowing. That's where they take your favorite sub and scoop out all the dough so you have a bread shell. Not ideal for a keto diet, but for low carb fast food options it's there.
Here's the BEST options for Keto at Jimmy John's.
Olive Garden
This Mediterranean-style favorite has several keto-friendly entrées, many of which are packed with veggies and healthy fat goodness. It's not your typical fast food restaurant, but it may just become your new favorite fast food choice!:
Herb-grilled Salmon (as-is, including Parmesan garlic broccoli, dinner portion): 4g net carbs, 29g of fat, and 45g of protein
Chicken Piccata (as is, dinner portion): 9g net carbs, 27g of fat, and 60g of protein
Famous House Salad (no croutons, Italian dressing): 5g net carbs, 8g of fat, and 2g of protein
Don't fear the Italian foods! There are keto fast food options anywhere you just have to know what to look for when you order. The simpler you make the menu items you order the better.
Read our full guide to keeping it keto at Olive Garden.
Buffalo Wild Wings
Wanna catch a game and a snack, but not sure if you can stick to your diet? Stick with Buffalo Wild Wings' small size of traditional wings and the following sauces:
Small Traditional Wings with Parmesan Garlic Sauce: 4g net carbs, 22g of fat, and 6g of protein
Small Traditional Wings with Hot Sauce: 3.5g net carbs, 12g of fat, and 5g of protein
Small Traditional Wings with Thai Curry Sauce: 5.5g net carbs, 28g of fat, and 6g of protein.
Chopped Grilled Chicken Salad (Cobb Salad) with Ranch Dressing- 9g net carbs, 69g of fa, 48g of protein
Buffalo sauce on your wings is another low carb option, if you're feeling zesty! Buffalo Wild Wings also has multiple burger/ sandwich, and keto chicken salad options. Fast food possibilities are endless at BDubs!
Read our full post on Buffalo Wild Wings.
Panda Express
If you're in need of some Asian takeout food, Panda Express makes it pretty easy to cut down on the carbs without cutting the flavor. While it may be a little higher carb than most keto fast food, they still have tons of low carb fast food options.
String Bean Chicken (grilled chicken, green beans, onion, mild ginger soy sauce): 9g carbs
Kung Pao Chicken (grilled chicken, peanuts, red bell peppers, chili peppers, zucchini, spicy Szechwan sauce): 12g carbs
Broccoli Beef Bowl (Beef, broccoli, ginger soy sauce): 11g carbs
Chinese takeout can still be consumed on your low carb diet. Find more Keto Panda Express items in our guide that fully reviews ingredients and price.
Kentucky Fried Chicken
KFC is known for that crispy breading, but keep your KFC order keto with grilled chicken options. Their grilled chicken is actually delicious and we say there's no shame if you order a whole bucket.
2-piece white chicken combo (grilled, green beans as a side): 2g net carbs, 10 fat, 47g of protein.
Kentucky Grilled Bucket (green beans as a side, no biscuits): Feed the family on 4g net carbs!
Creamy Buffalo and Buttermilk Ranch are the best low-carb options for dipping!
There aren't as many keto fast food options here, but the few they have are delicious. It's also always a good idea to order simple because it means less variables to change your personal meals macros.
Chili's
Rounding out these keto friendly restaurants for your consideration is Chili's. They've got more than just baby back ribs!
Sunrise Burger (no bun, broccoli as a side): 3g net carbs, 70g of fat, and 62g of protein
Fresco Salad (as is): 6g net carbs, 10g of fat, and 3g of protein
Grilled Steak Fajitas (with toppings, no tortillas): 6g net carbs, 46g of fat, and 42g of protein
Once you've ordered your delicious meals and side salads, be sure to skip the cheesecake and other desserts!
Read the full guide on eating keto at Chili's.
Wingstop
It's hard to argue with chicken wings, and Wingstop has some of the best there is! Whenever we are feeling lazy and decide to get takeout for dinner, chicken wings are always one of the options we consider. The one downside to Wingstop is that they fry their wings in soybean oil, where Buffalo Wild Wings fries their wings in beef tallow. Ordering keto from Wingstop is pretty simple, just go for the Jumbo Wings with the following sauces:
Atomic
Cajun
Original Hot
Mild
Garlic Parmesan
Lemon Pepper (most popular)
Louisiana Rub
In certain markets you may also be able to order Thighstop, which is exactly what it sounds like. Instead of wings they sell bone in chicken thighs prepared in a similar fashion.
Read our full guide for ordering keto at Wingstop.
In N Out
Sadly, In N Out is a regional specialty. I can mostly be found in California, Texas and a few other Southwestern states. It is definitely one of the tastiest burgers around, and they make it super easy to order keto friendly meals.
Protein Style (burger is wrapped in lettuce, no bun)
Animal Style (lettuce, tomato, mustard cooked beef patty)
3×3 or 4×4 or NxN: You can order as many patties and cheese as you want. The formula is Meat x Cheese. So a 5×3 would be 5 patties and 3 slices of cheese.
Learn more about ordering keto at In N Out.
Red Robin
I was very impressed with Red Robin the first time I went there while on a keto diet. Of course they are know for their burgers and endless French fries, but the showstopper here is the cobb salad. It is one of the most loaded up cobb salads you will ever have!
Bunless Burgers
Cobb Salad (highly recommended)
The Cheesecake Factory
Everybody loves a fancy night out at the Cheesecake Factory. Their menu is quite extensive, which means if you try hard enough you'll be able to find a few low carb options. Don't be fooled by their "low-licious" cheesecake which contains 30 grams of carbs!
Grilled Branzino with Mediterranean Salsa: 540 calories, 28g fat, 56g protein, 9g net carbs
California Omelet: 1,140 calories, 96g fat, 57g protein, 8g net carbs
Learn more about ordering keto at The Cheesecake Factory.
Cracker Barrel
People have strong opinions about Cracker Barrel. I come down on the side of it being sort of gimmicky and not having great food. However, when you're on a long road trip there is something comforting about stopping into Cracker Barrel for a nice sit down meal.
Ribeye Steak: 47g fat, 52g protein, 0g carbs
Grilled Chicken Tenderloins, no sauce: 6g fat, 37g protein, 5g net carbs
Lemon Pepper Grilled Rainbow Trout: 14g fat, 43g protein, 0.5g net carbs
Here is everything else you should order on keto at Cracker Barrel.
Red Lobster
I used to go to Red Lobster every year as a birthday treat, so I have some found memories here. When I started a keto diet I was happy to learn that Red Lobster has quite a few meals that were suitable for me. Known for their seafood and cheddar biscuits, Red Lobster is a great place for a relaxing dinner.
Hand-Crafted Garlic Shrimp Scampi: 440 calories, 35g fat, 24g protein, 5g carbs.
Live Maine Lobster, steamed: 440 calories, 34g fat, 33g protein, 0g carbs.
Salmon New Orleans: 890 calories, 60g fat, 74g protein, 9g carbs.
Whataburger
Mainly located in Texas, Whataburger is know for it's juicy burgers. It also has locations across many southern states, so use their store locator to see if one is near you. Ordering is straightforward, just ask for your favorite burger without a bun.
Read our full ordering guide for Whataburger on keto.
Denny's
Best known for it's breakfast foods, especially the combo platters known as "Grand Slams", Denny's offers a wide variety of foods. It's open 24/7 and is a favorite spot to hit up after a night of drinking.
All of their omelettes contain between 9-12g of carbs.
They offer burgers which can be ordered bunless.
IHOP
The international house of pancakes is a diner style restaurant that is most known for their breakfast foods, although they also offer dinner options. A big secret at IHOP is that they put pancake batter in their omelettes! You can ask for an omelette made with fresh eggs to avoid this.
Waffle House
You may be surprised to learn that Waffle House is packed full of awesome keto friendly meals. Don't let the "waffle" in the name threw you off, they have plenty of breakfast plates that are satisfying low carb options.
Cheese 'N Eggs (two eggs scrambled with cheese): 280 calories, 22g fat, 18g protein, 2g carbs
T-Bone & Eggs: 1230 calories, 73g fat, 139g protein, 3g carbs
Meat Lover's Chicken & Eggs: 500 calories, 31g fat, 54g protein, 4g carbs
Outback Steakhouse
A steakhouse chain that is best known for it's Bloomin' Onion, Outback Steakhouse is a solid option. You're best off keeping it simple and going with one of their many steak or seafood options with a side of steamed veggies.
Five Guys Burger and Fries
The best part about Five Guys is that they put some care into the way they serve their lettuce wrapped burgers. Sometimes when you get a burger without the bun you just get a flimsy piece of wilted lettuce on top of a burger. Five Guys serves up bunless burgers the right way. Your best options at Five Guys are the bunless burgers and you can get peanuts on the side.
Learn how to order keto at Five Guys.
Shake Shack
Shake Shack is known for its top of the line burgers. Most locations are in the Northeastern United States, but there are Shake Shack's open all around the country now. It is a pretty good option overall, if you're in the mood for a hamburger. You won't find many other keto options at Shake Shack aside from a salad and possible a bunless hot dog.
Check out our Shake Shake Keto ordering guide.
Applebees
There is now restaurant that defined my childhood more than Applebee's. Half off appetizers night was almost a weekly thing for us growing up. Since switching to a healthier lifestyle I haven't spent much time at Applebee's, but they do have some low carb meals to choose from.
Shrimp 'N Parmesan Sirloin: 560 calories, 35g of fat, 55g protein, 5g carbs.
Grilled Chicken Breast: 190 Calories, 38g protein, 0g carbs.
Caesar Salad:220 calories, 18g fat, 4g protein, 9g net carbs.
Texas Roadhouse
Texas Roadhouse is a steakhouse chain that serves up reasonably priced, quality steaks, chicken and seafood. Finding a keto friendly meal at Texas Roadhouse is very easy to do. The selection here for low carb options is great!
Steaks with steamed vegetables – nutrition varies depending on the cut.
Herb Crusted Chicken: 250 calories, 4g fat, 47g protein, 3g net carbs.
Portobello Mushroom Chicken:430 calories, 59g protein, 3g net carbs.
Don't forget to take a look at our full guide on Keto at Texas Roadhouse.
Advanced Tips for Creating a Fast Food Keto Meal
Instead of having a cheat day, try these tips to stick to your nutrition plan and still honor your cravings.
If you're eating low carb bunless burgers and just don't feel full, we have a few extra tips for you. Protein and fat are very satiating, but if you are coming from a standard American diet you may be used to eating more volume. Here are a few tricks to bump up the volume of meals for few carbs when your still getting fat adapted:
Ask for a side salad– Most fast food restaurants have side salads that you can add to your meal for extra fiber and bulk. Just make sure to choose a low carb dressing and ask for no bread or croutons.
Order steamed vegetables on the side- This is something you will see more in fast casual restaurants than fast food, but if they have the option steamed veggies are another great way to add bulk to a meal. It's even better if they offer real butter or cheese to put on top
Get the "carb-less" extras- These are low calorie dense fresh vegetables that are also low carb. Add things like tomato, pickles, lettuce, cucumber, and olives to your meal to fill you up with fewer added and refined carbs.
These are some of our favorite ways to add extra volume without upping the carbs of your meal too much. These tips should help you feel fuller after coming off of a high carb, high volume standard American diet.
The Best Low Carb Fast Food Options
Chipotle – This is an easy pick as the top option for keto fast food. It's really the only place that you can order something directly off the menu and have it be perfectly low carb. Depending on the location you are at you'll want to order a "Lifestyle Bowl" or a salad bowl without beans or rice.
Chick Fil A – Chick Fil A offers a bunch of options using their grilled nuggets. You can order them by themselves or you can get them on a salad. I usually find it expensive to get a filling meal at Chick Fil A on keto, but it's definitely one of the top keto friendly fast food options.
Wendy's – As far as your standard burger places go, Wendy's is definitely the best keto fast food place. They make it easy to order bunless burgers that are actually filling and delicious. Much better than McDonald's and Burger King when it comes to keto fast food options.
Wingstop / Buffalo Wild Wings – Not really fast food, but Wingstop and Buffalo Wild Wings are superb meal options for a keto diet. Both of them offer fried chicken wings that are not breaded. We prefer Buffalo Wild Wings over Wingstop because they fry in a healthier oil.
Carl's Jr. / Hardee's – A surprising entry on the top list is Carl's Jr. and Hardee's. While the dinner menu is pretty good, offering burgers and chicken sandwiches, the real standout here is the breakfast menu. They have tons of keto friendly fast food breakfast sandwiches available, all of which are tasty and filling.
Here is our readers favorite keto fast food options: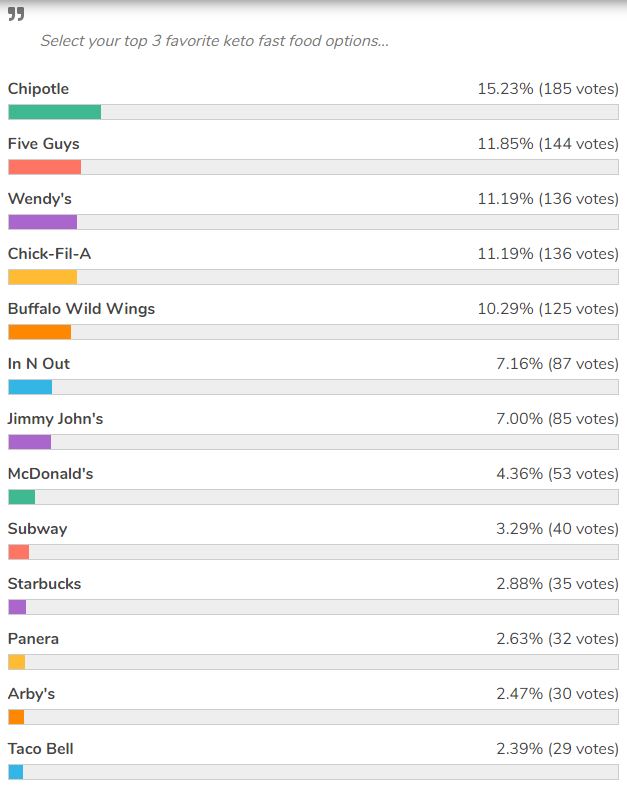 Feto Fast Food In Summary
Eating out while keto doesn't have to be a pain or keep you from your social life!
Just choose the restaurant wisely, research your meal, and follow our 9 basic tips.
If you can, add healthy fats like avocado, keep the protein fattier, and give carbs like bread or tortillas a pass.
Whether eating fast food or dining in, there are plenty of keto friendly restaurants you're probably driving by every day.
Though it's possible to eat keto out and about, nothing will beat planned, prepped meals for homemade deliciousness. Check out our guide to keto, complete with meal plans, for your next night in.
Sources
Bueno, N. B., de Melo, I. S. V., de Oliveira, S. L., & da Rocha Ataide, T. (2013). Very-low-carbohydrate ketogenic diet v. low-fat diet for long-term weight loss: a meta-analysis of randomised controlled trials. British Journal of Nutrition, 110(7), 1178-1187. Abstract: https://www.ncbi.nlm.nih.gov/books/NBK138038/
Koss-Feder, L. (2019). Hotels enhance F&B offerings as guests' diets evolve. Abstract: https://vtechworks.lib.vt.edu/handle/10919/88854
Written By