Who doesn't love a hot fried rice with salty egg, perfectly cooked veggies, and crispy yet tender grains of rice. If you aren't already drooling, the soy sauce and sesame oil are sure to excite your palate! Whether this is the first time or the 5th time you make this recipe it will be absolutely delicious. It tastes like the real thing for a third of the carbs, what could be better than that?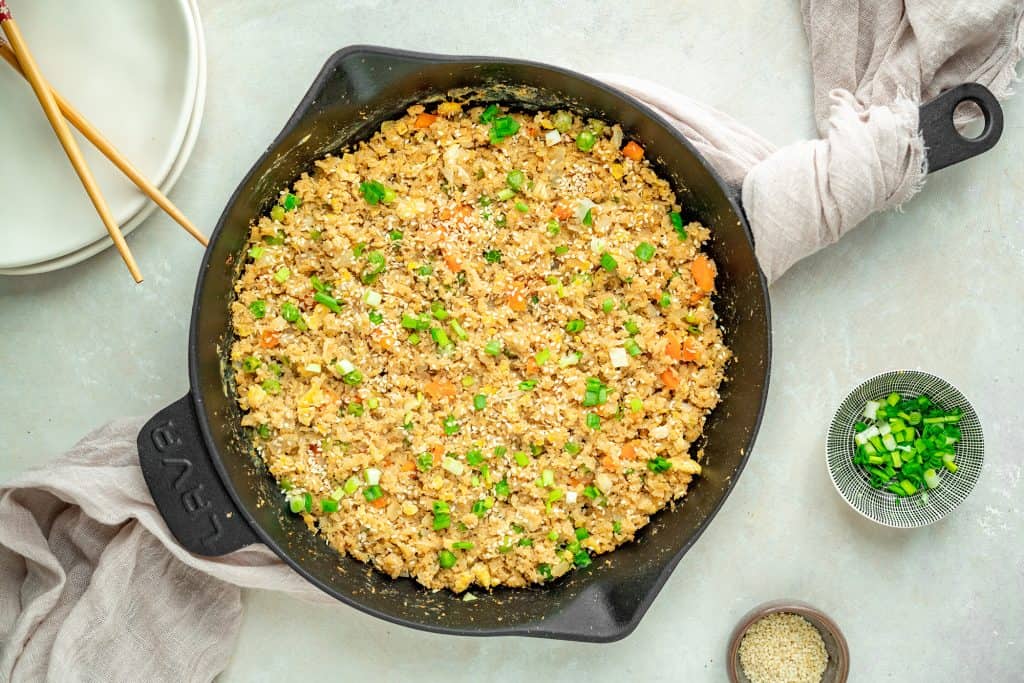 No More Chinese Take-Out
Let's put it out there right now – we all miss take-out, especially Chinese food, and that's okay. So what exactly does take-out entail? You call up a restaurant, place your order, wait anywhere from 35 to 90 minutes, scarf down greasy, over done, and most of the time sub-par food before falling deep into a food coma full of regret. Sound familiar?
With our Cauliflower Fried Rice you can make your "take-out" exactly to your liking and enjoy a delicious meal without feeling any regret! No matter what your skill level, cooking can be made simple and fun to do. This recipe is absolutely delicious and something you should definitely make ASAP, because we know; no matter how much you set aside for later it will still be eaten in minutes.
How to Make Cauliflower Fried Rice
Almost every keto dieter knows a good cauliflower rice is the staple for most low carb dishes, from pizza and burritos, to fried rice and paella. It makes delicious gluten free recipes and cooks super quickly, so you can have cauliflower rice taste like normal rice in half the cook time. No matter what you need cauliflower rice for, it's important to know how to make it at home. You have a few options to make cauliflower rice at home:
Grating it– This is a great way to make big rice pieces, but also a way to make pieces that are too small. Make sure whichever size grater you use is big enough to make a large grain rice for this recipe. We don't want a big pile of super teeny tiny pieces.
The food processor– This is by far our favorite way to make cauliflower rice at home. It's super quick and super easy to make, so you can have a ton of rice done in minutes. Pro tip: Don't put too much cauliflower in the processor at once or you may find the rice on the bottom gets too fine before the stuff on top.
Buy it pre-made: Pre- made cauliflower rice is becoming more and more popular now a days making it easy to find in almost any grocery store. Walmart, Aldi, and Costco all have great prices on cauliflower rice that makes it easy to whip up fried rice any night of the week
No matter what way you decide to make your cauliflower rice, you'll surely need this skill for more keto recipes in the future. So whip out the food processor and chop up a big batch, because this homemade cauliflower rice will freeze great for all future recipes too!
Consider reading our Costco Cauliflower Rice Review – you'll also learn how to prepare it!
What Vegetables go in Fried Rice
Cauliflower is obviously a must when making fried rice, but so are the additional veggies. The vegetables that you add are up to you, but we love peas and carrots. Peas and carrots are higher in carbs than most veggies coming in at 10 net carbs per cup. If you prefer a more keto friendly mix you can try:
Broccoli Florets- Small bite sized pieces of broccoli do a great job soaking up the sauce in this recipe.
Bell Peppers- A few colored peppers add a nice crunch and sweetness to the fried rice which balances well with sriracha.
Green Beans– Frozen green beans will work just as well with this recipe as a quick sub for frozen peas and carrots.
Celery- This ones a bit weird we know, but adding some celery along with other vegetables can make for a good refreshing crunch in this dish.
The final thing to note is that no matter what vegetable you add, this recipe should still taste delicious. Don't stress and keep trying new combos to make your perfect keto fried rice.
Tips for Making the Best Cauliflower Fried Rice
Using cauliflower rice can be challenging and skeptical for a lot of low carb dieters. Follow our tips for the perfect gluten free cauliflower fried rice every time!
Make it Crispy
The key to cooking cauliflower rice is making sure it's crispy, or at least not wet… As cruciferous vegetables like cauliflower cook, they release water. To avoid a soggy gluten free cauliflower rice; make sure you throughly cook the rice to evaporate water. Once it's crisp; after about 10 minutes you can toss in the garlic, onion and veggies to cook down for another 10 minutes. This keeps the rice crispy and dry so it doesn't become soggy.
Cracking the Eggs
You may be nervous about adding the eggs, but don't be! Once you do it you'll realize how easy it is. You just crack the eggs one at a time in the bottom of the skillet and mix in with the cauliflower rice. Now, just add soy sauce, sesame oil, and combine. Garnish with sesame seeds and/ or green onions and you've created low carb Chinese take-out.
Don't Over Cook the Eggs
Crispy rice, yet juicy moist eggs are the beset way to make cauliflower fried rice. If you make this recipe make sure you add in the eggs and just barely cook them to done before adding in the soy sauce. You are better off having them just slightly undercooked so they finish when the sauces are added into the stir fry.
Pack in Extra Flavor
Cauliflower fried rice is a healthy take on this stir fry style Asian dish. Don't be afraid to add extra Asian flare with spices and ingredients that elevate the flavor. We love freshly grated ginger, 1/2 tsp fish sauce, and a bit of sriracha.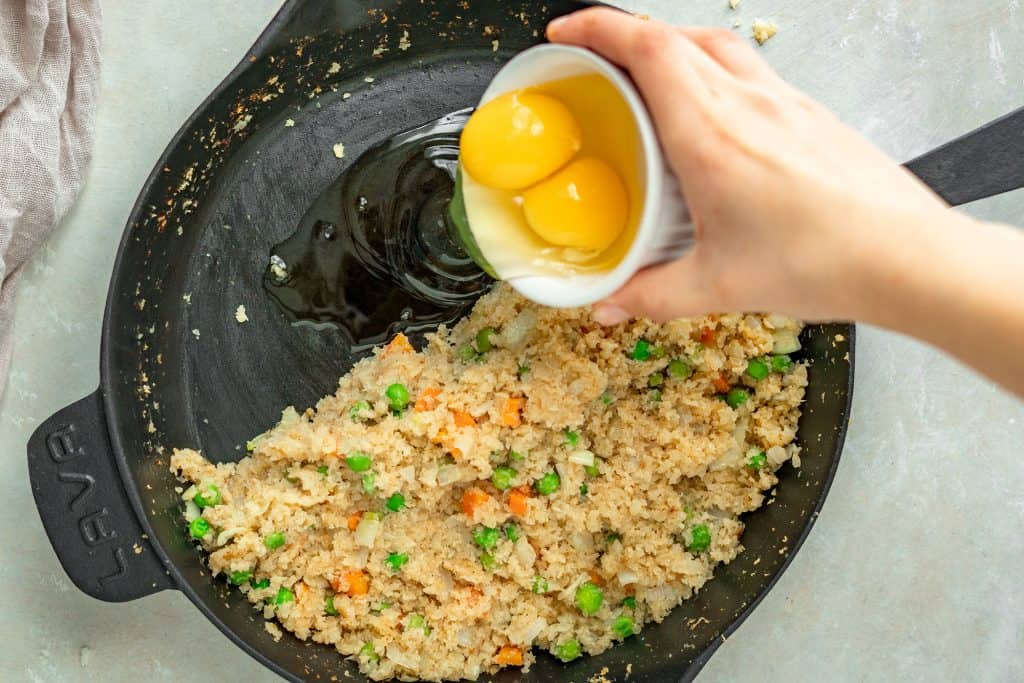 Can I Use Frozen Cauliflower Rice?
We get asked a lot if this cauliflower fried rice can be made with frozen cauliflower rice. The answer is yes! While a little more expensive, if you want to make cauliflower rice that's frozen it will work just as well as the homemade stuff without any mess. Both options are keto and gluten free perfect for a stir fry. The only difference is that you will need to cook it a little longer if you use frozen rice because it is has extra water.
More Cauliflower Rice Dishes
If you made that big batch of cauliflower rice and are looking for more recipe ideas, we've got you covered. You can use cauliflower rice in a variety of dishes from Asian to Mexican food. Some of our favorite recipes are:
These are just a few cauliflower rice recipes, but cauliflower rice has many uses and even works great as an everyday side dish. Try out our Chinese fried rice recipe, but don't forget to try these recipes out next time too!
Soy Sauce vs. Coconut Aminos
This recipe allows you to use both soy sauce or coconut aminos. Technically soy is not keto because it can be inflammatory. However, we often use a gluten free soy sauce like tamari to get that salty umami flavor without the wheat. This recipe can be made with low sodium soy sauce, but know it may have more carbs than tamari.
Coconut aminos on the other hand is made from the sap of a coconut flower and creates a great recipe that is no doubt keto friendly. Make sure you aren't too heavy handed though as it is a little higher in total carbs from the natural sugars. Both soy sauce and coconut aminos will work for this recipe so just pick whichever you prefer.
Do I Have to Use Sesame Oil?
Both regular fried rice and this fried rice recipe use sesame oil. Sesame oil adds a ton of flavor especially when you buy toasted sesame oil. It's a unique flavor you can't get from any other oil which is why we say if you want a great recipe you definitely don't want to leave it out. If you really don't have any sesame oil to use in the recipe you can use olive oil, but if you really want to love this recipe you are going to need it!
What to Serve With Cauliflower Fried Rice
This cauliflower fried rice can make a great main or side dish. If you are looking to serve this alongside a keto dinner try pairing this recipe with another main protein. We often pair our fried rice with:
Keto Kung Pao Chicken– Sweet, spicy, and certainly better than takeout this keto kung pao chicken is sure to knock your socks off!
Low Carb Orange Chicken– If Panda express orange chicken and fried rice is one of your favorite dishes you're sure to love these two recipes together.
Easy Chicken Stir Fry– Everyone loves a flavor packed dinner that's done in under 30 minutes. This chicken stir fry is made with a few veggies, oil, and chicken for a quick and nutritious meal.
These are all recipes, but that doesn't mean you can't just pick a protein to eat along side this fried rice. We will often grill up fish like salmon or tuna crusted with some sesame seeds for a delicious Asian dish. You can also simply bake some chicken thighs or sear steak as another easy option.
How to Make Cauliflower Fried Rice
To prepare this dish you don't need a fancy wok or hard to pronounce ingredients. Take out any skillet you own, a few veggies and eggs, soy sauce, and sesame oil. That's it, we promise! Once all your ingredients are together it's time to start cooking!
Ingredients
You can't have a cauliflower fried rice recipe without cauliflower! You will need a head of cauliflower turned into rice. You can do this by pulsing a head of cauliflower in the food processor, or by buying pre riced cauliflower. Note: frozen cauliflower rice has more moisture so be careful that it doesn't become soggy. Then you will need your veggies, we used frozen peas and carrots for that authentic fried rice cauliflower feel.
While not a necessity we do recommend also having some chopped white onion and minced garlic for a depth in flavor. For cooking you will want oil or ghee as well as the two eggs to scramble in. Lastly get out some sesame oil, sesame seeds, and liquid aminos (or soy sauce) for the sauce. Pro Tip: Like a little heat? Add sriracha on top for a kick.
Making Cauliflower Fried Rice
Begin by breaking apart your head of cauliflower and placing the pieces into a food processor. If you don't have a food processor you can use a grater or blender, but unlike a traditional food processor these methods may make for a very small sized grain.
Once the riced cauliflower is chopped heat a skillet to medium heat and add ghee. Add the cauliflower into the hot pan and flatten so it evenly covers the pan. The medium high heat will allow you to slightly char the riced cauliflower and remove excess moisture.
Allow the cauliflower rice to cook for 10 minutes so it can get brown and crispy. Note: don't be afraid to turn down the heat in order to cook off all excess moisture.
Now stir the rice again and add the peas and carrots, onion, and garlic, then season with salt and pepper. Cauliflower fried rice will need more seasonings in order to get enough flavor, because it has a veggie base.
Continue to cook the frozen vegetables and cauliflower fried rice on high heat for 5 minutes. Make sure to stir occasionally.
Time for the best part, the eggs! Push the cauliflower rice to one side of the pan and grease the empty half with oil or ghee. Now add the eggs cracking in one at a time, and begin to scramble them. Work the scrambled eggs into the cauliflower rice and allow them to finish cooking together.
Once the eggs are cooked through add soy sauce and sesame oil, mixing well. Turn off the heat and garnish the cauliflower fried rice with sesame seeds and green onions or for heat add some sriracha. If you love fried rice you're sure to love this quick and easy cauliflower variation.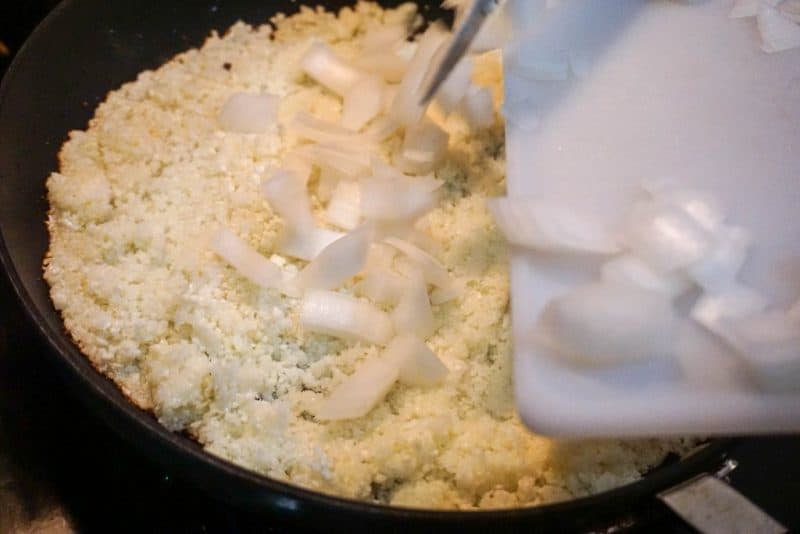 Kid Friendly Cauliflower Rice
We love this recipe and we know you will too! It's flavorful, nutritious, and easy to add chicken to for a complete meal. However we also know some kiddos are super picky! If you have a super picky eater try mixing half brown rice and half cauliflower rice in this recipe for them. They get the texture and flavor of regular rice, with the added nutrition of cauliflower. With kids especially there is no need to be perfect, just take baby steps to move them towards a healthier diet.
As we said above, if you're stressed for time and want an easy dinner option that's kid friendly try adding some cooked chicken thigh to the dish for a complete meal. You can grill or pan fry the chopped chicken thigh or breast with salt, pepper, garlic, and sesame oil for an easy flavorful protein.
More Asian Recipes
Looking to change up your spices and want some Asian recipe inspiration? Our blog is full of Asian recipes ranging from soups and stir frys to heavier main dishes. Some of our all time favorite Asian dishes are:
For even more Asian recipes check out our blog's Asian section to find your perfect meal.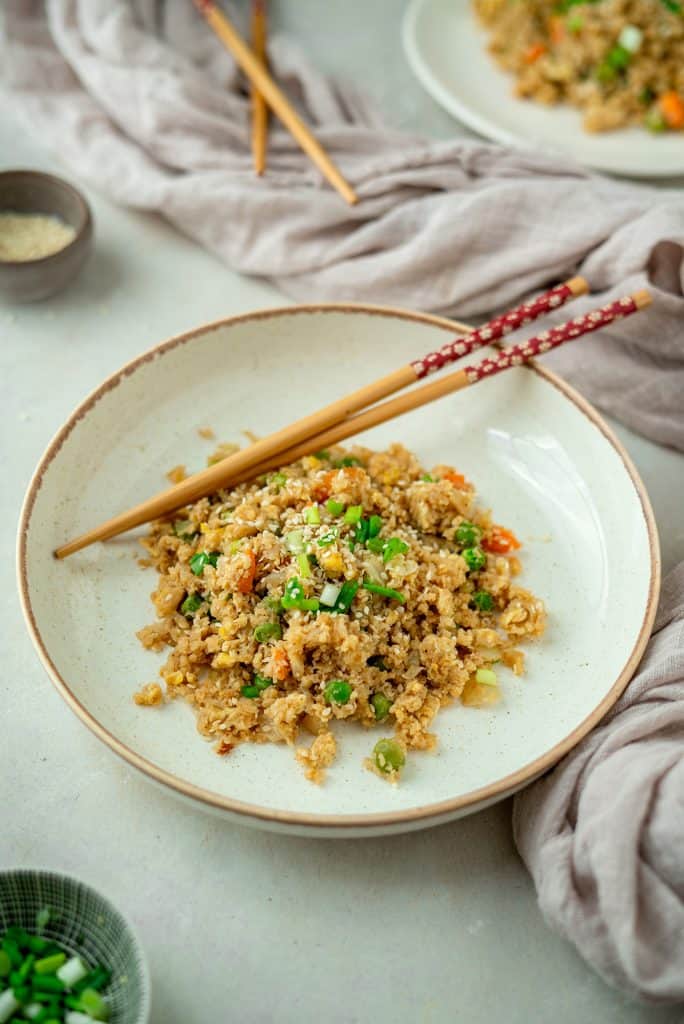 Keto Cauliflower Fried Rice
If you've made this recipe you know it's a winner. If you haven't, we can't wait for you to try it because you need to make it ASAP! It's salty and savory with the perfect balance of flavors. Plus it takes practically no time to make, meaning it's the perfect recipe for busy households with picky eaters that love carbs (where are all my kiddos at!). Prepare this as a side dish or a main soon, because riced cauliflower never tasted so good.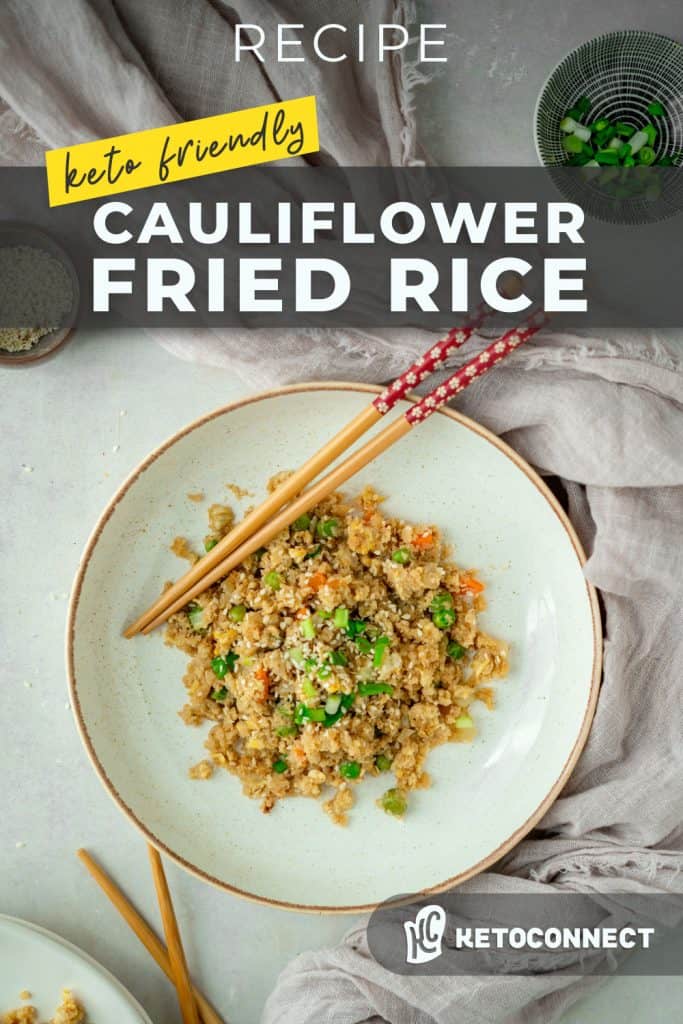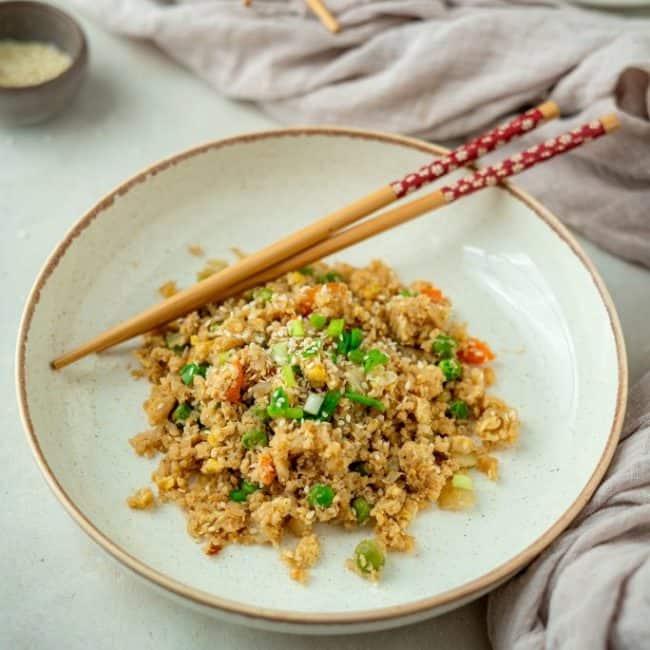 Cauliflower Fried Rice Recipe – Just Like Takeout
Whip up a delicious batch of our cauliflower fried rice for your next asian inspired dish!
Total Time 30 minutes
Servings 4 servings
Calories per serving 153.25kcal
Prep Time: 10 minutes
Cook Time: 20 minutes
Instructions:
Break cauliflower into small pieces and place in processor.

Pulse until desired "rice" consistency.

Heat a skillet over medium-high heat and add ghee.

Place pulsed "rice" into pan and flatten out over entire surface. Allow to cook through for 10 minutes (cauliflower should brown/get crispy).

Stir rice and add onion, garlic, peas and carrots, and season with salt and pepper.

Continue to cook and stir over medium-high heat for 5 minutes.

Push "rice" to one side of pan, grease the empty half and crack two eggs into pan.

Combine eggs and "rice" until eggs are cooked through.

Add soy sauce and sesame oil and combine well.

Turn off heat and garnish with sesame seeds. Serve warm and enjoy!
Nutrition Facts
Cauliflower Fried Rice Recipe – Just Like Takeout
Amount Per Serving
Calories 153.25 Calories from Fat 83
% Daily Value*
Fat 9.25g14%
Carbohydrates 12g4%
Fiber 4.25g17%
Protein 7.3g15%
* Percent Daily Values are based on a 2000 calorie diet.
Written By