No More Chinese Take-Out
Let's put it out there right now – we all miss take-out, especially Chinese food, and that's okay. So what exactly does take-out entail? You call up a restaurant, place your order, wait anywhere from 35 to 90 minutes, scarf down greasy, over done, and most of the time sub-par food before falling deep into a food coma full of regret. Sound familiar?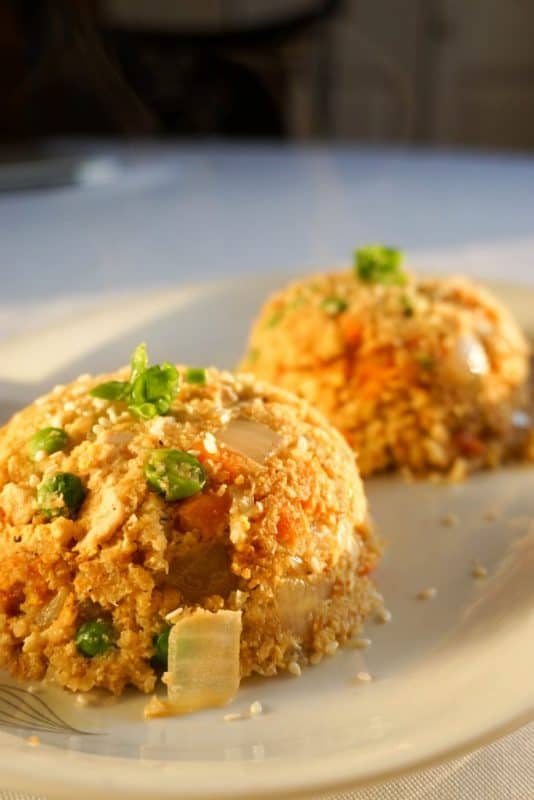 Well, the part we love the most, the food, no longer has to be sub-par or unappealingly greasy. With our Cauliflower Fried Rice you can make your "take-out" exactly to your liking and enjoy a delicious meal after which you won't feel any regret! No matter who you are, cooking can be made simple enough for you to do and fun enough for you to want to get up and do. We've achieved both by way of this easy, one skillet recipe.
Preparation
To prepare this dish you don't need a fancy wok or any unpronounceable ingredients. Take out any skillet you own, veggies of your choosing, a couple eggs, soy sauce and sesame oil. That's it, we promise! Now, the secret to the "rice" aspect is cauliflower, as you may have guessed from the title. To get it to a rice consistency you want to process it. If you don't have a processor you can also grate it! Once your cauliflower is processed all you have to do it throw it in the skillet and let it crisp up! Simple, right?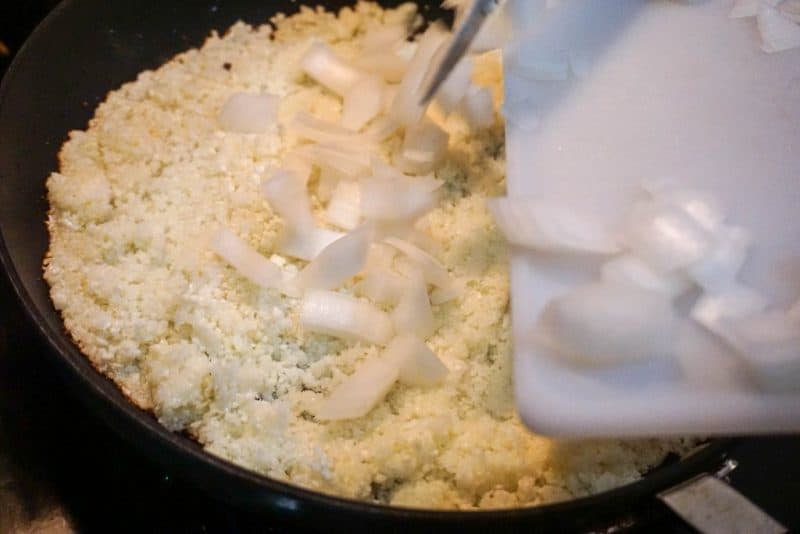 Cauliflower Fried Rice – Make it Crispy!
Once it's crisp, after about 10 minutes, you toss in the garlic, onion and veggies and cook it down for another 10 minutes. You may be nervous about adding the eggs, but seriously, don't be. Once you do it you realize how easy it is! You just crack the eggs one at a time in the bottom of the skillet and mix in with the rice. Now, just add soy sauce, sesame oil, and combine. Garnish with sesame seeds and you've just created low carb Chinese take-out, and you didn't have to wait 90 minutes to get it!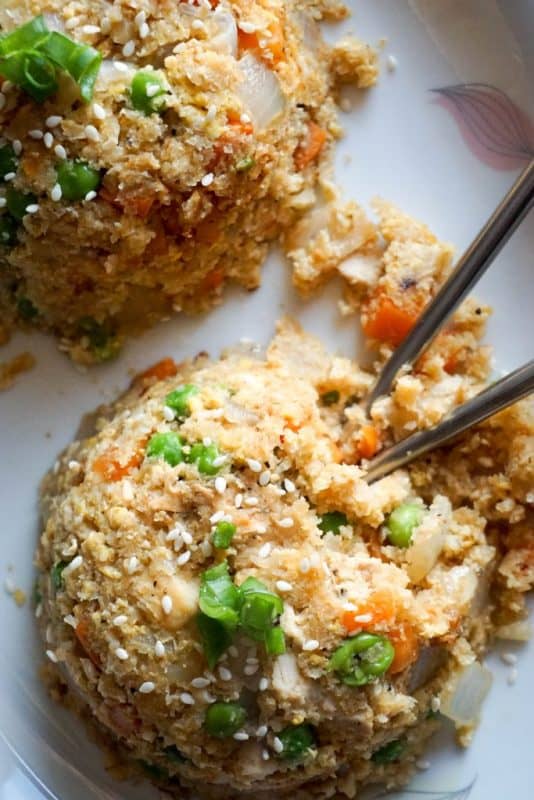 Full Disclosure: You won't miss Chinese take out ever again after you've tried this recipe. You'll be saving money, time, and carbs from now on! You're welcome, keto fam ?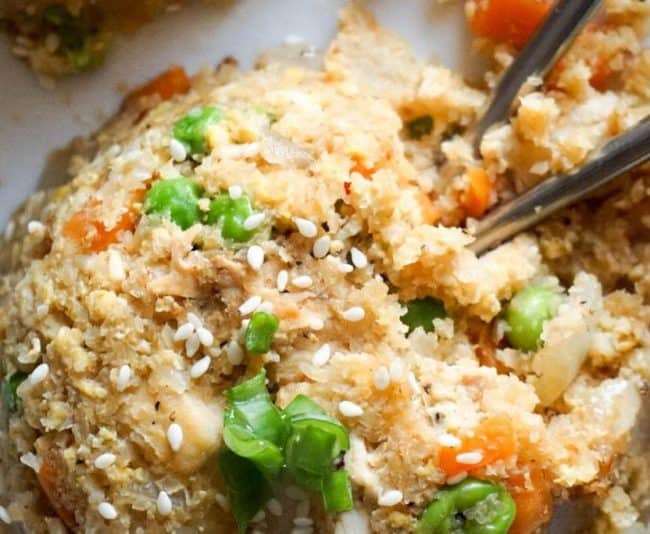 Cauliflower Fried Rice
Whip up a delicious batch of our cauliflower fried rice for your next asian inspired dish!
Total Time 30 minutes
Servings 4 servings
Calories per serving 153.25kcal
Prep Time: 10 minutes
Cook Time: 20 minutes
Instructions:
Break cauliflower into small pieces and place in processor.

Pulse until desired "rice" consistency.

Heat a skillet over medium-high heat and add ghee.

Place pulsed "rice" into pan and flatten out over entire surface. Allow to cook through for 10 minutes (cauliflower should brown/get crispy).

Stir rice and add onion, garlic, peas and carrots, and season with salt and pepper.

Continue to cook and stir over medium-high heat for 5 minutes.

Push "rice" to one side of pan, grease the empty half and crack two eggs into pan.

Combine eggs and "rice" until eggs are cooked through.

Add soy sauce and sesame oil and combine well.

Turn off heat and garnish with sesame seeds. Serve warm and enjoy!
Nutrition Facts
Cauliflower Fried Rice
Amount Per Serving
Calories 153.25 Calories from Fat 83
% Daily Value*
Fat 9.25g14%
Carbohydrates 12g4%
Fiber 4.25g17%
Protein 7.3g15%
* Percent Daily Values are based on a 2000 calorie diet.