We've been using the air fryer a lot lately to make some delicious meals. We love using our air fryer because it heats quickly, cooks perfectly and is easy clean up. It's perfect for busy nights or moments when hunger hits hardest. These air fryer pork chops are going to blow you away. Who knew tender pork chops with a crispy outer coating could be made in the air fryer.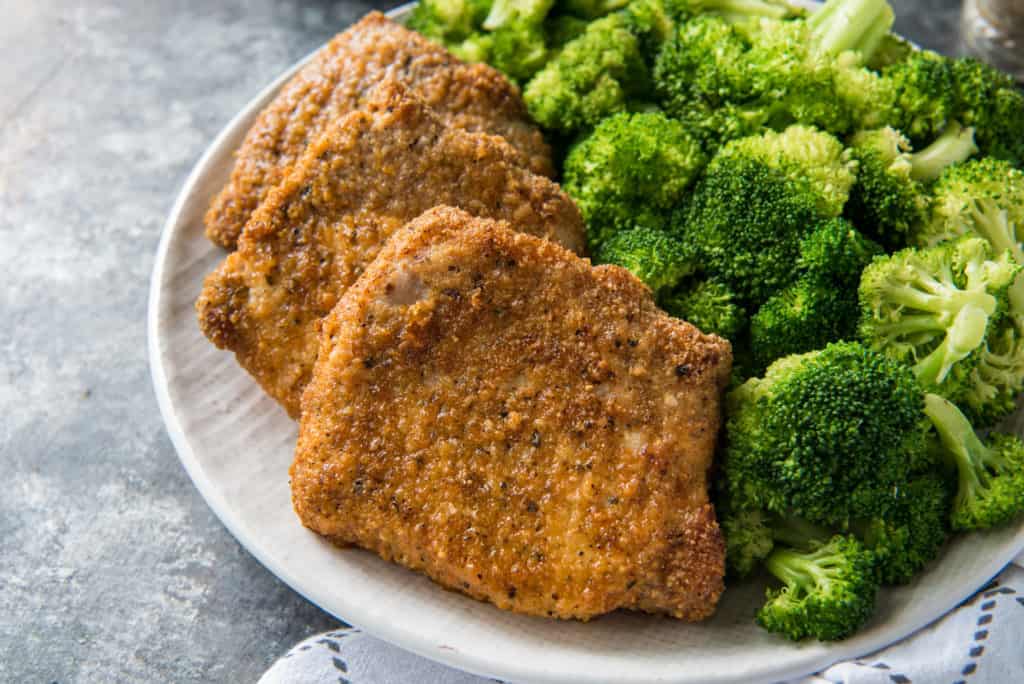 Quick Air Fryer Recipes
A lot of people have asked us to start making recipes for the air fryer. It seems like everyone has one these days so we figured we'd share some of our favorite ways to use it. Some other great air fryer recipes from our blog are:
We also often cook up steaks and salmon in the air fryer for a quick weeknight meal. No need to add any additional fat, but grease the tray with some coconut oil spray could help to prevent any sticking. By the way. here you can find a comprehensive guide to the best oils for air fryers!
The Perfect Breading
There are so many ways to bread a piece of meat on a low carb diet. You can use almond flour, coconut flour, ground up pork rinds or cheese (parmesan is our go to), but we've found the perfect combination! When pork rinds and grated parmesan cheese are combined you get a crispy, cheesy coating that doesn't fall off. We use it for almost everything we want to bread. Another great recipe to use it for is our fried goat cheese!
Always Tender
When using the air fryer you can easily overcook something, drying it out, if you air fry it for too long. Sometimes it's hard to know how long to cook something so I like to air on the side of less time. A good route to go is turn it half way through the cooking time to get a good look at your meat and gauge how much longer it needs!
For this air fryer pork chop you'll definitely want to check on it half way through because it can easily get dried out. You want to consider the thickness of the meat, the temperature at which you are cooking it and how much is in the air fryer basket.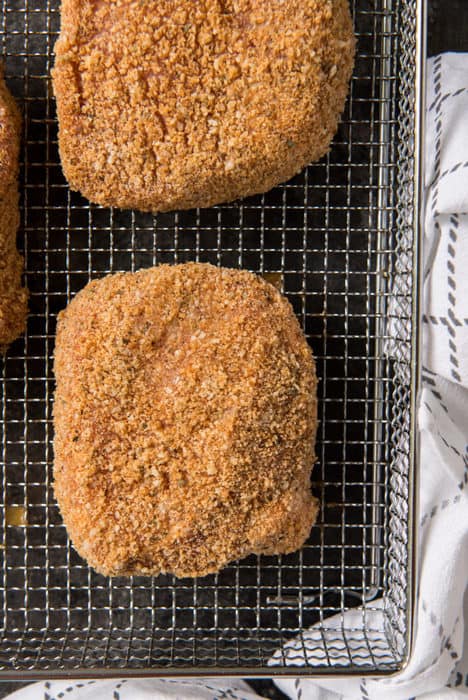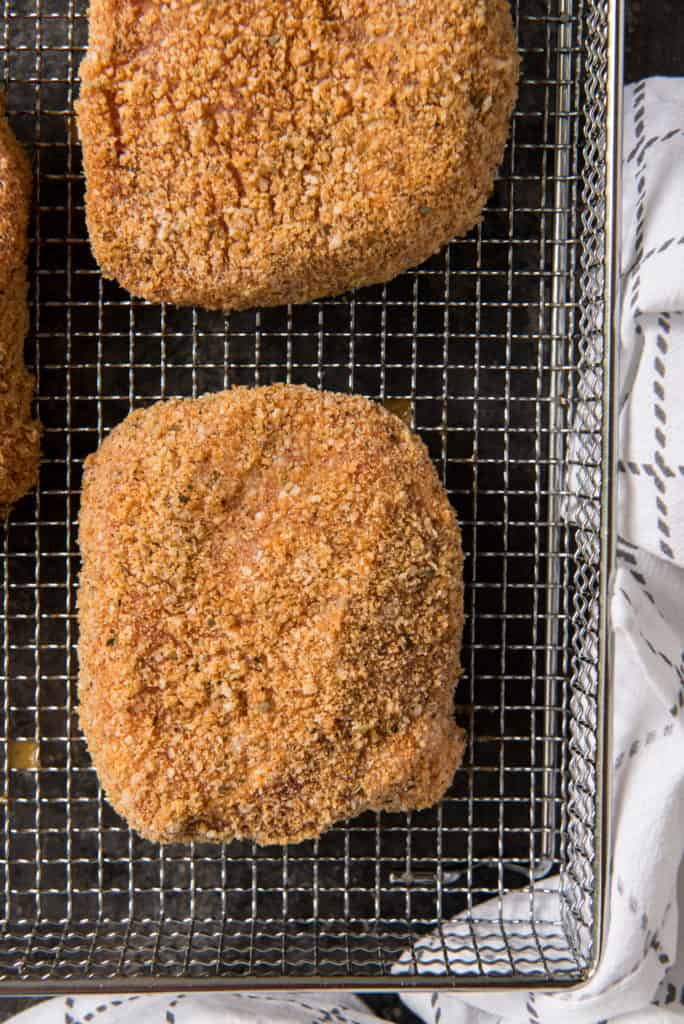 Perfect Air Fryer Pork Chops
What makes these so perfect? The breading of course. Crispy outside, tender, juicy inside. I could eat these pork chops everyday for the rest of my days! It also helps that the most common foods we see people eating on the keto diet are chicken thighs and steaks. This pork chop recipe adds good variety to your weekly rotation without the hassle of the oven or stovetop.
Tip: check out this site to learn how to use an air fryer if you're new to it or want to know what makes it a great kitchen gadget!
What To Serve It With?
We've got you covered on all your favorite sides. However, there is nothing wrong with keeping it simple, which is what we often do. If you're looking to keep it simple you can steam up some broccoli and top it with lots of butter and salt or roast up some of your favorite veggies in duck fat. You can also omit the side and keep it carnivore just with the pork chop.
For some sides that require a little more work you can check out our food blog for some of our favorites:
Recipe can be quickly added to MyFitnessPal – Search "KetoConnect – Air Fryer Pork Chops"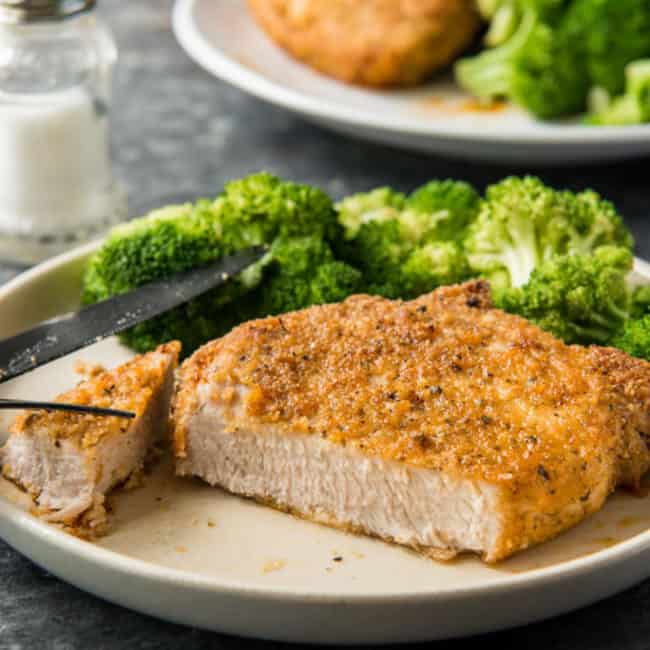 air fryer pork chops
Pork chops coated in a pork rind & parmesan breading then crisped up in the air fryer.
Servings 4 Servings
Calories per serving 399kcal
Prep Time: 10 minutes
Cook Time: 30 minutes
Instructions:
Pat your pork chops dry using paper towels and season both sides with salt.

Combine parmesan, crushed pork rinds, 1 teaspoon pink salt, Italian seasoning, paprika, garlic and onion powders, and black pepper in a large shallow bowl. Whisk together egg and cream in a second bowl.

Dip the chops in the egg, then in the crumb mixture and set aside.

Preheat your air fryer for 2-3 minutes at 400°F and lightly spray the basket with coconut oil spray. When the air fryer is ready, place chops (in batches – don't crowd so they cook evenly) in the prepared basket.

Cook 12-15 minutes (depending on thickness) turning half way through the cook time. When internal temperature reaches at least 145 degrees F (for rare) to 155 degrees F (for well done), remove from air fryer and set aside to rest. Repeat cooking process with the remaining chops.

Serve immediately with your choice of low carb side.

Best stored in an air tight container in the fridge up to 5 days.
Notes
Net Carbs: 2g Serving Size: 1 breaded pork chop Yields: 4 breaded pork chops
Nutrition Facts
air fryer pork chops
Amount Per Serving
Calories 399 Calories from Fat 198
% Daily Value*
Fat 22g34%
Carbohydrates 3g1%
Fiber 1g4%
Protein 46g92%
* Percent Daily Values are based on a 2000 calorie diet.
Written By