If the thought of Aldi's new carbless bread has got you excited, then check out our Top 10 Keto Buys at Aldi in the video and blog post below. From produce to protein, Aldi has everything you need to start a successful keto diet. Products may vary depending on your location.
Though they may not carry all of your favorite specialty keto items and low-carb brands, they do offer all the staples and some tasty snack options. Find out what kinds of drinks, meats, and cheeses to buy on your next visit and use our keto shopping tips on your next grocery trip.
What to Buy for Keto at Aldi
1. Beverages
You can drink more than water and bulletproof coffee on the keto diet and Aldi carries many of our favorite low-carb beverages.
Heavy Whipping Cream – our favorite keto creamer.
Coconut Milk – Use as a dairy-free creamer.
Sparkling Frost Water – Sweetened with sucralose.
La Croix – Unsweetened flavored sparkling water.
2. Low-Carb Produce
The produce section at Aldi offers fresh vegetables you can cook up in butter and use as a side to any keto meal. We can get picky with our produce, but Aldi impressed us. Here are a few keto staples.
3. Meats
Meat is the perfect keto snack, low in carbs and high in fat and protein. Aldi offers a variety of pre-cooked meats you can take on the road with you or keep in your kitchen or quick keto meals.
Pre-Cooked Poultry
Make meal-prep that much easier with a package of grilled chicken breast strips. Throw them in your salad or into a stir fry for a quick protein source. Aldi also carries a pre-cooked oven roasted turkey breast you can slice up for the kids' lunches or enjoy in your hotel room when you're on the road.
High Fat Meats
Aldi's meat section had some of our favorite high fat meats like bacon, kiolbassa sausage and bavarian bratwurst. Tip: Look for meats with more fat than protein to ensure you stay fuller for longer in between meals.
Meat-to-go
Nuts are a great snack, but if you're trying to lose weight, they can hinder your progress. Instead of reaching for some addictive, calorie-dense nuts, stock up on deli meats like Simms jerky, biltong Jerky, Prosciutto, or canned meat.
4. Cheese for Keto
Cheese is always a crowd pleaser and of course, a kid pleaser. We recommend picking up the following cheeses to use in some of our most popular keto recipes. Don't forget to grab some cheese sticks or Babybels for your next roadtrip.
5. Keto Chips
You can still have the crunch you love on the keto diet and Aldi has a number of low-carb chip alternatives to pair with keto-friendly dips.
Parm Crisps
You can make these yourself at home, or you can stock up in the Aldi chip aisle. These are great as a salty snack for the movie theater or for eating with sliced meats and cheeses. If you're looking for more flavors, you can browse try browsing online.
Pork Rinds
Aldi carries a few flavors of pork rinds, perfect for creamy dips and nachos. Make sure to always read the ingredient label to make sure they're fried in their own fat or "lard" rather than a refined vegetable oil. Refined oils increase inflammation and are high in Omega-6 fatty acids. Learn more about Healthy Cooking Oils here.
Coconut Cashew Crisps
These may not fit into your keto diet since they are 8g of net carbs per serving but could be a great option for you kids. You may not be able to get them off of crackers completely, so finding low carb options like these can make for a decent swap-out.
6. Keto Mixed Nuts
Macadamia nuts are one of the best nuts for keto. They're extremely low in carbs and high in fat, so when we found them in a trail mix at Aldi we had to grab a bag. We recommend checking out Aldi's mixed nuts section to pick up some keto options like pecans, walnuts, and brazil nuts. Try to avoid eating too many cashews as they're higher in carbs.
7. Seafood
Wild Caught fish and seafood is one of the healthiest foods you can eat on a regular basis since it's high in healthy omega-3 fats and is a good source of protein. We picked up some jumbo wild caught scallops for just 10 dollars! Check out the Aldi seafood section and see what you can score on.
8. Keto Snacks
Find high fat, low carb snacks all around Aldi that will help you stay on track next time you're hungry in between meals. Keep them in your pantry, your fridge, or on your desk at work to avoid reaching for a muffin or chocolate bar.
Veggie and Cheese Tray
Meat and Cheese tray
Panino Fingers
Olives
Mixed Nuts
Cheese Strings
9. Fats for Keto
Aldi has most keto staples you need including high quality fats. Use unrefined, cold-pressed coconut oil for frying or in your morning bulletproof coffee and drizzle roasted veggies and salads with extra virgin olive oil for added fat. Of course, Aldi has butter you can use in almost any recipe for added fat and flavor.
10. Keto Products at Aldi
Aldi may not have all the fancy new keto bars and cereal, but they do have a few tasty products that can fit into your low-carb diet.
L'Oven Zero Net Carb Bread
Riced Cauliflower – Pre-riced and ready to go. Try it with Keto Butter Chicken!
Elevation Protein Wafer Bar – Though this bar is a little higher in carbs, it's still a decent option for the keto diet and you can make it fit into your macros. These bars remind us of our favorite Power Crunch Bars.
Keto Dips – They contain some unhealthy oils, but can be a tasty option every now and again when you're having company over and are looking for a low-carb dip.
Products to Avoid at Aldi
Elevation Carb Conscious Bars
These bars claim 2g net carbs per bar, when in reality they are more like 15 grams of bars per bar due to the maltitol they use as a sweetener. Opt for the Wafer-Style Elevation bars which will be lower in carbs.
Salad Dressings
We scoped out the salad dressing aisle and couldn't find any brands made with avocado oil or extra virgin olive oil. All of the bottles listed refined vegetable oils which we avoid since they are unhealthy. Make your own dressing at home or buy brands like Primal Kitchen where available.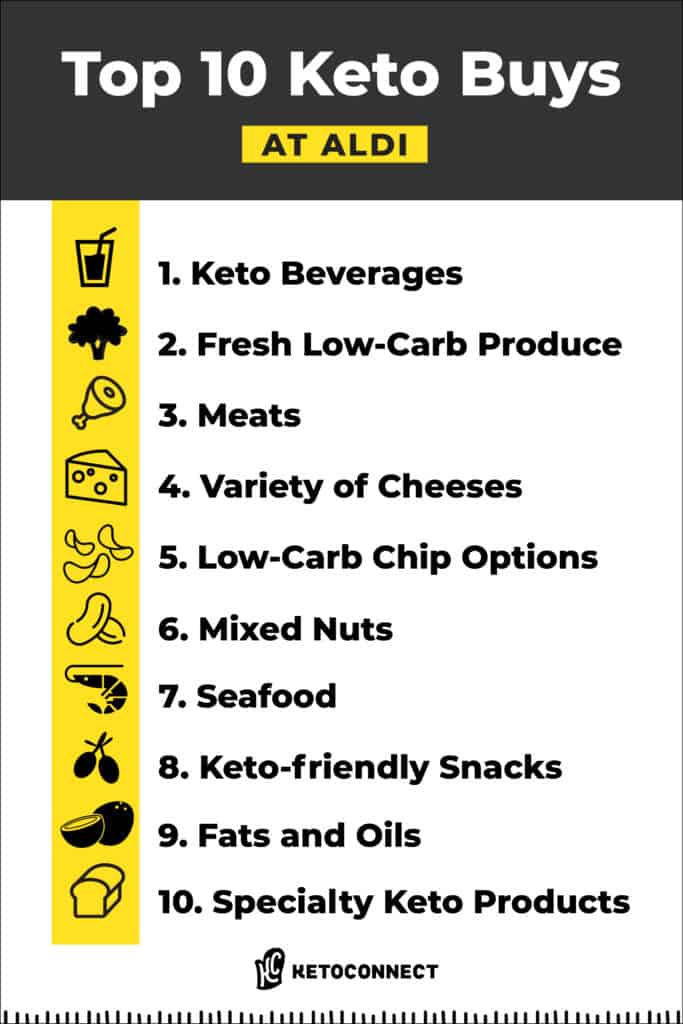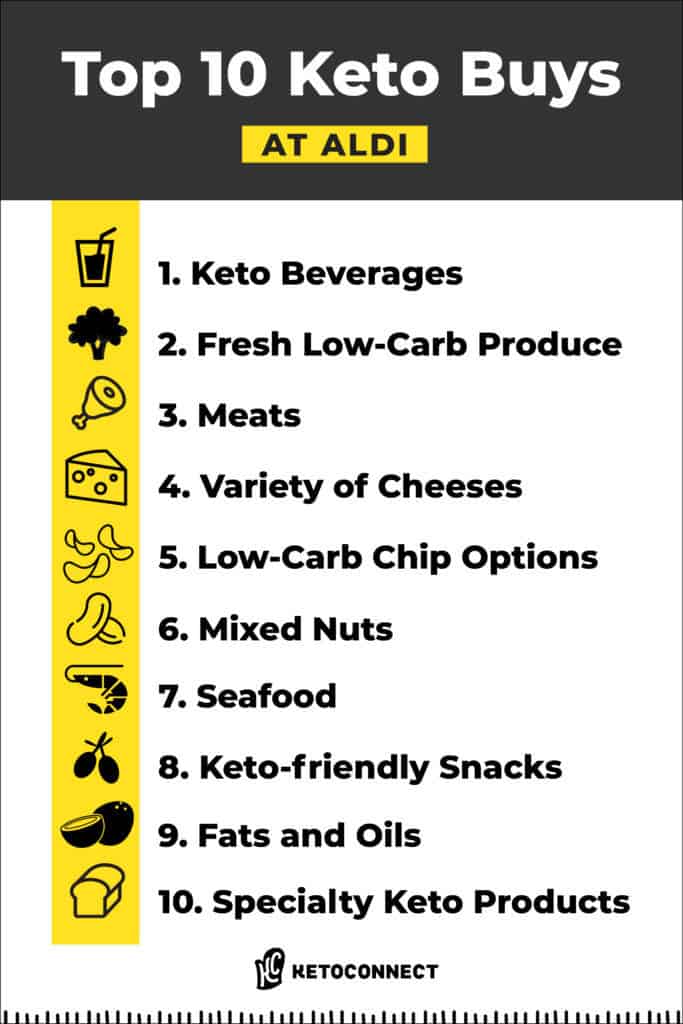 In Summary
Aldi carries all the keto staples you need like meat, fats, eggs, and produce. They offer good snack options and even a few keto specialty items at a low price. Different locations carry different brands and products, so comment below and let us know what you like to buy at Aldi for your keto diet. Here's our Keto Aldi Top 10.
Keto Beverages
Low-Carb Fresh Produce
Meats
Cheeses for Keto
Low-Carb Chips
Keto Mixed Nuts
Seafood
Keto Snacks
Fats and Oils
Low-Carb Products