The keto community is absolutely raving about a certain product that's a worthy throwback to one of the most beloved childhood breakfast dishes of all time. That's right, we're talking about Magic Spoon Cereal.
Best Tasting Cereal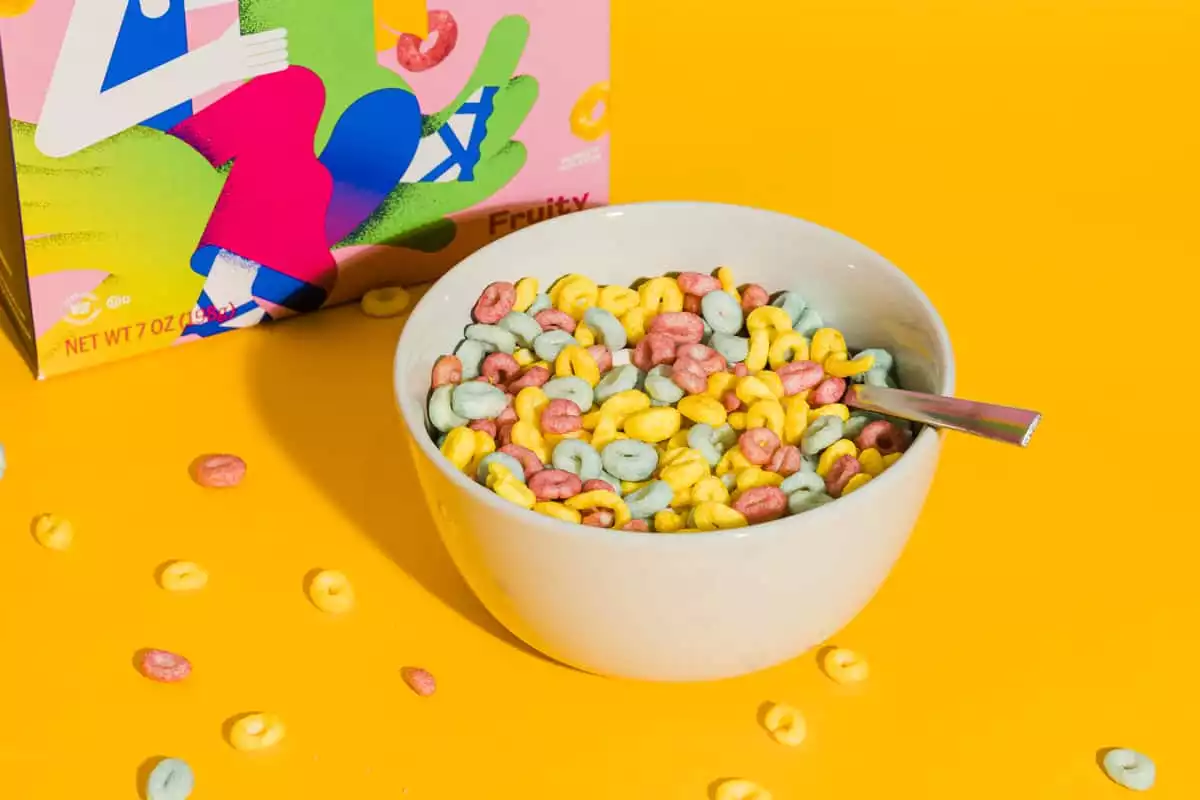 Magic Spoon Cereal
4.8
Magic Spoon Cereal is the best tasting keto cereal on the market and definitely worth a try for anyone missing breakfast cereal.
Pros:
Best tasting
Best variety of flavors
Cons:
Highest amount of sweetener
Buy Now
We earn a commission if you make a purchase, at no additional cost to you.
With low-carb macros, irresistible-sounding flavors and rave reports from foodies all over Facebook, is this healthy brand as amazing as it sounds? You'll have to read this Magic Spoon Cereal review to find out.
Magic Spoon isn't the only sugar-free cereal on the market, so they need to do more than boast healthier ingredients and great macros to win loyal customers. And if you've read our Catalina Crunch review, you know they have some tough competition!
Is Magic Spoon Cereal Keto?
With just 4 grams of net carbs per 1-cup serving, Magic Spoon does indeed earn the keto food badge. This is a bit higher than the previous formulation, which had 3 grams of net carbs per serving.
Depending on the flavor, each serving of Magic Spoon contains:
140-170 calories
7-9 grams of fat
13-14 grams of protein
10-15 grams of total carbs
1-2 grams of fiber
0 grams of sugar
Don't be deterred by those suspiciously high total carbs. The majority of those come from Allulose, which is one of our favorite healthy keto sweeteners.
Magic Spoon is also GMO-free and a great way to get your protein in the morning. Think of it as a crunchier (and more satisfying) alternative to a protein shake.
Is Magicspoon cereal healthy?
We've all been caught out by a number of not-so-keto-friendly ingredients which leave you doubting the macronutrient claims, or worse: kick you out of ketosis. And we're not talking about ingredients like blueberry or cinnamon!
So how does Magic Spoon stack up? Let's break down the most noteworthy ingredients.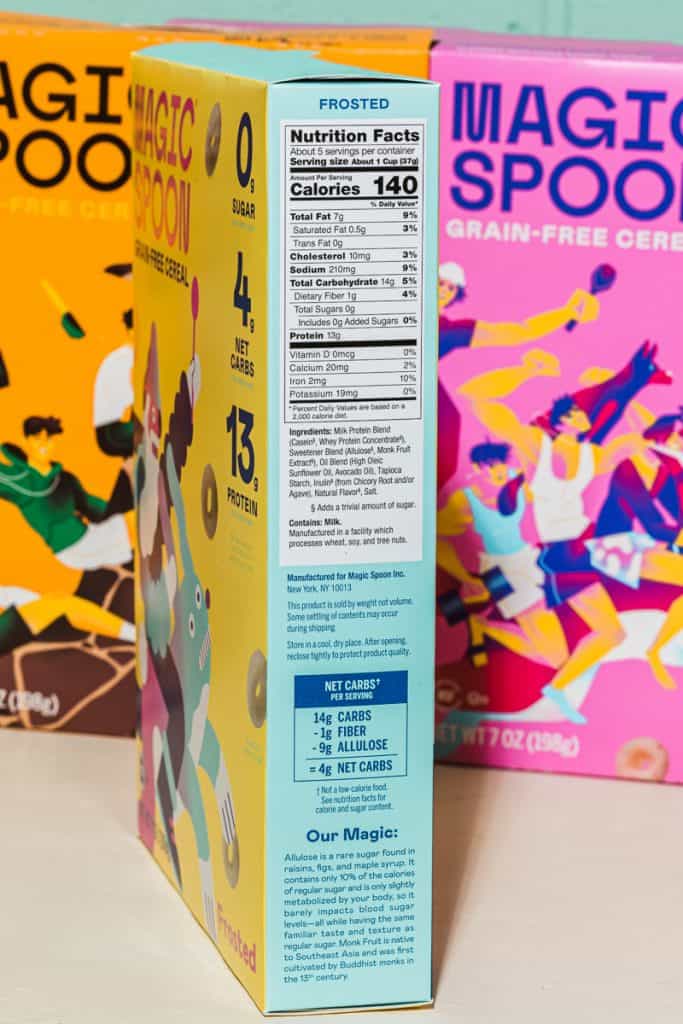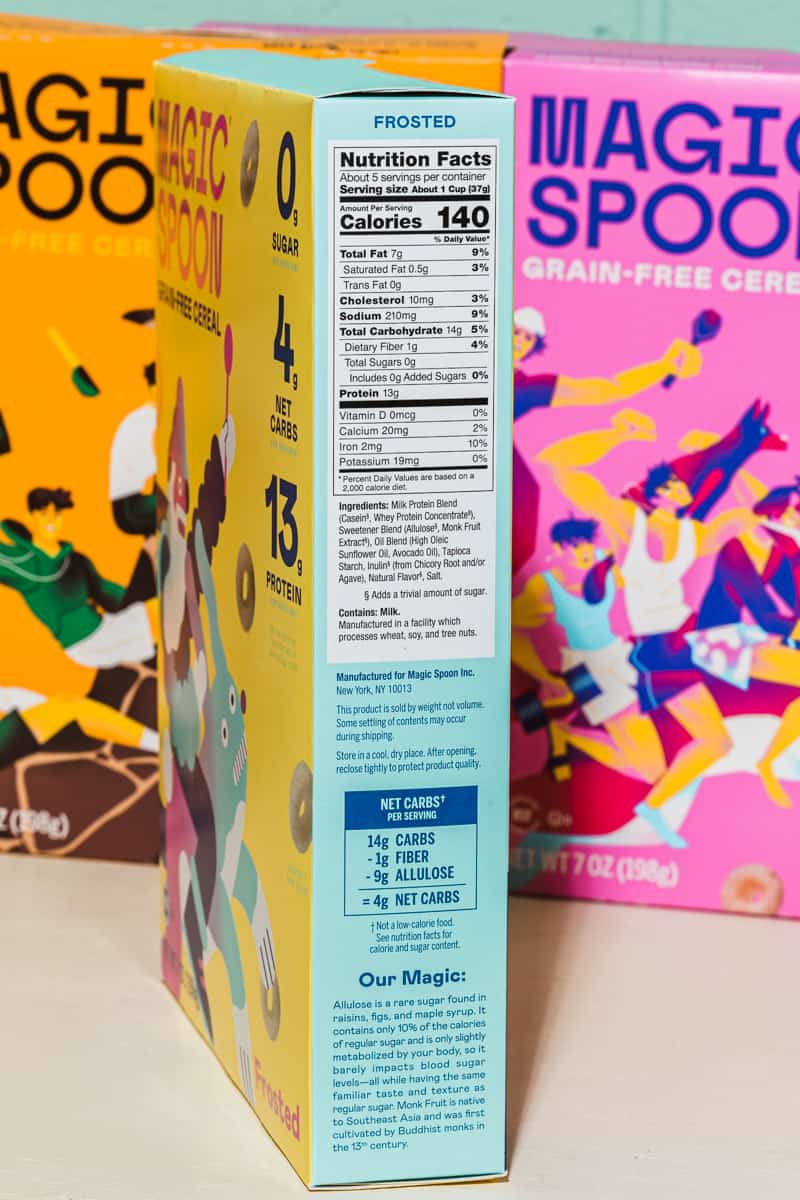 Milk Protein Blend
The main ingredient of Magic Spoon Cereal is a protein blend made from Whey Protein Concentrate and Casein. These are proteins derived from dairy and are what make this cereal so packed with – you guessed it – protein.
Sweetener Blend
This sugar-free cereal uses two keto-friendly sweeteners: Monk Fruit and Allulose. These are both natural and taste sweet like sugar without impacting your blood sugar, so you don't need to worry about them kicking you out of ketosis like sugary cereal would.
Magic Spoon originally contained an extra ingredient: Stevia. While Stevia is all-natural, some people believe it carries a bitter aftertaste – and if you've ever read another Magic Spoon Cereal review, you'll know this has been a complaint from some people in the past. This reformulated blend may have put an end to this (and won over a few new Magic Spoon fans, too).
Tapioca Starch
Tapioca is a high-carb ingredient commonly used in a lot of gluten-free foods. Luckily, it's in such a small amount that it doesn't really impact the net carb count in this cereal at all.
Vegetable Juice
Juice is typically a big no-no on the keto diet. Why? Because it's often just concentrated sugar, minus any of the fiber.
Thankfully, that's not the case here. Magic Spoon relies on the sweeteners Monk Fruit and Allulose for the sweet taste. There's only a very small amount of vegetable juice used in the Fruity flavor to create those fun rainbow colors – which and doesn't make the sugar or net carb content any higher than the other flavors.
Is Magic Spoon Cereal Suitable for Different Diets?
Magic Spoon may be a suitable cereal brand for a keto and even gluten-free diet. But what about other diets?
Given that it's mostly made from dairy protein, it's definitely not suitable for a plant-based diet. If you want to eat a vegan cereal that's also high in protein, we recommend Catalina Crunch.
If you have a nut allergy, you should steer clear of – surprise, surprise – the Peanut Butter flavor, as it contains both Peanut Flour and Peanut Oil. However, the other three flavors don't contain any nuts.
Avoiding grains? You're in luck! This cereal is completely grain-free. But if you're paleo, you may want to avoid this one due to the dairy, Allulose and Sunflower Oil, which aren't paleo-approved ingredients. The Peanut Butter flavor would also be off-limits since Peanuts are technically legumes – another non-paleo food.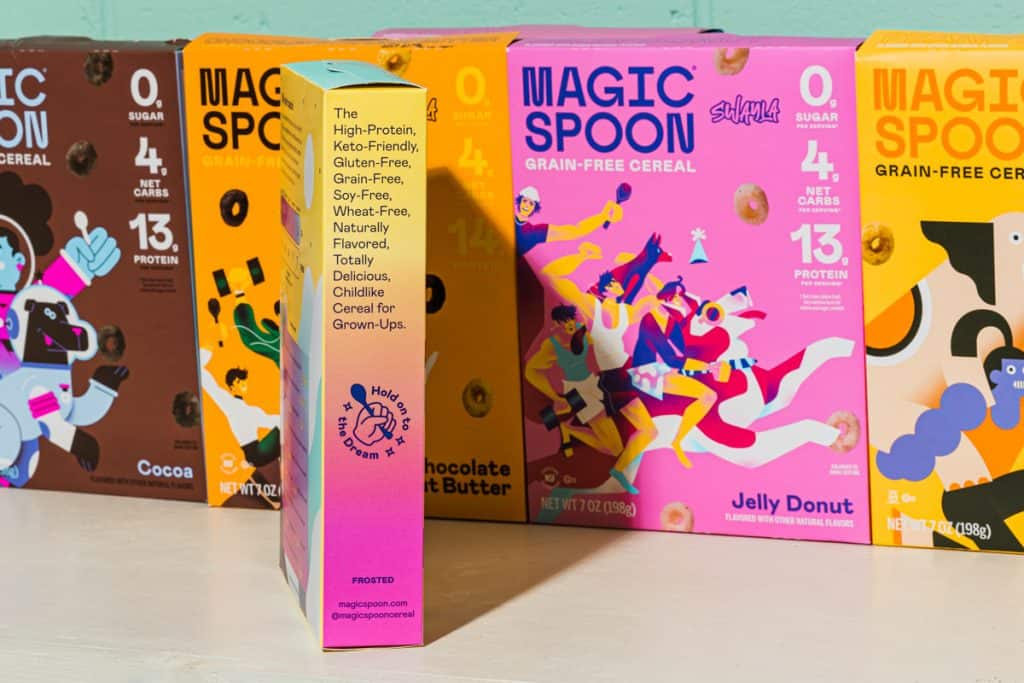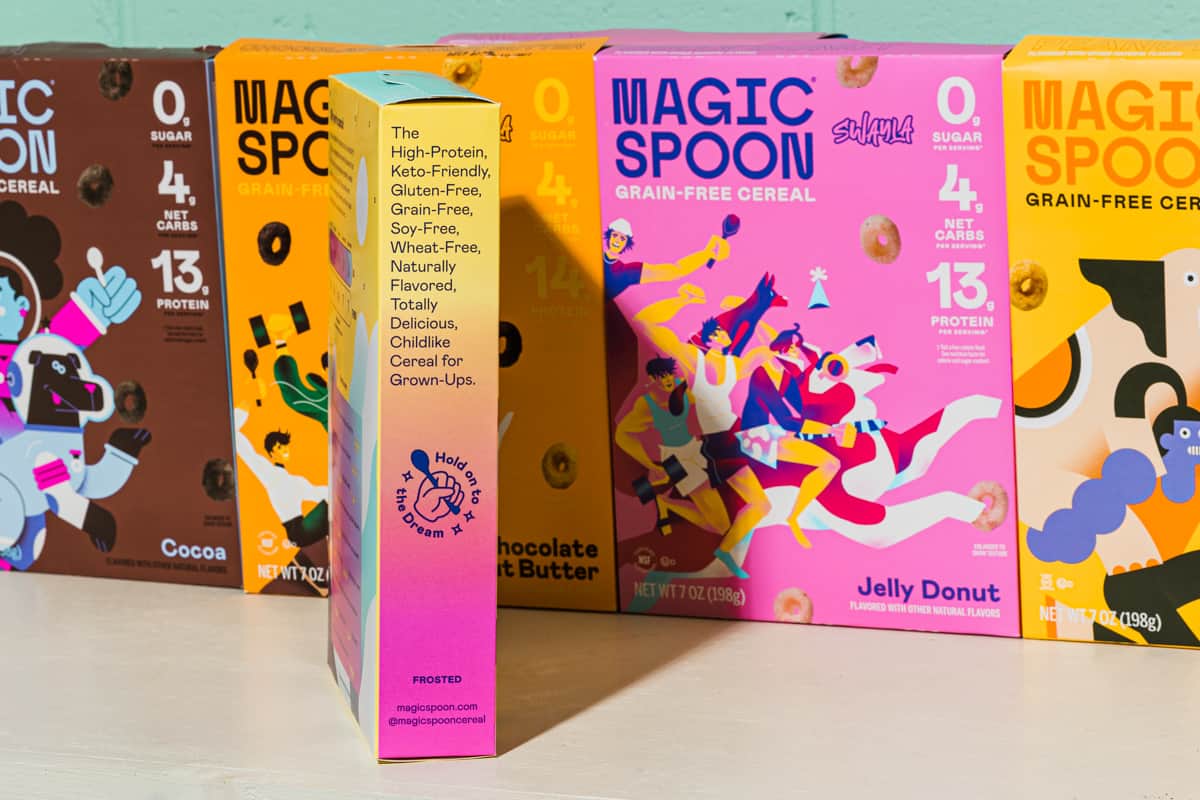 What Flavors Does Magic Spoon Cereal Come In?
Magic Spoon Cereal is available in six flavors:
Fruity
Peanut butter
Cocoa
Cinnamon
Frosted
Blueberry
Each flavor tastes like a different sugar-filled cereal that's usually off the menu for keto, with a couple of unusual additions like Blueberry. The healthy cereal itself looks like small rings – just like Fruit Loops!
If you're looking for a great flavor to start off your morning, you can't go wrong with Cinnamon, Fruity or Frosted. These two definitely live up to the brand's claim of having the "same addictive qualities" as their sugary namesakes, without anything artificial!
How Does Magic Spoon Cereal Taste?
Magic Spoon Cereal might have nothing artificial, zero sugar and amazingly keto nutritional information, but we all know what's really important: does it pass the flavor test?
When it comes to replicating the tastiest flavors from our childhood, this healthier brand definitely hits the mark. It tastes just sweet enough without being overpowering for a morning meal, and the natural flavors definitely replicate sugary breakfast cereal brands like Fruit Loops, Fruity Pebbles, Cinnamon Toast Crunch and Cocoa Pops.
Ordering a box of four? It's hard to pick our top four flavors, but Fruity, Frosted, Cocoa and Blueberry are a must-try! The Cocoa flavor really tastes like Cocoa Pops.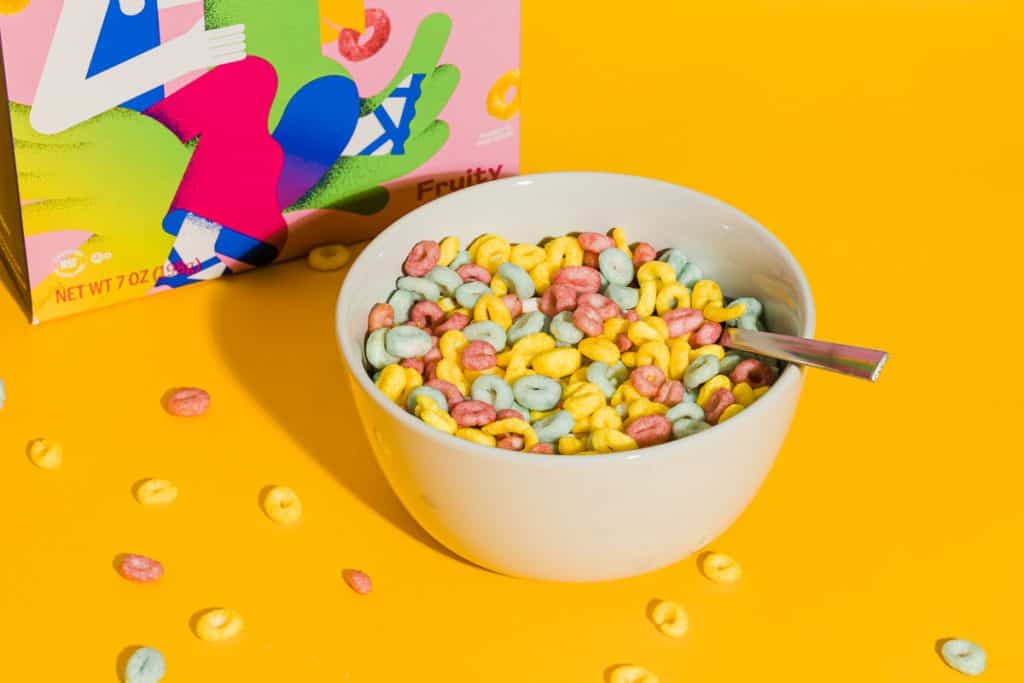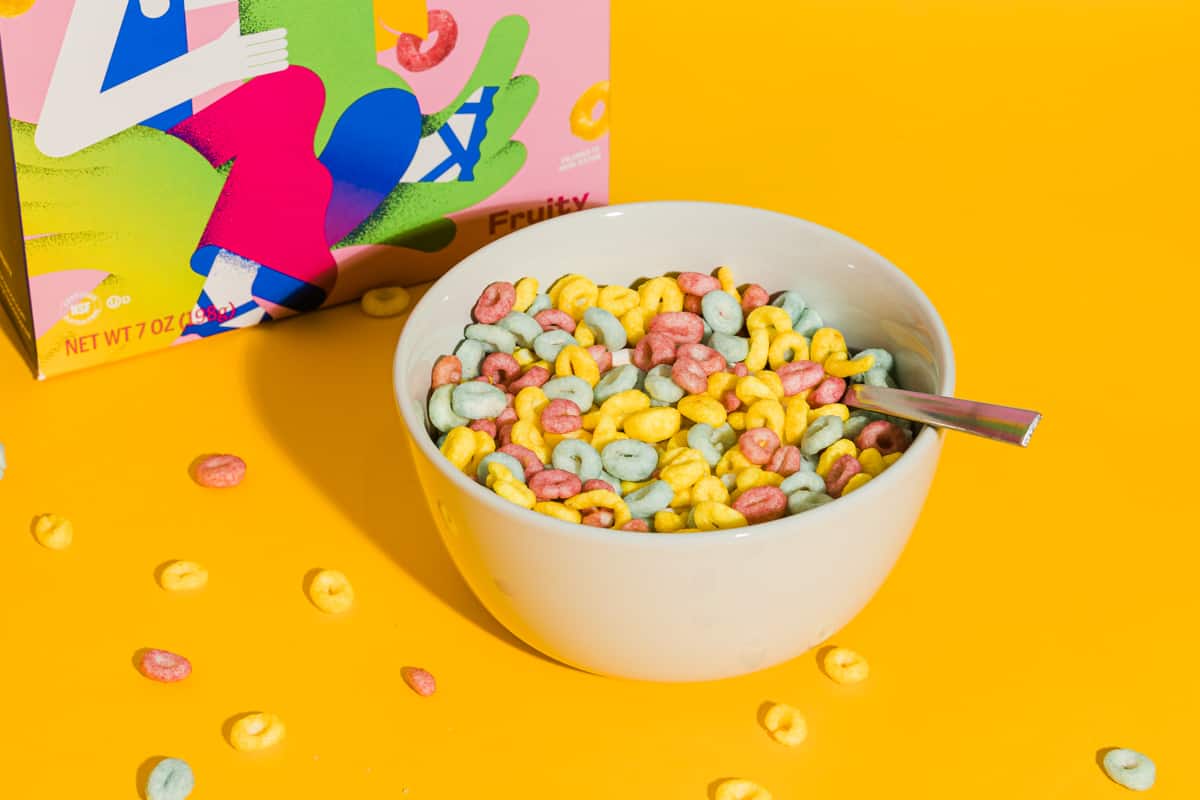 Aftertaste
According to other reviews, Magic Spoon has a somewhat bitter aftertaste. This is no doubt from Stevia – some people experience a bitter sensation from high amounts of this super-sweet natural sweetener.
Sound familiar? Then good news! As mentioned earlier in this Magic Spoon Cereal review, the recipe has been reformulated and no longer contains Stevia.
Texture
Tucking into a bowl of cereal for breakfast is a unique experience. It's a food that evolves as you eat it, from a bowl of crunch to tiny sugary sponges for the milk. But when it comes to healthy replacements, the texture is where things can fall short.
Unlike Catalina Crunch, Magic Spoon Cereal doesn't give Cap'n Crunch a run for his money. The texture is far more similar to your standard wheat-based cereals, but without the high-sugar grains. It's sure to bring back happy memories for all the cereal-loving adults.
Magic Spoon's primary ingredient is dairy protein, and this is definitely noticeable. It's grain-free, which means each crunch doesn't hold up long, and there is a somewhat grainy texture from the whey. But with such low net carbs and sugar, it's a trade-off we'll happily tolerate.
Is Magic Spoon Cereal Suitable for Kids?
Magic Spoon Cereal isn't just for adults! Your kids will definitely want to eat this low-carb breakfast in the morning. The small but filling portion sizes would make for a great healthy breakfast or even a snack. In fact, it tastes like the "real deal" so much that we don't think they'd even notice if you were to swap out their usual Cinnamon Toast Crunch.
Plus, the fun packaging is so bright and colorful that they'll think you plucked Magic Spoon right off the grocery store's cereal shelf beside the sugar-laden Frosted Flakes. Bonus points if you go with the delicious Fruity flavor, which is rainbow-colored like Fruit Loops!
Serving Suggestions for Making Magic Spoon Cereal Even More Delicious
We think Magic Spoon is a winner on its own, but there are always ways to make this cereal even more delicious and suitable for a keto diet.
Be sure to choose a milk that isn't going to bump up the carbs in your bowl. That means healthy almond or even coconut milk. This cereal is quite low fat at seven to nine grams per serving, so you could even choose to have your cereal with a generous splash of heavy whipping cream.
While Magic Spoon is already high in protein, you could bump that up even more with some yogurt – we really like Two Good. We also have a great Easy Keto Yogurt recipe using coconut cream if you'd like to focus on adding more delicious fats (and calories).
And of course, don't forget the garnishes! Opt for high-fat bowl toppers like chopped nuts and coconut flakes, or sprinkle on a few of your favorite berries that are low in carbs, like raspberries and strawberries. This will help to bump up the calories to more of a meal-sized amount – though Magic Spoon's high protein and fiber content make one small serving seriously satiating.
How Much Does Magic Spoon Cereal Cost?
You can purchase Magic Spoon via their website, where they sell each boxes of cereal in a "case" of 4 boxes. Each box has five serves, which means you'll get 20 serves out of one case of four boxes.
You have the option to purchase four boxes of cereal in one single flavor, a variety pack with their Frosted, Cocoa, Fruity and Peanut Butter flavors, or pick and choose four of your favorites in a custom bundle.
Is Magic Spoon worth the money?
They offer a subscription service, so you can subscribe to a steady supply of healthy cereal delivered right to your door every month. This comes with a 10% discount on their standard purchase price.
4 boxes of Magic Spoon costs $39, which works out to $9.75 per box or $1.95 per bowl. If you subscribe, that price comes down to $35.10 per case, $8.877 per box or $1.76 per bowl.
Magic Spoon also offers a "100% happiness guarantee", so you can always get a refund if you're not satisfied – a great excuse to try unusual flavors, like Blueberry!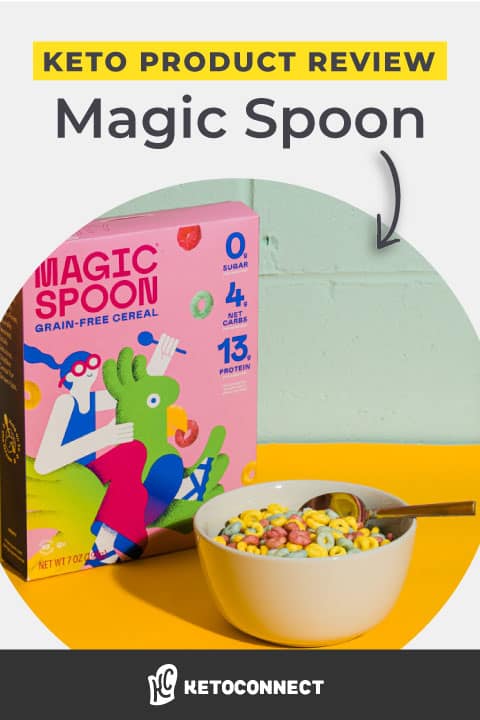 Our Final Opinion
Magic Spoon is one of the strongest contenders in the keto cereal game. With low net carbs, high protein and no artificial ingredients, it's one of the healthiest cereals we've come across. And with iconic flavors like Cinnamon and Blueberry, it sure is delicious. Our review? We'll definitely order more boxes!
We were pleasantly surprised when it came to flavor and texture, and despite having such small serving sizes and calories it's still super satisfying and filling – unlike the blink-and-it's-gone sweet cereal from our childhood.
That said, the price tag is definitely high, even if you do subscribe. That's why we created our own Keto Cereal Recipe that's even higher in protein but easy to make at home.
Want to see how this Magic Spoon review stacks up against other keto cereals? Don't forget to check out our other reviews, including our extensive Catalina Crunch Cereal review, as well as our thorough keto cereal review that breaks down five of the most popular keto cereals for kids and adults alike.
More Keto Product Reviews
If you liked this full review, you are in luck because we have in depth reviews of the most popular keto products on the market today.
Ultimate Keto Meal Delivery Options
Greatest Keto Subscription Box
50 Best Keto Fast Food Options
Written By