With Thanksgiving right around the corner it's time for a keto friendly side dish. Keto Green Bean Casserole is perfect for family gatherings when the only other things being served are mashed potatoes, sweet potatoes and corn bread.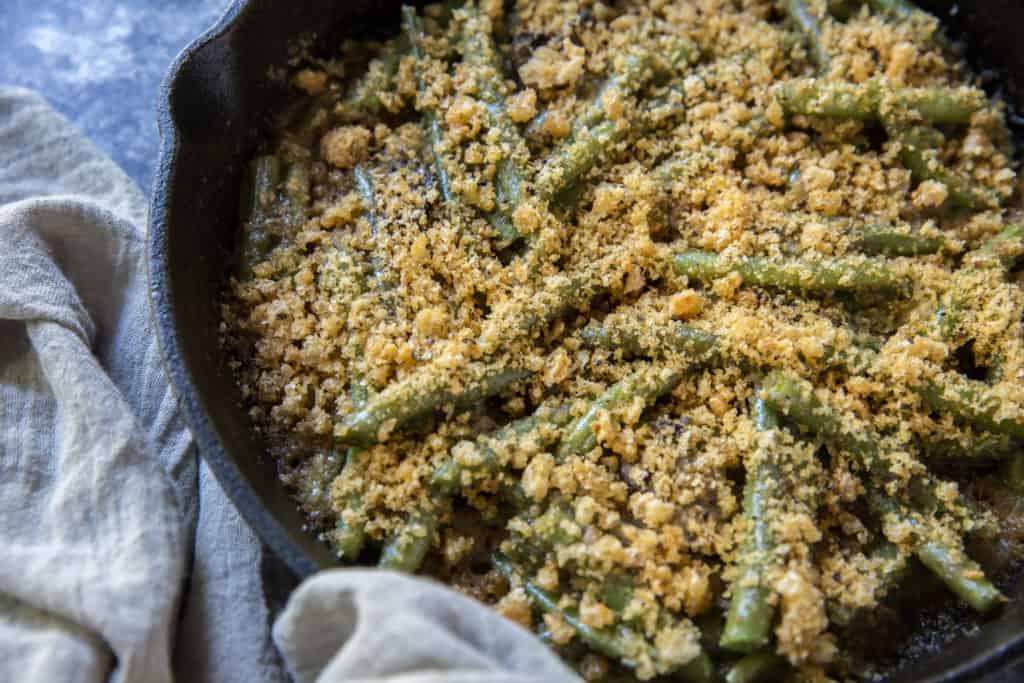 Don't worry! This year a keto Thanksgiving just got a whole lot easier. Our parents taught us as kids that it is important to eat all your vegetables. The same rule applies on Thanksgiving day. We came up with a dish that is keto, easy to make, and equally as delicious as the traditional non-keto sides. Plus it will even make your parents happy!
Our Keto Green Bean Casserole follows the basics to remind you of the traditional green bean casserole you ate growing up. However, there is two big steps in the process that turn this side dish into a carb factory. The corn starch or flour thickener in the gravy and sadly those crunchy and salty fried onions are not keto! We racked our brains and came up with a way to alter it just in time for Thanksgiving!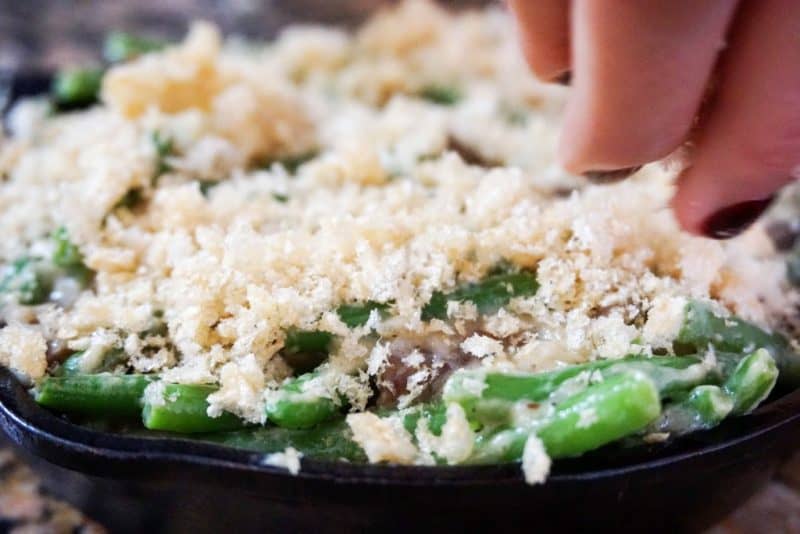 Keys to a Good Keto Green Bean Casserole
There are a few things that make this keto casserole so good. Obviously the green beans are a key factor, but so is the low carb sauce!
By making our own mushroom and onion gravy we are able to lower the carb count substantially while keeping all the flavor. Normally, a green bean casserole recipe has flour and/ or cornstarch. To make this recipe low carb I use the X Factor (Listed Below).
The X Factor
The big gun of this side dish, the X factor if you may, is xanthan gum. It's undetectable and doesn't even require you use a lot, but it makes all the difference! Its main purpose in this dish is to act as a thickening agent for the mushroom and onion gravy that coats all the green beans. This one ingredient can make or break this dish because of the creaminess it will provide.
A tip to check the consistency of a sauce that I learned a couple weeks ago is if you dip a spoon in the sauce, flip it over and run your finger along the middle of it there should be no drip. Once you achieve this, your sauce is done and the xanthan gum has done it's part!
Packing in the Flavor
Another important part of keto sauces is the base itself. Starting with a high quality butter like a grass-fed variety adds a ton of flavor. I also recommend bumping up the flavor and nutrition with bone broth. Instead of chicken stock or broth, try using a high quality bone broth to add a ton of flavor and healthy collagen. We also have an easy recipe for bone broth on our website that you can make in the instant pot! While the seasonings in this green bean casserole recipe are basic they still pack a punch. Try freshly cracked black pepper in place of the typical store bought powder to increase the sharp and peppery notes.
Fresh or Frozen Green Beans?
When making this green bean casserole recipe I wondered if I should use frozen or fresh green beans. After testing a few different ways we decided this recipe works well either way, except if you go the fresh green bean route there is a few extra steps.
If you use fresh green beans start by snapping or chopping off the ends
Bring water to a boil and drop in your green beans. Allow them to cook through enough so they're soft, but still have a bit of texture and crunch. Remove from water and strain.
Topping it
This wouldn't be a keto green bean casserole without that special crunch on top. Normally, its fried crispy onions, but why make things difficult and add an extra time and labor inducing step? Instead we decided the best way to amp this dish up would be to go the simple route and top it with pork rinds! They not only give this green bean casserole an added boost of fat, but also satisfy the needed crunch factor. This year keto might just be the tastier option!
We love Macs as well as Epic's pork rinds. They both provide a good salty flavor and add a nice crispiness to the top of this dish.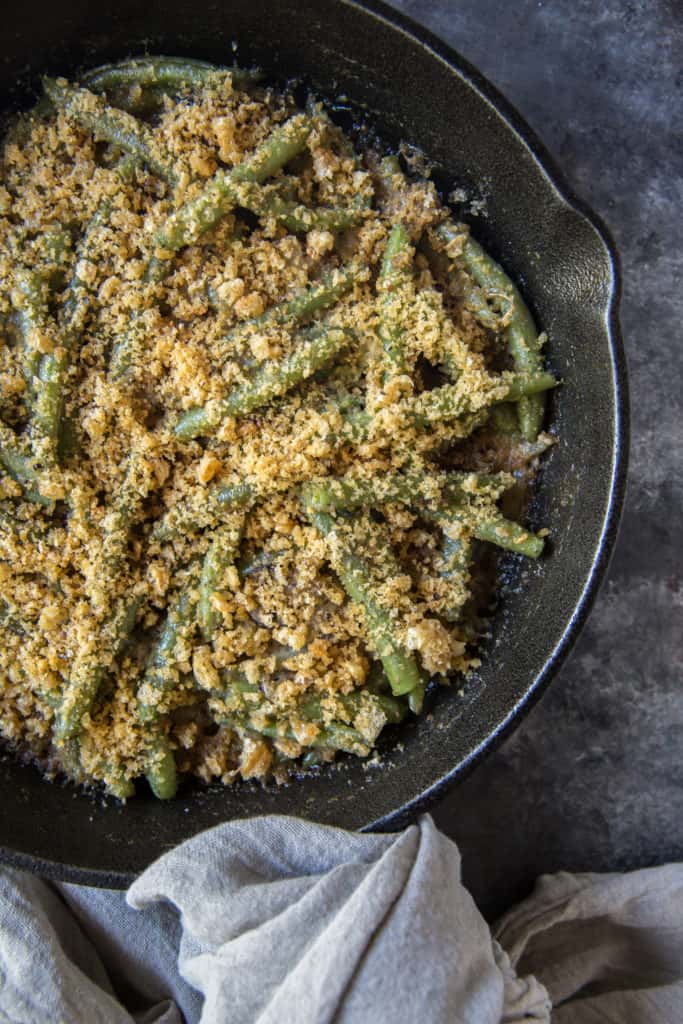 The Benefits of Keto Green Bean Casserole
Believe it or not this recipe is packed with nutrition! This is a keto green bean casserole low in carbs and high in fat to keep you full without the carb laden crash! By skipping out on the typical condensed cream of mushroom soup or cream cheese base we can create a more natural whole ingredient dish. Often times cream of mushroom soup is bland, overly thick, and extremely processed. Even the other keto versions which include cream cheese can lack flavor or become watery. The best option is to skip the cream cheese all together and instead opt for our flavorful sauce thickened with just xanthan gum!
Look out Gluten!
Gluten intolerances are a real issue affecting many people's diet and digestion. Keto already limits wheat and follows a low inflammation gluten free approach. Thanks to the use of xanthan gum and pork rinds this low carb/ keto green bean casserole is 100% gluten free. There is no need to use crispy fried onions and risk an upset stomach later!
The Humble Green Bean
This casserole has one main ingredient, Green Beans! While small and humble the green bean is often underestimated for all it does. Green beans are a rich source of vitamin C and fiber. Fiber is very important not only in managing blood sugar, but also in feeding good gut bacteria(1). This vegetable can be a great option for those dealing with IBS or just want to keep their overall digestion working great. Green beans are also a low FODMAP veggie which is perfect to get in some extra fiber without the inflammation. Try incorporating this low carb/ keto friendly veggie for a healthy side this Thanksgiving!
Green Bean Casserole FAQ's
"Can I use almond flour over pork rinds?"- It is not recommended as almond flour may not crisp well. However you can try and pre toast the almond flour in a pan and then add it on top in the last 5 minutes of baking.
"Is there a way to spice up the flavor"- For sure! There are a few keto/ low carb options that you can use to spice up this dish! Try adding chopped bacon or sliced almonds for an added salty crunch.
"How do I make a crispy fried onion?" This casserole omits the typical fried onions and canned green beans, but if you do love that crunchy onion topping have no fear! A quick way to upgrade the dish is heating a small pan with olive oil (about an inch worth), and dropping in thinly sliced onions tossed in some coconut flour. Cook until the onions have gone golden brown on the outsides and place on a plate with paper towels to absorb the oil.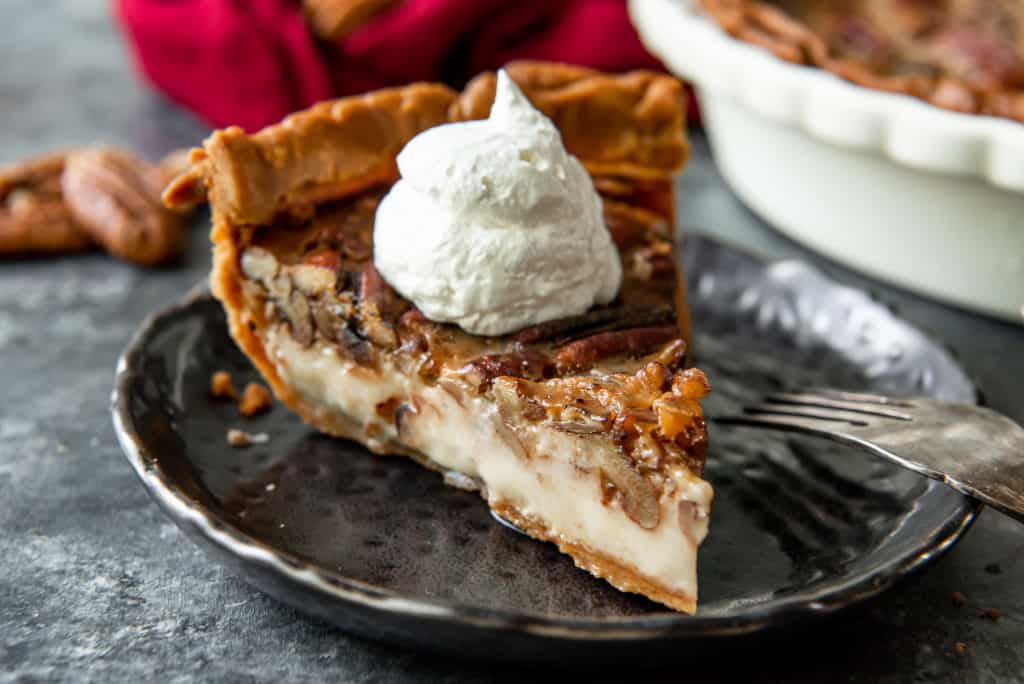 Thanksgiving Dinner
Now that you have your keto-friendly green bean casserole you can pile on the turkey, cauliflower mash, pecan pie and pumpkin pie cheesecake for a beautiful Thanksgiving day! Check out some of our other keto recipes to complete this thanksgiving meal or holiday season for your family:
Sweet Potato Casserole – Are you missing delicious smashed yams and sweet potatoes topped with all the butter and brown sugar? Try our healthier low carb/ keto sweet potato casserole topped with a pecan cinnamon sauce. It's warming sweet notes will have you going up for seconds!
Oven Friendly Turkey for 4 – Looking for a smaller thanksgiving turkey recipe? Our keto oven friendly turkey recipe is the perfect small scale meal that still packs a punch
Sausage Breakfast Casserole – Love this green bean casserole from scratch? How about starting off thanksgiving morning with a warm breakfast to fuel your cooking. This breakfast casserole is hearty, cheesy, and packed with a secret ingredient…. Cauliflower!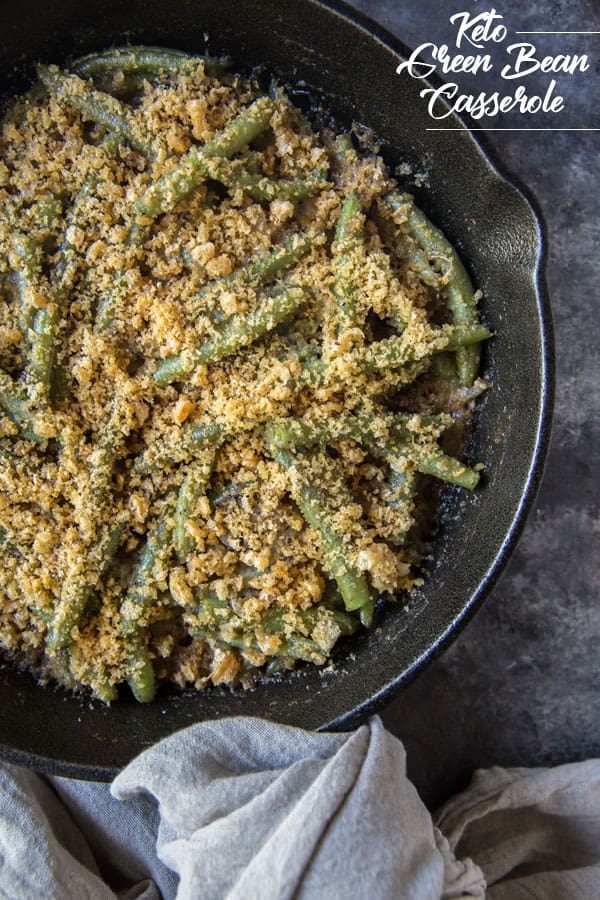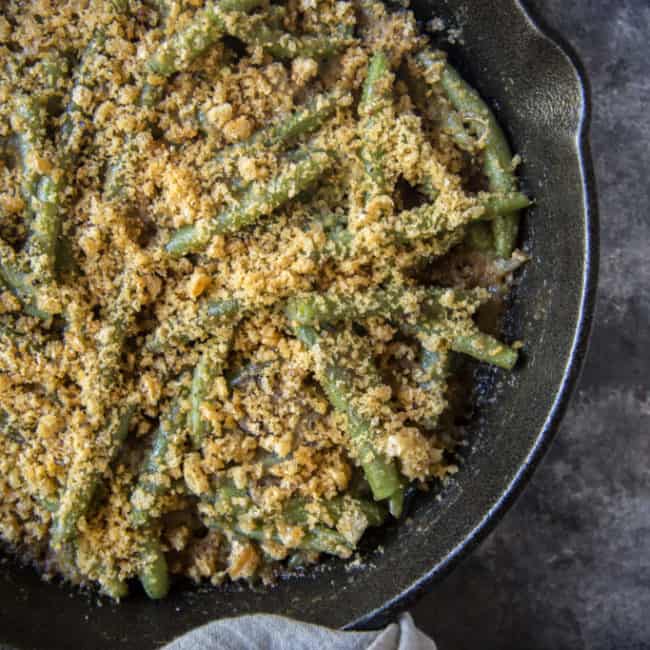 Low Carb Green Bean Casserole
A keto take on classic green bean casserole, a holiday family favorite.
Total Time 35 minutes
Servings 3 servings
Calories per serving 243.7kcal
Prep Time: 5 minutes
Cook Time: 30 minutes
Instructions:
Thaw frozen green beans (you can microwave them for 5 minutes to heat them through). If you use fresh green beans just make sure to snap the ends and boil them to cook them through.

Chop white onion, mushroom and garlic together.

Add two tbsp of butter to a saucepan and heat over medium heat.

Add onion, mushroom and garlic and cook until fragrant and mushrooms have cooked down.

Add the cream and chicken stock and bring to a boil.

Once boiling turn down to simmer and allow to simmer for 10-15 minutes.

Add xanthem gum and stir until sauce is thick.

Add green beans to the cream sauce and coat thoroughly.

Transfer green beans to a skillet and top with crumbled pork rinds.

Place in 350 degree oven for ten minutes. Broil for two minutes.

Serve warm and enjoy!
Nutrition Facts
Low Carb Green Bean Casserole
Amount Per Serving
Calories 243.7 Calories from Fat 159
% Daily Value*
Fat 17.7g27%
Carbohydrates 8.3g3%
Fiber 2.5g10%
Protein 7.7g15%
* Percent Daily Values are based on a 2000 calorie diet.
Written By