Our Low Carb Green Bean Casserole
With Thanksgiving right around the corner and the star of the show (Turkey) already the most keto-friendly food we could ask for, side dishes become an important quest. If you showed up to your family Thanksgiving and the only thing served was Turkey you would be upset. Additionally, if the only side dishes served were mashed potatoes, sweet potatoes and corn bread you'd be even more upset. Just like our parents taught us as kids that it's important to eat all your vegetables, the same rule goes on Thanksgiving day. So we came up with a dish that is keto-friendly, equally delicious as all non-keto side dishes and will make your parents happy!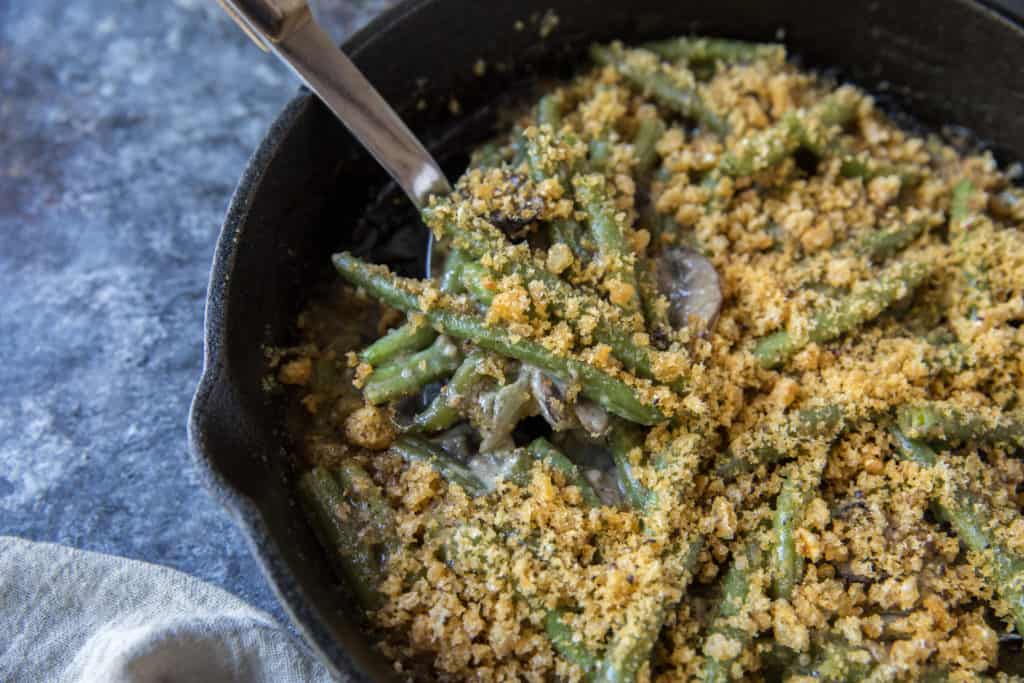 Our Low Carb Green Bean Casserole gets down to the basics and will remind you of the traditional green bean casserole you ate growing up. However, there is one big step in the process that turns this side dish into a carb factory. So we racked our brains and came up with a way to alter it just in time for Thanksgiving 2016!
X Factor
The big gun of this side dish, the X factor if you may, is xanthum gum. It's undetectable and doesn't even require you use a lot, but it makes all the difference! It's main purpose in this dish is to act as a thickening agent for the mushroom and onion gravy that coats all the green beans. Now you can see how this one ingredient can make or break this dish.
A tip to check the consistency of a sauce that I learned a couple weeks ago when Matt and I were watching 'Worst Cooks In America' finally came in use when making this dish! If you dip a spoon in the sauce, flip it over and run your finger along the middle of it there should be no drip (picture below). Once you achieve this, your sauce is done and xanthum gum has done it's part!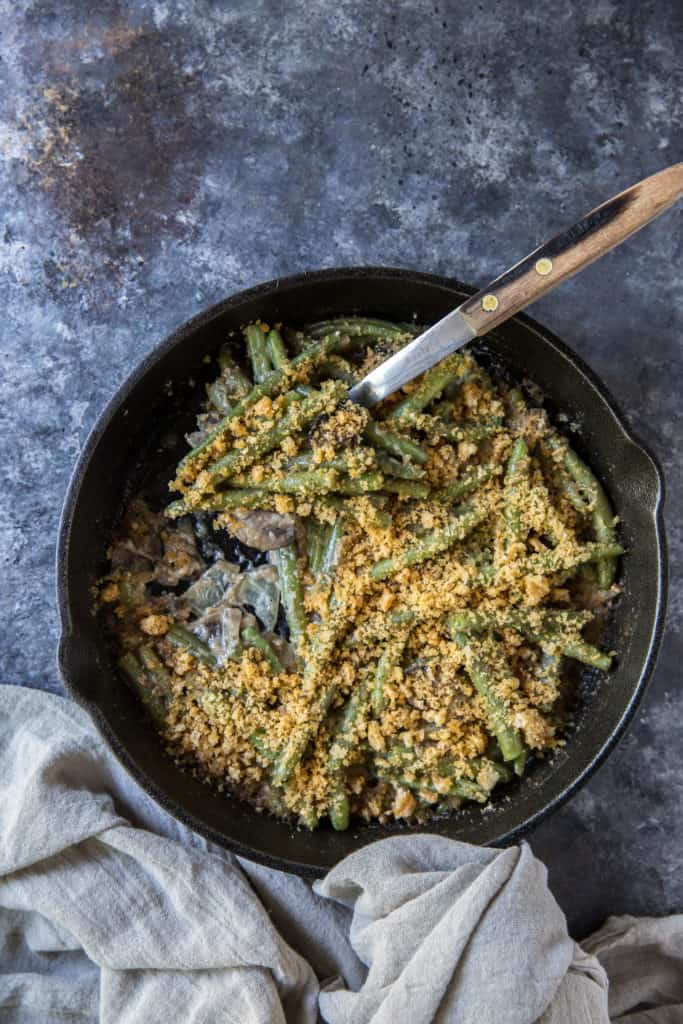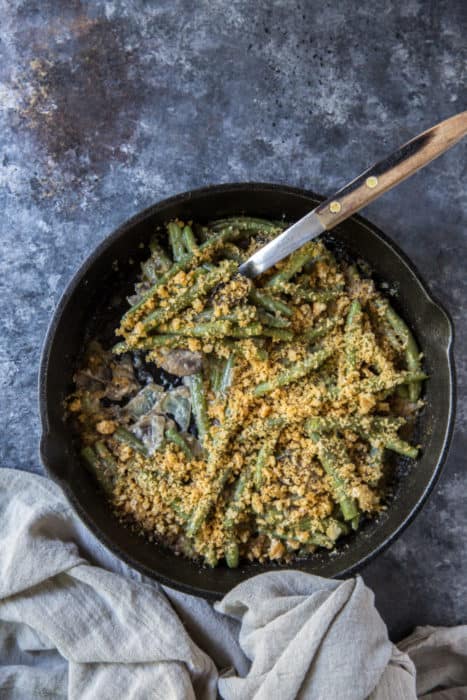 Topping
This wouldn't be a casserole without the crunch on top. Normally, its fried crispy onions, but why make things difficult and add an extra time and labor inducing step?? Instead we decided the best way to amp this dish up would be to go the simple route and top it with pork rinds! Pork rinds not only give this dish an added boost of fat, but also satisfy the needed crunch factor. It might even be the better option!
So now that you have your keto-friendly vegetable side dish you can pile on the turkey, cauliflower mash, pecan pie and pumpkin pie cheesecake and call it a beautiful Thanksgiving day!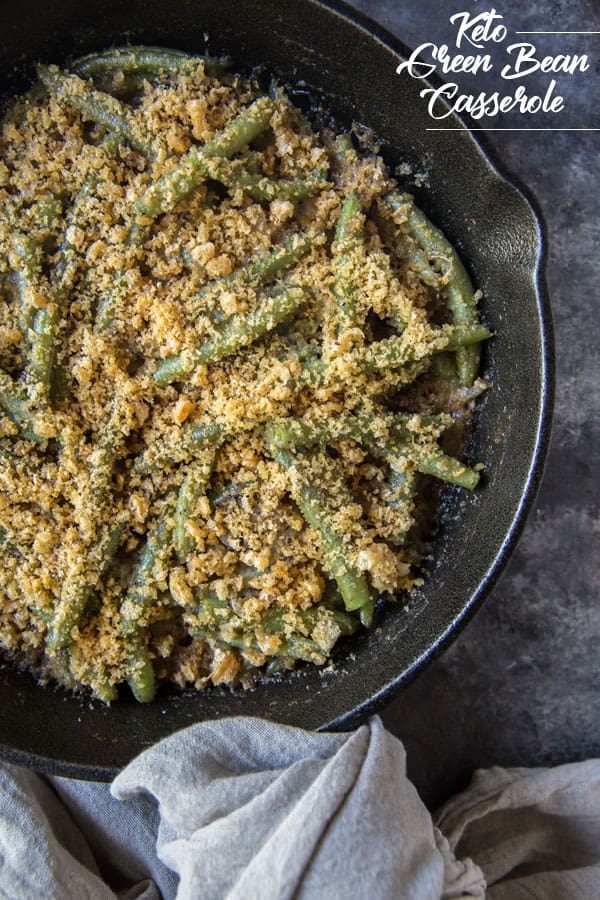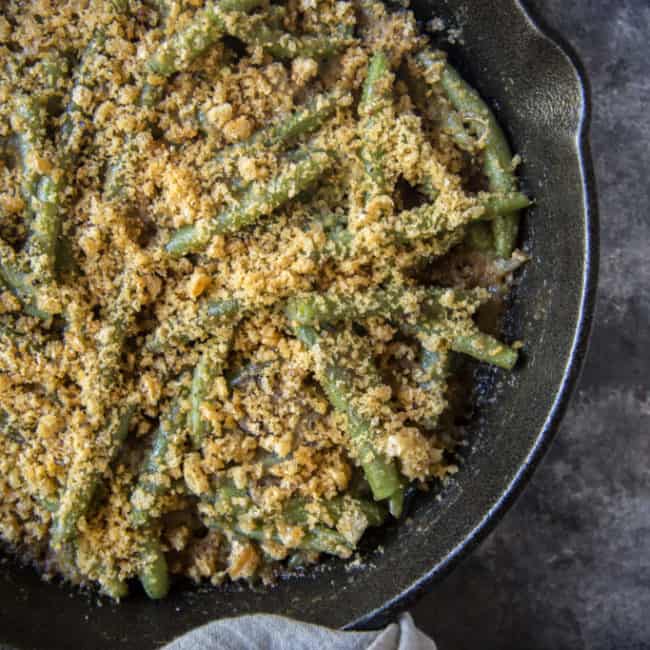 Low Carb Green Bean Casserole
A keto take on classic green bean casserole, a holiday family favorite.
Total Time 35 minutes
Servings 3 servings
Calories per serving 243.7kcal
Prep Time: 5 minutes
Cook Time: 30 minutes
Instructions:
Thaw frozen green beans (you can microwave them for 5 minutes to heat them through). If you use fresh green beans just make sure to snap the ends and boil them to cook them through.

Chop white onion, mushroom and garlic together.

Add two tbsp of butter to a saucepan and heat over medium heat.

Add onion, mushroom and garlic and cook until fragrant and mushrooms have cooked down.

Add the cream and chicken stock and bring to a boil.

Once boiling turn down to simmer and allow to simmer for 10-15 minutes.

Add xanthem gum and stir until sauce is thick.

Add green beans to the cream sauce and coat thoroughly.

Transfer green beans to a skillet and top with crumbled pork rinds.

Place in 350 degree oven for ten minutes. Broil for two minutes.

Serve warm and enjoy!
Nutrition Facts
Low Carb Green Bean Casserole
Amount Per Serving
Calories 243.7 Calories from Fat 159
% Daily Value*
Fat 17.7g27%
Carbohydrates 8.3g3%
Fiber 2.5g10%
Protein 7.7g15%
* Percent Daily Values are based on a 2000 calorie diet.