Soft, chewy, and pliable Keto Naan makes the perfect healthy low carb boat for fillings and dipping.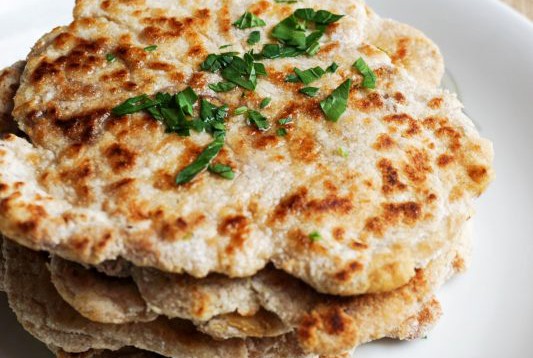 Creating the Best Keto Naan Bread Recipe
Being of Indian descent, you might think creating a Low Carb Naan recipe would come a bit more easier to me than most, but it didn't. It took me a while to really figure out what flours and fibers worked best together.
Understanding what each flour does when cooked is key. And, in this case, knowing coconut flour and psyllium husk powder would create a pliable naan like bread is what led me to this Low Carb Naan recipe.
Ever since I discovered how to make these, I've always made sure some are in the fridge for us to snack on or make sandwiches out of!
Is Naan Good for Weight Loss?
A lot of people think naan and pita bread are good for weight loss because they are thinner and seem like less bread. However, traditionally naan and pita can be just as bad for weight loss and standard white bread.
A typical piece of naan has 262 calories, 5.1 grams of fat, a carb count of 45 grams, and 8.7 grams of protein. Most people will find they can eat 2-3 pieces of naan at a time and quickly overeat in calories and carbs without getting very full.
That's why we created this easy keto naan that has just 4 net carbs a serving. 41 grams less than traditional naan bread. Plus, our keto friendly version is packed with fiber to help keep you full.
Now you can feel satisfied and still enjoy Indian food when you make this keto friendly naan.
Almond Flour vs. Coconut Flour
We chose to make this recipe with coconut flour instead of almond flour. Not only does that make it nut free friendly, but it also means it take less flour to make the same dish. Aka saving money!
This recipe does not recommend subbing almond flour in place of the coconut flour. Almond flour is denser than coconut flour which can make for a really dense bread.
They also each have their own absorbency rates. Coconut flour can absorb 3x as much liquid as almond flour, so simply subbing them would not be enough to balance out the liquid in this recipe.
Dairy Free Naan
This recipe is 100% dairy free which we know is a common dietary restriction. That's why we made this recipe with coconut oil instead of butter.
If you aren't dairy free you can use butter, or try using ghee. Ghee is clarified butter that has the lactose removed. It's easier to digest and quite common in Indian cooking.
Garlic Naan
Naan doesn't have to be garlic-y, but it is one of our favorite flavors and ingredients to work with, so we decided we wanted to make garlic naan. We tried refrigerated minced garlic, but found that it is not strong enough of a flavor to come through.
We next used minced up raw garlic cloves and tossed it into the naan dough before cooking. Worked like a charm! The more you add, the more garlic-y it will be. You can even top the warm naan with a garlic butter!
To make garlic butter just heat 2-3 tablespoons of butter in a pan with 1-2 cloves of garlic minced. Once it browns in the butter you will have a delicious garlic butter.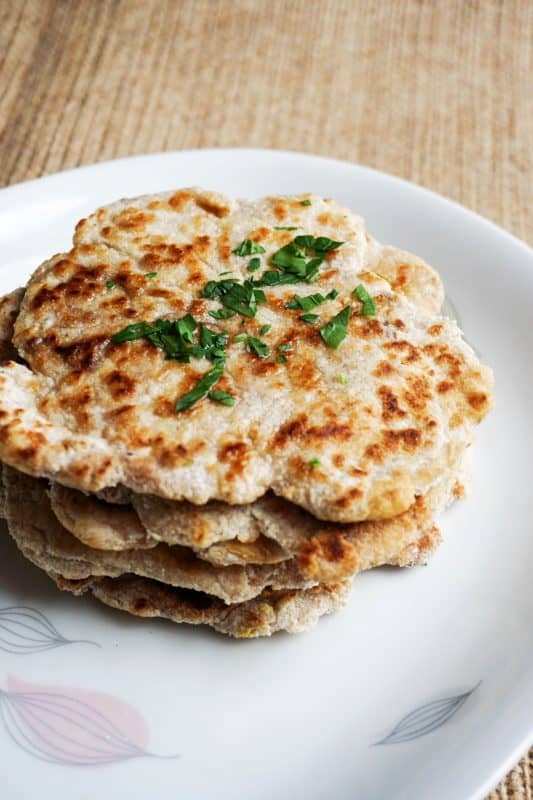 A Quick and Simple Keto Naan Recipe
As you can see from the ingredients listed below, the recipe is fairly simple, and they are extremely quick to make.
We suggest letting the dough sit for 15 minutes prior to forming your naans, but if you really are in a rush you can skip that part and go right to the naan making and devouring.
Thankfully, it's really not possible to mess this recipe up. If it's too dry, add water. If it's too wet, add psyllium husk powder. It's one of the easiest recipes you'll try on a low carb diet.
What to Eat With Keto Naan
There is a variety of delicious and flavorful Indian dishes that we would recommend enjoying with this recipe. Keto naan goes well with:
Butter Chicken – A classic Indian recipe that has become super popular on our site, and for good reason! This creamy sauce is sure to make keto naan the perfect dipper.
Easy Beef Curry -This super tender beef curry is loaded with rich sauce to enjoy alongside naan.
Egg Roll in a Bowl – This flavorful, Asian inspired one pan recipe is taken to the next level with a side of warm keto naan.
All of these recipes are gluten free and high fat, perfect for keeping you on track with your keto diet. If you aren't sure what to make for dinner this week, try one of these recipes and make our naan to go with it!
How to Make Keto Naan Bread
This is easily the best keto naan recipe out there because it creates the same delicious pliable dough that you have with regular naan.
Ingredients
This nut free keto naan bread recipe is made with coconut flour, psyllium husk (a high fiber flour like substance), baking powder, coconut oil, hot water, salt, and minced garlic.
We chose not to use almond flour for this recipe and instead coconut flour. While almond flour is a more common ingredient in keto baking, it can tend to be very dense. Rather than have a dense almond flour naan bread we made this keto naan bread with extra fiber to give us pliability without nuts.
How to Make Keto Naan Bread
To make this gluten free low carb keto naan bread begin by combining the coconut flour, psyllium husk, baking powder, salt, and coconut oil. Then add your optional garlic to the mixture.
Now add 1 cup of hot water and start to combine the ingredients. Add in extra water if needed, and if it is too runny simply toss in a little more psyllium husk.
Knead the dough with your hands for a minute and let the dough recipe sit in the bowl for 15 minutes. Once rested pull apart pieces and form the dough into the size of ball you'd like. Roll out the dough ball using some parchment paper and a rolling pin.
Heat a skillet to medium and add the keto naan bread dough into the heated skillet. If you are worried about sticking add a little extra oil to the pan to help this gluten free dough.
Flip the bread after a couple of minutes, it should have browned on one side (become a toasty golden brown color). Cook the flipped keto naan bread for another few minutes so both sides are evenly browned.
If the naan starts to pull up and separate from the pan it's ready. Repeat these steps until all the naan breads have cooked.
Storing Keto Naan Bread
To store keto naan bread we will often freeze cooled pieces in a zip top bag between parchment paper. Make sure they freeze flat by placing them on top of a baking sheet before popping into the freezer.
If you just want to store this easy keto naan for later you can put it into the fridge in an air tight container.
Trust us, once you make this recipe there won't be leftovers unless you make a triple batch. If you tried this recipe in the past, you already know this recipe is basically a single serving with how much you'll want to eat.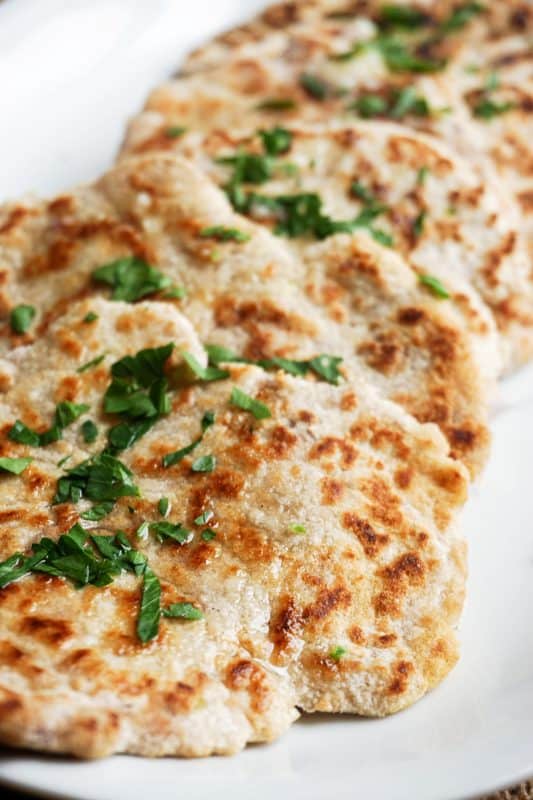 More Keto Bread Recipes
If you like this recipe you are going to love our other easy keto recipes for all types of bread. Some of our favorite keto recipes are our:
Coconut Flour Bread – This is by far one of our most popular recipes, and for good reason. This easy keto recipe has just 1.25 net carbs per slice
Keto Hamburger Buns – Trying to get together for a delicious grill out, but don't want to suffer eating regular buns? Our easy keto hamburger buns are made with shredded mozzarella cheese to create the perfect fathead dough.
Authentic Keto Cornbread – Unlike the fathead dough hamburger buns, this keto cornbread recipe is buttery, crumbly, and bready just like the original.
If you want to make bread keto we have you covered with tons of healthy keto options. There's a bread recipe for everyone on our site, from almond flour and mozzarella cheese to dairy free coconut flour bread.
Low Carb Keto Naan Bread Recipe
This recipe is by far both of our favorite's bread recipe. Of all the ones we've made this is the best taste and texture, maybe even more so than our Best Keto Bread recipe.
It uses a great source of fiber, which is always a good addition to anyones diet. Fiber has been shown to help you stay fuller longer. Plus, they are pliable making them great for use as a tortilla or wrap.
If you're like Matt and more of a roll guy you should give our Low Carb Rolls a try which also utilize psyllium husk powder.
Now, go and order some butter chicken take-out from your favorite indian restaurant and make yourself some Low Carb Naan to go along with it!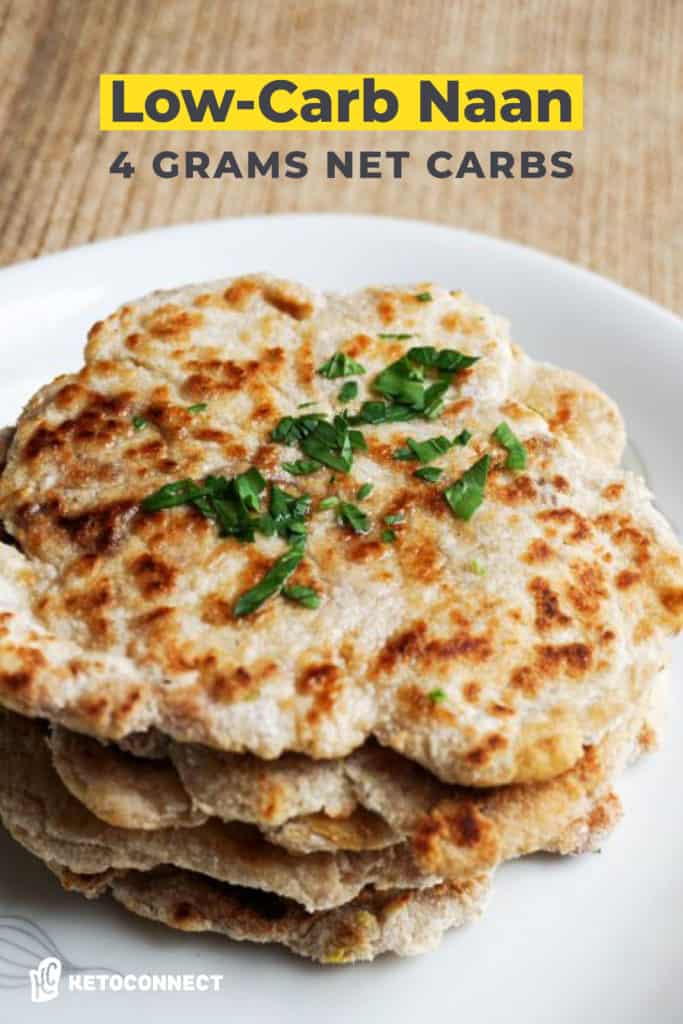 Recipe can be quickly added to MyFitnessPal – Search "KetoConnect – Low Carb Naan"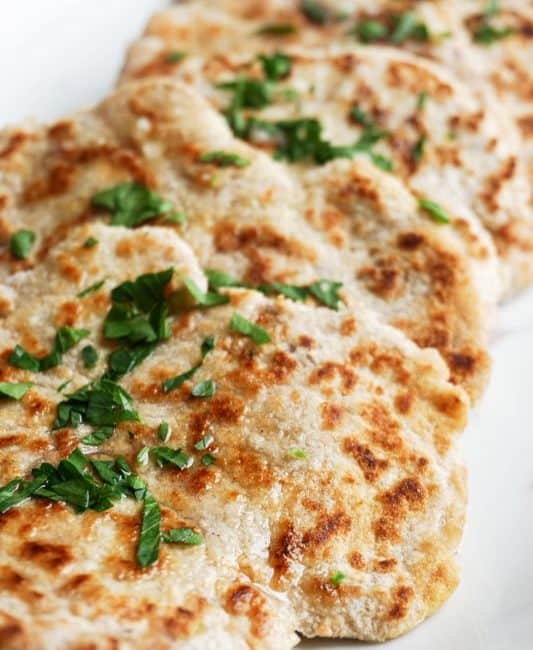 Low Carb Keto Naan Recipe | Indian Flatbread
Low-carb naan bread made with coconut flour.
Total Time 35 minutes
Servings 4 servings
Calories per serving 138kcal
Prep Time: 20 minutes
Cook Time: 15 minutes
Instructions:
NOTE: We made 6 naan out of our dough for 2 servings. 3 naan per serving.

Combine the coconut flour, psyillium husk powder, baking powder, salt and coconut oil. Add the minced garlic to the mixture.

Add 1 cup of hot water to start and combine. Add more hot water if needed. If the consistency is too wet add more psyllium husk powder

Knead with your hands for a minute and let it sit in a bowl for 15 minutes.

Pull apart the dough into as big or as little balls as you'd like and roll out using some parchment paper and a rolling pin.

Heat a skillet to medium heat and add a naan to the heated skillet. Flip after a couple minutes (it will be brown on the other side), and cook until browned on both sides.

Tip: If the naan starts to puff up, you know its done!

Complete until all naans are cooked and enjoy!
Nutrition Facts
Low Carb Keto Naan Recipe | Indian Flatbread
Amount Per Serving
Calories 138 Calories from Fat 81
% Daily Value*
Fat 9g14%
Carbohydrates 12g4%
Fiber 8g32%
Protein 2g4%
* Percent Daily Values are based on a 2000 calorie diet.
Written By