If there's one thing you should know about me (Megha), it's that meatballs are my favorite food. If meatballs are on the menu, I'm always tempted to get them – and occasionally, I do! But the thing is, they almost always contain bread crumbs, which are too high in carbs to fit into my keto diet. The beauty of these easy Air Fryer Meatballs is that you can enjoy your meatballs without the unnecessary carbs!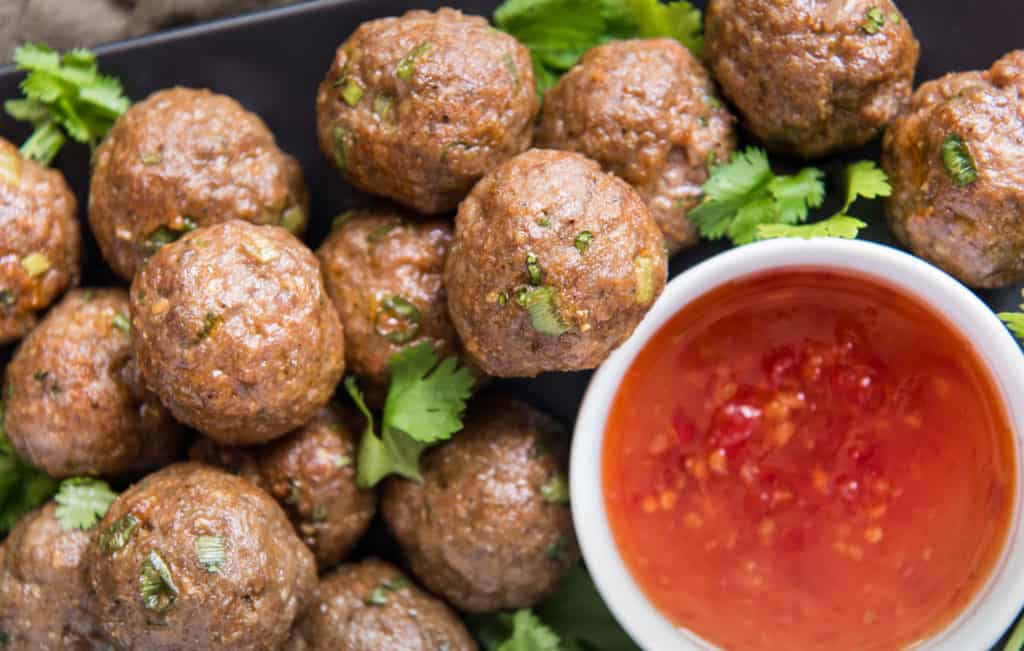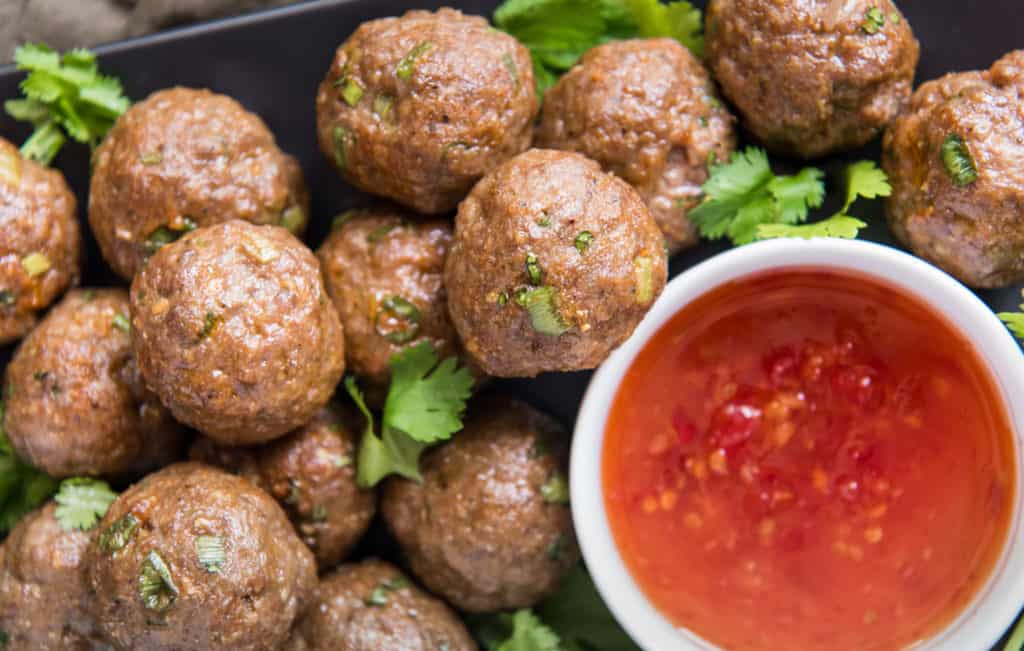 Meatballs in the Air Fryer
How do you know someone owns an air fryer? They won't shut up about their air fryer!
But all jokes aside, there's a reason people rave about them – and once you taste your first perfectly-cooked meatball fresh from the air fryer basket, you'll be a convert, too.
What's So Great About Meatballs in the Air Fryer Basket?
An air fryer isn't just a mini oven. It creates the perfect environment to ensure an end result that's beautifully cooked and crispy all the way around, without burning or drying out.
When cooking meatballs in the frying pan, you may find you need to carefully monitor the temperature and add more oil to stop them from sticking. It can also be tricky to make sure they're cooked all the way through without burning on the outside.
And as for the oven, we find the meatballs never get that ideal finish all the way around.
Cooking meatballs in the air fryer, on the other hand, ensures they're cooked evenly not just all the way through, but on all surfaces. Plus, it's a much faster method.
In other words, you'll be enjoying your meatballs way sooner!
The Ultimate No-Carb Meatballs
These meatballs are exactly that: tasty, high-protein balls of meat, without the usual carbs.
More and more of the keto community is experimenting with a zero-carb or carnivore diet, so we've had requests to make recipes that fit into a carb-free way of eating. Our Air Fryer Meatballs are the perfect no-carb meal!
What Makes These Meatballs Low Carb?
We've taken out the high-carb bread crumbs and swapped them for one of our favorite ingredients that's far more keto-friendly: crushed pork rinds!
Pork rinds are the perfect high-protein, low-carb substitute for bread crumbs and flour in many of our keto recipes – even pancakes.
Any carbs that are listed in the nutrition info come from seasonings, which are always optional. For example, one clove of garlic is one carb and while you can leave it out, a clove or two of garlic will do your tastebuds and gut health some good! Did you know garlic was used as early as 1550 B.C. for medicinal purposes?
Want to try some of our other zero-carb creations? Try these recipes: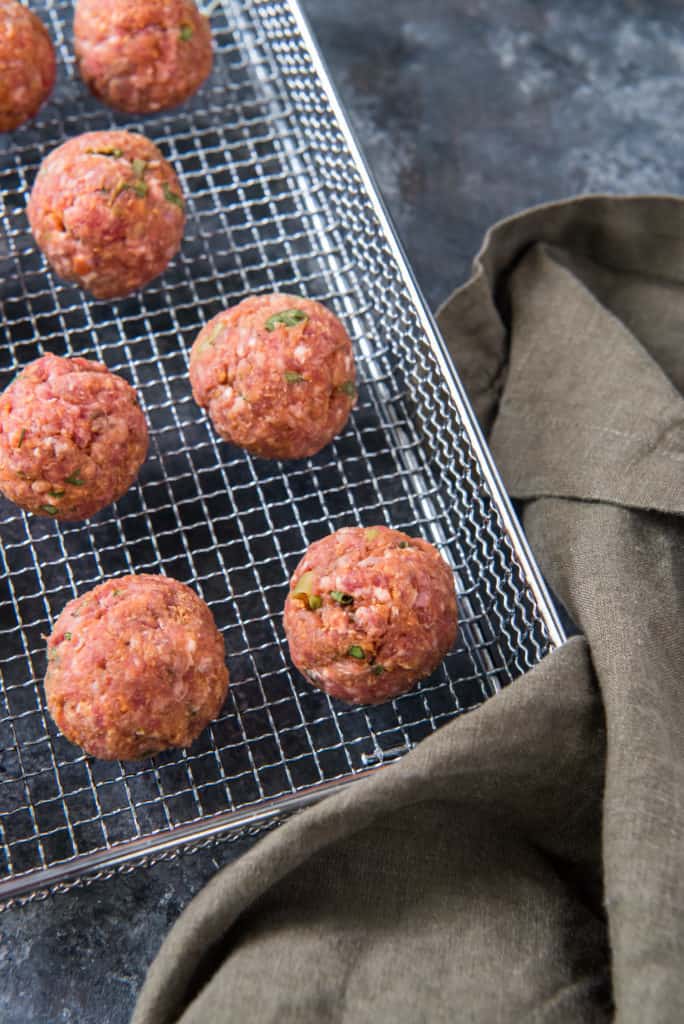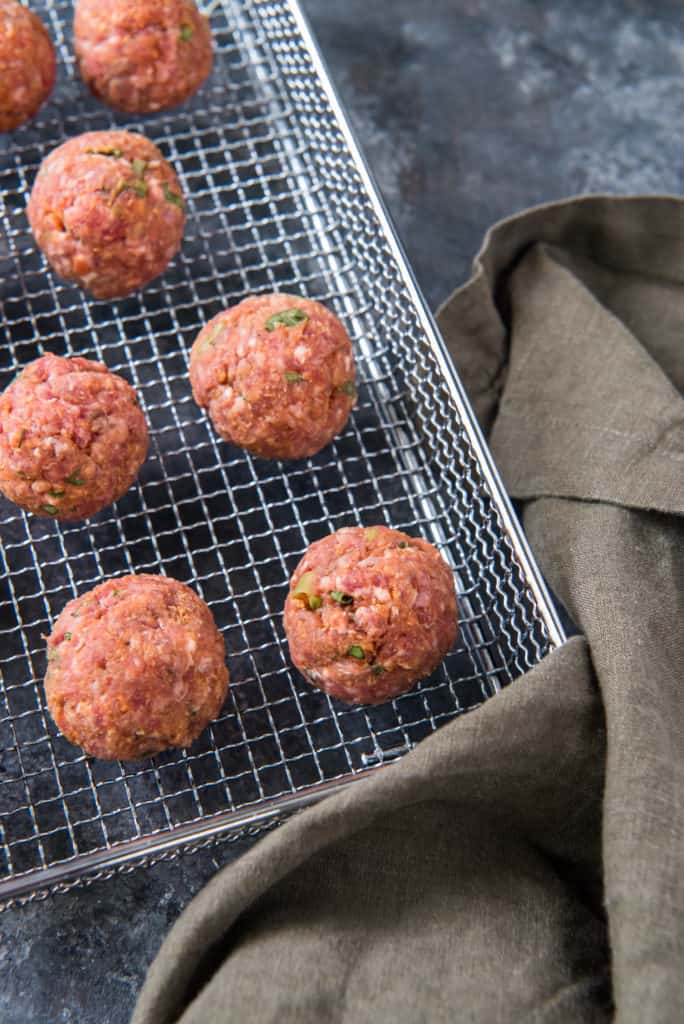 Nutrition Information
Our Air Fryer Meatballs are simple, delicious and nutritious! With almost no carbs and a satisfying amount of protein and fat, this is one recipe that's satisfying and satiating.
Here's what you're getting with each serving:
313 calories
23 g fat
11 g protein
2 g net carbs
1 g fiber
Don't forget – you can make Air Fryer Meatballs zero-carb by omitting the seasonings and garlic.
Opting for lean ground beef means you can reduce the fat content and calories. Lean ground beef is rich in nutrients such as B12 and omega-3 fatty acids. But if you ask us, there's nothing wrong with a little higher-fat meat in your cooking. Ground beef is totally optional.
You can also use ground pork, which will create more of a juicy, rich meatball. Try different ratios to your liking, such as 60:40 lean ground beef to ground pork, or even higher amounts of ground pork than ground beef for a super decadent meatball.
No bread crumbs also means this recipe is totally gluten-free. And depending on the fish sauce you use, this recipe can be made paleo. Just watch out for added sugar.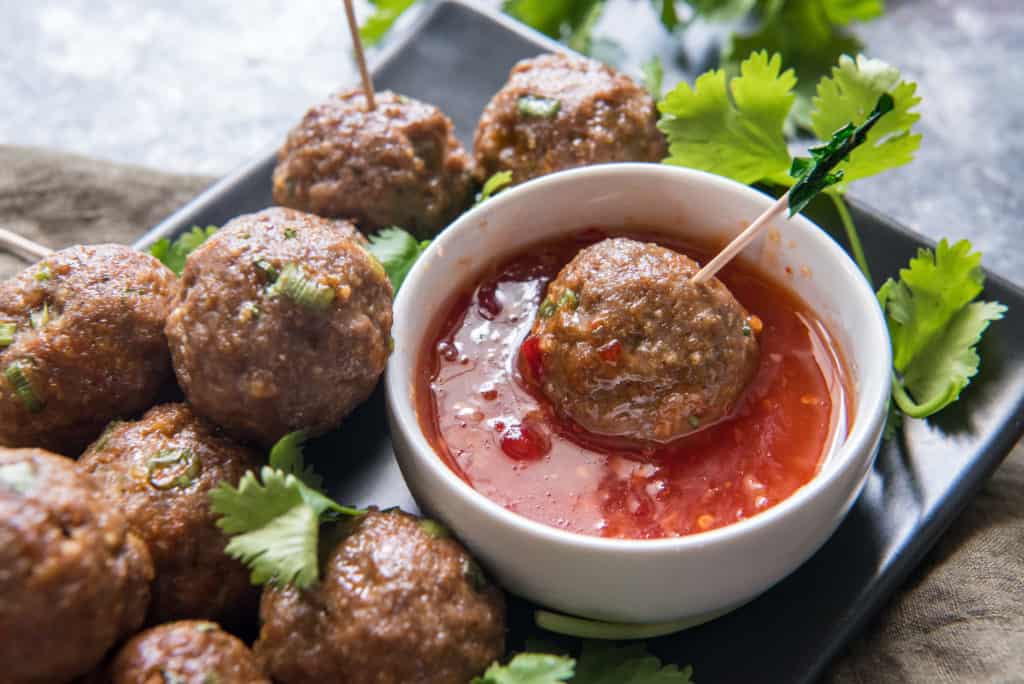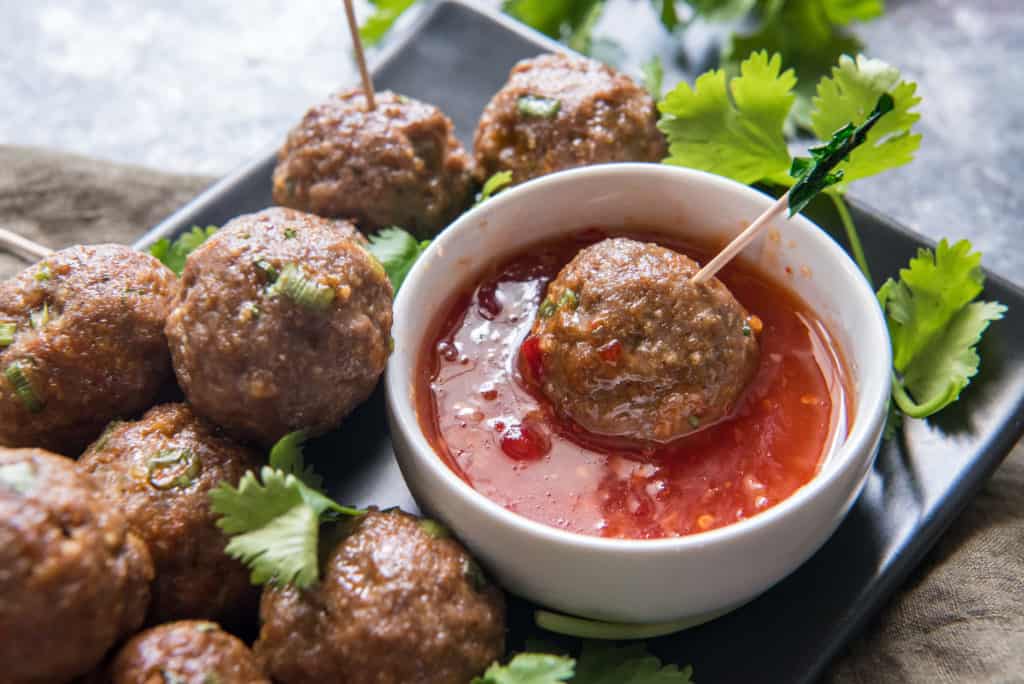 Serving Suggestions
Our quick and easy Air Fryer Meatballs recipe is super versatile, meaning you can change up the way you serve them all week long.
Add them to salads, bake them with marinara and fresh cheese then serve over palmini noodles, or just eat them straight up for a quick snack.
Easy To Serve
Not only are these juicy meatballs great for family dinner and meal prep, but they would serve up great as an appetizer at holiday and dinner parties.
If you plan to serve them as an appetizer, just pop a toothpick into each meatball and serve alongside a couple of different sauces.
One of my favorite sauces is this recipe for our low-carb peanut sauce made using peanut butter, which you can find on our food blog along with so many other recipes.
You can also get a little fancy and turn this recipe into the main course. Use this article for some inspiration!
Choose Your Flavor
For these Air Fryer Meatballs, we went a little out of the box with a Thai twist. We normally stick to Italian seasoning or keep it simple with some salt, pepper and garlic powder, but that can get a little redundant.
Want to mix it up? The great thing about bulk air frying meatballs is that you can split up the meat and add different seasonings to each batch to satisfy everyone in the family.
Megha's Favorite Seasoning: Indian (curry powder, minced onion and cilantro)
Matt's Favorite Seasoning: Italian( fresh rosemary, thyme, oregano and grated parmesan cheese)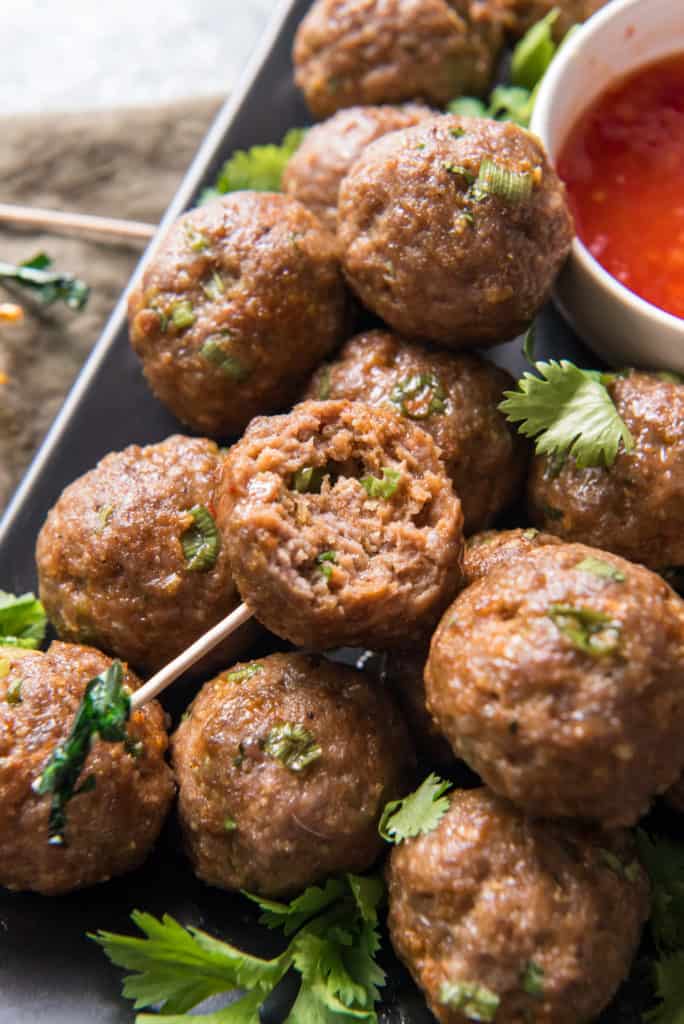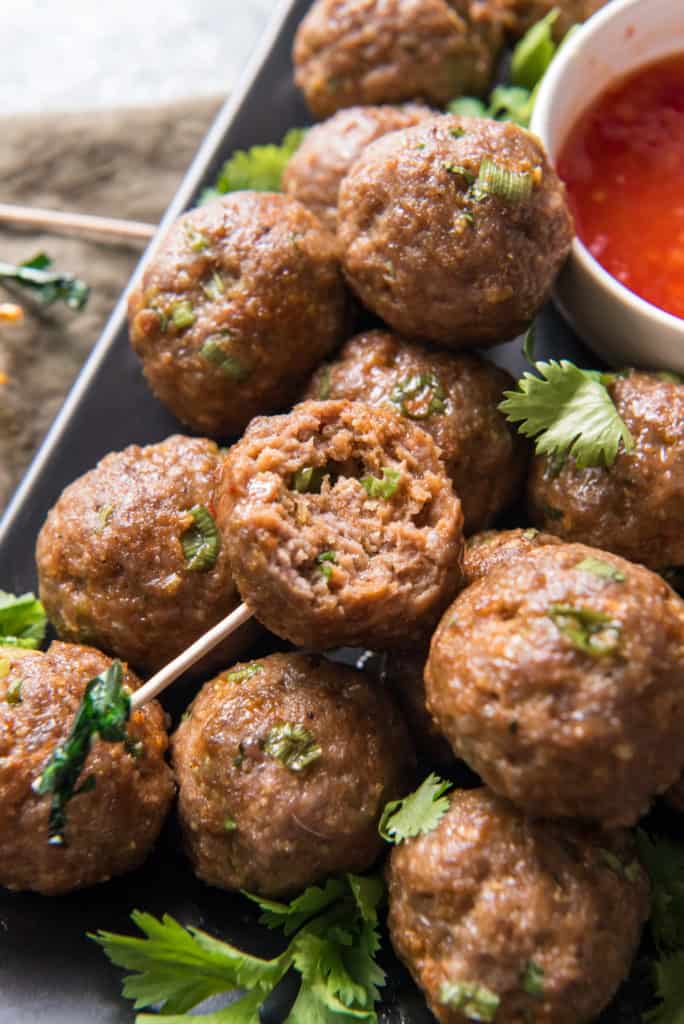 Storing and Reheating
This is the perfect meal prep recipe! Our juicy Air Fryer Meatballs are easy to make and store, and with so many flavor possibilities, you know you won't ever get sick of them.
Tip: these meatballs are best stored in an air-tight container in the fridge for up to 10 days. You can even freeze them for up to a month and reheat them easily in the oven or microwave!
Air Fryer Meatballs For Busy Nights
Sometimes we like to do some of the prep work for a recipe the night before to make dinner run a little smoother – no freezing required.
You can prep your meat mixture before you go to work in the morning or even the night before, then keep it in a bowl covered in saran wrap until dinner time.
Then, all you have to do is preheat your air fryer, form your meatballs, air fry them and devour! You'll be able to make Air Fryer Meatballs for the entire family on even the busiest nights. This recipe is just so quick and easy.
Looking For More Low Carb Appetizers?
Whether you're hosting a dinner party or game night, we've got lots of great keto appetizers and sides you'll absolutely love – and we're sure your family and friends will, too.
Here are some of our favorites to try:
And don't forget to check out these 100 Best Keto Air Fryer Recipes!
Make these air fryer meatballs for your next family dinner or get-together and let us know how much you loved this recipe by sharing a picture on Instagram or Facebook!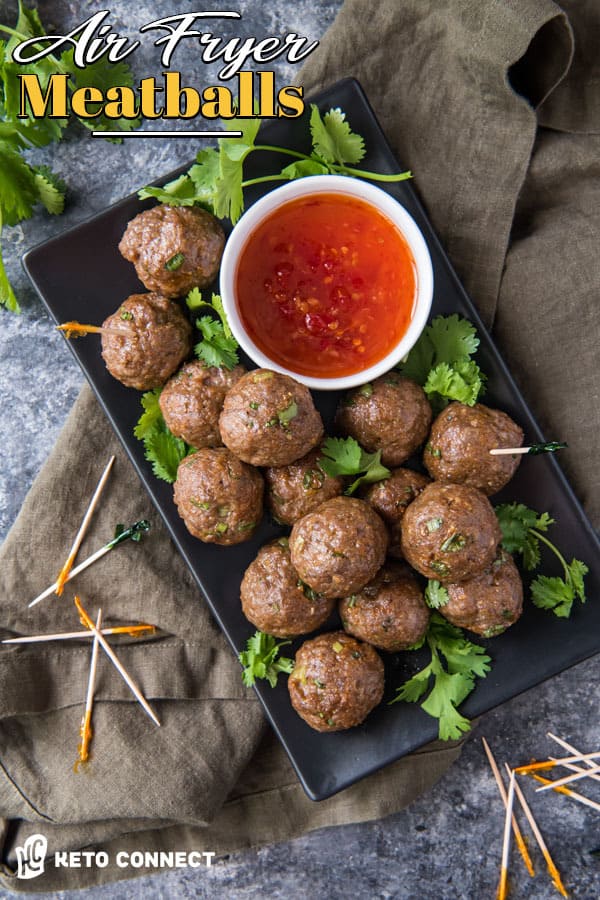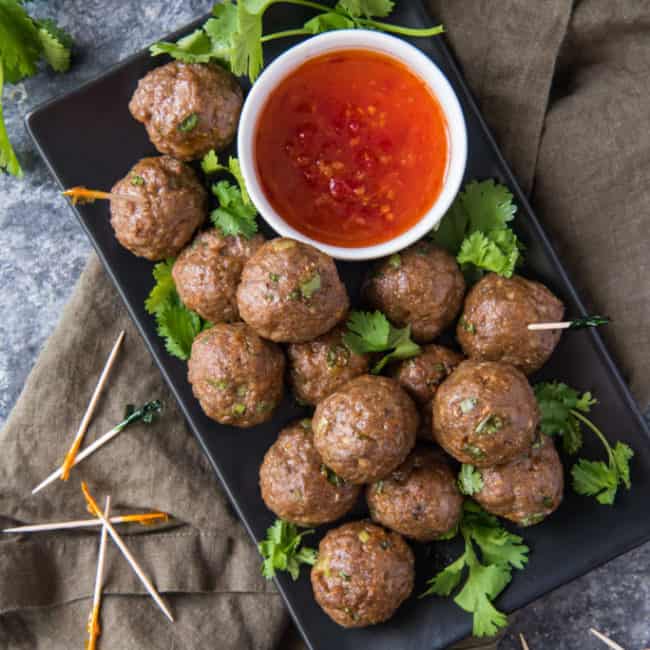 Air Fryer Meatballs
Beef meat balls made in the air fryer with ginger, fish sauce, and coconut aminos to give them an Asian flare.
Servings 4 Servings
Calories per serving 313kcal
Prep Time: 10 minutes
Cook Time: 12 minutes
Instructions:
Preheat your air fryer at 350 for 2-3 minutes.

Combine all ingredients in a large bowl and mix thoroughly using your hands.

Form the meat into 16 1.5-inch balls and set on a plate.

Add meatballs to air fryer basket, making sure they don't touch or over crowd the basket (work in batches if needed.)

Cook in air fryer for 10-12 minutes at 350 degrees.

Remove from the air fryer and serve immediately.
Notes
Net Carbs: 2g Serving Size: 4 meatballs Yields: 4 servings
Nutrition Facts
Air Fryer Meatballs
Amount Per Serving
Calories 313 Calories from Fat 207
% Daily Value*
Fat 23g35%
Carbohydrates 2g1%
Fiber 1g4%
Protein 22g44%
* Percent Daily Values are based on a 2000 calorie diet.
Written By