Cereal is one of those foods that we never tend to get tired of. Whether you are a toddler just learning how to chew, an elementary kid who loves to eat cereal with milk, a teenager who likes to have cereal for a snack, or an adult who loves breakfast cereal. Now, there is a healthy alternative to the high sugar cereals of our youth. Check out our reviews of the best keto cereal.
Here is our top 5 picks:
4.8

Magic Spoon Cereal is the best tasting keto cereal on the market and definitely worth a try for anyone missing breakfast cereal.

Pros:

Best tasting
Best variety of flavors

Cons:

Highest amount of sweetener

Buy Now Learn More

We earn a commission if you make a purchase, at no additional cost to you.

4.5

Catalina Crunch is the most filling keto cereal and probably uses the best ingredients. It is not quite as sweet as traditional breakfast cereal, but is our go to snack while relaxing and watching movies.

Pros:

Most filling
Best combination of quality ingredients + taste

Buy Now Learn More

We earn a commission if you make a purchase, at no additional cost to you.

3.8

High Key cereal is dense and flavorful. It's size and texture is similar to Rice Krispies cereal but they come in a variety of different flavors.

Pros:

Strong flavor
Trusted keto friendly company

Cons:

Firm texture until softened by milk

Buy Now Learn More

We earn a commission if you make a purchase, at no additional cost to you.
Nuco Coconut Crunch – By far the best ingredients of the bunch, but also a little bit higher on the carbs.
Cereal School – Very low carb but the flavor and sweetness is a bit lacking.
Read along for more of the pros and cons of each option. Stick around to the end to learn how to make your own homemade keto cereal!
As we get older we realize that cereal has a high carb count. Having a high carb count means that many cereals have ingredients that contain high sugar, a lot of artificial flavors, and/or artificial coloring. As we get older, our bodies do not work the way they used to so regular cereal just won't cut it anymore. So what is a healthy cereal alternative? And do not worry there is a healthy cereal alternative and do not listen to anyone who says differently.
Is there such a thing as a low carb cereal? Is there such a thing as sugar free cereal? How about gluten free cereal? How about cereals with ingredients like real fruit, low sugars, and protein? Well, the good news is there is. We are going to review five delicious and good for you cereals. At the end, if you are feeling a bit spontaneous we will share one of our favorite breakfast cereals recipe, a crunchy keto granola.
Let's get started!
What is Keto?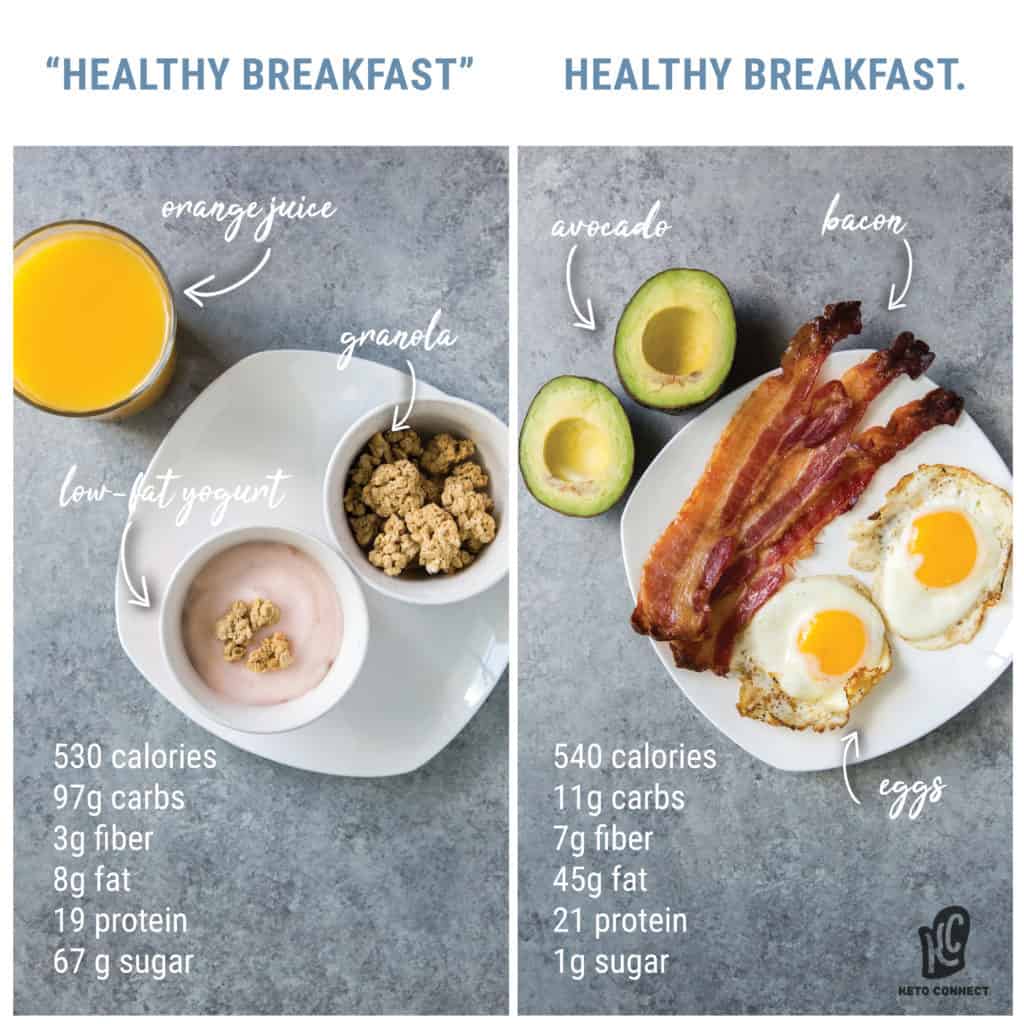 Before we get started on what are some of the best keto cereal, we have to definite what keto is first. Keto is defined as:
The ketogenic diet is a very low carb, high fat diet that shares many similarities with the Atkins and low carb diets. It involves drastically reducing carbohydrate intake and replacing it with fat. This reduction in carbs puts your body into a metabolic state called ketosis.
When this happens, your body becomes incredibly efficient at burning fat for energy. It also turns fat into ketones in the liver, which can supply energy for the brain. Ketogenic diets can cause significant reductions in blood sugar and insulin levels. This, along with the increased ketones, has some health benefits.
Basically, the the keto diet encourages people to eat foods that have very high fat content but very low carb content. So you can understand why people who are on a keto diet want to avoid cereals with ingredients that have a lot of carbs; yet, isn't that all cereal? Well, whoever says you can't have cereal while being on a keto diet is wrong.
In the past, before keto cereal was "a thing" as some people would call it, those on the keto diet would have to give up their beloved cereal. Luckily, those days are long gone and keto dieters and cereal lovers can now be the same person.
Best Healthy Breakfast Cereal
There are many great keto cereal out there so it was very hard to narrow down this keto cereal list to pick our favorite low carb keto cereal. However, we found that these five keto cereal are some of the best keto cereal on the market. If you are a cereal lover, then we would highly suggest checking out some (or even all) of these keto breakfast cereal.
They are low in net carbs (basically, they have a low net carbs per serving), they use natural sweeteners such as monk fruit, low in saturated fat, and have healthy ingredients like cinnamon, flax seeds, sunflower seeds and chia seeds. Or actually, these keto cereal options are not just for breakfast, in fact you can have these keto friendly cereal whenever you feel like it. Come on, let's make breakfast healthy and fun again.
Let's get started!
Top 5 Best Keto Cereals
1. Magic Spoon Cereal
Get a deal on Magic Spoon Cereal
Topping our low carb, keto cereal list we have Magic Spoon Cereal. Magic Spoon is a cereal keto lover dreams because it has a low net carbs per serving and they have a variety of healthy and great tasting flavors.
Magic Spoon Cereal have great quality ingredients like milk protein blend, cocoa powder, turmeric extract, and vegetable juice.
The Magic Spoon also contains 11 grams of protein, 3 grams net carbs (or net carbs per serving), and they are gluten free and grain free. Compared to other popular non keto breakfast cereal such as Fruit Loops which only contains 2 grams of protein and 21 grams of net carbs.
Magic spoon makes their cereal with ingredients you can feel good about without all the guilt. This is a great cereal keto.
2. Catalina Crunch
Next on our list of healthy and delicious keto friendly cereal, we have Catalina Crunch.
Catalina Crunch understands that giving up cereal was a hard decision because although cereal is all empty calories and high sugar, it is still very delicious. They believes that you can still have delicious cereal but without the high net carb.
Catalina Crunch has created cereal with high quality ingredients that you can feel good about. Their ingredients have zero sugar, are gluten free, and they are also low carb. Yes, you heard that right, they are a low carb cereal. In fact, they have many low carb cereal options.
Here are some delicious flavors: Chocolate Peanut Butter, Fruity, Cinnamon Toast Crunch, Dark Chocolate, Honey Graham, Mint Chocolate Chip, Maple Waffle, and Chocolate Banana.
Another great aspect of the Catalina Crunch low carb keto friendly cereal is the fact that it is loaded with great nutritional value, containing up to 11g Plant-Protein, 9g Fiber, 0g Sugar and only 5g Net Carbs.
Their cereals are also high in fiber and protein which is great because they will fill you up more because they take up more room in your stomach. You are able to stay fuller for longer and it will help with over eating.
Catalina Crunch is the perfect breakfast cereal, snack cereal, and overall delicious keto cereal. In fact, it is so delicious that you won't even feel like you are eating a keto friendly cereal.
Aside from great keto cereal, Catalina Crunch also offers keto cookies and keto smoothies.
All of their cereal contain ingredients that are low sugar and are made from plant-protein ingredients.
The keto cereal options are endless and if you are looking for a cereal brand that is: keto friendly, gluten and grain free, plant-protein, 100% vegan, low sugar, and has zero artificial ingredients then we would highly recommend the Catalina Crunch keto breakfast cereal.
3. High Key Cereal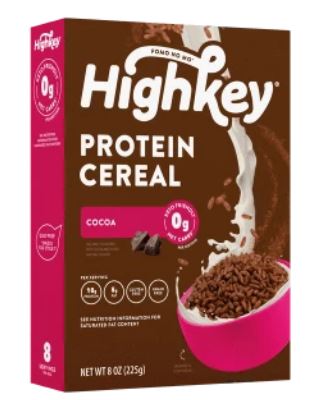 Get a Discount on High Key Cereal
Next on our list of keto cereal, we have High Key Cereal.
High Key Cereal is a cereal brand that prides themselves in being keto friendly, gluten free, and guilt free. In fact, they believe in their keto breakfast cereal so much that they have a 100% money back guarantee.
One of their most popular flavor is the Maple Brown Sugar. Who doesn't love the taste of maple syrup right? High Key Cereal's Maple Brown Sugar is a hot cereal. Yes, you heard us right, a hot cereal. High key believes that their hot cereal is so delicious, that it could replace oatmeal's place as a crow favorite breakfast food.
The Maple Brown Sugar hot cereal, despite its name, has very low sugar which makes it a high protein and healthy option.
It is super easy to make and has 14 grams of fat, 9 grams of protein, and it is also grain free. With 14 grams of protein, you can bet that it will keep you full for long and best part is it is healthy for you. Talk about the ultimate protein cereal, huh?
If you wish, you could use almond milk in place of regular milk in this keto friendly cereal.
High Key Cereal also offers a variety pack featuring two of their most popular, keto friendly cereals: Strawberry and Cream and Cinnamon Spice.
If you are looking for a protein base cereal option, then High Key Cereal has a healthy and delicious protein cereal that you will love. This protein keto cereal is perfect if you want to increase your protein intake while sticking to a low carb diet. These protein keto cereal comes in Cocoa, Fruity, Cinnamon, Frosted, Honey Nut, and a variety pack of all five.
These protein keto cereal are easy on the sugar, low net carbs, gluten free and high protein. They make for a great breakfast or snack on go and not to mention, they are guilt free and healthy.
4. Nuco Coconut Crunch
Next on our low carb, keto cereal list we have the Nuco Coconut Crunch breakfast cereal.
Here is what Nuco Coconut Crunch has to say about their delicious tasting and low carb keto cereal:
Our Coconut Crunch cereal breathes life into the stagnant cereal aisle's endless line of sugar-laden, high-carbohydrate products. Packed with medium-chain triglycerides (MCTs), this tasty new option is free of grains, gluten, refined carbohydrates, and added sugars, making it a perfect anti-inflammatory breakfast cereal for consumers.
Nuco Coconut Crunch keto cereal is a grain free cereal, and omit bad for you ingredients like gluten, grains, soy, dairy, egg, added sugars as well as GMOs.
Top your Nuco Coconut Crunch with delicious breakfast toppings like cinnamon, coconut flakes, coconut oil, coconut milk, unsweetened coconut chunks, or even granola to make for a chunkier breakfast treat.
Nuco Coconut Crunch advises to use a diary free milk like almond milk or oat milk for a delicious low carb, keto treat.
5. Cereal School
Next on our list we have Cereal School, a healthy, delicious and guilt free keto cereal brand.
Cereal School is a great crunch cereal that is sugar free and has a lot of protein.
They also have a great variety of flavors like: Peanut Butter, Fruity, Cinnamon Bun, Cookies & Cream, Berries, Apple Pie and if you love Cocoa Puffs then you will want to try their Cocoa flavor. These keto cereal make for a great breakfast or just as a keto friendly snack.
All Cereal School keto cereal options have healthy and guilt free ingredients you can feel good about, ingredients like milk protein isolate, monk fruit sweetener, cinnamon, and sunflower seeds oil.
If you love to eat your keto cereal with milk, Cereal School suggests having it with and unsweetened nut milk such as almond milk.
Cereal School keto cereal also have a low grams of net carbs so you can feel good about your love for cereal.
Cereal School wants to ensure that their customers are getting delicious, healthy crunch cereal that are will make the perfect breakfast keto cereal or the perfect cereal keto snack. They believe that you can have a keto cereal that is both flavorful and low carb and they stand behind that.
Wonderworks By General Mills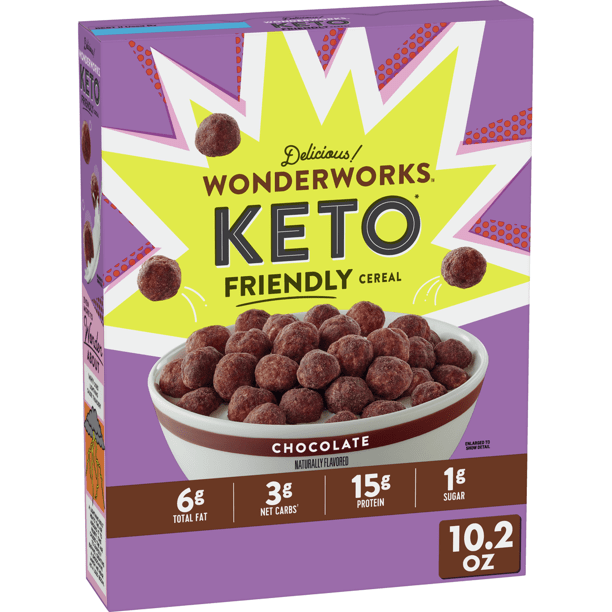 This cereal is sure to turn heads. It is the first 100% keto cereal that is accessible to everyone making it's debut in none other than Walmart!
Wonderworks actually has pretty good quality ingredients. The sweeteners are allulose, erythritol, and stevia, all of which we use and approve of on a keto diet.
Currently it looks like they are only making chocolate and peanut butter flavored cereal, but knowing a big company like General Mills they will expand quickly.
This cereal has a nice crunch and pairs perfectly with its true love, almond milk!
The flavors are strong and would perfectly combine as peanut butter and chocolate in making a reeses puff style keto cereal.
Per 1 cup serving it is only 3 net carbs and 15 grams of protein!
Being that this is the first readily available keto cereal on the market we were impressed. It runs $6.98 at Walmart making the price per oz only 68.4 cents! Per serving that's only $1.01, making it the lowest cost keto cereal on the market right now.
Whether you are low carb or not, switching over to this keto cereal while on a budget is totally possible. It is one of the healthiest low cost keto cereals on the market, and a great option for those looking to slowly transition towards a healthy lifestyle.
Want to Make Your Own Keto Granola Cereal?
If you have tried a lot of keto granola and have enjoyed them but now want to try making your own breakfast granola, then we have got you covered. The best part about making your own granola is rowing that you are in charge of what goes in it. You can choose ingredients that you like and omit the ones that you do not from the recipe.
Try to create a recipe that is catered to your tastes or make a recipe that specialized for someone else as a fun gift. You can add fun ingredients such as coconut oil, coconut milk, chia seeds, cinnamon, or even coconut flakes. In fact, if you love cinnamon then you can add extra cinnamon if you would like or if you love coconut for breakfast then you can add in unsweetened coconut flakes for some added crunch.
Now if you want a recipe that is free granola then this not the keto cereal recipe for you. If you are looking for a nut free keto cereal recipe then you might want to skip this one as well.
Here is one of our favorite granola recipe that is low in grams of net carbs, saturated fat and is super easy to make. If you are interested in this easy granola recipe, then let's get to it!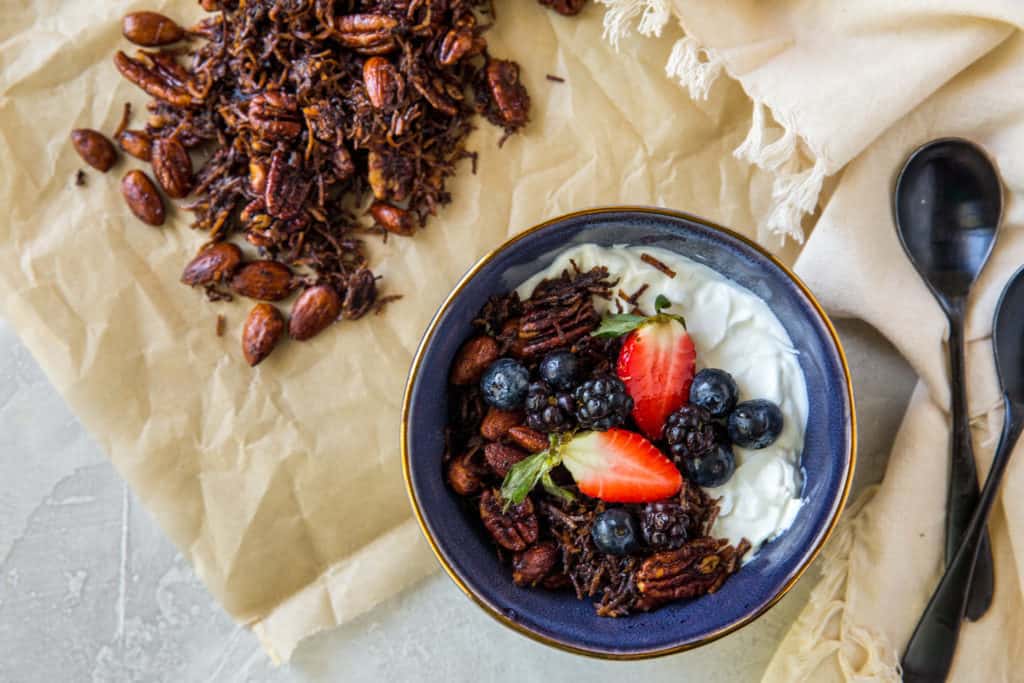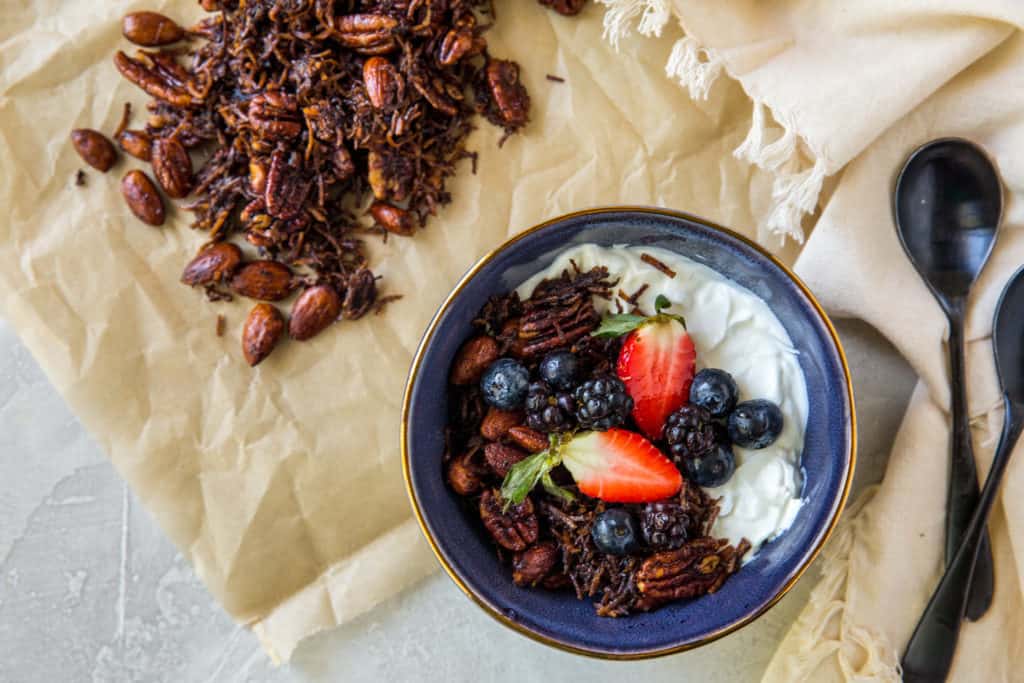 Extra Add-Ons
If you love cinnamon cereal and want to add some cinnamon in this recipe, then you most definitely can. You add as much as 2 grams or 3 grams worth of cinnamon and no one will judge you, that is why this recipe is so easy to make and make adjustment to.
You can drizzle some coconut oil or coconut milk on top for some added sweetness, after all this keto cereal recipe is great if you want to make small adjustment.
Share it with Friends
If you enjoyed this keto cereal recipe then please do not forget to share it with your friends and family. This would also make a great holiday gift or stocking stuffer. If you have an aunt that loves cinnamon cereal then added one gram or 2 grams of cinnamon on top for her. If you have a friend that does not like cinnamon cereal but says he loves coconut then you can add coconut milk and coconut oil to his keto cereal recipe.
Who says keto cereals have to be boring , right?
More Keto Product Reviews
If you liked this full review, you are in luck because we have in depth reviews of the most popular keto products on the market today.
Ultimate Keto Meal Delivery Options
Greatest Keto Subscription Box
50 Best Keto Fast Food Options
Best Keto Protein Powder
In Conclusion
Who says keto cereal has to be bland and boring? With our list of great keto breakfast cereals, we think that anyone who says otherwise is wrong. You can still have your favorite cereal in your life without having to feel guilty. With keto cereal, you can stay fuller longer while still enjoying all the great benefits of cereal. So go ahead, grab a bowl and smile.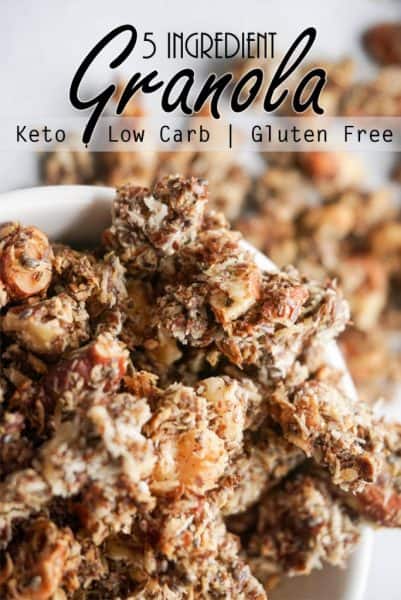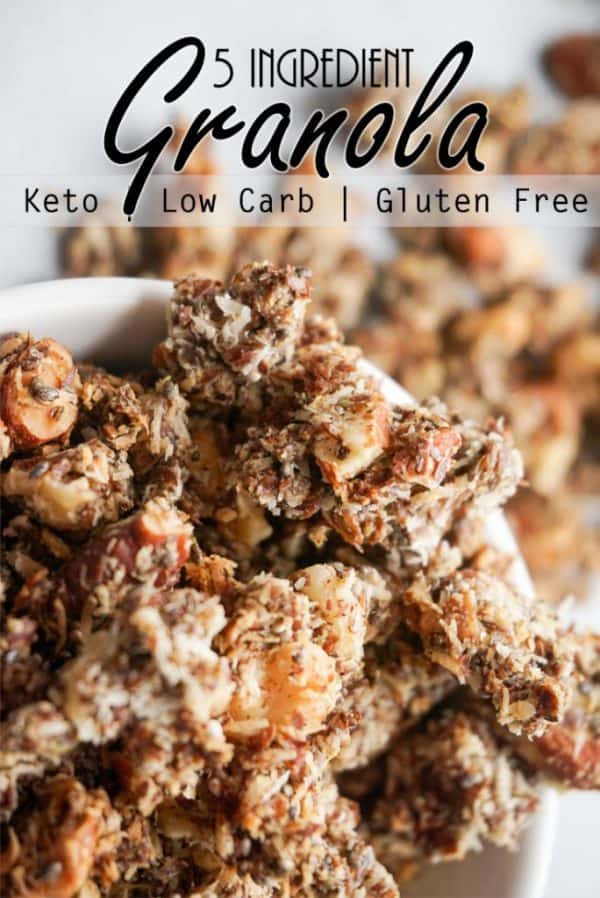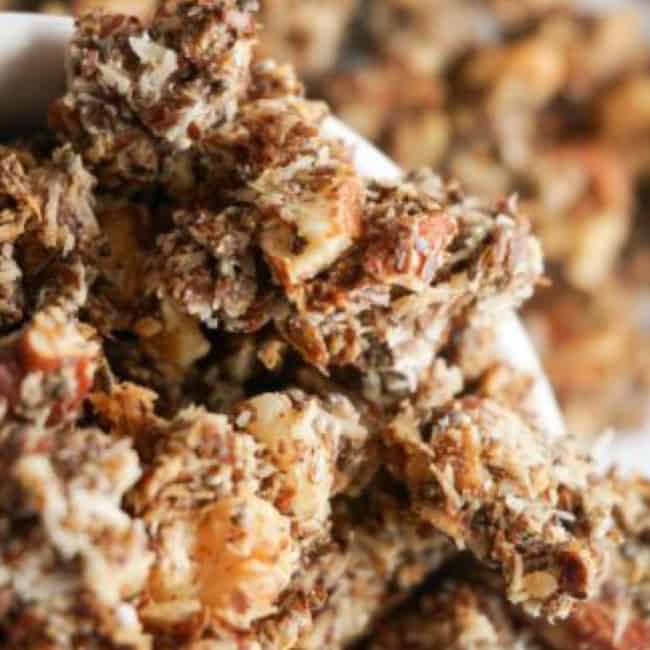 Keto Cereal Recipe | Best Store Bought Options
Crunchy cinnamon keto cereal made with pecans, almonds, and coconut.
Servings 10 servings
Calories per serving 325kcal
Prep Time: 15 minutes
Resting Time: 1 hour
Cook Time: 1 hour
Instructions:
Pre-heat your oven to 275F and line a large baking sheet with parchment paper.

Add the pecans, almond and coconut flakes to a food processor and pulse 3-5 times until everything is roughly chopped and combined (Feel free to roughly chop using a knife if you prefer).

Heat a bottom heavy saucepan over low heat and add the butter. Allow to melt down, stirring continuously using a wooden spoon, for 5-10 minutes until browned in color and caramel in smell.

Allow the butter to cool for 5-7 minutes before adding the remaining ingredients. Stir to combine.

Pour your nut mixture into a large mixing bowl and top with your browned butter mixture. Combine thoroughly until everything is coated.

Pour the mixture out onto your baking sheet and spread out into a single layer.

Bake for a total of 60 minutes, stirring every 15 minutes with your wooden spoon and then re-flattening out onto the baking sheet.

Allow to cool completely before breaking apart enjoying. Best stored in the fridge for freshness!
Notes
Net Carbs: 2g Servings Size: 1/10th recipe **For a quick grab and go snack portion out granola into zip top bags and store in the fridge for freshness!
Nutrition Facts
Keto Cereal Recipe | Best Store Bought Options
Amount Per Serving
Calories 325 Calories from Fat 288
% Daily Value*
Fat 32g49%
Carbohydrates 7g2%
Fiber 5g20%
Protein 5g10%
* Percent Daily Values are based on a 2000 calorie diet.
Written By