My 2 Great Loves
Firstly, I would like to credit UpLateAnyWay.com for the inspiration of this recipe. This is a variation on the Almond Flour biscuits they have created with a few twists. Check that site out, they come up with a ton of great Keto recipes!
I've been experimenting with different Keto biscuit recipes over the past few weeks and this recipe is the culmination of many failed attempts(and a lot of taste-testing!). I present to you the Ultimate Keto Cheddar Jalapeno Biscuits! I wanted to recreate the infamous "Cheddar Bay Biscuits" from Red Lobster without the carbs, but with all the flavor. Truly a daunting task as Red Lobster's biscuits are the definition of perfection in every way. If I had to choose between a night with Scarlett Johansson and a bakers dozen("bakers dozen" is a vastly underappreciated concept) of CBB's, I'm probably going Scarlett, but I would think about it for at least 30 seconds first.
"King Henry III was so irked by the problem that he implemented a new law to standardize the weight of a loaf—selling puny loaves could result in beatings or jail time. Since bakers wanted to stay on the right side of the law, one common trick was to give 13 loaves to any customer buying a dozen."Why is a Baker's Dozen 13? – www.mentalfloss.com
Ingredient List
I channeled my inner Southern Grandma on this one and kept the ingredient list to just the basics, with a few things thrown in for added flavor. It's easy to add a bunch of crazy ingredients to cover up for an inferior biscuit, but luckily for you, I've tinkered around with the recipe for the dough enough to come out with a great tasting Keto Biscuit that can stand on it's own. Let the biscuit do the talking!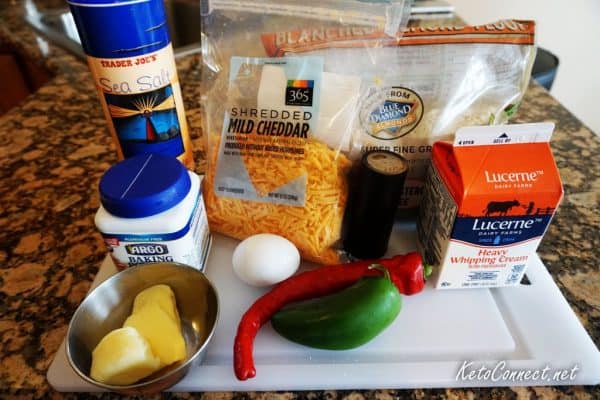 The basic biscuit dough can be used in a bunch of different ways. Leaving out the salt/pepper it can even make for a dessert biscuit base. Some ideas are:
Cheddar and Bacon
Olive Oil and Rosemary
Blueberry with homemade Keto whipped cream
Chorizo and Goat Cheese
Spinach and Feta Cheese
You guys are creative though, so come up with your own ideas. Reply back here if you come up with something good so we can give it a try!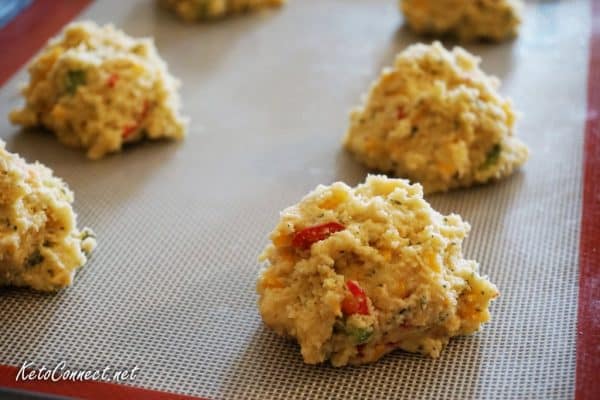 Enter Stage Left: Basque Fryer
I went with a classic Cheddar Jalapeno version this time. I also decided to add a Basque Fryer pepper that I picked up from the local farmers market. It's a very mild pepper that adds a unique peppery flavor to the biscuits, less spicy than a Jalapeno. Honestly, I knew nothing about it until I got home and looked it up online, but it looked good so I grabbed it. I was a bit dissapointed to find out it was called a "Basque Fryer". That's pretty much the weakest pepper name you're likely to come across. Habanero, Jalapeno, Poblano, Basque Fryer.. Can we revoke pepper naming rights from the french?
Hot Out The Oven!
These Keto Cheddar Jalapeno Biscuits went great with the rack of pork spare ribs I made for Sunday Dinner. I had the ribs in for 3 hours and put the biscuits in for the last 20 minutes, so everything came out hot at the same time! 3g of net carbs each!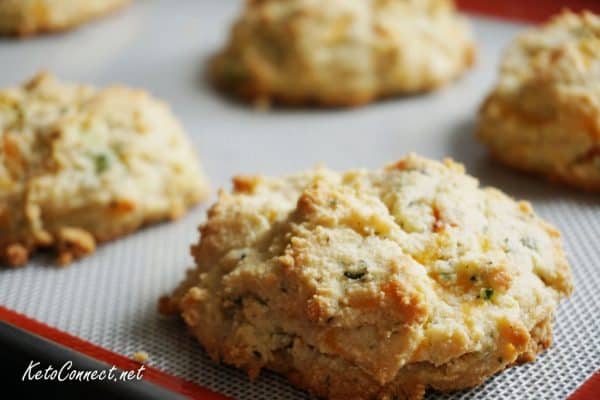 Pro Tip:
Leave a few tablespoons of butter out and let it warm up to room temperature. Cut open the Keto Cheddar Jalapeno Biscuits while they're still warm butter them up and enjoy!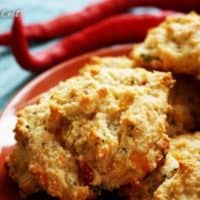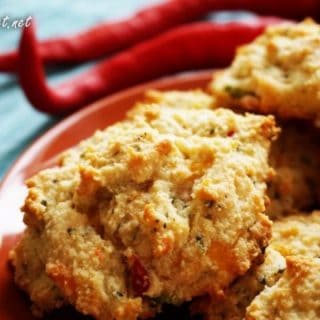 Keto Cheddar Jalapeno Biscuits
Low-carb almond flour biscuits flavored with cheddar and hot jalapeno peppers.
Total Time 30 minutes
Servings 6 Medium Biscuits
Calories per serving 280kcal
Prep Time: 10 minutes
Cook Time: 20 minutes
Instructions:
Preheat oven to 350 degrees and place butter in the fridge to ensure it is cold when we need it.

Whisk together dry ingredients. Almond Flour Salt/Pepper Baking Powder

Mash your butter into the dry ingredients until you achieve a sandy consistency.

Add the cream and egg and mix until together.

Fold in cheese, jalapeno and parsley.

Form 6 medium sized balls and place on a silicon baking mat or a cookie sheet.

Bake for 17-20 minutes.

Serve warm and enjoy!
Nutrition Facts
Keto Cheddar Jalapeno Biscuits
Amount Per Serving
Calories 280 Calories from Fat 236
% Daily Value*
Fat 26.2g40%
Carbohydrates 6.3g2%
Fiber 3g12%
Protein 8.5g17%
* Percent Daily Values are based on a 2000 calorie diet.
Written By