We have our go-to grocery stores for all things keto and Trader's Joe's is one of them. The store carries specific keto items we can't find anywhere else from low-carb beverages to tasty snacks and sides. Check out what we buy for keto at Trader Joe's before your next keto shopping trip.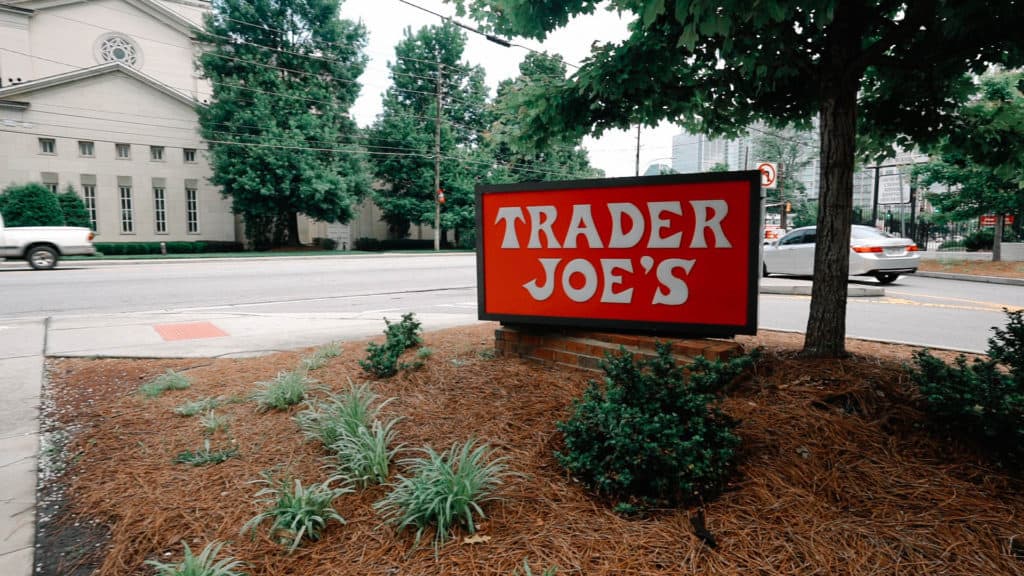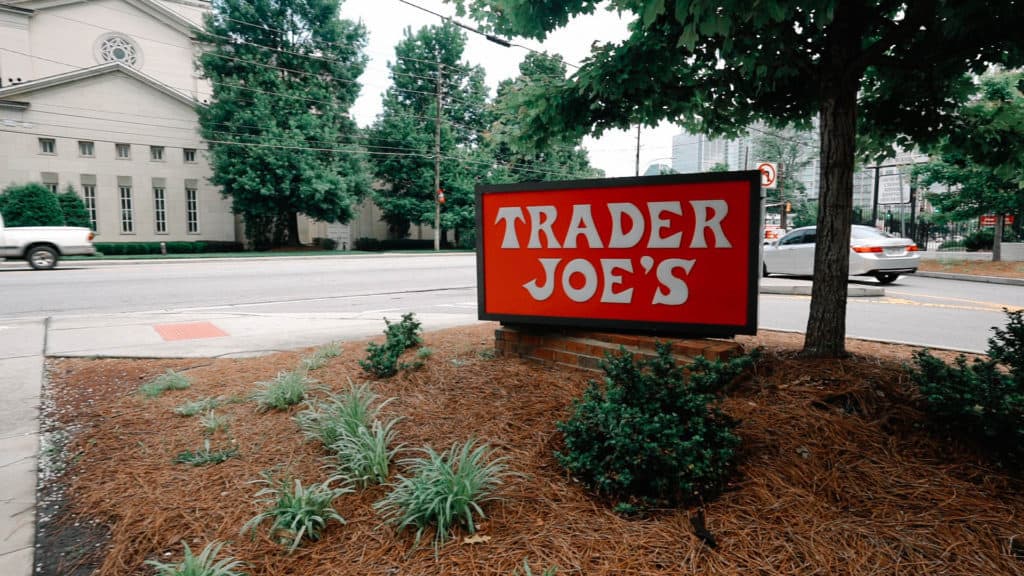 At Trader Joe's, there's a good chance you'll find a deal on a product that's usually quite expensive. Sometimes, it feels like the keto diet requires hard-to-find, pricey ingredients, which is why we're here to show you what to buy and what NOT to buy at Trader Joe's. 
Trader Joe's may not have bulk sizes like Costco or all the keto specialty items like Whole Foods, but they do have good prices for our family's budget and offer exclusive TJ items you can only find on their shelves. It's worth the special trip!
What to Buy for Keto at Trader Joe's
1. Fats and Oils
When shopping for oils, we go for cold-pressed, extra virgin, or unrefined varieties to avoid heavy processing. Eating oils in their purest most natural form ensures the health benefits and flavors are still present and you're not consuming something that's been damaged in the manufacturing process.
Extra Virgin Olive Oil
Cold-Pressed Unrefined Coconut Oil
Kerry Gold Butter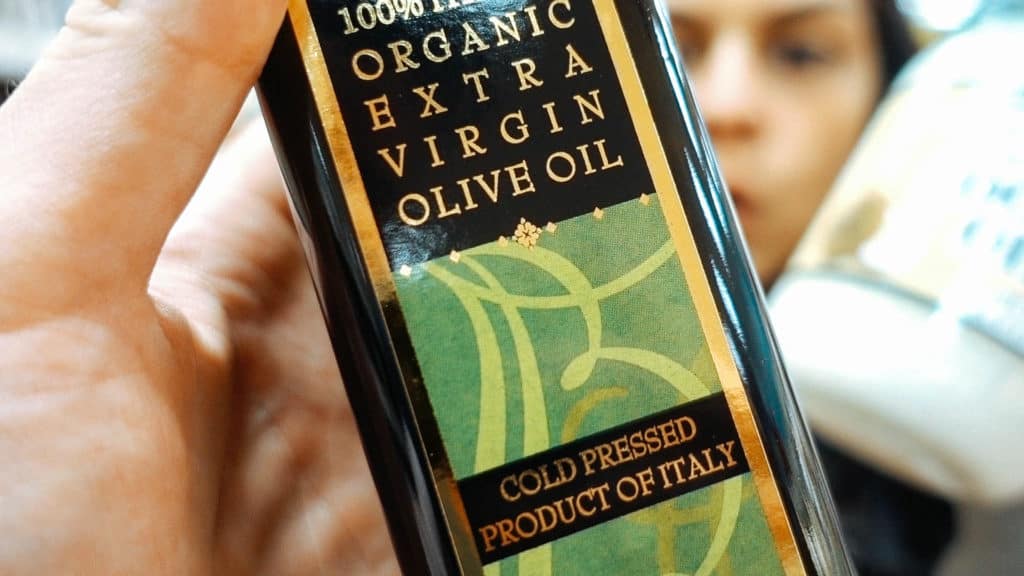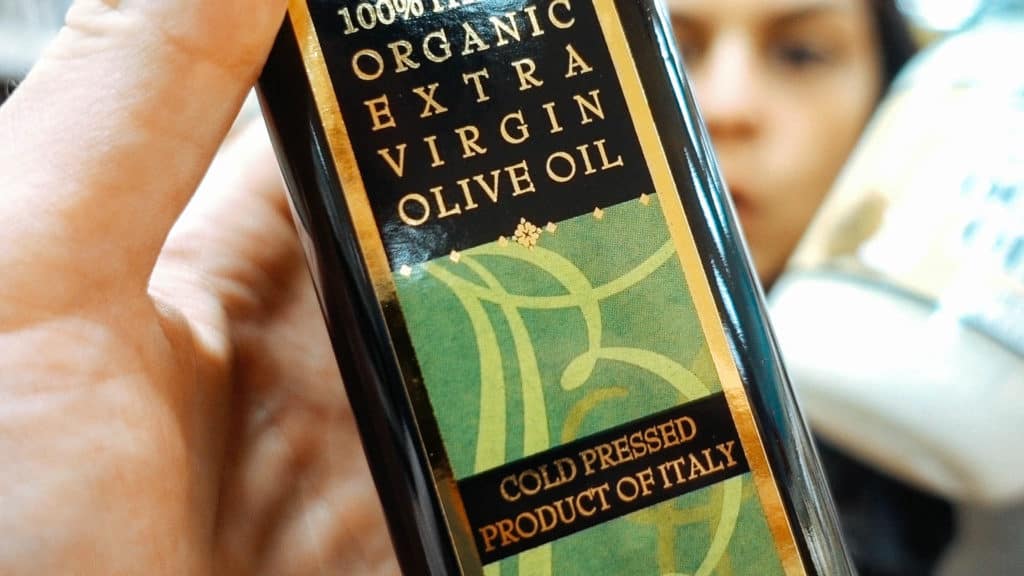 2. Grass-Fed Beef
Though it isn't necessary, grass-fed beef is your best option when choosing a protein source. It has a better omega-fatty acid ratio in comparison to conventionally raised beef and may have environmental benefits as well. It's the more expensive option, but Trader Joe's has the lowest price around for grass-fed ground beef. 
3. Keto Nuts and Seeds
There's no better place to stock up on keto-friendly nuts and seeds. Trader Joe's carries all of our favorites at a great price. We use nuts and seeds in all kinds of gluten free keto recipes and love them as road trip snacks.
4. Pre-Cooked Meats for On-the-Go
One of the hardest parts of being on a keto diet is constantly having a low-carb options at the ready. You can't find high fat, high protein foods wherever you go like you can find high sugar options. Trader Joe's has some great on-the-go keto meat options to keep in your fridge whenever you are in a hurry and need to whip up a quick meal.
Just Chicken Pre-Cooked Grilled Chicken
Ciao Pepperoni Slices – one of our favorite keto snacks!
Columbus Hard Salami
Pre-Cooked Pork belly – Just heat and Serve!
5. Keto Bars
There are only a couple low-carb bar options at Trader Joe's, but luckily they have a ton of flavors to choose from. They carry Quest Protein bars which are very low-carb and Power Crunch bar which are higher in carbs, but aren't crammed full of fiber. For more info on our favorite keto protein bars, check out our keto protein bar guide!
6. Cheese
Trader Joe's is a cheese lover's dream come true. Spend some time carefully picking out a few specialty cheeses and make a night of it. Create a keto cheese board along with some sliced meats and olives and you've got a delicious date night at home. Our favorites are 1000 Day Aged Gouda and Creamy Tuscano.
7. Bacon Ends and Pieces
Bacon is a staple in our household and the fattier the better. Trader Joe's carries packages of Uncured Bacon ends and Pieces which are rich with chunks of fat and perfect for the keto diet. We add bacon to a ton of our recipes.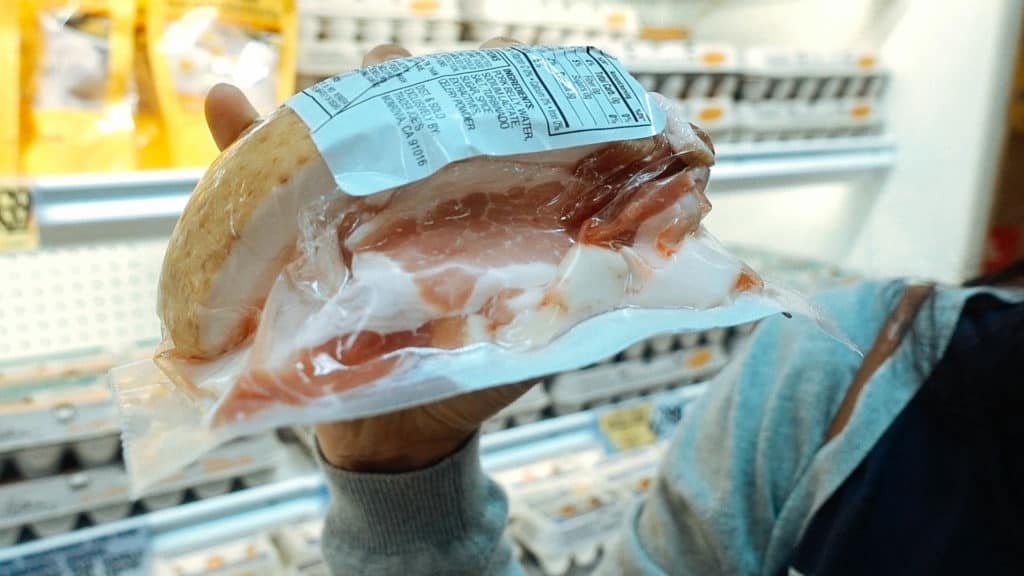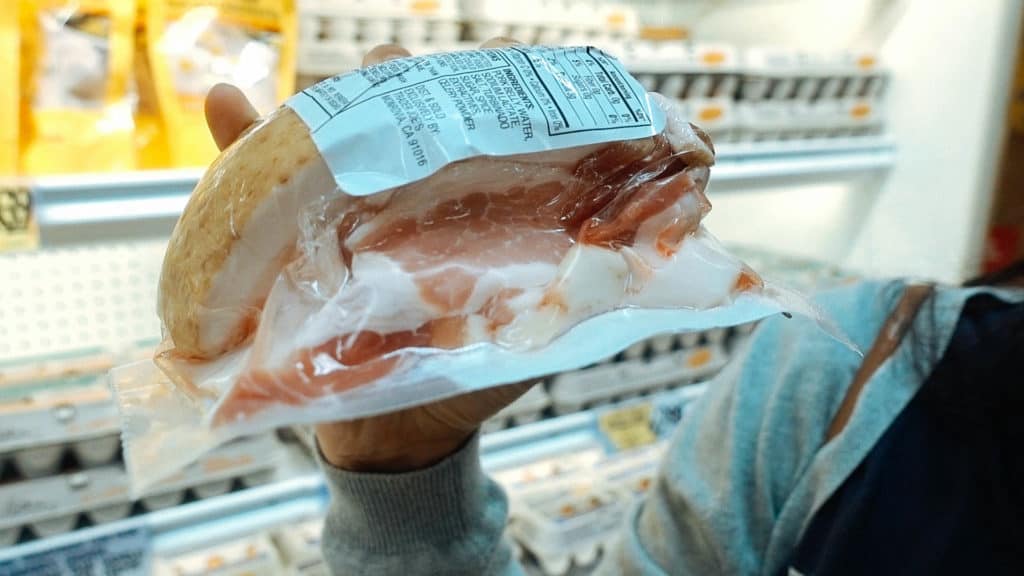 8. Gluten-Free Keto Snacks
Trader Joe's has got you covered in the snacks department. Matt loves getting their Kalamata Olives and salami, but Megha is into using their Sunflower Seed Butter to make fat bombs at home. Of course their nut and seed selection makes for great snacks and you can't go wrong with a Quest bar.
9. Frozen Organic Spinach
We're not intense when it comes to always buying organic items, but when it comes to spinach we go organic because it's one of the worst vegetables for pesticide use. We add it to Keto Green Smoothies or throw it into our Breakfast Casserole for keto meal prep.  
10. Seafood
We're always trying to incorporate more seafood into our keto diet because we want to reap all of the brain benefits of omega 3 fatty acids.
Smoked Salmon
We love Trader Joe's Smoked Salmon as a fatty snack. The macros are great for keto and if you're a salmon fan, you'll love the smokey variation.
Mahi Mahi Burgers
Paired with some garlic aioli, these Mahi Mahi Burgers from Trader Joe's are irresistible and convenient. Find them in the frozen food section and pull them out whenever you need a quick meal or have a seafood craving.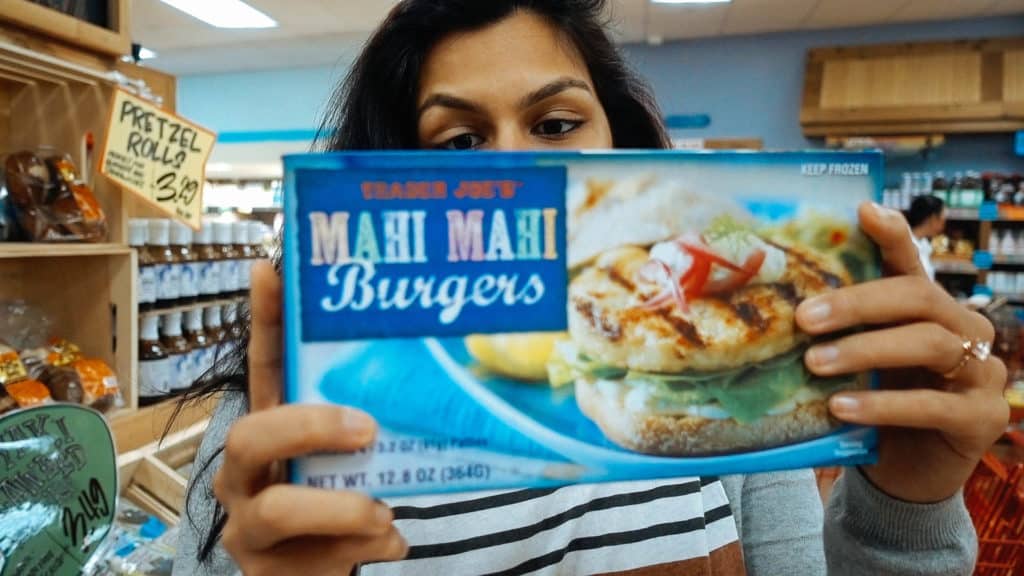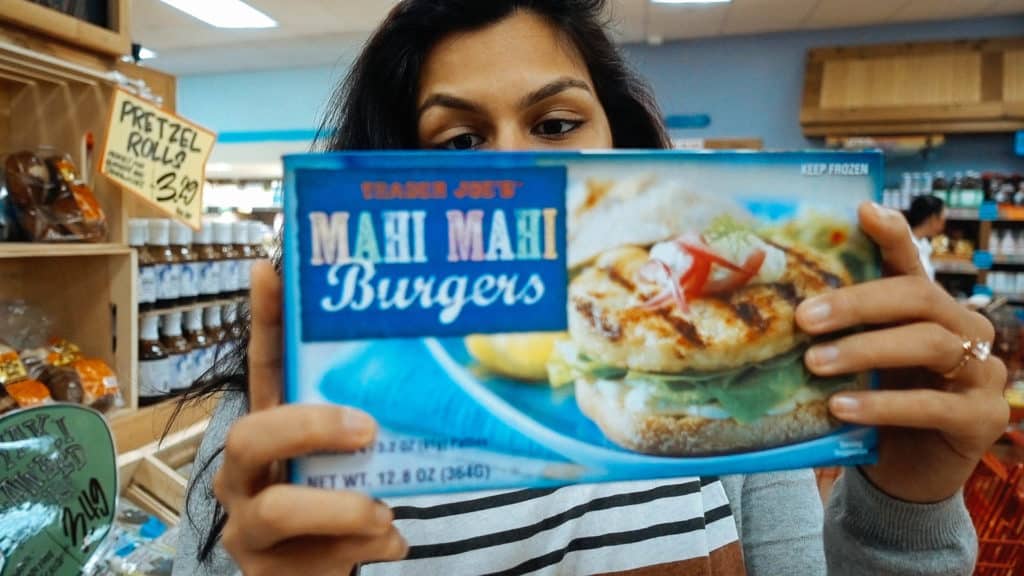 Frozen Wild Caught Fish
Every now and then we enjoy fish for dinner and we've found Trader Joe's frozen fish to be the most delicious. This is a fatty protein meal that's low in grams of carbs.
The Worst Products at Trader Joe's
It's our job to not only give you advice on what to buy, but what to avoid as well. Don't be fooled by catchy buzzwords, false labelling, and bad flavor.
Sardines
Matt is a self-proclaimed aficionado of sardines and he has deemed the Trader Joe's Sardines as bad, so go buy your sardines somewhere else. Costco is a great place to get high quality sardines for cheap.
Parsnip Chips
The labelling on these is false. The package says there's only 6 grams of carbs per ounce, but that's just not possible with parsnips. We would recommend getting your crunch in other ways.
thinkThin Bar
This protein bar contains 21 grams of Maltitol, an artificial sweetener that raises blood sugar almost as much as high as regular sugar! This bar really contains 21 grams of carbs!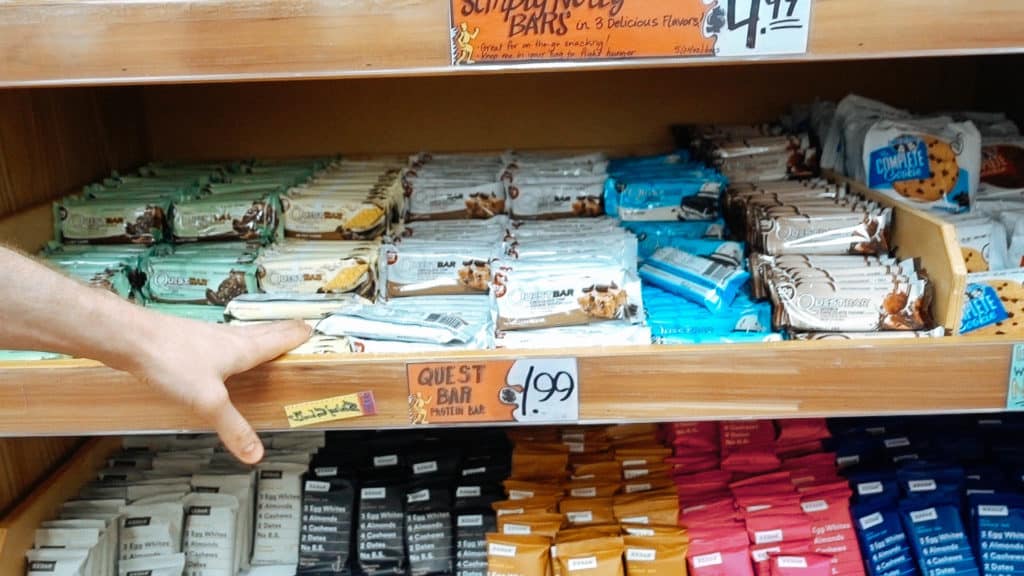 Watch our Sweetener Video where we test zero calorie sweeteners to see how they raise our blood sugar. Your best option is still a Quest Bar and to understand why, check out our full break down of Keto Protein Bars.
Does Trader Joe's Have a Keto Section?
Trader Joe's does not have a keto section, but they do have a bunch of great items for a keto diet. They key is knowing what to look for while you're there, since they do not have everything organized into a keto section. Use this shopping list to find all of the best keto snacks offered at Trader Joe's and always keep an eye out for new products they might have.
Does Trader Joe's Have Keto Bread?
Unfortunately not, but there is hope that they will someday carry keto bread. Grocery stores like Sprouts, Whole Foods, and even Aldi have begun carrying keto bread, so Trader Joe's could follow suit soon.
Is Trader Joe's Cauliflower Gnocchi Keto?
Nope. This is something newcomers to a keto diet will often get confused about. Just because something is made with cauliflower does not make it keto friendly. Often these products will use cauliflower in addition to wheat-based flours and other high carb ingredients. At 16 net carbs per serving, Trader Joe's Cauliflower Gnocchi is not keto friendly.
Does Trader Joe's Have Keto Ice Cream?
Sadly the answer is no. It's 2020 and I was expecting Trader Joe's to start carrying a low carb ice cream years ago. Trader Joe's does not have any keto ice cream and it doesn't seem like something they will be carrying any time soon.
Best Trader Joe's Keto Snacks in 2020
Trader Joe's does a great job of keeping all of the keto products that we know and love, while adding to their great selection. As of 2020 here are our top picks for keto snacks from Trader Joe's:
Guacamole to Go Packets
Antipasto Assortment
Everything But The Bagel Sesame Seasoning
Chomps Grass-Fed Beef Sticks
Oven-Baked Cheese Bites
Chili Lime Chicken Burgers
Smoked Salmon Trio
Mozzarella Rolloni
Coconut Chunks
Fully Cooked Pork Belly
Let us know what your favorite Trader Joe's items are in the comment section! We are always looking for new snacks and love hearing about interesting brands.
In summary
Trader Joe's is unique in that it has tons of great keto options that you can't find at other grocery stores. We make a monthly trip to load up on our favorites. In addition to the snacks listed above, these are the items we make sure to grab every time we visit Trader Joe's:
Fats & Oils
Grass Fed Beef
Nuts & Seeds
Pre-Cooked Meats
Keto Bars
Cheese
Bacon Ends and Pieces
Gluten Free Keto Snacks
Organic Frozen Spinach
Seafood