Trader Joe's is one of our favorite places to shop for keto friendly ingredients and low carb, pre-packaged foods. As a grocery store intended for health-conscious people, Trader Joe's isn't the most affordable place to get tasty keto options, but it's often one of the healthiest!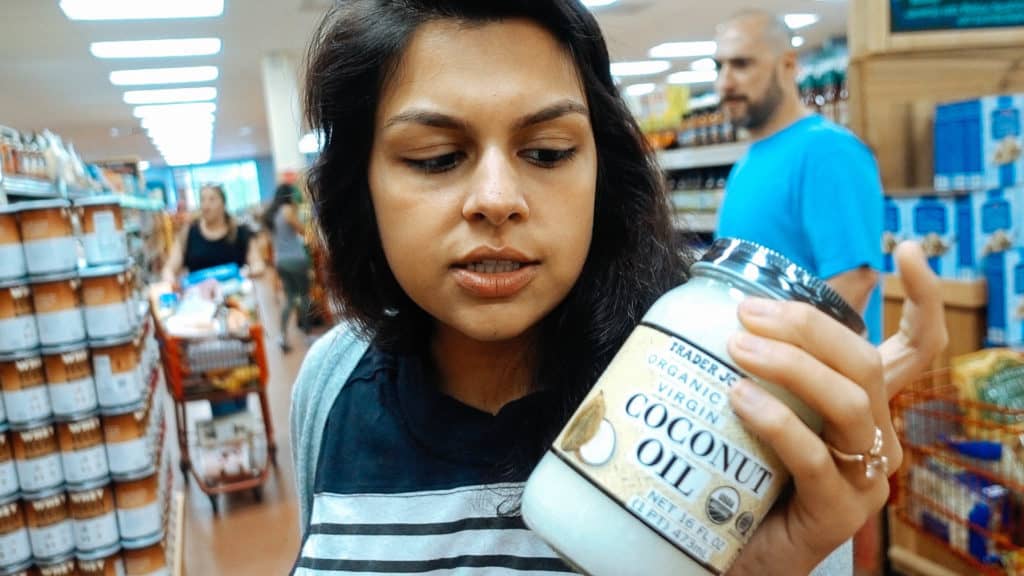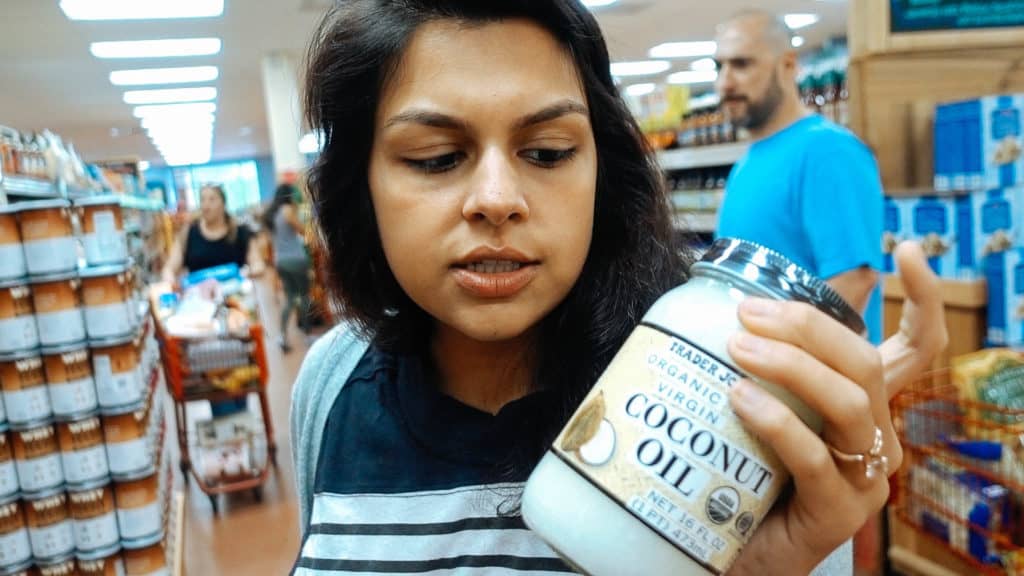 Below, we'll walk you through our complete keto Trader Joes shopping list, including everything we buy to maintain ketosis and still enjoy satisfying and delicious foods. If you're ready to fill your cart with all things keto Trader Joe's is a great place to go! Let's get started!
1. Trader Joe's Organic Free Range Chicken Drumsticks
These chicken drumsticks are delicious, perfect for some backyard BBQing, a high-protein snack, or a full meal. We love to make oven baked drumsticks, so we always buy a few pounds of these when we shop.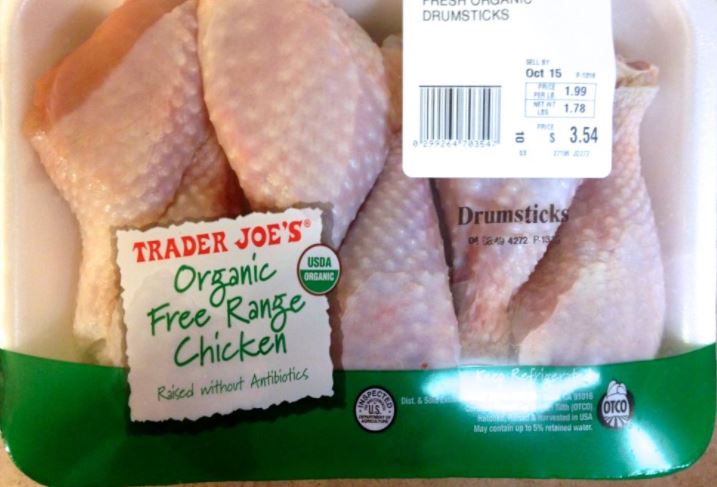 2. Trader Joe's Organic Oven Roasted Turkey Breast
This turkey breast is like cold cuts but without the nitrates and nitrites. It makes for a delicious and convenient snack any time of day, and you don't have to worry about unwanted ingredients.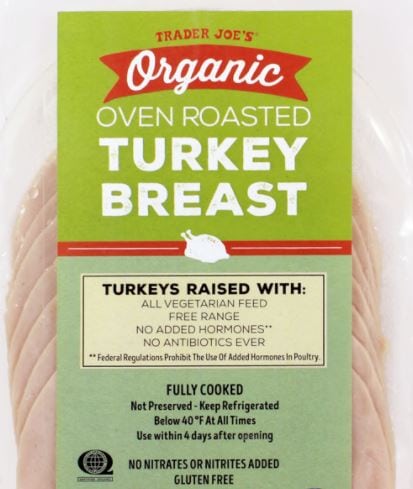 3. Trader Joe's Grass Fed Angus Beef
TJ's 85% lean angus beef is a staple of our keto Trader Joe's shopping list. It's a bit on the pricey side, but it's high quality and usually available at a discount using their fearless flyer deals.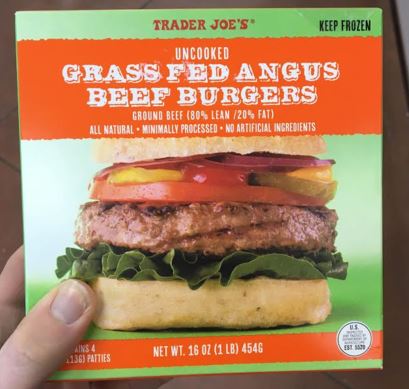 4. Epic Bars
Epic bars are the perfect snack made entirely of meat and seasoning, so they're low carb and keto friendly. We were very happy to see them in Trader Joe's, especially since they had our favorite flavor: chicken sriracha.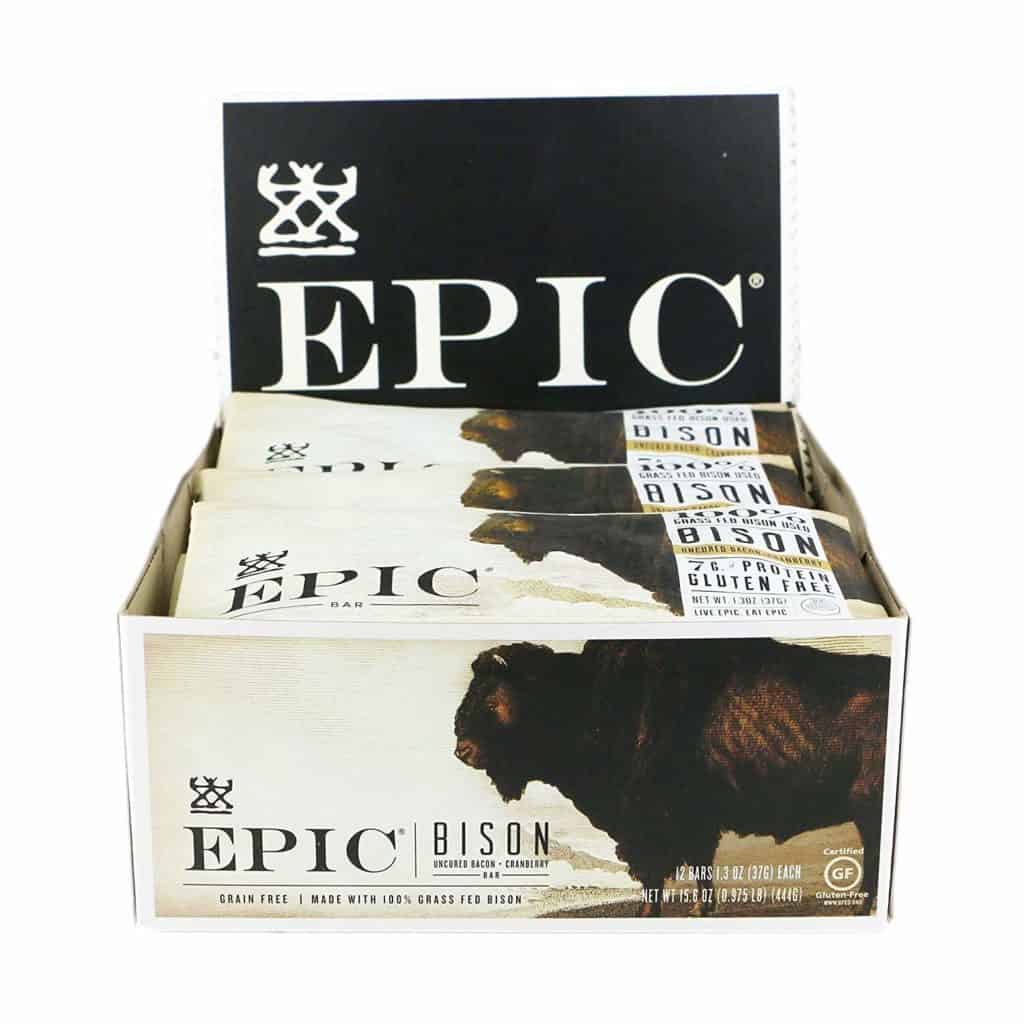 5. Trader Joe's Branzino Fillets
If you're looking for a great deal on some lighter meat, we recommend TJ's branzino filets. They sell them for just under $10 per pound, and they're frozen to make storage a breeze.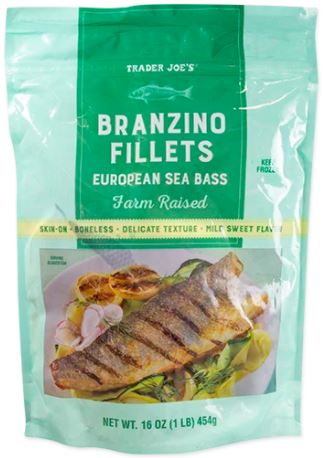 6. Trader Joe's Spicy Uncured Charcuterie Selection
If you're planning a get-together and may have some other keto dieters attending, we highly recommend Trader Joe's charcuterie. The meat is uncured, so it doesn't have nasty ingredients, and it makes the perfect snack, especially when paired with some fresh cheese.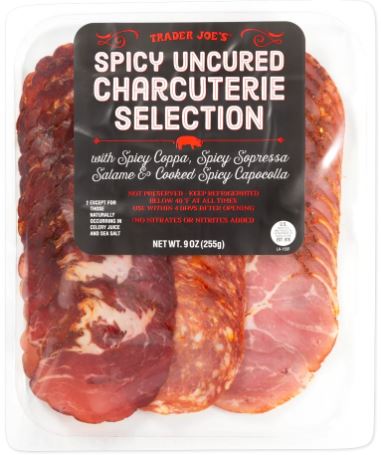 7. No Sugar Dry Rubbed Uncured Bacon
Bacon is like a keto dieter's sixth food group. We work bacon into at least one meal a day most days, and this uncured bacon from TJ's makes us feel good about that. It has no nitrites, nitrates, or preservatives, and it's uncured, so it's not full of sugar that will kill your state of ketosis.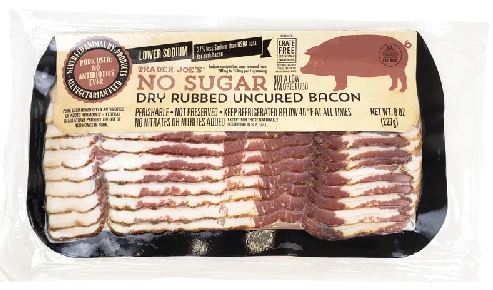 8. Trader Joe's Eggwich Breadless Breakfast Sandwiches
These breadless egg and sausage sandwiches are truly a work of art. They're super delicious and have just 3g of net carbs per sandwich. They also pack 16g of protein and 12g of fat into one convenient breakfast!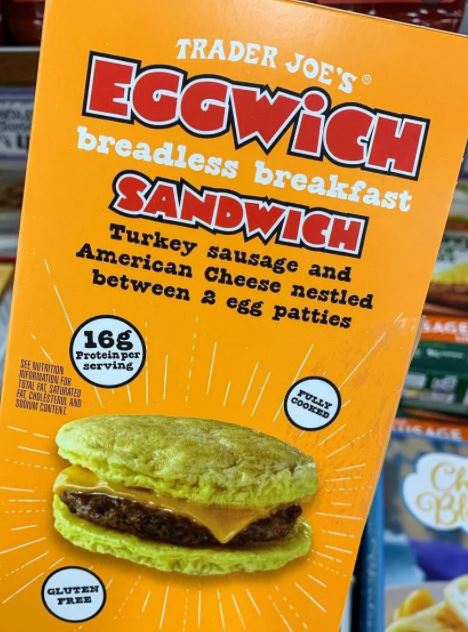 9. Folio's Cheese Wraps
These cheese wraps are low carb and are perfect for keto tacos or a small keto wrap. They have just 1g of net carbs per serving, and they are truly delicious.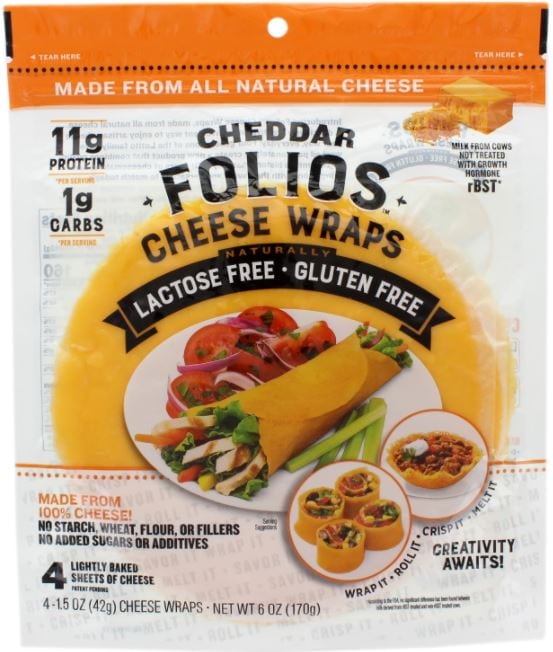 10. Trader Jose's Avocado's Number Guacamole to Go
We love guacamole, and these prepackaged cups are ideal for a keto snack on the go. Convenient and easy to store in a small lunchbox, we always have a few of these ready to go at a moment's notice in the fridge. Best of all, there's just 2g of net carbs per serving.
11. Trader Joe's Cage Free Fresh Hard-Cooked Peeled Eggs
If you love hard-boiled eggs as much as we do but don't like waiting for them to cook and cool, pick up a bag of these hard-boiled eggs from TJ's. They're just $3.29 and offer a perfect snack for when you're on the go.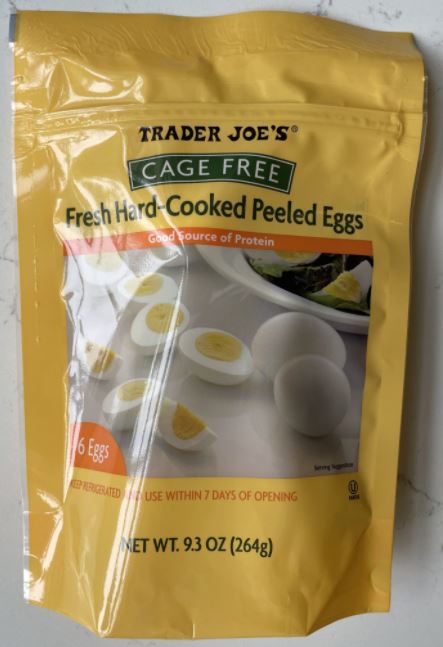 12. Trader Joe's Burrata Fresh Mozzarella Cheese Filled with Cream
This is one of our all-time favorite snacks from Trader Joe's. These cheese and cream balls are downright delicious, and with 0g of net carbs per serving, you can snack without guilt for as long as you'd like!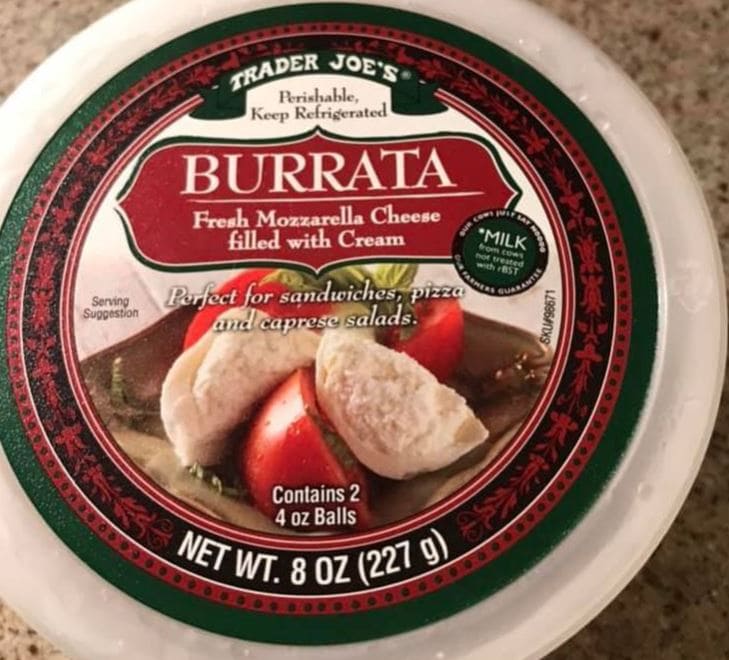 13. Trader Joe's Just…Grilled Chicken Strips
The name says it all! These grilled chicken strips are pre-cooked, pre-packaged, and super convenient for the keto dieter on the move or with limited time for meal prep. It's made with breast and rib meat, so it's full of delicious fats and protein.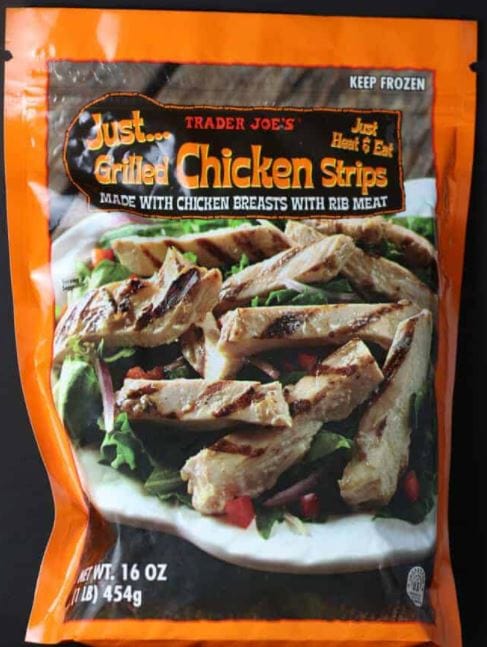 14. Trader Joe's Fully Cooked Pork Belly
Pork belly is honestly one of our favorite meats because it's super fatty and usually very tender. This fully cooked pork belly is perfect for a quick, no-fuss dinner. It's just $6.99 per box, so we recommend picking up a few in case you unexpectedly have minimal time to make or serve a keto friendly meal.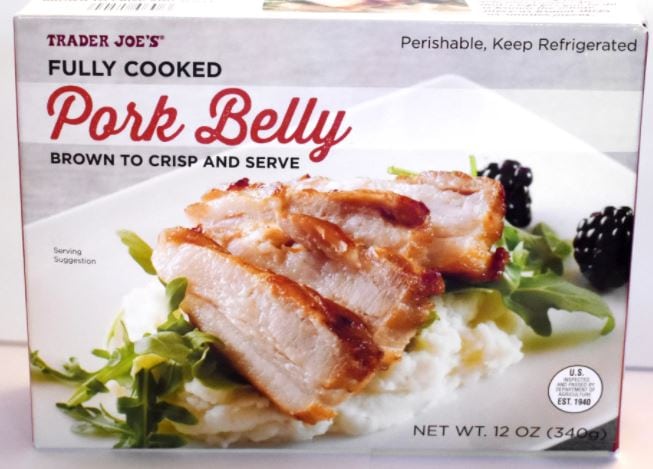 15. Trader Joe's Everything But the Bagel Seasoned Smoked Salmon
We can't get over how tasty this smoked salmon is with one of our favorite TJ's seasonings. It makes a great keto snack any time of day, and it's just $5.49 for a quarter pound. This one always makes our Trader Joe's shopping list.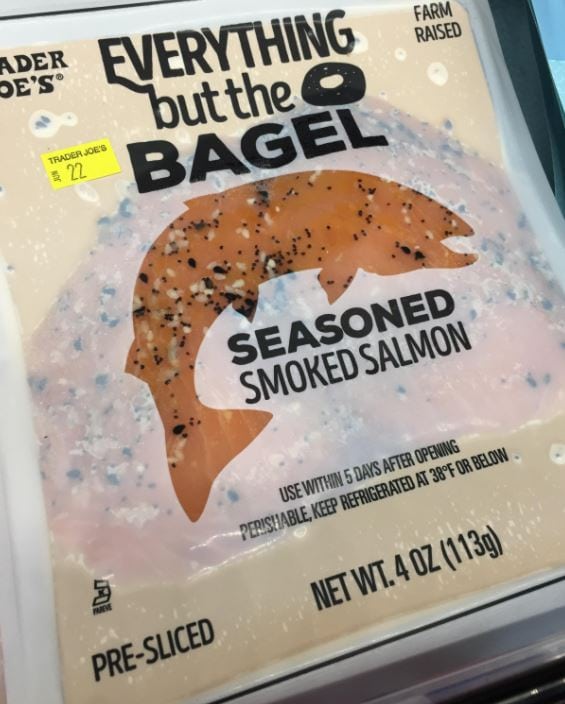 16. Trader Joe's Chile Lime Chicken Burgers
If we had to use just one word to describe these chicken burgers, it would be "heavenly." We love the flavor packed into these patties, and they're ideal for a quick keto snack. We always pick these up when we're in Trader Joe's frozen section.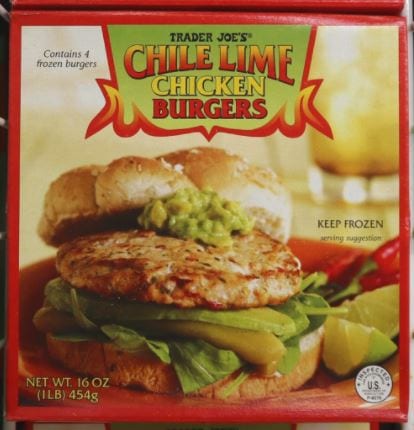 17. Trader Joe's Riced Cauliflower Stir Fry
Cauliflower is an excellent veggie to stock up on if you follow a keto diet, and this pre-packaged stir fry makes at least one of your meals a breeze. It has very few grams of carbs per serving, and it makes for a delicious side or entree.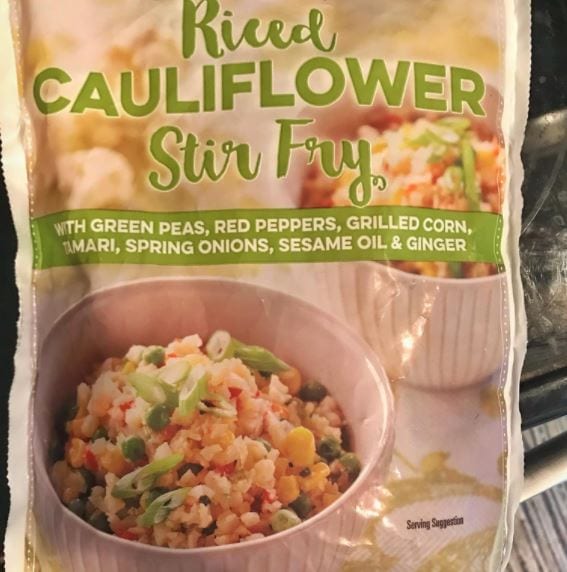 18. Trader Joe's Ghee
Ghee is a staple of most keto diets, and TJ has an amazing deal on their brand on their clarified butter. They also often have deals on their ghee in their fearless flyer.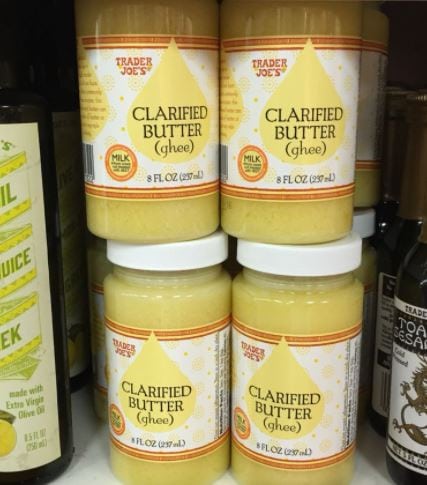 19. Trader Joe's Unfiltered Organic Greek Extra Virgin Olive Oil
We use olive oil almost every single day, so we're always resupplying when we shop. This olive oil is a bit expensive compared to what you could find at Costco or Walmart, for example, but it's a great thing to keep on hand and is always worth the money!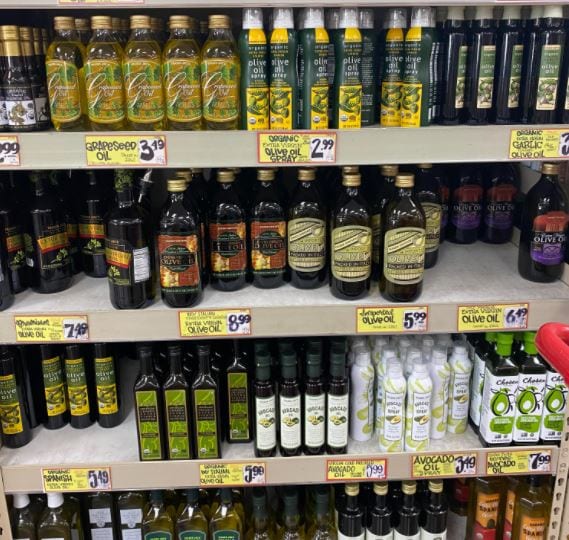 20. Trader Joe's Unexpected Cheddar Cheese
This cheese is delicious, and at just $4 for a half pound, it's a great deal as well. It's full of healthy fats and protein and low in carbs, so it's great for a quick snack or worked into a meal.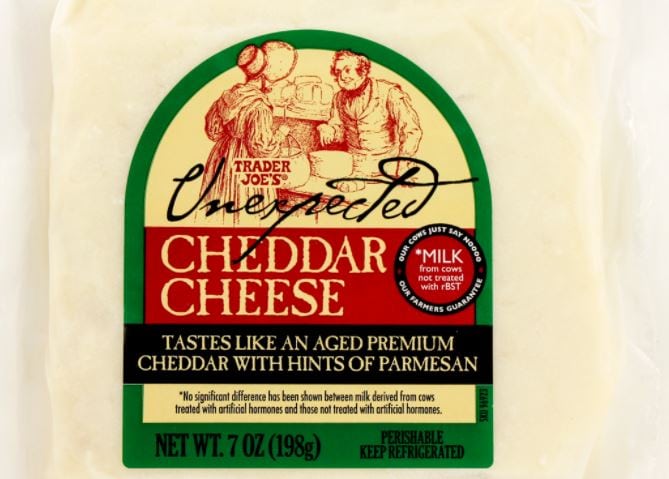 21. Trader Joe's Organic Shredded Three Cheese Blend
We have lots of recipes that work better with shredded cheese, like our famous keto cauliflower mac and cheese so we always get some of this cheese blend.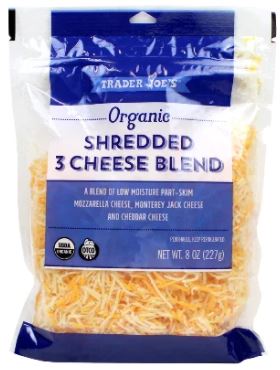 22. Trader Joe's Cheese Party Tray
Having guests over and looking for the perfect low carb snack to serve? Pick up this cheese party tray, and no one will be disappointed! This is ideal for pairing with some of Trader Joe's uncured charcuterie.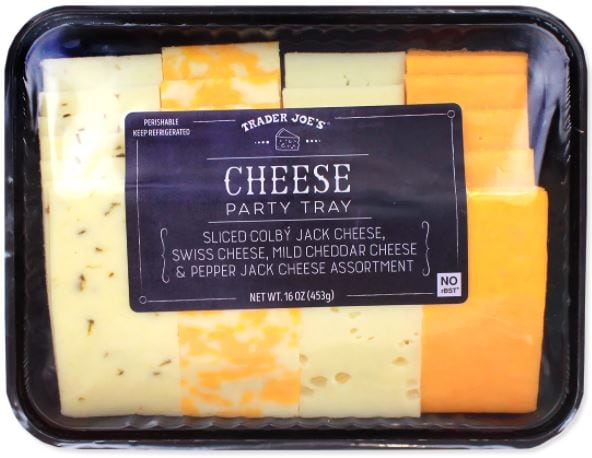 23. Trader Joe's Large Eggs
Trader Joe's brown eggs are a little on the expensive side at $3.49 per dozen, but they come from cage-free chickens, so you can feel a little better about buying them. They also have more affordable white eggs available for just $1.69 per dozen.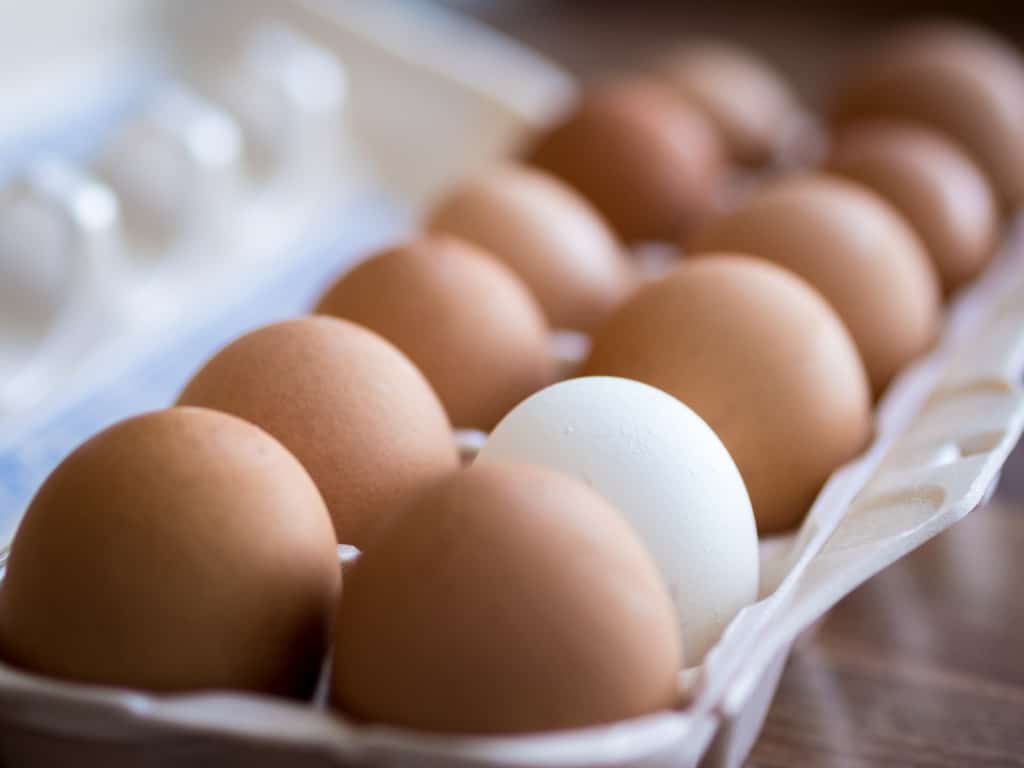 24. Kerrygold Butter
Kerrygold butter seems to be a part of every keto dieter's shopping list, so we were happy to see that Trader Joe's carried it. It's just $3.49 for a half pound, and they carry both salted and unsalted varieties. Both are low in net carbs, so you can use them every day like we do.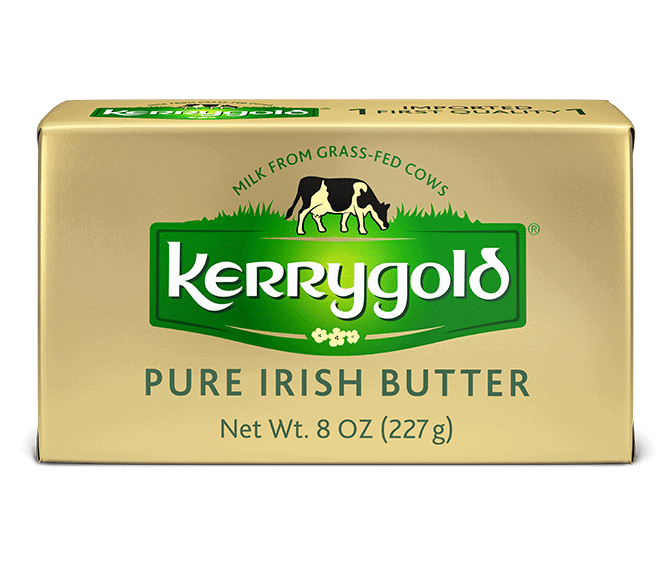 25. Trader Joe's Antipasto Mediterranean Vegetables
If you need a quick side and don't feel like roasting veggies yourself, we recommend this marinated antipasto. Heat it up and you've got a perfect, 60-second keto side perfect for any meal. Low in net carbs and delicious!
26. Trader Joe's Green Jackfruit in Brine
Jackfruit is an excellent meat substitute for many dishes, and this convenient, canned option from Trader Joe's has just 3g of net carbs per serving.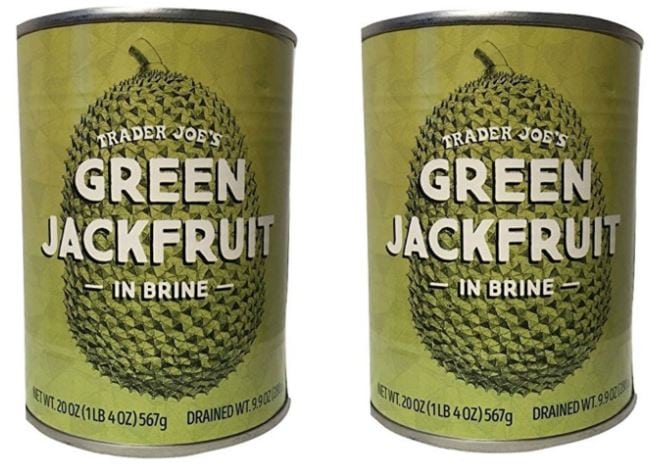 27. Trader Joe's Avocados
Trader Joe's Hass avocados are usually $1.59 each, which is actually a bit cheaper than we typically find in our local grocery store. As far as we know, there is no keto without avocado.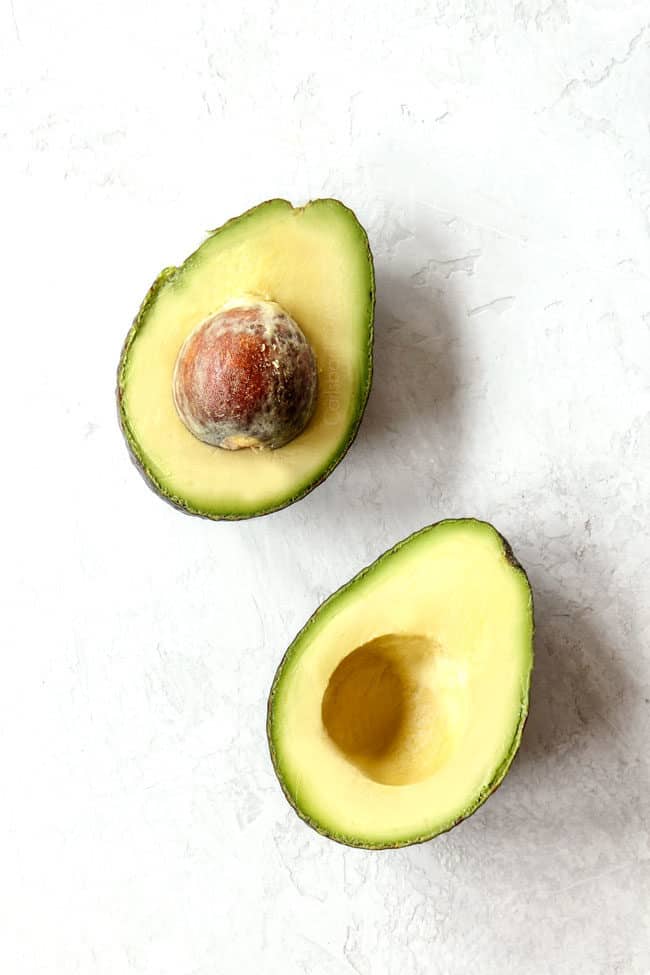 28. Trader Joe's Zucchini Spirals
Looking for a pasta fix but want to remain in ketosis? Give these zucchini spirals a try! We fry these up in a little oil, add some low carb pasta sauce and cheese, and we have a quick and easy meal with almost no net carbs.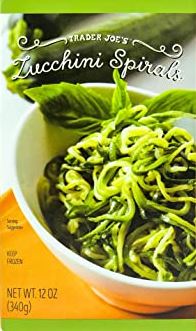 29. Trader Joe's Organic Green Vegetable Foursome
These frozen veggies from Trader Joe's are a super convenient way to add some green to your dinner. They sell a big bag for just under $3, so you can always be prepared to make a nutritious meal that's low in net carbs.
30. Trader Giotto's Rustico Pomodoro Pasta Sauce
Keto pasta sauce is sometimes a tricky thing to find, but Trader Joe's has this pomodoro sauce that delivers just 4g of net carbs per serving. It's a great option for a delicious keto Italian meal — just make sure you factor the carbohydrates into your macros to make sure you don't drop out of ketosis.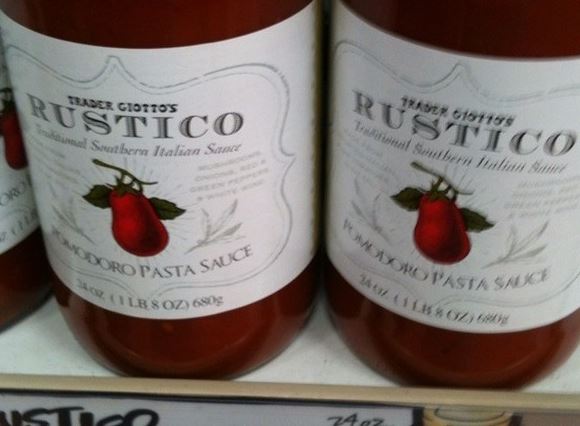 31. Trader Joe's Romano Caesar Dressing
Looking for a low carb dressing that's still delicious? Look no further. This Caesar dressing from TJ's has less than 1g of net carbs per serving, so you can indulge guiltlessly. Salad never tasted so good.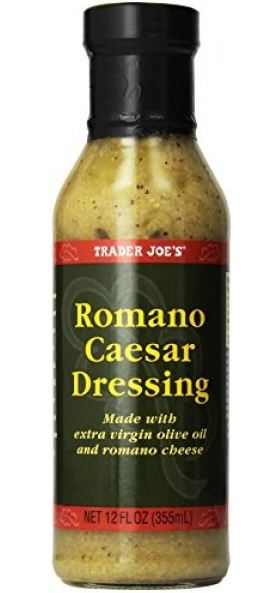 32. Trader Joe's Green Dragon Hot Sauce
This hot sauce is like our Frank's: we put it on everything! With less than 1g of net carbs per serving, you can safely use this in any meal that needs a little heat!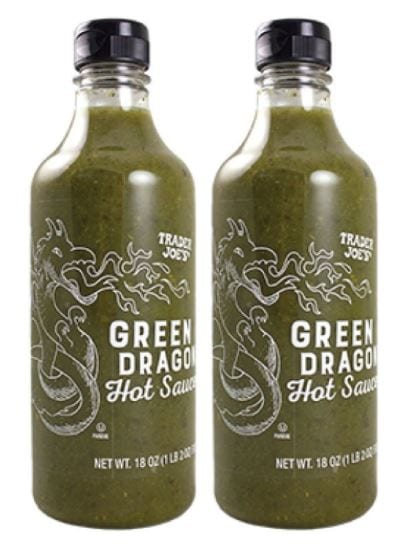 33. Trader Joe's Green Goddess Salad Dressing
This Green Goddess Salad dressing is one of our favorites for salads, but we also have used it to marinate chicken and other meats. It's affordable and unrivaled as far as taste goes!
34. Chomps Grass-Fed Beef Sticks
These beef sticks from Chomps are delicious and nutritious. With zero grams of net carbs and 9 grams of protein per stick, we always stock up on these when we go to Trader Joe's. They're a bit expensive but definitely worth the cost.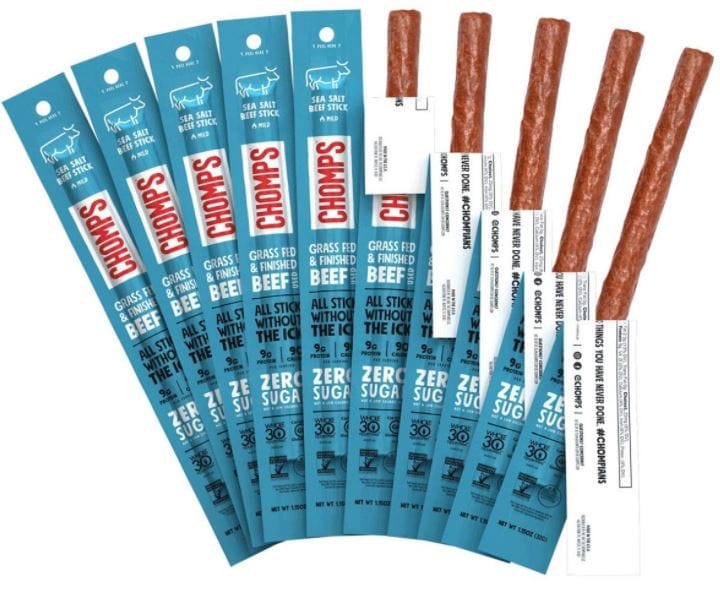 35. Trader Joe's Dry Roasted and Unsalted Oregon Hazelnuts
Sometimes it's best to go basic, and that's truly the case with these hazelnuts. This is a simple, single-ingredient snack that offers 17g of healthy fat and just 1g of net carbs per serving. You can't beat that! Plus they have some interesting health benefits.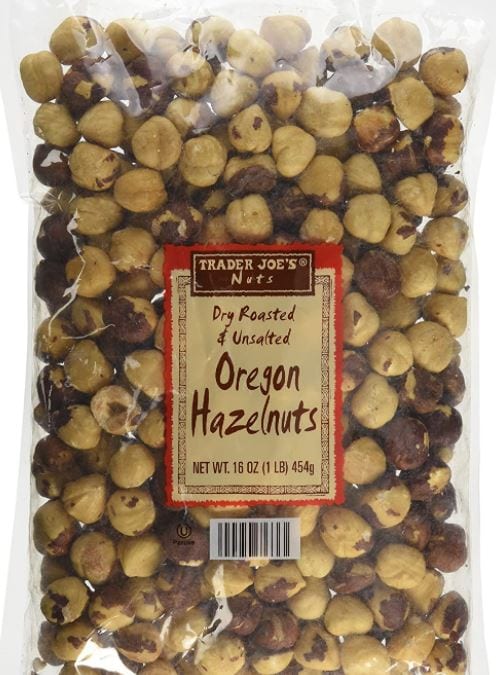 36. Trader Joe's Thai Lime and Chili Cashews
Trader Joe's has a wide selection of roasted nuts that make a perfect keto snack, and these flavored cashews are at the very top of our list as far as keto snacks go. Don't miss out on these!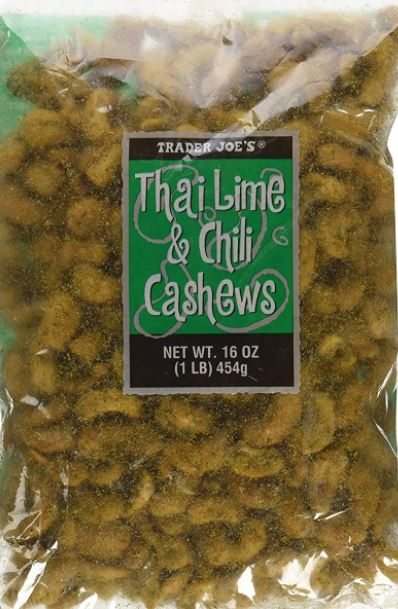 37. Trader Joe's Oven Baked Cheese Bites
These crispy cheese bites always satisfy our urge for something crunchy and comforting. You can grab a bag for under $3, so we always stock up. They pack in healthy fats and protein with just 1g of net carbs per serving.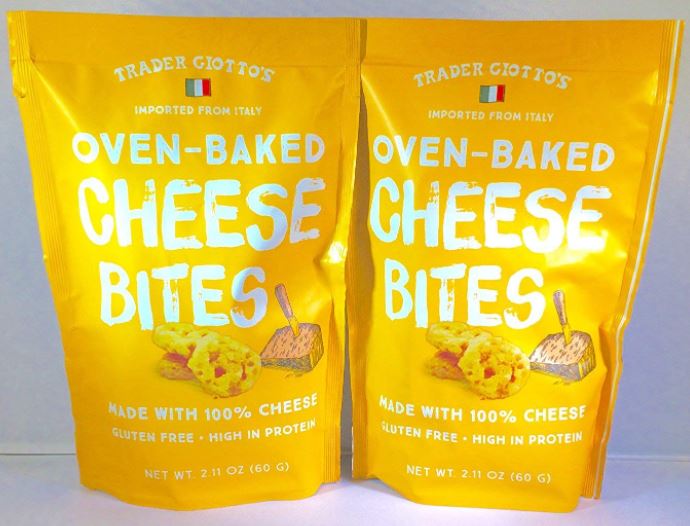 38. Montezuma's 100% Dark Chocolate with Almond and Sea Salt
Chocolate isn't usually keto friendly unless, of course, you buy 100% dark chocolate. Luckily, this keto friendly chocolate is available at Trader Joe's. It's not nearly as sweet as milk chocolate, but it can satisfy the urge for something chocolatey.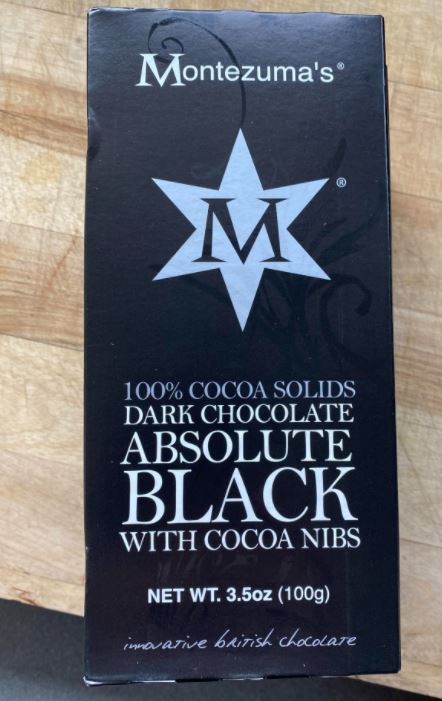 39. Trader Joe's Olive Tapenade
This tapenade is perfect when you're craving a little salt or when you have keto guests over. Serve with our signature keto crackers, and you'll be the talk of the town. Plus, there are very few net carbs, so you can snack guiltlessly.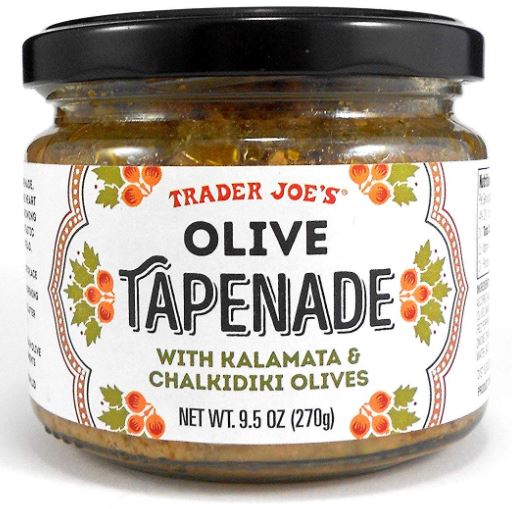 40. Trader Joe's Organic Peanut Butter
Peanut butter is full of healthy fats and protein, and this unsalted, organic option from Trader Joe's is one of our favorite nut butters out there.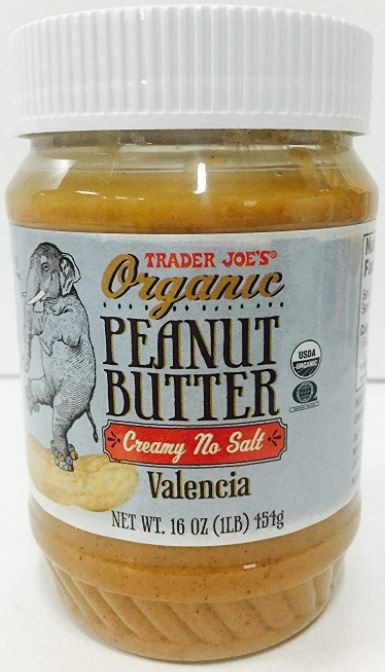 41. Quest Protein Bars
There aren't many keto protein bars available at Trader Joe's, but they have our favorite: Quest Bars. Luckily, they usually have a wide variety of flavors in stock, so you can pick and choose to your heart's content. These have very few net carbs but still aren't packed with fiber.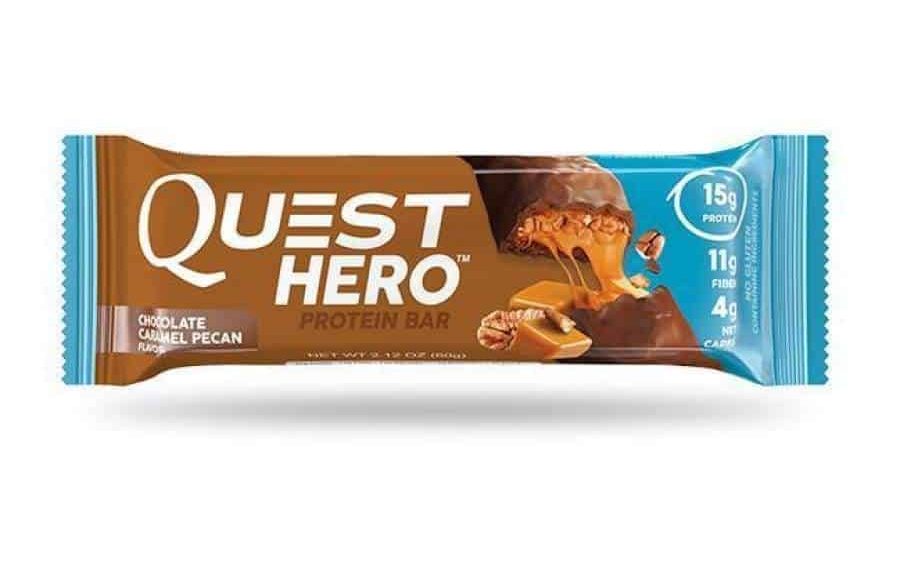 42. Volpi Roltini Singles
Fresh mozzarella cheese wrapped in uncured prosciutto with no nitrites or nitrates. Need we say more? Convenient and delectable.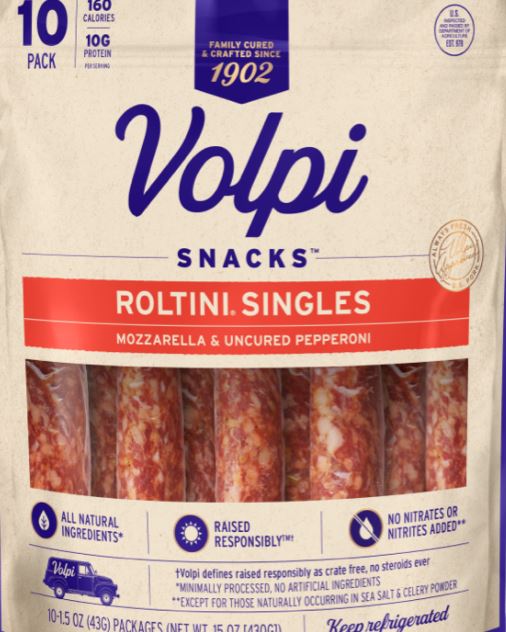 43. Trader Joe's Organic Coconut Cream
Trader Joe's canned coconut cream is something we stock up each time we go because it's super convenient and shelf stable, and you never know when you're going to want some delicious low carb yogurt as a snack or keto breakfast.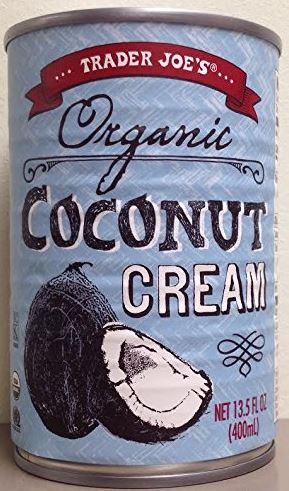 44. Trader Joe's Organic Fair Trade Cacao Powder
This half-pound bag of pure cacao powder is perfect for making keto desserts, like our fudgy keto brownies. Plus, it's only $3.99 per bag and contains just 1g of net carbs per serving.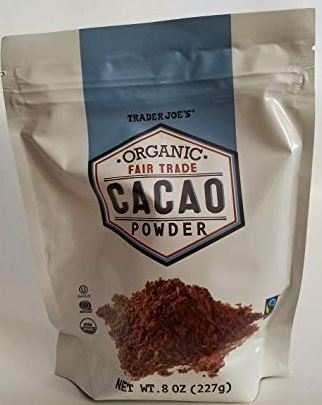 45. Baker Josef's Blanched Almond Flour
This almond flour is great for making your baking experiments keto friendly. It has far fewer net carbs per serving than traditional flour — just 2g — and can be used in its place in most recipes.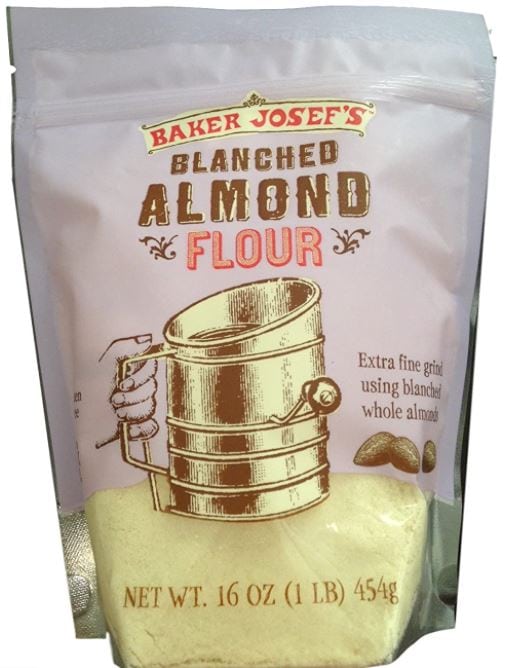 46. Trader Joe's Coconut Oil Spray
Okay, this might be a cooking ingredient more than a baking ingredient, but we use it for things like desserts when we don't mind a mild coconut flavor. We use this to grease our cooking vessels for desserts like our fudgy keto mug brownie.
47. Trader Joe's Organic Liquid Stevia
Stevia is one of our favorite keto sweeteners, and this vial from TJ's is just super convenient. It's ideal for coffee because it always blends perfectly and won't settle at the bottom. We also use this for baking, although it can get a little pricey if you plan to use large amounts.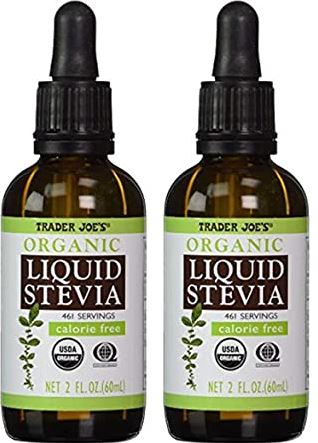 48. Trader Joe's Organic Stevia Extract
If we plan to use stevia to sweeten baked goods, we pick up this powdered stevia extract from Trader Joe's. It's affordable and won't spike your blood sugar levels like some other artificial sweeteners.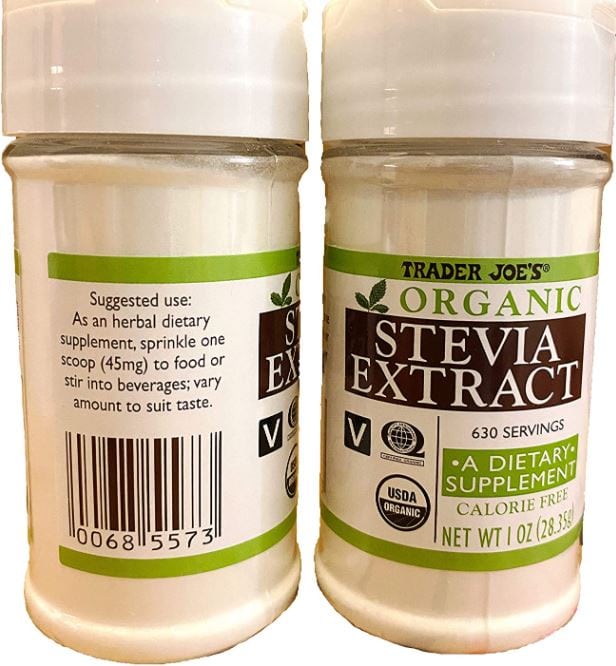 49. Jicama Wraps
At first we didn't love these because they are small and frail. After the 2nd or 3rd time using them we really started to love the jicama wraps. They add a nice crunch and freshness to taco night. These are definitely worth a try!
50. Keto Collagen
Check the supplements area at Trader Joe's because they always seem to have something new. On our most recent trip we found this keto collagen. It was pretty tasty and the ingredients were solid.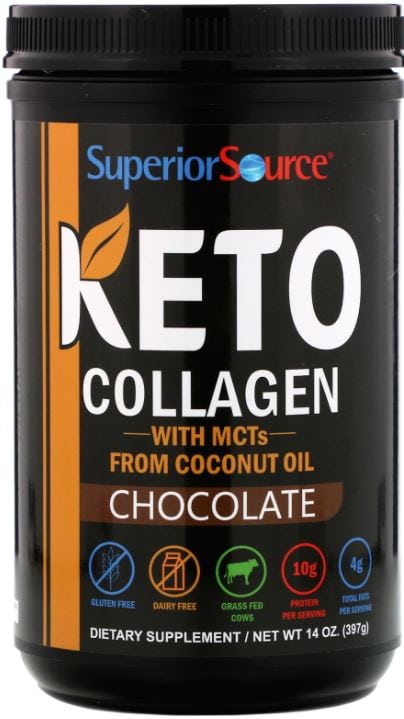 Other Items To Look For:
Organic Virgin Coconut Oil
Cauliflower Tabbouleh
Everything But The Bagel Seasoning (We put this on everything!)
Everything But The Bagel Almonds & Cashews
Mini Brie Bites
Cauliflower Thins (great for making sandwiches!)
Pimento Cheese Dip
Buffalo Style Chicken Dip
Organic Oven Roasted Chicken Breast Slices
Prosciutto (great prices!)
Halloumi Cheese (seasonal item)
Frozen Palak Paneer (great for vegetarians)
Mixed Nut Butter
Free Range Chicken Broth
Frozen Fish and Meats
Organic String Cheese
Mahi Mahi Burgers (really tasty)
Uncured Turkey Bacon & Cheese Sous Vide Egg Bites
Sunflower Seed Spread
Roasted Seaweed Snacks
Premium Salmon Burgers
Shrimp Seafood Burgers
Grass-Fed Angus Beef Burgers
Mozzarella Rolloni
Teeny Tiny Avocados (Our toddler loves these)
Truffle Marcona Almonds
Mashed Cauliflower
Columbus Hard Salami
A Variety of Protein Bars (read our guide to keto protein bars)
Frozen Organic Spinach
Dry Roasted & Unsalted Oregon Hazelnuts
Thai Lime & Chili Cashews
Giant Chalkidiki Olives
Tapas Style Artichoke Hearts
Organic Peanut Powder
Does Trader Joe's Have a Keto Section?
Trader Joe's does not have a keto section, but they do have a bunch of great items for a keto diet. They key is knowing what to look for while you're there, since they do not have everything organized into a keto section. Use this shopping list to find all of the best keto snacks offered at Trader Joe's and always keep an eye out for new products they might have.
Does Trader Joe's Have Keto Bread?
Unfortunately not, but there is hope that they will someday carry keto bread. Grocery stores like Sprouts, Whole Foods, and even Aldi have begun carrying keto bread, so Trader Joe's could follow suit soon. For now you can make our keto bread recipe or order online from The Great Low Carb Bread Company.
Is Trader Joe's Cauliflower Gnocchi Keto?
Nope. This is something newcomers to a keto diet will often get confused about. Just because something is made with cauliflower does not make it keto friendly. Often these products will use cauliflower in addition to wheat-based flours and other high carb ingredients. At 16 net carbs per serving, Trader Joe's Cauliflower Gnocchi is not keto friendly.
Does Trader Joe's Have Keto Ice Cream?
Sadly the answer is no. They have recently come out with a "Light Ice Cream" but it is not low carb. It's made to be lower in calories but is not suitable for keto.
More Keto Grocery Guides
If you enjoyed this guide be sure to check out the rest of our keto grocery shopping guides.
Wrapping Up
We love shopping at Trader Joe's because they carry an excellent variety of keto friendly foods. From pre-packaged meals and fresh meats to eggs, dairy products, and low carb snack options, Trader Joe's keto options allow us to get our entire keto shopping list.
Some of their options can be a little on the pricey side, but it's usually worth the investment because a ton of their offerings are organic and don't contain unwanted ingredients. Don't forget to look for deals in their fearless flyer ads!
Find a Trader Joe's keto option that we missed? Drop us a comment below! We love hearing about your keto shopping list items, and we might just add it to our list!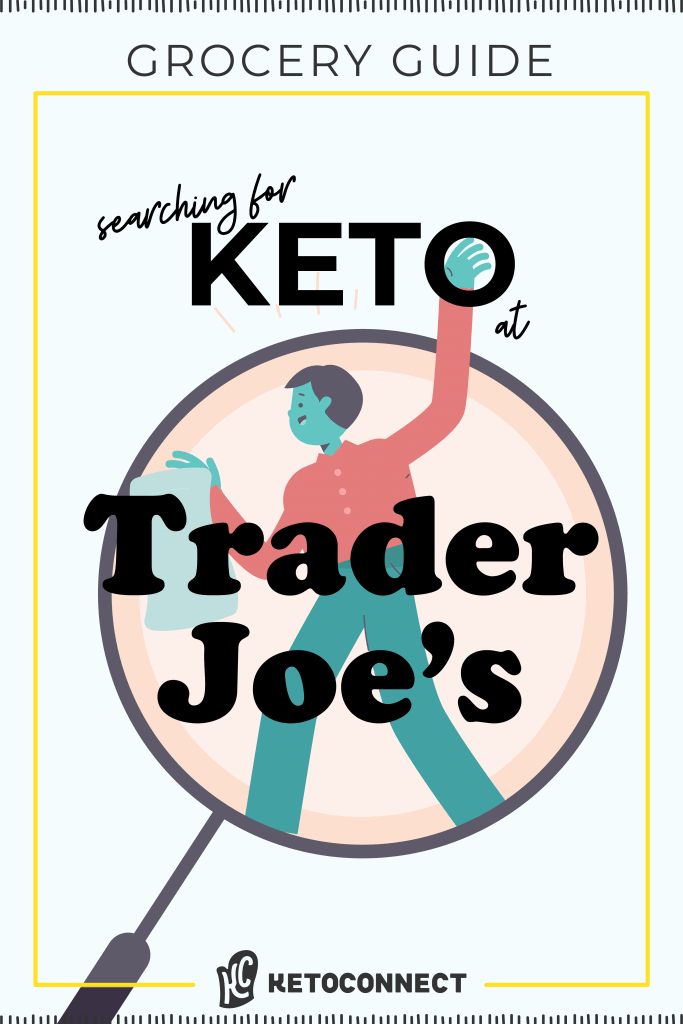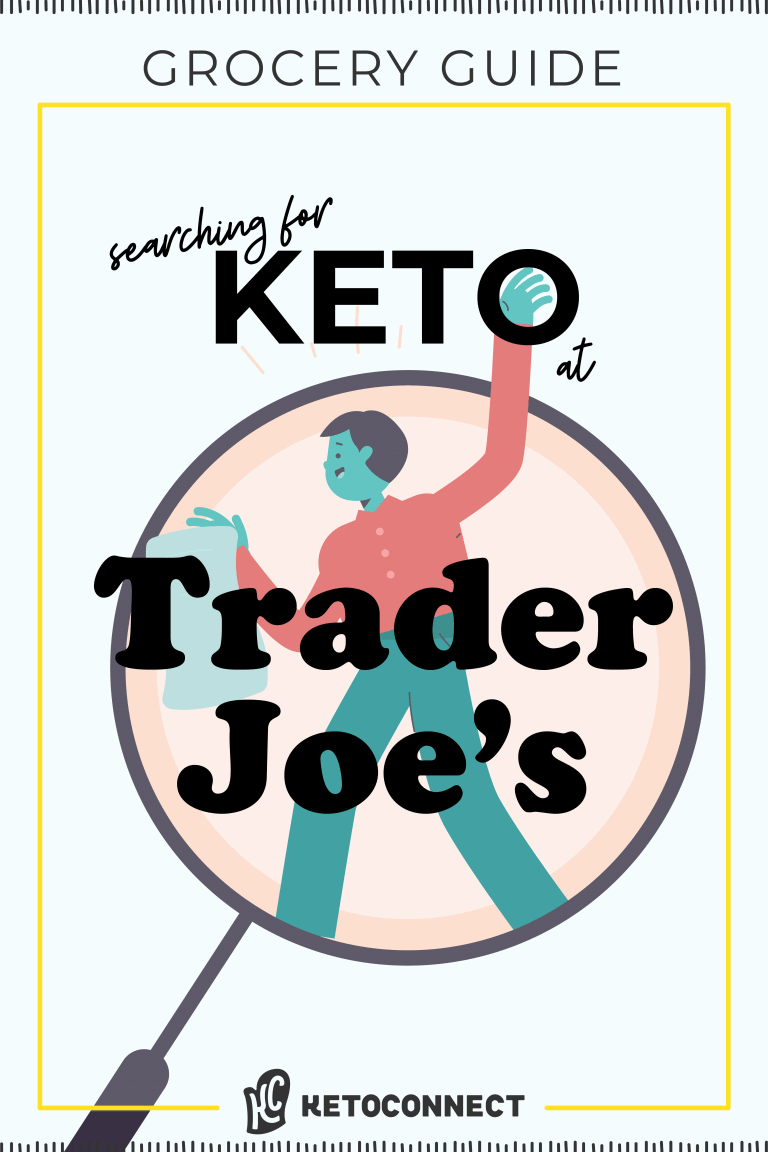 Written By