A lot of recipes are hard to recreate in a keto version, but Low Carb Cornbread is by far the hardest! We made countless attempts before we got the perfect recipe down. Give it a try and see what your family and friends think, we're sure they'll love it too!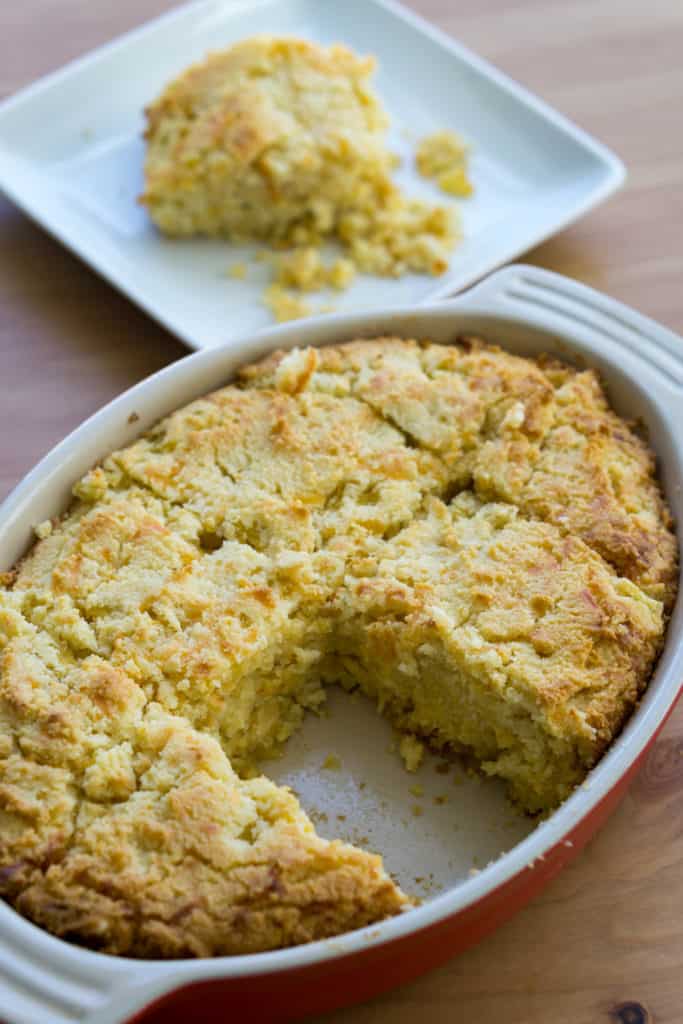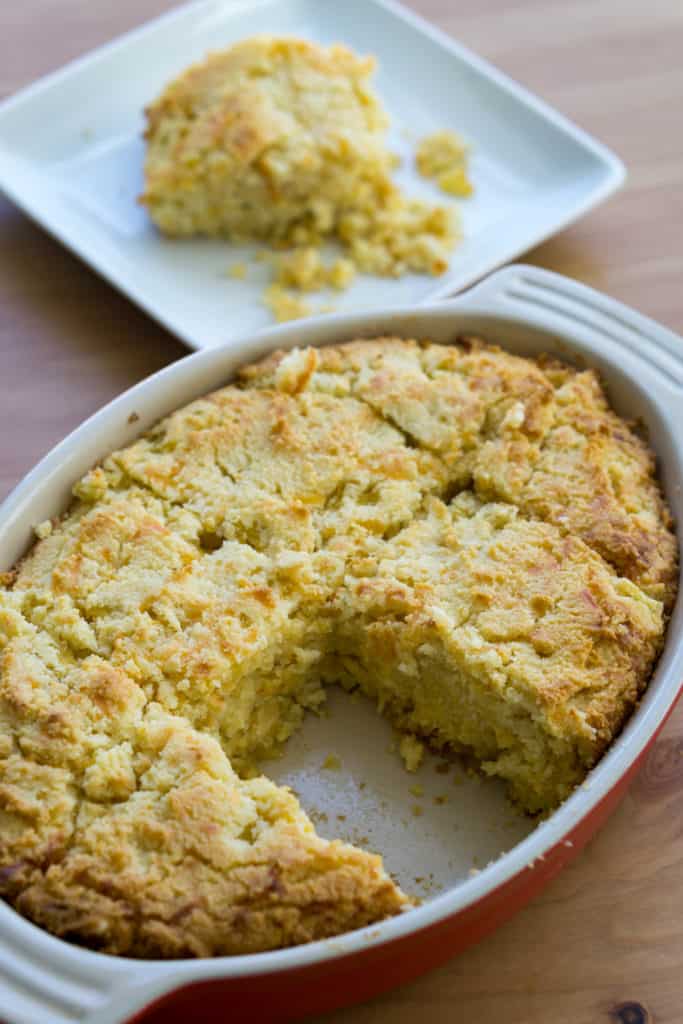 Cornbread is one of our favorites foods. Although I'll say Boston Market makes it best, and Matt will always says his grandma makes it best; we can both agree on this being the tastiest low carb, keto friendly cornbread we've made! This holiday season you'll finally have the perfect easy to make, traditional cornbread!
The Difficulties Of Keto Cornbread
I can't even recall how many times we attempted this cornbread recipe. There are so many recipes out there, on pinterest and food blogs, but honestly, none really live up to actual cornbread. We were determined to get as close as humanely possible to the original, and we think we did just that!
It's a shame that so many people put out recipes claiming to have created a low carb cornbread when in fact they have just created a low carb, flavorless bread. Matt hit a stroke of genius when he suggested using baby corn. I tried using it and ended up creating this incredible, must have Thanksgiving recipe, perfect for those on a keto diet!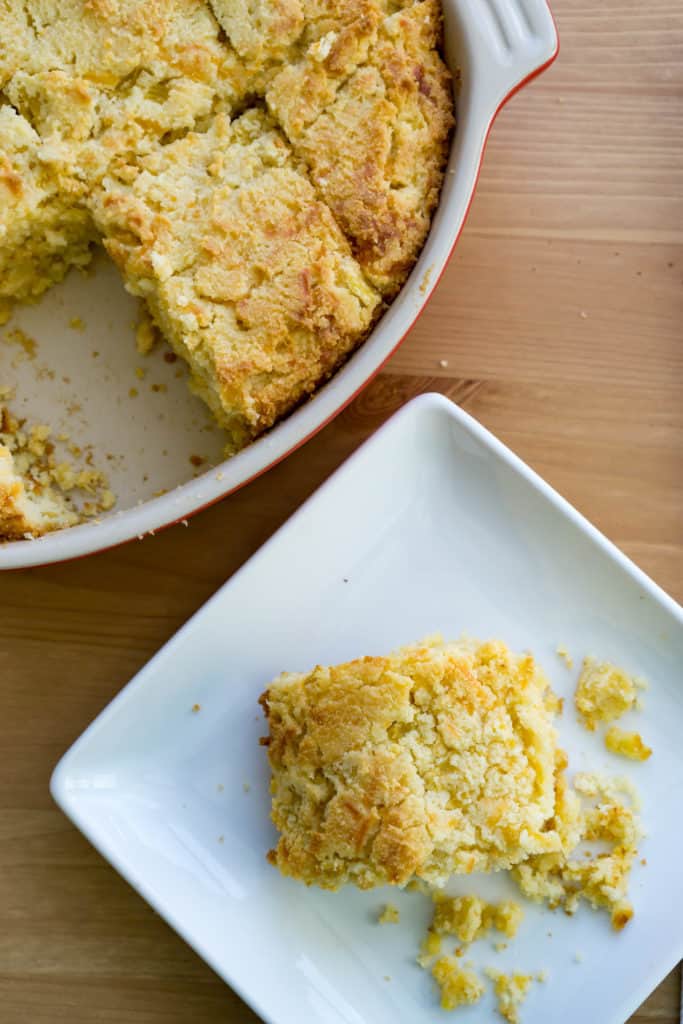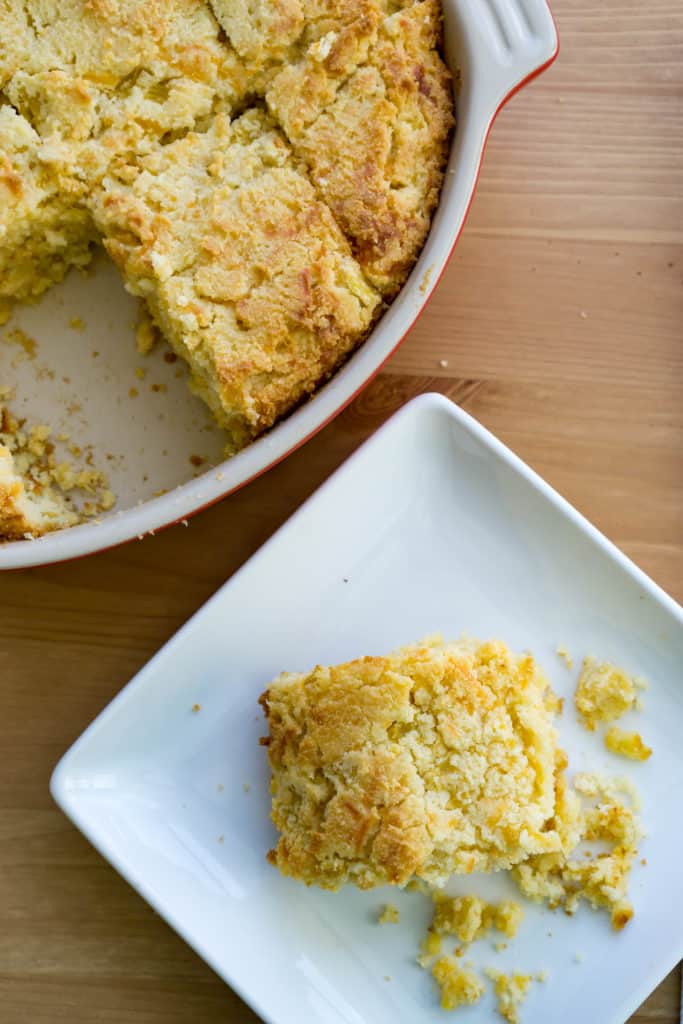 The Perfect Pairings
Cornbread is a hearty dish great for warming you up during the cold months of the year. We love enjoying it on Thanksgiving, but also any day of the week because it's so easy to whip up! If you're looking for a side to go with tonight's dinner, try this keto cornbread recipe. And if you aren't sure what to make for dinner, we've got you covered on that too! Our low carb cornbread pairs great with some hot soups! Try our:
Making The Best Cornbread Recipe
To make the best easy keto cornbread not only does the consistency have to be on point, but additions are a must. In this recipe we made sure that it came out slightly crumbly and slightly sweet, all while jamming it full of cheddar cheese and chunks of baby corn for a delicious savory bite! An entire can of baby corn has only 6 net carbs, which worked out well for this keto cornbread recipe!
I'm Corn-fused Why Baby Corns?
In order to bring down the carbs low enough to make this keto cornbread recipe truly low carb, we had to get creative. Matt pointed out that baby corns, an ingredient commonly used in Asian stir-fry's is actually only 6 net carbs per can. Don't fear the word corn! While a corn, this vegetable is very different from its sweet corn counterpart. Thanks to the baby corn, this recipe tastes like cornbread you grew up with while still being keto friendly.
We wanted to avoid sweet corn extract as it can be very expensive. You are welcome to use extract like this Corn Extract to add a little extra flavor, but it is not necessary. Personally I think corn extract is a little artificial tasing and prefer the recipe without.
Benefits of Baby Corn
Baby corn is low in carbs and helps to add that corny flavor in this keto cornbread recipe. Thanks to baby corns, it tastes like cornbread you remembered growing up. This breed of corn is actually picked before the maturing stage. This makes it low in starch content which means lower sugar and carbs. Plus, "100 grams of baby corn has only 26 calories"(1). That is about 40 calories less than standard sweet corn meaning you can eat more keto cornbread without the guilt!
Baby corn is also easier to handle because you can just remove it from the can and chop, unlike sweet corn which you have to cook and then remove from the cob. Taking away those extra time consuming steps is what helps to make this easy keto cornbread quick.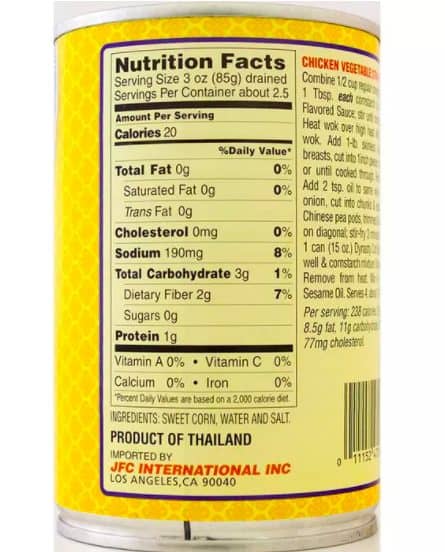 Coconut Flour AND Almond Flour?
Almond flour is one of our favorite ingredients to use when doing holiday baking and making this keto cornbread recipe for thanksgiving. It has a slight nutty flavor and is rich in fiber. Plus, it adds volume and a nice bread-y texture to make a dense keto cornbread. However, to make the most traditional cornbread we recommend two different kinds of flour.
Can I use Just Almond Flour?
Often times we are asked if it is okay to sub full almond flour for the coconut flour in keto recipes, using just one flour instead of two. Unfortunately, coconut flour is very different from almond flour. Unlike coconut and almond milk, these two flours are not interchangeable.
Almond flour is less absorbent requiring more flour to make the same keto recipe. We tested this recipe many times and found the best outcome to have both coconut AND almond flour. The almond flour adds overall bulk while the coconut flour helps to absorb excess moisture.
If you are looking for a good coconut flour we get ours from Amazon. As for almond flour we've found Costco to have one of the best deals for a 1lb bag. If you are not a Costco shopper Amazon does still carry a variety of almond flours as well.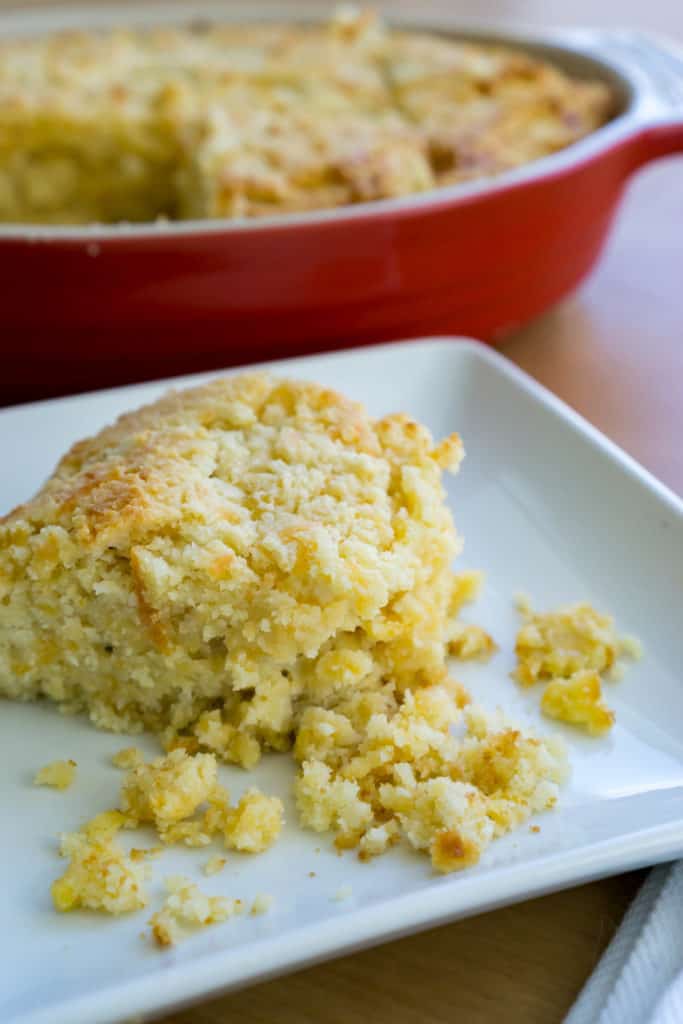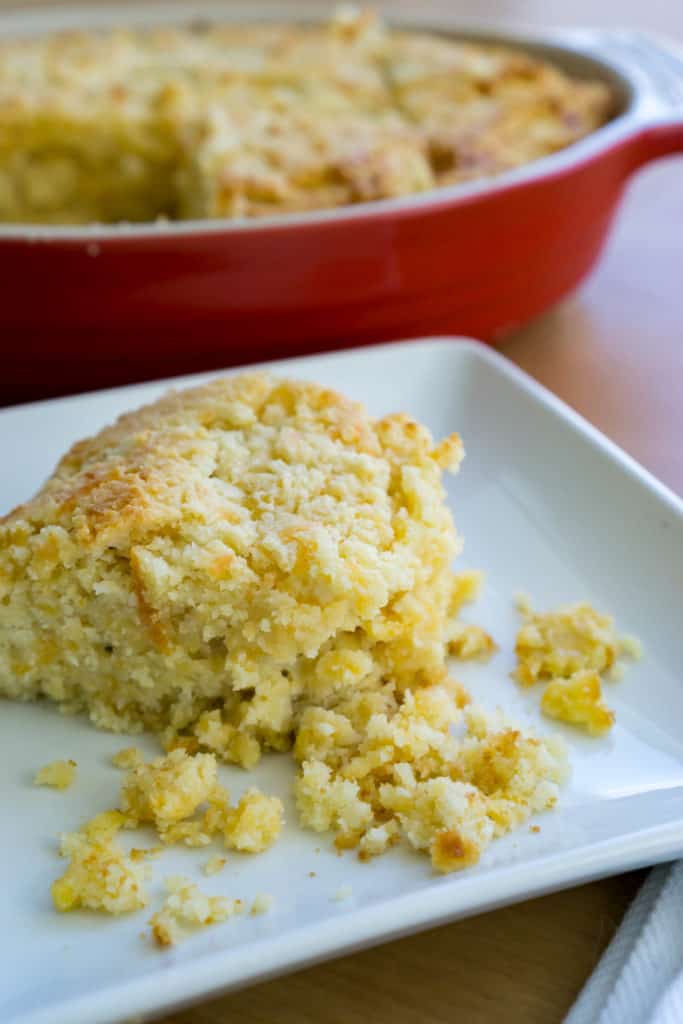 How to Make Keto Cornbread
If maintaining a keto diet during the holidays sounds difficult, look no further than this keto recipe that tastes like cornbread your mom used to make. All it takes to make easy keto cornbread is a few simple ingredients and about 10 minutes of prep time!
Getting Started:
Preheat the oven to 350 and grease a 9 inch casserole dish- I also love using a large cast iron skillet because it can be cooled and then served in as a beautiful rustic center piece on the table
In a medium bowl combine the flours, baking powder and salt. Whisk together and set aside. Make sure the baking powder is evenly distributed so that there is no uneven rising.
In a large bowl combine the eggs, melted butter, sour cream and liquid stevia. Whisk until fully incorporated.
Add the dry ingredients to the wet in two batches as you combine – Sour cream really is a must because it adds an extra zing and provides moisture so the cornbread doesn't get dry while baking.
Next fold in the cheddar cheese and chopped up baby corn- I like big chunks of both ingredients because it makes gooey pockets of goodness in this keto cornbread.
After well combined transfer to a casserole dish or large round cast iron skillet and bake for 37-40 minutes- The best way to know if it's done is by using a toothpick and checking it comes out clean.
Allow to cool for 15 minutes and slice into 12 pieces.
Cooking Tips
Prefer Cornbread a Bit Drier?
Some people do like drier cornbread so they can pack it with butter, that's perfectly okay too! I recommend chopping the corn a bit smaller and rubbing them between a couple paper towels to soak up any excess water.
Serving Options
Once you get the cornbread ready to bake you can put it in any size baking dish you have on hand. However, if you are interested in the Serving Dish we used, you can find it on Amazon. It looks very elegant and the red color will pop in the center of your dinner table. Another great option is a cast iron skillet or pan. Depending on the cast iron skillet you use, you can make one big keto cornbread recipe or a few mini cast iron skillet sides.
If you prefer a cornbread muffin, you can use a non stick silicone cupcake mold. It will make perfectly golden pre portioned keto cornbread muffins.
Whether or not you are celebrating the holidays this year, cornbread is a must have in all of our diets. So, make this low carb/ keto cornbread today and try not to eat the whole thing in one sitting!
Storing Keto Cornbread
Looking to make a big batch of keto cornbread this holiday season? Maybe you just want to prep some in advance for dinner this week. However you want to do it, we've got storage instructions covered.
The Best Method
We've found that the best way to store this keto cornbread is to place it in an airtight Tupperware container and leave it in the fridge. It will last in your fridge for about 1 week. When going to re-serve try heating this low carb cornbread in the oven with a pat of butter for the most authentic flavor.
Freezing
It is not recommended to freeze any type of homemade bread product due to expansion of ice particles which can cause the product to turn dry. If you do want to freeze this low carb cornbread we recommend putting it in a completely airtight ziplock freezer bag. It will last frozen for up to 3 weeks before losing it's nice texture.
What can I do With Leftover Cornbread?
Maybe you got a little too excited this holiday season and made three batches of cornbread… If you have too many leftovers to just eat plain cornbread were here to help. Here are a few ideas to spice up your leftover cornbread:
Making the Perfect Keto Thanksgiving
This is by far best keto cornbread, but everyone knows the real thing is always even better when served alongside other amazing dishes. We have tons of thanksgiving and holiday recipes to make this season a little more special. Some of our favorite low carb/ keto recipes:
Make this year even more special and healthy for your family and friends.
​Recipe can be quickly added to MyFitnessPal – Search "KetoConnect – Low Carb Cornbread"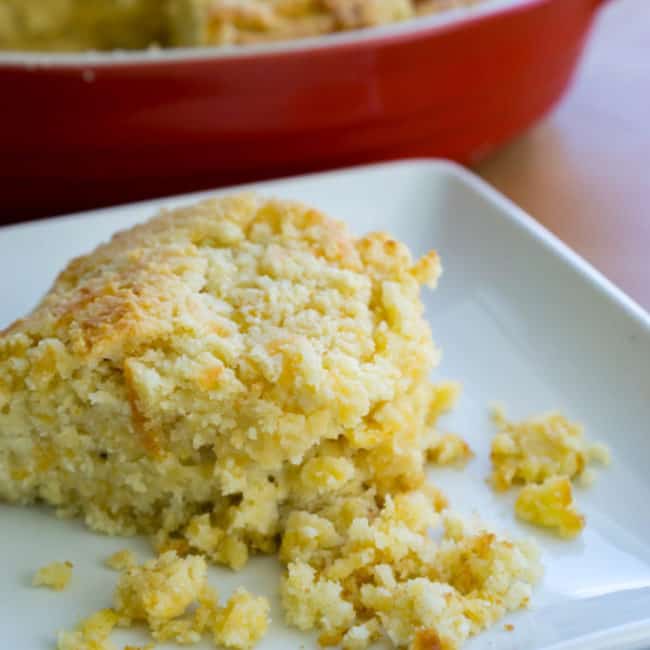 Authentic Keto Cornbread
You have to try this keto cornbread recipe as a side dish at your next family gathering.
Total Time 50 minutes
Servings 12 pieces
Calories per serving 254kcal
Prep Time: 10 minutes
Cook Time: 40 minutes
Instructions:
Preheat the oven to 350 and grease a 9 inch casserole dish.

In a medium bowl combine the almond flour, coconut flour, baking powder and salt. Whisk together and set aside.

In a large bowl combine the eggs, melted butter, sour cream and liquid stevia. Whisk until full incorporated. Add the dry ingredients to the wet in two batches as you combine.

Fold in the cheddar cheese and chopped up baby corn. Transfer to a casserole dish and bake for 37-40 minutes.

Allow to cool for 15 minutes and slice into 12 pieces.
Notes
Net Carbs: 3g For a more intense cornbread flavor you can add corn extract to this recipe.
Nutrition Facts
Authentic Keto Cornbread
Amount Per Serving
Calories 254 Calories from Fat 204
% Daily Value*
Fat 22.7g35%
Carbohydrates 6g2%
Fiber 3g12%
Protein 8.4g17%
* Percent Daily Values are based on a 2000 calorie diet.
Written By