If you're eating keto on a budget or on the road, have no fear! Finding keto McDonalds options, the world's largest fast food chain, has never been easier.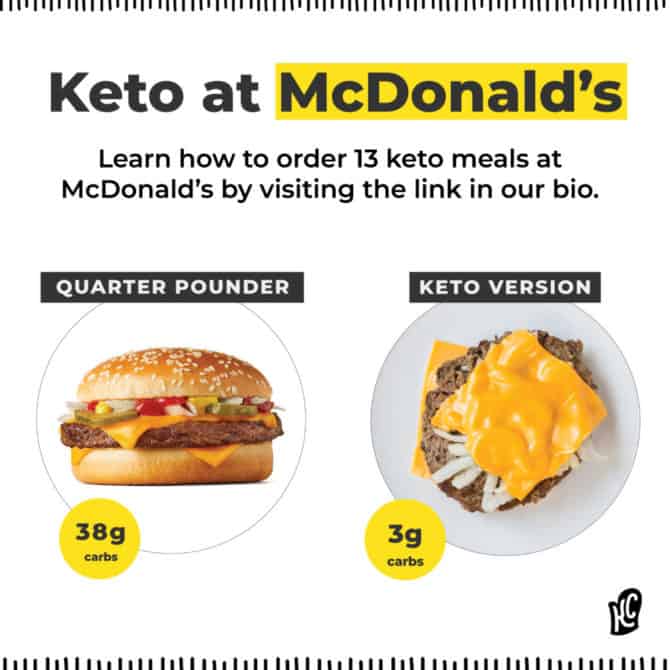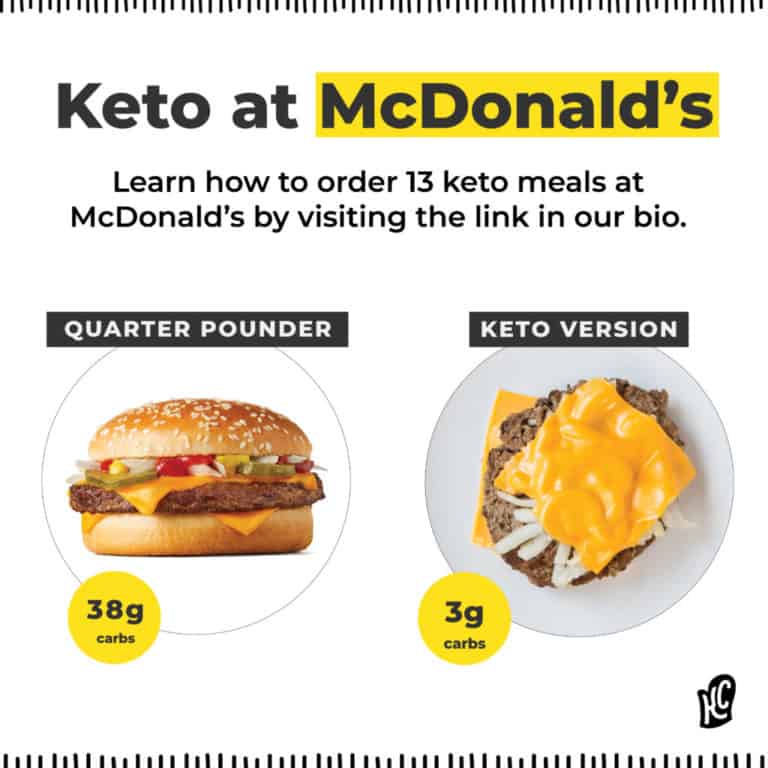 Yes, if you can avoid the buns and fries, you can eat keto at McDonald's. You just have to be willing to order a lot of different things.
Thankfully, McDonalds offers keto fast food — and lots of it! Just because you travel or have a tight budget, you don't have to throw away your weight loss benefits. We'll walk you through the best low carb options to keep you keto friendly at McDonalds. If you're a fast food fan, then you might want to check out our other guides for Shake Shack, Wendy's, Carl's Jr., Five Guys, Sonic, and Whataburger!
General Guidelines
Before you go wild on your favorite mouthwatering treat, there are a few things to avoid, no matter what you're ordering. Here are some smart specifications you'll always want to make to stick to a keto diet.
All burgers should be bunless. A bun by itself has 28 grams of carbs.
On a similar note, no biscuits or muffins.
Breaded items like crispy chicken or nuggets are similarly high carb.
Don't be fooled by the sugar-free beverages; they are often still high in carbs.
Say "no ketchup." It comes on some sandwiches, not just with a side of fries, and it has more sugar than you might expect.
Steer clear of the salad dressings, since most are shockingly high in carbs.
Order any salads without the croutons.
Skip the French fries and shakes, no matter how tempting.
Keto McDonald's Breakfast
Start off your day in a tasty way with a keto McDonald's breakfast! Just be sure to follow our customizations to keep it keto friendly.
Here's what to order when it comes to breakfast sandwiches and other morning meals.
Best Keto Breakfast Meal at McDonald's
If you're looking for a huge variety of breakfast options that will keep you in ketosis, McDonald's has you covered. Here's what we recommend for a filling morning low carb meal:
Triple Breakfast Stack McGriddle (no griddle cake): 7g net carbs, 56.5g of fat, 32g of protein.
Those are basically the ideal macros for keto: high fat, moderate protein, and very low carb. If you want to try a keto breakfast at home, here's some of our best keto breakfast recipes.
These other breakfast options also work well:
Sausage, Egg and Cheese McMuffin or McGriddle (no English muffin or griddle cake): 4g net carbs, 26g of fat, and 15 grams of protein
Bacon, Egg and Cheese Biscuit (no biscuit): 4g net carbs, 13g of fat, and 14g of protein
The Big Breakfast (no hash browns or biscuit, add bacon and cheese): 4g net carbs, 34.5g of fat, and 28g of protein. If you're not a bacon fan, you can always add in another sausage patty, scrambled eggs, or a beef patty instead.
Egg McMuffin (no English muffin): 3g of net carbs, 11g of fat, and 12g of protein
In case you were wondering, your morning bagel, griddle, or buttermilk biscuit is not on a list of keto friendly foods. Thankfully, many of these sandwiches hold up without the bread!
Keto Breakfast Drink Options
Some traditional breakfast drinks may surprise you with their carb content: orange juice has almost 26g of carbs in a cup, and whole milk contains almost 12g net carbs in eight ounces.
McDonald's "sugar-free" coffee flavorings can also throw your ketosis for a loop. While the sugar-free flavoring itself has zero net carbs (just 2g of sugar alcohols), all McDonald's iced coffees also add cream and milk, which can add at least 9g of carbs to your drink.
If you're really craving a coffee drink with your keto breakfast, stick to hot, black coffee or order an iced coffee with no cream or milk (and, preferably, no flavorings or sweetener, as sugar alcohols can sometimes impact blood sugar levels).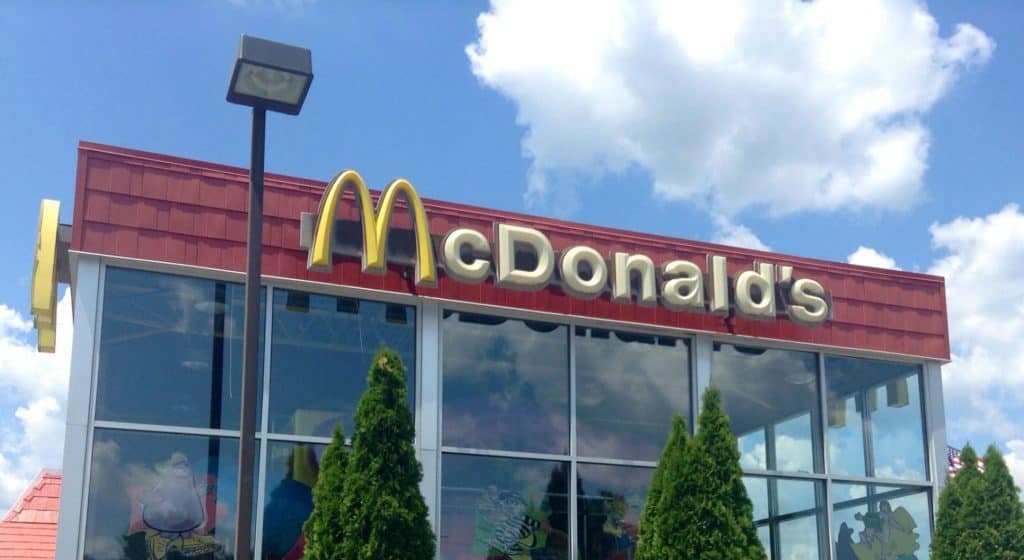 McDonald's Keto Friendly Lunch & Dinner
With any of the options listed, you'll need to choose bunless burgers or sandwiches. However, if you still want the feeling of a sandwich, you can ask for extra romaine to make it a lettuce wrap or bring a low carb tortilla instead! Here are the best menu items for keto in each category:
Best Keto Meal at Mcdonald's for Lunch or Dinner
If you're looking for a filling combo meal, here's what you could order to get some variety and a side, too:
Two McDoubles (no bun or sauce), a Side Salad (creamy ranch sauce instead of dressing), and a side of mayonnaise: 10g net carbs, 54g of fat, and 18g of protein.
This meal is delicious, filling, and these macros are great for keto dieters. Just be sure you order the ranch sauce, not the dressing, which has 12g of carbs.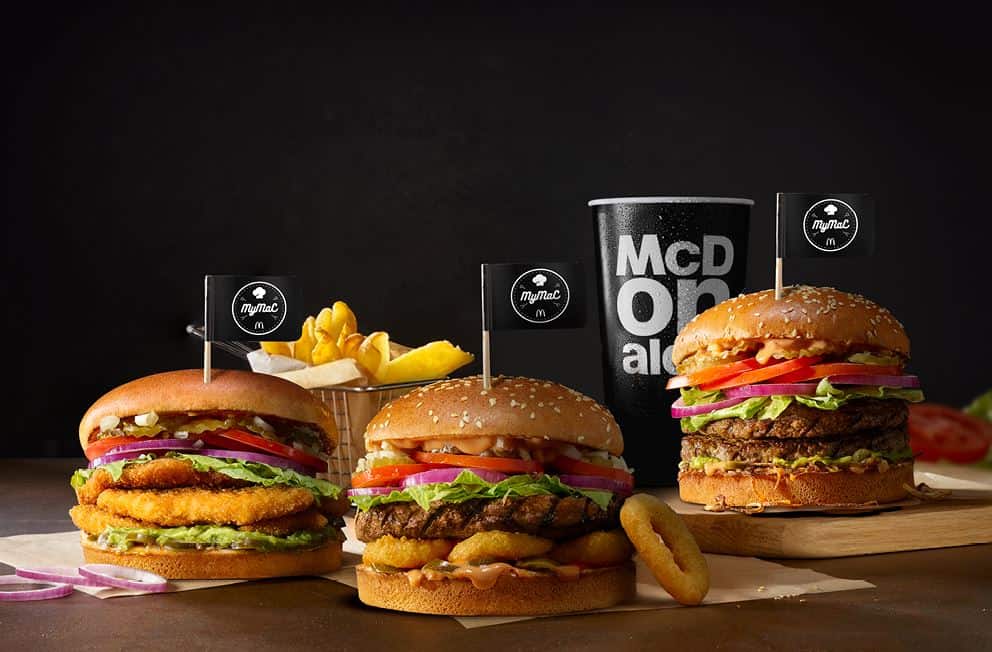 Beef Options
Big Mac (no bun, no ketchup or Big Mac sauce): 5g net carbs, 25g of fat, and 18g of protein. If you're feeling crazy and your macros will allow it, the Big Mac sauce only adds one more net carb.
Quarter Pounder with Cheese (no bun, no ketchup): 3g net carbs, 25g of fat, and 25g of protein.
Double Cheeseburger (no bun, no ketchup): 3g net carbs, 20g of fat, and 20g of protein
Bacon McDouble (no bun, no ketchup): 4g net carbs, 21g of fat, and 23g of protein
Chicken Options
We love McDonald's chicken sandwiches, but it's important to note that they don't have the same high fat content as the beef patties. Be sure to balance with some fat (see our approved sauces) if you opt for one of these keto options:
Pico Guacamole with Artisan Grilled Chicken Sandwich (no bun): 6g net carbs, 19g of fat, and 29g of protein.
Mushroom & Swiss Grilled Chicken (no sauce, bun, or onion strings): 2g net carbs, 9g of fat, and 33g of protein.
Adding things like the guacamole can really help your macros and even the transition to a keto diet easier. Reminder: opt for the grilled chicken, not breaded, to keep your carb count low.
Salad
You might really love salad, or be looking for a side to go with your meal instead of French fries. Here are your best options for keto greens:
Side salad: 2g net carbs, 0g of fat, and 1g of protein. You can add some fat with one of the sauces from the list below if you need more flavor.
Bacon Ranch Grilled Chicken Salad (no ranch dressing, but you can add creamy ranch dipping sauce for an additional 1.5g carbs): 5g net carbs, 13g of fat, 42g of protein.
Low Carb Sauces
Many of the menu options for sauces and condiments are surprisingly keto-approved. Here are a few of our favorites:
Spicy Buffalo Sauce: 1g net carbs, 3g of fat, 0g of protein.
Creamy Ranch Sauce: 1.5g net carbs, 12g of fat, 0g of protein.
Signature Sauce: 3g net carbs, 9g of fat, 0g of protein.
Our pro tip: mixing the Spicy Buffalo and Creamy Ranch is beyond delicious and adds some fat to your meal. It also can work as a great salad dressing.
What to avoid:
The Honey Mustard Sauce has 6g of carbs in one packet, more than any breakfast sandwich we recommend.
The Sweet 'n Sour Sauce and the Tangy Barbeque Sauce both have a whopping 11g of carbs in just one packet, which is over twice as much as any menu item we recommend.
Keto Drink Options
Regular soft drinks are off-limits on keto, as are the milkshakes and ice cream treats. However, check out these keto drink options at McDonald's:
Unsweetened iced tea: 0g net carbs. We love stevia as far as keto sweeteners go, and you can even bring some from home.
Diet Coke: 0g net carbs.
Coke Zero: 0g net carbs.
Any other diet drink option, which can vary by location.
Water is always a great option, but you do have some carbonated choices if you want to splurge. Most diet sodas are low carb, and you can always sweeten your own tea like we do.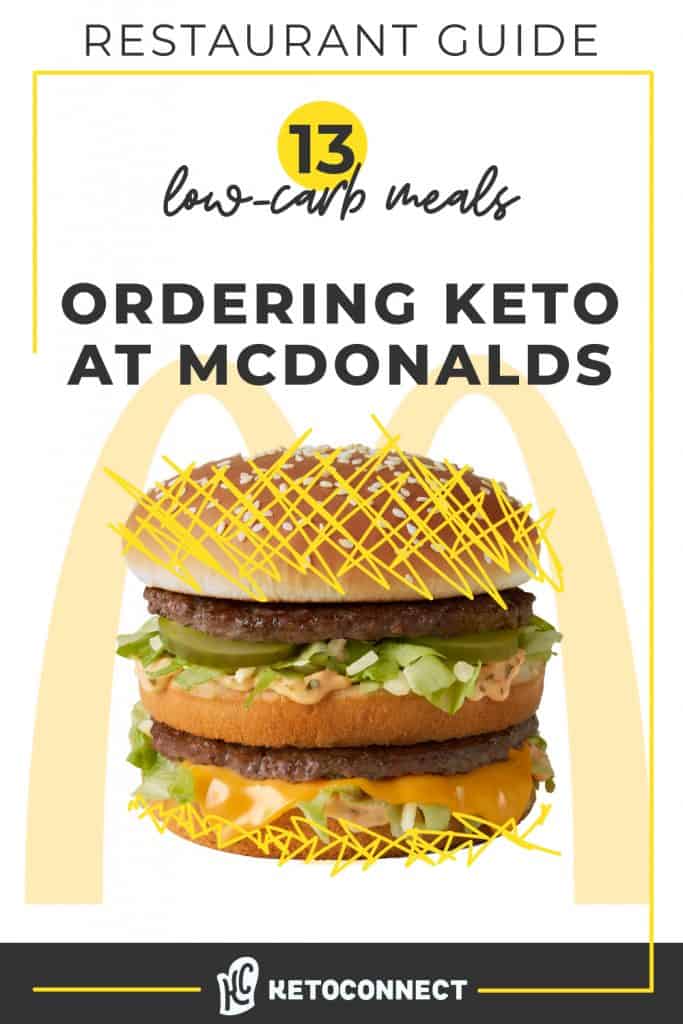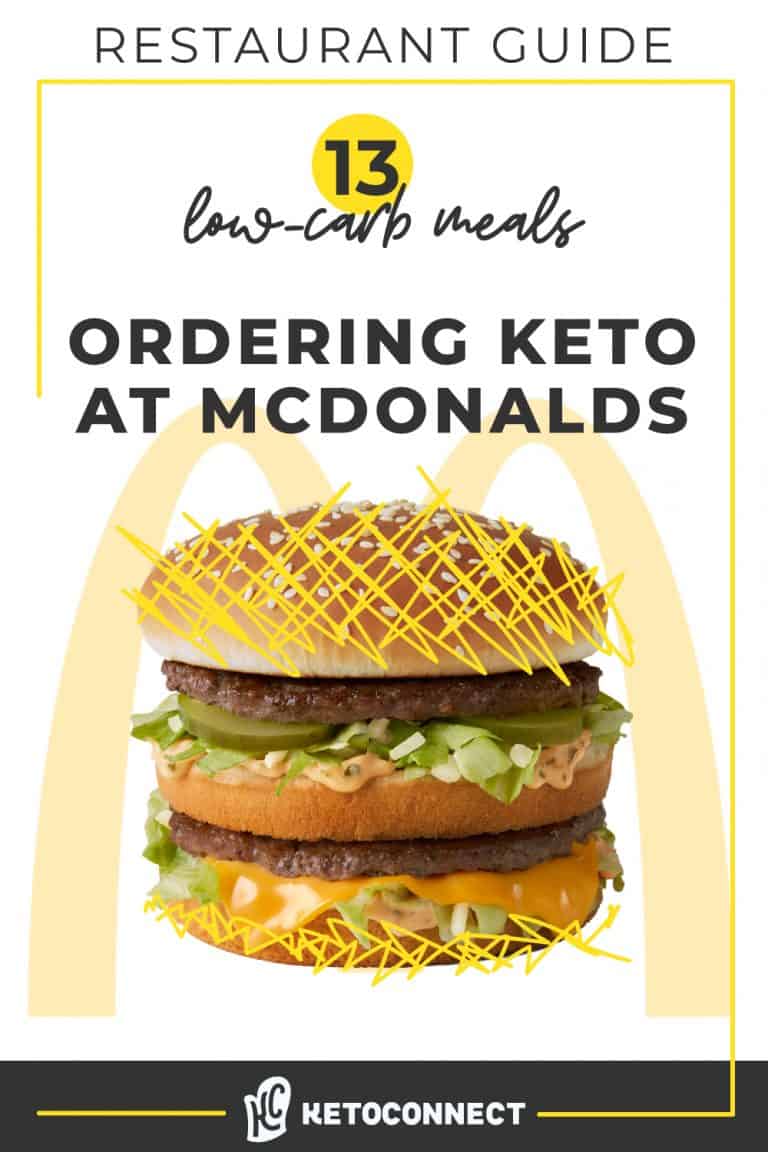 In Summary
Thankfully, if you need to eat out while on keto, McDonald's has quite a variety of options for you to choose from.
Our top tips for any keto order at McDonalds include: no buns or breading, specifying no ketchup on lunch and dinner sandwiches, avoiding the salad dressings, and skipping fries, frozen treats, and shakes.
For breakfast, the eggs and sausage food options are typically best, and our favorite is a Triple Breakfast Stack McGriddle with no griddle cakes.
For lunch and dinner, you have even more options, from burgers to salads to sandwiches. We typically recommend the burgers due to their higher fat content, which is great for a ketogenic diet.
If you want to pack in more flavor, try some Spicy Buffalo or Creamy Ranch sauce. It's even a keto friendly alternative to the salad dressings.
For drinks, try unsweetened iced tea, Coke Zero, Diet Coke, or unsweetened iced coffee.
McDonald's makes keto fast food quick and easy when you're on the run with its huge selection of options!
Sources
Bueno, N. B., de Melo, I. S. V., de Oliveira, S. L., & da Rocha Ataide, T. (2013). Very-low-carbohydrate ketogenic diet v. low-fat diet for long-term weight loss: a meta-analysis of randomised controlled trials. British Journal of Nutrition, 110(7), 1178-1187. Abstract: https://pubag.nal.usda.gov/catalog/5162722
Phinney, S. D. (2004). Ketogenic diets and physical performance. Nutrition & metabolism, 1(1), 2. Full Text: https://www.ncbi.nlm.nih.gov/pmc/articles/PMC524027/
Written By