If you're making an effort to choose healthier food options, making the jump from fast food to salads can be difficult. After all, Big Macs and salads are pretty much on opposite sides of the health spectrum – and how could a salad possibly satisfy a craving for a juicy, cheesy Big Mac? That's where our keto big mac salad comes in!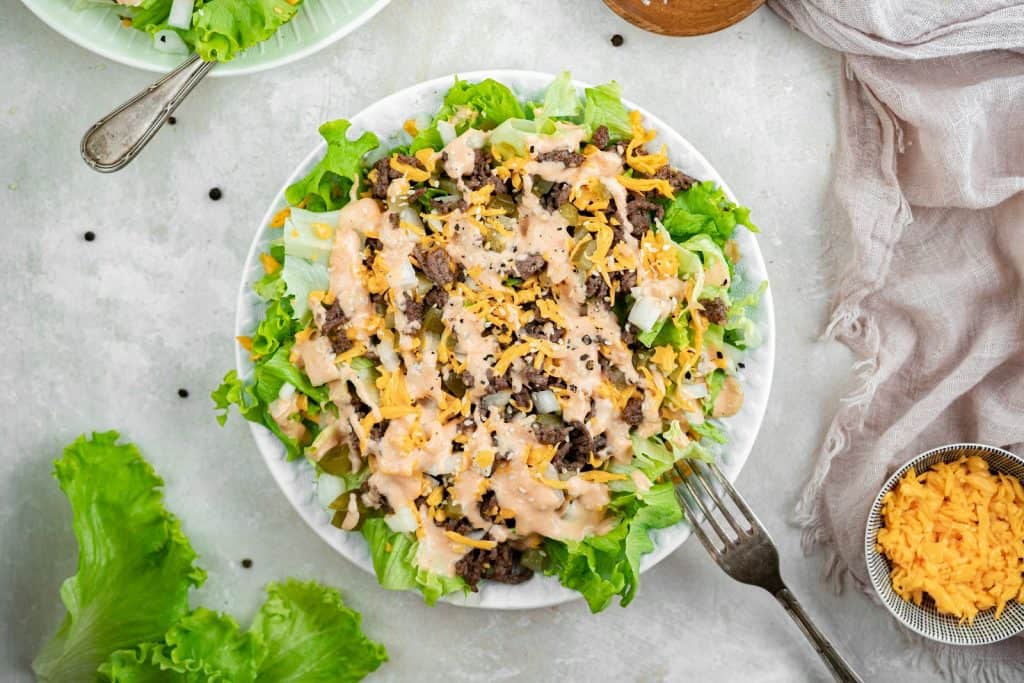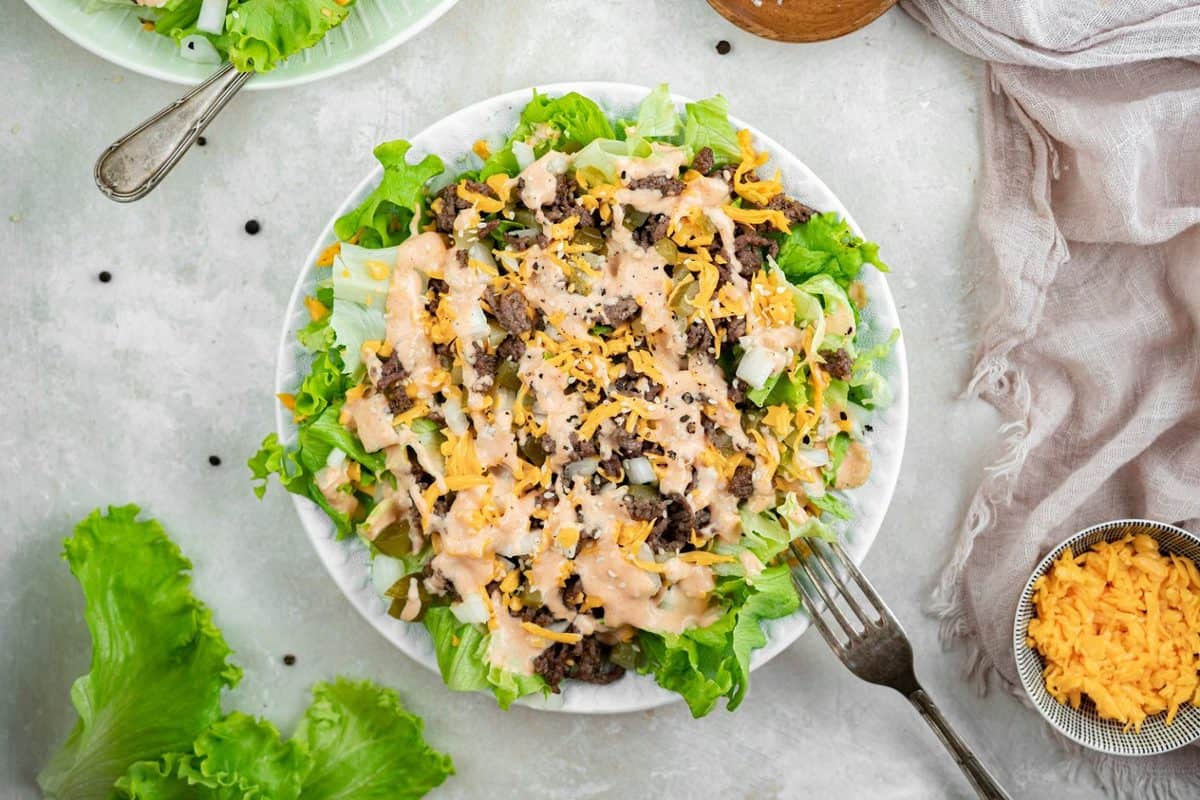 This recipe is healthy, low-carb, keto-friendly and tastes just like the real deal!
Whether you're trying to find a keto replacement for your reliable drive-thru order or just want to eat fewer burgers and more salads, this recipe has everything you need.
Unlike the unsatisfying cheeseburger salad recipes you might be familiar with, our Big Mac Salad is a filling, healthy meal that's brimming with flavor.
The drive-thru won't stand a chance with this Big Mac Salad recipe up your sleeve!
Big Mac Vs Big Mac Salad
The trick to any healthified recipe is replicating the flavor. This was extra-important for this recipe since the Big Mac is famous for its iconic sauce.
So how does the salad version stack up?
There are a few key similarities and differences. Let's dive in.
A Big Mac That's Low on Net Carbs
The beauty of this keto Big Mac Salad isn't just what it contains, but what it doesn't contain: unnecessary added carbs and sugar.
It's no secret that bread is a pretty major source of carbs, and not just from the flour. Did you know fast food burgers are often loaded with sugar, too?
It's true. In fact, one Big Mac burger has nine grams of sugar – most of which come from the bread.
But making the Big Mac low-carb involves more than just removing the bread and side of fries. There's another sneaky source of carbs you might not even be aware of.
Is Big Mac Sauce Keto?
While this shouldn't come as a surprise, Big Mac sauce traditionally contains sugar, including high-fructose corn syrup.
This highly processed sugar has been linked to metabolic dysregulation, depleted ATP and even increased risk of fatty liver disease.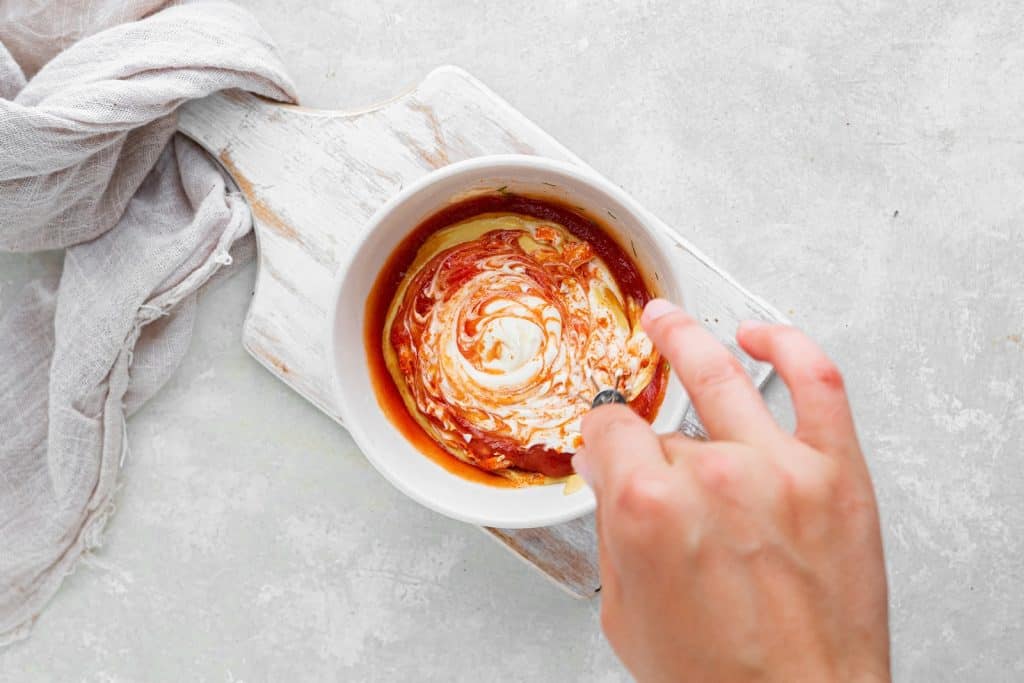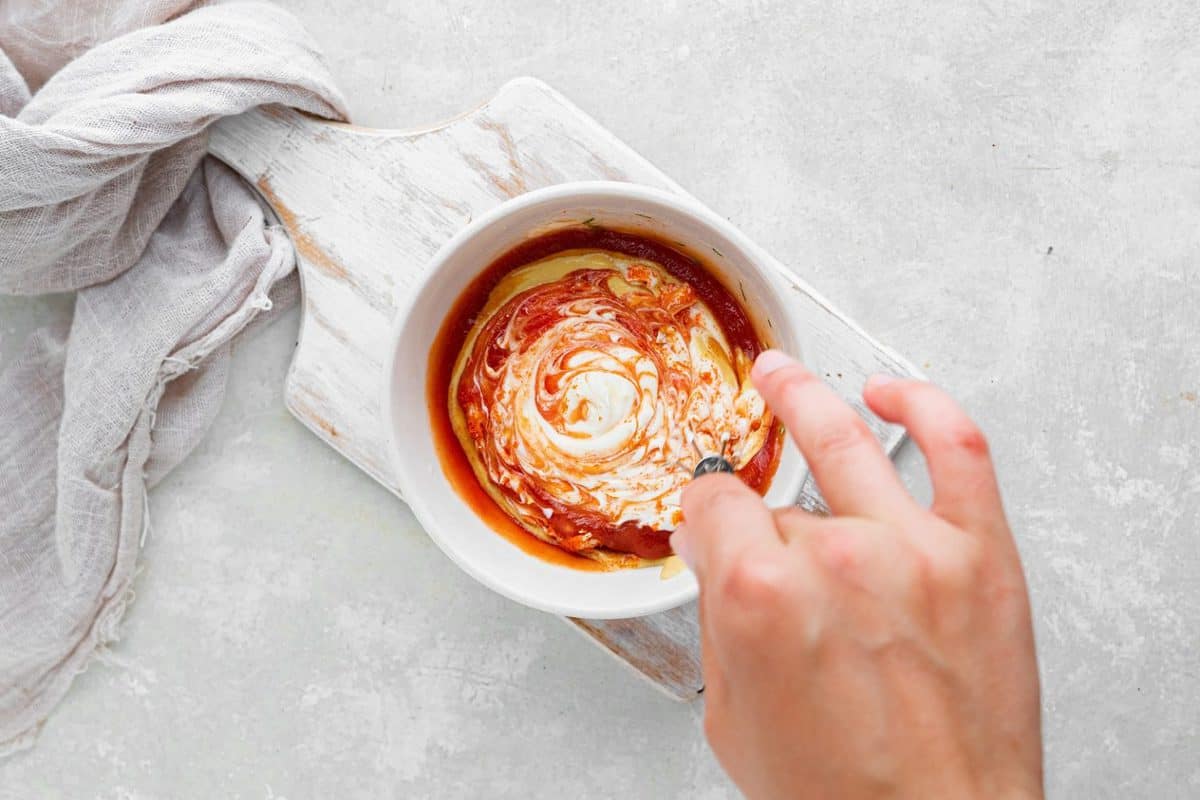 In other words, it's not very healthy – and it's definitely not very keto-friendly, either.
All the more reason to steer clear of that Big Mac and make your own low-carb Big Mac Salad instead. No high-fructose corn syrup required!
From Burger to Big Mac Salad
If you eat a low-carb or keto diet, you may already be ordering or making your burgers wrapped in lettuce. This is known as a bunless or "naked" burger, and an easy way to replicate the burger experience without the usual net carbs.
This keto Big Mac Salad may contain all the same ingredients as a bunless homemade Big Mac, but it's more convenient to both make and eat.
First of all, you don't have to worry about forming burger patties – this recipe uses ground beef cooked straight in the pan.
You'll also be able to save yourself a whole lot of mess by eating it with a fork rather than trying to wrangle a dripping, lettuce-wrapped burger with fillings falling all over the place.
Finally, this Big Mac salad is so much more portable than a bunless burger. You can even eat it cold, which makes it ideal for meal prepping ahead of time.
Looks like burger night just got a whole lot easier!
Flavor and Ingredients
The Big Mac sauce is iconic, so we made sure to replicate that famous flavor in our keto Big Mac Salad recipe.
Forget every cheeseburger salad recipe you've ever had – this sauce seriously tastes just like a Big Mac!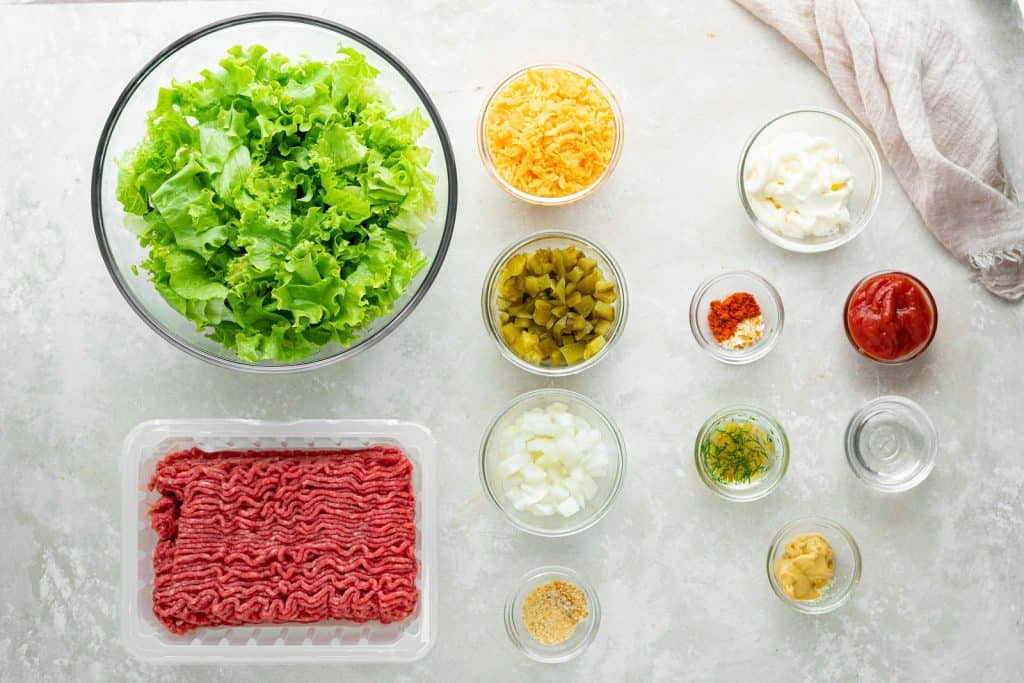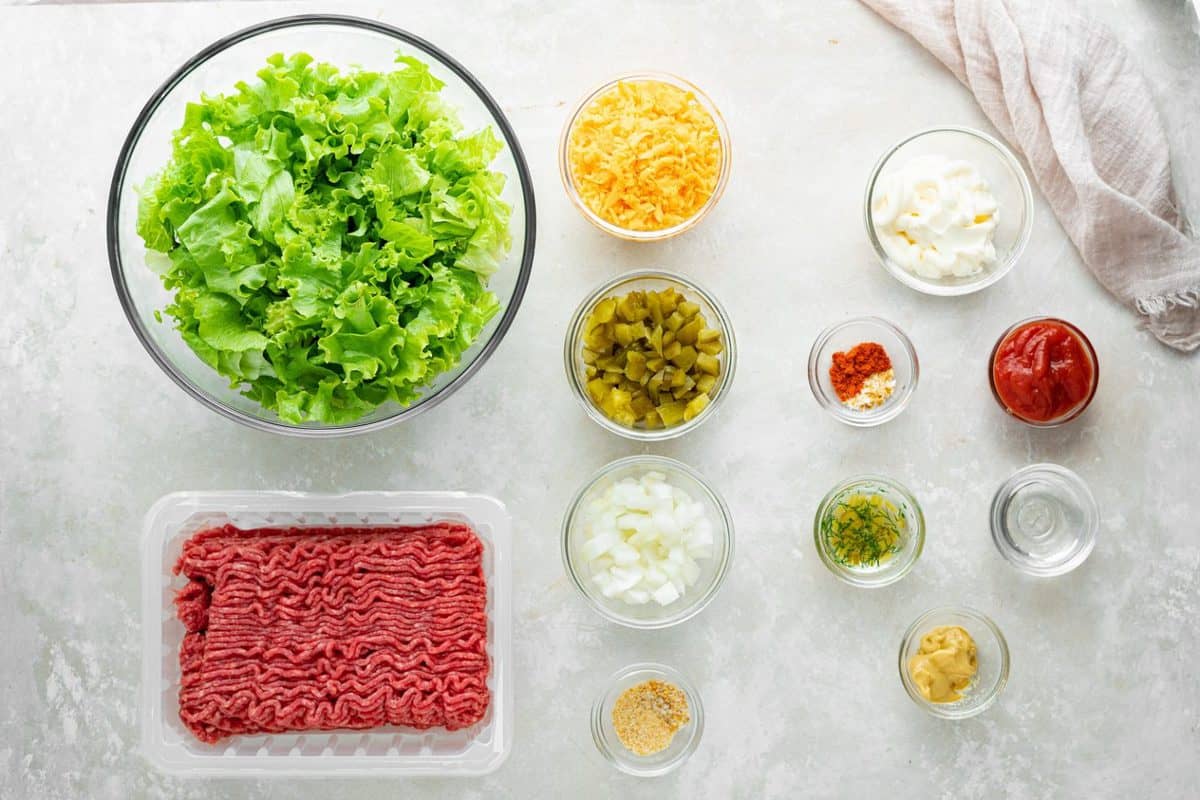 This is all thanks to the Big Mac Sauce, made using a combination of mayonnaise, ketchup, pickle juice, mustard, vinegar, paprika and onion powder.
It's so zesty and creamy you'll want to put it on absolutely everything. Not to mention we've added extra dill pickles to this recipe as a salad garnish.
So next time you're craving a Big Mac, ask yourself: do I really need the burger, or are my tastebuds yearning for that delicious sauce? You might be better off reaching for this Big Mac Salad recipe instead.
What You'll Need
You probably already have all the tools you need to make this easy recipe. Grab these things out of the cupboard before you start cooking:
Skillet. We love our skillet and use it to make everything from chicken to cookies! A well-loved skillet will do wonders in cooking perfect ground beef every time.
Grater (optional). You won't need this if you're using shredded cheddar cheese.
Salad bowls. The bigger the better. Go big or go home for this Big Mac Salad!
Wooden spoon. For cooking that delicious ground beef.
How to Make Big Mac Salad
You'll have no problem dodging the golden arches with your very own low-carb Big Mac Salad. You might even be able to make this recipe in less time than it takes to drive to your closest fast-food chain!
Place your skillet over medium-high heat and add a good splash of oil. Once heated, add your ground beef and, using a wooden spoon, break it up as it cooks.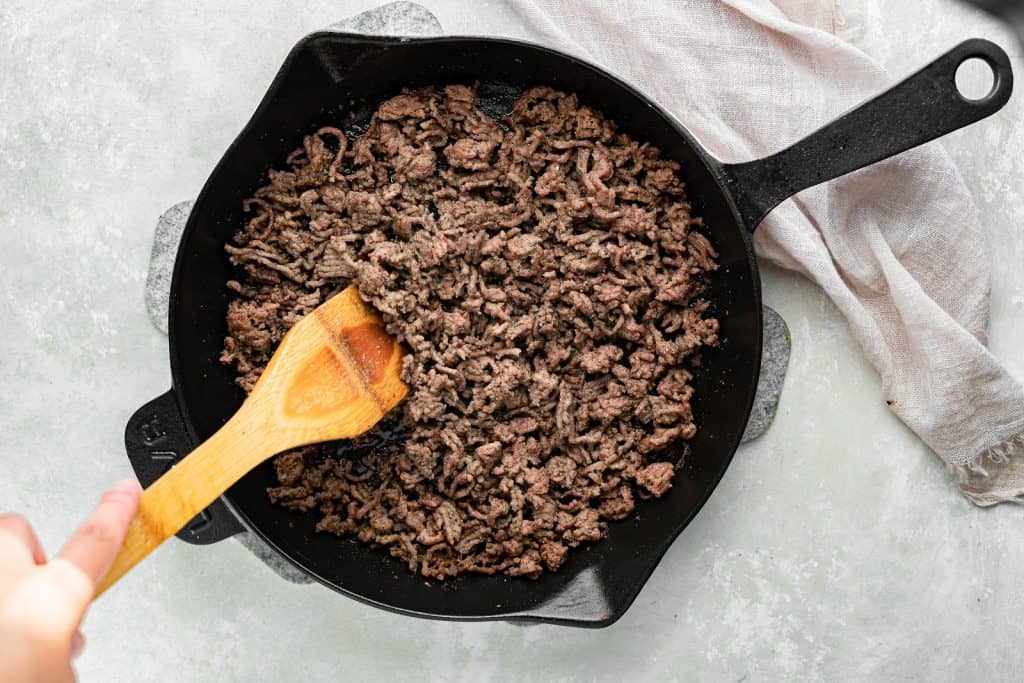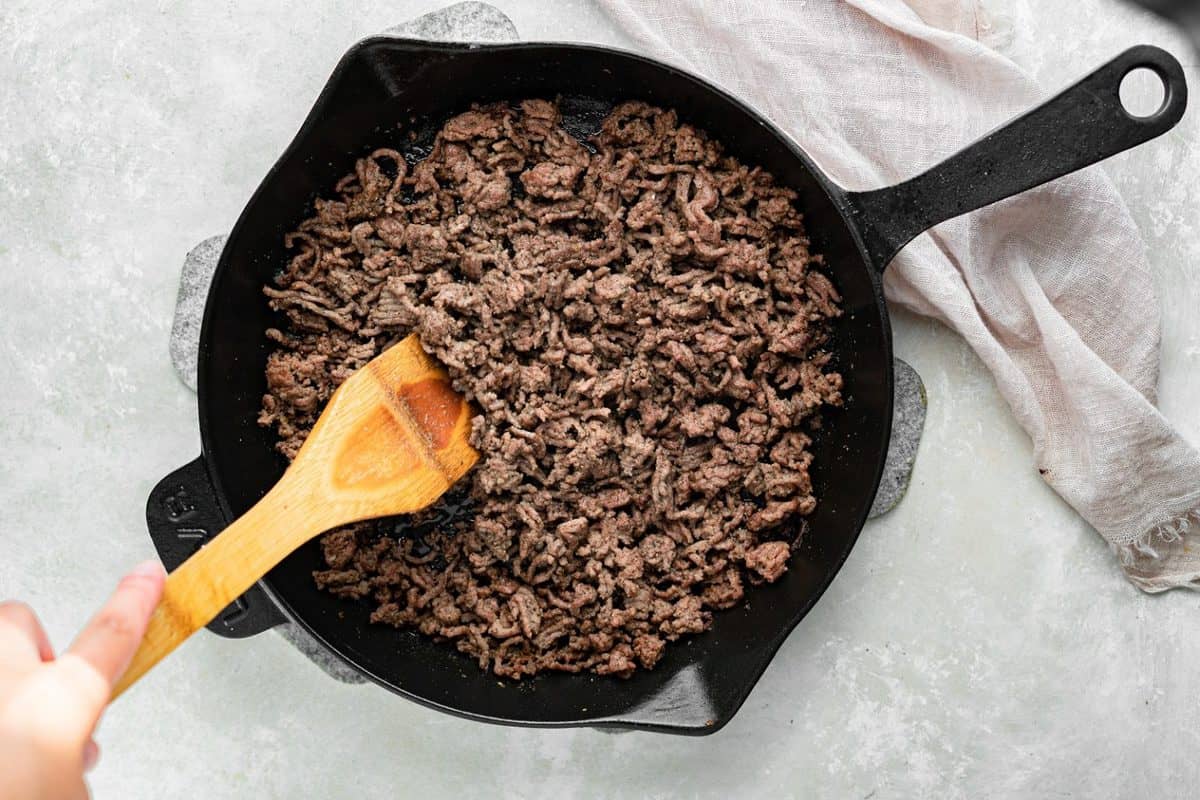 Continue to break up and occasionally stir the beef as it browns, making sure it's cooked all the way through with no pink left.
While the ground beef is cooking, make the dressing. Combine all dressing ingredients in a separate bowl and stir until mixed through.
Season your cooked ground beef mixture with salt and pepper to taste and add in the garlic and onion powder. Set aside.
Add your chopped romaine lettuce to each salad bowl, then top with the cooked ground beef.
Add the chopped onions and dill pickles, then sprinkle with shredded cheddar cheese.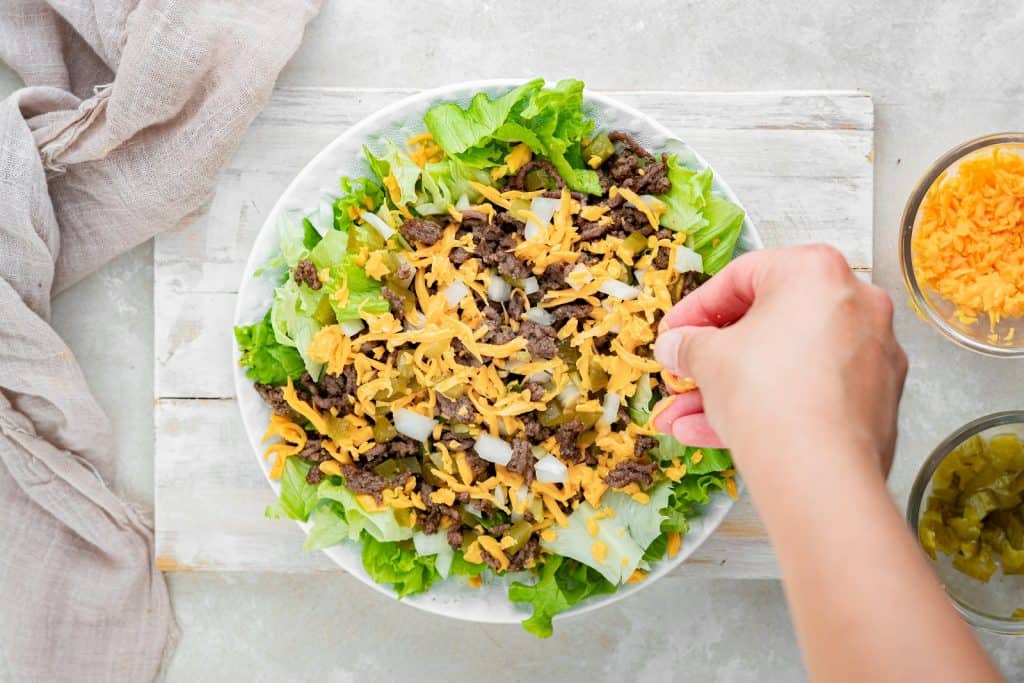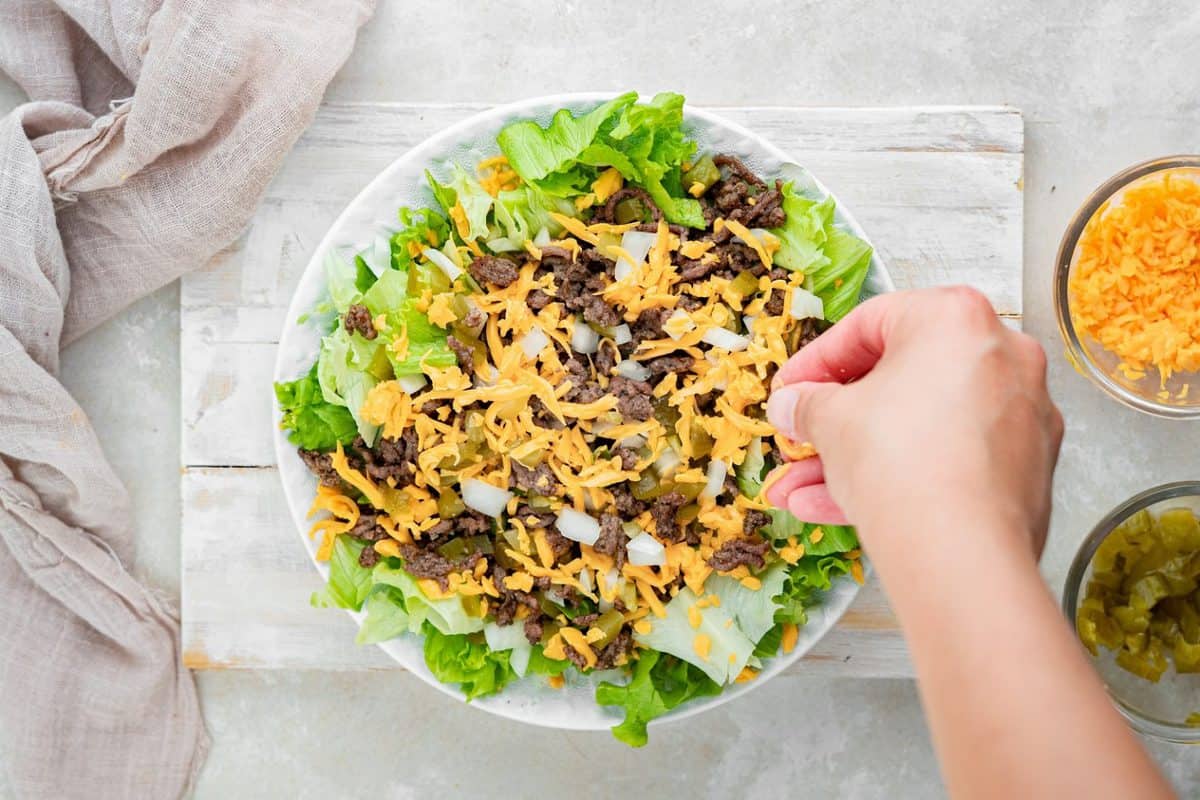 Using a spoon, drizzle 2-3 tablespoons of sauce over each bowl.
You can also use our homemade thousand island dressing for this recipe.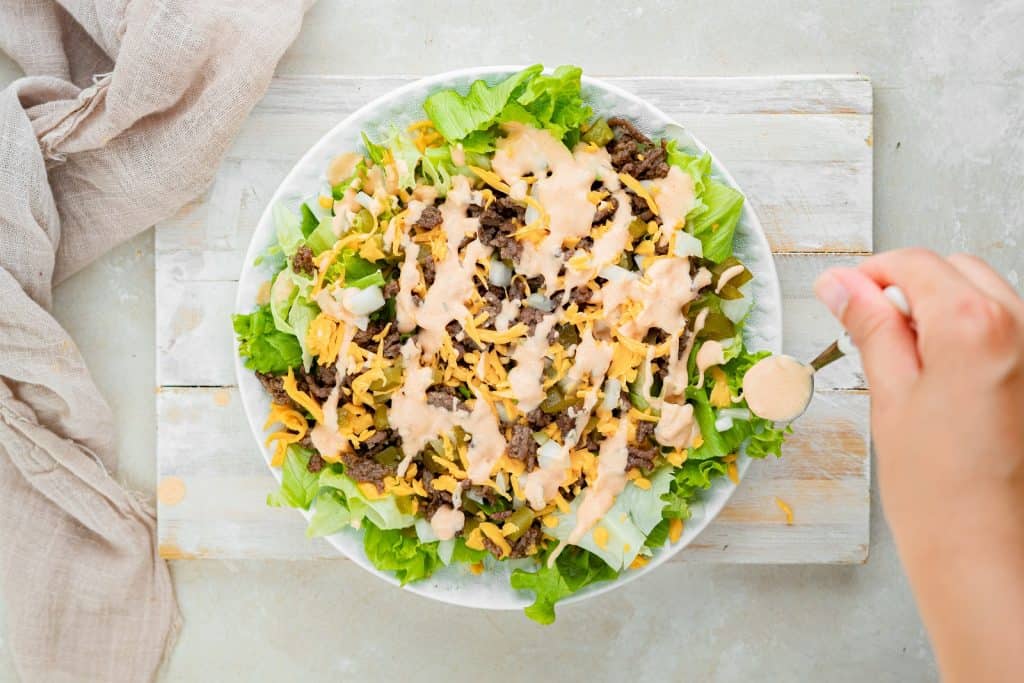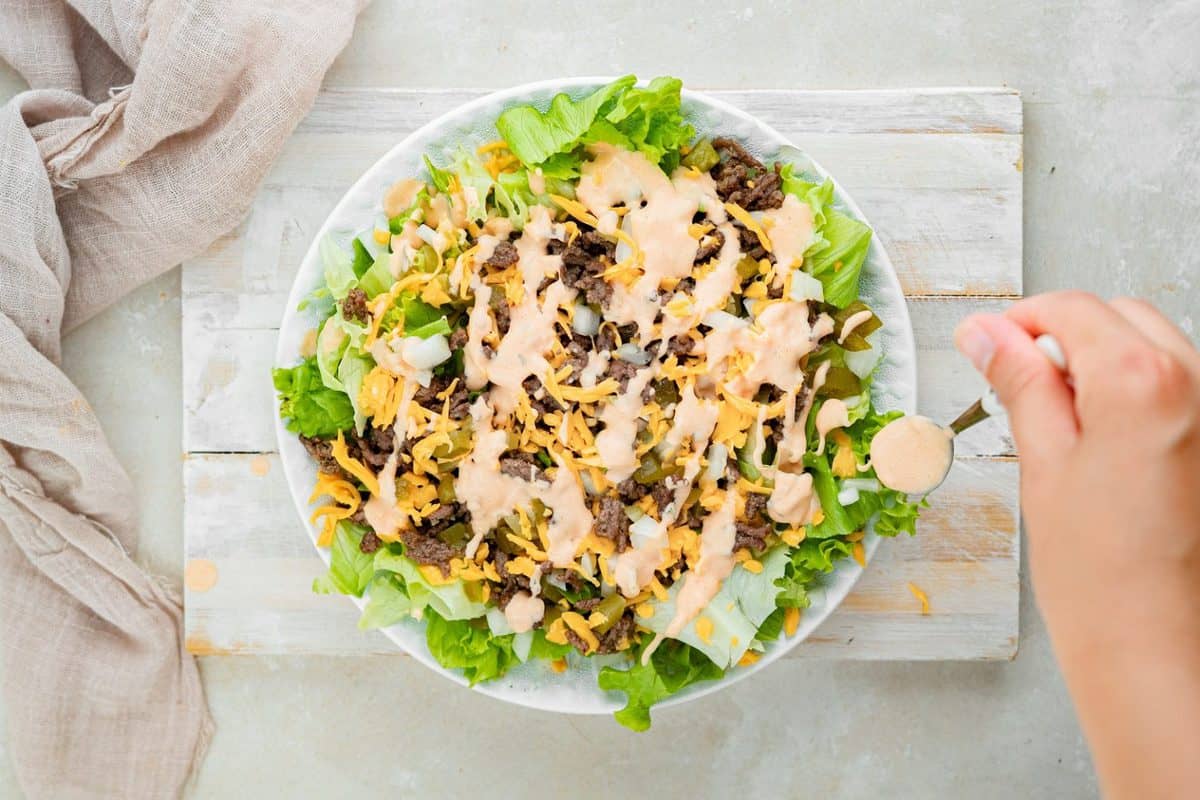 If you like, toss the salad. This is easiest to do using a pair of tongs.
Finally, garnish with sesame seeds. Your low-carb salad is ready to serve!
How to Store Your Big Mac Salad
Not only can this easy keto Big Mac Salad be made ahead of time and enjoyed another day, but it's also a great meal prep recipe.
Our Top Tip: Keep it Separate
Don't let any bad encounters with soggy salads put you off. There's a trick to keeping your salad fresh: separate your ingredients.
If you're making extra or not eating the entire batch right away, you can store the meat, romaine lettuce and vegetables, cheese and salad dressing in separate containers in the fridge.
When you're ready to eat, simply assemble your Big Mac Salad and enjoy.
You can also prepare and freeze both the ground beef "burger patty" mixture and Big Mac sauce for a later date. Sadly, we can't say the same for the salad – lettuce doesn't do too well frozen!
How to Make a Big Mac Salad Jar
Still loving the mason jar salad trend? You're in luck – this Big Mac Salad makes the perfect salad jar.
Simply prepare all salad ingredients as per the recipe, allowing the ground beef to cool first.
Then, place the ingredients in a large jar. Make sure to store the ground beef and cheddar cheese at the bottom, followed by the dill pickles and onion, then finally, the romaine lettuce.
Keep the sesame seeds and salad dressing separate. When it's time to eat, empty the salad into a bowl, drizzle with Big Mac sauce, and sprinkle over the sesame seeds.
Don't worry – this Big Mac Salad still holds up great even when the ground beef is cold!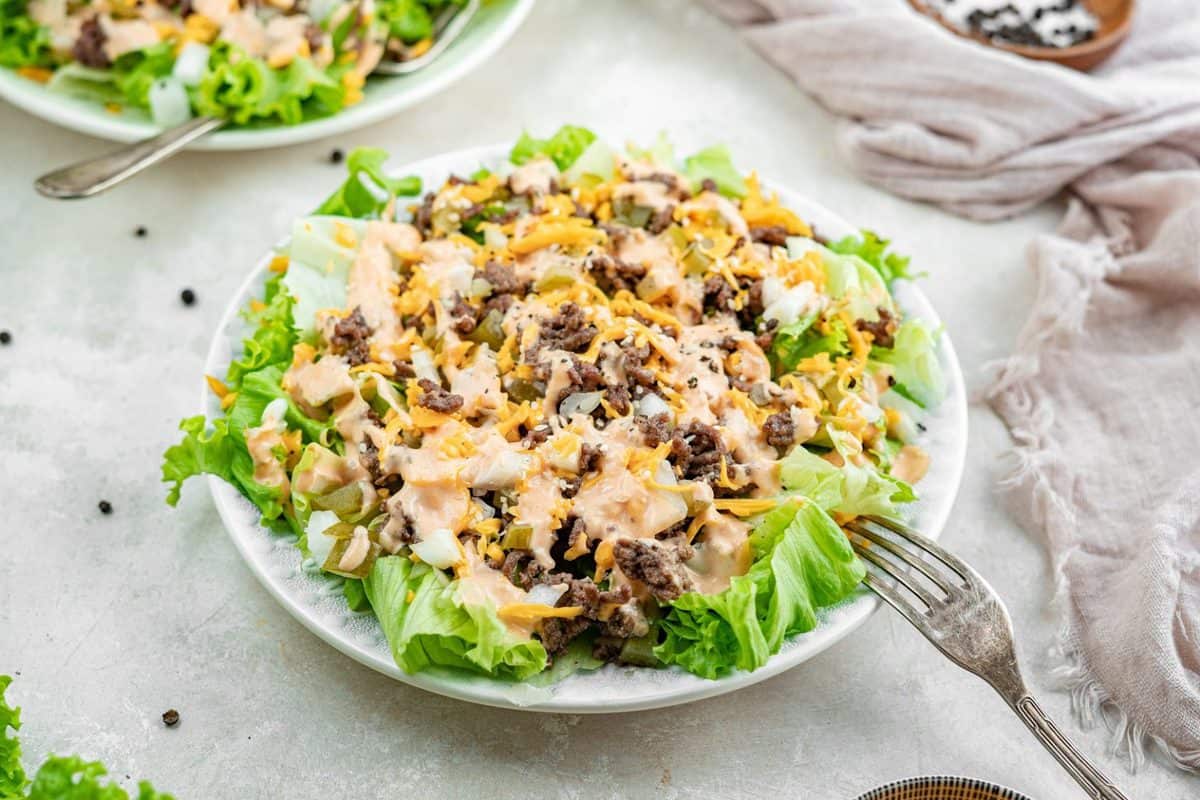 A Note on Ingredients
This salad recipe uses a few pre-made ingredients, and we always recommend choosing wisely and sourcing the best quality available to you. That means as few nasty ingredients as possible!
If you can, we recommend avoiding any mayonnaise that uses vegetable oils such as canola or sunflower – you can read more about why we avoid those here. These may be low-carb, but they're far from healthy.
Instead, try to find mayonnaise made using healthy fats such as olive oil or avocado oil.
The key to keeping your Big Mac sauce low-carb? Use a ketchup with very little sugar.
Tomatoes are naturally higher in sugar, so try to find a brand that doesn't contain too much added sugar.
More Recipes Like This
Finding your own replacements for your favorite takeaway meals is key to making a keto or low-carb diet sustainable and enjoyable.
Luckily for you, we've got plenty of keto-fied recipes to help you avoid temptation!
If you loved this Big Mac Salad recipe, try these keto dishes to satisfy those fast food cravings: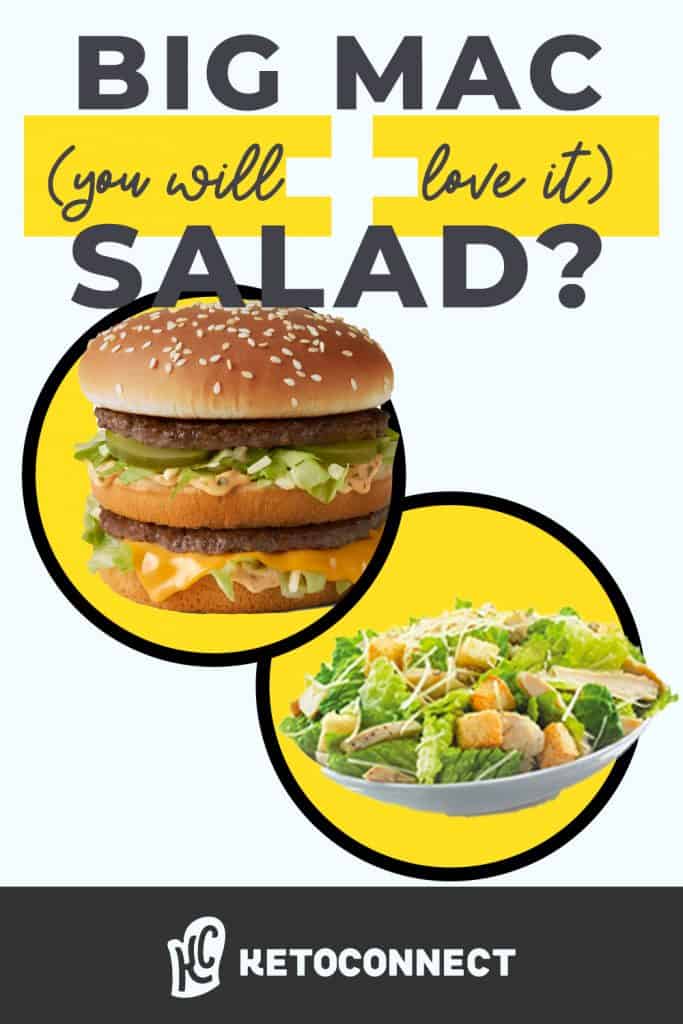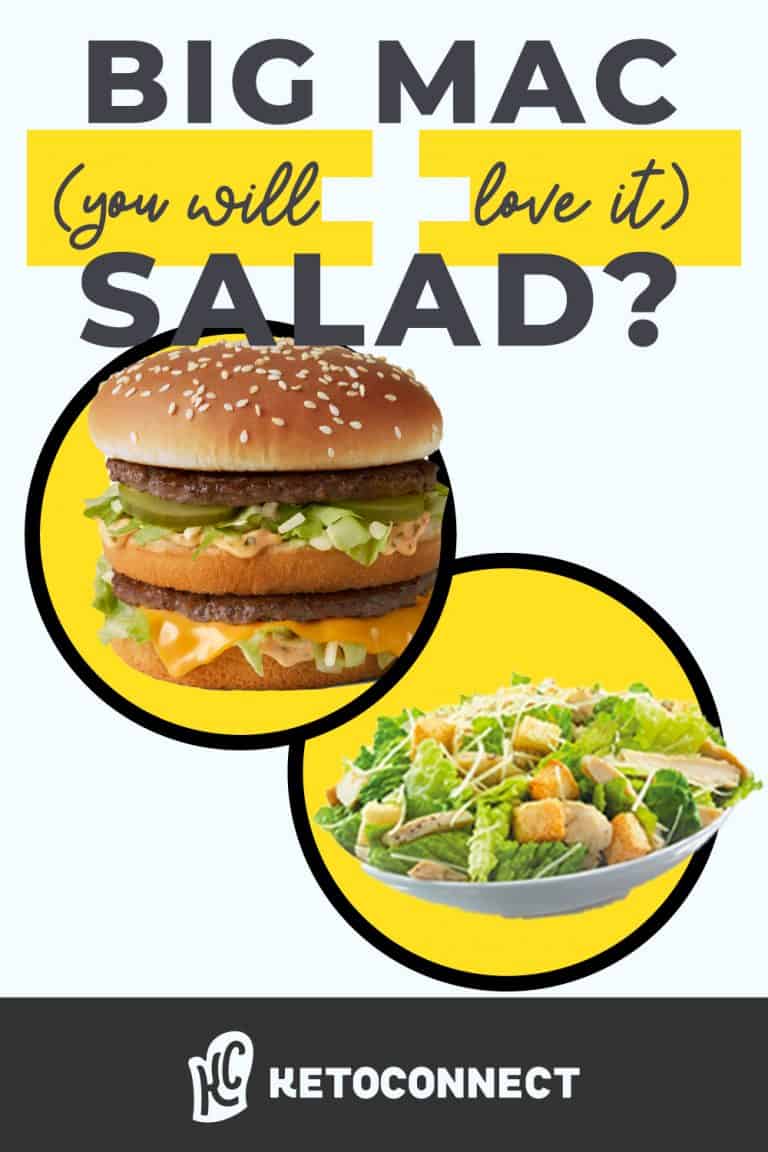 Have you tried this recipe? Don't forget to tag us on Instagram or Facebook!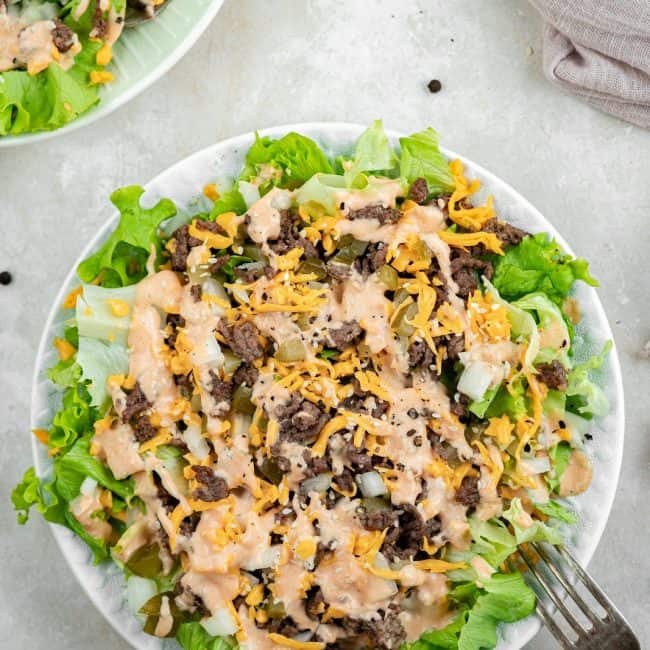 Keto Big Mac Salad
This recipe has the great flavor of a Big Mac and adds the benefits of low carb
Total Time 20 minutes
Servings 2
Calories per serving 636kcal
Prep Time: 10 minutes
Cook Time: 10 minutes
Instructions:
Add the meat to a skillet and break it using a wooden spoon. Cook the beef all the way through, stirring occasionally.

Season with salt and pepper to taste, and add the onion powder and garlic powder.

Divide the lettuce between 2 salad bowls, about 2 cups of lettuce in each bowl.

Layer the other ingredients on top of the lettuce. Start with the beef, then add the onions and pickles, and sprinkle the cheese on top.

To make the sauce, take all sauce ingredients and mix together in a bowl

Drizzle 2-3 tablespoons of sauce on each bowl. You can either toss the salad or keep it layered as is.

Garnish with sesame seeds on top, and serve immediately
Nutrition Facts
Keto Big Mac Salad
Amount Per Serving
Calories 636 Calories from Fat 477
% Daily Value*
Fat 53g82%
Carbohydrates 8g3%
Fiber 3g12%
Protein 29g58%
* Percent Daily Values are based on a 2000 calorie diet.
Written By