Everybody loves mashed potatoes. It's the perfect side dish for holiday gatherings, or even just a routine dinner on a busy weekday. When we started a keto diet it was one of the recipes we missed making the most and wanted to find a replacement for. We'll show you how to make Cauliflower Mashed Potatoes using just a handful of simple ingredients. And don't think this is going to be some healthy knock off version of your beloved mashed potatoes. You won't even be able to tell the difference between our cauliflower mashed potatoes recipe and the real thing!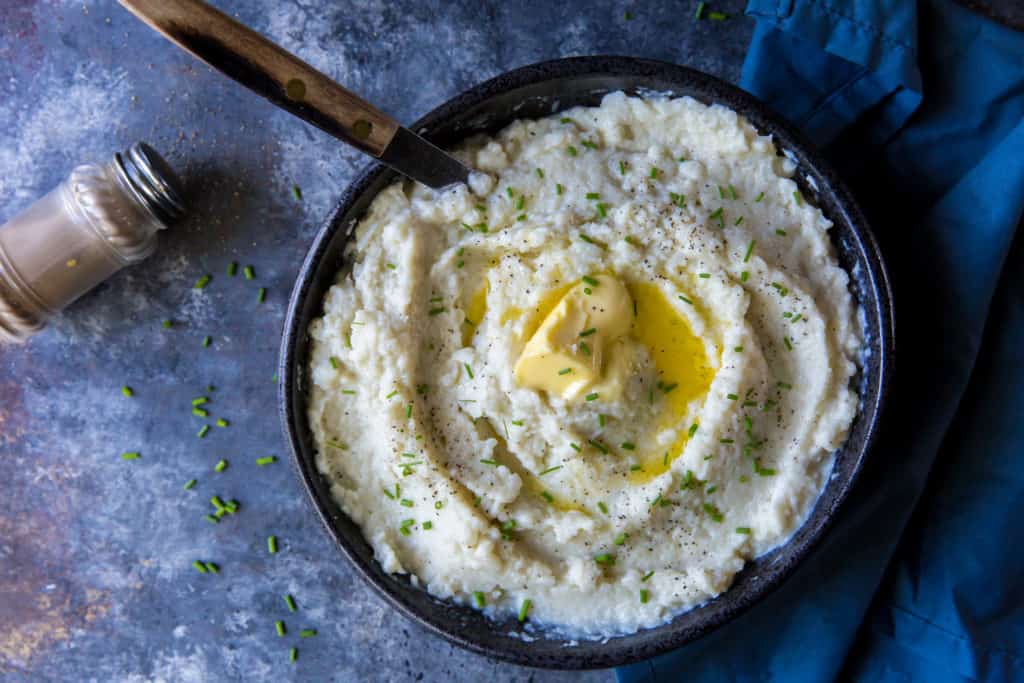 Cauliflower Vs Potatoes
The way this recipe is made only changes slightly when you substitute cauliflower in for potatoes. You still need to cook the primary ingredient until it is tender, before you add in a handful of ingredients and mash everything together. Cauliflower mashed with butter, cream and some simple seasonings will closely resemble mashed potatoes.
Cauliflower has a stronger flavor than mashed potatoes, but by adding in the traditional creamy elements you find in mashed potato recipes you will barely notice the difference.
Carbs in Cauliflower
If you've been on a ketogenic diet for any amount of time you have probably noticed the prominent use of cauliflower in recipes. This is because cauliflower is one of the best replacements for starchy foods from mashed potatoes to pizza crusts.
100 grams of cauliflower (about 1 cup) is 5 total carbs and 2 grams of fiber. This results in just 3 grams of net carbs per cup. This makes cauliflower a great option for a keto diet. An entire large head of cauliflower has 25 grams of net carbs.
In addition to being a powerhouse of low carb cuisine, cauliflower also comes with a bunch of health benefits.
Carbs in Potatoes
While there are definitely carbs out there that are much more evil than potatoes, these tubers still contain very high amounts of carbohydrates. Potatoes are low in sugar, but they are high in starch. A 150 gram potato contains 26 grams of carbs and 2 grams of fibers. At 24 grams of net carbs you will definitely struggle to fit potatoes into your keto diet.
Potatoes are a healthy part of a diet that is low in carbs, but if you want to be in a state of ketosis then you will not be able to include this high carb food in your diet. To create the lowest carb mashed potatoes possible we will be completely replacing potatoes with cauliflower.
How to Make Cauliflower Mashed Potatoes
Cut the Cauliflower into Florets
Prior to cooking the cauliflower we will be breaking down the head into small florets. The smaller you go the quicker it will take to cook, but I just like to break them into large clumps. A major difference between mashed cauliflower and mashed potatoes is that you will have to drain the florets to remove all the moisture. Potatoes do not retain as much moisture as cauliflower, making this step unique to cauliflower mashed potatoes.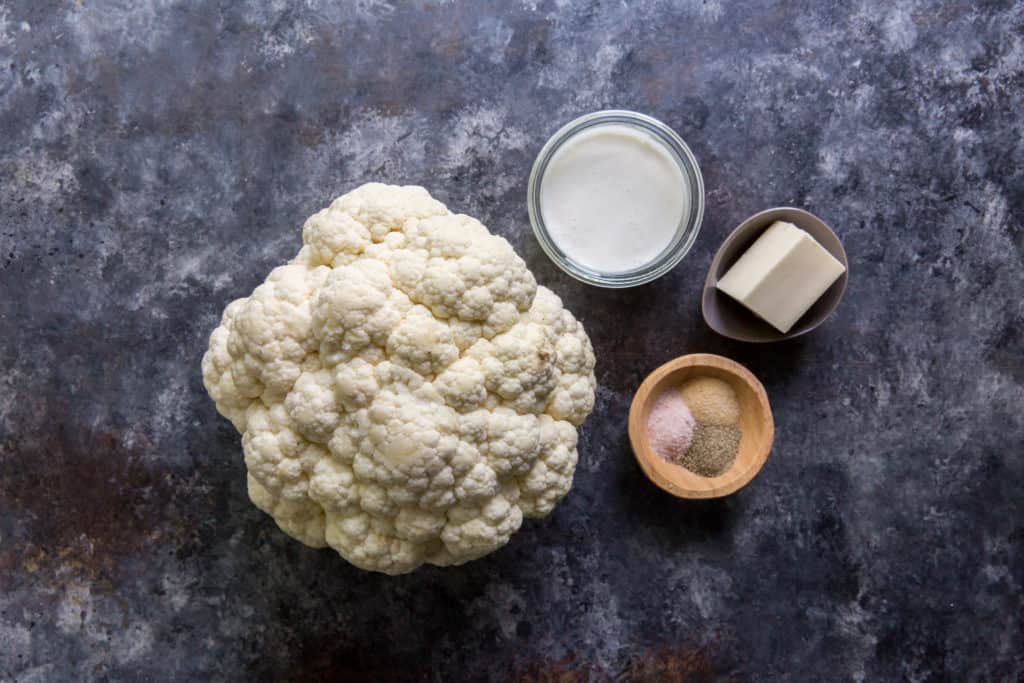 Steam or Boil Until Tender
You can do this on the stove top, in the microwave, or like us – in an Instant Pot. We make use of the many different settings on our Instant Pot to simplify this recipe but it can be made just as easily through other methods. The most important thing is to get the fresh cauliflower to be fork tender.
To test this you will need to poke into a piece of cauliflower with a fork. The fork should slide in with very minimal force. I like to check a few pieces to be sure all of the cauliflower florets are cooked evenly. You're better off over cooking the cauliflower than undercooking it. If you undercook the cauliflower you will not be able to get the desired smoothness everybody loves in their cauliflower mashed potatoes.
We use our instant pot on high pressure for 1 minute and it comes out perfect. Remember, the cauliflower will continue cooking as it cools.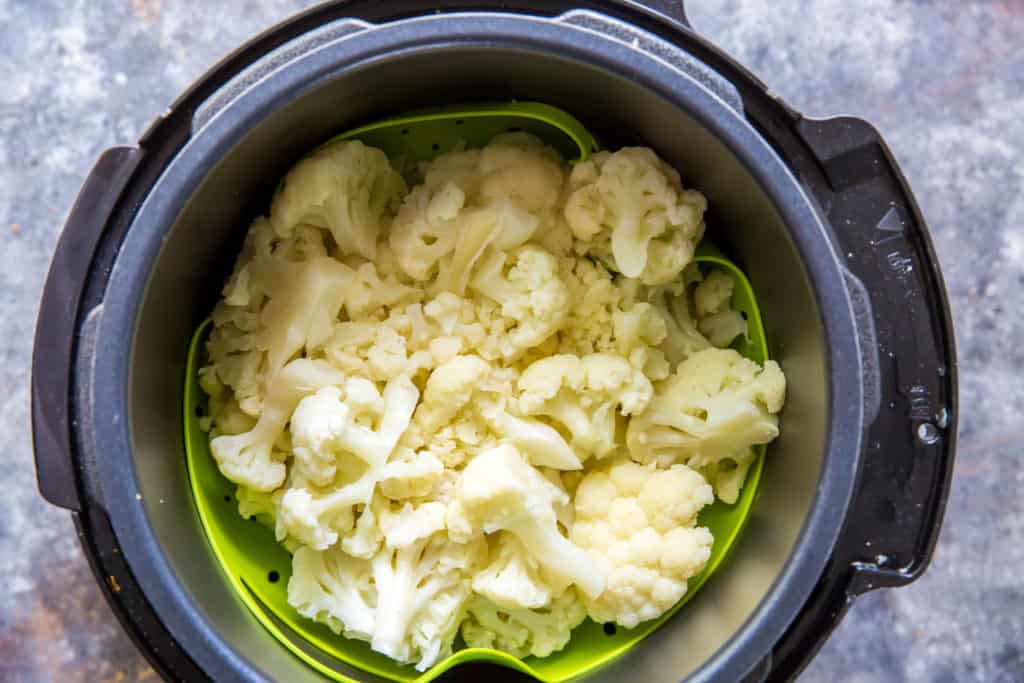 Allow to Cool and Drain
If you're using an instant pot you can skip this step. The cauliflower needs to be drained prior to processing into mashed potatoes or the mixture can separate. This step is required if you boiled the cauliflower.
To drain the cooked cauliflower you can use a cheese cloth. Place all of the cooked and cooled florets into the cheese cloth and squeeze out as much of the water as you can. If too much water makes it to the final dish the flavors will be diluted and you will definitely tell that you're not eating real mashed potatoes.
Add Cream, Butter, Salt and Pepper
These are the signature ingredients of any cauliflower mashed potatoes recipe. There are some additional ingredients that can be added for flavor, but these 4 are the essentials. The cream and butter combine to give mashed potatoes their signature smooth and creamy texture and rich flavor. Although this recipe is perfect as it is, here are few ideas to add to these cauliflower mashed potatoes:
Sour Cream – This will add a tangy flavor. Some people swear by adding sour cream to their mashed cauliflower, some people hate it. I like to leave it out.
Cheese – A welcomed addition to just about any recipe, cheese can be added to your cauliflower mashed potatoes as well. I tend to leave out the cheese because I enjoy the simplicity of a more minimal mashed cauliflower recipe.
Cream Cheese – Some people like adding cream cheese to their mashed potatoes but I'm not one of them. It will add a richness and tang to this recipe if that's your thing.
Greek Yogurt – Don't do it…
Herbs and Spices – There is a long list of herbs and spices that go great in this recipe. Garlic, onion, oregano, rosemary, and chives are some possible additions.
Olive oil – You can use olive oil in place of butter. Butter is a flavor many people associate with mashed potatoes and this will be missing if you use olive oil instead. Unless you are looking to make this recipe dairy free I would opt for good quality butter over olive oil.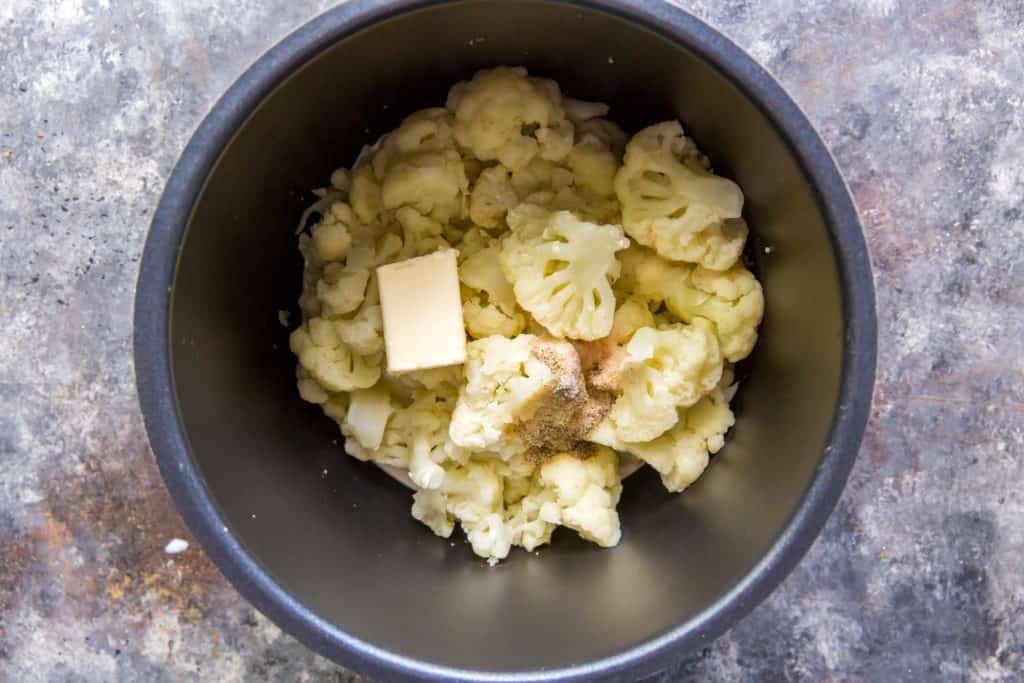 The recipe shown below can be viewed as a base to which you can add your favorite ingredients and flavors. We keep it simple and use cream, butter, garlic powder, salt and pepper, and chives. This combination results in a final product that is the most like mashed potatoes.
Mash to Combine
This can be done with a potato masher, a hand mixer, immersion blender or using a food processor. The best results will probably come from a food processor because you can continue to process the mixture until it is smooth and creamy. However, if your cauliflower is very tender to begin with then you should be fine using a potato masher or a hand mixer and make cauliflower mashed potatoes right in your instant pot.
Just remember, if you are having trouble getting your cauliflower to mash up and become creamy you probably just need to mix it for longer. For reference, when we make mashed potatoes in a food processor they are creamy and mixed after about 30-60 seconds. Cauliflower mashed potatoes can take 2-4 minutes of total mixing time. Be patient!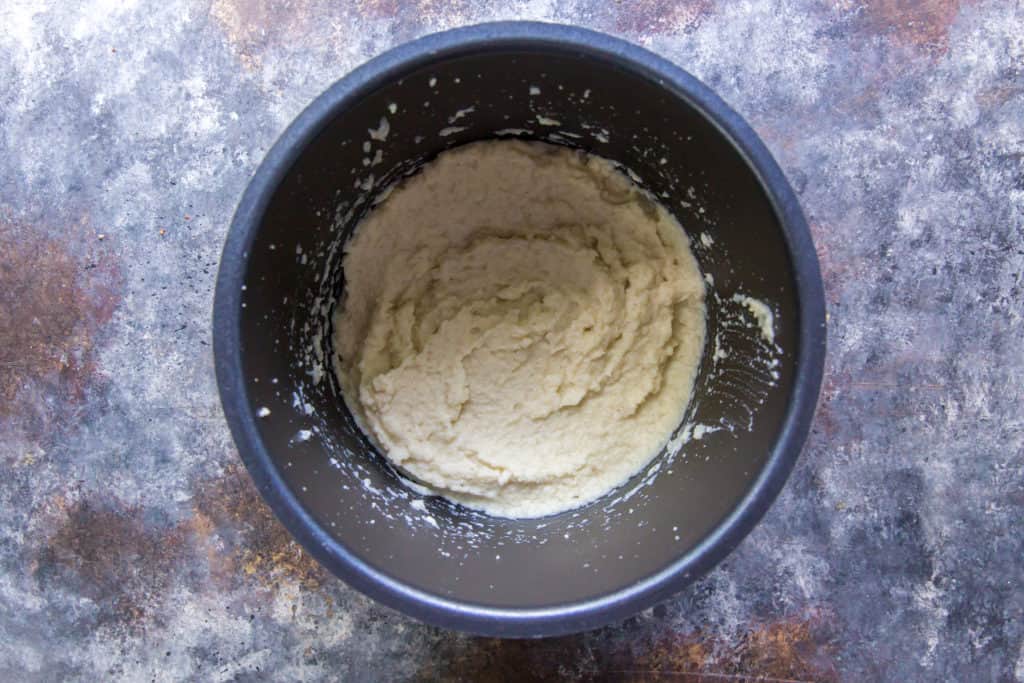 How to Serve
If you're making this as a side dish for a routine family dinner then just serve it as soon as you finish making it. If you are making it for a family gathering and you have to travel with it then the best way to transport the cauliflower mash is to put it in a casserole dish. Cover the dish with tin foil and when you arrive at the party just place the cauliflower mashed potatoes in the oven for 5-10 minutes to warm up prior to serving.
How to Make Mashed Potatoes Healthy
Mashed potatoes are not considered a healthy superfood by most. This has to do with the high amount of carbs and fat, and very small amount of protein. When you add in the delicious taste and creamy texture, it's essentially a recipe for weight gain. We can turn this recipe around and make it much healthier with just a few simple modifications.
Substitute white potatoes with cauliflower. This will greatly reduce the carb count.
Use quality ingredients like grass-fed butter and cream. This will increase the amount of nutrients in your recipe and decrease the amount of additives, pesticides and hormones in your recipe.
Use whole foods. We've already covered this one by providing you with this recipe, but some people are still making mashed potatoes from a box.
Replace butter and cream with olive oil for a dairy free variant on cauliflower mashed potatoes.
Simple changes like the ones listed above will turn all the meals you make into healthy meals. Healthy changes don't have to mean a huge sacrifice in taste.
Questions On The Recipe
Can You Make It Ahead of Time?
You certainly can. If I was making this for a party or gathering I would make it the night before, or the morning of the party. Make a big batch and transport it to the party in a casserole dish. Heat for 5-10 minutes before serving to guests.
Can You Freeze Cauliflower Mashed Potatoes?
You can, but it should only be used as a last resort. The water content of this dish makes it so that the texture will not be anywhere near as good once you freeze it. If you have to freeze it and you want to bring back some of the flavor and texture of the original dish you could heat it and process it again with some fresh butter and herbs. This is a dish that is best eaten within 1-2 days of making it.
Why is Mine Watery?
You did not remove enough of the water after you cooked the cauliflower. This is a crucial step and will lead to a watery final product if it is skipped. To drain the water from the cooked cauliflower use a cheese cloth and squeeze it as tightly as you can. You should see a fair bit of water drain off of the cooked cauliflower, especially if you boiled the cauliflower.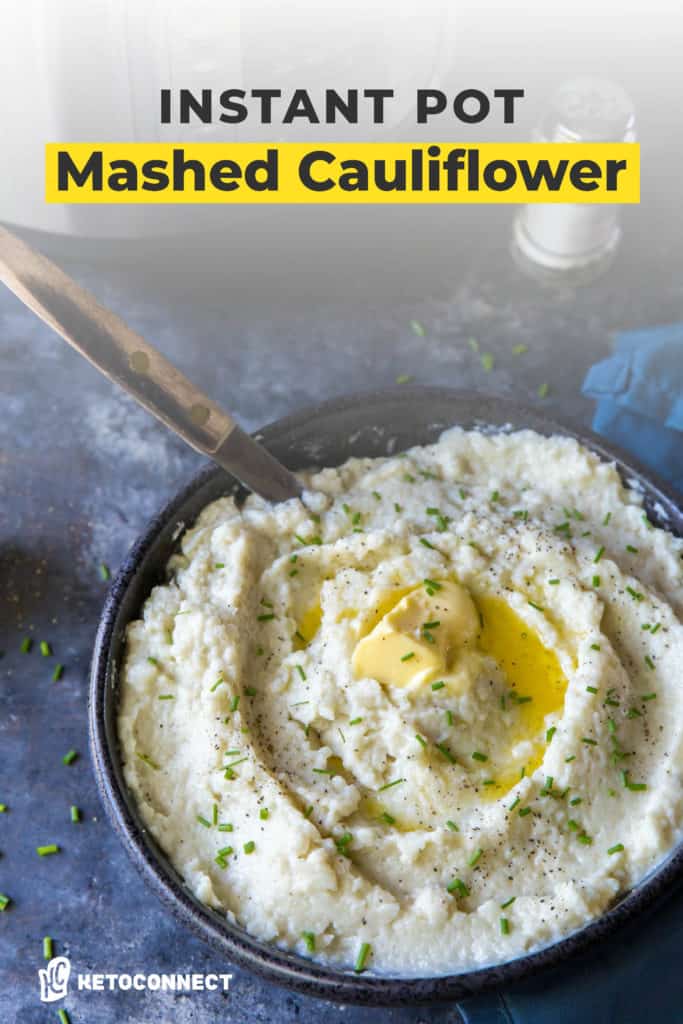 Make it a Keto Dinner
Cauliflower mashed potatoes is one of our favorite side dishes. We make it a few times per month and typically pair it with a simple protein like chicken thighs, steaks or salmon. Try a couple of our favorite dinner recipes from our blog to round out your keto dinner.
And if you're new to keto and need guidance, check out our keto macro calculator. This will help you understand your personalized macros and give you some ideas for how to meet your health and fitness goals.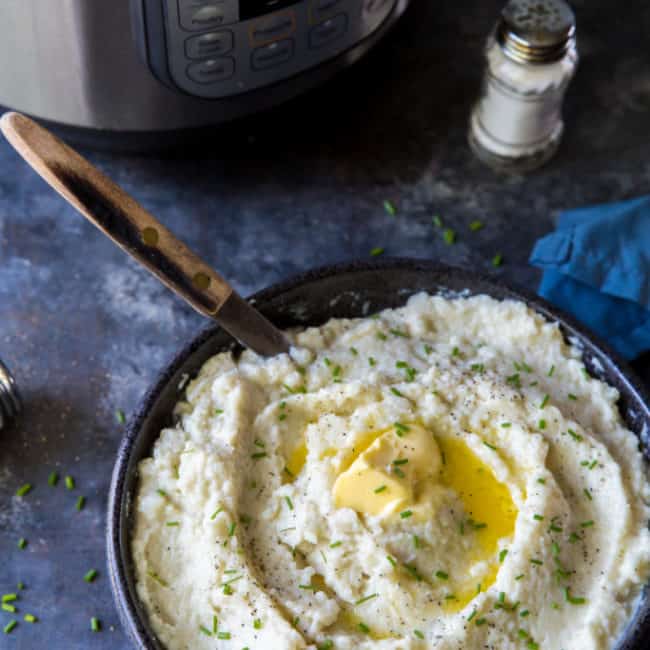 Cauliflower Mashed Potatoes
Cauliflower Mashed Potatoes are a healthy and delicious take on the traditional side dish. Follow these steps to enjoy a smooth and buttery mashed cauliflower side dish.
Total Time 20 minutes
Servings 4 servings
Calories per serving 208kcal
Prep Time: 5 minutes
Cook Time: 15 minutes
What You Need:
Food Processor or Electric Mixer
Instructions:
Cut the head of cauliflower into florets and discard the stalk. Set aside.

Place a trivet into the inner lining of your Instant Pot. Then add 1 cup of water. Read the recipe notes for information on how to make this recipe without an Instant Pot.

Place the florets into the trivet and put the lid on the Instant Pot. Turn the knob to sealed, press Manual (making sure it's set to High Pressure) and then set time for 1 minute.

Once timer goes off perform a quick pressure release. Once the pressure is gone, remove the trivet and cauliflower from the Instant pot and drain the liquid.

Next, turn the instant pot to "Keep warm" setting, and add all ingredients to the inner lining of the Instant Pot, including the cooked cauliflower.

With a wooden spoon or hand mixer, mix until the cauliflower is mashed to your liking, and everything is combined. Use a food processor or immersion blender if your mixture does not come together. Top with additional butter and fresh chives before serving, if desired.

Best stored in an air tight container in the fridge up to 5 days.
Notes
Net Carbs: 5g per serving
Yields: 6 servings To make this recipe without an Instant Pot you can use a saucepan on the stovetop. Simply steam or boil the cauliflower in the saucepan until fork tender. You will have to drain the cauliflower using a cheesecloth to remove most of the moisture. Once the cauliflower is drained just follow the remainder of the recipe above.
Nutrition Facts
Cauliflower Mashed Potatoes
Amount Per Serving
Calories 208 Calories from Fat 171
% Daily Value*
Fat 19g29%
Saturated Fat 12g60%
Cholesterol 58mg19%
Sodium 634mg26%
Potassium 445mg13%
Carbohydrates 8g3%
Fiber 3g12%
Sugar 3g3%
Protein 3g6%
Vitamin A 711IU14%
Vitamin C 70mg85%
Calcium 48mg5%
Iron 1mg6%
* Percent Daily Values are based on a 2000 calorie diet.
Written By