You can never have too many side dishes during the holiday season! Drinks are flowing, inhibitions are lowered and food is abundant. Isn't that what makes the holiday season so great? If you want to make this silly season a little more keto, add this incredibly easy-to-make loaded Keto Cauliflower Casserole to your list of holiday dishes this year.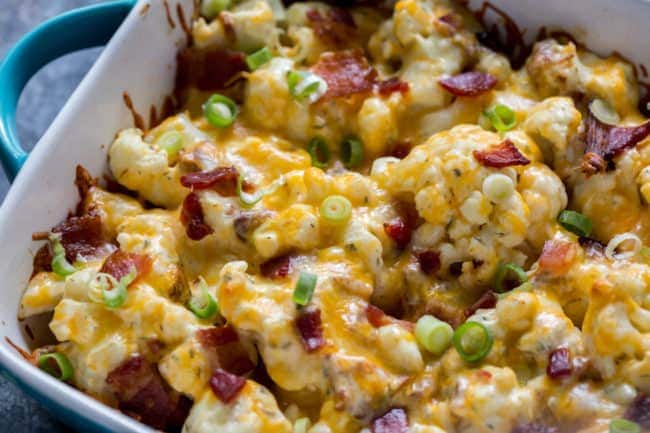 The Perfect Low-Carb Side For The Holidays
If you follow a keto or low-carb diet, you might be worried about the upcoming holidays – and justifiably so. Temptations are high and family is constantly pushing you to try their dish or asking why you aren't eating anything!
We've learned that you can drastically cut out the holiday stress by preparing some low-carb sides that even your non-keto family and friends will enjoy.
This is where our Keto Cauliflower Casserole comes in. After all, casseroles really get their time in the spotlight during the holidays. They're the perfect comfort food for sharing.
But forget sweet potato with marshmallows – we're keeping things keto with lots of cheese, sour cream, bacon and low-carb cauliflower.
Everyone at the table is guaranteed to love this cheesy recipe – it's one of my favorite keto casseroles I've made!
Cheese Sauce Is A Must
Any casserole needs to have a good base, cheesy or not. We personally think cheesy is the way to go to ensure everyone will dig in. Yes, even that one fussy aunt.
The beauty of a casserole dish is that the preparation is super simple – plus, it's near impossible to make a mistake. You can even get the kids involved!
This keto casserole recipe uses a simple sour cream cheese base that you can use for any casserole dish – because that cheesy sauce is just too good to wait for the holidays. The combination of cream cheese and sour cream gives this dish a creamy, slightly tangy profile.
We kept our cheese selection pretty mild with Monterey and cheddar cheese. You don't want the creamy base to overpower the other ingredients, so we recommend sticking to a mild cheddar cheese – but you can honestly go with any cheeses you have in the fridge.
Layer And Bake
There's no particular rhyme or order to making a casserole dish. Ultimately everything ends up in the same dish baked to meld into one another. It's easy and you can add any filling or toppings you want.
The only thing I would stress is to make sure everything is coated in the cheese sauce before you bake. That will make every bite of this Keto Cauliflower Casserole perfect!
Since everything is already cooked in this Keto Cauliflower Casserole recipe, you're not baking to complete the cooking process. This means you can play around with cooking time.
You definitely want to make sure all the cheese has melted through and everything is hot, but if you're in a time crunch this recipe can be baked and out in no time.
Tip: we like to turn on the broiler for one to two minutes at the end to slightly brown the cheese!
Presentation
When you're serving up a casserole or side dish, especially during the holidays, you want people to be impressed. You want to make it seem like you slaved over the stove to make this epic meal, am I right?
The best way to create that illusion (without all the hard work) is to hit it out of the park with the presentation.
Setting aside some of the ingredients – as we have in this recipe – allows you to top the final dish and give it some nice color.
Fresh herbs always work great, even if not included in the recipe's ingredients list. You can always finely chop up some parsley, chives or more green onion and top before or after you bake!
What You'll Need to Make This Loaded Cauliflower Casserole
We've kept the tools and gadgets to a minimum to make this recipe. Here's what you're going to need:
A 9×13 casserole dish
Two large bowls (one must be microwave-safe)
Paper towel
Foil
A mixing spoon
That's it! Sometimes the simplest recipes really are best.
How to Make This Keto Cheesy Cauliflower Casserole
Ready to make these holidays a little cheesy? Your whole family will love this recipe, and they probably won't even know it's keto.
Preheat the oven to 375 degrees F. Grease your 9×13 baking dish by spraying with non-stick cooking spray.
Combine the cauliflower florets and 3 tablespoons of water in a large microwave-safe bowl, then add damp paper towels on top to cover.
Steam the cauliflower by microwaving for 7-8 minutes until tender.
Divide your shredded cheeses by half and add to another large bowl, setting the remaining half aside for now.
Combine half of your cheese mixture with the sour cream, cream cheese, mustard, herbs and half the green onions. Mix well.
Add the cauliflower and water, tossing gently until coated in the cheese mixture.
Pour the mixture into the baking dish and top with the remaining ingredients. Cover the dish with foil.
Bake for 20 minutes, then remove the foil and bake for a further 5-10 minutes. The cheese should be bubbling and beginning to brown. For an extra-crispy browned cheese topping, broil for 1-2 minutes to finish.
Sprinkle with any leftover chopped green onions and enjoy!
How to Store Your Keto Cauliflower Casserole
This loaded Cauliflower Casserole can be stored in an air-tight container in the fridge for up to five days.
Cheese doesn't always hold up so well when frozen, as the water and fats can separate, making for a watery defrosted casserole. And since this dish contains so much cheese, that separation would make a big difference if a split were to occur.
We recommend trying to use up your loaded cauliflower casserole within five days rather than freezing any leftovers. If in doubt, feel free to halve the recipe to prevent wasting any of that delicious, cheesy goodness.
More Holiday Season Keto Sides
Instead of looking at the holidays as a scary time where carbs and temptation lurk around every corner, why not take them as an opportunity to get creative with low-carb recipes?
Not to mention this is the perfect opportunity to show your family and friends how delicious keto recipes can be. Just make this Keto Cauliflower Casserole and see for yourself – we know they'll love this recipe.
We know they're going to love this Cauliflower Casserole side dish, so keep the feast going with even more of our favorite keto recipes:
Thought you'd have to miss out on your favorite recipes this season? Guess what – you can have a keto-friendly holiday season without feeling deprived. We've got no shortage of keto recipes!
Stay On Track This Holiday Season
Try not to get too caught up in all-or-nothing thinking this year. A great way to approach any holiday is to make a decision and not stress about it too much.
Do you plan to indulge in some of your favorite holiday foods, or do you want to stay on track? Once you make that decision for yourself you've built it into your plan so you don't need to feel guilt or regret!
Whatever you decide to do, we've got you covered with all the keto holiday recipes you're going to need, from sides to desserts!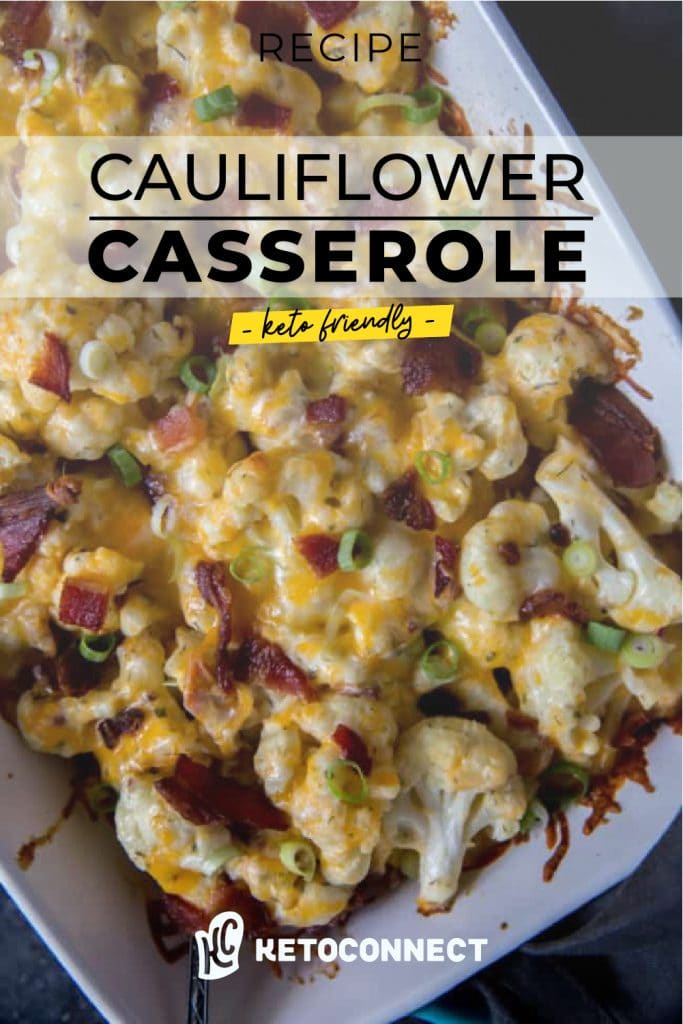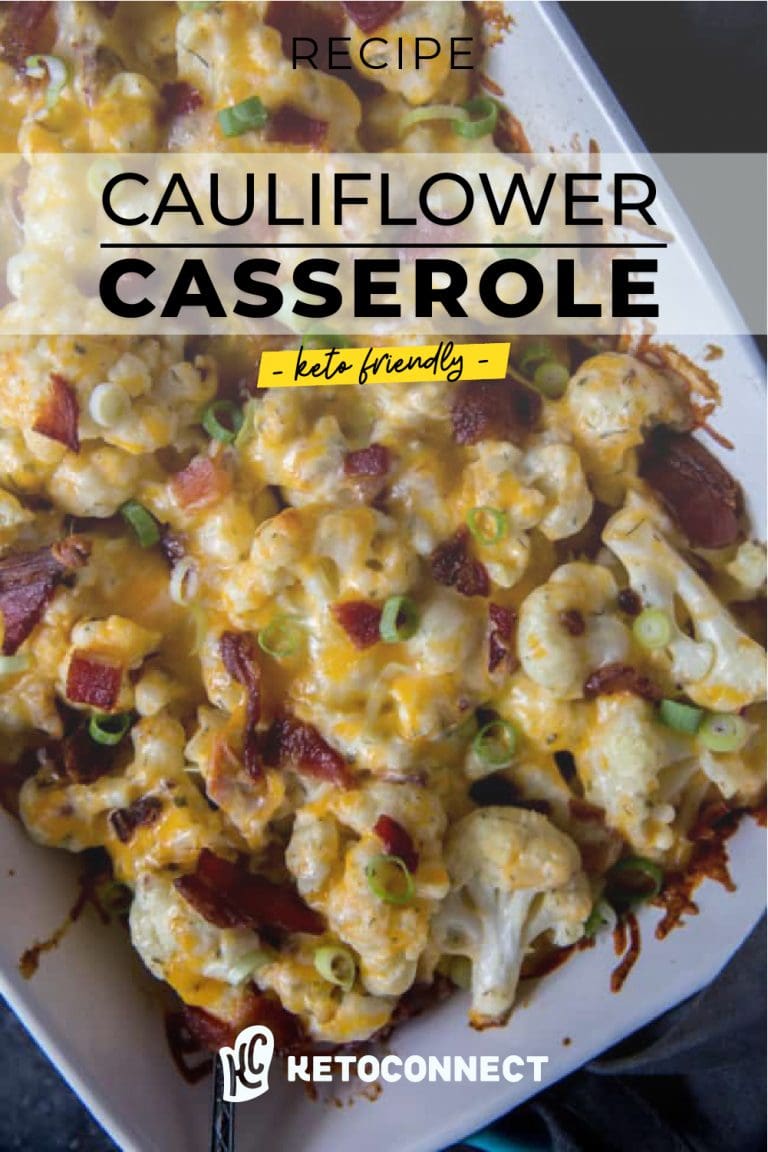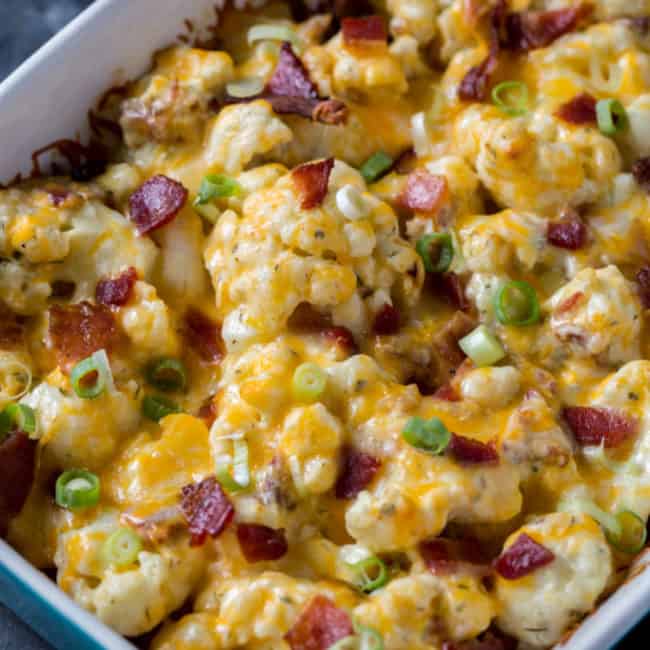 Loaded Keto Cauliflower Casserole Recipe
All the flavors of a loaded potato – bacon, chives, and cheese, but in a cauliflower casserole.
Servings 8 servings
Calories per serving 297kcal
Prep Time: 15 minutes
Cook Time: 30 minutes
Ingredients:
1 large cauliflower head, cut into florets
1 cup Monterey Jack Cheese, shredded
1 cup sharp cheddar cheese, shredded
8 slices bacon, cooked and crumbled, divided
3/4 cup sour cream
1/4 cup cream cheese, room temperature
2 tsp brown mustard
1 tbsp fresh parsley, finely chopped
2 tsp fresh chives, finely chopped
1/2 tsp pink salt
1/2 tsp garlic powder
1/4 tsp black pepper
2 large green onions, chopped and divided
Instructions:
Preheat oven to 375 degrees F. Spray a 9×13 casserole dish with non-stick cooking spray.

Place cauliflower florets and 3 tablespoons of water in a large microwave safe bowl. Cover with damp paper towels and microwave 7-8 minutes, steaming until tender. (Steps shown in video above)

Meanwhile, in another large bowl, combine half of each cheese, half of the bacon, half of the green onions sour cream, cream cheese, mustard, herbs and spices, mixing well. Add the steamed cauliflower florets and the water from the bowl, tossing gently until coated.

Transfer mixture to prepared baking dish and top with remaining cheese, green onions and bacon.

Cover with foil and bake for 20 minutes. Remove foil and bake another 5-10 minutes or until cheese is bubbly and beginning to brown. If desired broil for 1-2 minutes at the end for browned crispy cheese topping!

Garnish with green onion and serve immediately.

Best stored in an air tight container in the fridge up to 5 days.
Notes
Net Carbs: 5g Serving Size: 1/8th Casserole Yields: 8 Servings
Nutrition Facts
Loaded Keto Cauliflower Casserole Recipe
Amount Per Serving
Calories 297 Calories from Fat 225
% Daily Value*
Fat 25g38%
Carbohydrates 7g2%
Fiber 2g8%
Protein 13g26%
* Percent Daily Values are based on a 2000 calorie diet.
Written By