These healthy gyros are the perfect meal. They're rich in protein and fiber, and full of fat to keep you full.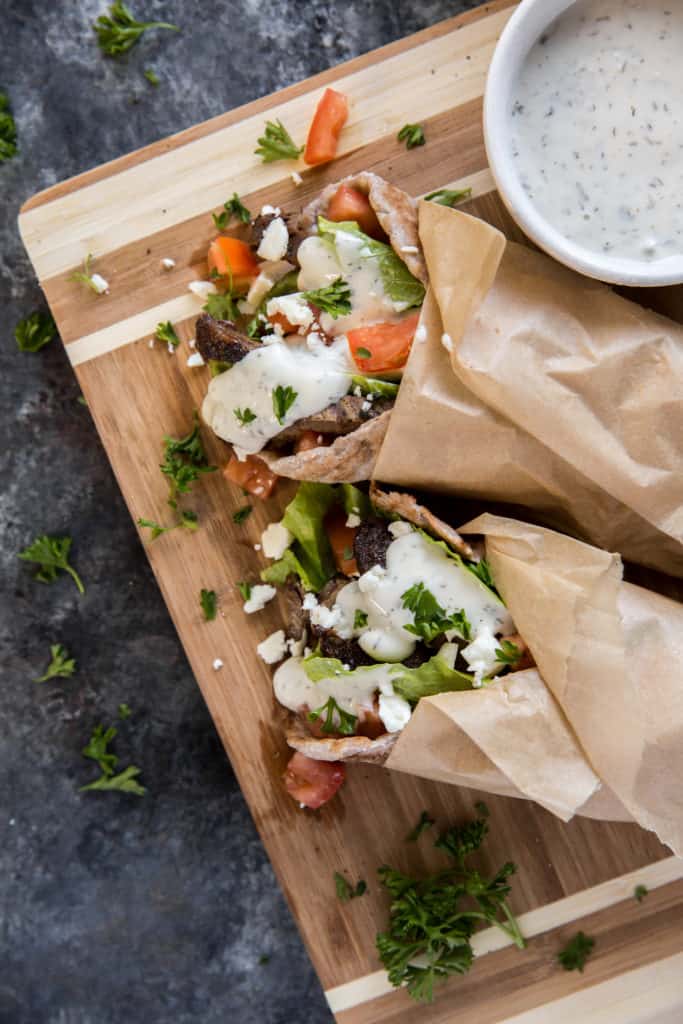 What is it about gyros that make them so addictive? Is it the thick, fluffy bread, perfectly seasoned meat or the light and refreshing toppings?
Whatever it is all I know is that we need a keto version so I can relive my college lunch days! These Healthy Gyros have the bread, meat and refreshing toppings so you don't have to miss out on your favorite Greek food.
Is Pita Keto?
Just because the bread is thin doesn't mean it has any less carbs! Pita can have 20-30 grams of carbs in one single pocket.
That means you either have to buy a low carb pita, or make it. More often than not though the store bought varieties have lower quality ingredients.
Easy Keto Pita
One of our favorite take outs has always been Indian food, but if you've ever had Indian food you know that it is a very heavy rice and bread cuisine.
Chicken tikka masala and lamb curry are our go-tos when ordering Indian takeout, but eating them with a spoon just doesn't cut it. So we always make cauliflower rice and keto naan to serve alongside.
The keto naan is an easy three ingredient recipe and works great for this healthy gyro recipe. You won't even be able to tell the difference!
Is Tzatziki Sauce Keto?
Whether you are making healthy chicken gyros with extra virgin olive oil or pita bread filled with salt and pepper beef, you're going to need a good sauce.
Tzatziki sauce is made with just a few ingredients, most which are already keto! You will need extra virgin olive oil, cucumber, mint, garlic, fresh lemon juice, salt, and greek yogurt. Most greek yogurts are higher in carbs and have sugar, but you can just substitute this for any plain low carb yogurt.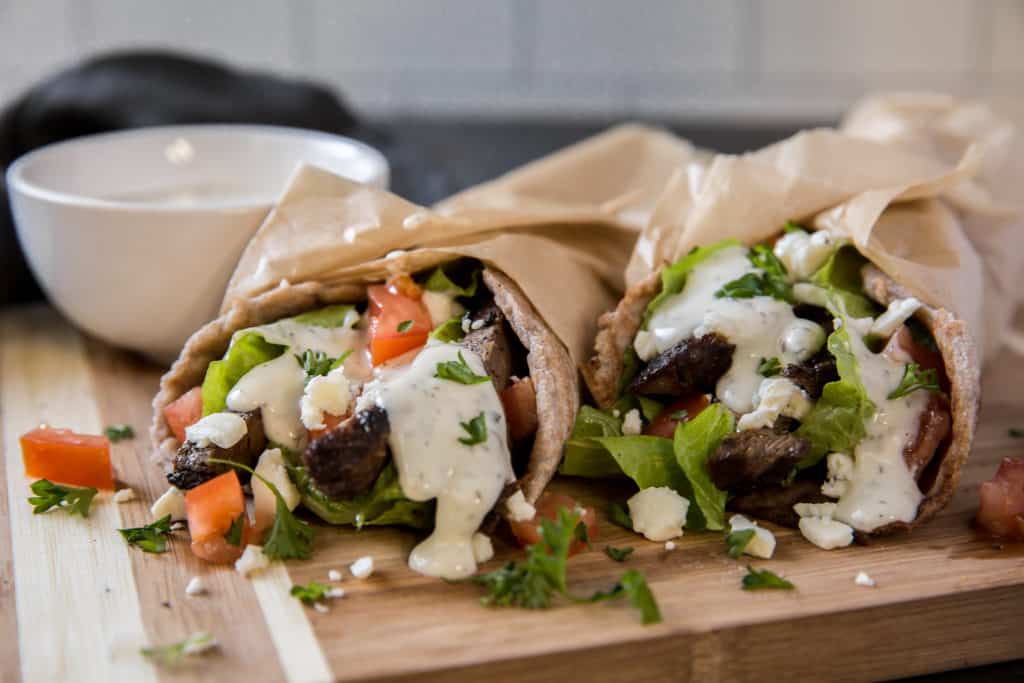 Chicken or Beef
Whether you choose to make greek chicken gyros or beef gyros the choice is yours. If you decide to make a chicken gyro you'll either want chicken breast, or chicken thighs. You can cut them before marinating or after cooking, it's up to you.
Cooking times will vary based on cut and thickness of meat. Be sure to check what temp your meat of choice should be cooked to in order to ensure a safe, but still juicy plate of meat.
Quick Marinade
Before making this healthy gyro recipe I thought the way the meat was seasoned was complex and would be difficult to replicate. Little did I know that it's super simple and can be easily made at home!
The secret ingredient is lemon juice. The acidity of the lemon penetrates the meat allowing it to not only tenderize, but absorb the salt, pepper and oil that makes up the rest of the marinade.
Now you know that any great marinade should include an acid, whether it be lemon juice or apple cider vinegar, even Taste of Home says so!
Must Have Toppings
For me, the fresh toppings is what really makes this one of my favorite meals! While a tzatziki sauce is easy to make at home, there are several store bought versions that have great macros and ingredients!
Having the fatty tzatziki sauce combined with some crunch and freshness from cut up veggies elevates the dense and hearty meat and naan portions of this dish.
Take Out Favorites!
A long week or work and polished off meal prep calls for take out, right? Wrong! Don't sabotage yourself by falling into the #weekendvibes cycle by ordering take-out. Instead, remake your favorite take out meals at home keto style. We've got some of your favorites on our food blog: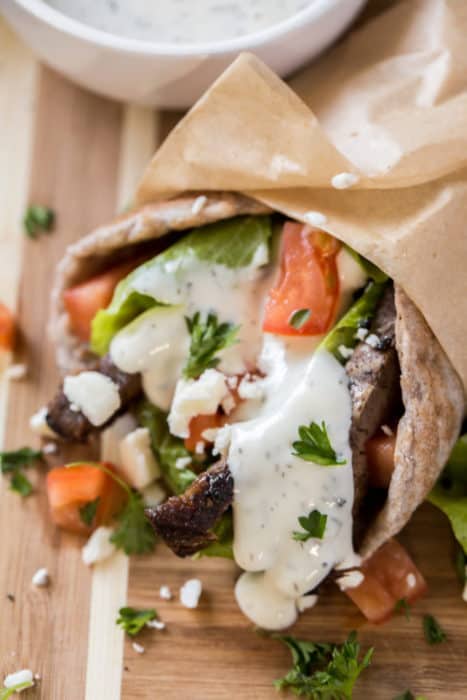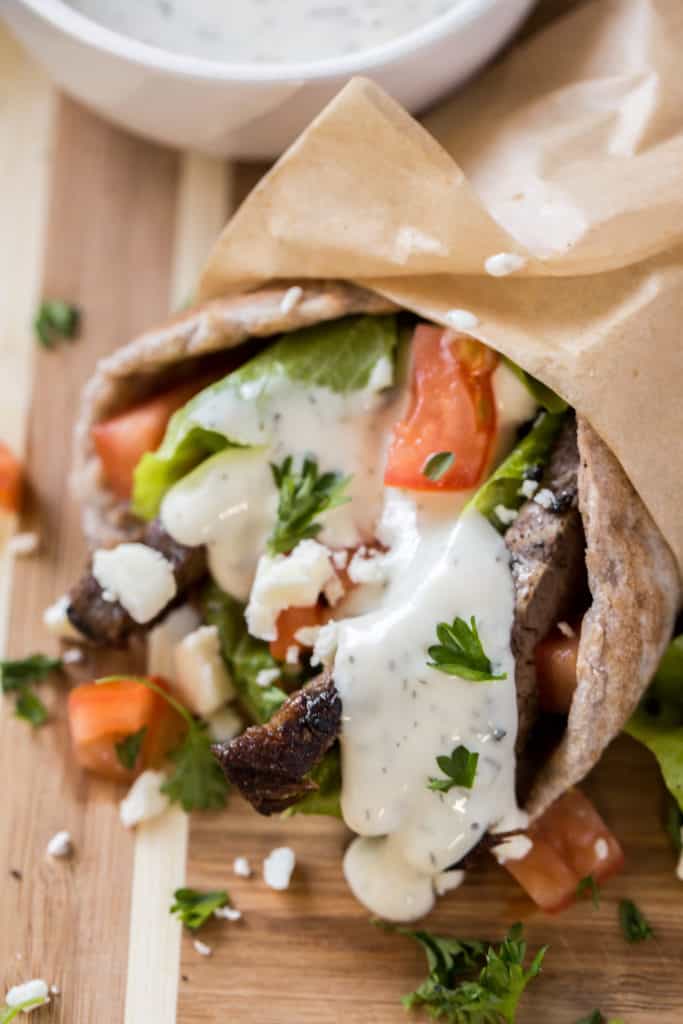 Make Some Healthy Gyros Tonight!
Surely you have some meat in the freezer you can thaw and some fresh veggies in the fridge that need to be used up. If so, you've basically got all you need to make some healthy gyros for dinner tonight because lets be honest, the pita portion is totally optional and the meat is the best part!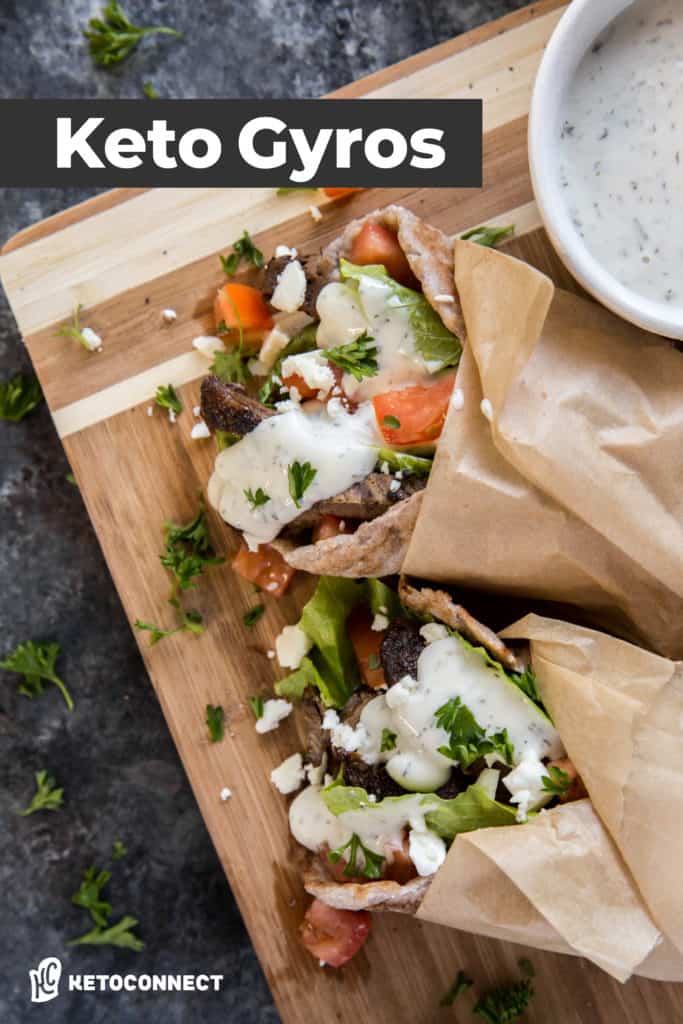 Healthy Gyros Recipe – Low Carb
Beef gyros made with a low-carb pita and filled with tzatziki sauce, veggies, and feta cheese.
Servings 4 servings
Calories per serving 519kcal
Prep Time: 15 minutes
Marinade: 1 hour
Cook Time: 30 minutes
Ingredients:
Toppings
1 small roma tomato, diced
4 oz feta cheese, crumbled
1 cup lettuce, chopped
1/4 cup store bought tzatziki sauce
Instructions:
Combine the steak and marinade ingredients in a large zip top gallon bag and shake until steak is fully coated in marinade.

Refrigerate for 1-4 hours. The longer it marinades the more flavorful the meat will be.

Make the naan according to the blog post while the steak marinades and then allow to cool on a cooling rack so they don't become soggy.

Once the steak is marinated, heat a large skillet to medium high heat.

Add the steak to the skillet and sear on both sides for 2-3 minutes until fully cooked through.

If you are using a large cut of meat (ours was already 1/2 inch) you can finish off the steak in the oven at 400°F for 5-7 minutes.

Once cooked through, allow the steak to cool on a cutting board for 10 minutes prior to slicing.

Once sliced top each piece of naan with a quarter of the meat along with some of each topping.

Serve immediately.
Nutrition Facts
Healthy Gyros Recipe – Low Carb
Amount Per Serving
Calories 519 Calories from Fat 324
% Daily Value*
Fat 36g55%
Carbohydrates 16g5%
Fiber 9g36%
Protein 31g62%
* Percent Daily Values are based on a 2000 calorie diet.
Written By