One of the benefits of a keto diet is all the amazing, delicious meals. But you know what doesn't get enough credit? The snacks! And while we love creating keto recipes dishes like burgers and pizza, nothing excited us more than being able to replicate a classic pub snack. Enter our Keto Mozzarella Sticks recipe.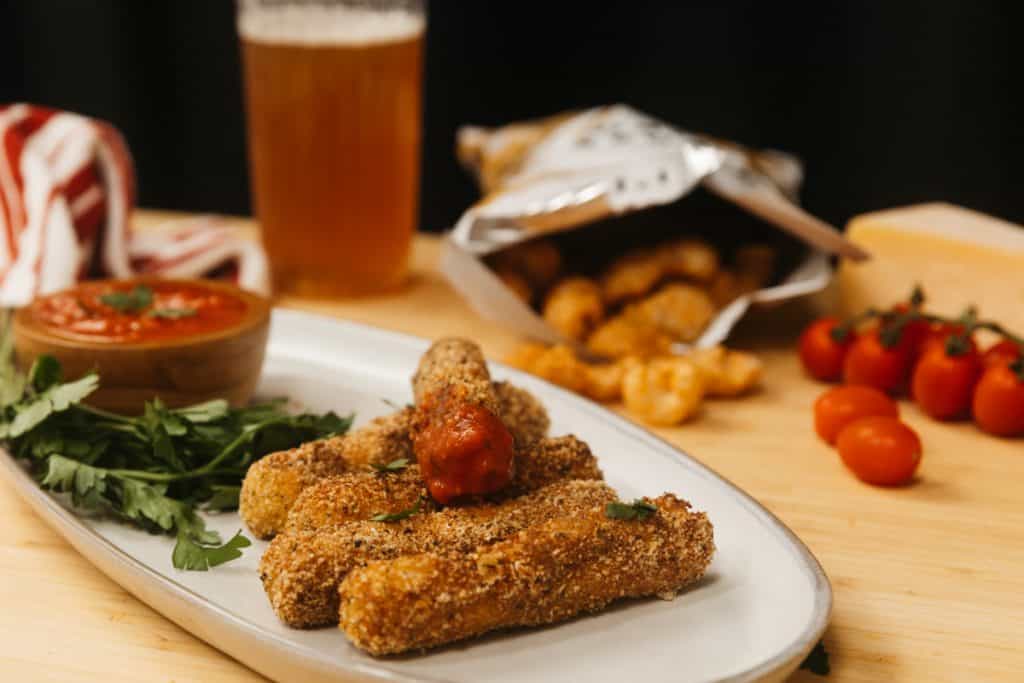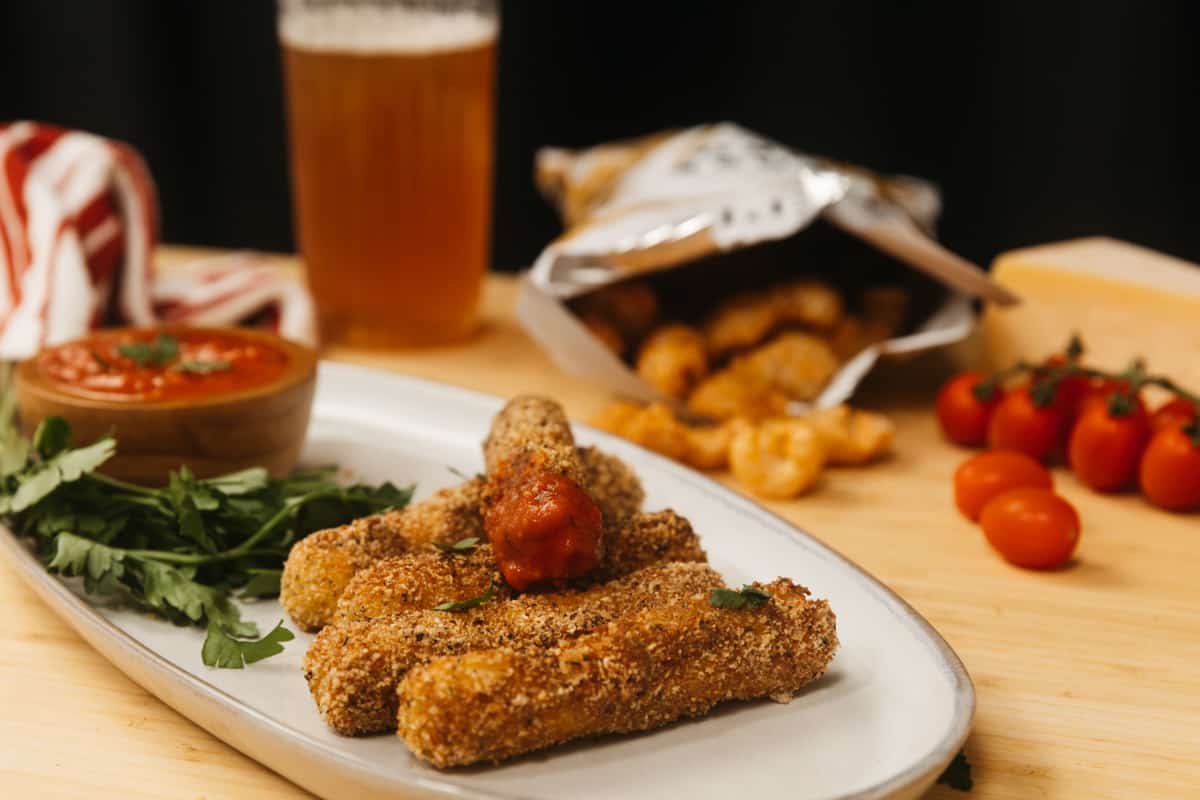 Whether you want to impress your friends for game night or need to elevate your 3 o'clock snack, these Keto Mozzarella Sticks are just perfect. They're crispy on the outside, perfectly gooey on the inside, and are the perfect keto low-carb substitute for your favorite breaded dipper.
Are Mozzarella Sticks Keto?
For a lot of people on this diet, keto is all about the cheese. So it would make sense that a snack that's made from sticks of cheese is keto-approved, right?
Sadly, regular mozzarella sticks are coated in a high-carb crumbing. Like most breaded foods, even one piece could put your daily carb limit in jeopardy – and if you've ever eaten mozzarella sticks, you know it's pretty much impossible to stop at just one!
Luckily, we've managed to make mozzarella sticks low-carb, and they're just as delicious. Giving up fried food on keto? Not with these low-carb mozzarella sticks.
What Makes These Mozzarella Sticks So Great?
It's not always easy replicating breaded foods on a low-carb keto diet, but we're proud to say we think we've nailed it with this low-carb mozzarella sticks recipe. The texture and flavor are so close to the "real deal" that you might just be able to fool your next non-keto guests!
Their authenticity and low net carbs aren't the only things that make these mozzarella sticks keto (and downright amazing). Check it out.
They're Gluten and Nut-Free
These mozzarella sticks aren't just for people on a keto diet. They're also suitable for people who are gluten-free due to a gluten allergy or intolerance. If you're gluten-free, chances are you've been missing out on the breaded snacks!
Plus, we don't use almond flour in the gluten-free breading, which makes them nut-free, too. To bread the cheese sticks, we've instead used coconut flour, another low-carb flour that also happens to be considerably cheaper than almond flour.
That's right – keto cheese sticks that are allergy and budget-friendly!
They Pack Some Impressive Flavor
The humble mozzarella stick might be an American classic, but it's got a signature Italian flavor profile – and we're not talking about the mozzarella or classic marinara sauce.
We've used classic Italian seasoning in the gluten-free breading mix that's subtle, but enough to remind you of a flavorsome slice of margarita pizza. No wonder these keto cheese sticks are so hard to resist.
They're High-Protein
You probably don't think of Keto Mozzarella Sticks as the most health-conscious snack choice. But did you know that mozzarella cheese is high in protein?
It's true. 100 grams of mozzarella cheese typically has around 26 grams of protein. And protein is filling – one study suggests a potential link between eating a high-protein snack and consuming fewer calories later in the day.
In other words, these mozzarella sticks may just stop you from going overboard with the rest of the snacks later on in the game.
They're Double-Coated
Want to know the secret to an extra-crunchy coating? We've double-coated these mozzarella sticks in the eggwash and breadcrumb mixture to create a double coating. This also helps to prevent the cheese from melting through the breading. This is one dish where double-dipping is allowed!
They Use The Perfect Keto "Breading"
In our opinion, pork rinds are the perfect gluten-free breading – and not only for cheese sticks. This underrated but versatile ingredient has a mild taste and adds that perfect "crunch" that's often lacking in gluten-free breading that only uses flour.
For another keto recipe that uses pork rinds for crumbing, try these Easy Homemade Chicken Fries.
Step By Step Instructions
Follow these instructions for the best keto mozzarella sticks. These can be made in the oven or fried in oil. They definitely taste better fried, but either option will get you the tasty low carb mozzarella sticks you've been craving.
Ingredients
The list of ingredients needed for this mozzarella stick recipe is pretty straightforward. You'll want mozzarella string cheese, herbs and spices, ground pork rinds, coconut flour, eggs, heavy cream, and oil for frying.
We've found "part-skim" string cheese to work the best in this recipe due to its lower fat content. This helps the cheese stay together long enough for the protective shell to form when frying or baking.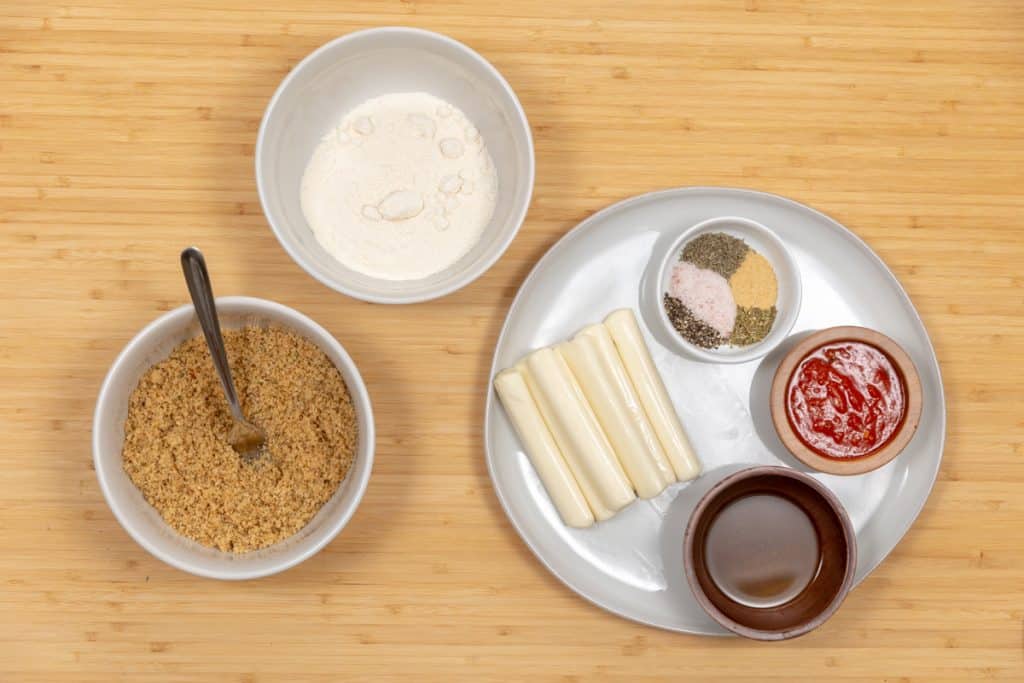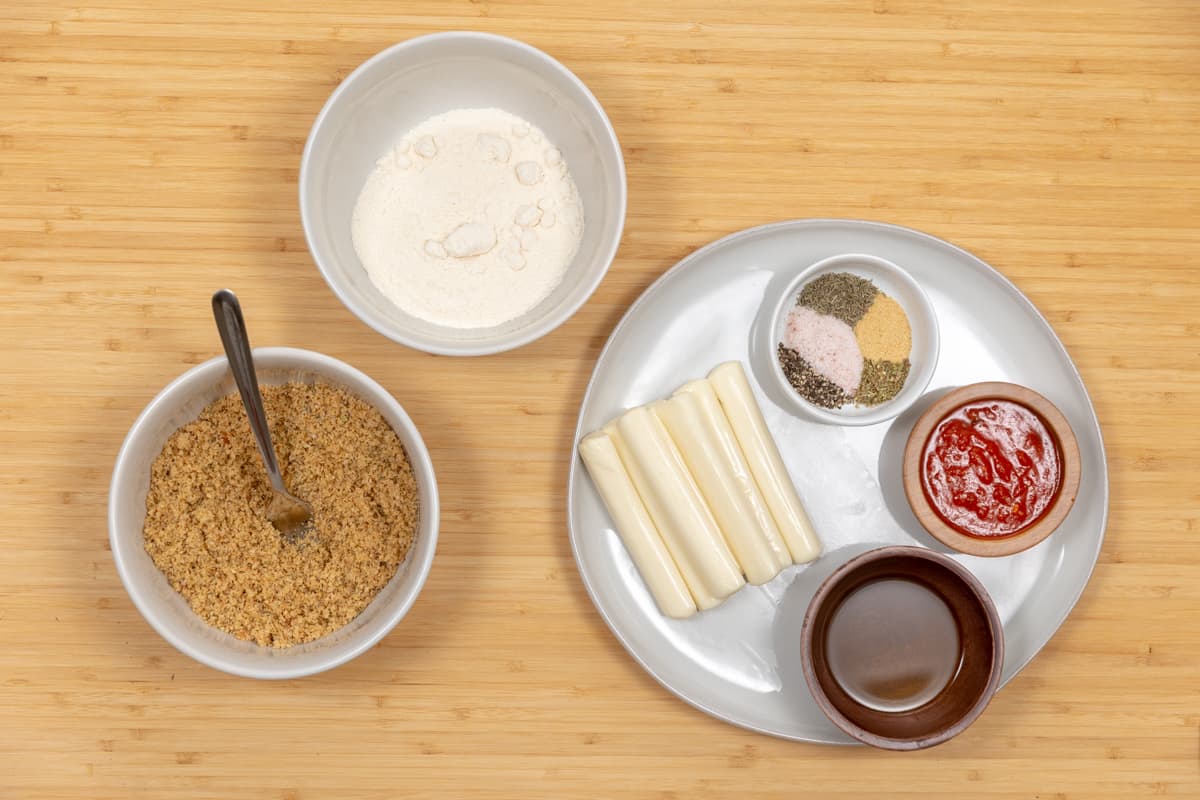 Freeze the String Cheese
While this step isn't mandatory, it definitely helps to use frozen string cheese in this recipe. If you use room temperature string cheese it will melt before the coating has a chance to form. Using frozen mozzarella cheese is the best way to ensure you get the pub style mozzarella sticks you're looking for.
Coating the Mozzarella Sticks
These are the key steps to making this recipe. We will be using 3 different stations to coat the mozzarella sticks in order to achieve a thick crispy exterior.
The first step is to dip the plain mozzarella sticks into the egg and heavy cream mixture.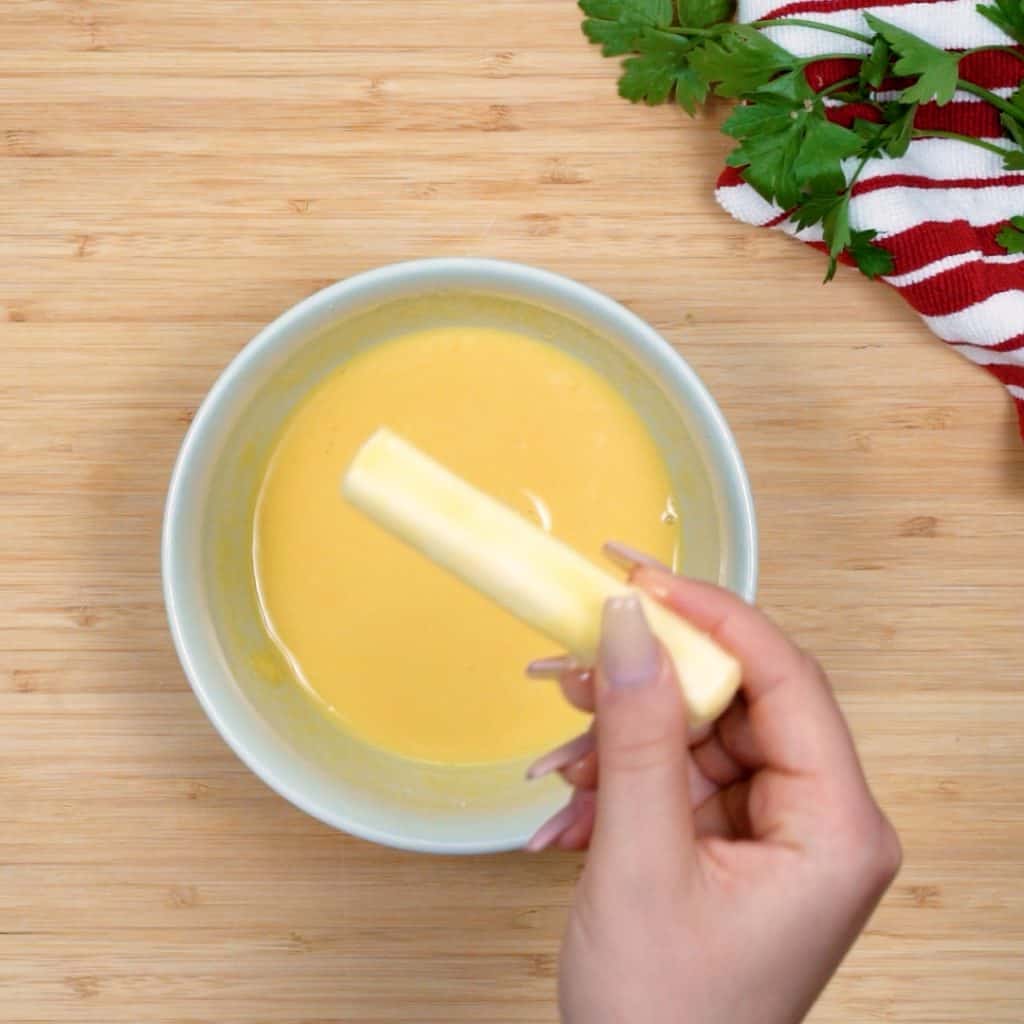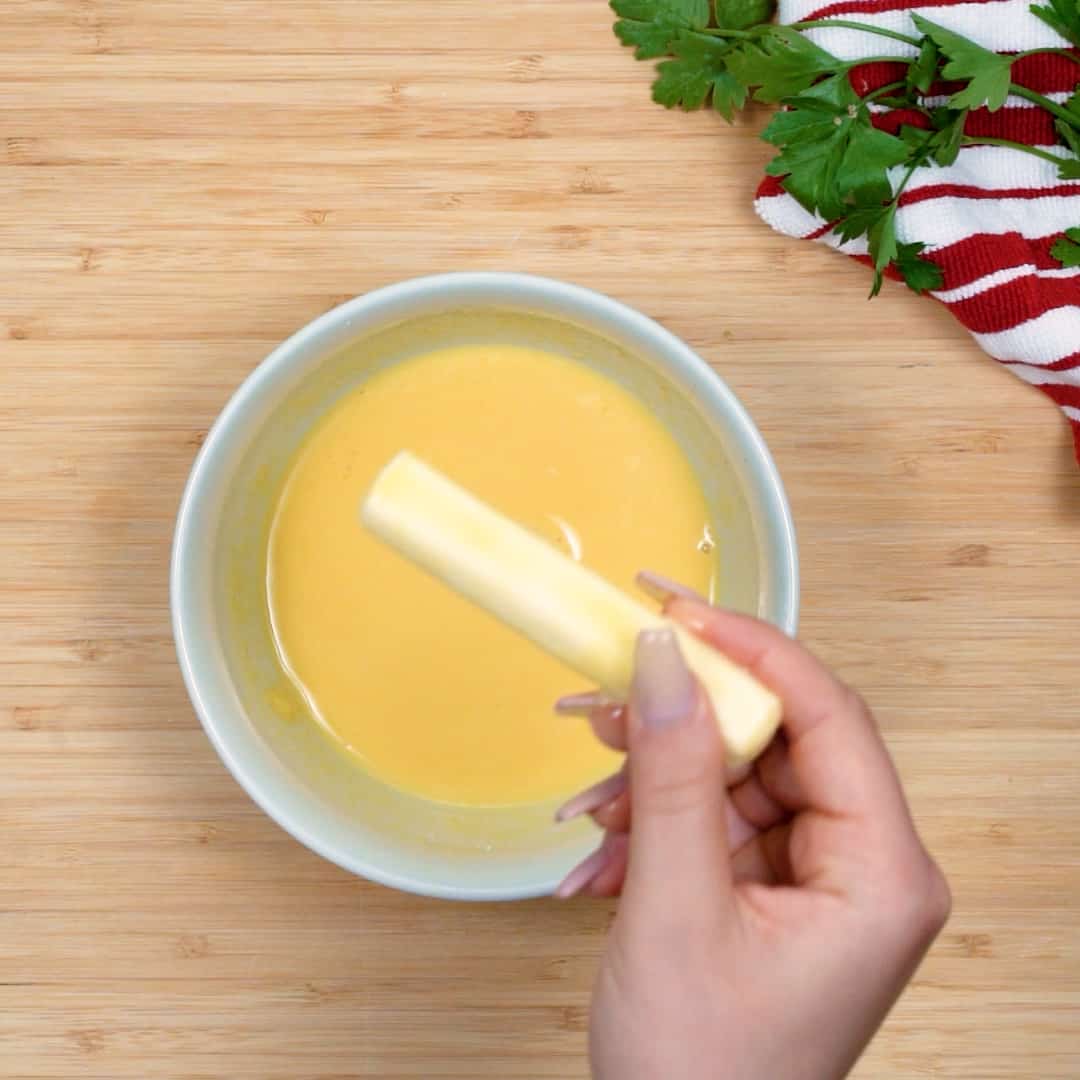 Next dip the mozzarella cheese into the coconut flour. This creates a dry surface for the pork rinds to stick to. The pork rinds are what give this recipe a crunch!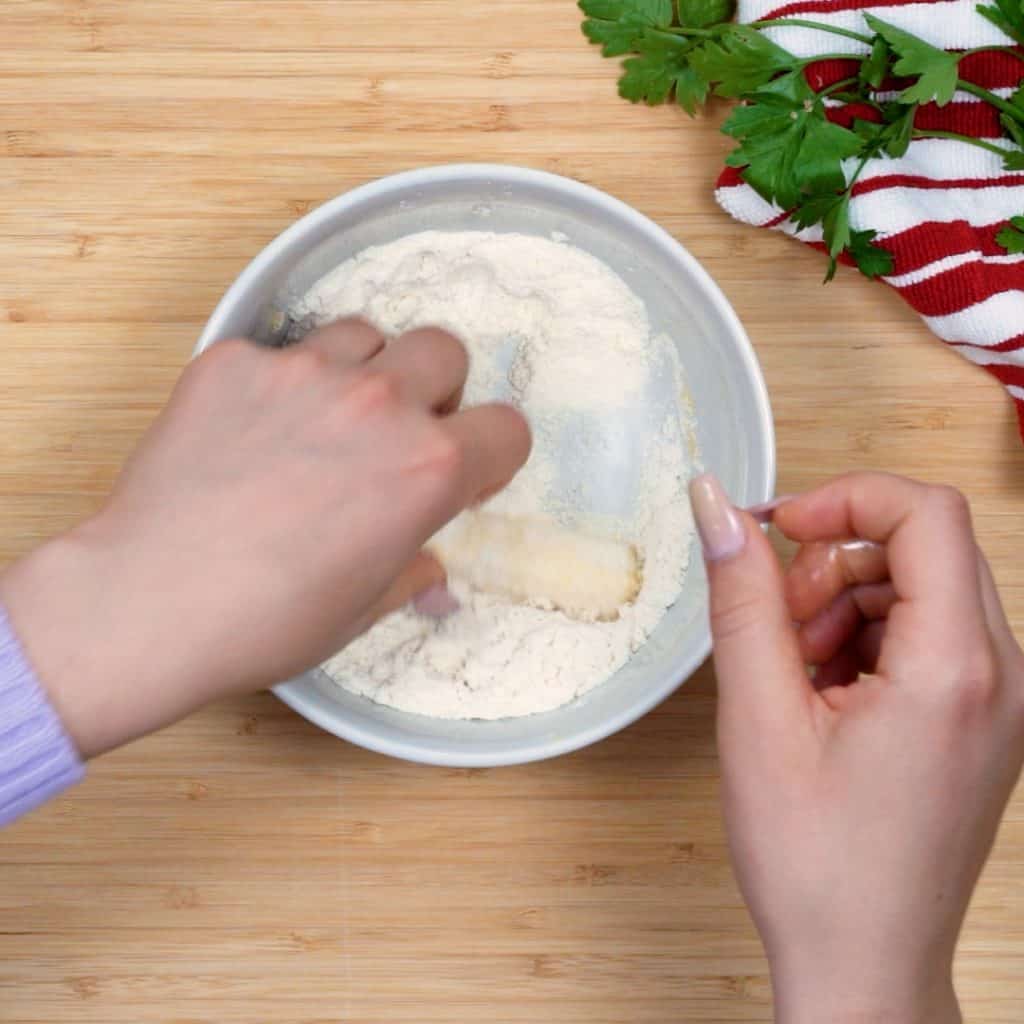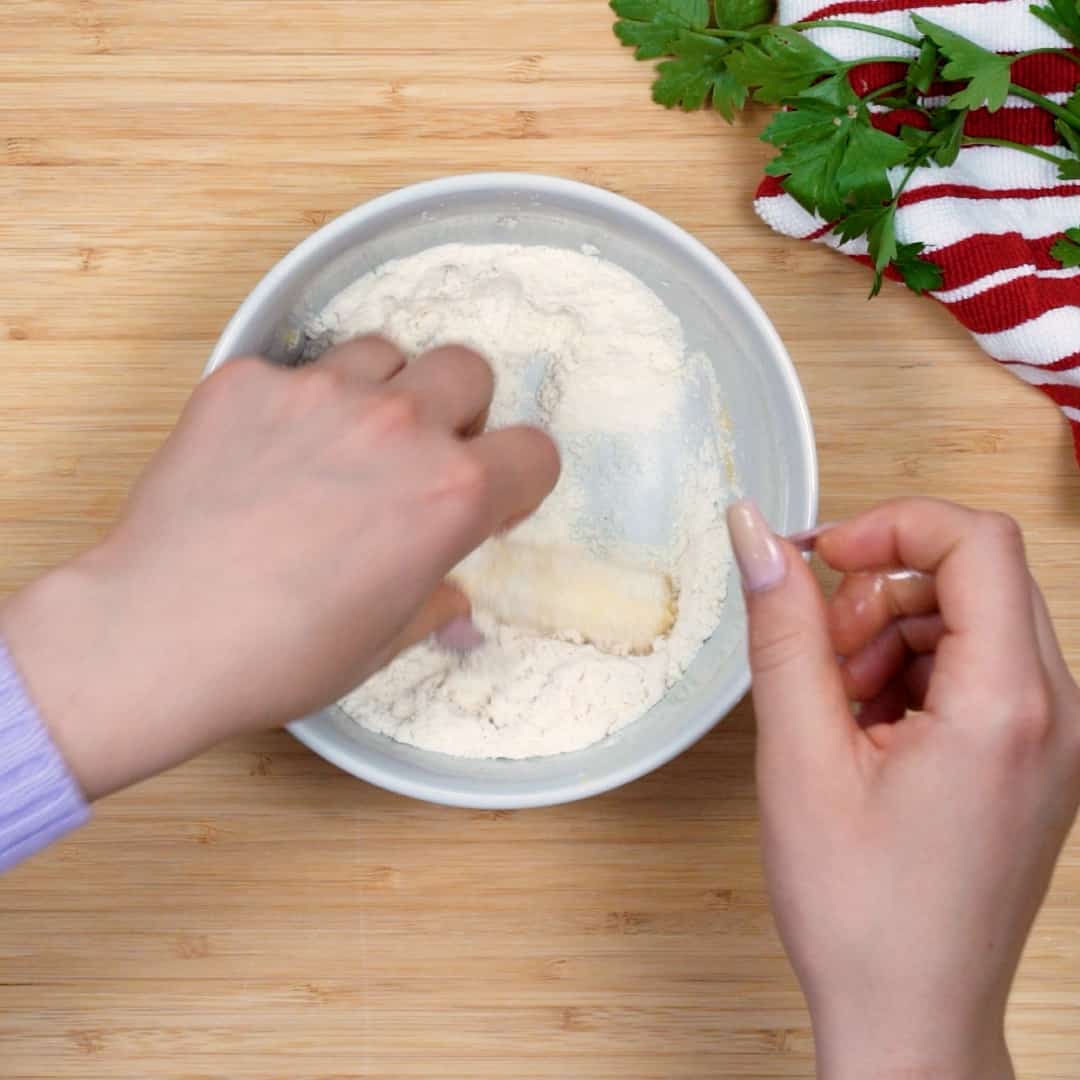 Dip into the egg mixture again. Now we're starting to build a nice exterior layer.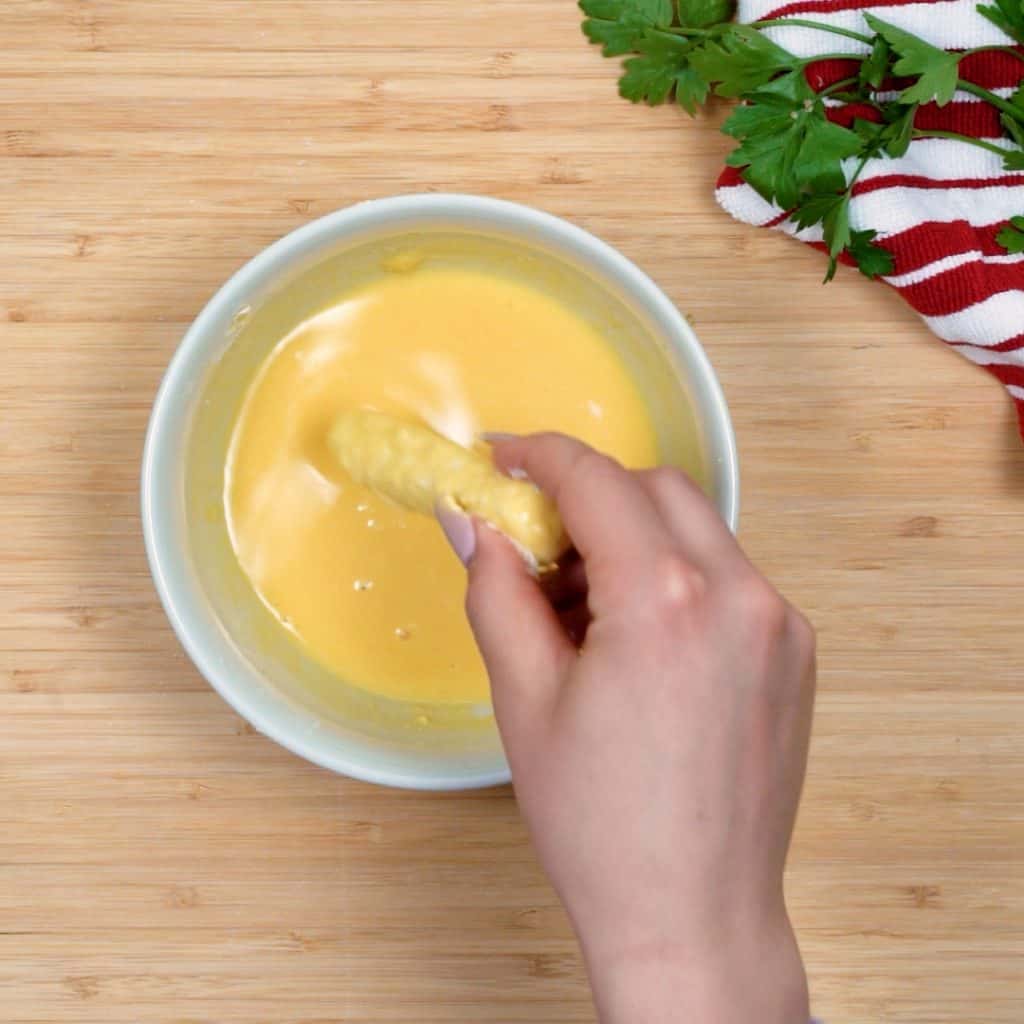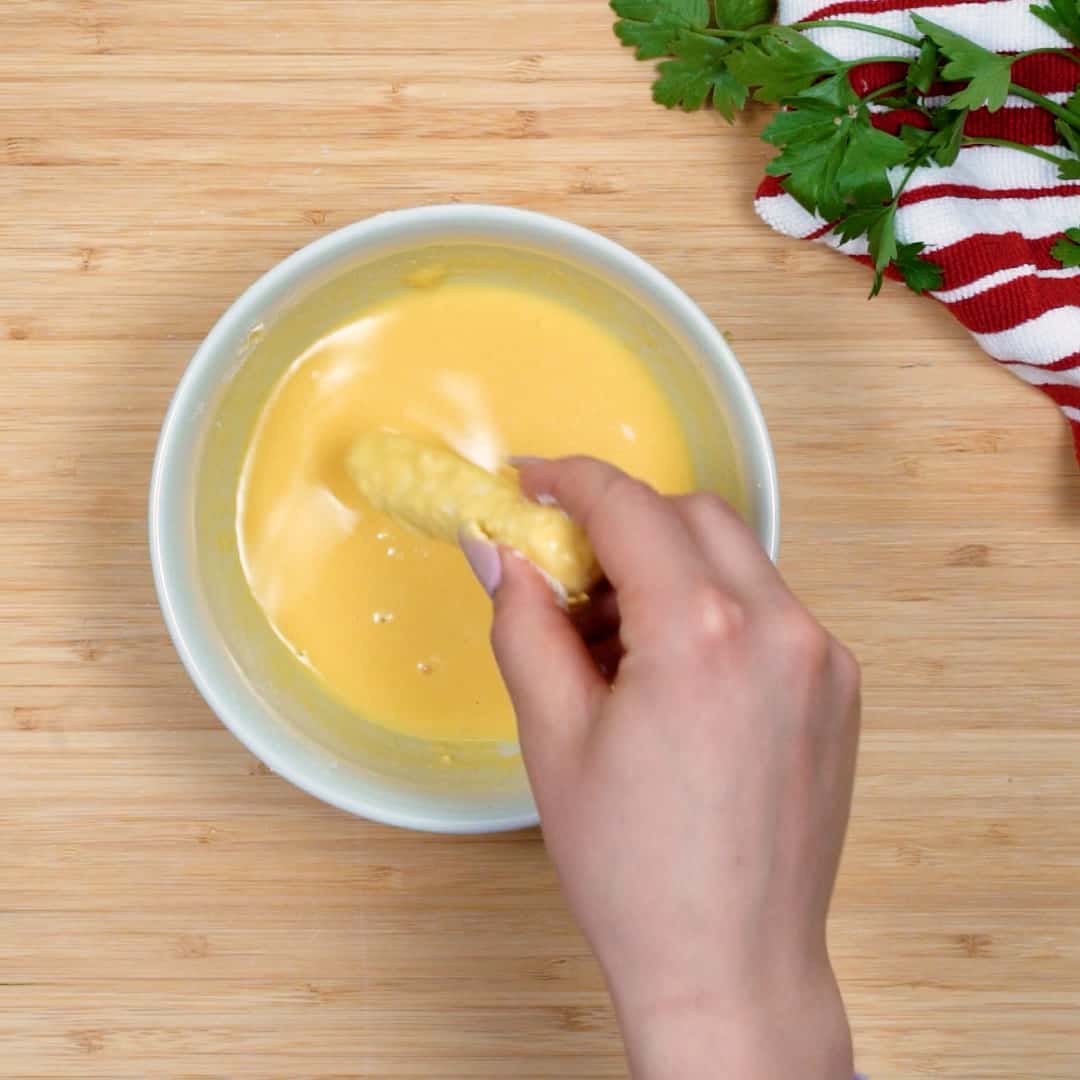 Lastly, dip the mozzarella sticks into the flavorful ground pork rind mixture. If you did the previous steps right you should have no problem getting the pork rind mixture to stick to the cheese sticks.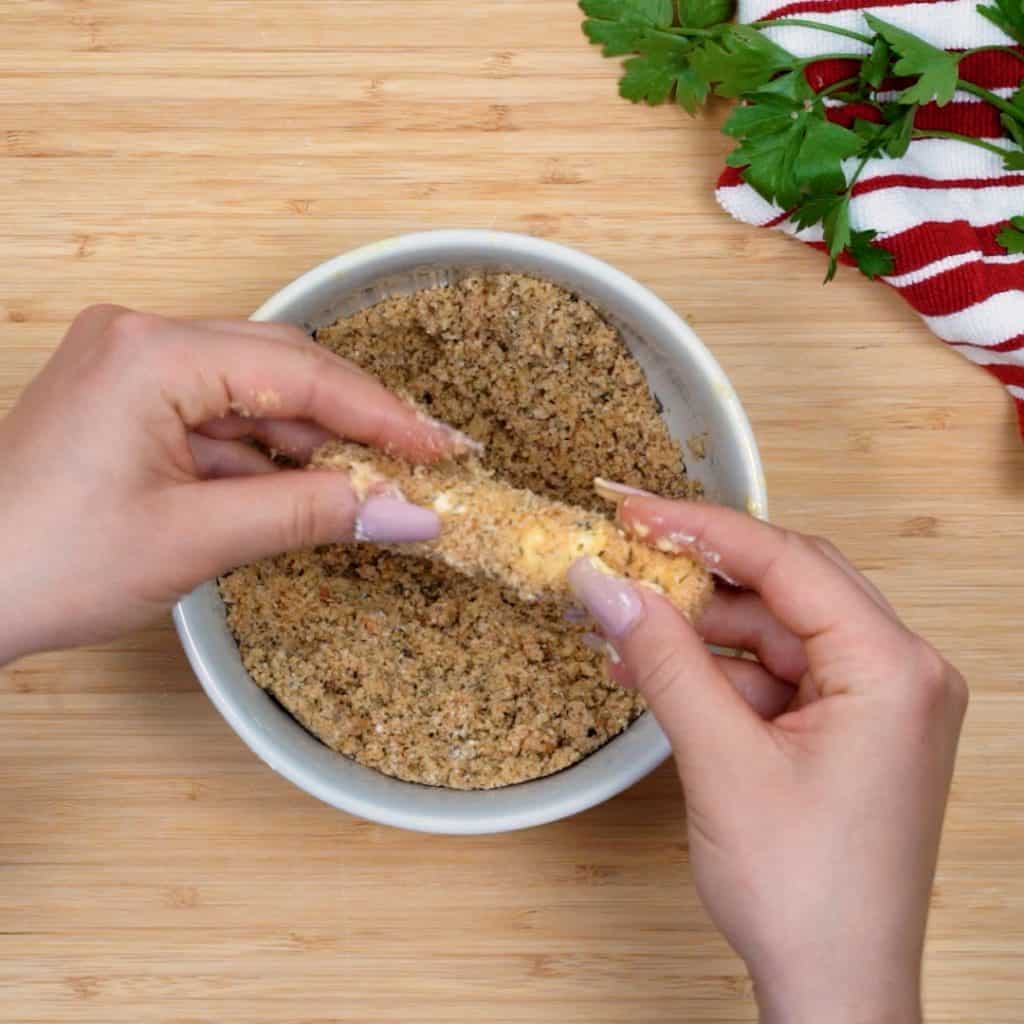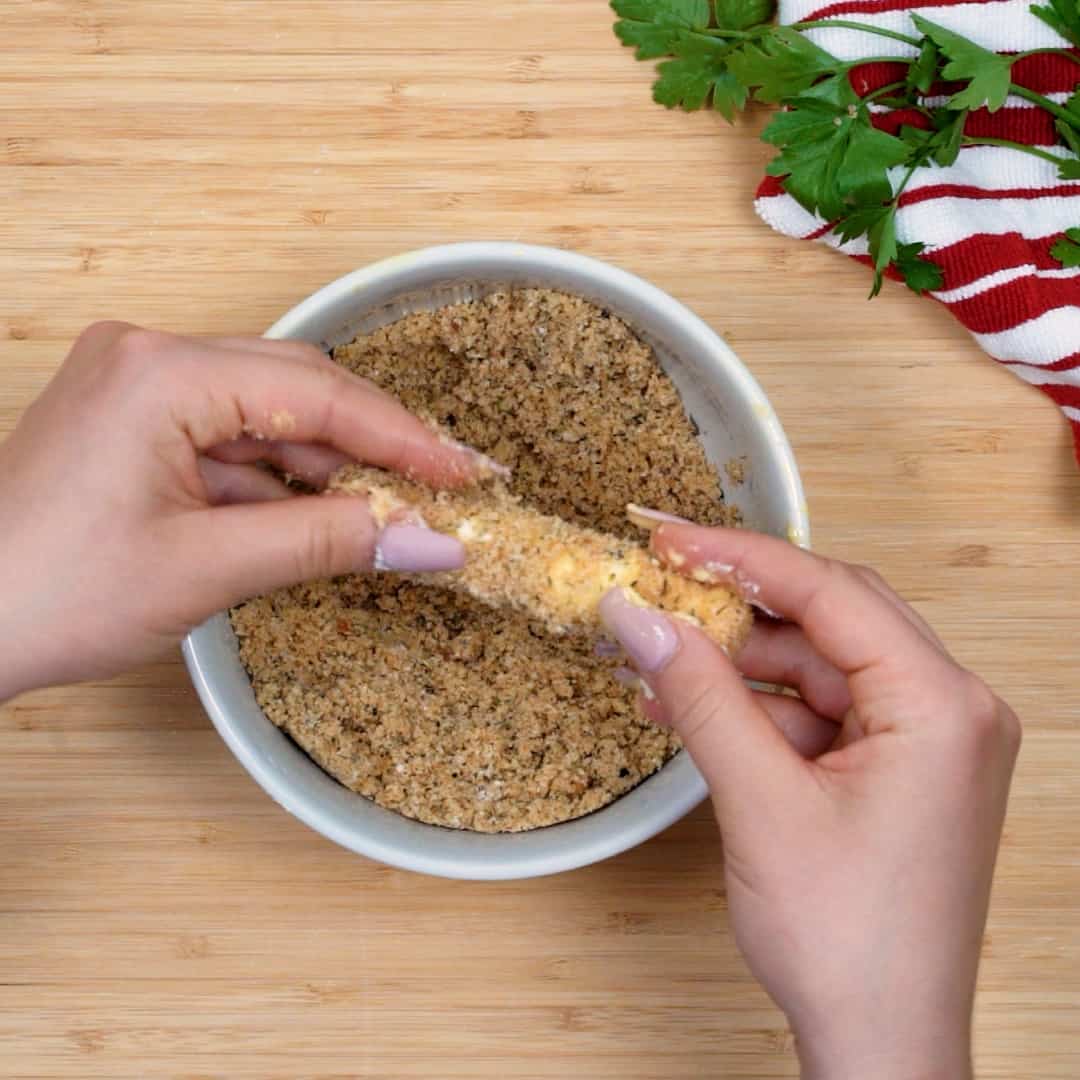 Time to Fry
To fry these keto mozzarella sticks we like to use a cast iron skillet and go for a "pan fried" method. This means putting enough oil into the pan to cover the mozzarella sticks about half way up.
For frying oils we like to use tallow, ghee, lard, coconut oil or avocado oil. Whatever you prefer is fine, we just like to avoid refined vegetable and seed oils.
Turn the mozzarella sticks once after cooking for 3-5 minutes. Allow them to cook completely until you get a crispy exterior. Place onto a plate with a paper towel to allow the oil to drain away.
Enjoy!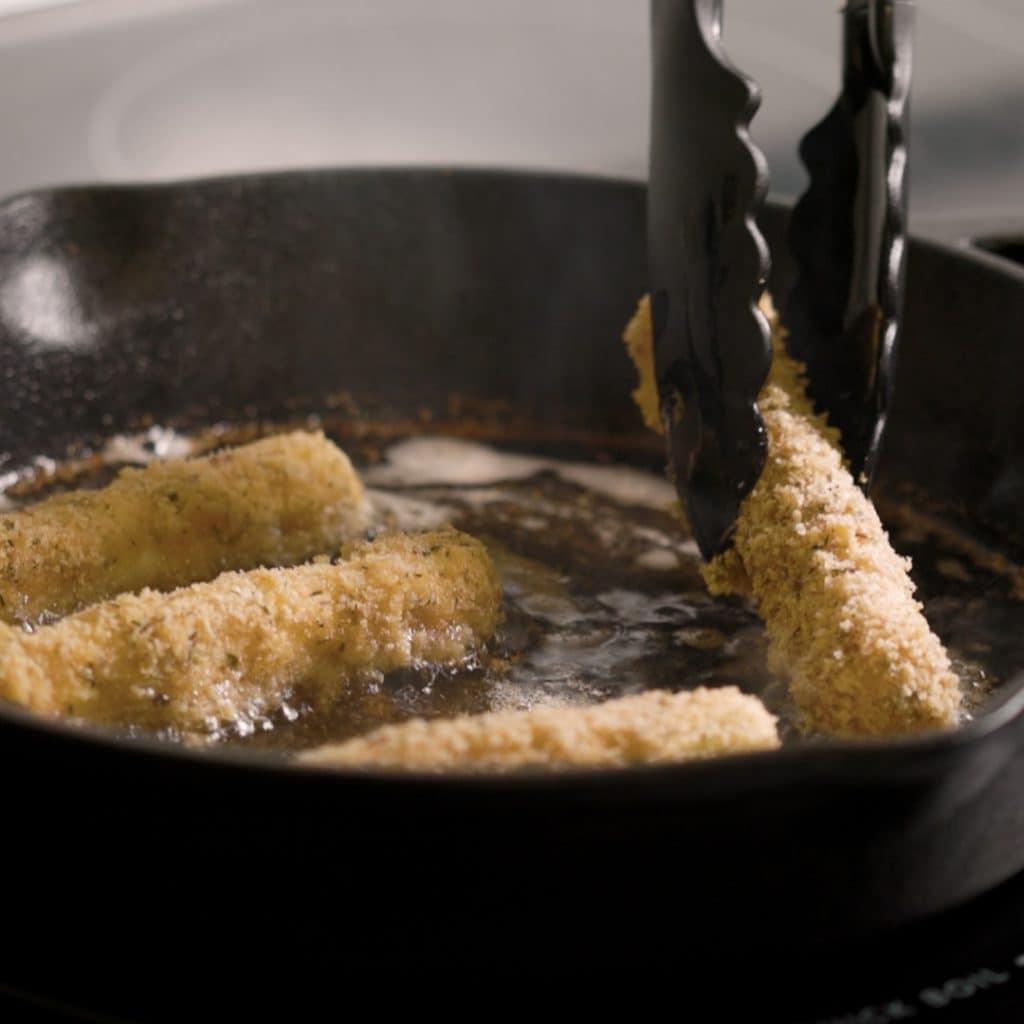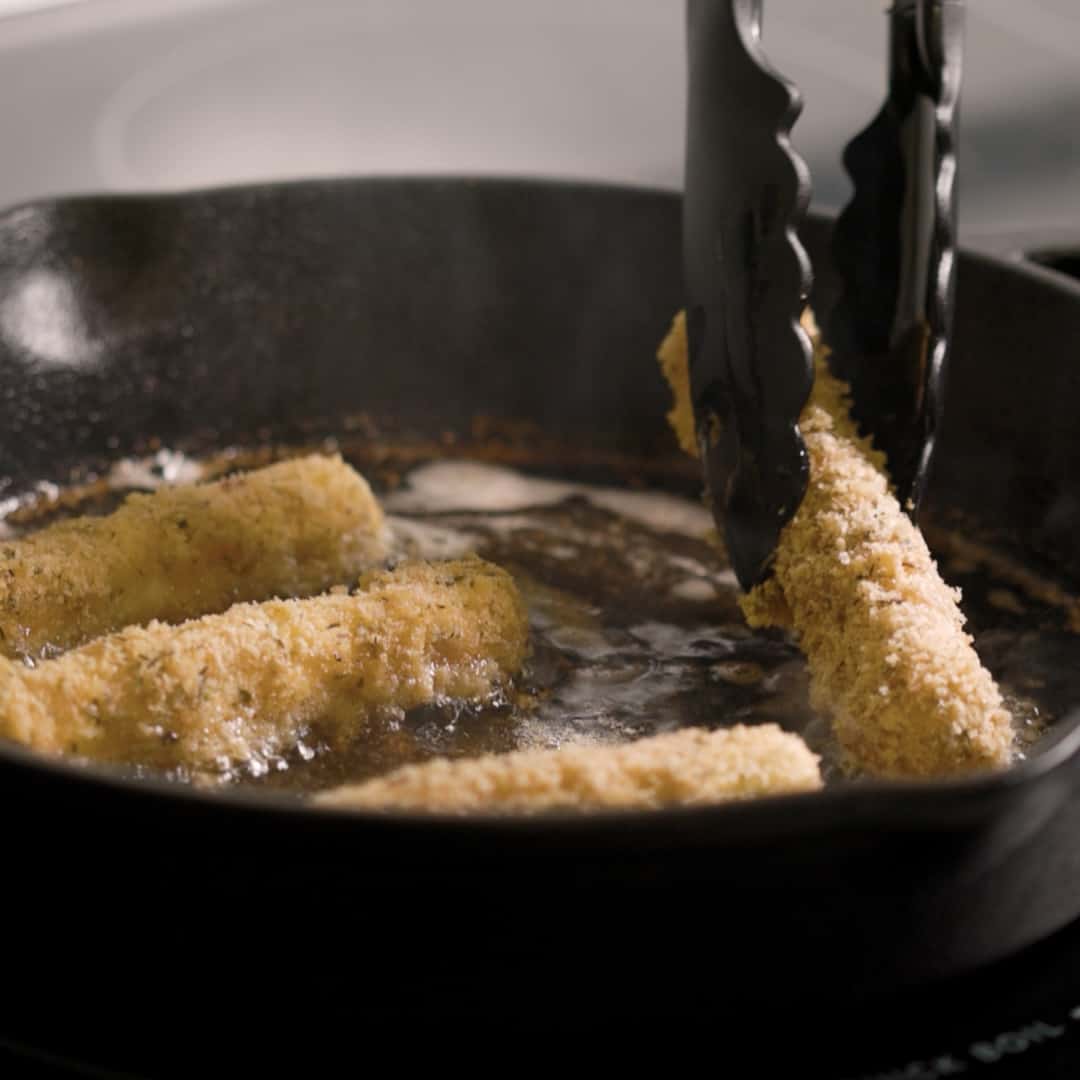 Tips for Making Low-Carb Mozzarella Sticks
If you truly want to have the best snacks for game night, you're going to need to pull out all the stops. Try some of these sneaky hacks and see your Keto Mozzarella Sticks become an instant party hit.
Experiment with Different Flavors
Don't be afraid to change up the seasonings in your breading mix. We've used Italian seasoning, but you could always go for a Moroccan blend or even something on the spicy side.
If you're feeling extra cheesy, try adding a little grated parmesan cheese to the mixture. You can never have enough cheese.
Try Them Air-Fried
While frying your Keto Mozzarella Sticks will produce the crispiest end result, you can also try baking them in the oven – or the air fryer if you're lucky enough to own one.
If you're really in the mood for fried food, try these crispy keto french fries!
An air fryer will use less oil, which means you'll be able to make them a little less calorie-dense. Nothing encourages party guests to chow down on the snacks more than the reassurance that they're lower calorie, right?
Air Frying? Embrace the Oil
Here's a tip: adding a drizzle of oil when cooking in the air fryer will help make your Keto Mozzarella Sticks nice and crispy! It's the oldest keto trick in the book.
Don't Forget the Sauce
A good mozzarella stick is nothing without low-carb marinara sauce for dipping. For a brand that's low in net carbs, we use Rao's.
Choosing the Right Oil for Frying
Pan-frying rather than baking your Keto Mozzarella Sticks in the oven or air fryer? It's important to choose the right oil.
We recommend using healthy oils that have a high smoke point suitable for frying. Some of our favorites include:
Avocado oil
Coconut oil
Lard or tallow
We also advise against using any refined vegetable oils like canola and soybean, as these may carry the risk of inflammation and even neurological damage.
How to Stop Your Cheese Sticks from Melting
You might be wondering how you're supposed to bake or fry your Keto Mozzarella Sticks without them turning into melted puddles of liquid cheese. The secret? Put your cheese sticks in the freezer first!
By freezing the cheese sticks before breading and cooking, they'll slowly heat up in the oven or pan as the breading cooks, but without reaching a messy melting point. The double breading also helps to contain all that delicious, gooey cheese.
Keep in mind that if you try searching the store for frozen keto low-carb mozzarella sticks, you're only going to find the pre-breaded (and high-carb) versions. Instead, look for string cheese – the kind you might buy for a kid's lunchbox.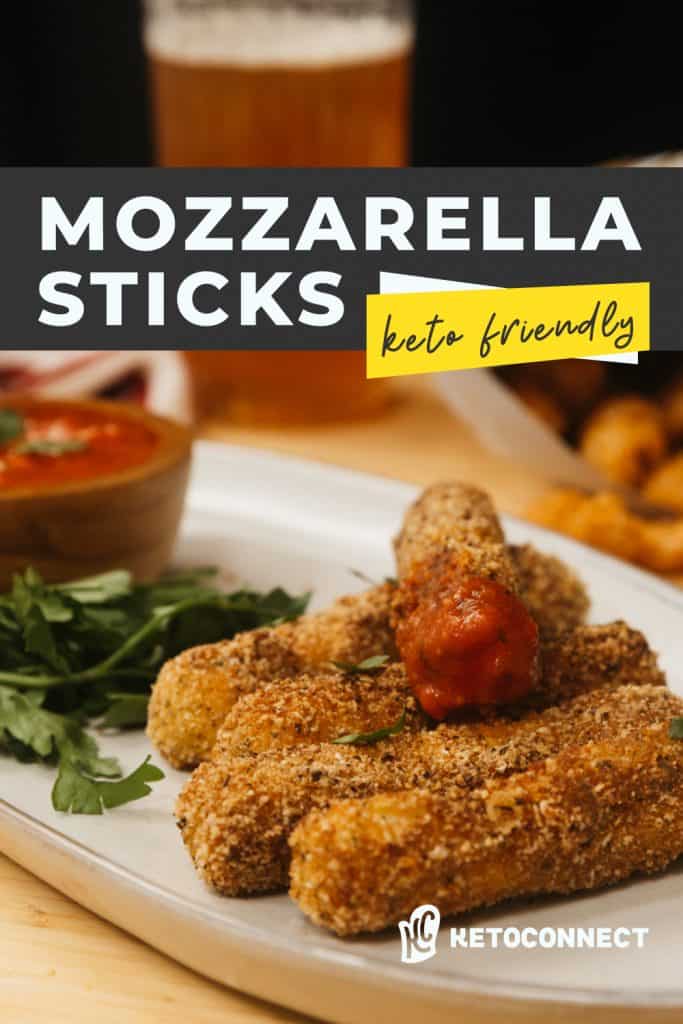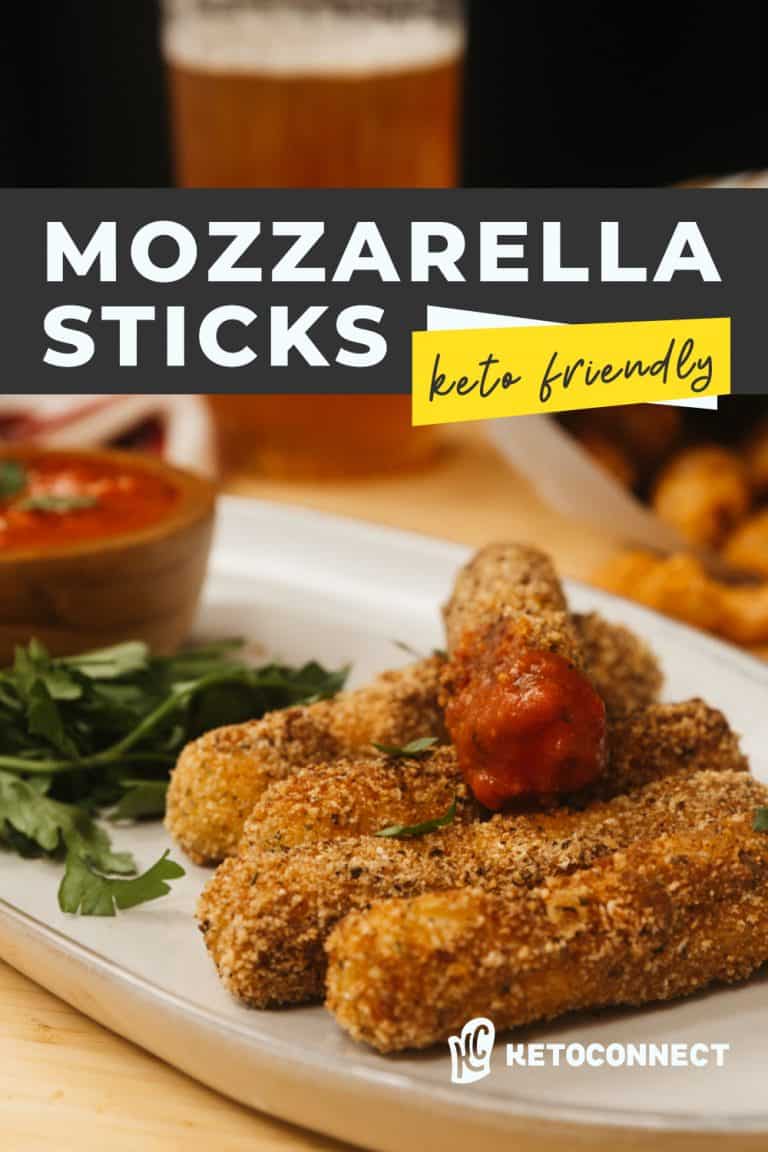 Serving Suggestions
These low-carb keto mozzarella sticks are the perfect easy keto snack for so many occasions, from game nights to parties to movie marathons – or even just a midnight snack attack!
Avoid lonely Keto Mozzarella Sticks by adding a few more players into the mix. Try out some of our easy keto recipes that are perfect for game night:
Feel free to add a little variety with your dipping sauces, too. While marinara and mozzarella sticks go together like PB and J, why not offer extra keto-friendly options alongside your low-carb marinara sauce? Some ideas include aioli, queso, or even a fiery hot sauce.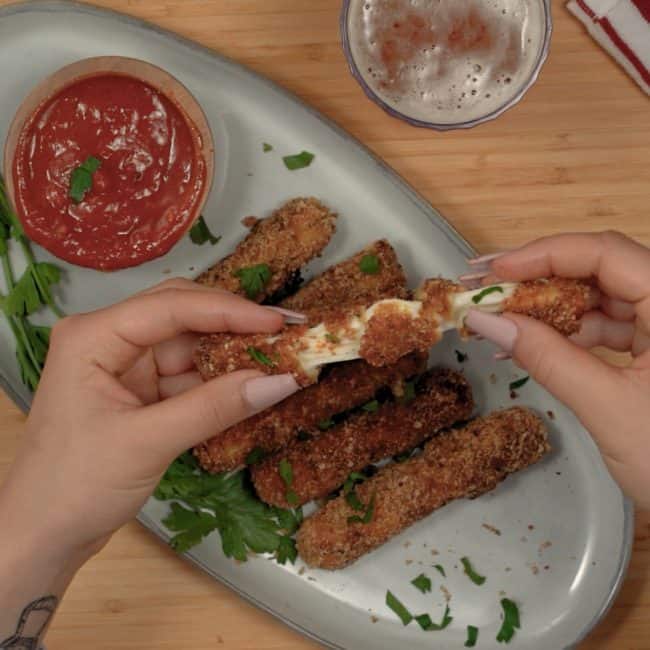 Keto Mozzarella Sticks
Warm gooey cheese-sticks wrapped in a crispy low carb coating. They're perfect for dipping in marinara or eating by themselves
Total Time 20 minutes
Servings 9
Calories per serving 237kcal
Prep Time: 15 minutes
Cook Time: 5 minutes
Instructions:
Preparing the Mozzarella Sticks
In a medium sized bowl mix together the heavy cream and eggs. Set aside.

Using a blender, grind the pork rinds into a fine powder. Then mix the crushed pork rinds and spices together in a shallow bowl. Set aside.

Add your coconut flour to another medium sized bowl.

Dip the frozen cheese sticks into the egg mixture, shaking off any excess. Immediately dip and batter with coconut flour.

Then dip into the egg mixture again before finally dipping into the pork rind mixture to form a thick coating around the cheese stick.
BAKING INSTRUCTIONS:
Heat the oven to 400F

Place the breaded cheese sticks on a greased baking sheet and bake for 8 minutes. Then broil on low for a final 1-3 minutes.
FRYING INSTRUCTIONS:
Heat your shallow layer of oil until it is hot enough to sizzle a mozzarella stick when dipped, but not hot enough to create smoke.

Once oil is hot, place in your mozzarella sticks and fry for 30 seconds a side, about 2-3 minutes total. They should be a dark golden brown, but not burnt.

Serve and enjoy. Recipe can be stored in fridge for 5 days. Reheat in the oven for 5 minutes at 400 degrees
Notes
Net Carbs 3* *Net carbs increase based on the cheese stick purchased. Some cheese sticks are 0 carbs and other 1 gram of carbs. 
Nutrition Facts
Keto Mozzarella Sticks
Amount Per Serving (2 pieces)
Calories 237 Calories from Fat 153
% Daily Value*
Fat 17g26%
Saturated Fat 9g45%
Trans Fat 1g
Polyunsaturated Fat 1g
Monounsaturated Fat 1g
Cholesterol 82mg27%
Sodium 709mg30%
Potassium 25mg1%
Carbohydrates 4g1%
Fiber 1g4%
Sugar 1g1%
Protein 18g36%
Vitamin A 131IU3%
Vitamin C 1mg1%
Calcium 54mg5%
Iron 1mg6%
* Percent Daily Values are based on a 2000 calorie diet.
Written By