If you're looking for dairy-free keto recipes, you've found the jackpot. Below you will find easy dinner recipes, quick snacks, and decadent desserts that are not only dairy-free, but low-carb, gluten-free, and paleo-friendly!
Is Keto Dairy Free?
To maintain a state of ketosis, you must eat a low-carbohydrate diet – around 20 grams of carbs per day. A low-carbohydrate diet can include meat, nuts, oils, veggies, berries, and yes, even dairy. Since dairy products like butter, cheese, and cream are extremely low in carbs, they are great for the keto diet, but that doesn't mean they're necessary.
Can You Do Keto Without Dairy?
If you have a milk allergy or are lactose intolerant, or just want to try a dairy free lifestyle, then you can still follow a keto diet with great success. Easily swap butter for coconut oil and ghee in most recipes and use coconut cream or almond milk instead of heavy whipping cream.
The HUGE list of keto friendly foods.
There are plenty of ways to add fat and flavor to recipes that don't require cheese and cream! W will show you how with these dairy-free keto recipes, starting with 18 Dairy Free Keto Dinners.
18 Dairy Free Keto Dinners
Discover quick and easy recipes for tonight's dairy-free dinner. We've rounded up 18 our keto family favorites.
Most of the ingredients are what you would expect in this Mexican dish, but there is one ingredient that takes the sauce to the next level…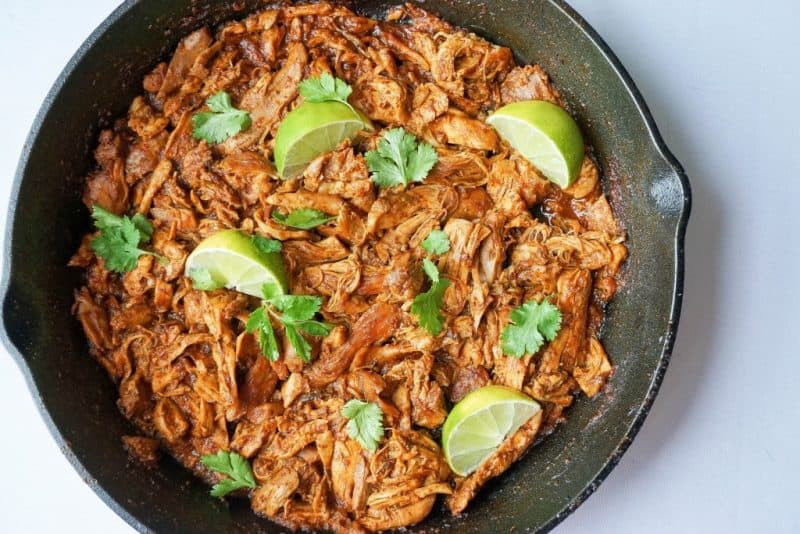 This is the perfect quick lunch or dinner, and makes for a great protein portion of your keto meal prep. Minimal hassle with lots of flavor!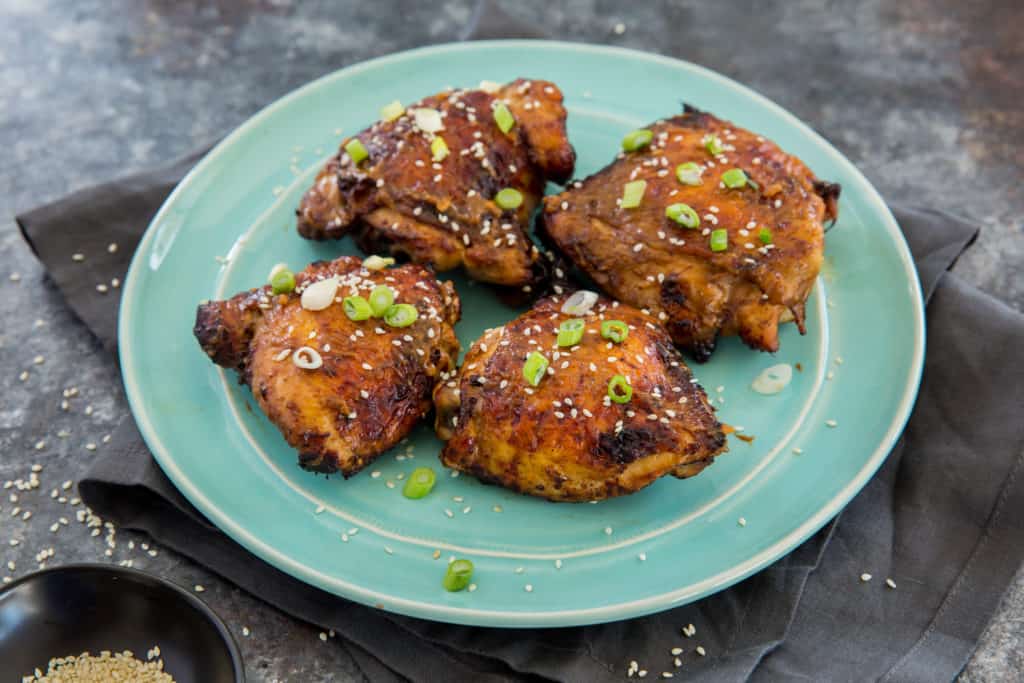 The key to getting an extremely flavorful keto chili is the slow cooking process. Let those flavors simmer! Pair your chili with sliced avocado to keep toppings dairy free.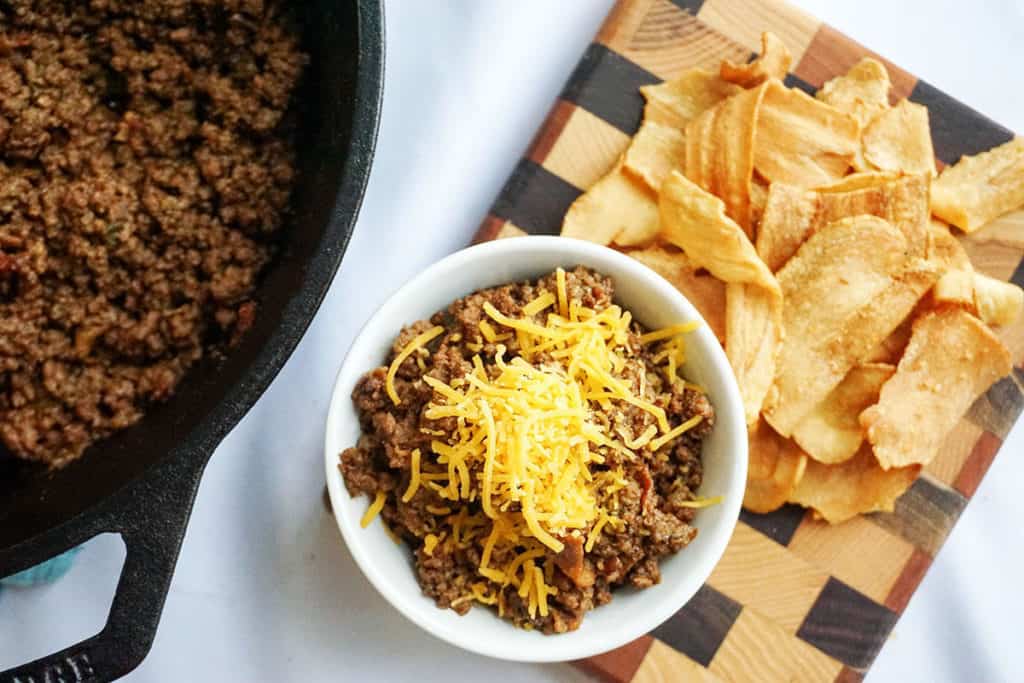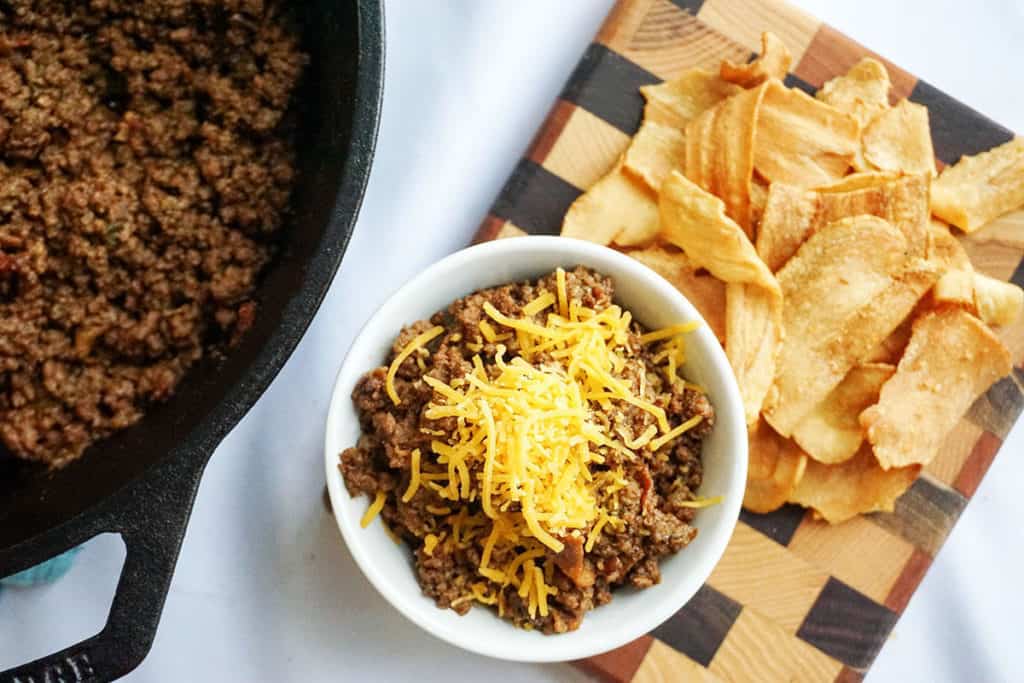 One of our favorite party appetizers is our buffalo chicken dip, but when veggies and Flackers aren't cutting it as dippers, these Buffalo Chicken Meatballs are the perfect swap!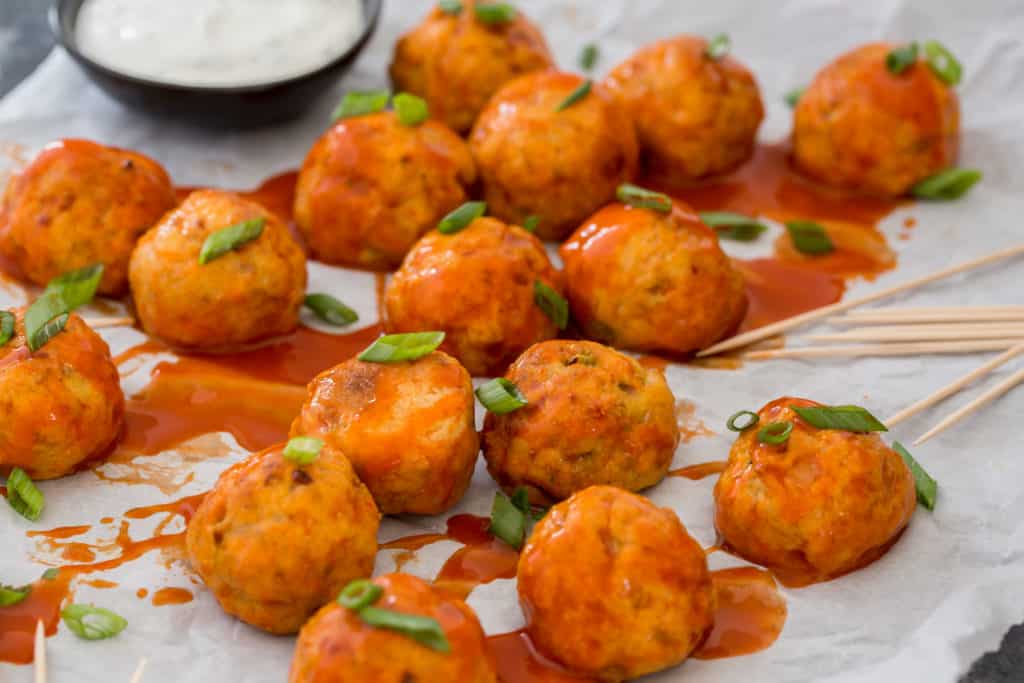 Our easy Cashew Chicken recipe has quickly grown into one of the most popular recipes on our blog. This is the dish we always turn to when we are in the mood for some Thai takeout! If you're a fan of dishes like this then you might like this Butter Chicken Recipe as well!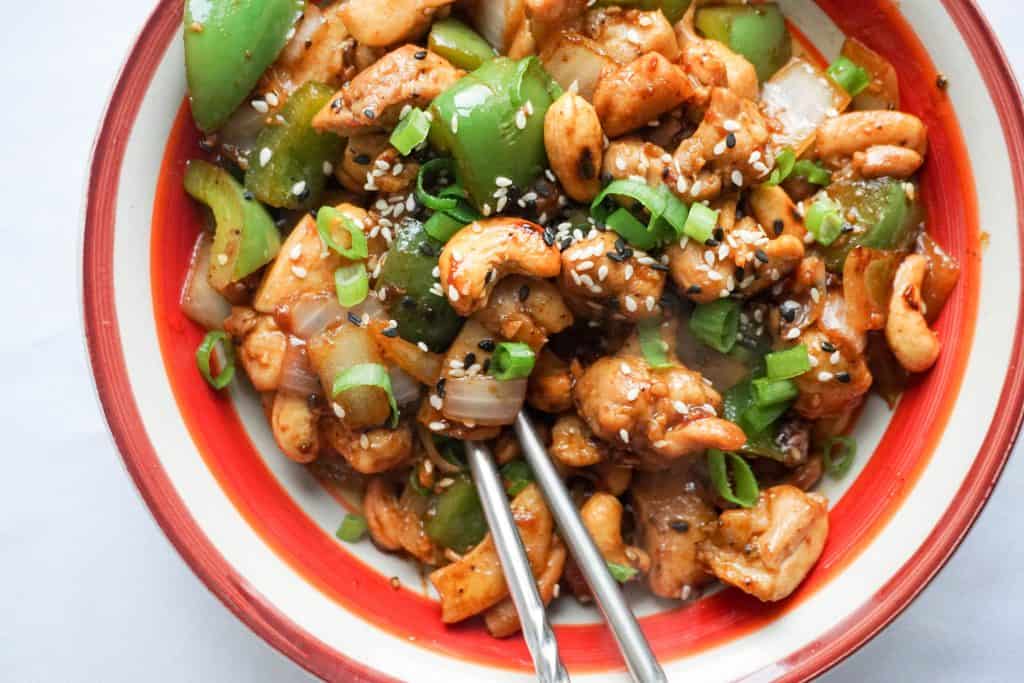 This Masala Baked Indian Eggs dish combines the best of both worlds, Indian food and breakfast food, and changes a classic take on eggs.
Keto Chicken Salad is a go-to for quick lunches and meal preps. I always have a good quality mayo on hand and some canned chicken so it's easy to whip up in a pinch. However, doing the same recipe can get a little boring so I like to change it up from time to time, and that is where this Fajita Style Keto Chicken Salad comes into play.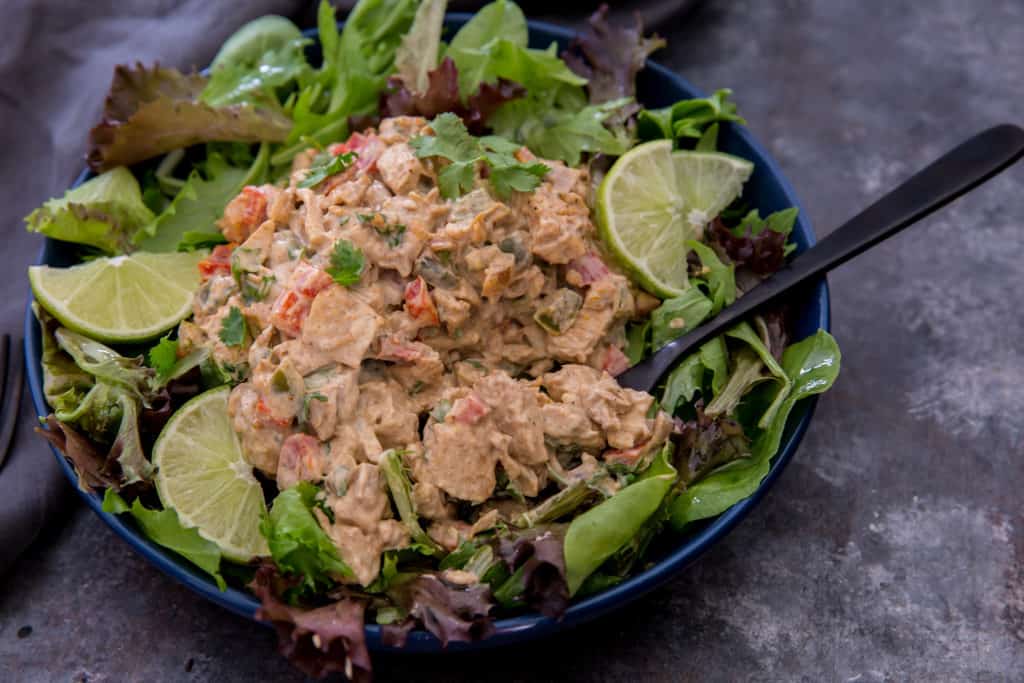 Chinese food is back on the menu with this Easy Sweet and Sour Pork recipe! We use pork rinds to create the perfect crispy breading and five simple ingredients to make a low carb, sugar-free sweet and sour sauce.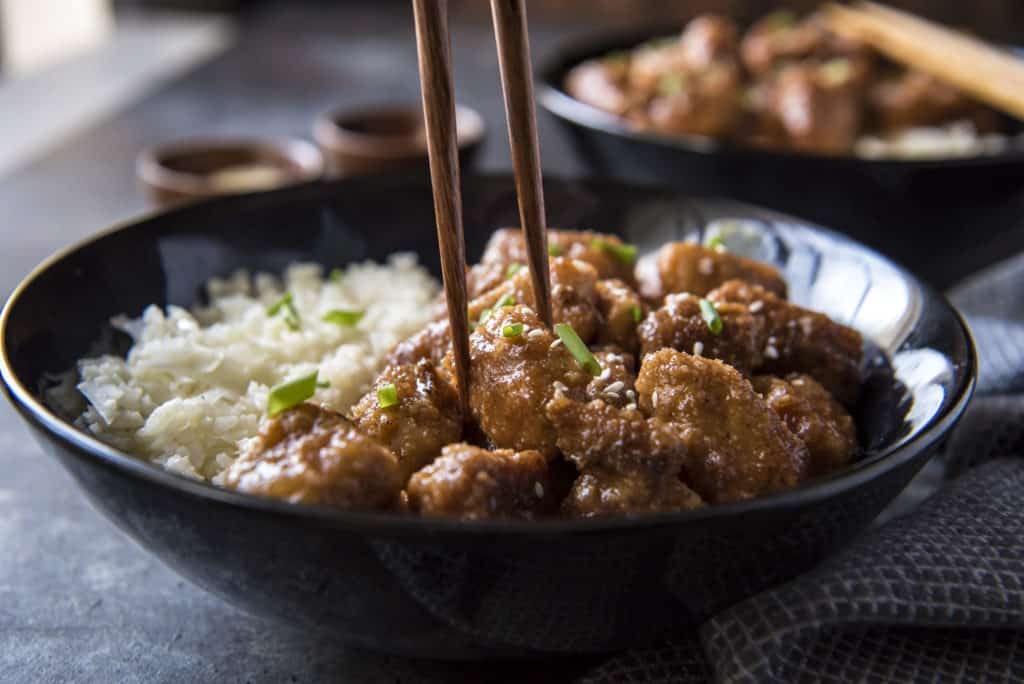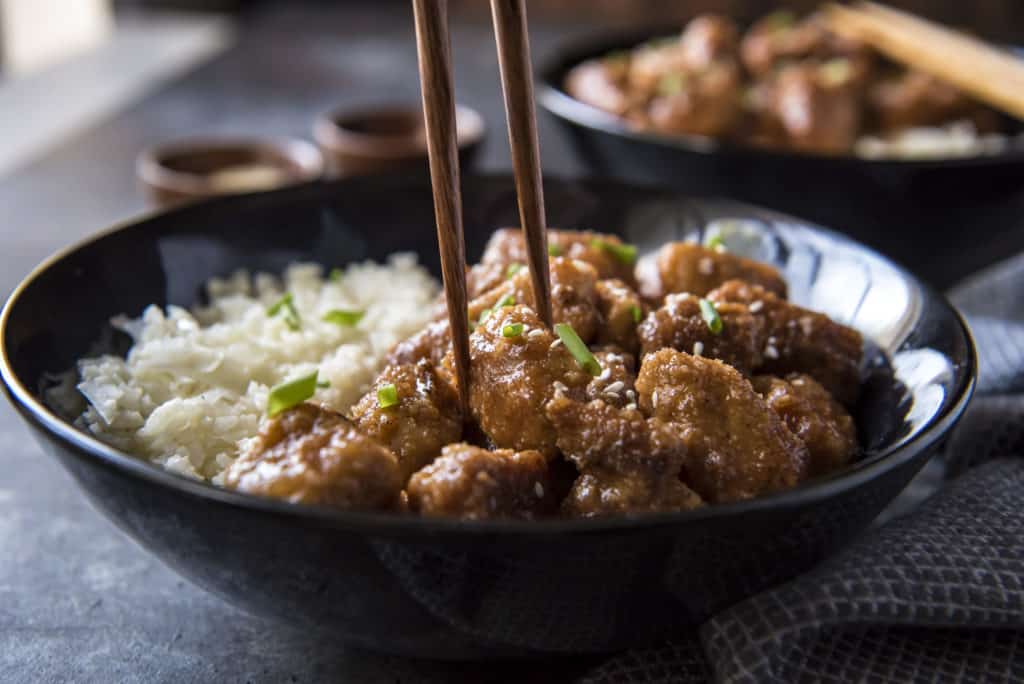 9. Dairy Free Ahi Poke Bowl – 10g net carbs
You could say this Spicy Ahi Poke Recipe is our favorite recipe on our food blog right now. It's inspired from our trip to Hawaii and when recreating it, Matt hit the flavors spot on. There is no cooking required, so it's quick to make on any night of the week and you can use whatever add-ins you have at home.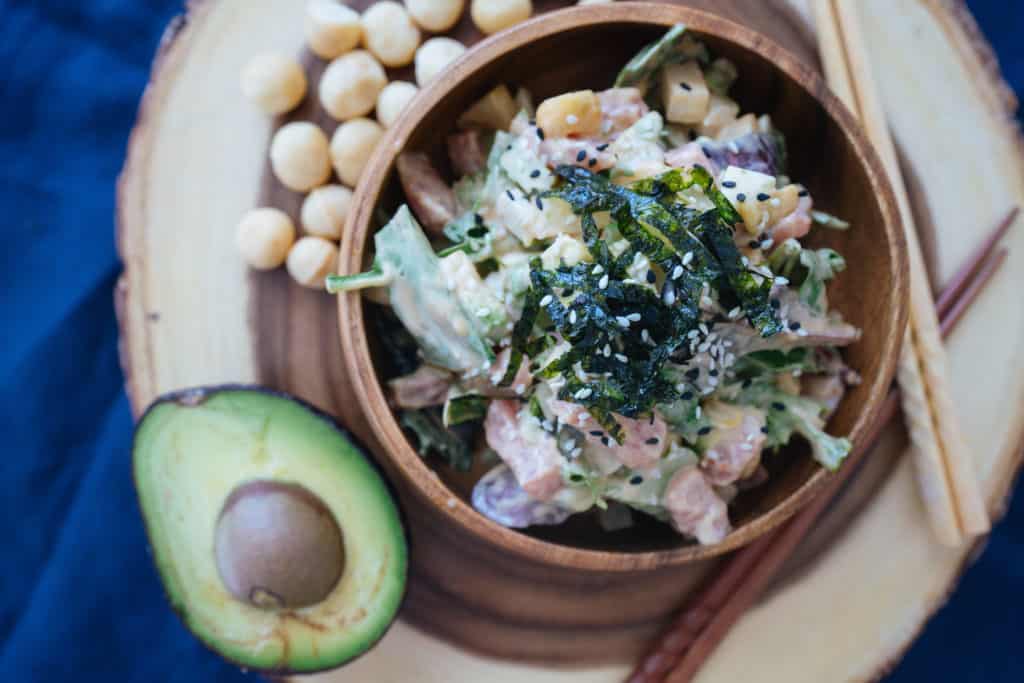 Before a keto lifestyle, I had no idea how great of a vessel lettuce could be for meats, veggies and sauces. You really aren't missing out on anything without the bun or bread.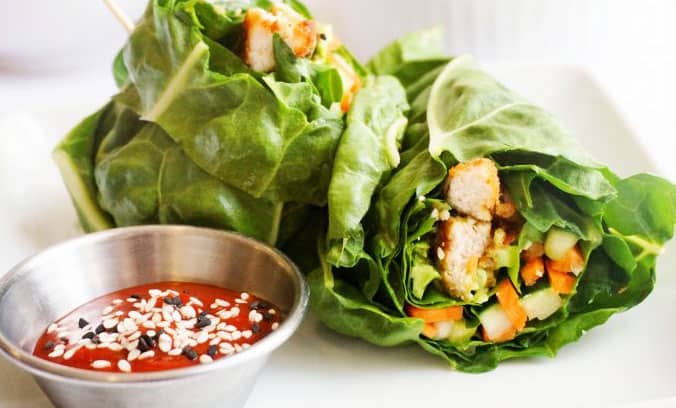 For these air fryer meatballs we went a little out of the box with a Thai twist. We normally stick to Italian seasoning or keep it simple with some salt, pepper and garlic powder, but that can get a little redundant. The great thing about bulk air frying meatballs is that you can make split up the meat and add different seasonings to each batch to satisfy everyone in the family.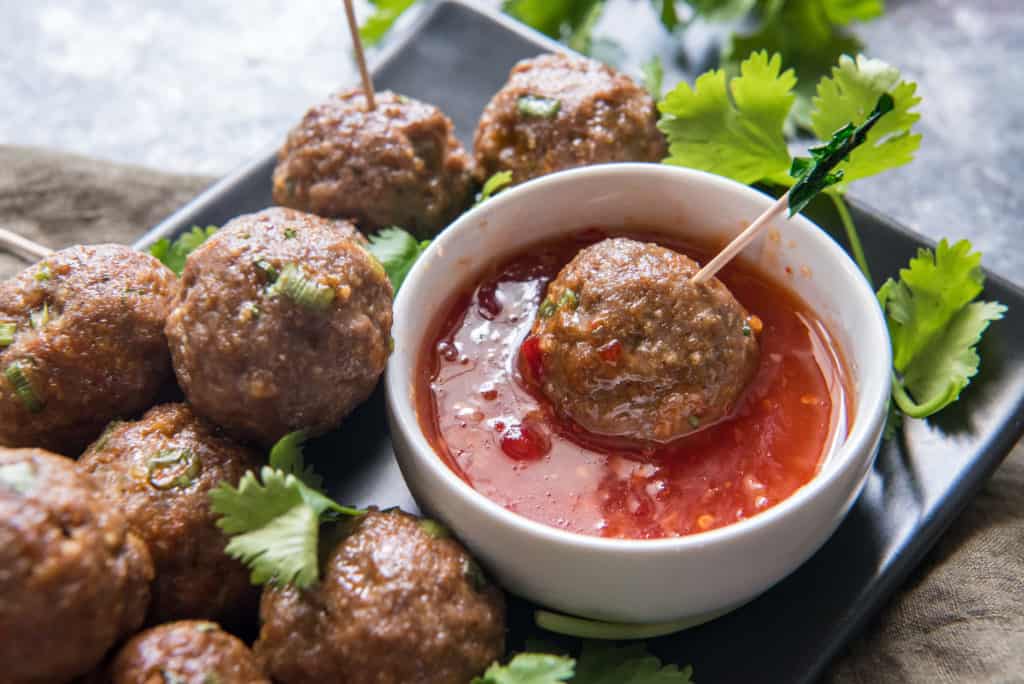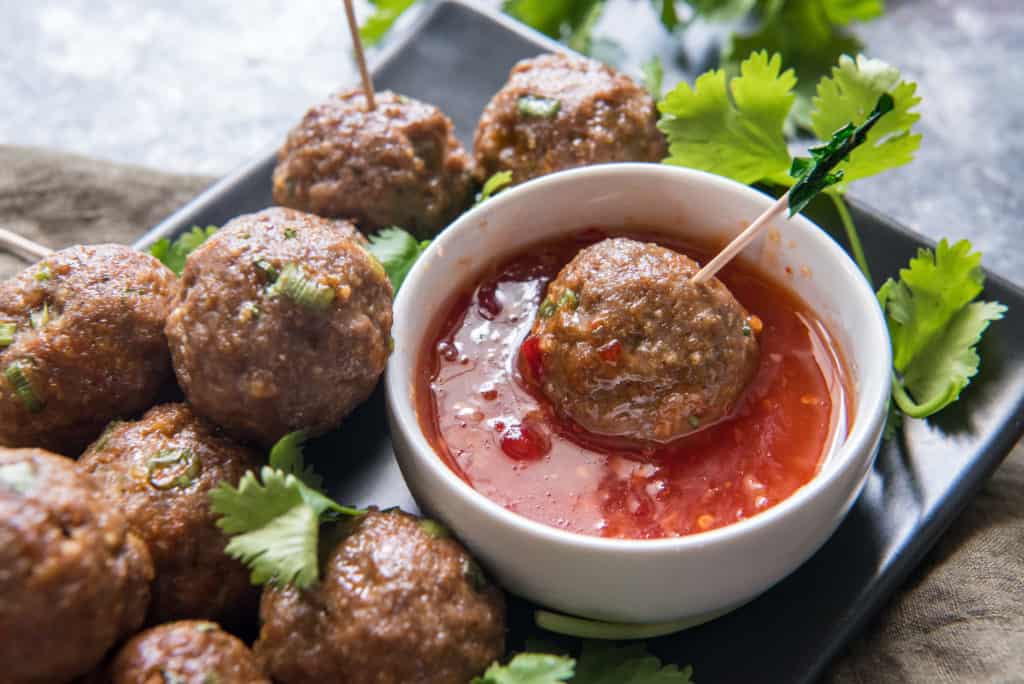 This recipe takes 30 minutes in the oven and feeds four people or feeds you for four nights. We've jazzed up the chicken with a homemade Peri Peri rub and combined it with the heartiest vegetable out there – Brussels sprouts!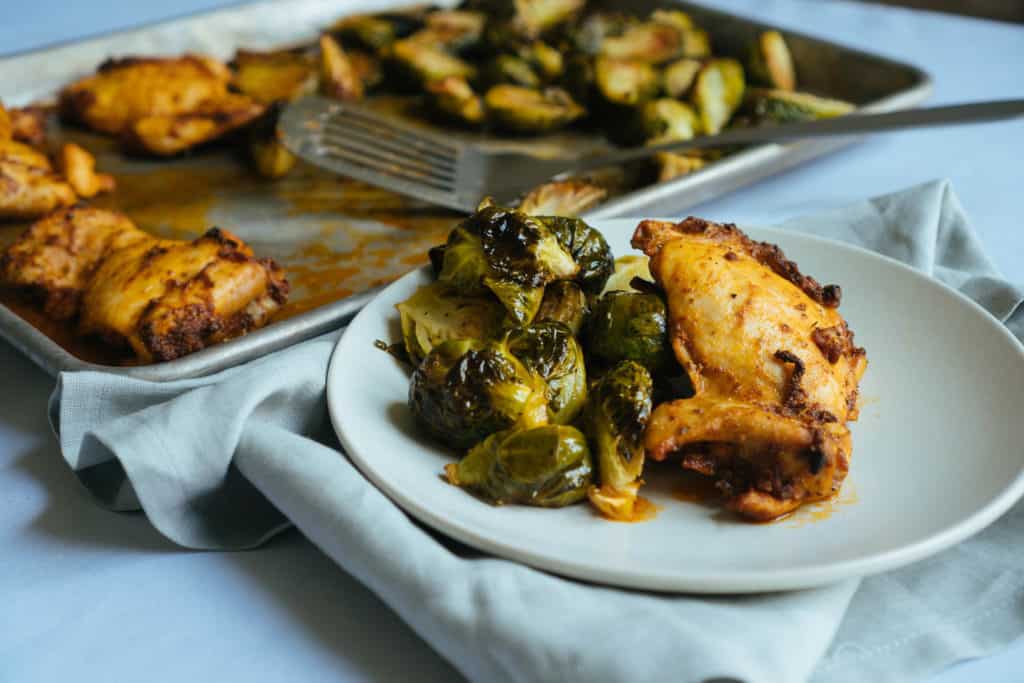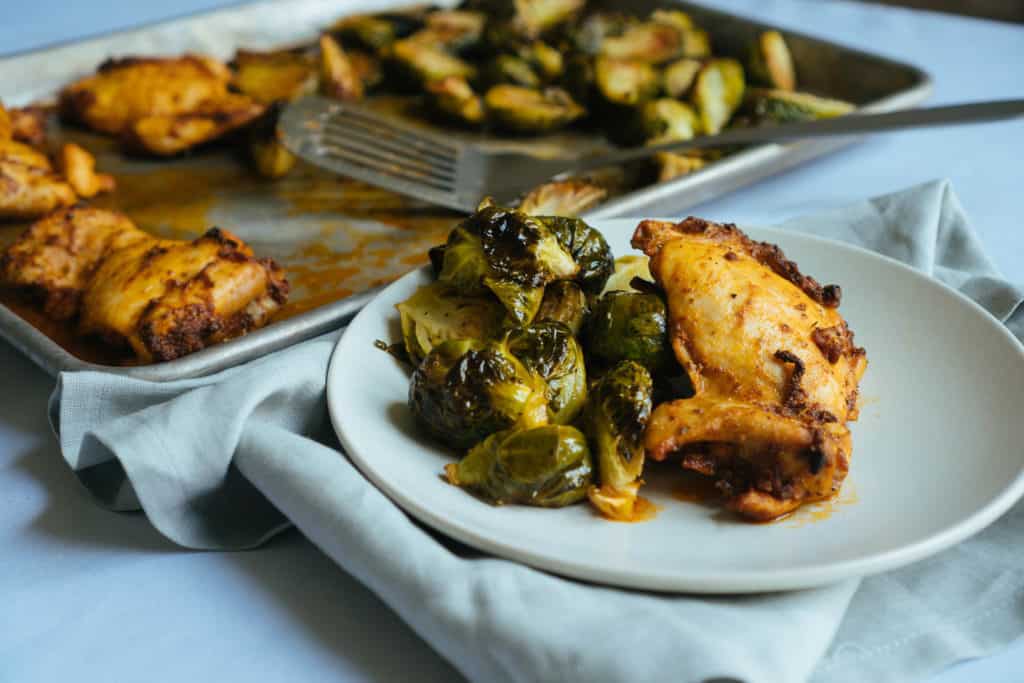 13. Dairy Free Orange Chicken – 1g net carbs
Asian recipes are a staple in our household. For a while, we were making a few basics, including our Cauliflower Fried Rice, until we discovered this Low-Carb Orange Chicken! The meat is hearty and tender, while the sauce is sweet and tart – the perfect complements.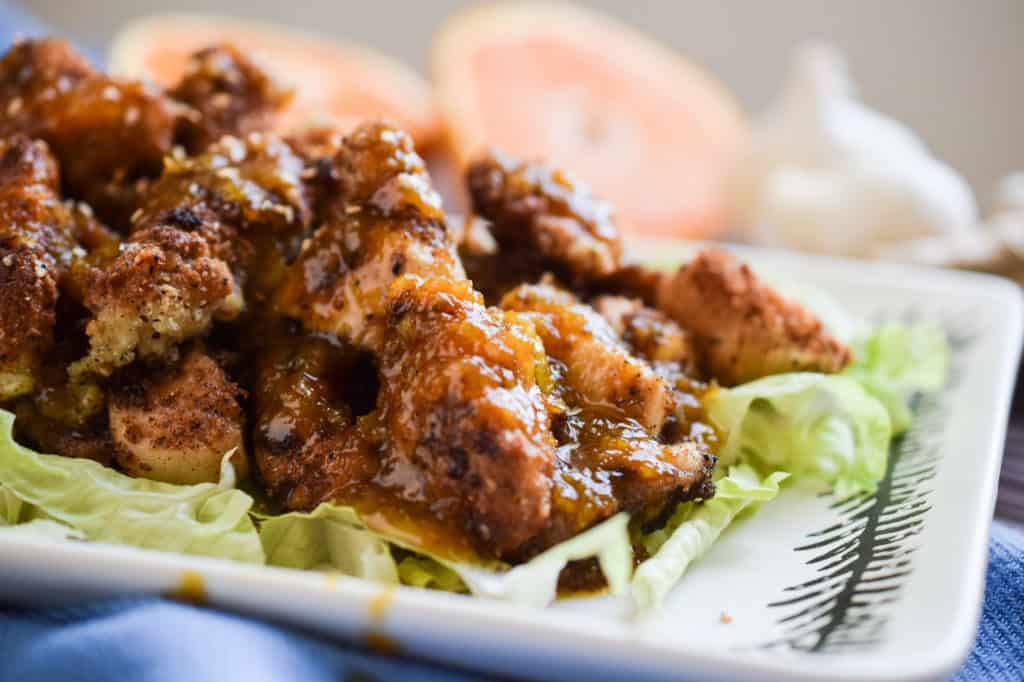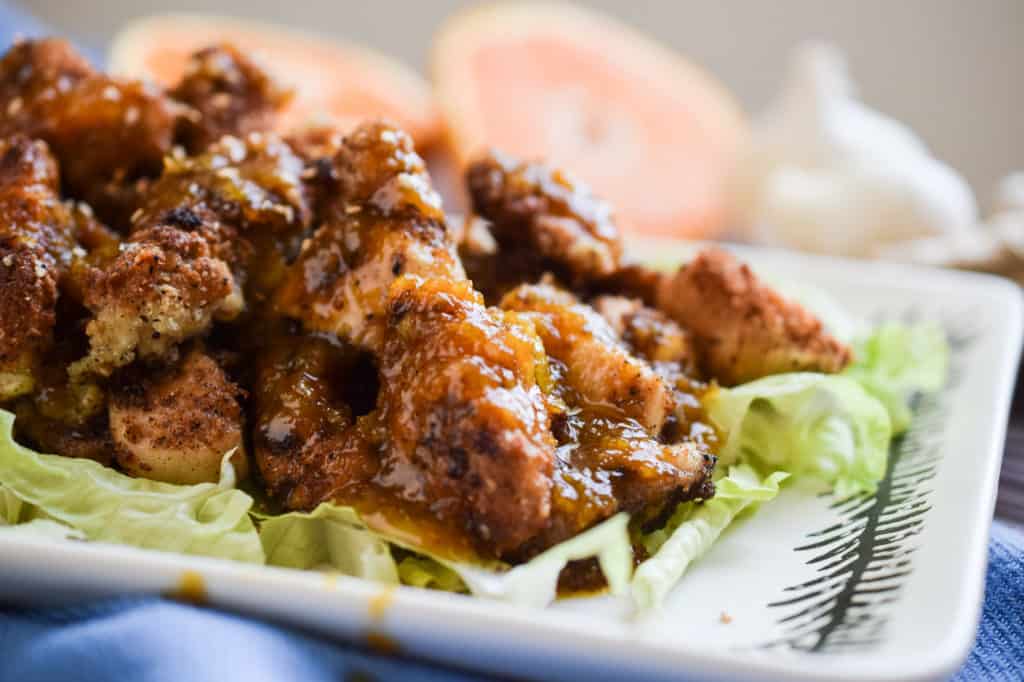 I'll be honest, fish recipes haven't always been our most liked, but this changes the game! I get it, I would also rather make and eat a dessert recipe, but this Keto Salmon Curry is going to elevate your taste buds. It is absolutely one of our best recipes and takes under 30 minutes to make! Download our Dinner in 30 cookbook for more quick recipes.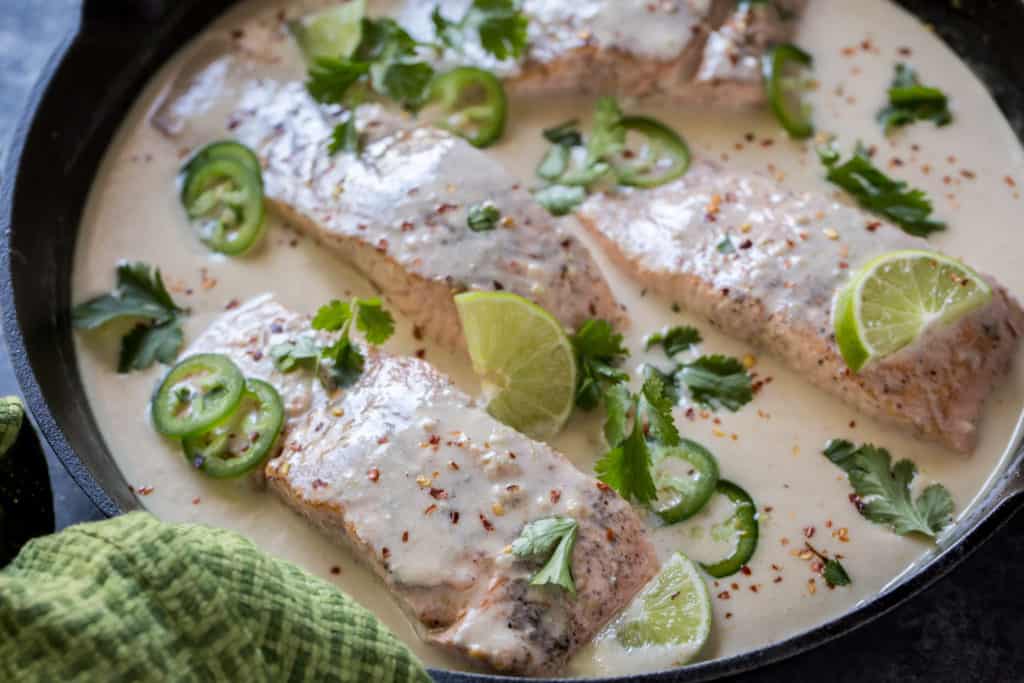 If you love Chinese food as much as I do, you are going to instantly fall in love with this Low-Carb Kung Pao Chicken! Prior to keto, I always ordered kung pao chicken when my family got Chinese take out. Now, you can have it again, guilt-free, knowing exactly what went into making this recipe!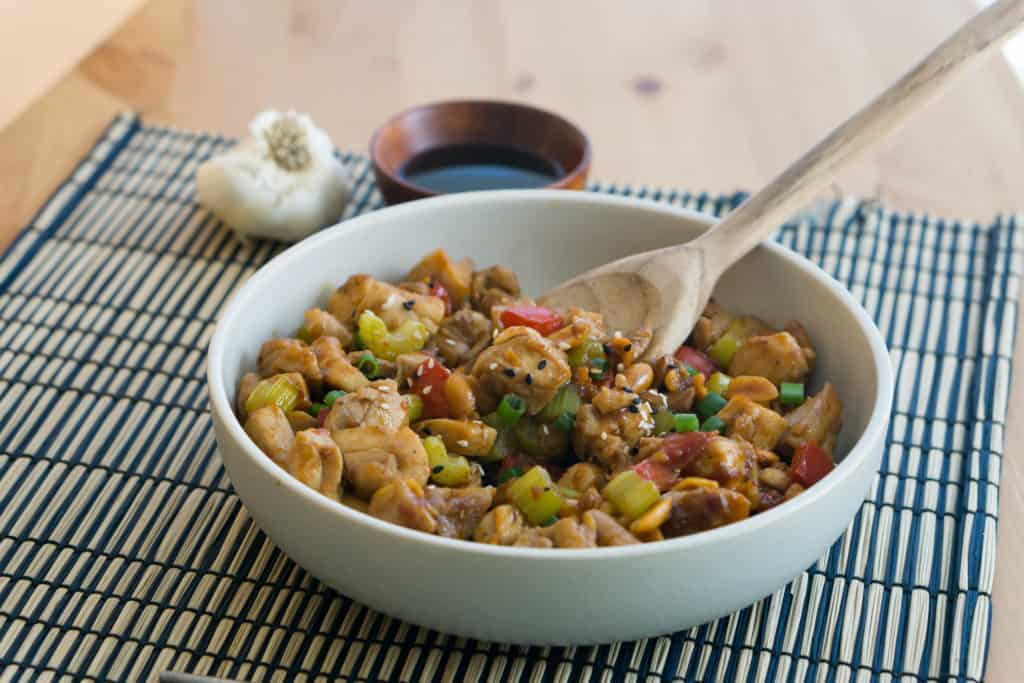 As our lives get busier, our recipes get simpler, and this One Pan Chicken Thighs recipe is a major go to for us. We've kept the recipe as simple as possible with some fresh lemon so you can jazz it up with whatever seasonings or veggies you have on hand.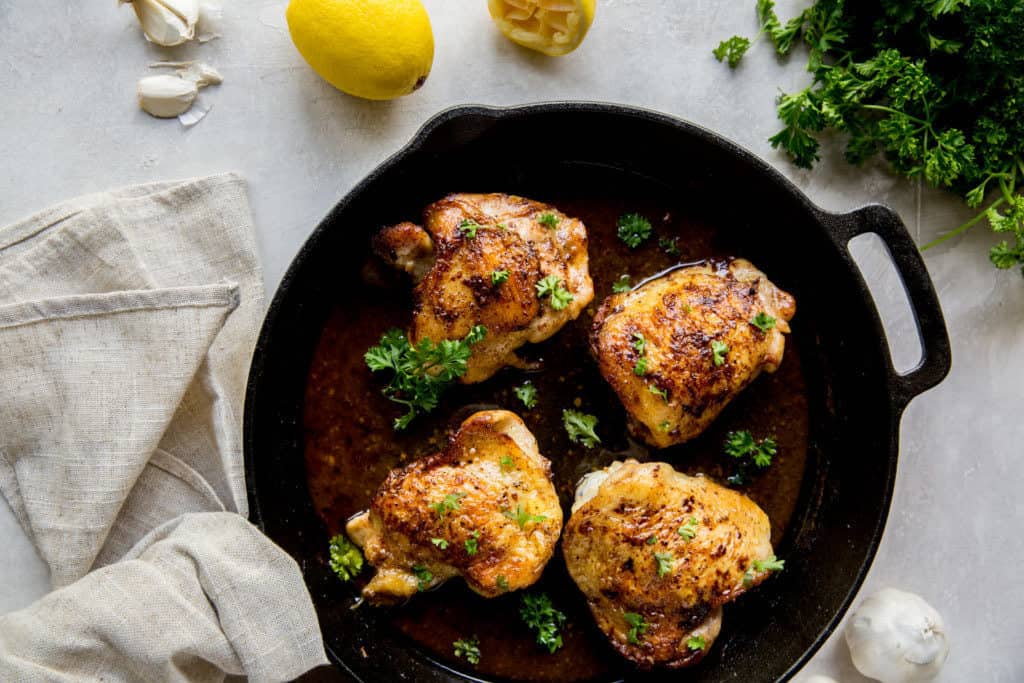 17. Egg Salad – 4g net carbs
The high fat-to-protein ratio in Egg Salad keeps me full and satisfied until dinner and you can change it up every single time you make it. This post features my two favorite ways to make it!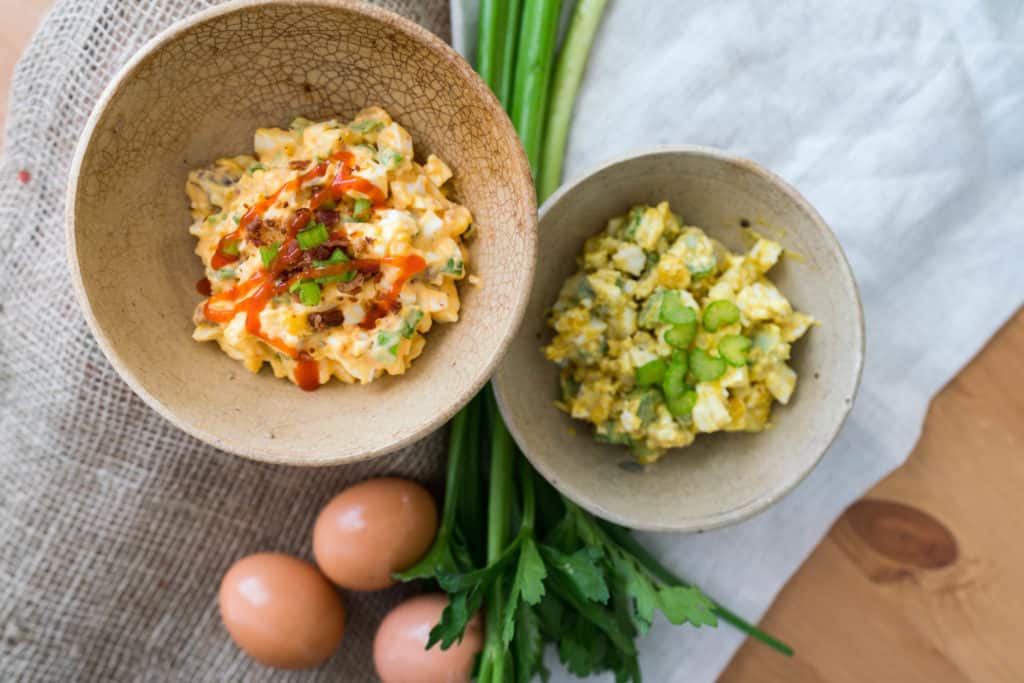 With our Whole Foods Keto Challenge for the month of June underway, we've been making a ton of out-of-the-box recipes for dinner. This Easy Beef Curry is super quick and easy to make in the Instant Pot and will fit right into your rotation of weeknight dinners whether or not you are joining us for the challenge!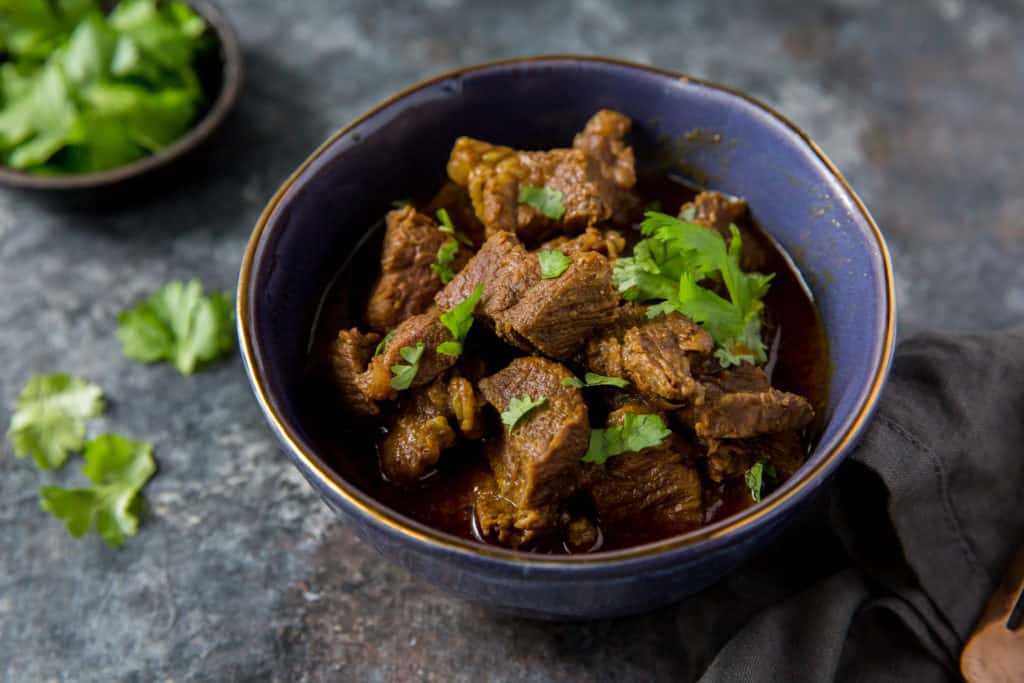 Seven Dairy-Free Keto Side Dishes
You didn't think we were going to stope at main dishes, did you? We've got seven delicious side dishes that are all dairy free. Try one tonight!
This recipe is the perfect pairing to your burgers and hot dogs, and acts as an even better replacement to the high-carb, starchy side dish, potato salad.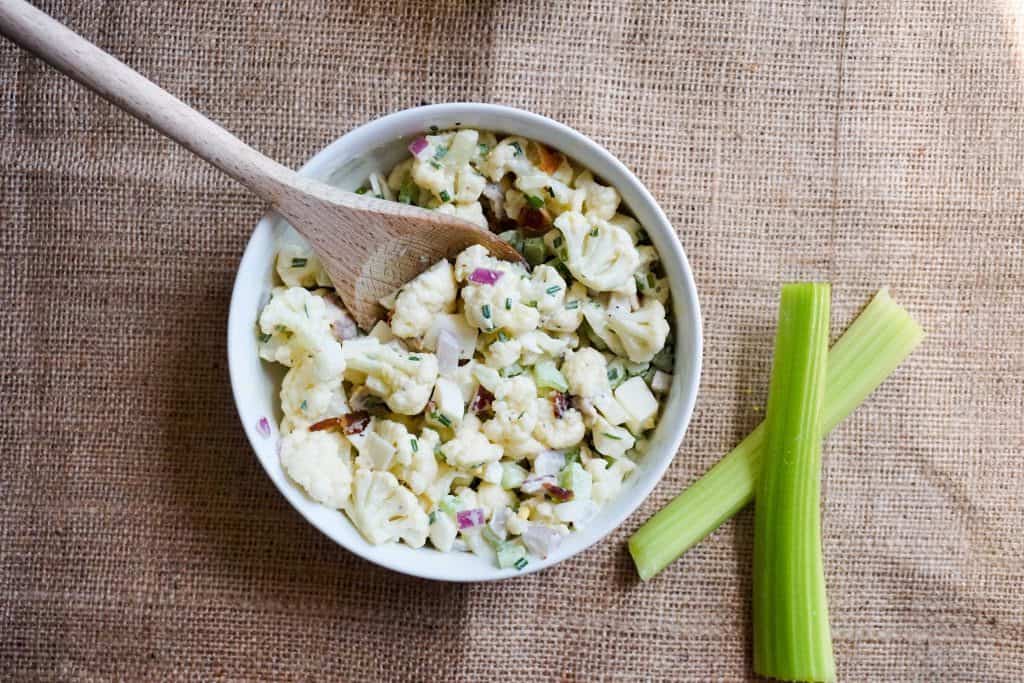 2. Dairy Free Broccoli Salad – 5g net carbs
This Keto Broccoli Salad is one of my favorite ways to take a boring low carb vegetable like broccoli to the next level with minimal effort. A quick blanch and some mix-ins and you've got the next best summer cook-out side dish!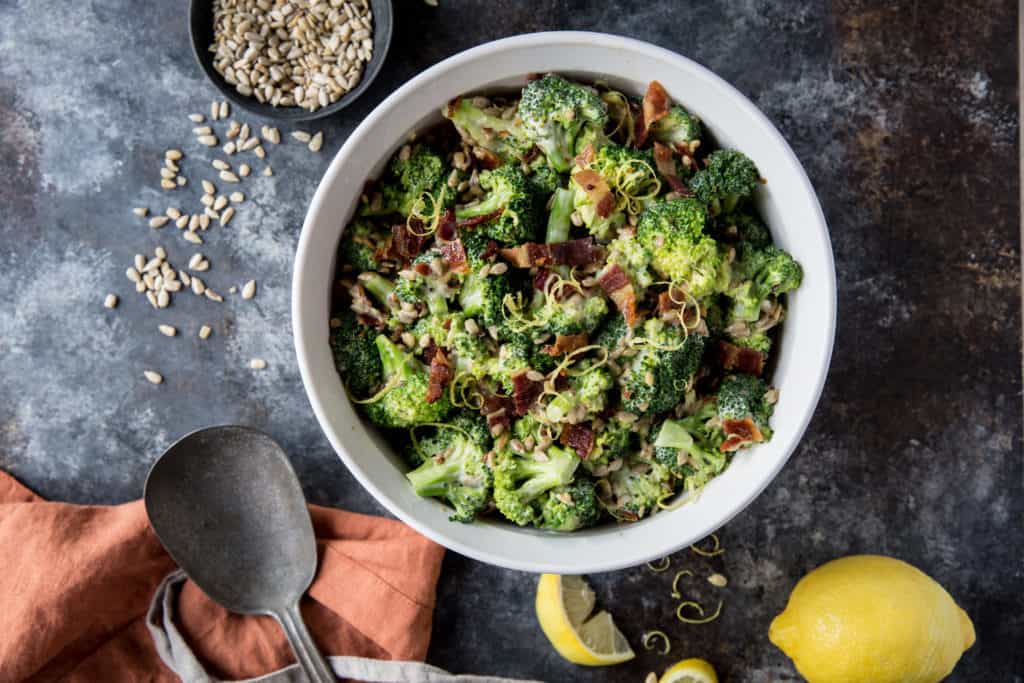 What makes this recipe so easy is the minimal ingredients. If you can hard boil an egg, you can make all kinds of deviled eggs.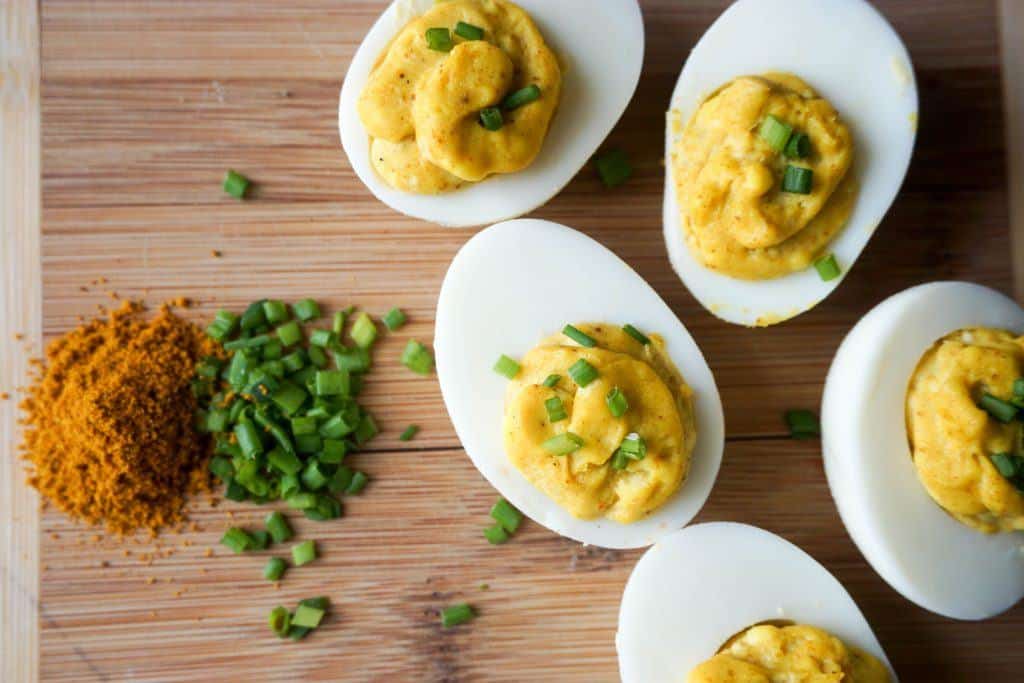 One of the hardest decisions we make on a daily basis is what to eat for dinner, so we put together this post of our favorite Low-Carb Sides! On any given night, you can find us eating one of these sides with a steak or salmon. Having some go-to sides can make your dinner decisions a lot easier!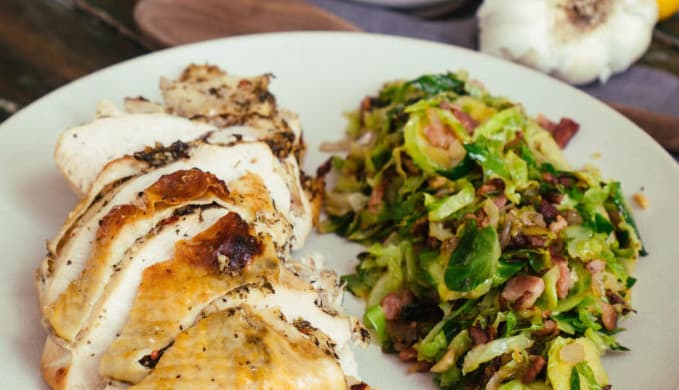 After many failed attempts at Low-Carb Tortillas, we've got it down and are now ready to share it with you! Perfect for tacos, burritos, and deli wraps.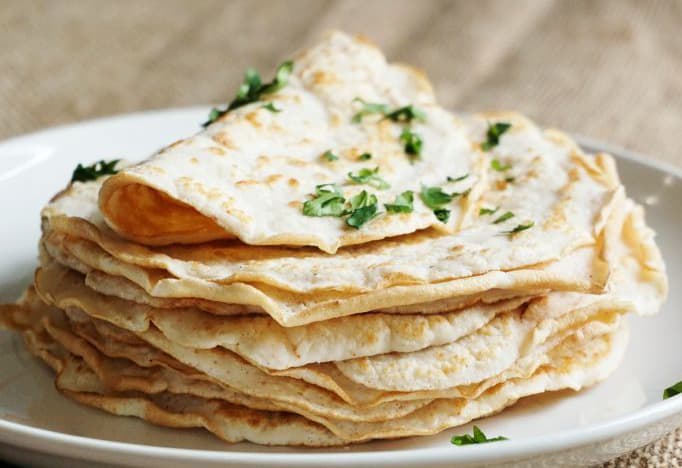 Since I discovered how to make these I've always made sure some are always in the fridge for us to snack on or make sandwiches out of!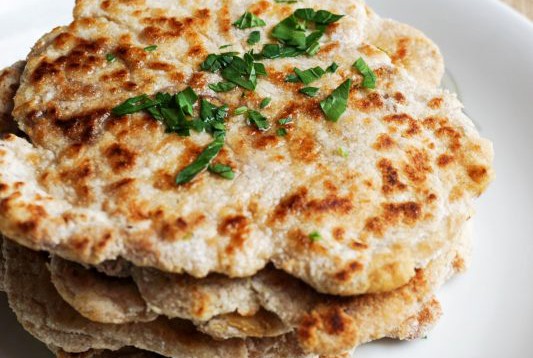 This Avocado Appetizer is simple and packed with flavor all at once. I know it's hard to believe, but the first time we tried it in Hawaii we were taken back at the complex flavors in such a seemingly simple dish. We knew we had to recreate it!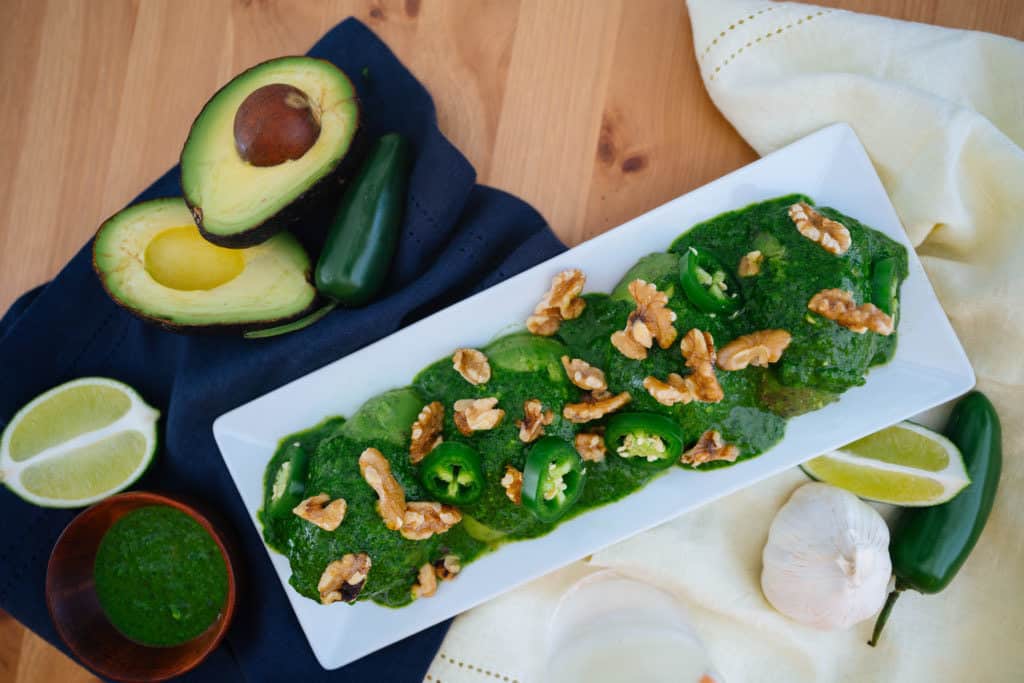 Eight Dairy Free Keto Desserts
Dairy-Free keto desserts are harder to come by, but the truth is you can make almost any recipe dairy free. Swap butter for a different fat source and use coconut and nuts instead of creams and cheese.
Of course you're going to love this easy fudge recipe! To keep it as simple as possible, mix the ingredients, freeze, then eat. Make it before dinner and it's ready by the time you clean off your plates and everyone is digging through the snack drawers!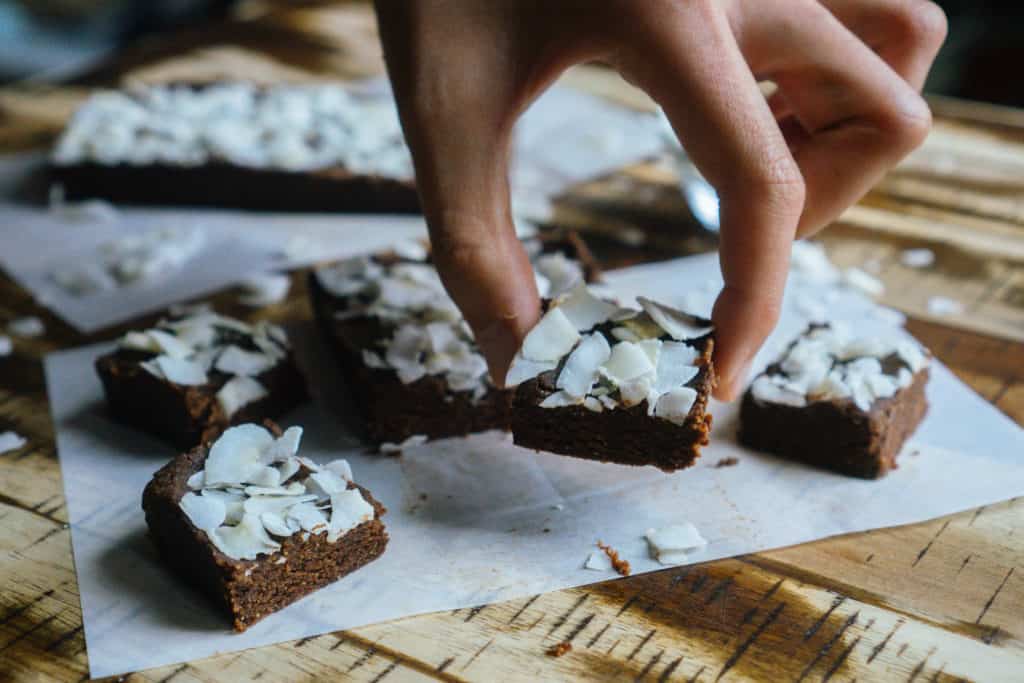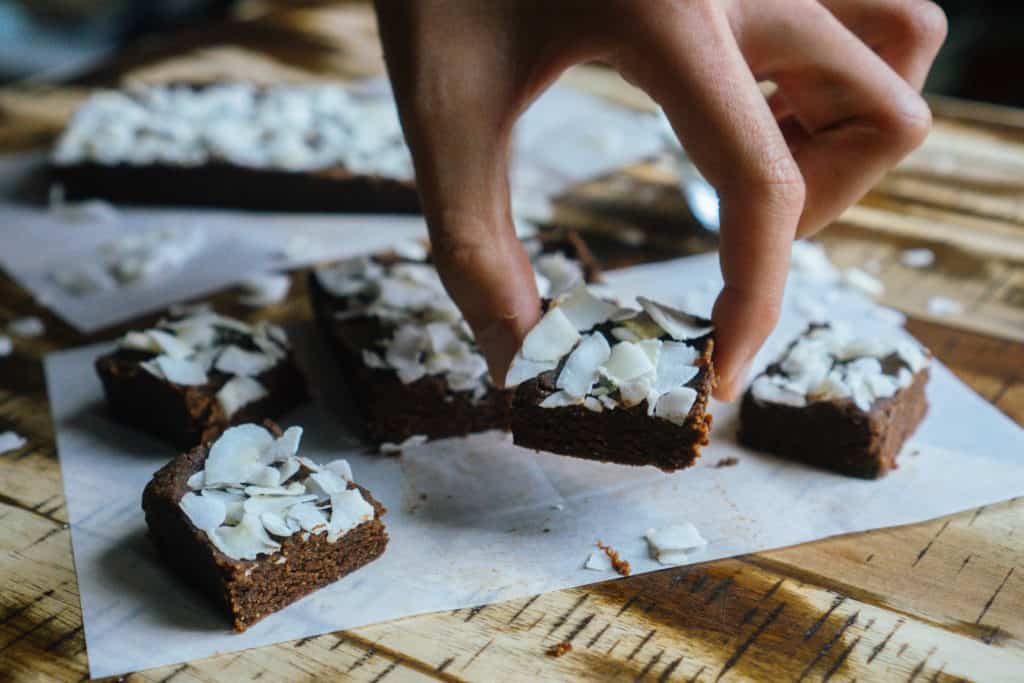 You've asked countless times and we've finally delivered with the Best Keto Fat Bombs to exist. They are shelf stable, easy to whip up and delicious every time! We first discovered these when we were traveling for work and were tracking macros very strictly.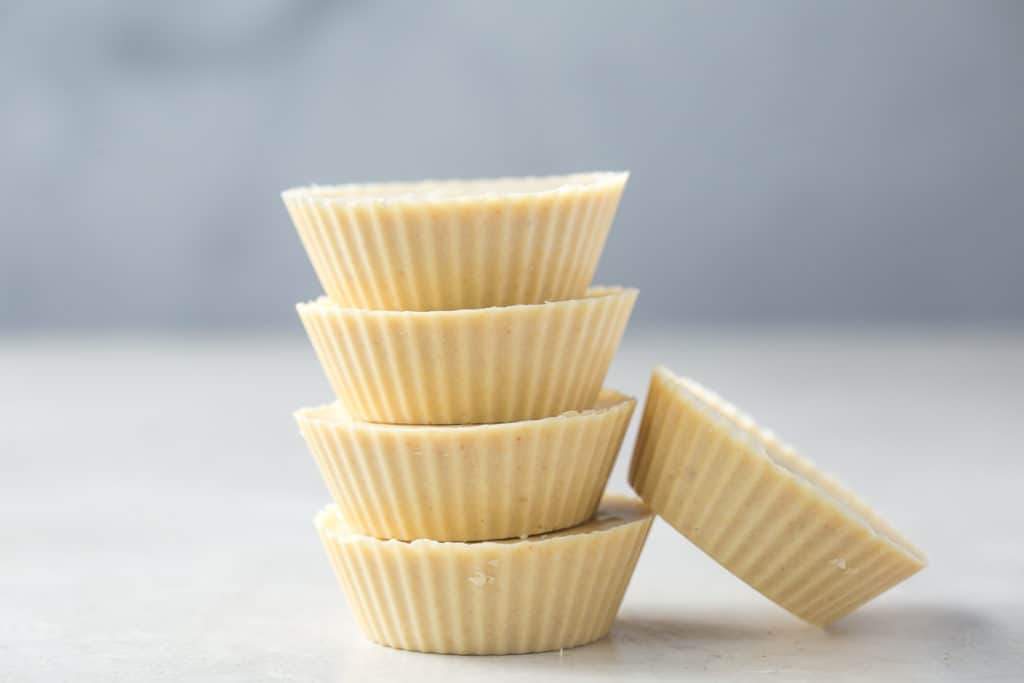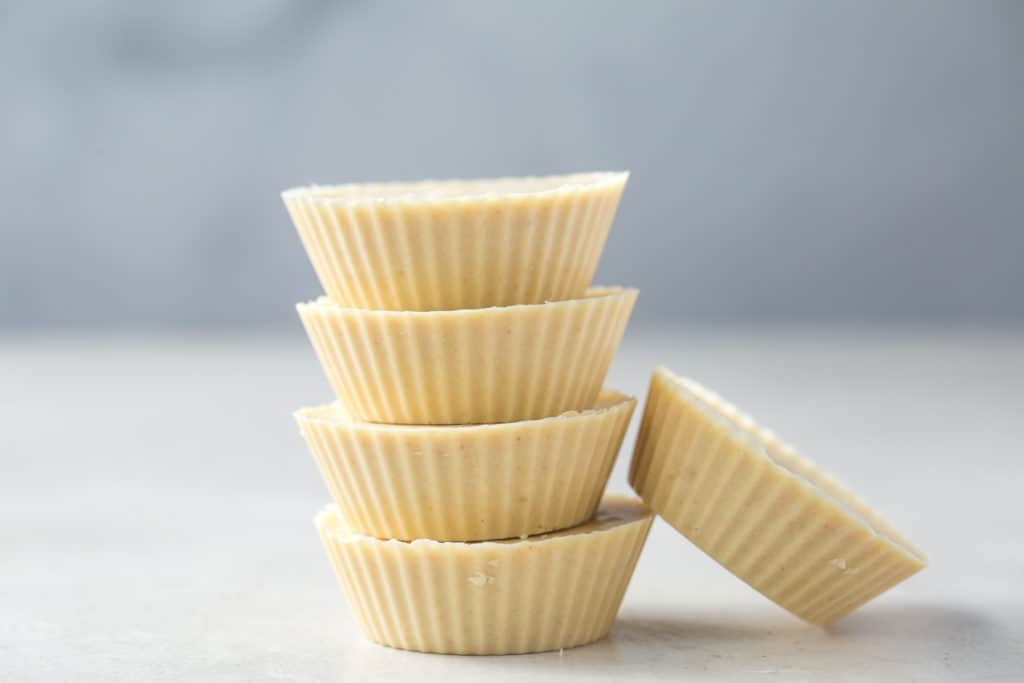 Have too many leftover avocados? Make these Avocado Fudge Cookies so they don't go to waste and you end up with a delicious, guilt free dessert to snack on! All it takes is some simple ingredients, twenty minutes and a chocolate craving to make this recipe come to life.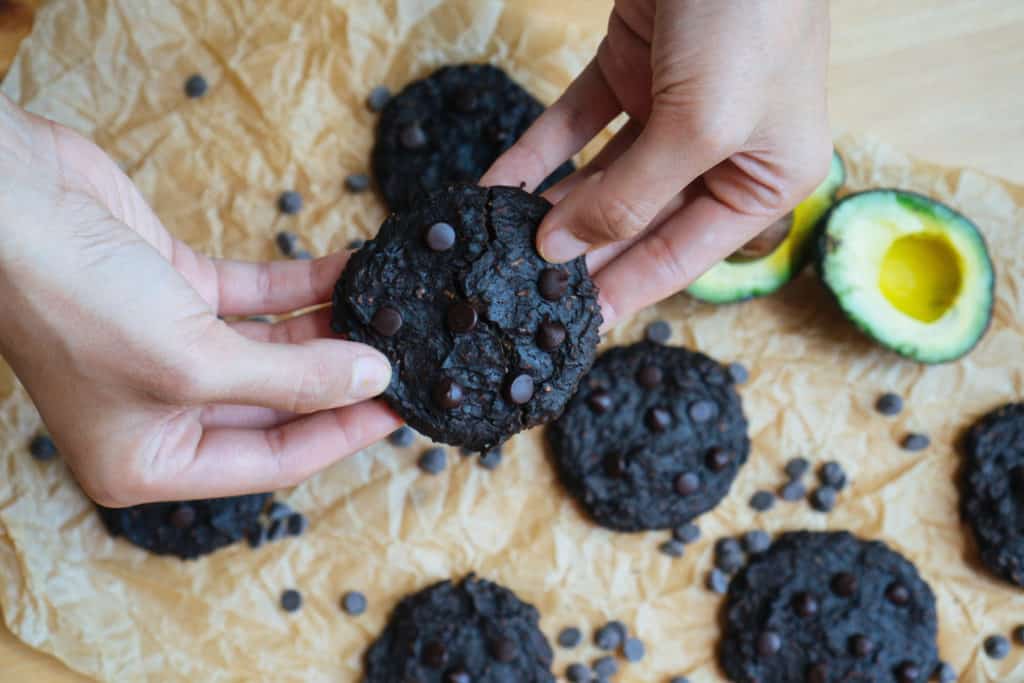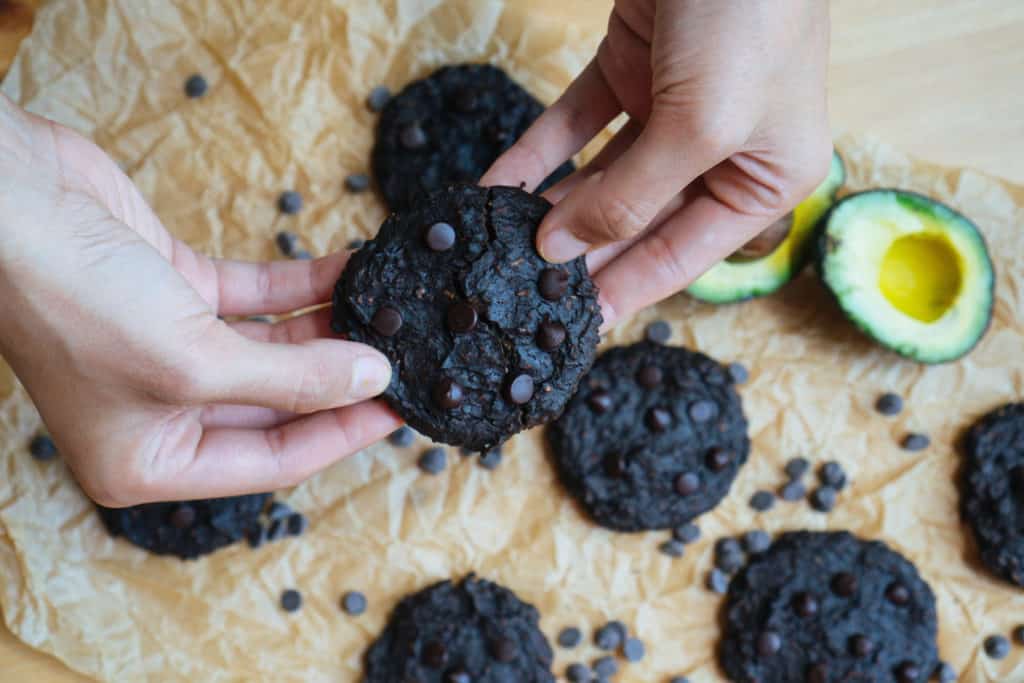 To make it more acceptable and easy to eat brownies everyday we created these Mini Brownie Bites that are basically delicious, chocolate-y fat bombs. No baking is required and you can make them in bulk weeks ahead of time.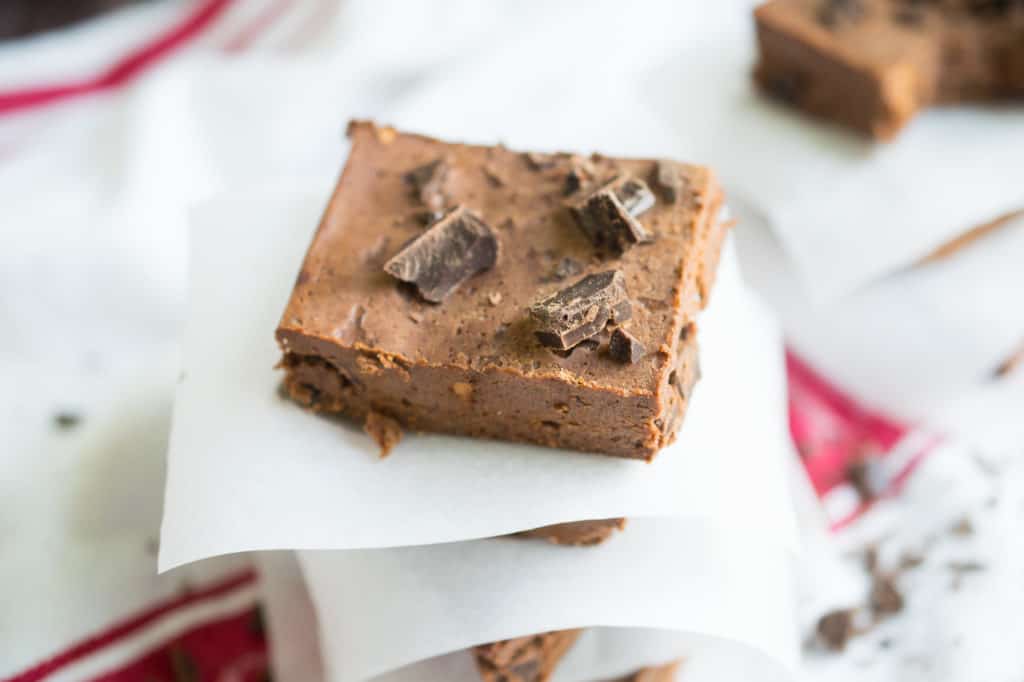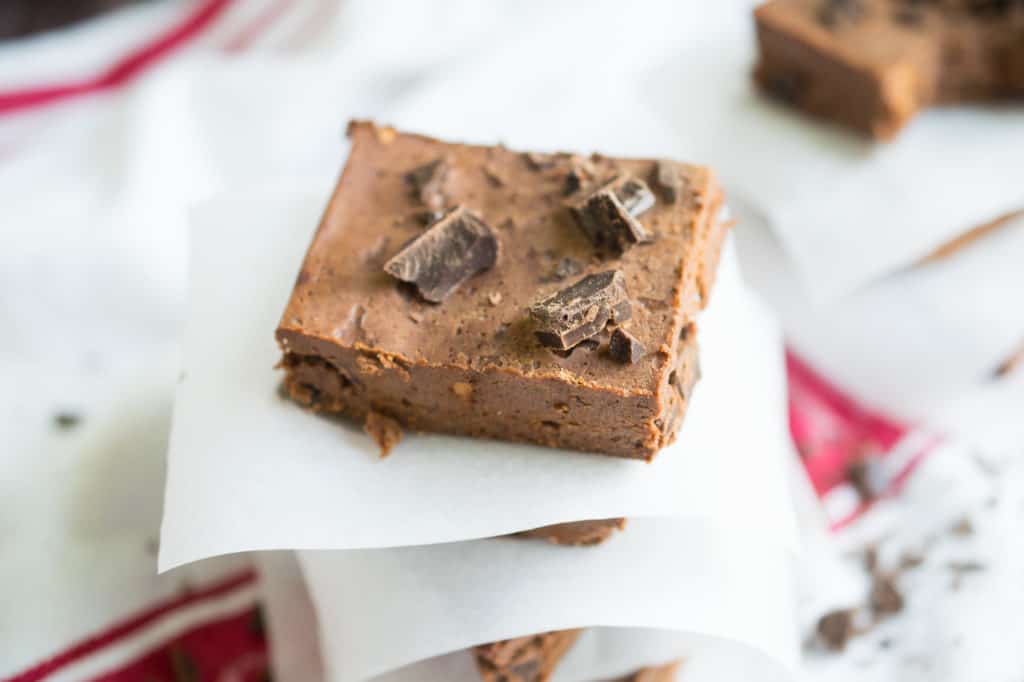 Don't let the word vegan deter you from watching the video or trying these. They are also dairy free, low carb, high fat and can be nut-free if you remove the macadamia nuts! Perfect for making with the whole family or sending to school with your kids without breaking any of the allergy rules at school.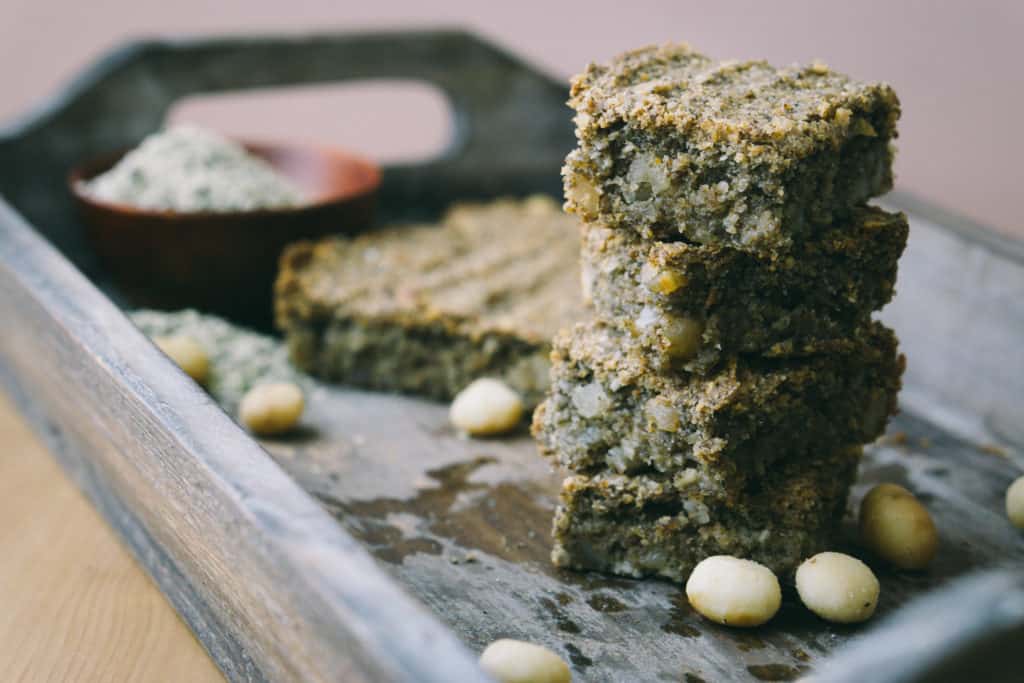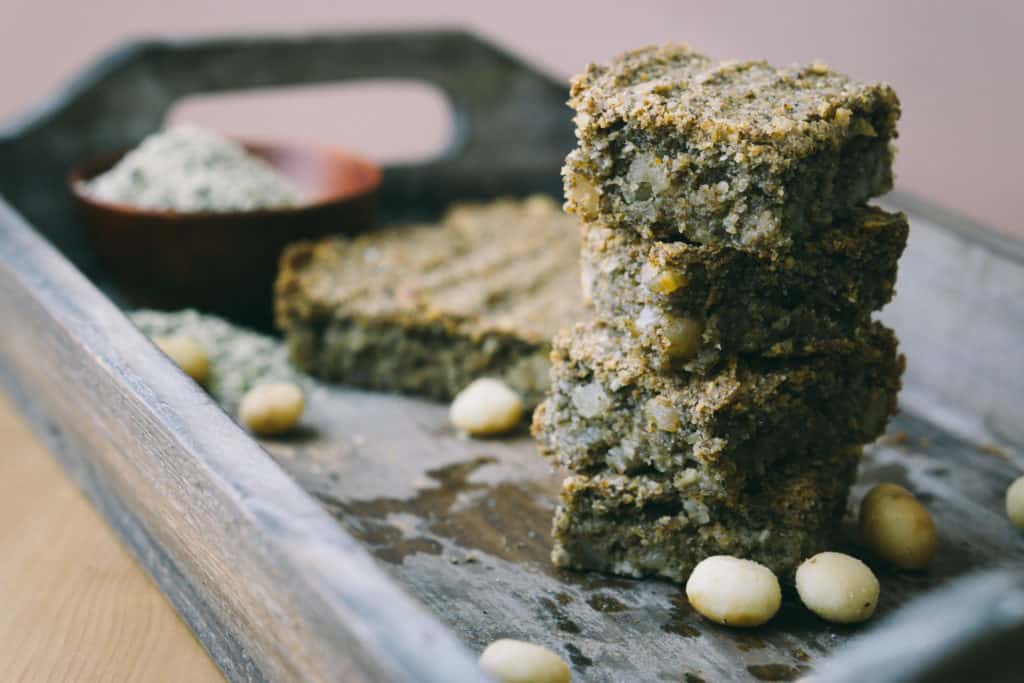 We've tried all the low carb chocolates on the market, but nothing compares to this Keto Chocolate Bar. It takes no more than five ingredients, no baking is required and the macro ratio is on point!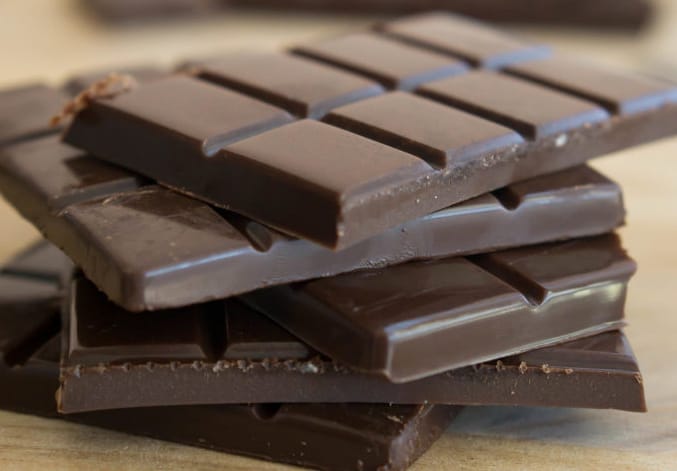 Who doesn't love fried food? If you said "me" then this recipe may not be the one for you. The perfectly round, cinnamon sugar, heavenly bites are deep fried in coconut oil and it's the only way these should be made!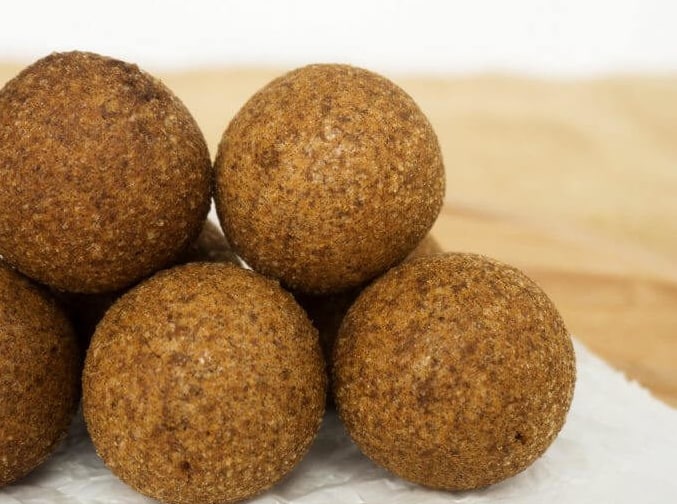 I've always personally been a boring bran muffin kind of girl, but now I'm a sassy, zesty lemon poppy seed muffin kind of girl, and I now have a lot more fun! These muffins are moist and packed with delicious flavor. Watch me make them below and share them with your friends and family!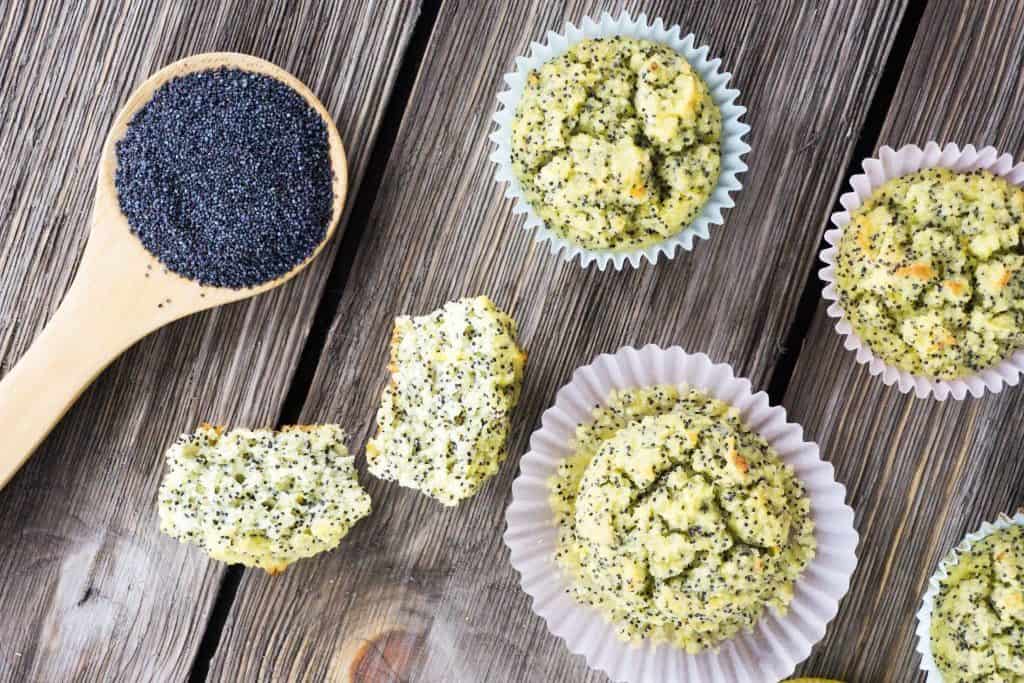 Do you follow a dairy free keto diet? What is your favorite recipe? Let us know in the comments below!