This easy beef curry is super quick and easy to make in the instant pot and will fit right into your rotation of weeknight dinners whether or not you are joining us for the challenge!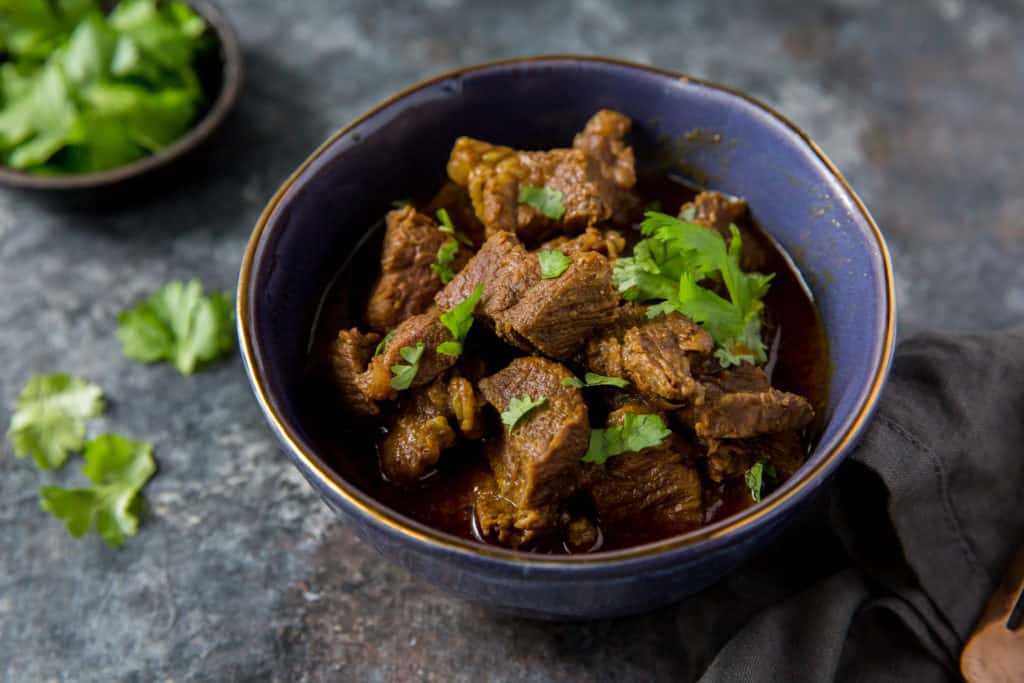 More Keto Curries, Please!
We've been experimenting a lot lately, and the curry route is one of our favorites to take. You can go one of two ways, and you'll never go wrong. You can go the creamy base route using canned coconut milk or heavy cream, or keep it lighter like we did with this beef curry and use a tomato paste base and some broth or water. Some of our favorite curries are:
Shrimp Keto Curry (swap out the meat for chicken or pork!)
Curry Lamb Shanks (oldie, but goodie)
Butter chicken (fan fave!!)
What Beef Is Best For Curry?
Great question! You definitely don't want something too tough. However, the thing to note in this recipe is that most meats will come out pretty tender when pressurized in the instant pot. If you don't have one we highly recommend you get one!
Most grocery stores will sell "meat for stew" which is usually is chuck or round cut that is tough, but tenderizes when used in soups/curries and cooked for a long time or under pressure like we did with this beef curry. It's also usually chopped up into 1-2 inch sized pieces so just season and add to whatever dish you are preparing.
If you can't find the stew meat at your local grocery a large chuck roast will do the job. It won't have a lot of external fat on it (no trimming required), but it will have a lot of nice marbling!
What Can I Serve My Curry With?
Growing up in an Indian household my diet was heavy on the breads and rice. It seems that you can't go without carbs when trying to eat Indian and make it "complete." Well, I'm here to tell you that is totally false!
To ensure I could enjoy my favorite Indian dishes and take out, we made an amazing low carb naan recipe that will leave you impressed and satisfied. It is nut free (using coconut flour) and can also be dairy free/vegetarian! You can also serve up your dish alongside some riced cauliflower as a perfect (maybe not perfect) rice substitute.
Easy Beef Curry
My favorite part about this is not the intense and rich flavors. It's actually the fall of the bone (even though there is no bone haha), tender meat that basically melts in your mouth. Another cool part about this recipe is that you can swap in any meat and you'll achieve the same delicious result! We've made this a couple times since and have used chicken thighs as a substitute.
This not only meal preps well and lasts in the fridge up to one week, but it freezes well so you can store it up to a month and pull it out on a busy night! I love to meal prep this and then freeze a portion of it in a fat bomb mold for our 9 month old son so he can enjoy the beef curry and flavors of his ancestry any day of the week!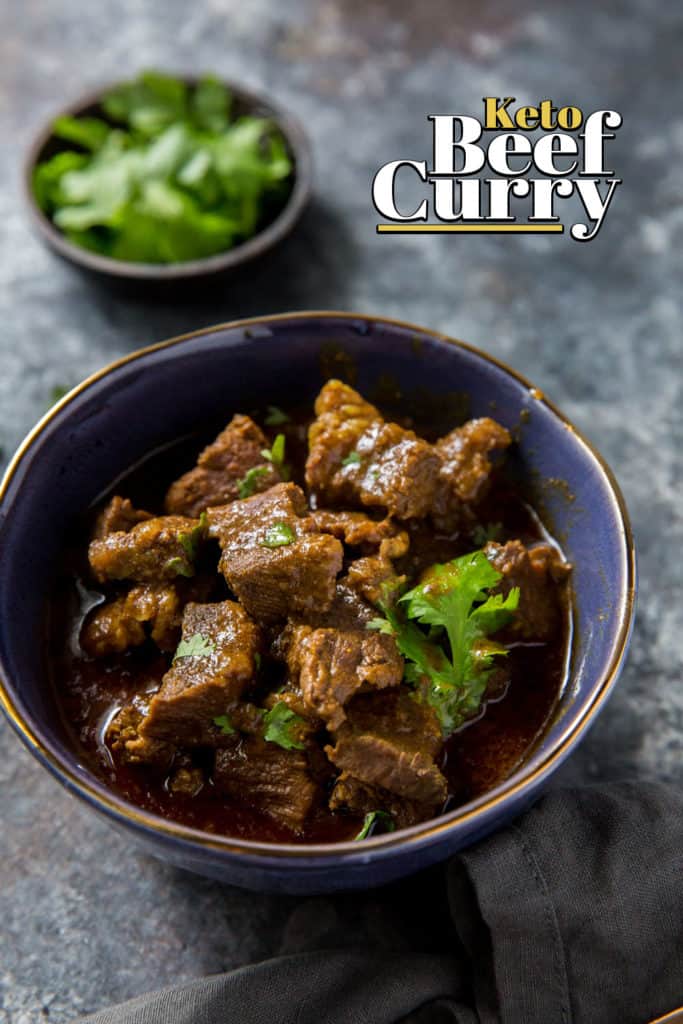 Want More Challenge Recipes And Support?
All month long we'll be sharing recipes we love to make on a weekly basis and fit perfectly into this challenge. The one thing we've learned from doing it last month was that if you keep your recipes fun and packed with flavor you won't feel like you're missing out!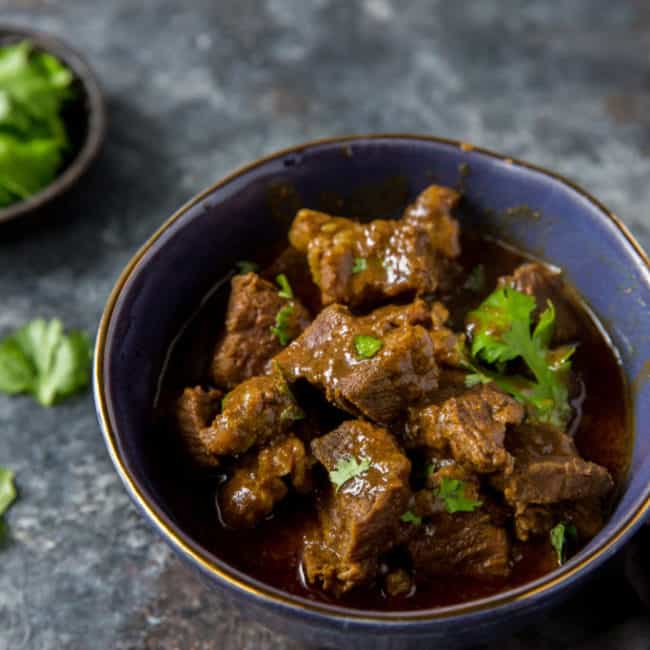 Easy Beef Curry
Our beef curry recipe is tender, flavorful and easy to whip up any night of the week or for meal prep all week long!
Total Time 1 hour 35 minutes
Servings 6 servings
Calories per serving 329kcal
Prep Time: 5 minutes
Cook Time: 1 hour 30 minutes
Instructions:
In a dutch oven or other large skillet safe pot heat avocado oil over medium heat, add onion and cook until tender.

Add garlic and ginger then cook for an additional 1-2 minutes.

Add tomato paste, water, ground turmeric, ground coriander, garam masala, cinnamon salt and red chili powder. Still well. Then add bay leaves..

Add cubed beef to the pot, stir well. Cook, covered on low for 1-1.5 hours until beef is tender.

Remove from heat. Remove bay leaves and top with fresh cilantro, is desired, and serve!

Note: If you want to thicken the curry you can allow it to heat over medium-high heat for 5-10 minutes to allow it to reduce. You can also stir in 1/4 tsp of xanthan gum and heat for 3-5 minutes as you continuously stir until the sauce has thickened!
Notes
Net Carbs: 3g per serving Yields: 6 servings
Nutrition Facts
Easy Beef Curry
Amount Per Serving
Calories 329 Calories from Fat 198
% Daily Value*
Fat 22g34%
Carbohydrates 3g1%
Fiber 1g4%
Protein 30g60%
* Percent Daily Values are based on a 2000 calorie diet.
Written By