There's nothing quite like warm keto chili that has been stewed for hours on a cold winter day. It's spiced with cumin, garlic, oregano, and chili powder, sure to comfort even the most refined palates. So quit waiting and start cooking, this Southern recipe is sure to fill your stomach and your heart!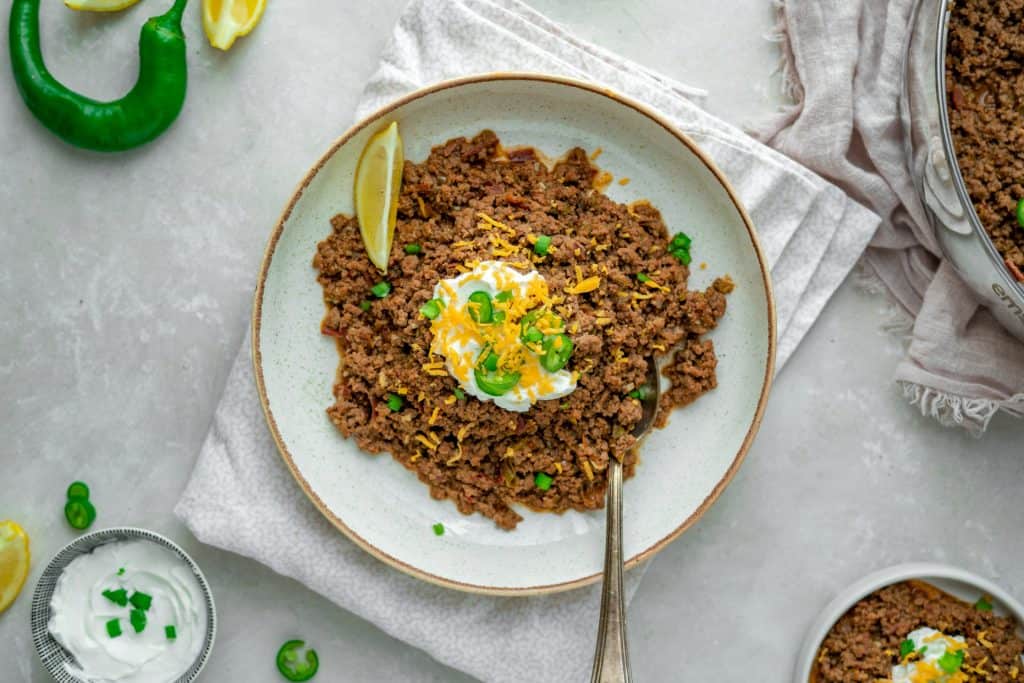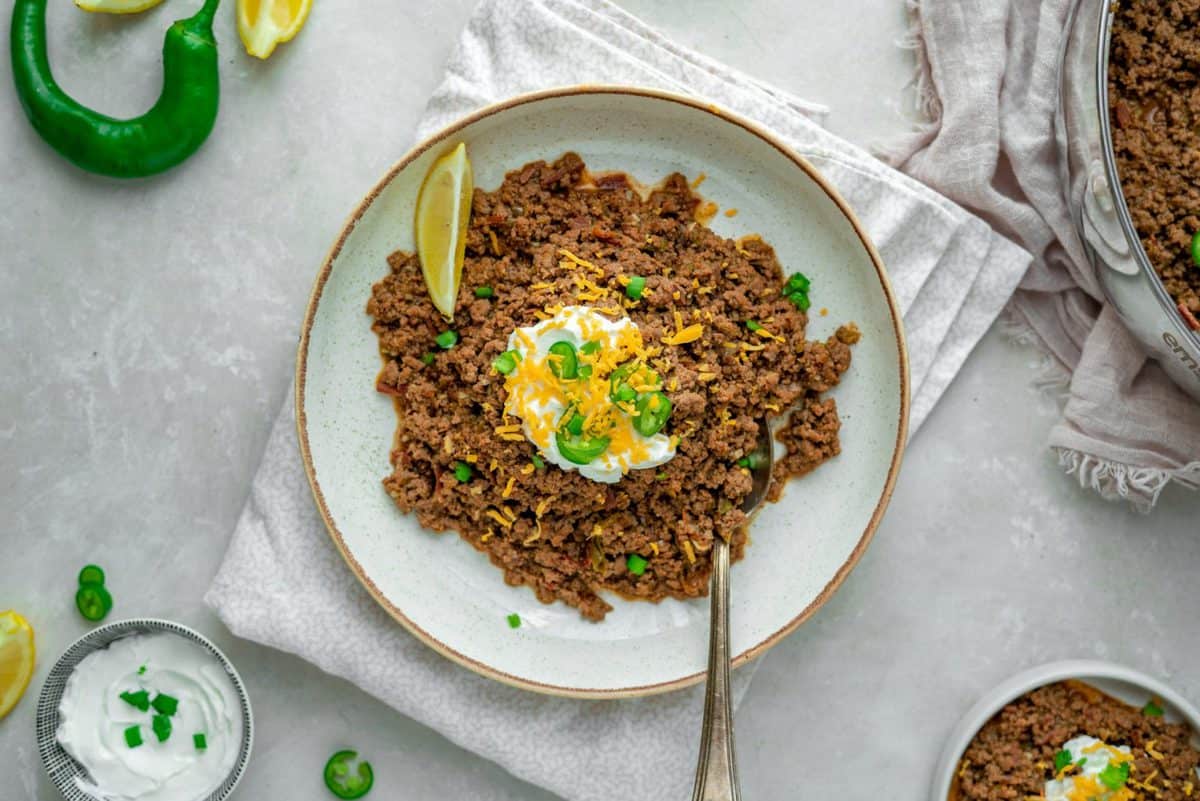 Keto Chili With Bacon for Dinner
One Saturday afternoon, we decided it was time to break in our new cast iron pot. There was only one food I thought could do it justice, Keto Chili With Bacon. I pitched the idea to Matthew, and although he wasn't fully on board, we decided to go with it.
As soon as we cooked down the bacon and tossed in the ground beef, he was hooked. Matthew was officially a chili man! If you want to watch exactly how we make our chili, check out this step-by-step Live Cookalong video of Matt and I hanging out in the kitchen, cooking keto chili.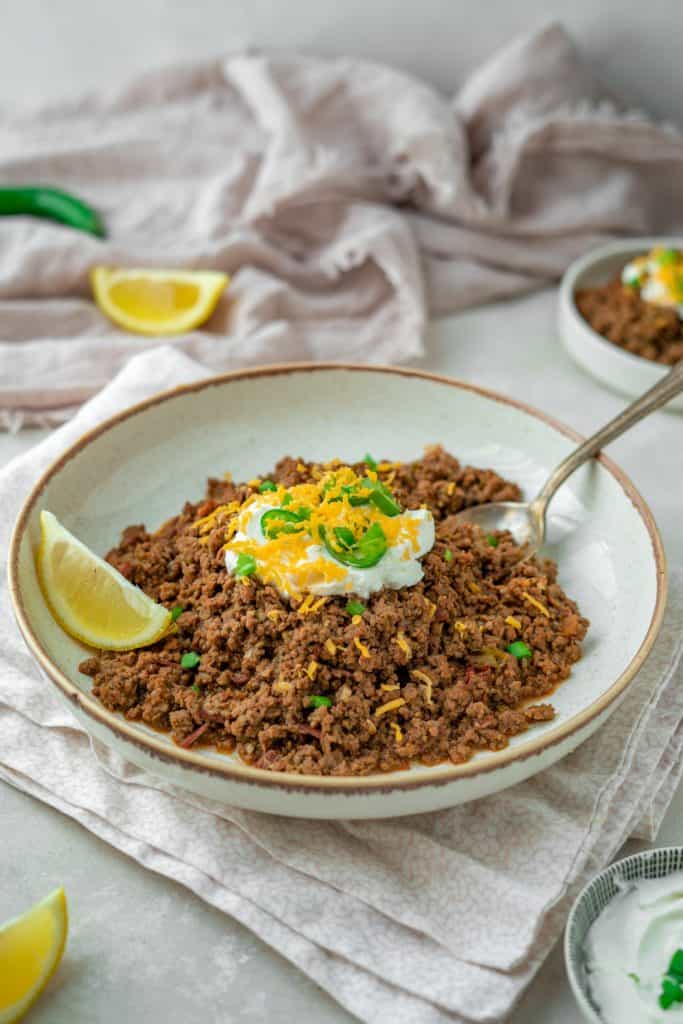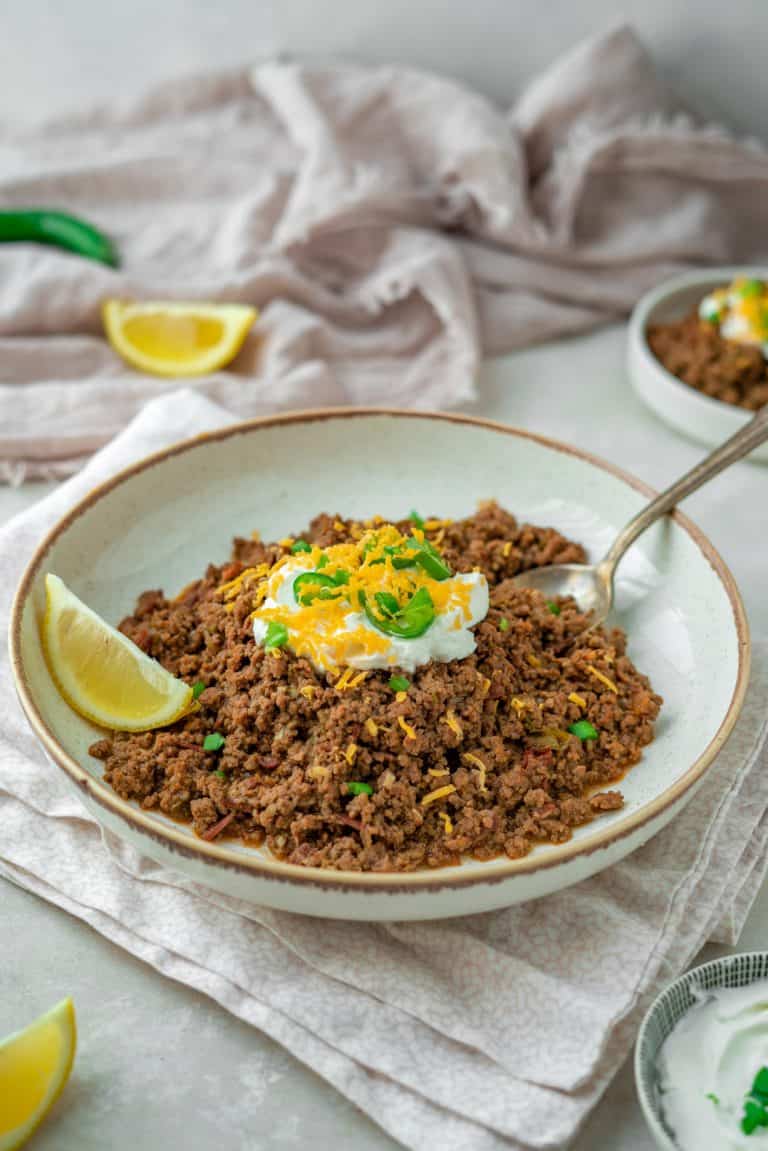 Tips for the Best Keto Chili Recipe
This easy low carb chili recipe is flavorful and filling, tastes amazing (even without beans), and is done in just 30 minutes (if you choose not to simmer it for longer). BUT, if you're looking to get the most flavor possible and want to know the tips to make your keto chili recipe the best we've got everything you need to know below:
Slow Cook it– The key to getting an extremely flavorful keto chili is the slow cooking process. We tossed in green bell peppers, onions, tomatoes and jalapeños, but after two hours of cooking and reducing on the stove everything was fully incorporated. (You don't necessarily have to slow cook it for as long as we did, but if you have the time, it pulls all the flavors together really well. You can also cook it on low heat in the slow cooker for extra flavor)
Make A Keto Chili Packed Salad– Another great tip is to top a bed of lettuce with this chili, and then add some guacamole and cheese for a filling meal. If you're feeling bold sprinkle some quest chips on top for an extra flavorful crunch.
Add a Hint of Sweetness– Chili can be spicy and smokey depending on the amount of chili powder and bacon used. Add a drop or two of liquid stevia, or a diced carrot for natural sweetness. The balance of sweet heat is really delicious
Get Creative– Sometimes playing with spices is all you need to do to make the best low carb chili recipe. We've added in things like a 1/2 tsp of instant coffee, a touch of cinnamon, and a splash of bourbon to make different chili flavor profiles.
Make it Thick– A thick and hearty chili is always the best route to go. If you miss beans and heartiness they bring, add some extra tomato paste for a thicker and heartier chili. You can also simmer this keto chili recipe longer to evaporate the broth and make it extra thick.
These are a few of our top chili tips, but if you've made this chili let us know your secrets in the comment section below! This is definitely a week night favorite for us, so we can use as many chili tips and tricks as possible!
A No Bean Low Carb Chili!
There are a few keto bean options we could have turned to, but decided to go with a no-bean chili here! Chili without beans may not be the traditional route, but it is certainly a delicious one. In one serving of kidney beans (100g) there are grams of 60 carbs and 35 grams of net carbs. Definitely not keto friendly! Rather than try to squeeze in a tiny half serving of beans, we thought best to amplify the flavors we already had with spices and bacon. Just because you're having keto chili without beans doesn't mean you should feel like you're missing something.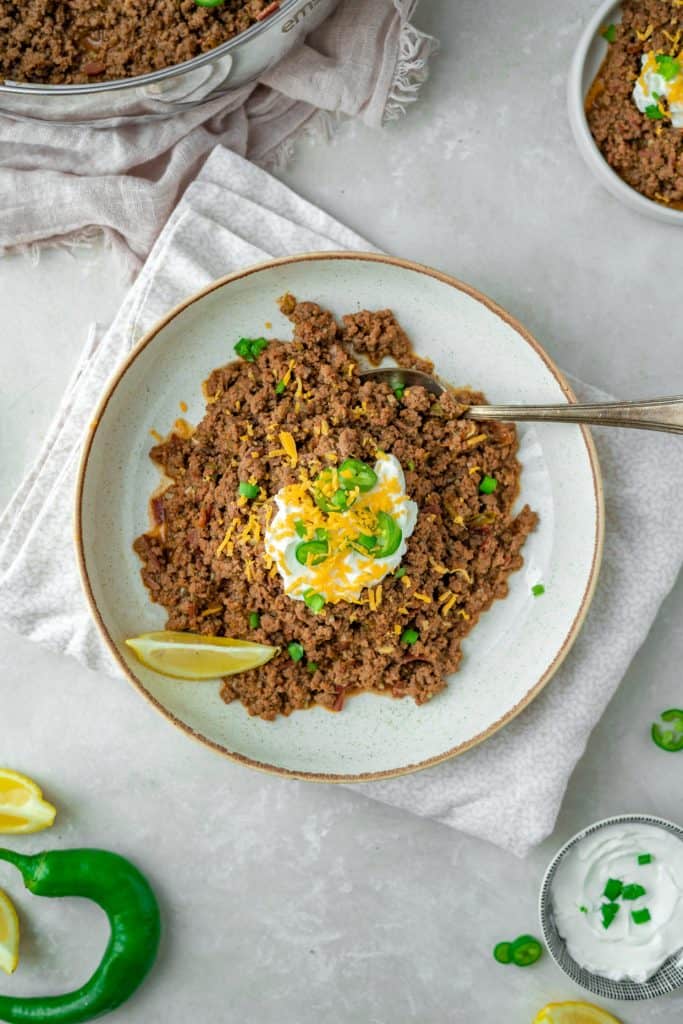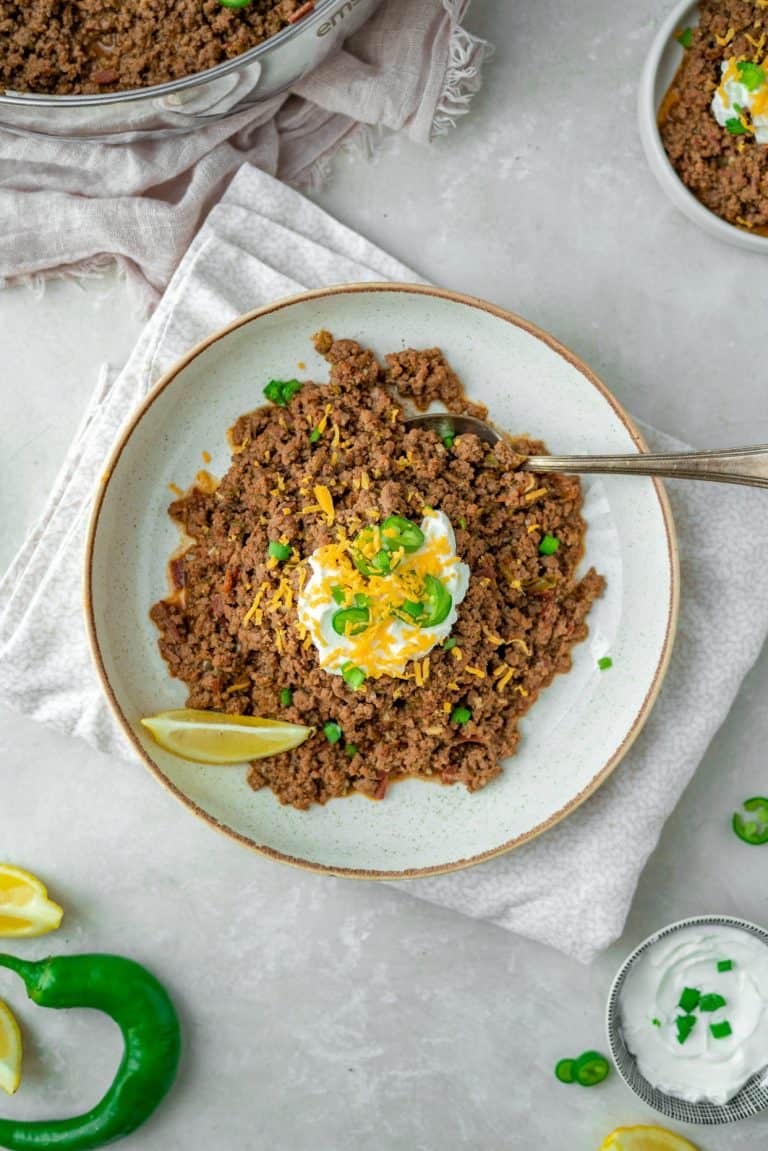 Let's Talk Tomatoes
Okay let's address the elephant in the chili… We don't use tomato sauce, or even fire roasted diced tomatoes! We know it sounds crazy, but the carbs per serving size of those ingredients were just too high in our opinion.
Where's the Tomato Paste?
Many keto chili recipes also use tomato paste or tomato sauce to not only give it more substance, but to give it a more tomato-y flavor. We heavily considered our options and ultimately decided to go with a single roma tomato. We opted for the fruit instead of the canned stuff because it is significantly lower in carbs. Honestly, tomato paste really doesn't seem like much of an option to us when we're keeping it low carb! You can go the more traditional route with a tablespoon or two of tomato paste, but you seriously won't be missing out when you dig into this spiced Keto Chili with Bacon!
How Many Carbs are in Keto Chili?
You will be happy to know our keto chili contains just 4.8 net carbs and 50 grams of protein per serving! That means for those with a big appetite who want two servings, you will be eating just under 10 net carbs and 100 grams of protein. By golly we might as well be body builders with all that protein. So learn to enjoy being full and satisfied with sustained energy, because that's all you're going to get from this healthy keto recipe.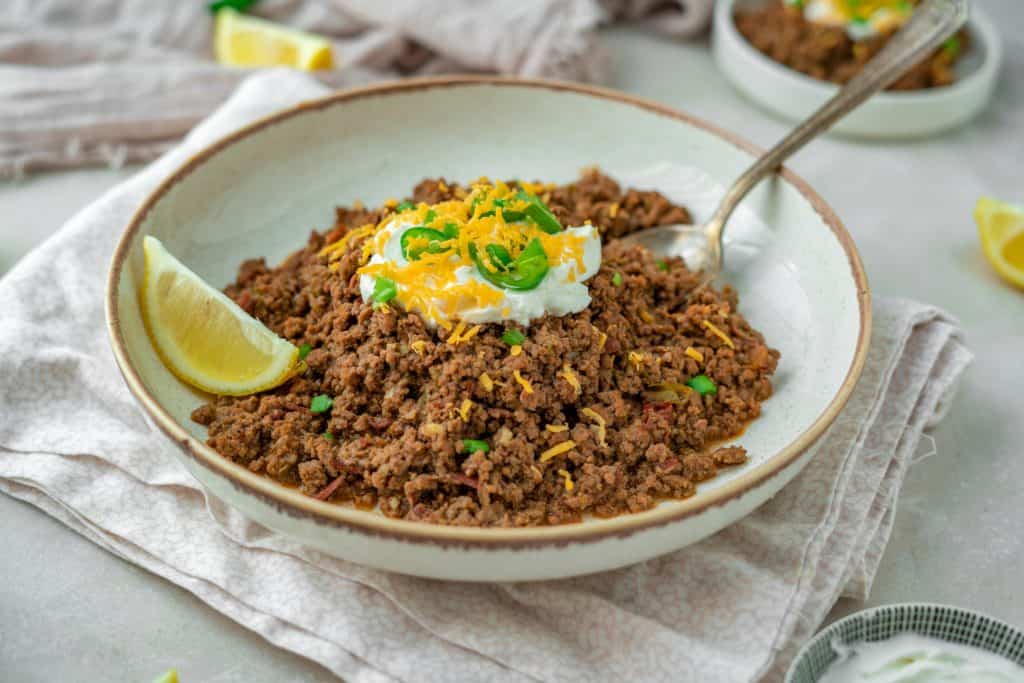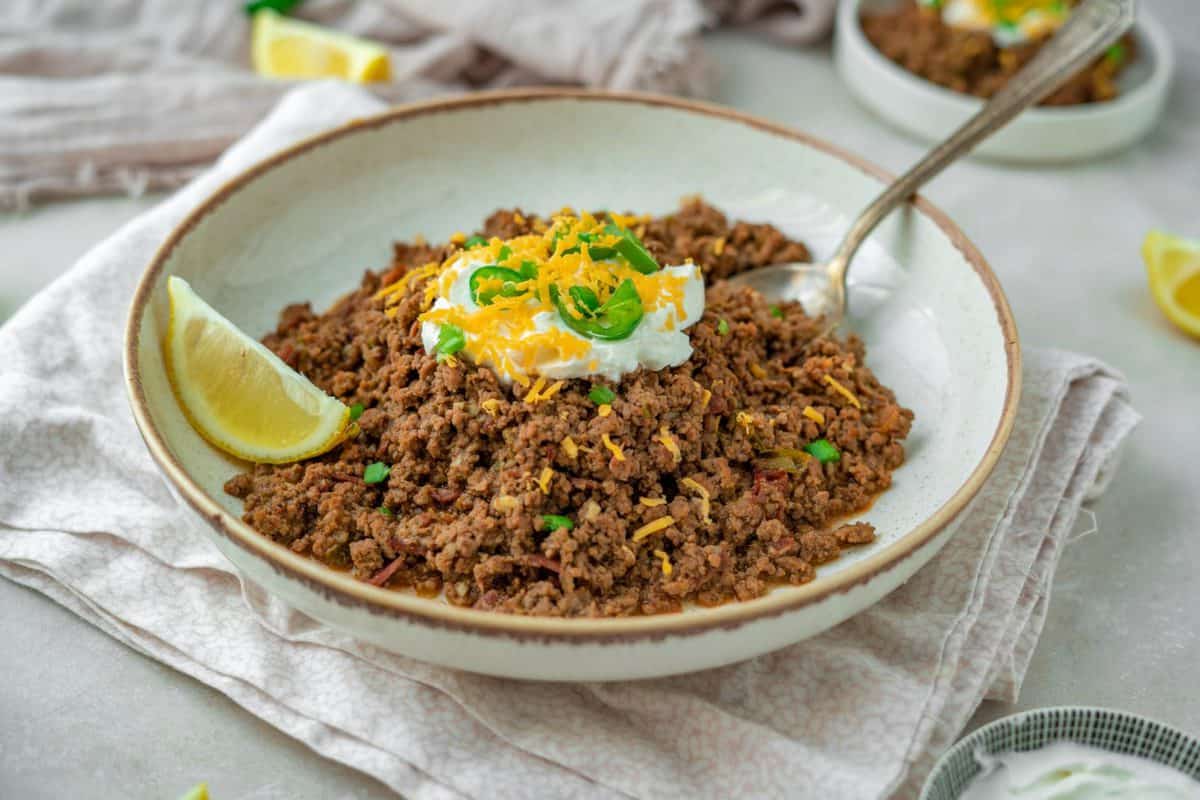 What to Make With Keto Chili
This gluten free keto chili recipe is so good you'll want to make a double batch! That in mind, you'll definitely want to cook up a few sides to go with it! If you make this keto chili pair it with:
We hope you're going to try some of these delicious low carb recipes that add a little extra yum to your dinner routine! I promise if you make chili low carb and then pair it with a low net carb side you'll be in for a treat.
How to Make Low Carb Chili
If you've been craving some warm comfort food, then this low carb chili is for you. There are just 4.8 net carbs per serving, and it's packed with spices like chili powder and fresh garlic. So get your ingredients together and let's get started!
Ingredients
To make this easy keto chili you will need ground beef, we usually purchase the fattiest beef there, or you can use ground turkey if preferred. Then you will need some sugar free bacon. For the vegetables we like using white onion, green bell peppers, roma tomato (or diced tomatoes), jalapeños and fresh chopped garlic. If you use canned diced tomatoes make sure to check that they are canned in water and not low quality oils.
Finally for the spices and beef broth we used chili powder, cumin, black pepper, pink salt, dried oregano, worcestershire sauce, and store bought beef broth. Instead of beef broth you can use the same serving size of chicken stock or bone broth. We just like beef broth because it is easy to find at most grocery stores. Again this low carb keto chili isn't a traditional bean chili, so don't be afraid to add some extra vegetables in place of the beans.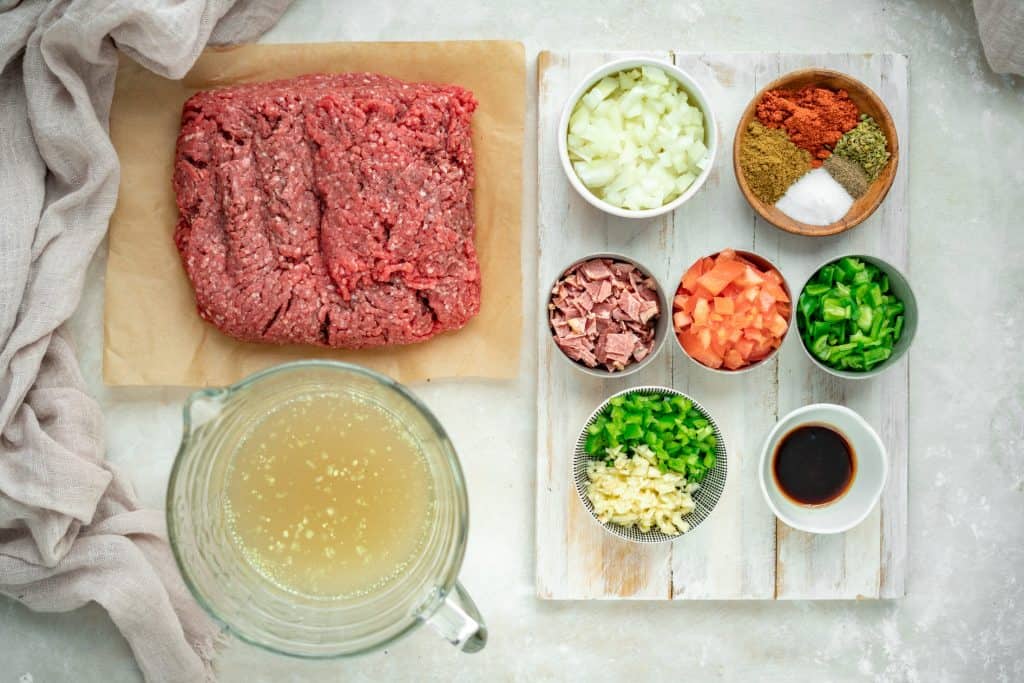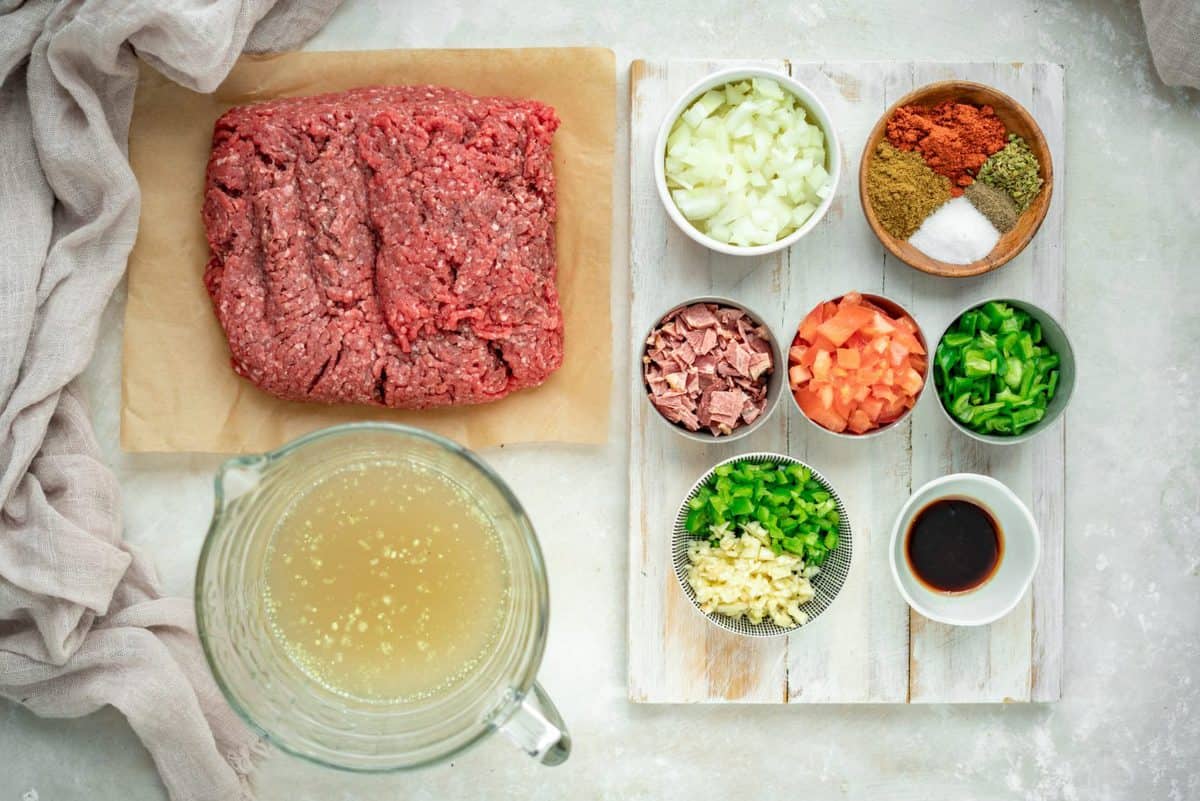 Cooking Low Carb Chili
To begin cooking this easy to make chili, finely chop your bacon and add it into a large pot or dutch oven. Give the bacon time to crisp and cook until all the fat has rendered off into the pan. We will use this grease to cook the beef.
Now add the ground meat of choice (beef or turkey) and brown the ground beef until it has some color.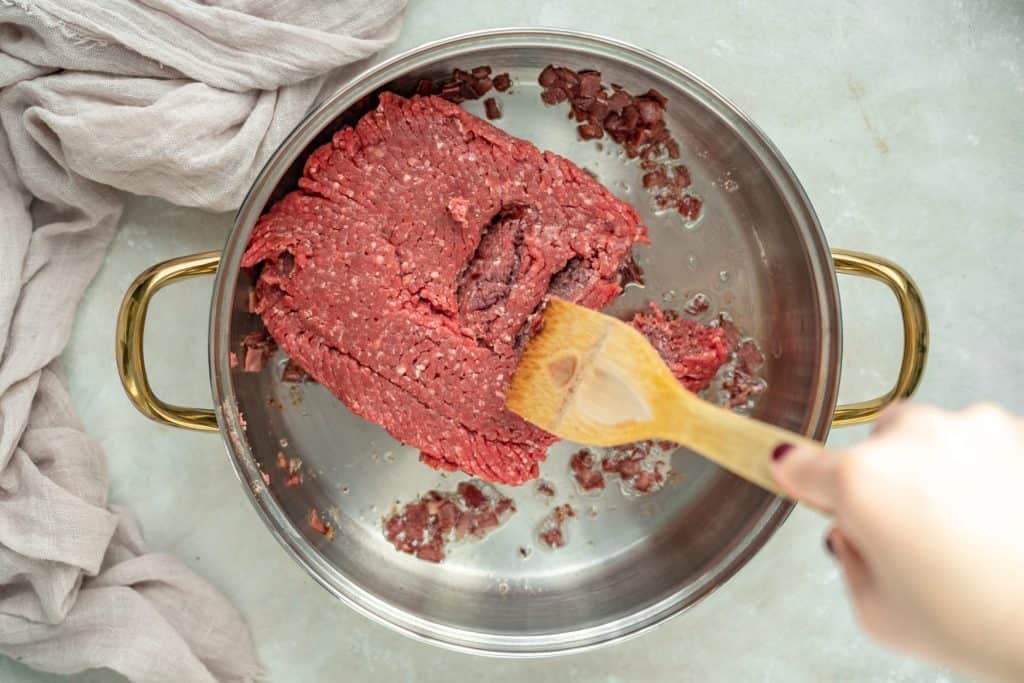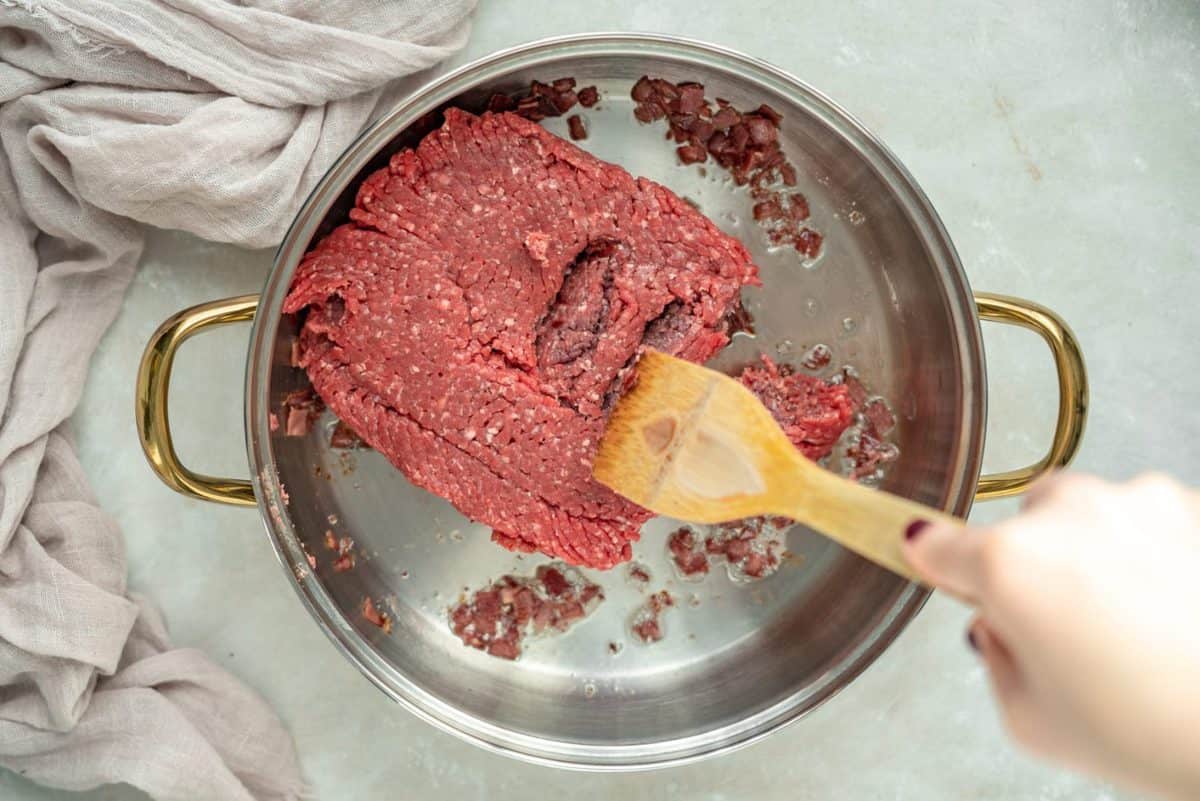 Mince the garlic and jalapeño peppers, then chop the tomatoes, bell pepper, and onion. Add all remaining ingredients and spices into the meat. Stir and add in the broth. If you want to make the best chili allow this recipe to simmer covered for 1-3 hours.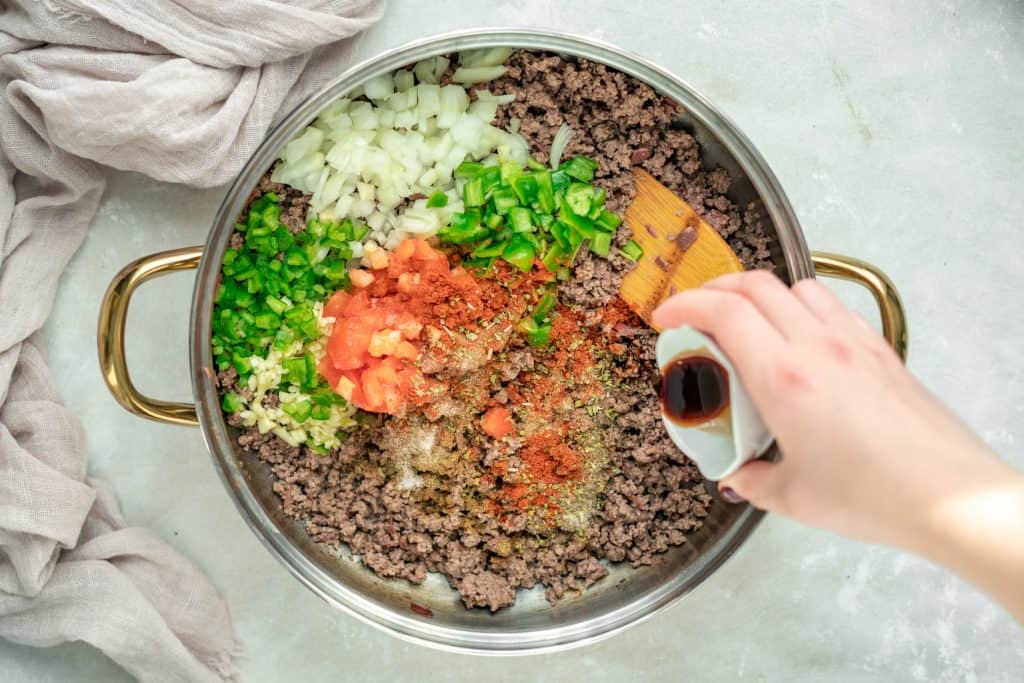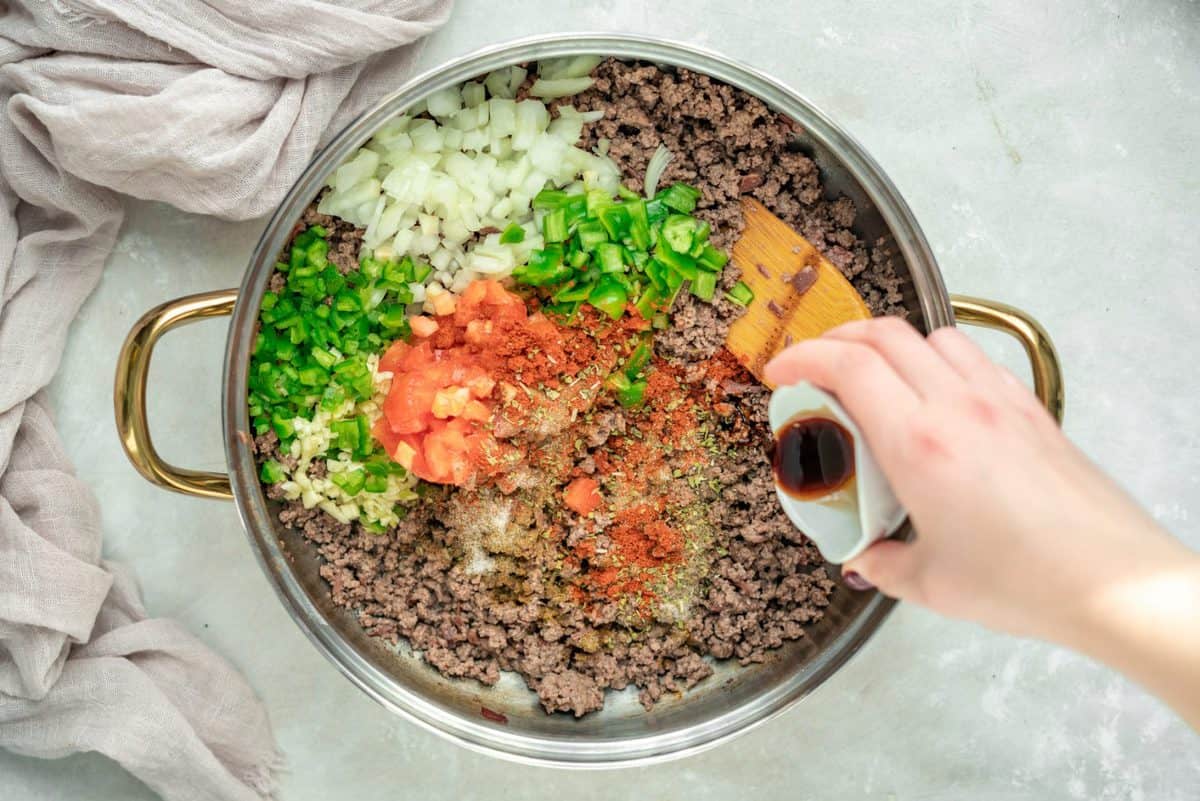 When the chili is almost done simmering, remove the lid and allow excess broth to boil off. Once done simmering get ready to serve it up. The longer it cooks the better and stronger the flavors will be. We love topping our chili with a dollop of sour cream and shredded cheese.
Simmering Time
We simmer our low carb chili for 1-3 hours to really deepen the flavor. If you don't have the time you can just serve it as is, but we highly recommend simmering if time allows. Another great option is to cook the chili and then pop it in the slow cooker for a few hours until you're ready to eat. The slow cooker simmers and binds the flavors together to make a flavorful end dish.
Topping Low Carb Chili
With such low net carbs per serving we always recommend topping your keto chili with a few extra high fat ingredients. Our favorite chili toppings are:
Sour Cream– If you don't have sour cream you can also try plain greek yogurt. We love that sour cream is high fat and super creamy to counteract the spice the jalapeños bring.
Shredded Cheddar Cheese– Shredded cheese is great on chili because it gets nice and gooey. We recommend shredding the cheese by hand because it melts much better and stirs into the chili for a great recipe packed with flavor and texture.
Avocado or Guac– Guacamole is an easy keto topping to make from home and enjoy all week. If you aren't feeling like preparing a whole dish of guacamole, simply slicing avocado and putting it onto of keto recipes works great too!
Green Onion– Green onions are a simple yet flavorful topper that keep your chili keto. They are not only bright and beautiful to look at, but are also softer and have a more subtle onion flavor on finished dishes.
Whatever toppings you choose we're sure you are going to love this low carb beef chili recipe. And everyone knows when in doubt, just add everything on top!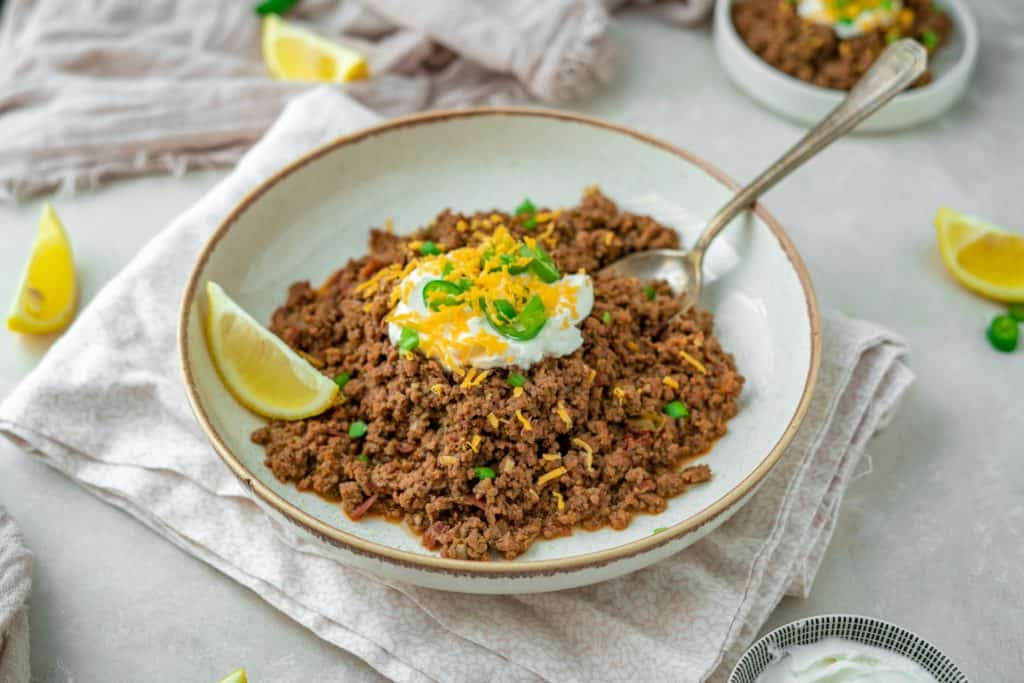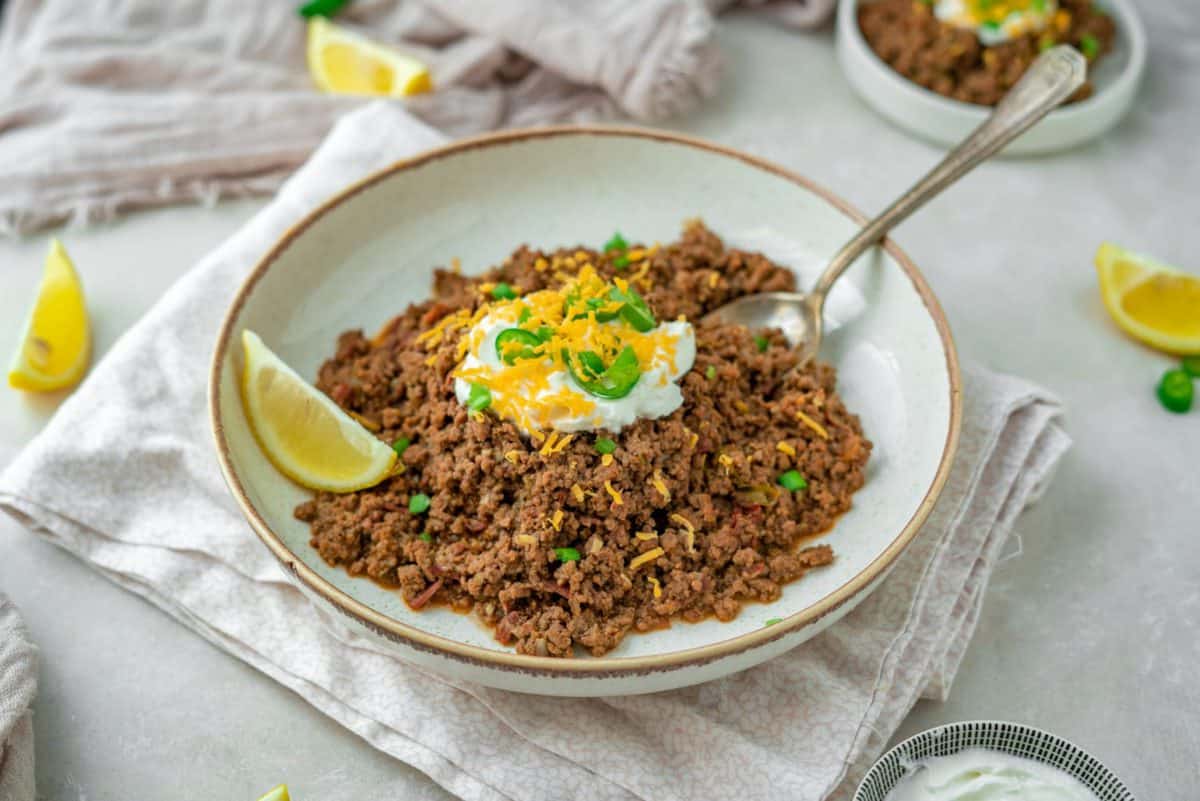 More Keto Comfort Food
Have you been missing the typical hearty and comforting meals that take you back to your childhood? Try some of our favorite warming low carb recipes:
Each of these recipes are under 10 net carbs per serving and are packed with healthy high fat ingredients. Plus many of our keto comfort food recipes like soups and chilis cook great in both the instant pot and slow cooker!
Chili With Bacon
This low carb chili recipe is sure to take you back to chilly winter nights and fresh cornbread. It's the perfect cook and simmer recipe to let flavor build all day. You can even cook it in an instant pot and then let it simmer on low in the crock pot all day! It's a gluten free easy keto recipe that's sure to become a staple in your keto diet.
If you enjoyed this recipe, make sure to check out our Creamy Keto White Chicken Chili!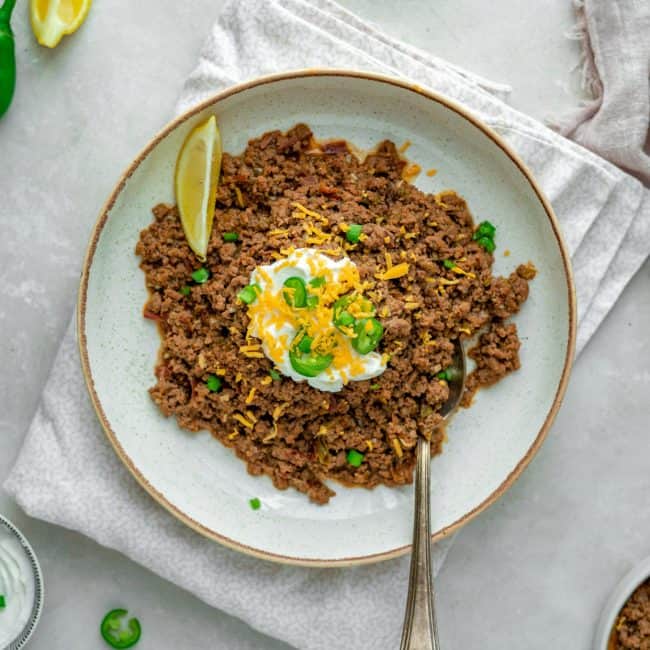 Keto Chili With Bacon Recipe
Try this chili with bacon recipe on those nights you need something filling and comforting.
Total Time 2 hours 20 minutes
Servings 5 servings
Calories per serving 527.8kcal
Prep Time: 20 minutes
Cook Time: 2 hours
Instructions:
Finely chop bacon and add to a large pot or large dutch oven.

Allow bacon to cook down until all fat is rendered and bacon is nearly done.

Add ground beef and allow if to cook down and get some color.

Finely chop garlic and jalapeno peppers. Rough chop tomato, bell pepper and onion.

Add remaining ingredients, along with 2 cups of chicken or beef stock and allow to simmer for 1-3 hours. The longer it goes the better it tastes! If you don't have stock on hand, water will be fine.

Near the end of cooking remove the lid and allow chili to cook uncovered until most of the liquid is evaporated. Enjoy!
Nutrition Facts
Keto Chili With Bacon Recipe
Amount Per Serving
Calories 527.8 Calories from Fat 329
% Daily Value*
Fat 36.6g56%
Carbohydrates 6.6g2%
Fiber 1.8g7%
Protein 50.6g101%
* Percent Daily Values are based on a 2000 calorie diet.
Written By