Feeding a family or remembering to meal prep for the week are two very difficult things we deal with on a day-to-day basis, which is why we created this One Sheet Chicken and Brussels Sprouts Dinner for you! It takes 30 minutes in the oven and feeds four people or feeds you for four nights. We've jazzed up the chicken with a homemade peri peri rub and combined it with the heartiest vegetable out there, brussel sprouts!
Healthy Weeknight Meals
We love one sheet pan meals for weeknights because they are easy prep and easy clean up. Plus, the meat and veggies cook at the same temperature in the oven. It doesn't get much easier and all you have to do is swap out the meat or veggies and change up the seasoning to make your family think you went above and beyond for dinner that night. You can feel good about feeding your family and have more time to spend with them when making one sheet pan meals.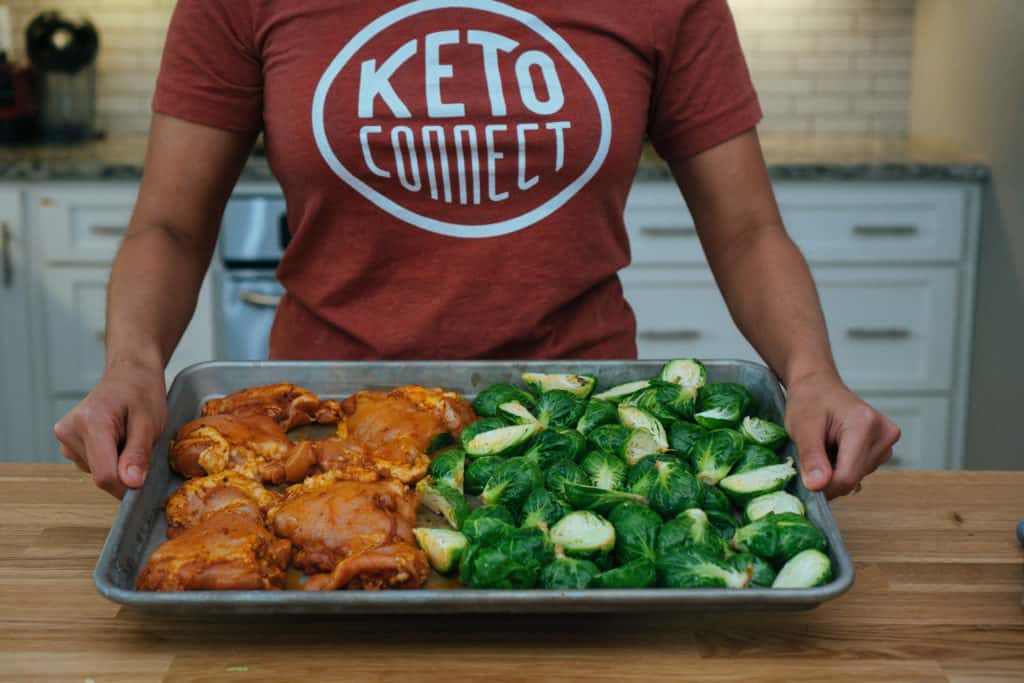 FREE PRINTABLE: Keto Food List
Join 150,000 others to get a FREE keto food list and new recipes every week!
Our Favorite Meal Prep Dinners!
A lot of our recipes are designed to translate perfectly over to meal prep for the week! We've found that meal prepping has not only helped us stay accountable, but gives us more time to be productive with work and spend time with one another. Busy days call for meal prep, so I want to share some of our favorites with you!
Macro Muffins and Egg Cups are the perfect grab and go breakfast!
Our Keto Chili is the perfect work desk lunch or dinner for any night of the week.
Keto Bread and Low Carb Rolls are the perfect side dish to amp up any meal or perfect for making sandwiches!
Any way you decide to meal prep, you can't go wrong because you'll always be prepared with a satisfying meal!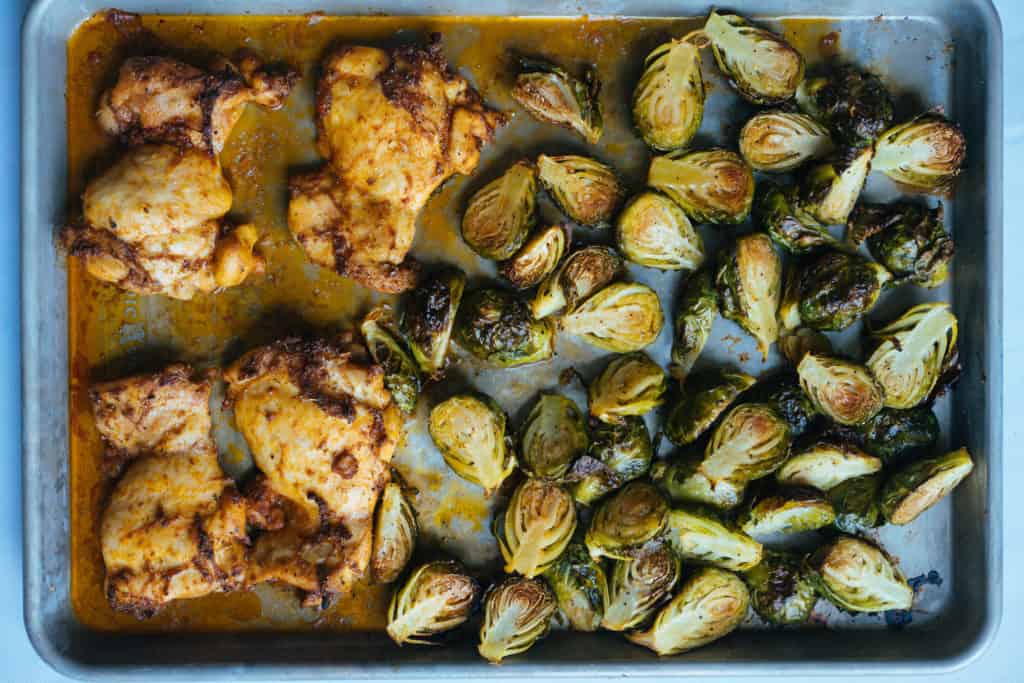 One Sheet Chicken Dinner For Four!
This meal doesn't just feed one or two people. It feeds four, which means either everyone will be satisfied or you'll have leftovers, and leftovers are never a bad thing! You can also double this recipe easily and spread it on to two sheet pans. If you do, however, the cook time will increase so definitely keep an eye on the veggies and chicken! If you make this one sheet chicken dinner for your family, tag us on Instagram and let us know what you think. 🙂
Recipe can be quickly added to MyFitnessPal – Search "KetoConnect – One Sheet Chicken Dinner"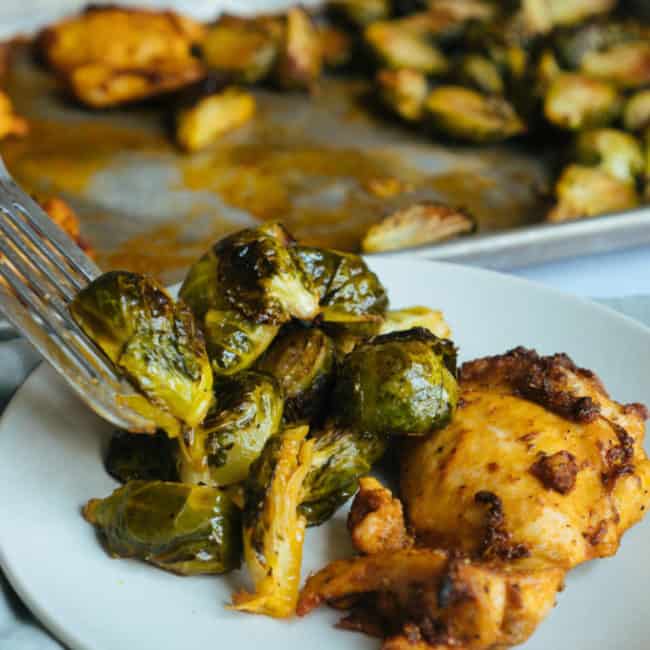 One Sheet Chicken And Brussels Sprouts Dinner
Spicy chicken thighs and crispy Brussels sprouts ready in half an hour.
Total Time 35 minutes
Servings 4 servings
Calories per serving 396kcal
Prep Time: 10 minutes
Cook Time: 25 minutes
Ingredients:
Instructions:
Preheat your oven to 400 degrees.

Make the rub: combine all the peri peri seasoning in a small bowl and set aside.

Place the thighs in a large mixing bowl and coat with olive oil and the rub and coat thoroughly using your hands. Set aside.

Cut all the brussels sprouts in half and add to a large mixing bowl.

Coat with olive oil, salt and pepper and toss until thoroughly coated.

Place the chicken thighs on one half of the the sheet pan (no need to grease or line with parchment paper) making sure they have a little room between them.

Layer the brussels sprouts on the other half of the sheet and spread out to an even layer.

Bake for 30 minutes in total. At the 20 minutes mark pull out the sheet pan and flip the brussels sprouts and finish baking.

Store leftovers in a sealed container in the fridge up to 5 days.

Enjoy!
Nutrition Facts
One Sheet Chicken And Brussels Sprouts Dinner
Amount Per Serving
Calories 396 Calories from Fat 189
% Daily Value*
Fat 21g32%
Carbohydrates 14g5%
Fiber 6g24%
Protein 38g76%
* Percent Daily Values are based on a 2000 calorie diet.