Our easy Keto Cashew Chicken recipe has quickly grown into one of the most popular recipes on our blog. This is the dish we always turn to when we're in the mood for some Thai takeout! The beauty of this recipe is how complex it seems from its flavor profiles, and how simple it actually is to make at home. No special wok or obscure ingredients are required. Whether you love Asian dishes or have been hit with some major cravings, you have to try this easy-to-make cashew chicken keto dinner today.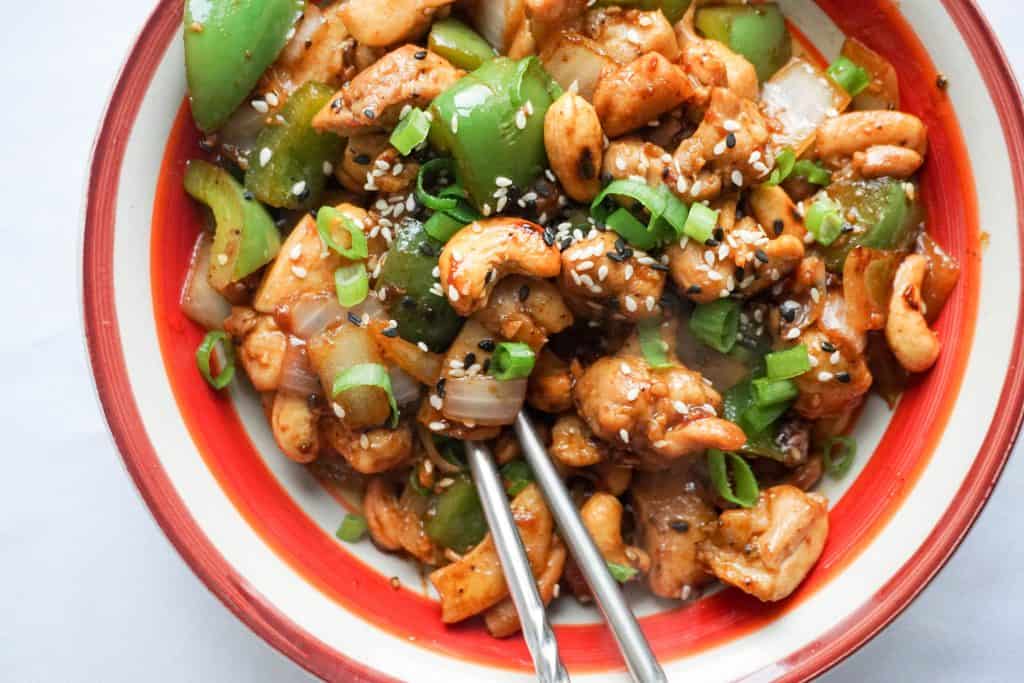 Low Carb Cashew Chicken
This Keto Cashew Chicken dish is inspired by many things, but there are two that really stick in my mind: an amazing Thai restaurant, and of course, you guys!
When Matt is away I normally find myself spending all day and night in the kitchen throwing together random things in hopes of a winning low-carb recipe.
However, the most recent time Matt went back home to visit on his own, I had a vision in mind. An Asian-infused vision.
Our viewers and readers had been requesting more low-carb Asian recipes, so I knew just one dish wouldn't cut it. I wanted to take a weekend-long detour and truly explore the flavors of Asian cuisine, and do my best to create delicious keto versions of some of the classics.
This easy cashew chicken recipe has many inspirations behind it, but the two main ones are you guys, our viewers who have requested more asian recipes, and Thai Spice, a restaurant in San Francisco Matt and I used to frequent. If anyone is looking for a good Thai Restaurant near Fisherman's Wharf, be sure to hit up Thai Spice. The beauty in this recipe is how complex it seems from its flavor profiles, but how simple it actually is to make at home. No special wok or obscure ingredients are required! You have to try this easy cashew chicken today!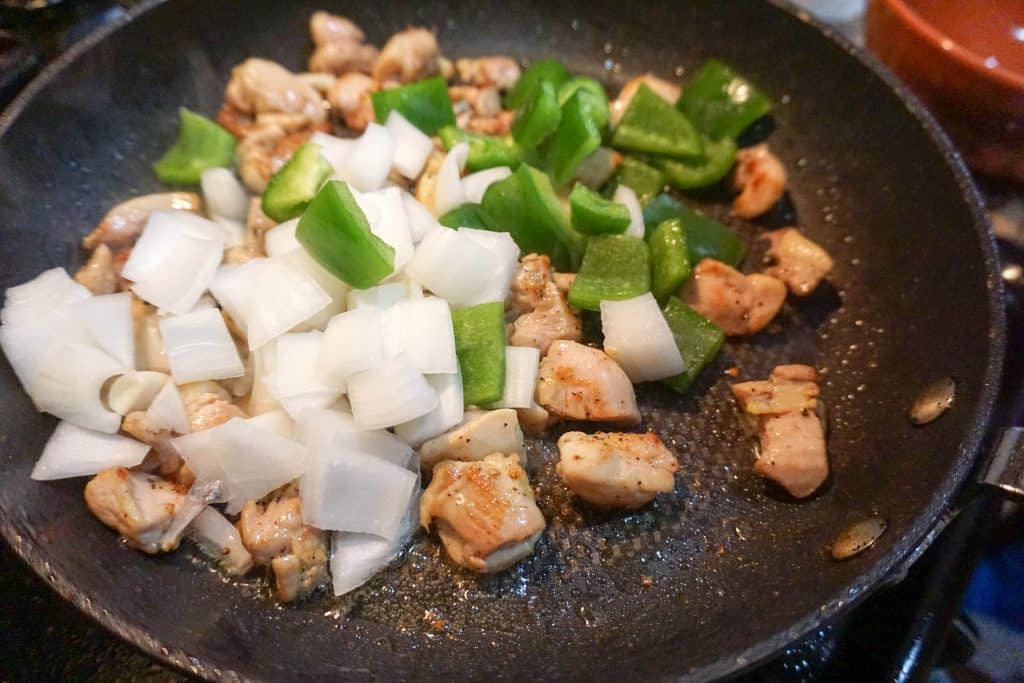 While missing Matt and reminiscing on our life together in San Francisco, I remembered Thai Spice, a restaurant in San Francisco we used to frequent.
(By the way, if you're looking for a good Thai Restaurant near Fisherman's Wharf – be sure to hit it up)
Cashew chicken is traditionally a Chinese recipe, but that restaurant had an amazing Thai-style cashew chicken dish on their menu. Naturally, this easy keto version was the first recipe I decided to remake that weekend.
I'm happy to say that by the end of that weekend, I'd easily recreated the intense, complementary flavors in this dish in my own low-carb version. And now, I'm sharing it with you!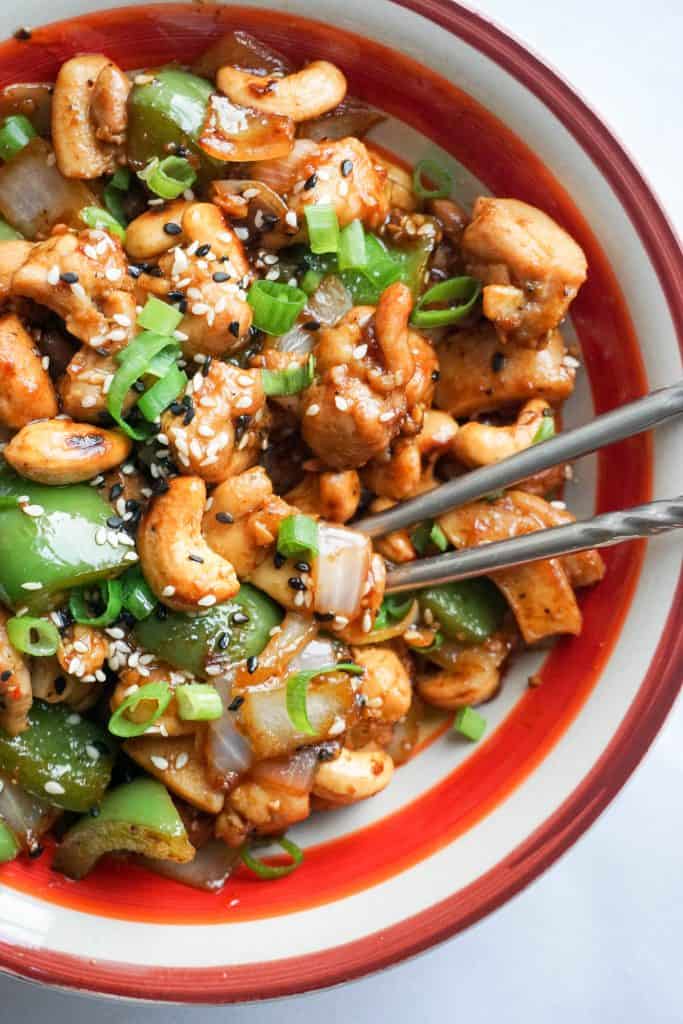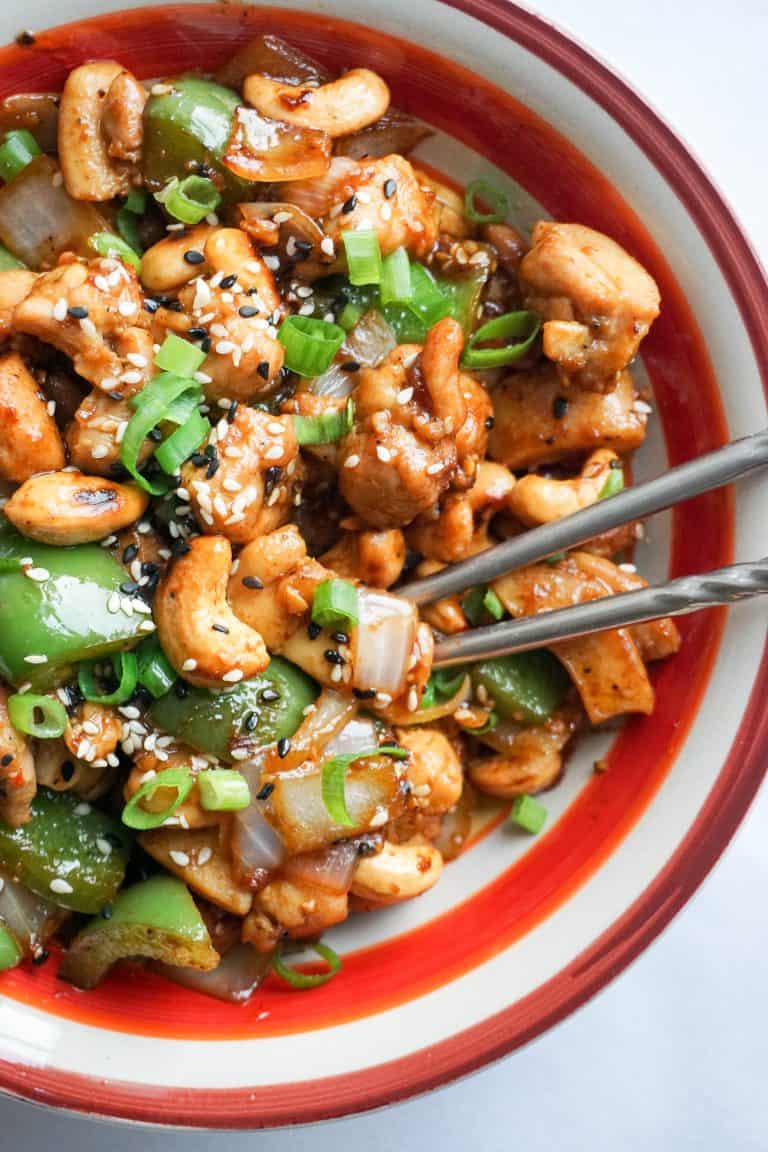 Cashew Chicken Made Keto
Stir-fries are one of the most underrated dishes on a low-carb or keto diet. You can create endless combinations of meat and veg dishes, adding your own favorite flavor combinations as you please.
Who needs rice, anyway?
An Asian Stir-Fry Without the Carbs
Would you believe this Thai-inspired, keto-friendly dish has less than seven grams of net carbs per serve? Just 6.7 grams, in fact – with most of them actually come from all the vegetables, such as the green onions.
Asian dishes are often loaded with carbs, either from rice and noodles or sugary sauces. This is one stir-fry that's low on carbs and just as delicious!
In this recipe, I swapped out any high-sugar sauces for low-carb chili garlic sauce, rice wine vinegar and liquid aminos.
Also known as coconut aminos, liquid aminos are a gluten-free substitute for soy sauce. If you prefer soy sauce, feel free to use that instead.
It might seem like this condiment has a high amount of sugar judging from the label. But since you only need a small amount, there isn't any major impact on the overall carb count.
Healthier Oils
We're not big fans of vegetable oils like soy and canola– they've been linked to inflammation in the body and even poor memory.
Unlike many Asian take-out dishes, this recipe skips the vegetable oil for coconut instead.
I love using coconut oil to cook with as it's very heat-stable, much like avocado oil. Plus, it leaves a wonderful coconut flavor on Asian dishes!
If you dislike the coconut taste, feel free to use avocado oil when you make this recipe.
As for the sesame oil, I recommend using that as a dressing rather than cooking, as outlined in the recipe.
You can read more about our preferred cooking oils here. We're big fans of olive oil!
Can You Eat Cashews on Keto?
Many people on a low-carb keto diet warn against eating cashews. After all, they're one of the highest carb nuts with around eight grams of net carbs per ounce.
But we believe that many foods can still be incorporated into your keto low-carb diet and recipes in small amounts, without adding too many additional carbs.
This Keto Cashew Chicken dish uses just a quarter of a cup of cashews in the entire recipe. That's just enough to give that signature cashew flavor and crunch.
Plus, there are a lot of health benefits of cashews. One study even suggests that they might help to lower and manage cholesterol!
What Can I Serve it With to Keep it Low-Carb?
You can eat this stir-fry on its own (as I did) or serve it over cauliflower rice – especially fried cauliflower rice! The sauce that coats the chicken, cashews and vegetables will seep into the rice just like happens with regular Asian take-out. Isn't that the best?
If you're in more of a noodle mood, try a shirataki or "miracle" noodles. Or, pump up the veggies even more and make zucchini noodles!
What You'll Need
No wok? No problem! You won't need any fancy cooking equipment to make this stir-fry.
All you'll need is:
A frying pan
A knife
A chopping board
A spoon or tongs
But hey, if you have a wok and want to test out your skills, I'm not about to stop you!
How to Make Keto Cashew Chicken
You'll be amazed at how easy it is to create a stir-fry with a thick, sticky sauce – without the need for flour or any thickeners. Here's how.
Start by heating your frying pan over low heat. Add the cashews and lightly toast until they start to brown and become fragrant. This should take around eight minutes.
As your cashews are browning, dice the chicken thighs, onion and bell pepper into equally large, one-inch chunks.
Once the cashews are done, remove them from the pan and set them aside.
Add your coconut oil to the pan and turn the heat up to high. Add in the chicken thighs and cook on high heat until fully done – about five minutes.
When your chicken is done, add in the peppers, onion, garlic, chili garlic sauce, ginger, salt and pepper.
Continue to cook on high for just two to three minutes. You want those vegetables to stay a little crunchy.
Add in the liquid aminos and rice wine vinegar, then return the cashews to the pan. Continue to cook on high.
The liquid in the pan will reduce down to a sticky consistency that clings to the chicken and vegetables. You'll know when it's done when there's no excess left at the bottom of the pan.
Serve your cashew chicken in bowls. Sprinkle with sesame seeds and add a drizzle of sesame oil, and enjoy straight away!
How to Store Keto Cashew Chicken
Once cooked and cooled, you can simply store this easy cashew chicken keto stir-fry in containers in the fridge. We recommend consuming within three days.
My favorite thing about making this recipe ahead of time is it only gets better overnight.
If you make this for meal prep, the chicken and vegetables will soak up even more of the delicious sauce, making it all the more amazing when you eat it later!
Can I Freeze This Recipe?
Yes! This chicken recipe can be easily frozen.
I like to portion mine out into individual servings so I don't have to defrost an entire bath when I'm craving a bowl of cashew chicken goodness.
More Asian-Inspired Keto Recipes
We had a lot of requests for Asian recipes from viewers and readers. This stir fry is just the first offering of many!
If you're a fan of chicken dishes like this, then you might like this Butter Chicken Recipe. This one uses chicken breast instead of chicken thigh. Chicken breast contains less fat and calories than thigh.
If cashew chicken isn't one of your favorite take-out recipes, or you're just looking for something different, definitely check out this Keto Teriyaki Sauce, Keto Egg Roll in a Bowl, Keto White Chicken Chili or even our Asian Inspired Air Fryer Meatballs and Keto Teriyaki Chicken.
That's right – there's a keto version of sushi!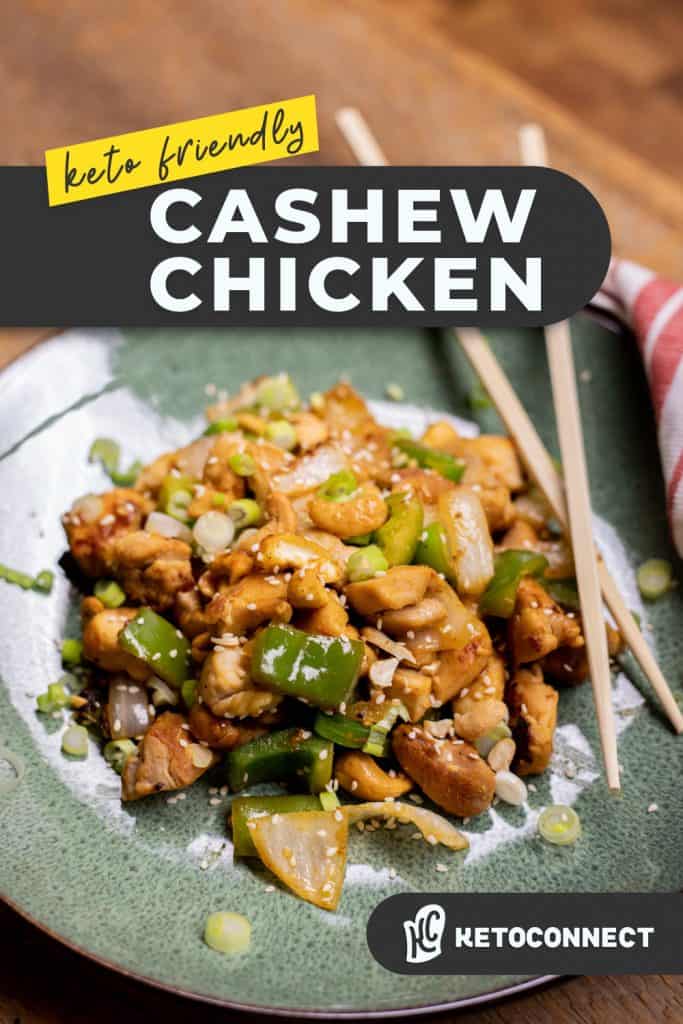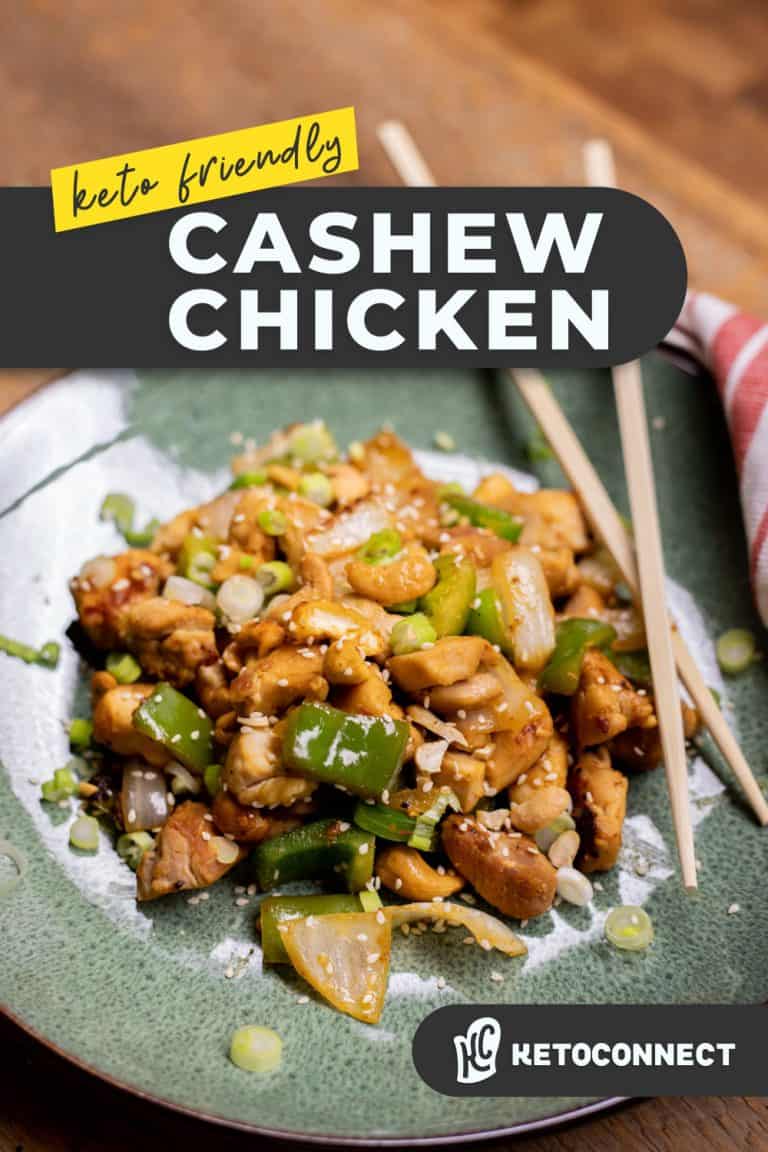 Search "Ketoconnect – Cashew Chicken" On MyFitnessPal.com
Easy Keto Cashew Chicken Recipe
This easy cashew chicken recipe will quickly become a family favorite!
Total Time 25 minutes
Servings 3 people
Calories per serving 333.3kcal
Prep Time: 15 minutes
Cook Time: 10 minutes
Instructions:
Heat a pan over low heat and toast the cashews for 8 minutes or until they start to lightly brown and become fragrant. Remove and set aside.

Dice chicken thighs into 1 inch chunks. Cut onion and pepper into equally large chunks.

Increase heat to high and add coconut oil to pan.

Once oil is up to temperature, add in the chicken thighs and allow them to cook through(about 5 minutes).

Once the chicken is fully cooked. Add in the pepper, onions, garlic, chili garlic sauce and seasonings(ginger, salt, pepper). Allow to cook on high for 2-3 minutes.

Add liquid aminos, rice wine vinegar, and cashews. Cook on high and allow the liquid to reduce down until it is a sticky consistency, There should not be excess liquid in the pan upon completing cooking.

Serve in a bowl, top with sesame seeds and drizzle with sesame oil. Enjoy!
Nutrition Facts
Easy Keto Cashew Chicken Recipe
Amount Per Serving
Calories 333.3 Calories from Fat 216
% Daily Value*
Fat 24g37%
Carbohydrates 8g3%
Fiber 1.3g5%
Protein 22.6g45%
* Percent Daily Values are based on a 2000 calorie diet.
Written By