If you love Chinese food as much as I do, you are going to instantly fall in love with this Low Carb Kung Pao Chicken! Prior to keto, I always ordered kung pao chicken when my family got Chinese take out. In fact, it is my dad's favorite, which is what turned me on to it.
Now, you can have it again, guilt-free, knowing exactly what went into making this recipe! The combination of the crunch from the veggies, the tender, fatty chicken thighs, and the sweet and salty sauce make this the perfect Chinese food take-out replacement meal.
Your Favorite Kung Pao Chicken Ingredients
With this recipe, we went a more traditional route with onion, bell peppers, and peanuts, but the ingredient list is truly up to you! What are your favorite ingredients? Broccoli, cashews, asparagus, cauliflower? There are so many to choose from. You can change it up every time you make it. Your favorite kung pao recipe ingredients may not be the same as ours, but we guarantee if you use the base sauce we've provided below, it'll be delicious every time!
The Best Asian Dinner Recipes!
We've got you covered on all Asian fronts from our keto butter chicken and low carb naan, to our keto sushi and easy cashew chicken. We are big proponents of not depriving yourself of your favorite foods. We want to make your life easier and this lifestyle more sustainable by giving you keto-friendly replacements for your favorite meals. We do our best to keep them simple, but flavorful, so you can whip them up on a busy night and feed the entire family with success!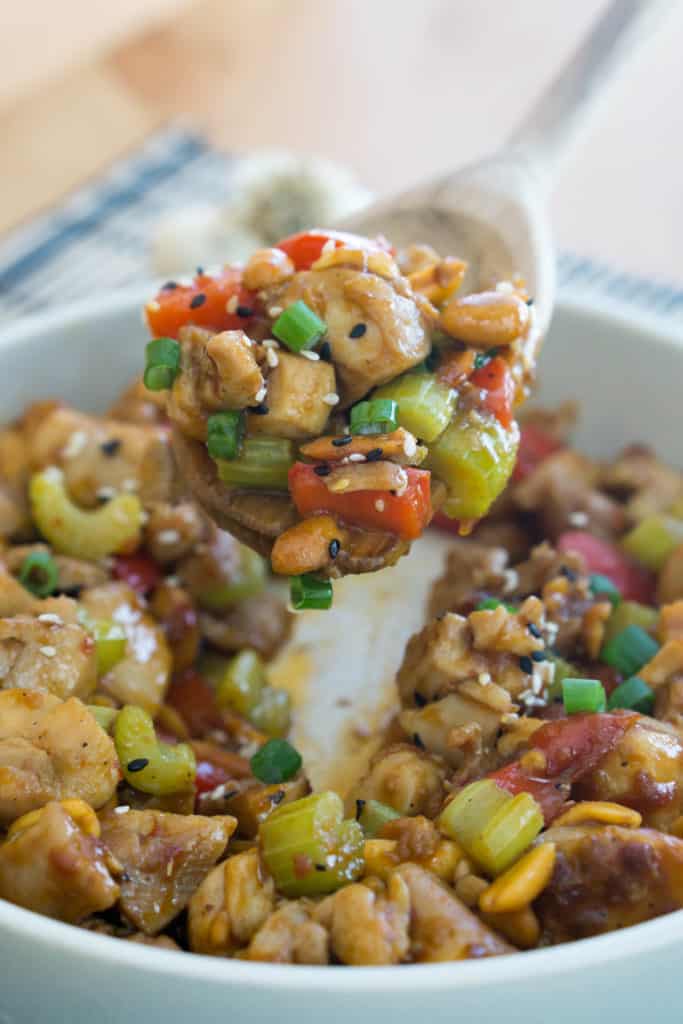 Low Carb Kung Pao Chicken
There is always reason to order take-out. You've had a long day at work or you want to have night in date night with your special someone. Although those are great reasons, putting convenience before your health isn't ever a great thing to do. You can whip up this recipe in less than 20 minutes and still treat your partner to a special "take-out" dinner date. If it were me, I would definitely start with our low carb pot stickers as appetizers and then move onto this incredibly flavorful, and delicious Low-Carb Kung Pao Chicken with cauliflower rice as the main course!

Recipe can be quickly added to MyFitnessPal – Search "KetoConnect – Low Carb Kung Pao Chicken"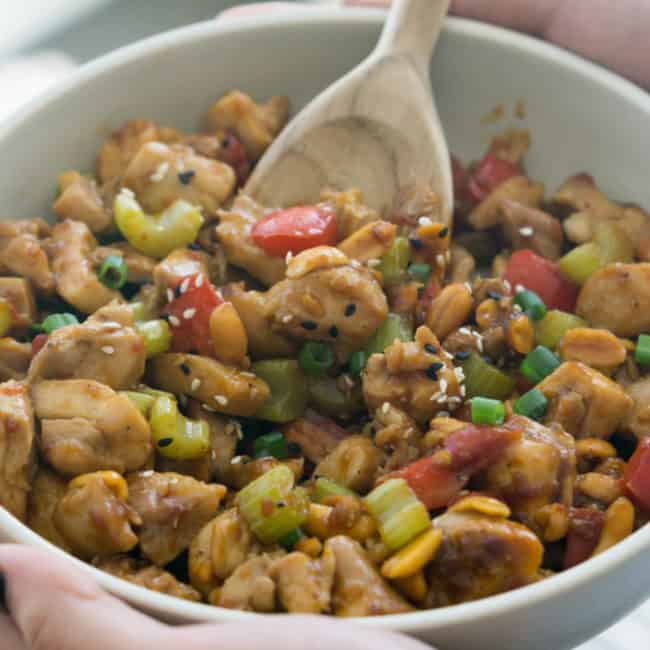 Low Carb Kung Pao Chicken
Total Time 35 minutes
Servings 4 servings
Calories per serving 264kcal
Prep Time: 10 minutes
Cook Time: 25 minutes
Instructions:
Cut the bell pepper and celery stalks into big chunks and set aside in a bowl.

Heat a large skillet to medium-high heat and chop the boneless, skinless chicken thighs into bite sized chunks. Add coconut oil to the hot skillet and add in the chunks of chicken.

As the chicken cooks, make the sauce. Add all the sauce ingredients above to a bowl and combine using a whisk. Set aside.

Once the chicken is 90% cooked through add in the veggies and cook for a couple minutes until they are slightly tender.

Add in the peanuts and stir and allow to cook for another minutes as they toast. Add in the ginger and garlic, stir once more and add in the sauce.

Allow to cook for 3-5 minutes on high until the sauce has reduced to your liking. If desired, add the xanthan gum to thicken up the sauce even more.

Serve with cauliflower rice or on its own and enjoy!
Nutrition Facts
Low Carb Kung Pao Chicken
Amount Per Serving
Calories 264 Calories from Fat 162
% Daily Value*
Fat 18g28%
Carbohydrates 5g2%
Fiber 1g4%
Protein 23.25g47%
* Percent Daily Values are based on a 2000 calorie diet.
Written By