You asked for more Indian recipes and we know you get bored of the same old scrambled eggs, so we created this Masala Baked Indian Eggs dish for you. It combines the best of both worlds, indian food and breakfast food, and changes a classic take on eggs.
Indian Egg Recipes Are Delicious…
….and great for vegetarians  and meat eaters alike! We often get the request to do more Indian recipes as well as vegetarian recipes so here we've combined the too for a spice filled, vegetarian meal everyone can enjoy! While doing a keto vegetarian diet is definitely possible, making sure you're getting a lot of nutrients from animal rich products like eggs and dairy is a great idea!We also have several other vegetarian, indian recipes like our spicy egg curry and curry tofu nuggets! Give them a try and let us know what you think.
Change Up Your Low Carb Breakfast!
While we love love love eggs in our household, they can get boring when all you do is scramble or hard boil them. Want to eat eggs, but change it up? Try our baked cheesy eggs. Want to depart from eggs altogether? Give our protein waffles, lemon poppey seed muffins or fathead bagels a try!
Low Carb Indian Eggs
If you aren't a fan of Indian food you must not be a fan of flavor! If you just haven't tried it before, that I can understand solely for the fact that Matt had never tried it until he met me. Growing up in the midwest he wasn't exposed to such delicious things haha. If that is the case for you you should definitely give these Indian eggs a try before you go knocking them!
Recipe can be quickly added to MyFitnessPal – Search "KetoConnect – Indian Eggs"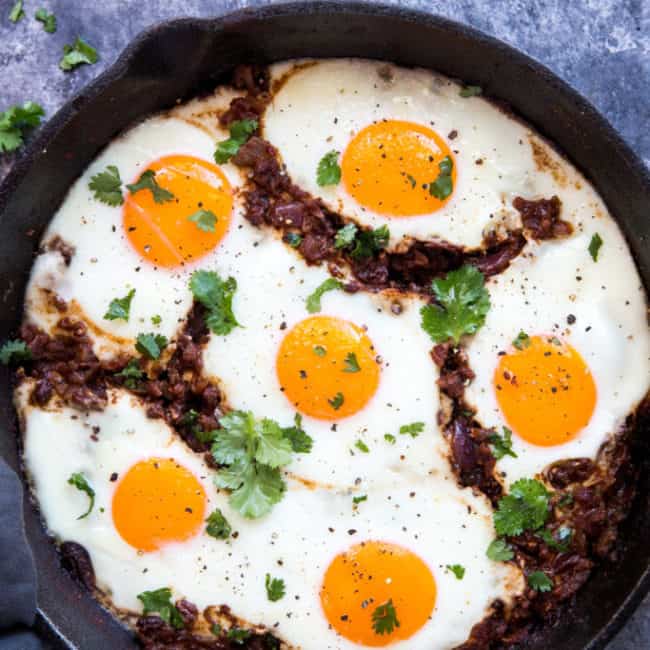 Masala Baked Indian Eggs
Perfectly cooked eggs on a spicy bed of tomatoes and onions.
Servings 3 servings
Calories per serving 242kcal
Prep Time: 5 minutes
Cook Time: 15 minutes
Instructions:
Preheat oven to 400 degrees.

Heat a cast iron skillet on medium heat. Add oil.

Add onion and jalapeno and cook until almost translucent, 4-5 minutes. Add garlic and cook 30 seconds until fragrant.

Stir in salt, garam masala, chili powder, ginger, cumin. Deglaze the pan with the broth, then add the crushed tomatoes and stir well. Simmer for 5 minutes until reduced slightly.

Remove skillet from heat and, using a spoon, create 6 pockets in the sauce. Crack an egg into each pocket.

Carefully transfer skillet to oven and bake for 5-7 minutes or until eggs at desired consistency. If desired, garnish with cilantro and serve immediately.
Notes
Net Carbs: 6g Serving Size: 1/3 recipe **Most of the carbs come from the spices - feel free to reduce seasoning if desired.
Nutrition Facts
Masala Baked Indian Eggs
Amount Per Serving
Calories 242 Calories from Fat 144
% Daily Value*
Fat 16g25%
Carbohydrates 8g3%
Fiber 2g8%
Protein 16g32%
* Percent Daily Values are based on a 2000 calorie diet.
Written By