We love air fryer recipes just as much as you do, so of course we had to create a basic, delicious air fryer chicken thighs recipe! This is the perfect quick lunch or dinner, and makes for a great protein portion of your meal prep. Minimal hassle with lots of flavor!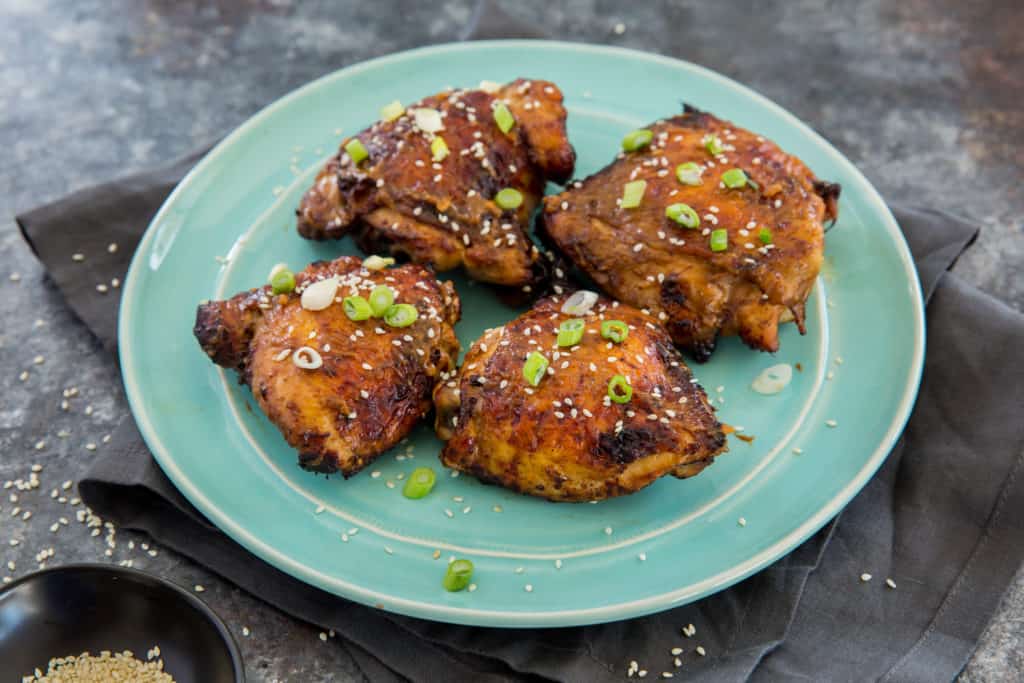 Air Fryer Dinners
Whether it's been a long day of work or long day of sitting on the couch marathon-ing Succession on HBO (highly recommend!) dinner can seem like a daunting task. If you haven't already, you need to purchase yourself an air fryer to make meals easy and quick! Some great air fryer dinners we like to routingly make are or meal prep are:
High Heat, High Crisp!
The only time we make sure the temp is on the lower side (350 and under) is when we are air frying veggies. When it comes to meat, however, we crank that bad boy up to 390/400F to ensure a crispy exterior! Even this Delish recipe for the "perfect steak" cooks it at 400 degrees F.
One thing to note, however, is that all air fryers vary in temp so our recipe might say to cook for 10-12 minutes when in actuality that would lead to a well done steak, and no one wants a well done steak! So, to be safe, keep an eye on anything you cook in your air fryer until you get a feel for how it works!
To Glaze Or Not To Glaze?
As you can see in the video above, Matt made this air fryer chicken thighs without the glaze and they still come out tender and delicious. However, I'm more on the "let's make it extra flavorful" level so I would totally opt to make the glaze. It's quick to whip up in a saucepan while the chicken thighs are cooking and you can even serve it on the side for those who want it.
Instead of letting that flavor packed marinade go to waste, reduce and thicken it, and store it in a mason jar in the fridge to add to meats all week long! You can even drizzle some on a salad or your veggies to up the fat.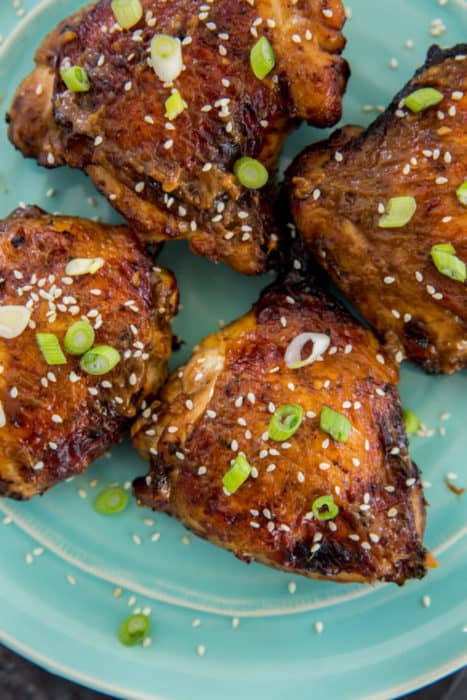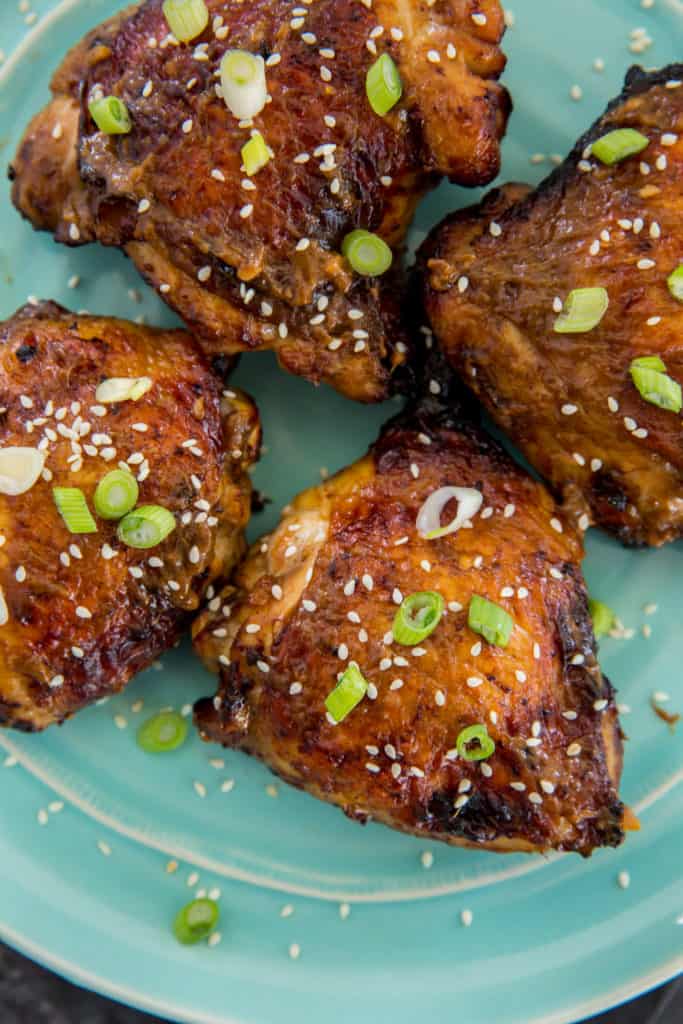 Air Fryer Chicken Thighs
If you don't have thighs on hand, no problem! Any meat will work. Chicken drumsticks are our personal favorite and totally underrated. Chicken drumsticks would come out great and you can even fit more in the air fryer. If you haven't used your air fryer to cook your meats, then we encourage you to start with this air fryer chicken thighs recipe. You won't be dissapointed!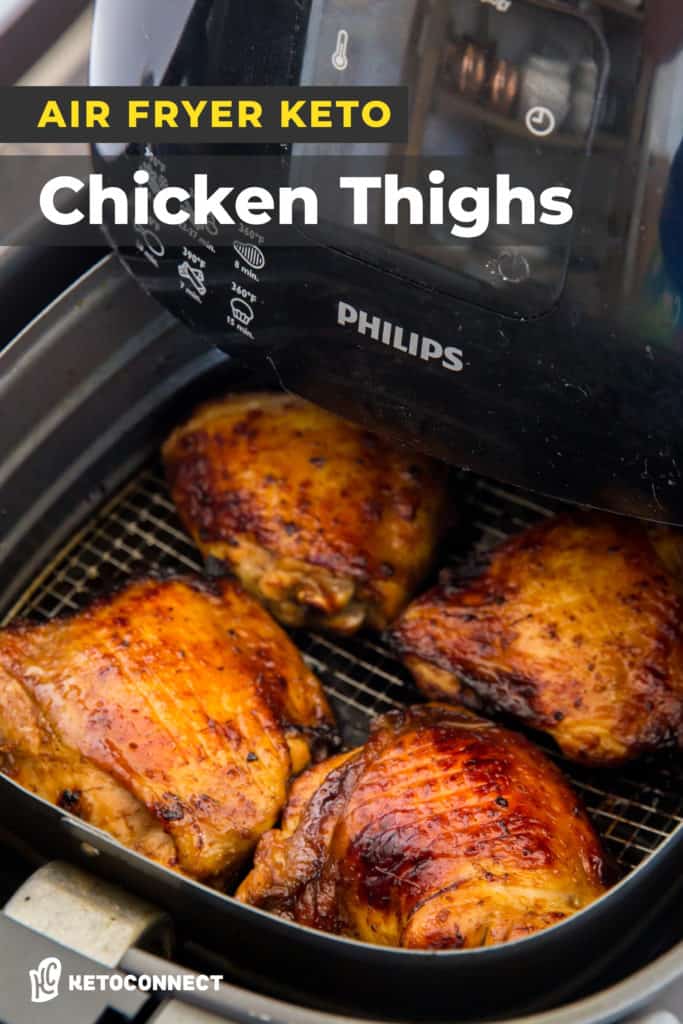 Looking For More Chicken Recipes?
Our food blog has tons of great options and you can even filter by course or ingredient! Some of our favorite chicken recipes are:
I limited to my top four, but we've got plenty more so go check them out!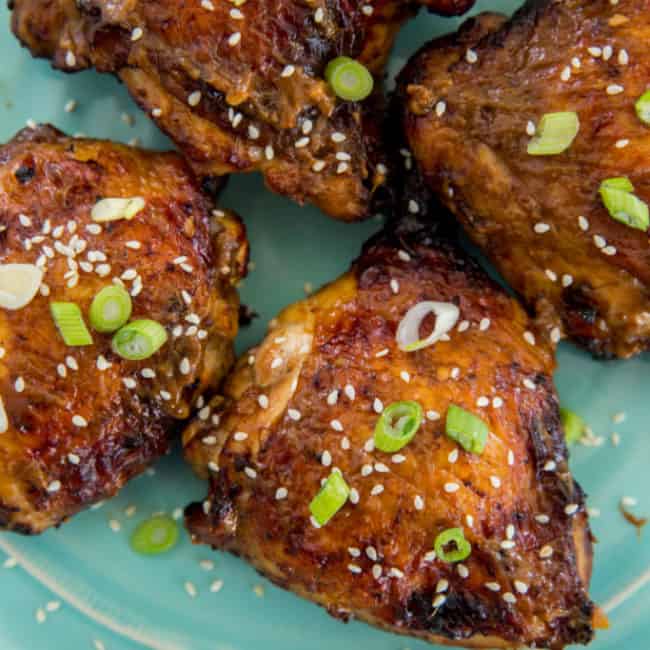 Air Fryer Chicken Thighs
A sweet and spicy Asian chicken thigh recipe made in the air fryer for your convenience.
Total Time 1 hour 15 minutes
Servings 4 Thighs
Calories per serving 338kcal
Prep Time: 1 hour
Cook Time: 15 minutes
Instructions:
In a small bowl combine the tamari, stevia, garlic, sriracha, ginger and salt and mix well.

Add the chicken thighs to a zip top bag and pour the marinade over top. Shake and coat thoroughly.

Marinate in the fridge for 1-2 hours, or as long as overnight.

Preheat the air fryer to 400°F for two minutes. Remove the chicken from the marinade and transfer to the air fryer basket, skin side up.

Cook in batches if necessary for 14 minutes, turning halfway until cooked through in the center. If you prefer a crispy skin (like we do!) flip the chicken thighs over when there is 2-3 minutes remaining so the skin is face up.

If making the glaze: Meanwhile, pour the marinade from the bag into a small sauce pan, and cook over medium heat for 1-2 minutes.

Add the xanthan gum and whisk until fully Incorporated and cook for an additional 1-2 minutes until sauce has reduced and thickened. Remove from heat and transfer to a small bowl.

Place the cooked thighs onto a plate and if desired top with the glaze or serve alongside.

Best stored in an air tight container in the fridge up to 5 days.

Note: If you want to up the fat on this recipe you can add 1/4 cup avocado oil to the marinade recipe!
Notes
Net Carbs: 1g
Serving Size: 1 Cooked Thigh  
Nutrition Facts
Air Fryer Chicken Thighs
Amount Per Serving
Calories 338 Calories from Fat 171
% Daily Value*
Fat 19g29%
Carbohydrates 1g0%
Protein 40g80%
* Percent Daily Values are based on a 2000 calorie diet.