After many failed attempts at Low Carb Tortillas we finally got it down and are now ready to share the recipe with you!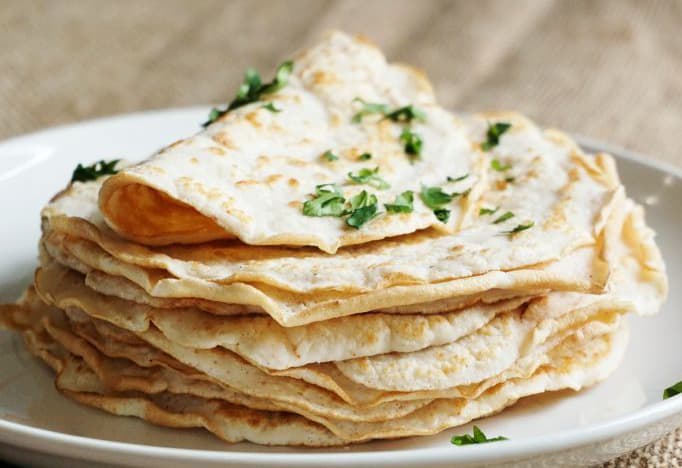 If you're not up to making these at home, we'll also share a number of store bought low carb tortilla options with you. This article will give you the full breakdown so you can make the right decision when enjoying keto friendly Mexican food!
How to Make Coconut Flour Tortillas
When it comes to making low carb tortillas, we've tried most different low carb flours, from almond flour to oat fiber to ground flax meal. Nothing has worked quite as well as coconut flour, and since it is so absorbent, less flour is needed to make the batter. Coconut flour also creates a tortilla-like texture and gives off minimal flavor, except for the spices you add to the tortilla dough. As my nut allergy has come to light we've been providing more and more coconut flour recipes and it has become our favorite flour to now cook and bake with. As an added bonus, coconut flour is gluten free.
Keto Tortilla Recipe
The key to making a tortilla versus a pancake is getting the batter as thin as possible onto the hot skillet. This recipe is very different from a traditional tortilla recipe in that you will not be needing a tortilla press or a rolling pin. Also, the dough forms in a much looser fashion than is typical. The good news is this recipe will be by far the lowest carb tortillas you've ever had.
Combine Ingredients in a Mixing Bowl
Combing the ingredients is the first step and there is no specific order. Just add the egg whites, coconut flour, baking powder, water, and whatever herbs and spices you like and mix well. Really well! You can use a food processor if you'd like. If you want to double check the consistency of your batter then watch the video included. It should be relatively thin and easy to spread when it hits the hot pan.
Thoroughly Heat Your Pan
For this recipe you will want to use either a well seasoned cast iron skillet, or a non stick pan. We used an eight inch skillet. Whatever you use, it is important to make sure the pan is thoroughly heated. I like to leave it on the stove top at medium low heat for 5 minutes prior to adding the batter. This is important to prevent sticking (which can be a problem with this recipe).
Pour the Batter
Pour or scoop the batter into the heated pan. I like to use a 1/4 cup measuring cup to perfectly portion each keto tortilla. As soon as the batter is in, spread it around the pan as you would a crepe.
Flip the Tortilla
This is the hard part. If you struggle to flip the tortilla without it falling apart then you'll want to read our FAQ section that addresses this issue. Once the tortilla releases from the pan, you can flip it using a thin spatula. You will not need to cook the tortilla for very long on the 2nd site.
Serve
When they are fully cooked, I like to stack the finished tortillas between parchment paper. You can then place the tortillas and parchment paper in the oven on a low temperature if you want to keep them warm while you get the rest of dinner ready. The parchment paper ensures they will not stick.
Whenever making this recipe we always make enough for leftovers. We have hundreds of recipes we love to pair with these tortillas, and usually we plan to have these recipes throughout the week so we can use up the big batch of tortillas we make.
If your tortillas are really thin you can always use two of them for each taco or wrap you make. Lately we've been making chicken soft tacos using this keto chicken stir fry recipe or keto fajitas. If you want more recipes to go with these tortillas then browse our chicken recipes and our beef recipes sections.
Store in the Fridge
As with most keto recipes you are going to want to store these in the refrigerator. They should last for 3-4 days. After that the taste and texture starts to decline and they become more rigid.
Frequently Asked Questions
My tortillas fall apart when I flip them
If you are struggling with this then there are a few key steps you can use to prevent your keto tortillas from falling apart.
Grease the pan thoroughly – Even if you think you have enough oil in the pan, try adding a bit more to ensure that the batter does not stick. Also, add the oil at least 1 minute prior to adding the batter. If the oil is not up to temperature that can cause sticking. It can also help to use a pan designed to prevent sticking.
Use a lid – This is the best way to prevent your tortillas from breaking. If you put a lid on the pan once you add the batter, the steam will cook the tortilla through prior to flipping. This will make it easier to flip since it is almost completely cooked. In fact, if you use this method you may not even need to flip the tortillas.
Add Xanthan gum – Xanthan gum can help thicken and stabilize mixtures. This can help hold the tortillas together as they cook and prevent them from falling apart. 1/4 to 1/2 teaspoon should do.
Don't flip them – This is probably your best bet if you are really struggling. Make sure your tortillas are thin enough that they will cook completely through without flipping them.
How many carbs in low carb tortillas?
This is going to vary depending on the recipe you use and the amount of seasonings. For the recipe shown here each small tortilla will be less than 1g of net carbs. If you compare that to store bought options such as Mission low carb tortillas (5g net carbs) – you can cut out a lot of carbs by making your tortillas by hand. Using ingredients and techniques that can't be replicated in mass production is what makes these tortillas low carb.
Best Store Bought Keto Tortillas
As always, making by hand is going to be the best, but sometimes you just need the convenience of a store bought option. Luckily more and more grocery stores are beginning to carry low carb tortillas!
One thing to consider when buying your low carbs tortillas at the store is most of them WILL NOT be gluten free. For some people this is not a big deal, but it is important to know. Store bought tortillas will usually be made with whole wheat flour and wheat gluten.
Now let's go through our top picks for store bought low carb tortillas:
NUCO Coconut Wraps
These are our personal favorites, despite being a little higher in carbs than other options. NUCO Coconut Wraps have the best ingredients of any keto tortilla on this list. They also have a very strong coconut flavor, which might not be your thing.
70 Calories
5g Fat
6g Carb
2g Fiber
1g Protein
Organic, gluten free, no added sugar.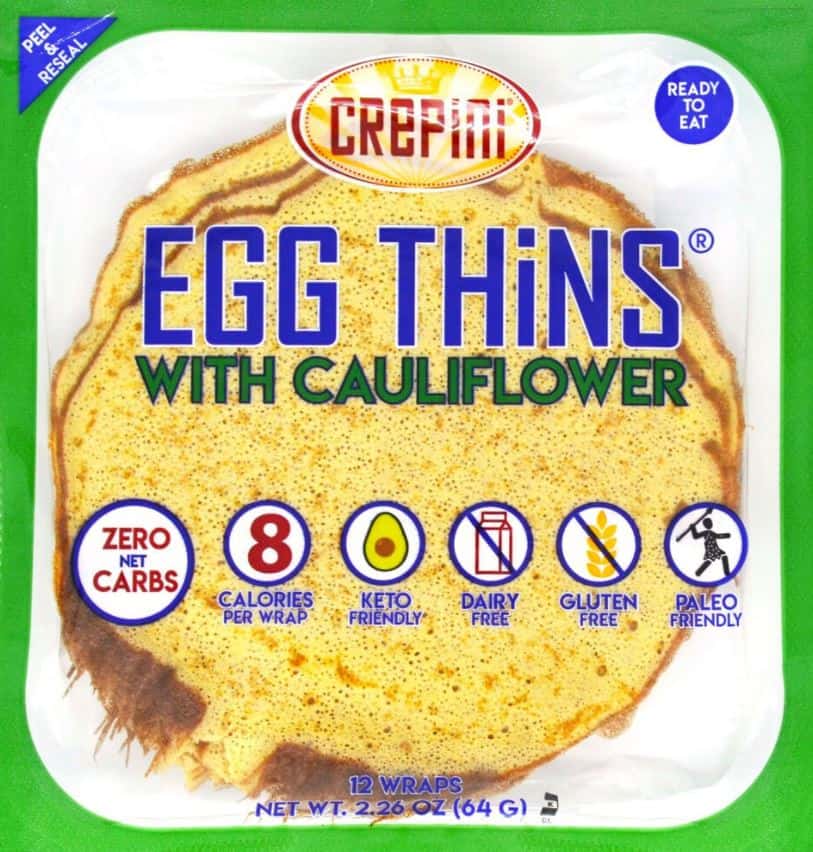 Crepini Egg Thins
This might be the best option as far as ingredients and nutrition goes. What Crepini Egg Thins really lack is flavor. They don't taste great, and they are on the thin side. Usually whatever you're filling your soft taco with will break right through these. They are still a great option that we regularly buy though. You can find them at Costco and Sprouts.
8 Calories
0g Fat
0g Carb
0g Fiber
1g Protein
Gluten free, no added sugar.
Check out our detailed Trader Joe's Cauliflower Thins Review.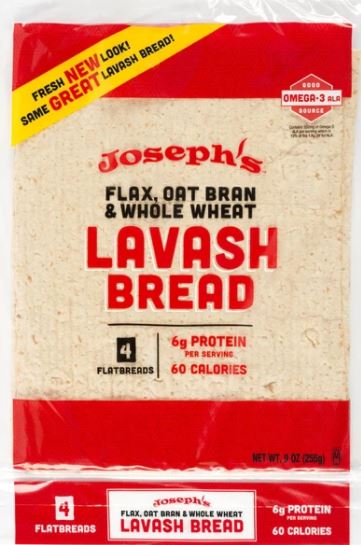 Joseph's Lavash Bread
Now we are getting to the options that taste really good, but might not be what you're looking for nutritionally. Joseph's Lavash Bread is similar to an Arabic flatbread. It contains flax, wheat, and oats, but is relatively low carb because it is so thin.
60 Calories
1.5g Fat
8g Carb
2g Fiber
6g Protein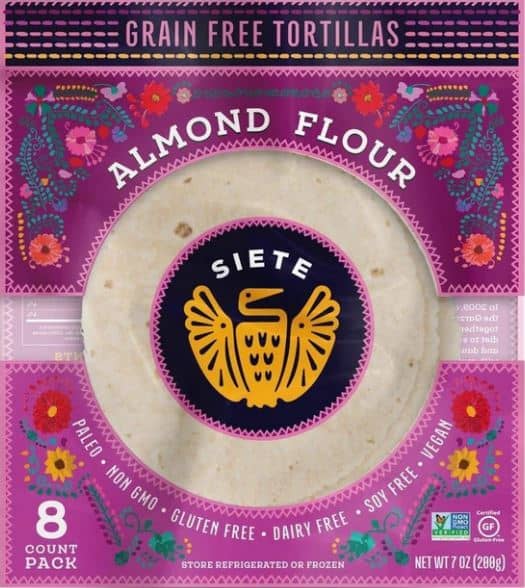 Siete Tortillas (Almond Flour OR Cassava Flour)
This is an option that is much higher in carb, but is made up for by the fact that the ingredients are top notch. I would fit Siete Tortillas more into the paleo category, but still an option. The Cassava Flour variety are the tortillas we use for our 1 year old son who is not eating nuts yet. They also crisp up into tortilla chips in the oven with a little olive oil.
90 Calories
5g Fat
10g Carb
Fiber 2g
1g Protein
Gluten free, no added sugar.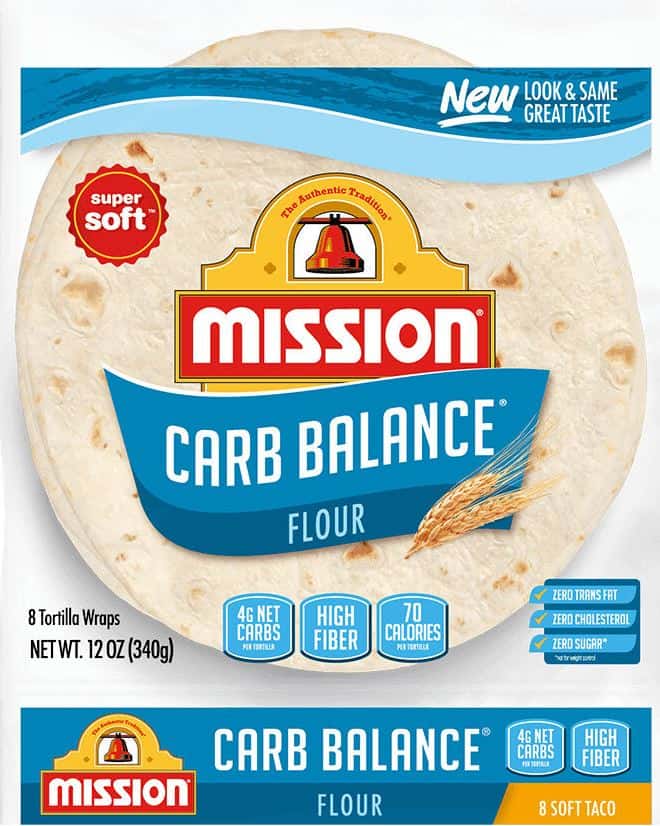 Mission Carb Balance Flour Tortillas
If you're looking for something that you will recognize as your typical soft shell taco then this is it. Mission Carb Balance Tortillas taste like they are fresh off the tortilla press. You can find them at most grocery stores these days and are a good option for making quesadillas and even Mexican pizza! These tortillas contain a high amount of carbs, but the net carb count is only 4.
70 Calories
3g Fat
19g Carb
15g Fiber
5g Protein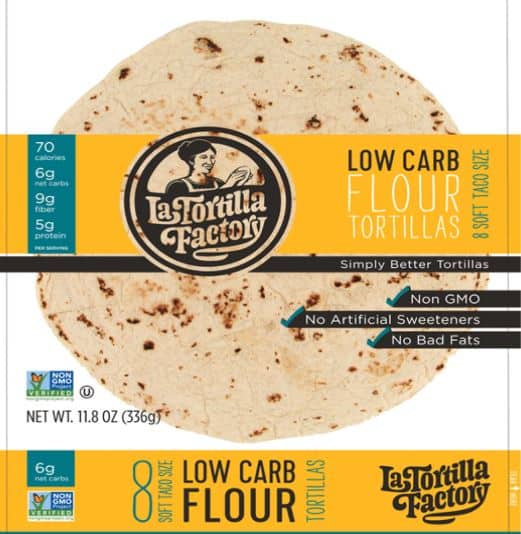 La Tortilla Factory Low Carb Tortillas
These are pretty similar tasting to the Mission tortillas, although I would say these taste a little healthier. La Tortilla Factory Low Carb Tortillas can be found in most grocery stores these days and are a good for quesadillas, enchiladas, and tacos. These are sturdy and will hold up to your favorite low carb salsa or hot sauce.
60 Calories
2g Fat
15 Carb
10g Fiber
5g Protein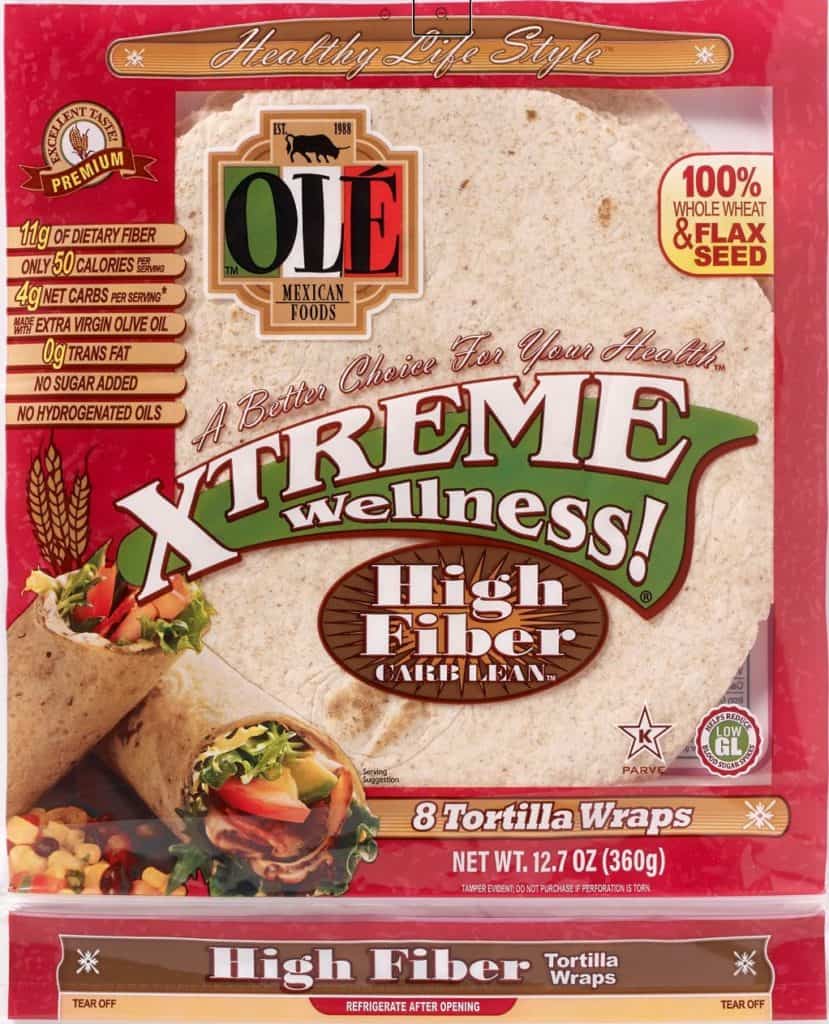 Ole Mexican Foods Xtreme Wellness High Fiber Tortillas
Now we're scraping the bottom of the barrel. Ole Mexican Foods Xtreme Wellness Tortillas are similar to the last few options but taste a little worse. As a note, you generally want to stay away from anything labeled "Xtreme Wellness". You can usualy find this brand at Walmart, but it would be my last choice.
50 Calories
1.5g Fat
15g Carb
11g Fiber
4g Protein
In Summary
As you can see there are more options for low carb tortillas than ever before. From making them by hand in your kitchen at home, to availability in just about every grocery store, your options are nearly endless. I tend to categorize these options into 3 distinct categories
Your Best Option
The recipe below is going to be your best option by a wide margin. It uses minimal ingredients and can be made in less than 15 minutes in the comfort of your own kitchen. You can make a big batch on the weekend and have them ready for meals throughout the week.
Good Options
Anything gluten free, organic, no sugar added, and that uses whole ingredients goes into this category. Sometimes this means slightly more carbs, but that is a worthwhile trade off for quality. I would put Siete, NUCO, and Crepini options in this category. Those are the brands we routinely buy.
Decent Options
Everything made with wheat and processed ingredients goes into this category. The good news is these options typically have lower net carbs than the previous list. These are the ones you will mostly find at your grocery store. Joseph's, Mission, La Tortilla Factory and Ole would go in this category.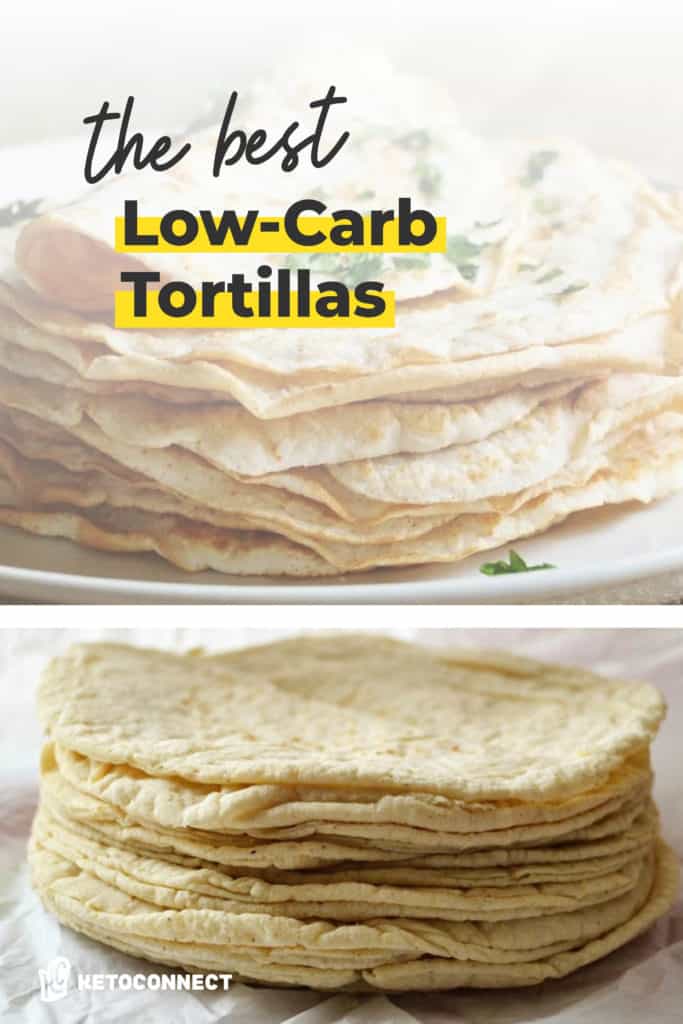 Feel free to leave a comment below if there are more options you would like us to cover in this article. New options come out every few months so it is tough to keep up with all the new offerings.
Be sure to give our homemade keto tortillas a try and comment below to let us know what you think of them!
Recipe can be quickly added to MyFitnessPal – Search "KetoConnect – Low Carb Tortillas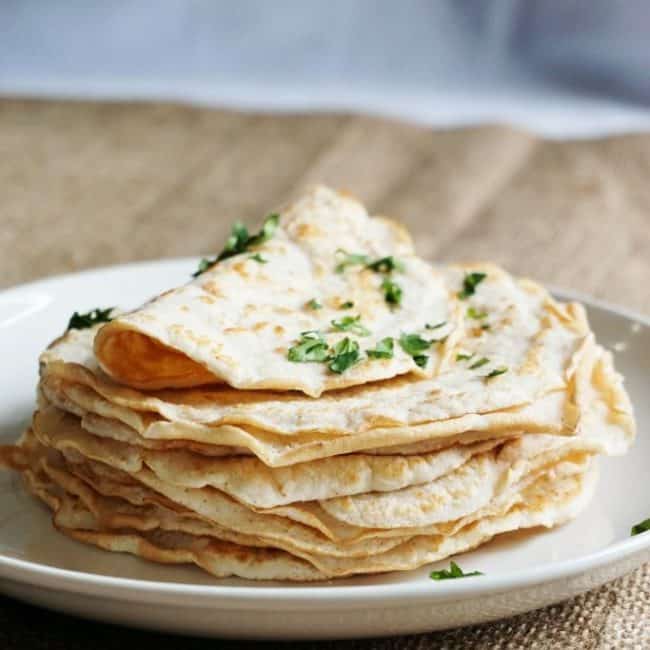 Easiest Low Carb Tortillas Recipe
Two-Ingredient low-carb tortillas perfect for tacos and wraps!
Total Time 20 minutes
Servings 16 Tortillas
Calories per serving 50kcal
Prep Time: 5 minutes
Cook Time: 15 minutes
Instructions:
Add egg whites, coconut flour, baking powder and water in a bowl. Combine well (should be a uniform, watery mixture).

Optional: add seasonings and mix.

Heat a skillet (any size you want your tortillas to be) to low heat. Wait until the pan is hot, spray with cooking spray, and drop some of the mixture into the center (i like to use a 1/4 measuring cup).

As quickly as possible tilt the skillet on all edge to spread the batter as thin as possible. You can always add more in the areas not covered.

Allow it to cook for a couple minutes until it starts to rise/bubble or you lift it up and the other side has browned. Flip and cook for 1 additional minute.

Repeat process until all the batter is cooked. The above mixture made 16 small taco sized tortillas for us.

TIP: If your first tortilla doesn't spread thin enough on the skillet (comes out more like a pancake) add more water to the egg white mixture and mix!
Nutrition Facts
Easiest Low Carb Tortillas Recipe
Amount Per Serving (1 tortilla)
Calories 50 Calories from Fat 14
% Daily Value*
Fat 1.5g2%
Carbohydrates 6g2%
Fiber 3.25g13%
Protein 8.5g17%
* Percent Daily Values are based on a 2000 calorie diet.
Written By