Let's be honest: the keto ice cream struggle is real. Your cravings don't care that you're trying to be healthy… Our solution? Make your own homemade ice cream! Our Almond Milk Ice Cream is sure to win over any ice cream lover.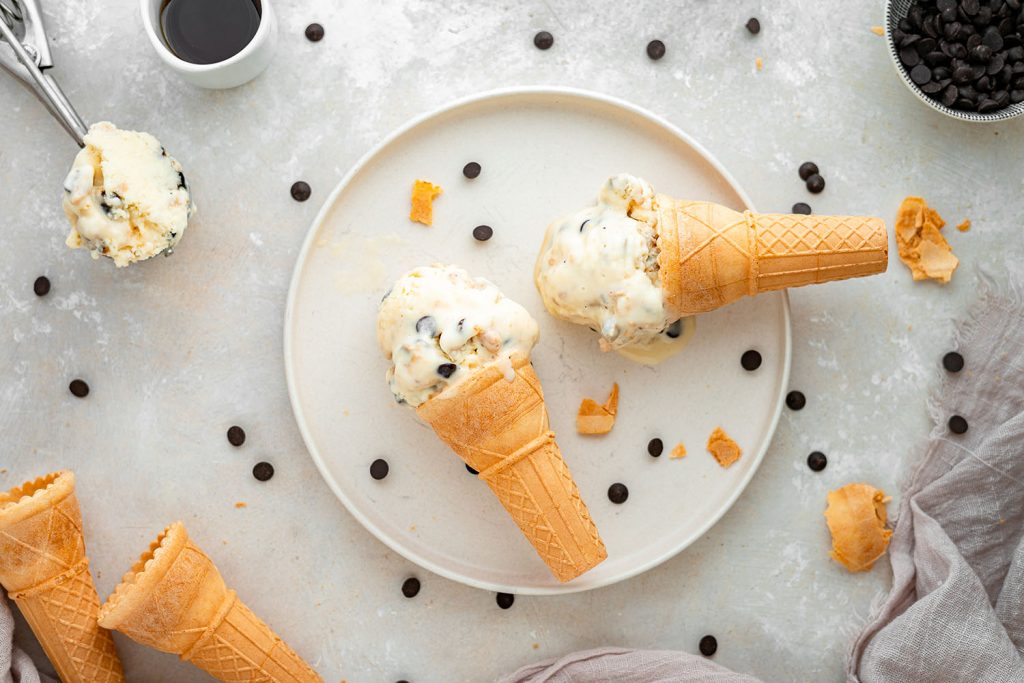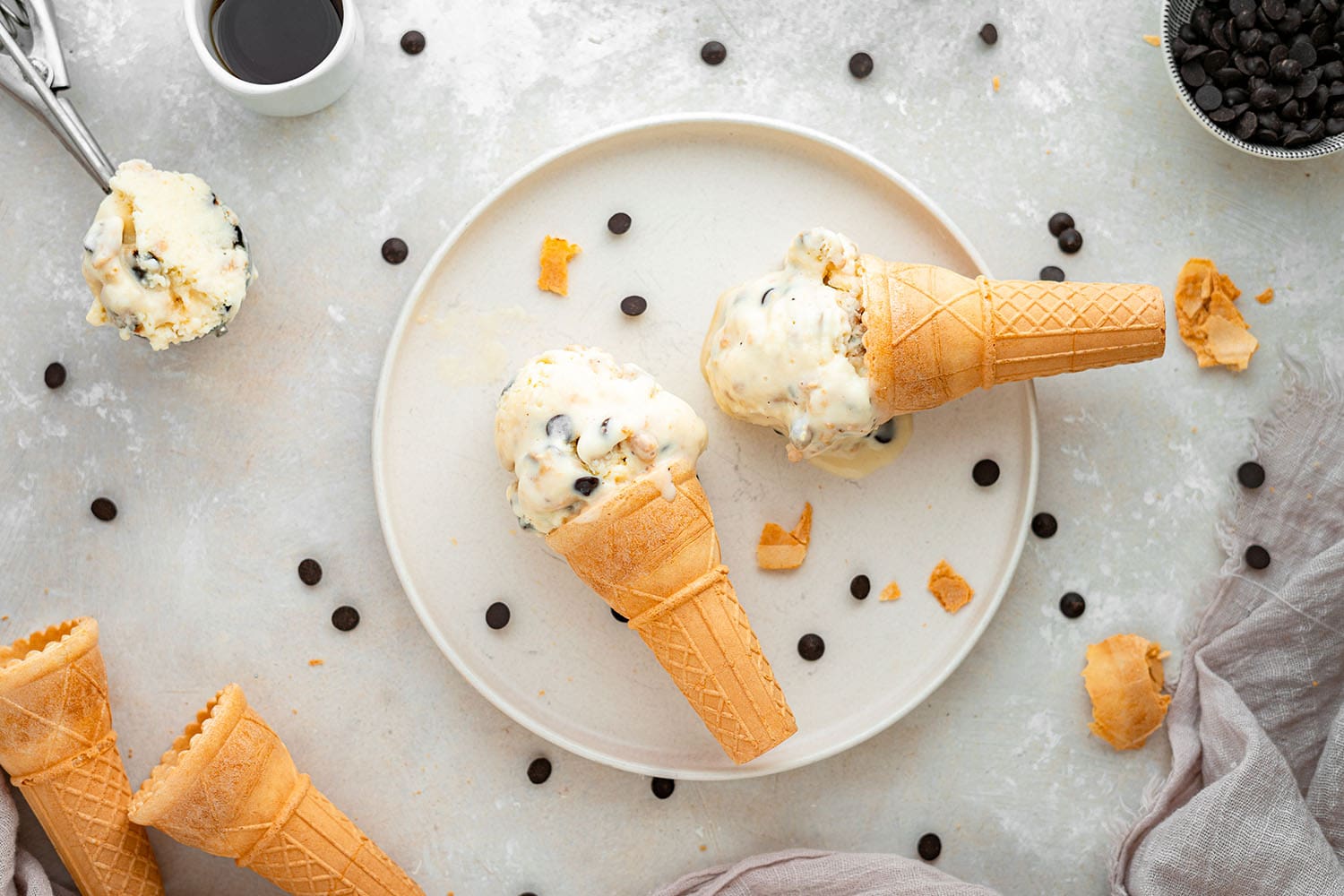 It's just as creamy and sweet as the real deal, and made entirely with low-carb, clean ingredients. We've even included optional keto cookie dough to make this recipe extra decadent. But be warned – this ice cream tastes so good, you might not be able to stop after eating just one bowl!
The Best Almond Milk Ice Cream Recipe
It doesn't matter if it's snowing outside – ice cream is absolutely an every-season dessert! Whether it's a refreshing cold bowl on a hot summer's day or a scoop served with a slice of pie, everything is made better with ice cream.
But if you follow a keto or low-carb diet, your ice cream options are pretty limited.
Sadly, we've yet to see healthy sugar-free ice cream parlors or keto ice cream trucks. And while there are some keto-friendly ice cream options available in stores, they're not everyone's cup of tea – or in the grocery budget!
That's why we created this easy-to-make Almond Milk Ice Cream. No sugar, low-carb, but still ​​thick and easy-to-scoop – just like ice cream should be.
Why We Love This Almond Milk Ice Cream
This isn't the first homemade ice cream recipe we've ever created, but right now it's definitely our favorite! Not only is this delicious Almond Milk Ice Cream absolutely irresistible, but it addresses some common issues we've seen in keto ice cream recipes and brands alike.
No Fancy Ingredients Necessary
There's no need to buy any specialty keto foods for this recipe. In fact, you won't even need heavy cream!
We love experimenting with ingredients like xanthan gum in our cooking, but we know these things aren't always easy to find. That's why we've brought this homemade Almond Milk Ice Cream recipe back to basics with affordable, readily available ingredients.
Can you make ice cream with almond milk? Definitely! This recipe proves that you don't need heavy cream to make delicious ice cream that tastes like it's come straight from the Ben & Jerry's production line. In other words, it doesn't "taste healthy", if you know what we mean.
Not to mention almond milk contains a decent amount of Vitamin E and calcium, too! 
Our secret is adding a touch of coconut milk to thicken up the custard base to create a perfect scoop every time. Coconut milk is a rich source of MCTs (medium-chain triglycerides), which are a much-loved fat source on keto!
It's a Clean Keto Dessert
It might not be considered a health food, but ice cream is traditionally a very basic recipe. So you might feel a little shocked if you ever check out the ingredients label of your favorite low-carb ice cream!
Additives like gums, thickeners and emulsifiers are often found in store-bought ice creams. These ingredients are added to help keep the food fresh for longer, prevent ice crystals from forming, and produce a smooth "mouth feel".
However, many people avoid these added ingredients due to health concerns. A 2001 review of carrageenan, an additive commonly used in ice cream, found that it may negatively impact gut health.
Our homemade Almond Milk Ice Cream doesn't contain any emulsifiers or gums. Just healthy keto foods that taste great, like eggs, coconut milk, almond milk and your favorite sugar substitute. Be sure to check out our keto sweetener guide for more guidance.
It's Versatile
We haven't just provided you with an amazing Almond Milk Ice Cream recipe. We've even given you a tasty bonus: keto cookie dough! But if you're not feeling that indulgent, you can totally skip this part and add whichever flavors you like.
We've kept the delicious ice cream base vanilla so it's easy to adapt the flavor to whatever you're craving. Or maybe you just love the taste of smooth vanilla ice cream. No judgment here.
What You'll Need
This homemade Almond Milk Ice Cream recipe does require some special tools, so make sure you have everything you need before getting started:
An ice cream maker
A medium pot
A whisk
A spatula
A flat dish
A mixing bowl
Plastic wrap
An ice cream maker might just be one of the best keto kitchen gadgets you invest in. Why? It's key to getting that fluffy, churned ice cream that's free from icy crystals. You know, the kind of ice cream that's easy to scoop straight from the tub.
Don't have an ice cream maker? Check out our no-churn Mason Jar Ice Cream!
We also recommend resting your custard in a flat dish rather than a bowl, as it will cool down faster in the fridge.
How to Make Almond Milk Ice Cream
Who needs the ice cream truck anyway? Grab your low-carb ingredients and get ready for Almond Milk Ice Cream season!
First, pre-freeze the bowl of your ice cream maker.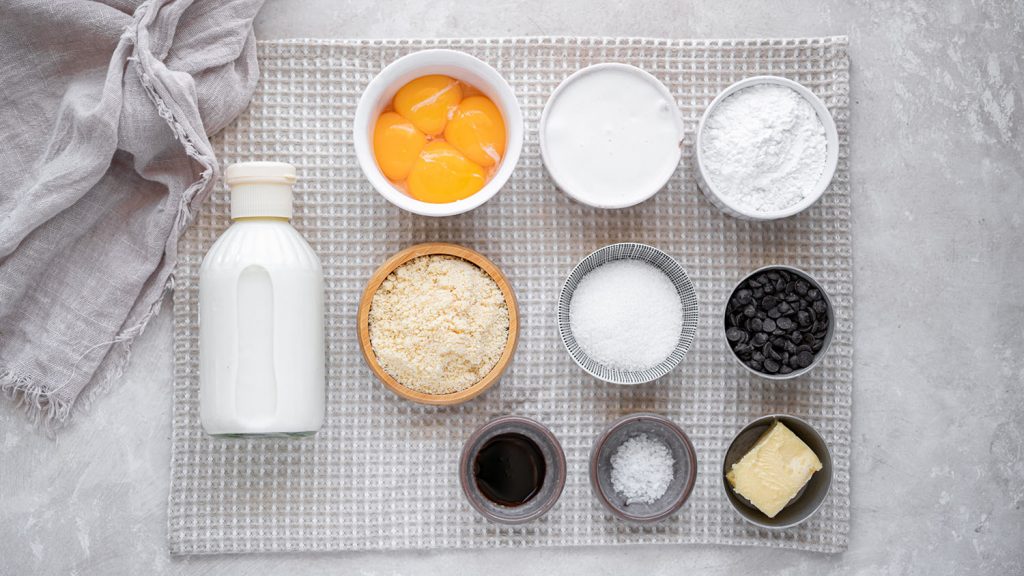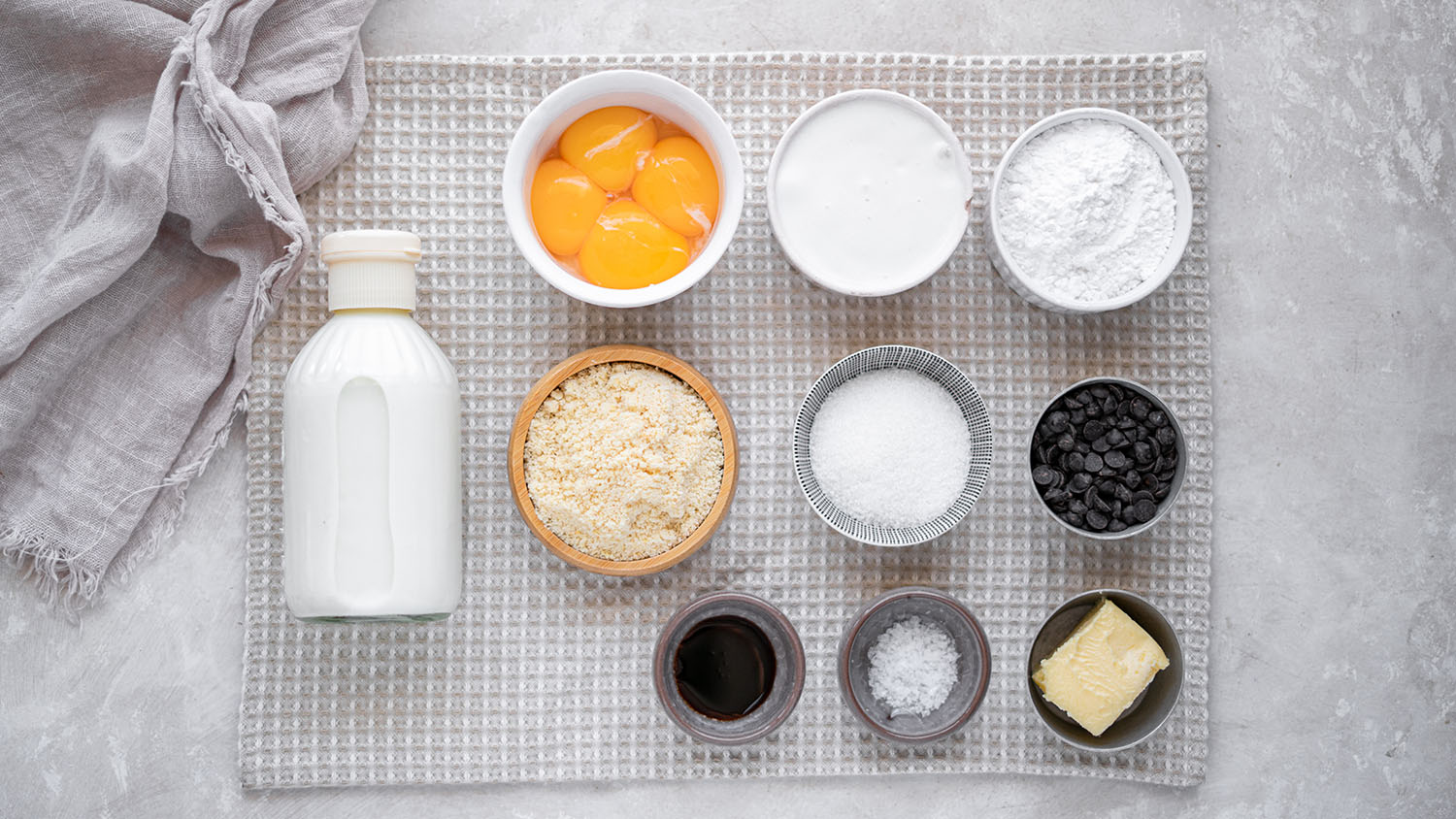 To make your ice cream base, add the almond milk to a pot and bring to a simmer over medium heat.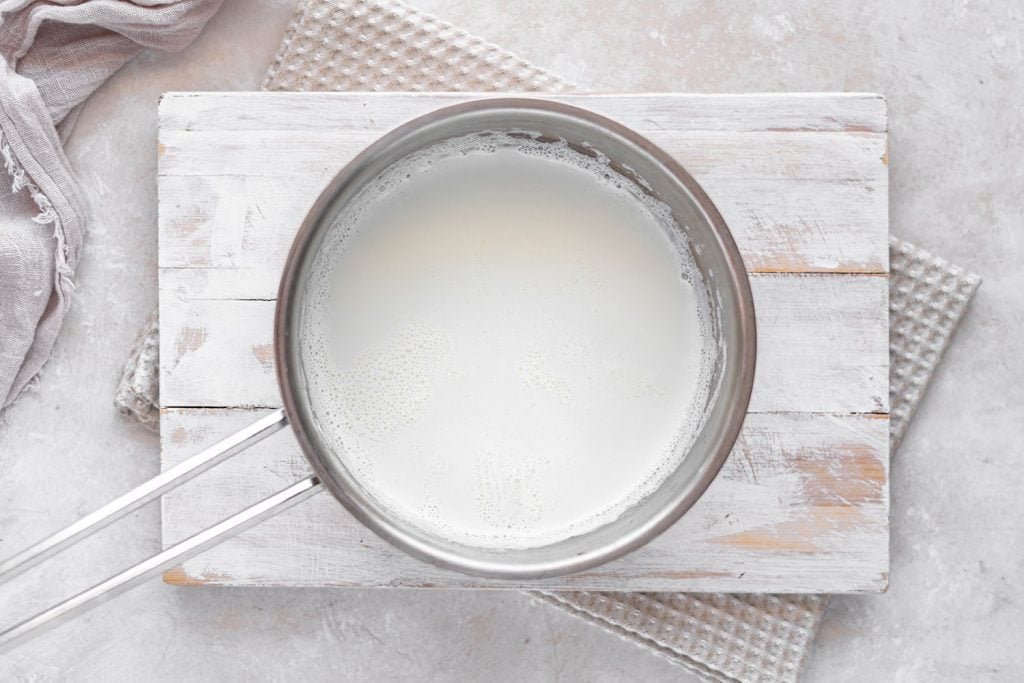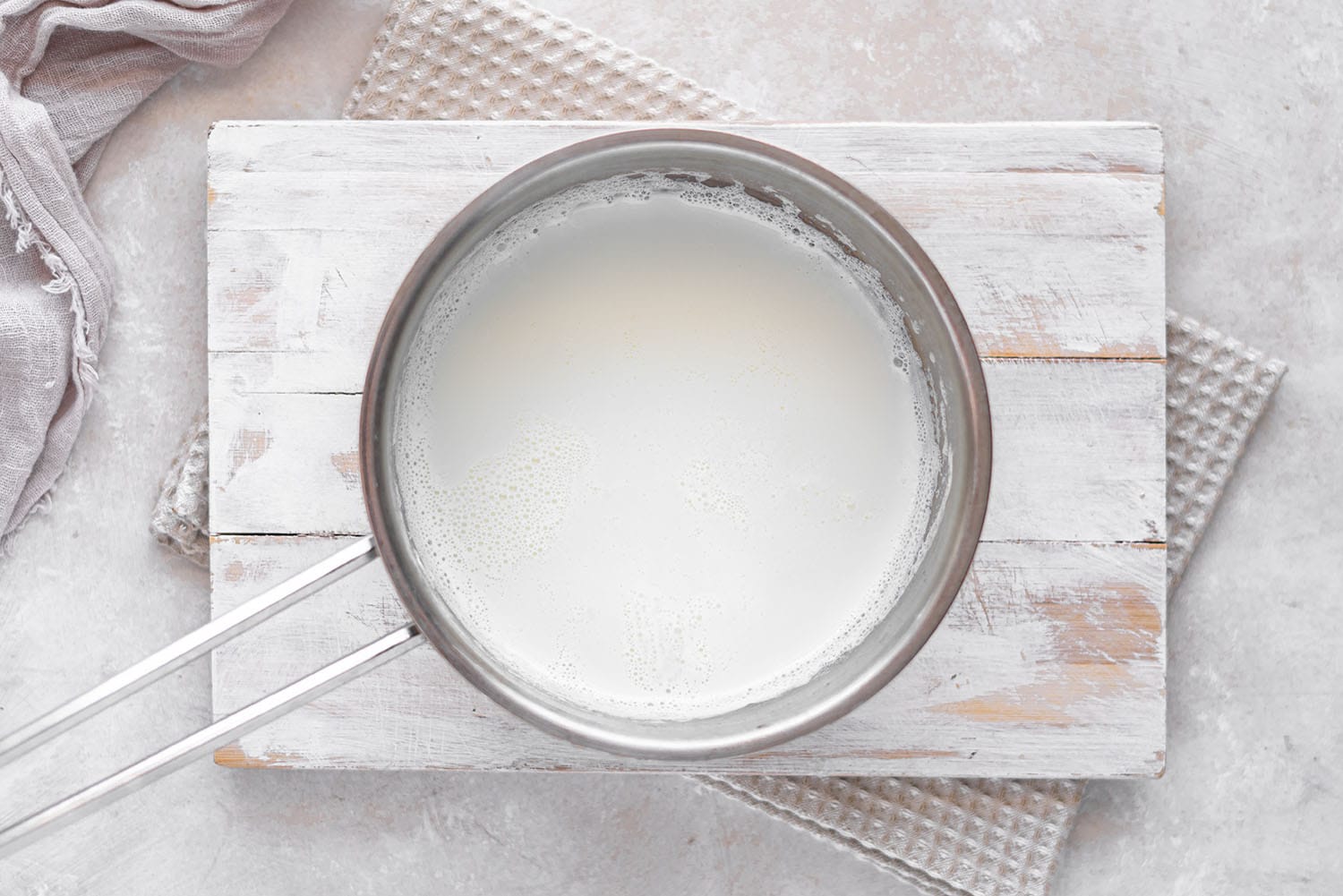 While your almond milk is simmering, add the egg yolks, sweetener, coconut milk, vanilla and salt to a separate mixing bowl. Whisk to combine, ensuring the mixture is smooth and free from any lumps.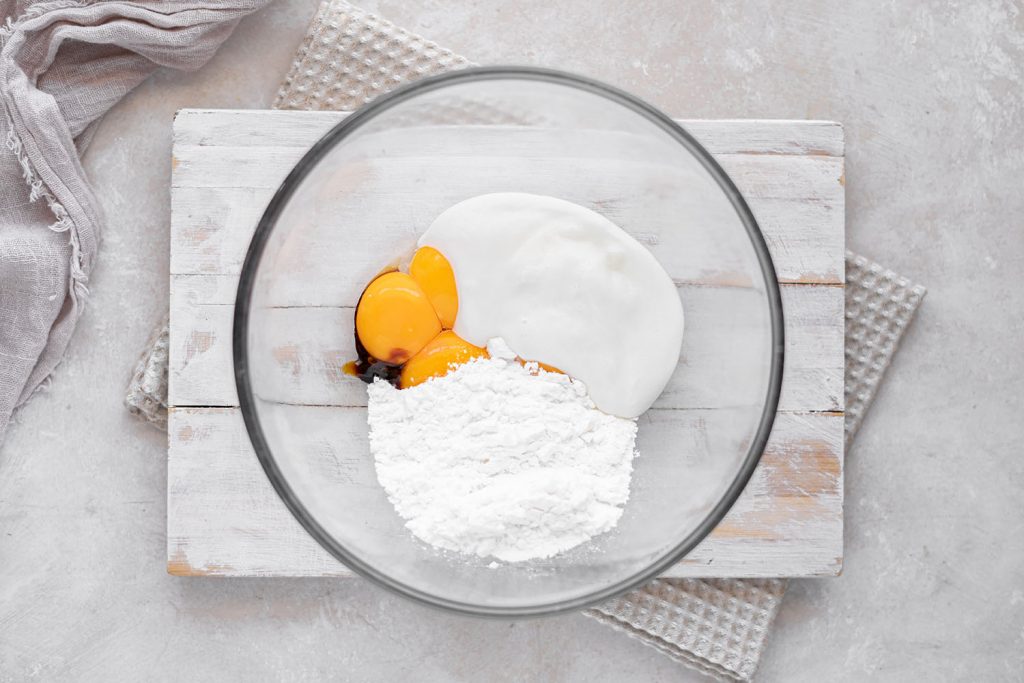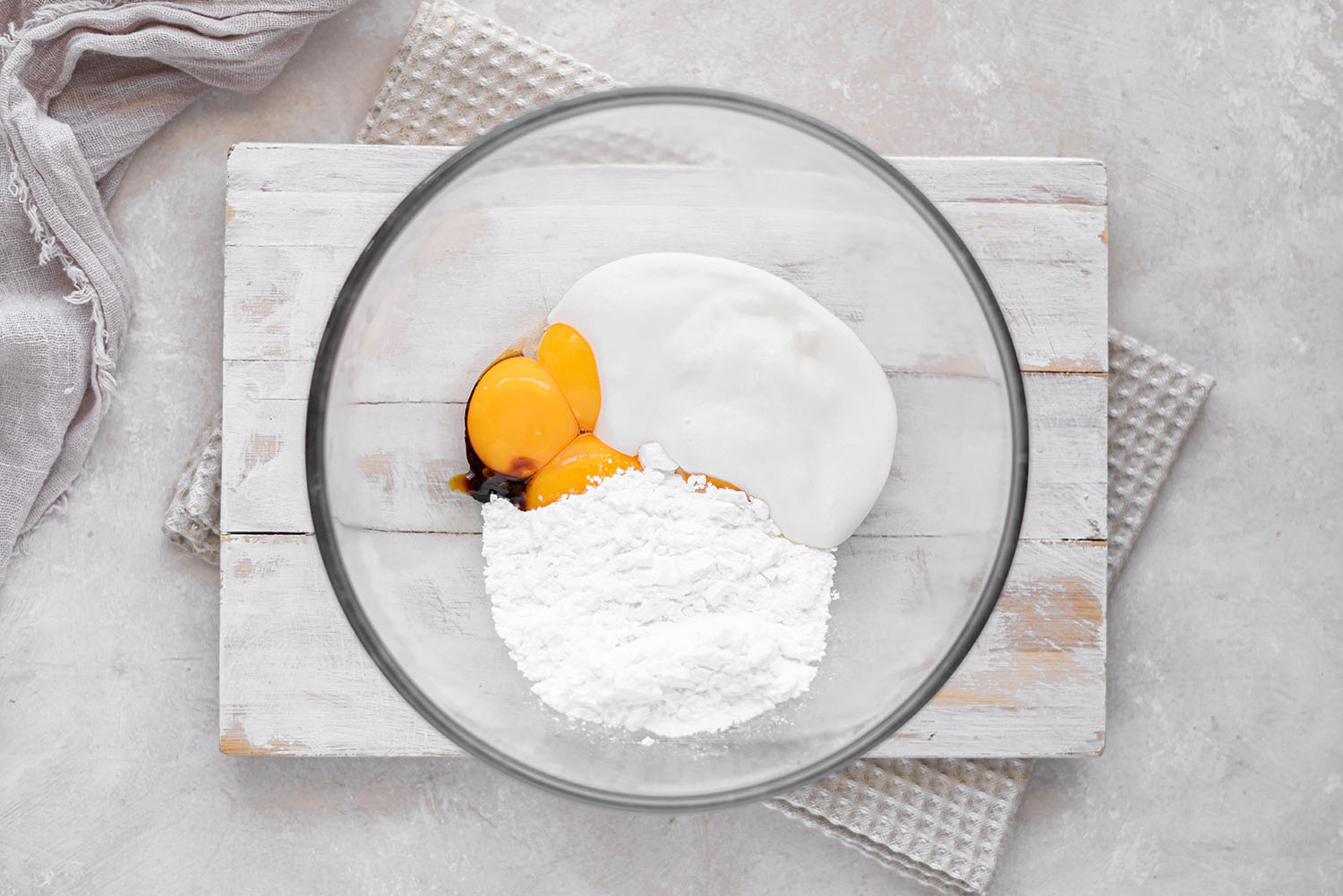 Very carefully add the heated almond milk to your egg mixture. The key here is to go slow and steady to avoid scrambling the egg yolks and curdling your mixture. For best results, try to form a thin stream with the almond milk as it pours.
Once combined, transfer the custard mixture to the pot and return to the heat.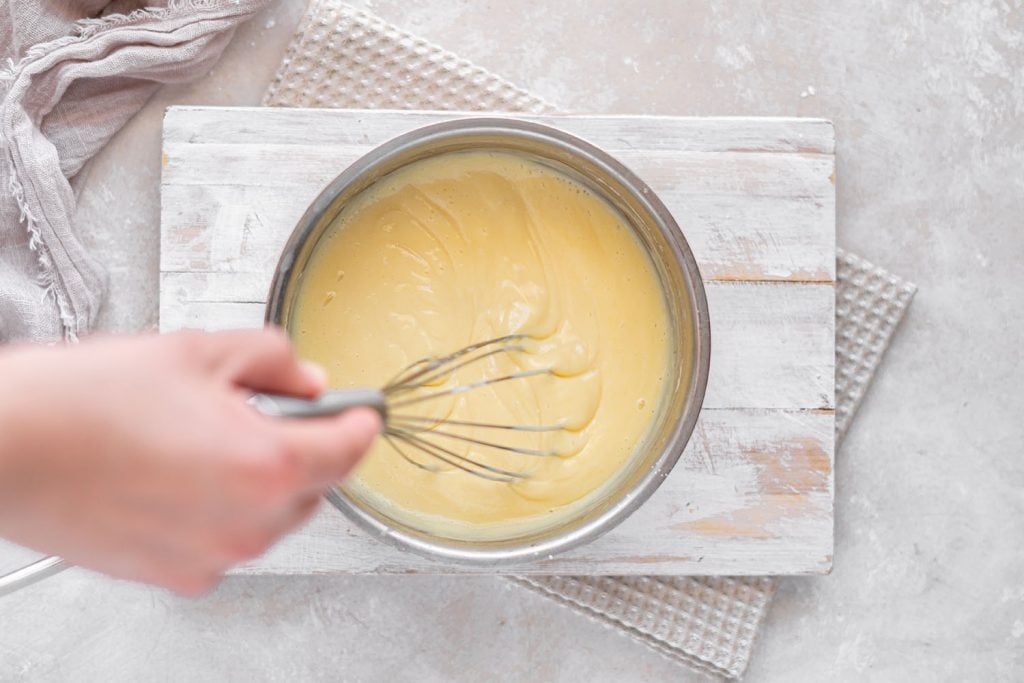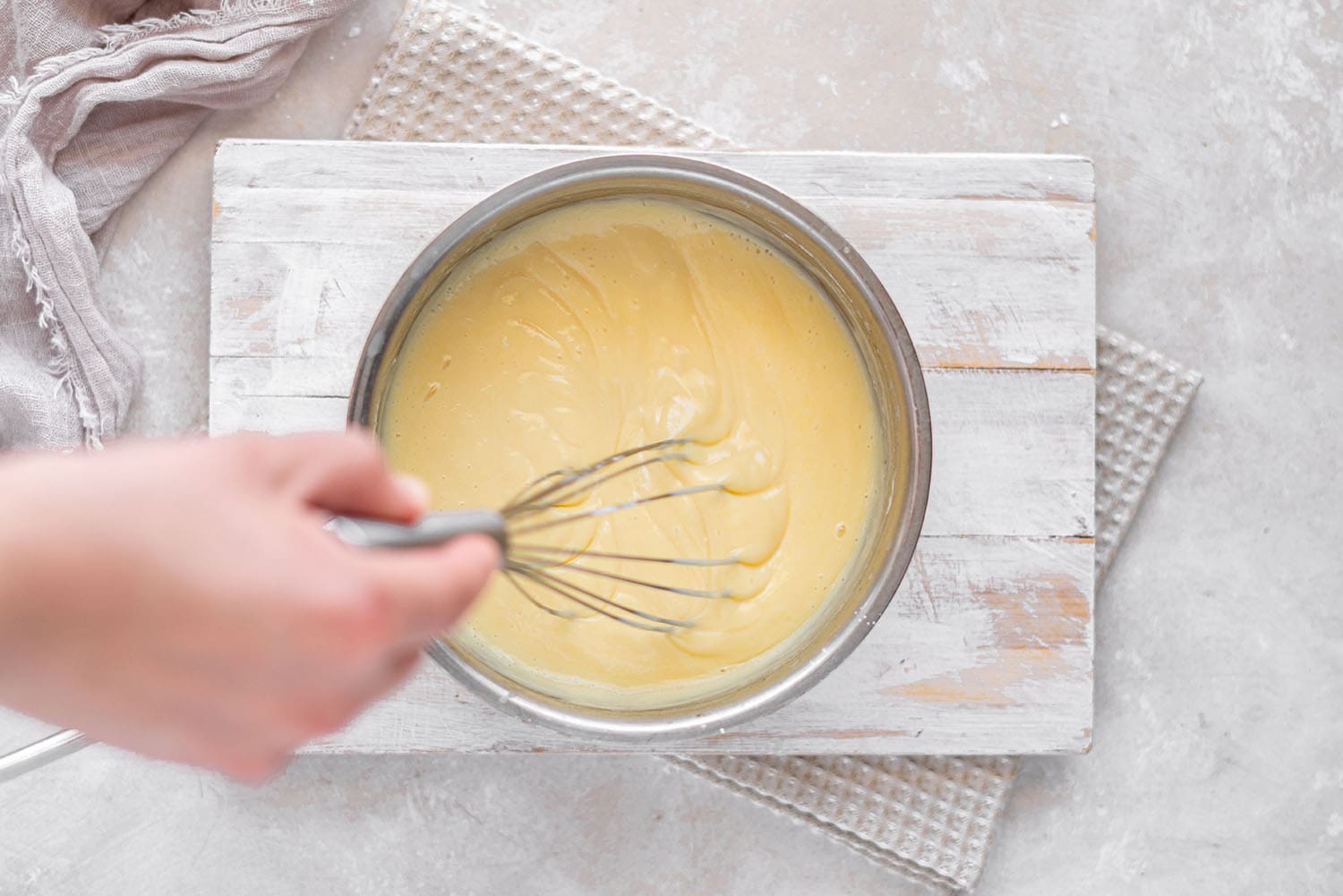 Mix with a whisk over medium heat until the custard has thickened.
Remove the thick custard from the heat and pour into a flat dish. Cover with plastic wrap and leave in the refrigerator to set for 4 hours while you make your cookie dough.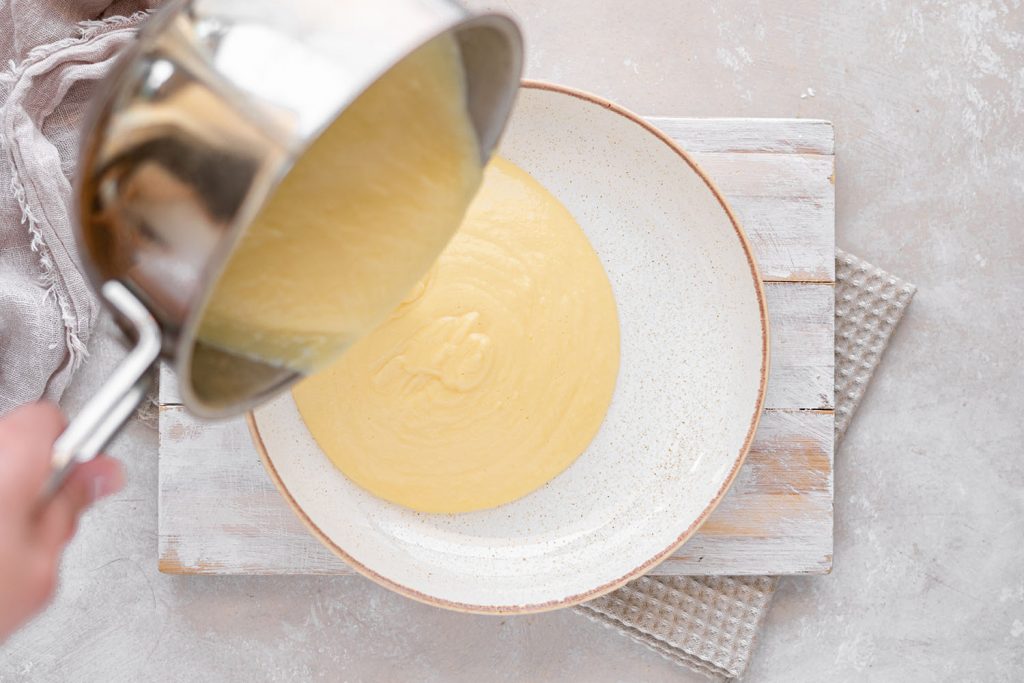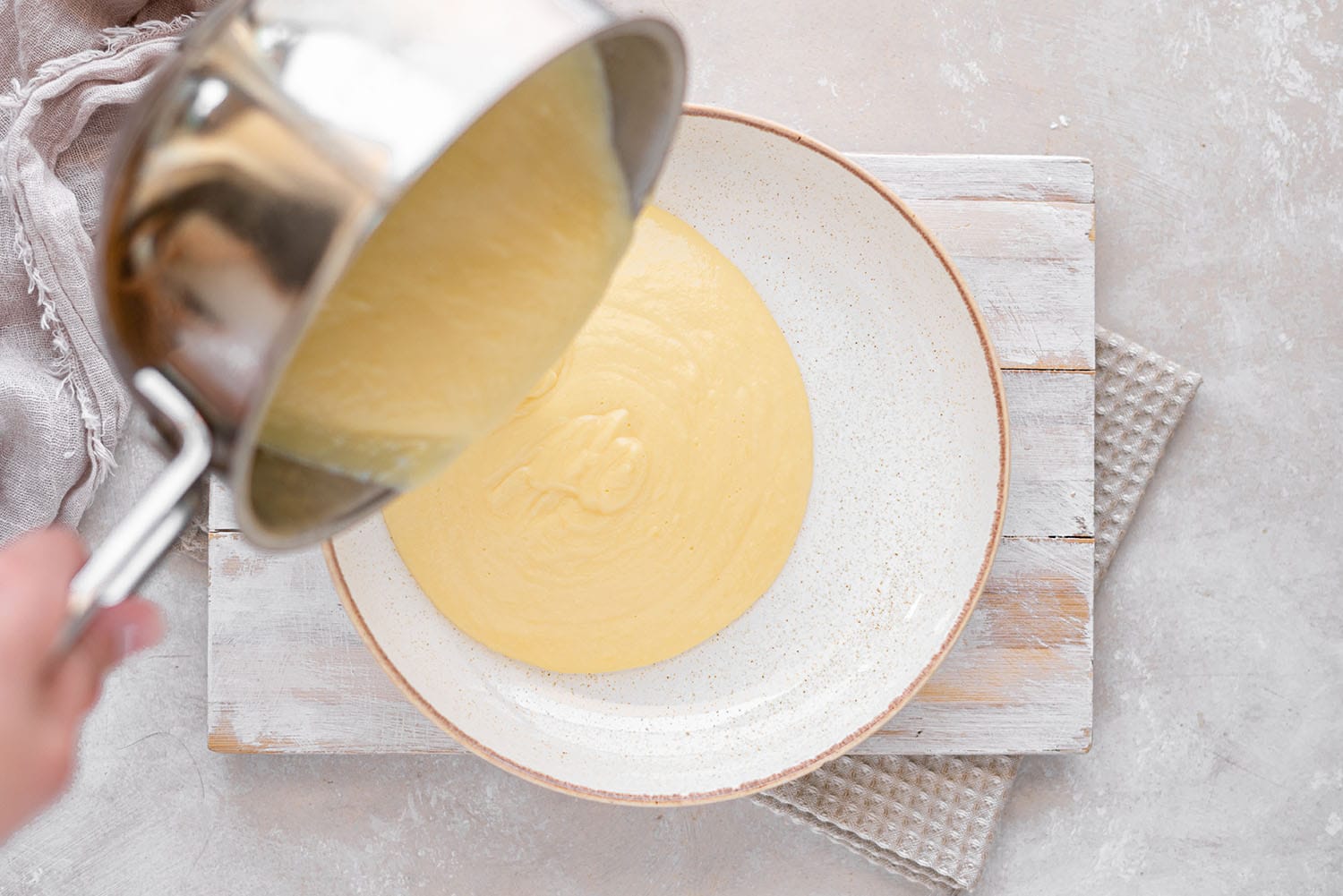 To make the cookie dough, add the butter, sweetener and vanilla extract to a mixing bowl and mix with a spatula to combine.
The cookie dough steps can be skipped if you want to make a different flavor ice cream.
Add your almond flour and continue to mix into a firm dough.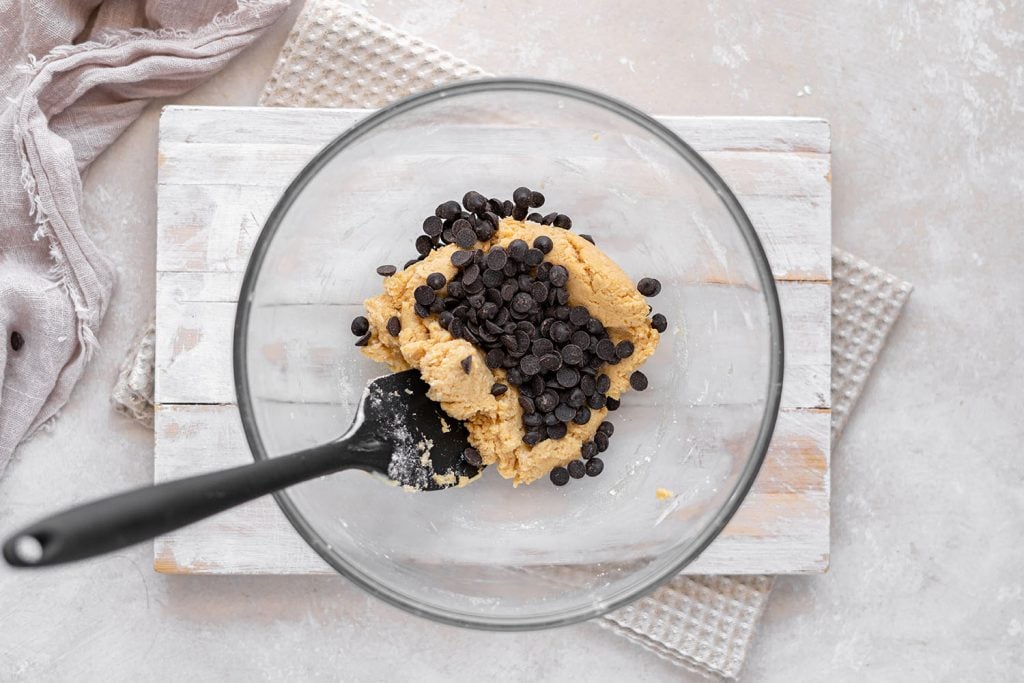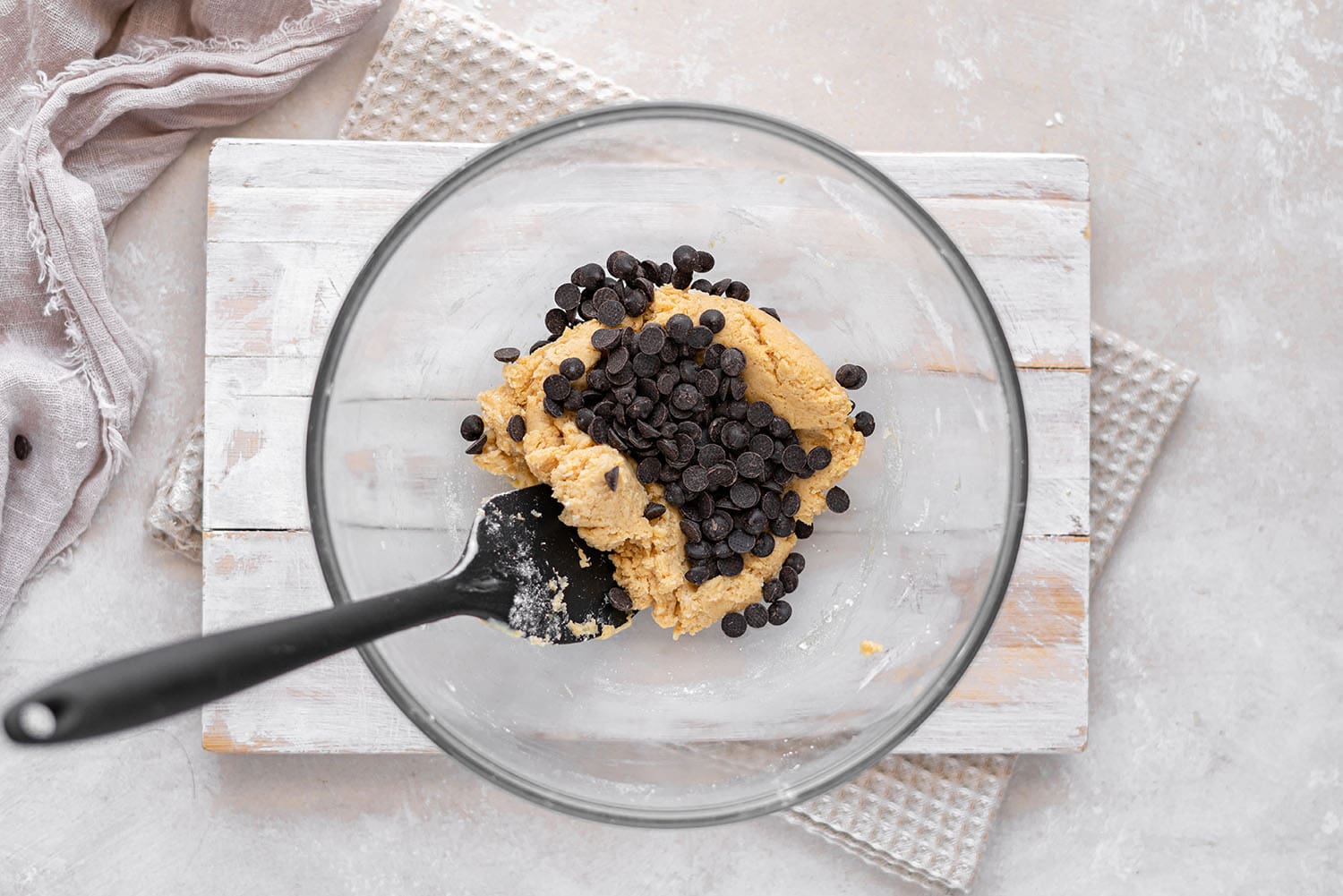 Pour in your chocolate chips, mixing through to ensure they're evenly spread throughout your mixture.
Cover the bowl of cookie dough and set it aside in the fridge for later.
Use coconut oil in your cookie dough for a completely dairy free recipe.
After your custard has rested for 4 hours, pour the cold mixture into your pre-frozen ice cream bowl.
Leave to churn for 5-10 minutes.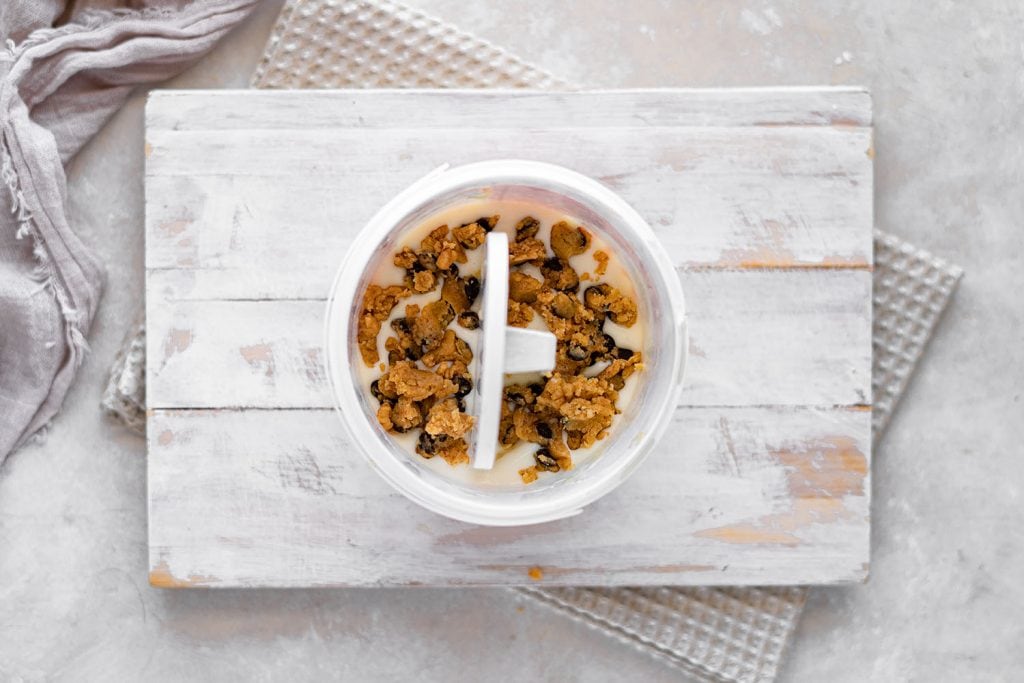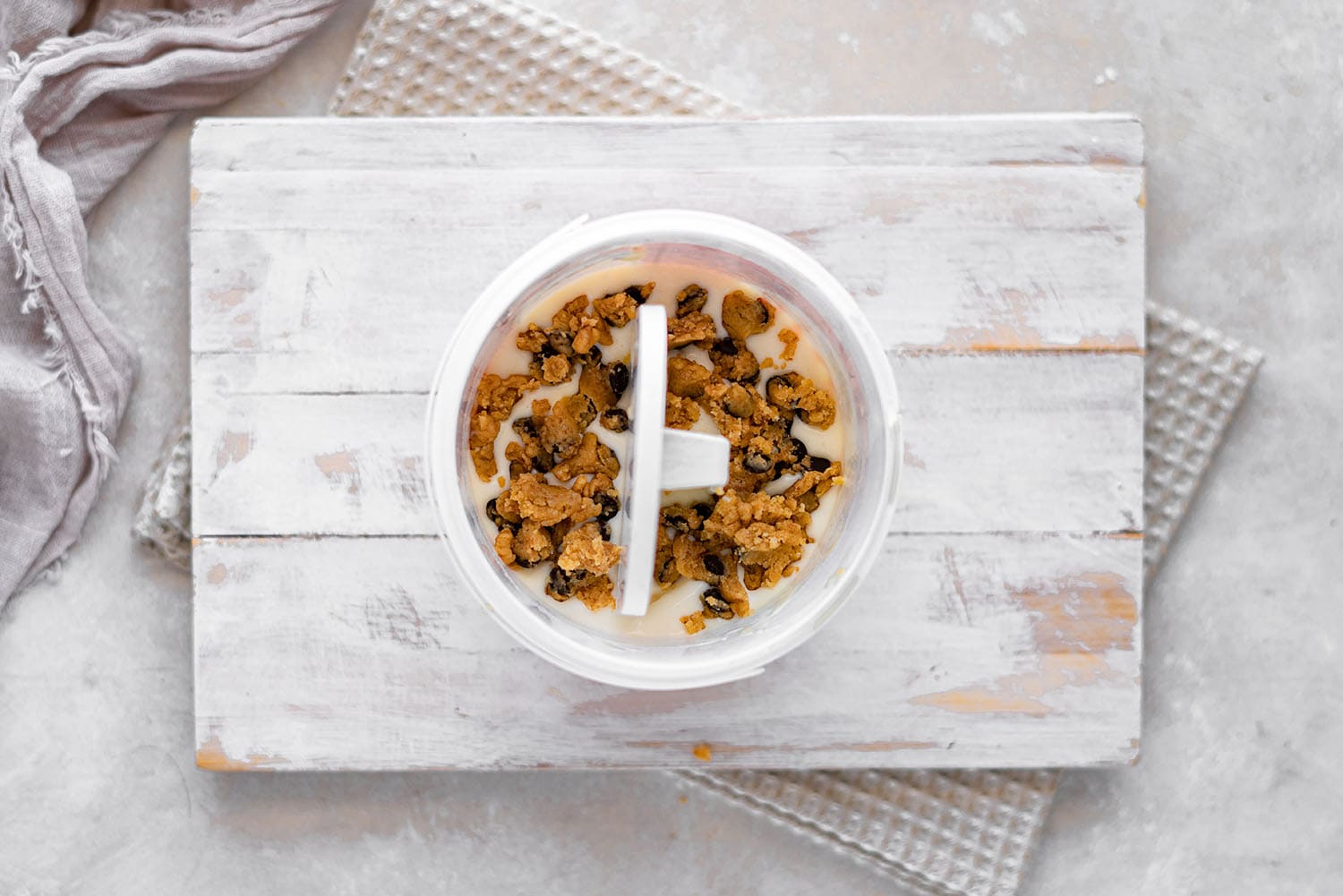 Break your cookie dough up into small chunks or crumbles and sprinkle into the ice cream maker while it's churning.
Allow the mixture to churn for another 15 minutes.
Enjoy straight away for a fluffy, soft serve-like ice cream, or transfer to a sealed container and freeze to enjoy later.
How to Store Your Ice Cream
Store your ice cream in a sealed container with a tight lid in the freezer. We recommend using a flat container to make it easier to scoop.
This homemade Almond Milk Ice Cream will keep for up to two months in the freezer. But honestly, good luck getting it to last two days – it's just too good to resist!
If you're having trouble scooping it frozen, leave the tub out on the bench for five to 10 minutes to soften before serving.
Serving Suggestions
We think that cookie dough ice cream is pretty amazing on its own, but maybe you want to step things up a level – or use the base recipe and experiment with your own fun flavors!
A scoop of this Almond Milk Ice Cream would also taste amazing next to a slice of our Low-Carb Pecan Pie, sprinkled with chopped-up Ice Cube Tray Peanut Butter Cups, or on top of a Keto Mug Cake!
If you'd prefer to keep things simple, you could also serve it with your favorite low-carb berries. Add a drizzle of almind butter and melted dark chocolate for your very own keto ice cream sundae.
Something tells us this recipe would be amazing in a keto milkshake, too. Just blend with almond or coconut milk and – if you like – top with freshly whipped heavy cream.
Want to try out your own perfect ice cream flavor? Consider some of these ideas:
Cookies and cream
Nutella (use hazelnut butter)
Matcha
Chocolate chip
Salted caramel
Strawberry
Double chocolate
Make sure to post your creations on Instagram and tag us!
More Keto Recipes Like This
If you ask us, discovering the magic of making your own keto ice cream is definitely an excuse to have dessert for dinner all week. Check out our other keto ice cream recipes and get freezing: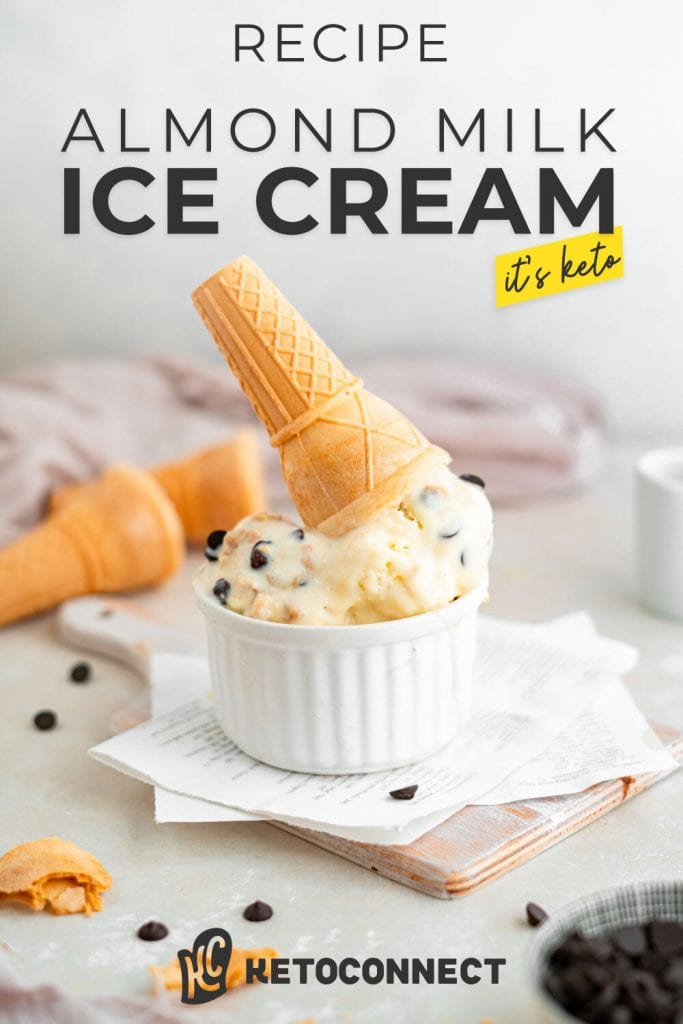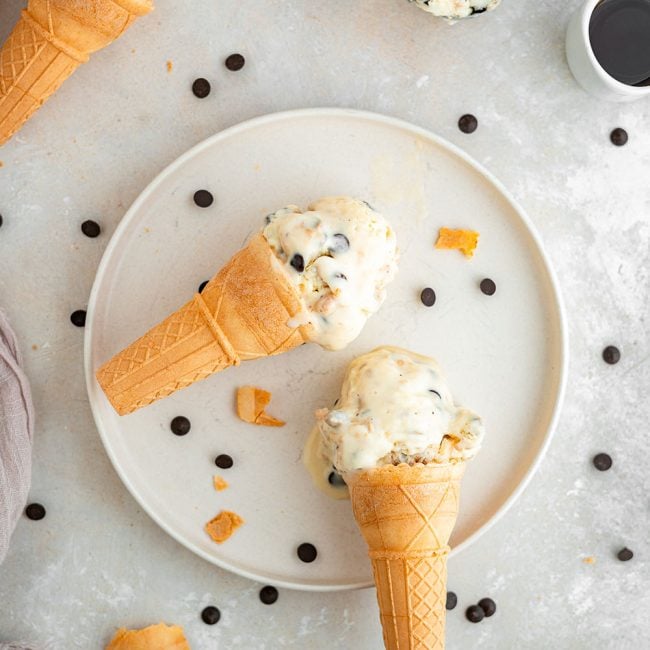 Almond Milk Ice Cream Recipe | Keto, Dairy Free
Almond Milk Ice Cream is the perfect dairy free recipe for the summer. Just as creamy as traditional ice cream but without the dairy or the sugar
Total Time 4 hours 20 minutes
Servings 4 servings
Calories per serving 138kcal
Prep Time: 5 minutes
Freezing Time: 4 hours
Cook Time: 15 minutes
Nutrition Facts
Almond Milk Ice Cream Recipe | Keto, Dairy Free
Amount Per Serving
Calories 138 Calories from Fat 117
% Daily Value*
Fat 13g20%
Saturated Fat 8g40%
Polyunsaturated Fat 1g
Monounsaturated Fat 3g
Cholesterol 184mg61%
Sodium 135mg6%
Potassium 98mg3%
Carbohydrates 3g1%
Fiber 1g4%
Sugar 1g1%
Protein 4g8%
Vitamin A 245IU5%
Vitamin C 1mg1%
Calcium 139mg14%
Iron 1mg6%
* Percent Daily Values are based on a 2000 calorie diet.
Written By