Keto Buffalo Chicken Dip is the perfect low carb keto appetizer that can be made ahead of time for your next event or party. It's high fat, high protein, and best of all just 2.4 net carbs per serving!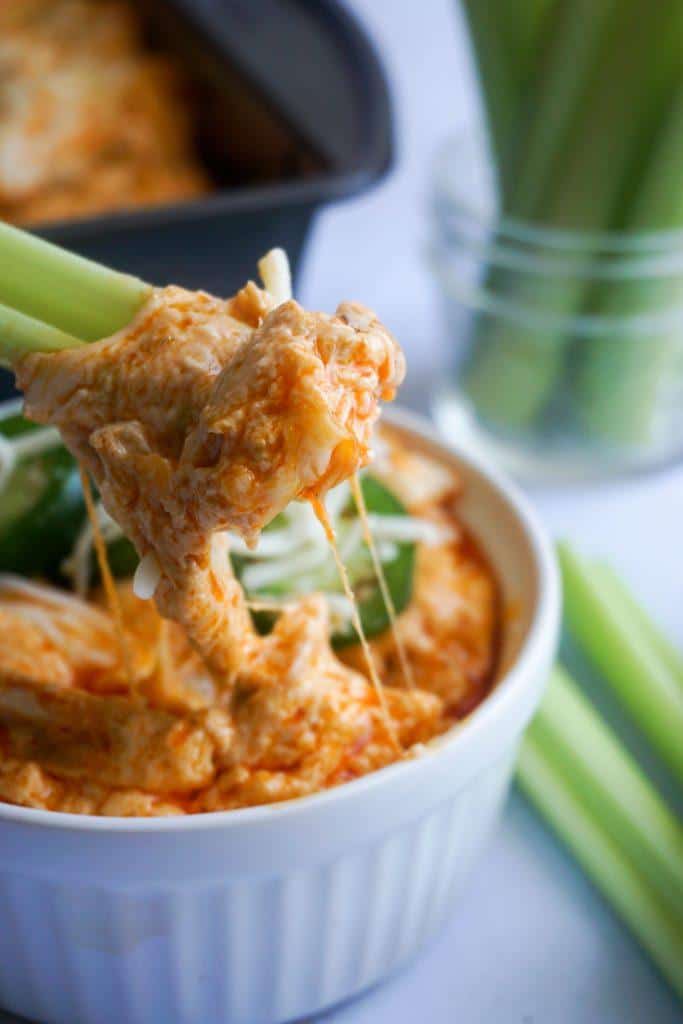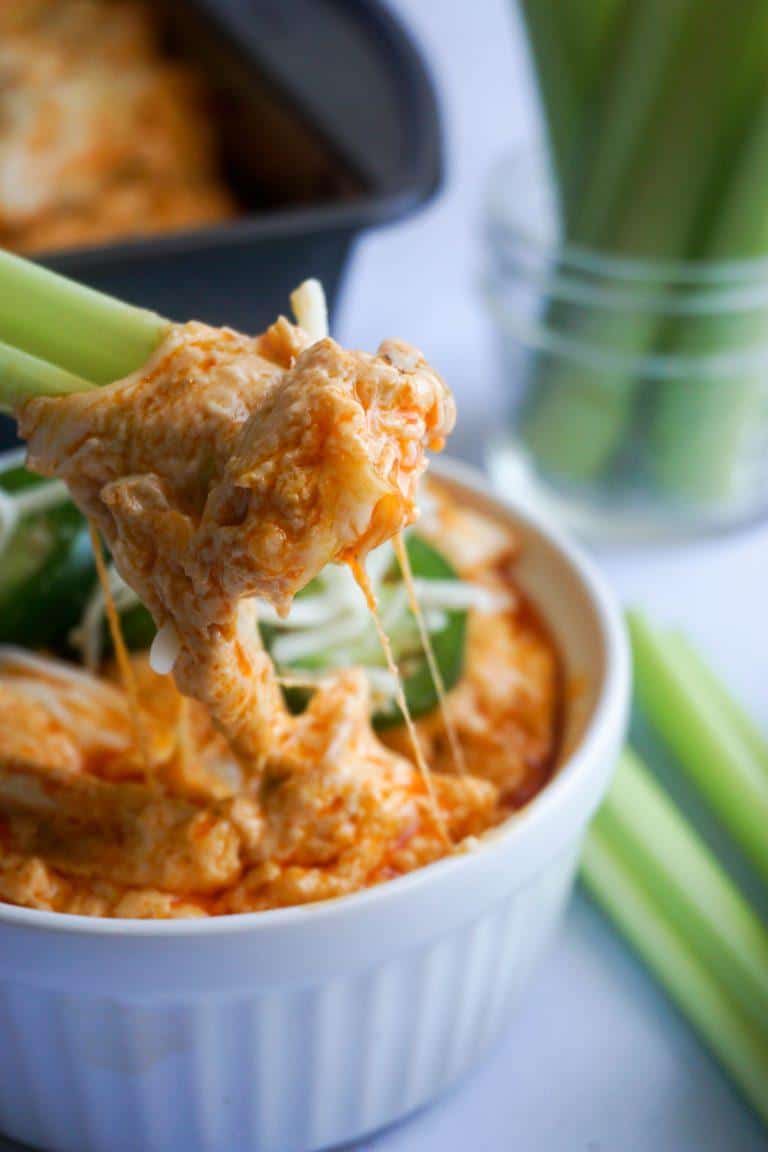 Is Frank's Hot Sauce Keto?
If you are a low carb buffalo chicken dip lover you know there's really no other sauce than the great Frank's hot sauce. Thankfully Frank's hot sauce is 100% keto approved AND recommended first as the ideal sauce for our keto buffalo chicken dip.
The bottle of sauce that you choose from Frank's is still very important so make sure to check the label. Franks traditional hot sauce is zero net carbs, zero calories, and zero fat or protein.
Their wing sauce however, like we used in this recipe contains the same macro breakdown, just a lot more sodium.
The only sauce you would really want to avoid is the franks sweet chili. It's higher carb and higher sugar (17 carbs and 14 grams of sugar), plus it doesn't really go with the recipe.
Is Blue Cheese Keto?
Blue cheese is super keto friendly like most other cheeses only having 0-1 grams of carbs a serving. Blue cheese dressings on the other hand like the one used here
Frank's Red Hot Buffalo Chicken Dip
We used Frank's Red Hot Sauce in this incredible dip, but feel free to use your favorite hot sauce that you always have on hand.
I looked at a few other options, but decided to go with Franks wing sauce because it's not too overpowering. You want to taste all the different flavors as you pile this dip into your mouth!
Some other sauce options include:
Franks traditional hot sauce– Since the dip is going to be balanced with cream cheese you really don't have to worry about it being too spicy
Cholula– This Mexican hot sauce will give you a bit of a different flavor profile, but equally as delicious.
Truff– Truff is not your traditional hot sauce. It's a little fancier, a little extra, but super delicious and unique. It pairs great with the shredded chicken and will still give you buffalo chicken dip vibes, but if your keto buffalo chicken dip came from Hollywood.
Again feel free to get creative with this keto buffalo dip and try new sauces that aren't your traditional buffalo sauce. Pretty much any hot sauce will still taste delicious with blue cheese crumbles and shredded chicken.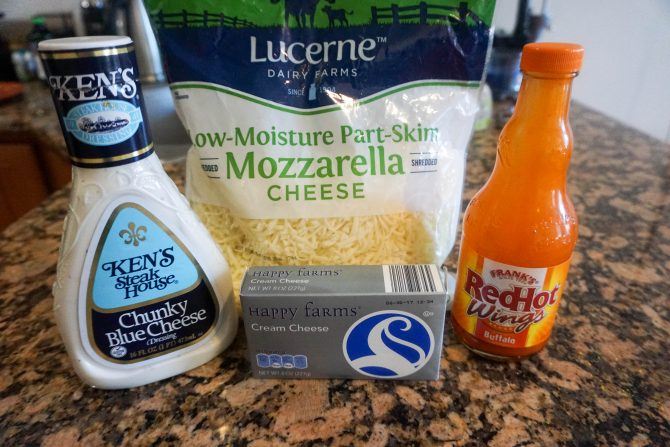 Can Buffalo Chicken Dip be Made Ahead?
This recipe is a fantastic low carb appetizer for any get-together or sports viewing party you may have coming up.
The keto buffalo chicken dip comes together in 30 minutes and tastes like it took hours! If you want to make the buffalo chicken dip recipe ahead of time simply make the full meal, allow to cool, and then reheat when ready to serve.
We find that it works really well to make the low carb buffalo chicken dip and then store it in the crock pot on the warming setting if we want to eat it that evening.
How to Make Keto Buffalo Chicken Dip
This low carb buffalo chicken dip is super easy to make and even easier to enjoy. We also love that it's super easy to customize with ingredients like cheddar cheese or sour cream.
Whatever you prefer to add you have the option to create your perfect buffalo dip.
Ingredients
To make keto buffalo chicken dip you will need shredded chicken. We used a whole rotisserie chicken from costco, but you could use canned chicken, or hand pulled chicken breast.
Just note if you do use canned chicken you may need less salt because the chicken is pre seasoned.
You will also need blue cheese dressing (can be subbed for ranch dressing but we prefer blue), hot/ buffalo sauce, cream cheese, shredded mozzarella (can use cheddar cheese), and jalapenos or green onions for topping (optional).
Making Keto Buffalo Chicken Dip
To make the keto buffalo chicken dip begin by combining the cream cheese and buffalo sauce of choice together on the stove.
Once fully combined add the blue cheese or ranch dressing and chicken. Then slowly add in 3/4 of the mozzarella cheese (or cheddar cheese if you feel like changing it up).
After everything for the keto buffalo dip has heated and come together add the prepared dip to a baking dish and cover with the remaining cheese.
Place the keto buffalo chicken dip into a 350 degree oven and bake for 15 minutes. Serve warm and enjoy!
How to Store Buffalo Chicken Dip
Keto buffalo chicken dip is not only a favorite because of how quick it is to make, but also how well it reheats and stores.
To store this dip let the recipe cool completely in the baking dish, and then move it into an air tight Tupperware container.
When you want to reheat simply portion out the amount you want and heat in the microwave for 1-2 minutes. Optionally we top with extra shredded cheese or shredded cheddar cheese when reheating.
What to Serve With Keto Buffalo Chicken Dip
We're sure you're now wondering what to serve with this delicious buffalo chicken dip recipe.
While everyone has their favorite type of dip chip, sadly most of them aren't keto options. Instead of chips try:
Pork Rinds– The perfect crunchy chip option for those that miss potato chips.
Vegetables– Carrot sticks and celery are going to be your best friend here.
Keto Crackers– This can be store bought varieties, or our delicious homemade keto crackers!
We're pretty simple people, but don't be afraid to spice up your meal and make cheddar cheese crisps or homemade keto tortilla chips.
Whatever "chip" you choose will still be delicious with this keto buffalo chicken dip recipe.
More Delicious Dip Recipes
If you are an intense dip lover like me you will do anything to get your hands on a good quality homemade dip.
Dips are fantastic because you can make them ahead of time and store for whenever the keto friendly dip craving hits. Plus the serving size can be pretty large without adding any real carbs. Some of our favorite keto dips are:
Our site is full of dip recipes and our list continues to grow. If you're like me and can't live without dips in your life be sure to check these recipes out!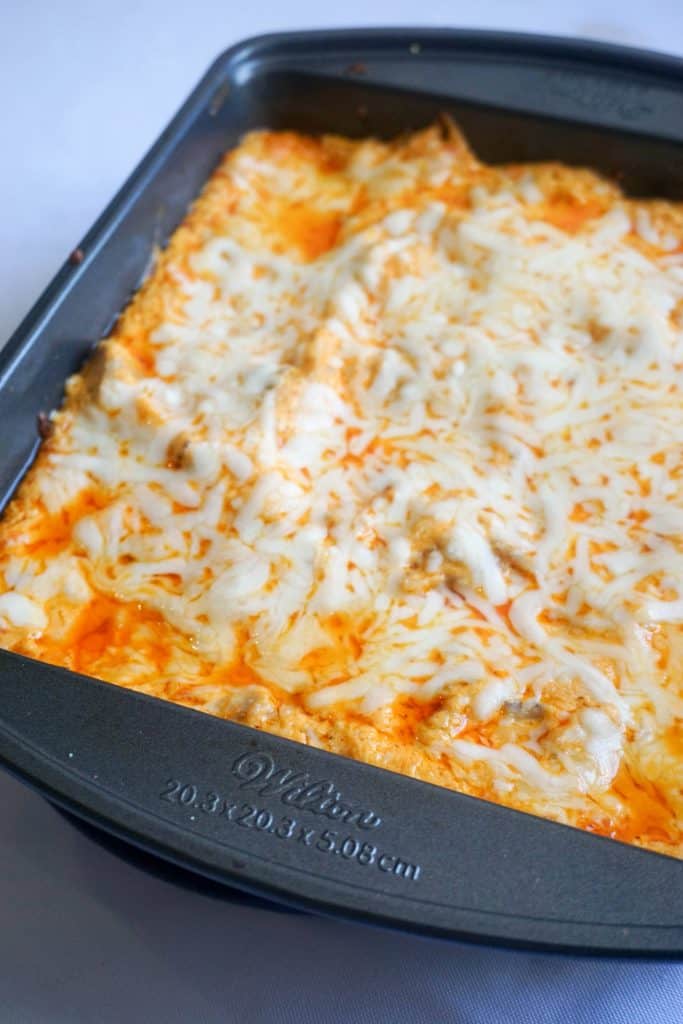 Easy Buffalo Chicken Dip Recipe
This is by far the easiest and quickest keto appetizer ever. You can use rotisserie chicken or canned chicken and have a quick meal together in minutes. Simply shred your chicken, sauce it up, and bake!
This dip is one of our favorite recipes for entertaining or bringing to a friends get together. The plus is that you can bring chips for your non-keto friends and celery is great substitute for you. You still get the crunch without all the carbs!
Both keto and non keto dieters are going to love this recipe so much you'll be known for it at the next party!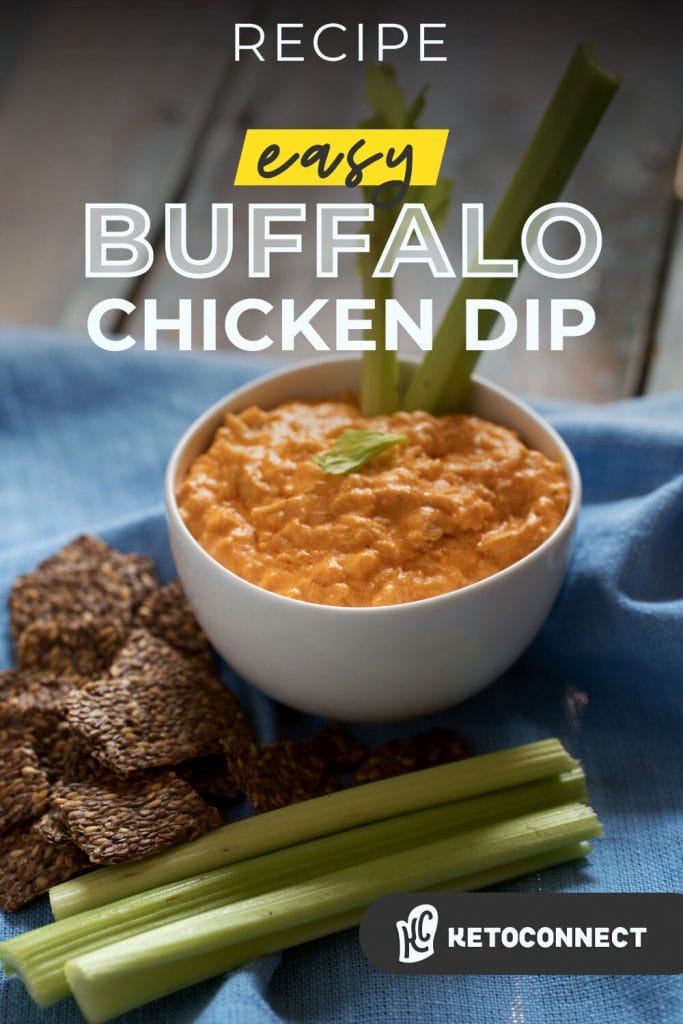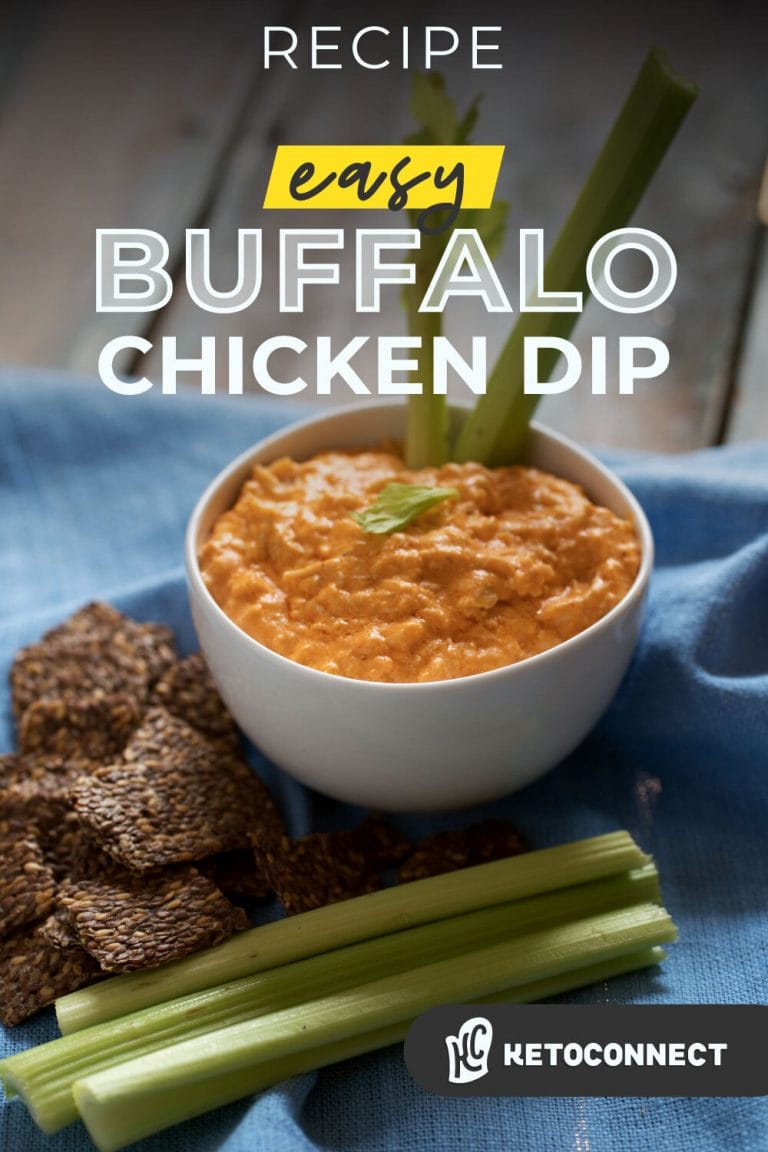 Recipe can be quickly added to MyFitnessPal – Search "KetoConnect – Easy Buffalo Chicken Dip"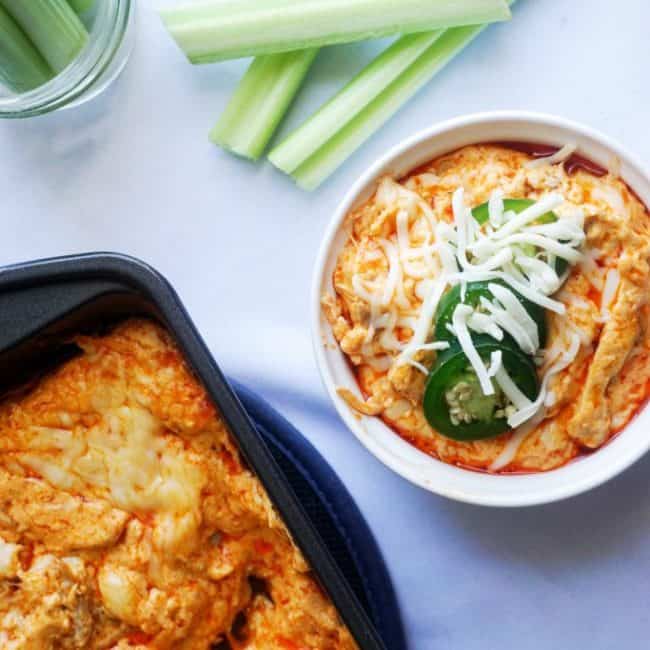 Easy Buffalo Chicken Dip
This easy buffalo chicken dip has just the right amount of spice and makes a delicious appetizer or snack.
Total Time 30 minutes
Servings 10 servings
Calories per serving 346.5kcal
Prep Time: 5 minutes
Cook Time: 25 minutes
Ingredients:
3 cups shredded chicken (cooked) we used a rotisserie chicken
3/4 cup Blue Cheese Dressing
3/4 cup Franks Red Hot Sauce
12 oz Cream Cheese
1 cup shredded mozzarela cheese
1/4 cup jalapenos (optional, for topping)
Instructions:
Add cream cheese and hot sauce to a medium heat saucepan.

Once fully combined stir in the blue cheese dressing and chicken.

Once fully incorporated, slowly mix in 3/4 cup of the mozzarella cheese.

Once fully incorporated transfer mixture to an 8×8 baking dish. Layer the rest of the mozzarella cheese on top.

Place in a 350 degree oven for 15 minutes.

Serve warm and enjoy!
Nutrition Facts
Easy Buffalo Chicken Dip
Amount Per Serving
Calories 346.5 Calories from Fat 252
% Daily Value*
Fat 28g43%
Carbohydrates 2.4g1%
Protein 20g40%
* Percent Daily Values are based on a 2000 calorie diet.
Written By