Since day one of starting this food blog all I've wanted to make was this Easy Buffalo Chicken Dip, and finally, I convinced Matt it was something our viewers need to see! The first time I made this was the time I made it for this recipe and now I can't seem to understand why I hadn't been making it all along. I ate it at every single football party I went to, but for some reason it tasted too delicious for me to possibly remake. Boy, was I wrong.
Franks Red Hot Buffalo Chicken Dip
What makes this dip so guilt free is the absurd amount of cheese, it basically feels like you're eating a fat bomb in dip form! It's also one of the easiest recipes you'll make because everything we use is pre-made. We used Frank's Red Hot Sauce in this incredible dip, but feel free to use your favorite hot sauce that you always have on hand. I looked at a few other options, but I decided to go with Franks because it's not too overpowering. You want to taste all the different flavors as you pile it in your mouth!

Easy Buffalo Chicken Dip Recipe
To let you in on a little secret I bought a rotisserie chicken from the hot section of the grocery, removed the skin and took the meat off all the bones for this dip. And, honestly, it was the best and quickest way to make this! You get all the delicious white and dark meat, and you don't have to do any of the prepping. You can even used canned chicken if that's all you have in your house and are craving it immediately! A good tip is to read the label of the canned chicken to make sure you're only getting chicken, water and salt, such as seen here.

FREE PRINTABLE: Keto Food List
Join 150,000 others to get a FREE keto food list and new recipes every week!
Easy Buffalo Chicken Dip
This dip is one of our favorite recipes for entertaining or bringing to a friends get together. The plus is that you can bring chips for your non-keto friends and celery is great substitute for you. You still get the crunch without all the carbs! If you love cheesy recipes like we do you should give our Cauliflower Mac and Cheese and Easy Pizza Dip a try!
Nutrition
Calories: 346.5
Fat: 28g
Protein: 20g
Carbs: 2.4g
Fiber: 0g
Net Carbs: 2.4g
Recipe can be quickly added to MyFitnessPal - Search "KetoConnect - Easy Buffalo Chicken Dip"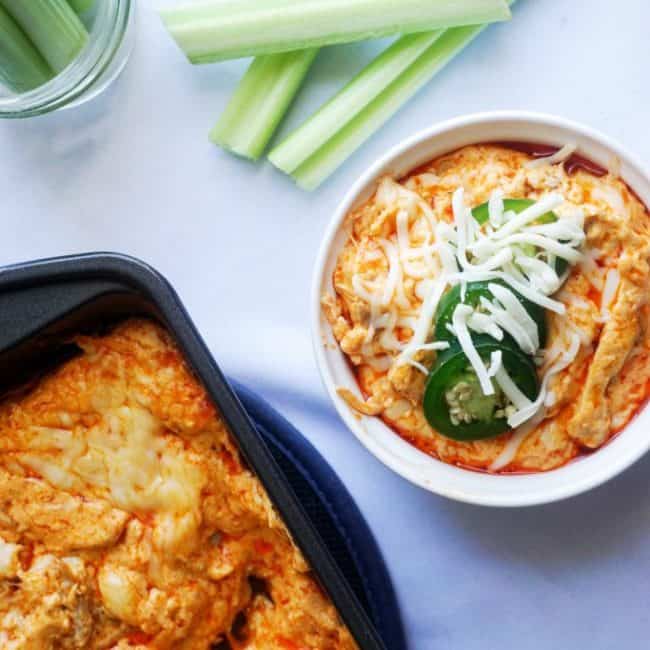 Easy Buffalo Chicken Dip
This easy buffalo chicken dip has just the right amount of spice and makes a delicious appetizer or snack.
Total Time 30 minutes
Servings 10 servings
Calories per serving 346.5kcal
Prep Time: 5 minutes
Cook Time: 25 minutes
Ingredients:
3 cups shredded chicken (cooked) we used a rotisserie chicken
3/4 cup Blue Cheese Dressing
3/4 cup Franks Red Hot Sauce
12 oz Cream Cheese
1 cup shredded mozzarela cheese
1/4 cup jalapenos (optional, for topping)
Instructions:
Add cream cheese and hot sauce to a medium heat saucepan.

Once fully combined stir in the blue cheese dressing and chicken.

Once fully incorporated, slowly mix in 3/4 cup of the mozzarella cheese.

Once fully incorporated transfer mixture to an 8x8 baking dish. Layer the rest of the mozzarella cheese on top.

Place in a 350 degree oven for 15 minutes.

Serve warm and enjoy!
Nutrition Facts
Easy Buffalo Chicken Dip
Amount Per Serving
Calories 346.5 Calories from Fat 252
% Daily Value*
Fat 28g43%
Carbohydrates 2.4g1%
Protein 20g40%
* Percent Daily Values are based on a 2000 calorie diet.